Any business needs an online presence to flourish in today's capricious world. Especially when the business is to connect employers and employees. Today people go to the internet to find services and sell services. No matter the domain of the product or service, the internet is the go-to option for everything.
Classified websites serve the purpose for the users to find products are services or sell them. You can easily create a classified website using the right theme. This will save you a lot of time and trouble. In this article, you will find the top free and premium classified WordPress themes to make a website in no time.
However, before diving into the list of the top classified website themes, let us get familiar with the basics of the Classified Ad website.
What is a Classified Ads Website?
A classified ads website is one that lists different products are services. People or other businesses can sell or buy them through this website.
Difference Between Classified Websites and Directory Listing Websites
Here is the basic difference between a classified website and a directory listing website:
Classified Website
A classified website is a platform that features different products and services. Different people and businesses use this website to look for the required products and services. They can either sell or buy them according to their needs. Here are some examples.
OLX is a classic classified website. You can look for different products and buy them. Besides this, you can even sell products through the platform.
Craigslist is an open-source classified website that willhelp you look for the desired product or service in no time.
You can look for a Craiglist WordPress theme or OLX WordPress theme for free download on the internet to create websites like them
Directory Listing Website
The website lists all the businesses and companies in the area. They have specific details on them so that users can get the right information under a single hood. Here are some examples:
You can look for different businesses in your area and get detailed reviews on them. No matter the domain, Yelp has everything.
Justdial is another excellent example of a directory listing website. You get tons of categories to explore the options and get the desired result in no time.
How to Create a Classified Website with WordPress
Classifieds have been essential for posting ad listings since long before the internet age. People have been using classifieds sections in newspapers to sell and buy products and services they require. However, websites are more accessible and easier to use, and classifieds websites make for much easier use and convenience for buyers and sellers.
In order to create a classified website requires a little knowledge. When you create a stellar classifieds website, you provide an intuitive platform for people to pitch their products and services. Also, the people who need to buy these products and services will get a chance to examine and choose from the best.
If you don't have prior knowledge creating sites, here is the ultimate guide to creating a classified website using classified WordPress Themes.
Choose a Domain Name
Before anything else, you should choose a domain name. You're supposed to choose a domain name that describes your brand perfectly. You should make it brief and memorable to make it easier for your users to get accustomed to it.
The next step to create a classified website is choosing an extension such as ".com" or one specific to your country. You only choose the latter option if you want your site limited to one particular country.
After choosing a domain name, you have to register it with a domain registrar or a web host such as Bluehost, HostGator, GoDaddy, NameCheap, and DreamHost, among others.
Choose a Web Host and Decide on a Web Hosting Plan
Choosing a dependable host is crucial because a substandard web host could jeopardize the operation of your website in the future. A great host should offer multiple choices in terms of hosting plans so that you can choose the most favorable one for you. Support around the clock is one of the most important factors to consider while choosing a host. Another way to help you settle on the best host easily is to read reviews about different hosting providers.
The web host can do a lot, including help you with backing up your website. If anything happens to your website, you can get ready backups with which to restore your site. To get the best out of web hosting, you should choose one that is optimized for WordPress. Not only does such a website come pre-installed WordPress, but you also get a security and speed optimized website at the end of it all. Such plans are the ones that get you free backup plans.
Recommended: InMotion Hosting – Fast Reliable and Affordable Web Hosting
Take WordPress as Your Content Management System
WordPress drives more than a third of all websites in the world. This statistic makes it the most popular platform for building sites on the entire web. Its popularity stems from several factors.
It is available for download at no cost.
It provides a free block builder, Gutenberg, so that after installing it, you can use a drag & drop interface to create your website.
It has countless themes, plugins, and add-ons that increase its customizability so that you can design your site easily without the need to hire a professional website coder.
It is easy to handle and provides a vast support network with numerous forums to facilitate its seamless use and that of its themes and plugins.
With its SEO friendliness, you can easily optimize your site to rank highly in search engines, with the help of the relevant plugins.
If you want to get access to some exceptional features for your website, such as WooCommerce (an E-commerce platform), you have to use WordPress. Just search wordpress.org or wordpress.com, and the rest is a child's play.
Choose and Install a Theme
There is no more natural way to personalize your classified website than via a classified theme. There are many classified WordPress themes available on the web. However, you need to figure out which one is the best of the bunch. To save you the headache of choosing one, we've scoured ThemeForest for the best classifieds theme, Classima.
Classima is a classy theme that extends the ease of use that comes with WordPress. It comes with readymade page variations so that all you need to do is pick your favorite ones and customize their content. You have a choice of color from an unlimited range. Classima is easy to manipulate with the robust Redux admin panel. You can customize your site without the fear of losing your content since this theme comes with the Child Theme.
Other special features allow social interaction, membership options, and payment options, among many more. The features relevant to your listing directory needs include ad posting settings, currency control, custom field settings, image controls, reviews and ratings, pricing tables, and Bumpup ads. These and more come courtesy of the premium Classified Listing plugin, which has been included in Classima at no extra cost.
You shouldn't choose a theme that limits your options. Go after a theme that offers countless possibilities and additional advantages, like Classima. You can install this theme easily upon purchase onto your site.
Customize Your Website and Create a Structure for It
Classima is very straightforward to use. You can add pages to your site with a single click via the One-Click Demo Importer. You can edit the pages and the arrangement of the elements on them so that you can give your website a structure. You can now add your data to the templates.
You can then create categories for your ads with menus and submenus. This will make it easy for your users to navigate, post, and view ads in easy-to-find locations. This organized layout is one of the most significant factors in attracting and keeping users on your classifieds website.
Add Classified Services and Products
You can allow users to add images to accompany their services and products so that buyers can easily recognize the stuff they want. They can straightforwardly add pictures, product descriptions, pricing, location, and other essential details. Provide call-to-action buttons such as "buy now" or "add to cart" so that your buying visitors can be persuaded to buy.
Monetize Your Website
With Classima, you don't have to worry about payment avenues. All you have to think about is getting users to post ads. You can place advertisement banners and earn from them. You may have to reach out to your first few ad listing sellers. You can charge submissions of listings with different levels so that higher fees paid will grant your users access to advanced ad features.
Promote Your Classified Ads Site
Creating a classifieds website is only the first step; you need to have it reach as many potential users as possible. The best way is to invest in Google AdWords so that you can reach out to relevant users easily. This method is effective, albeit a little costly. If you want to add or substitute it for a cheaper one, you can use social media platforms and search engine optimization of your content to make your site accessible.
Best Premium and Free Classified WordPress Themes
Best Classifieds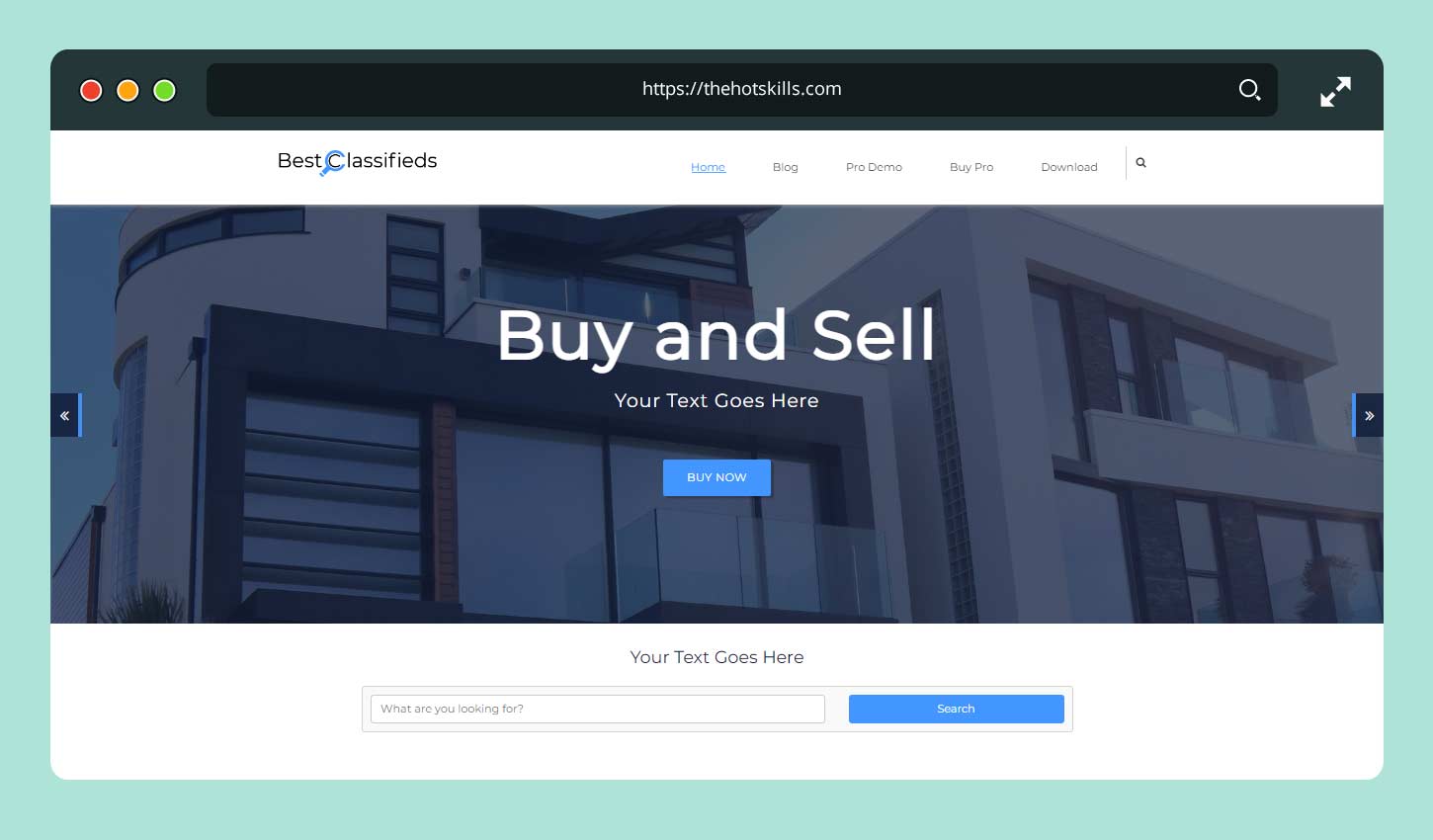 Are you looking for a free theme to make a professional classified website? Don't worry. Best Classifieds is here to cater to your needs. It is a highly responsive theme that you can use to create a dynamic website for different screen sizes. You will have full control over the customization of all the elements. You can easily add your unique touch and make a beautiful website without going through any complex process.
Listing Hive – Free Classified WordPress Theme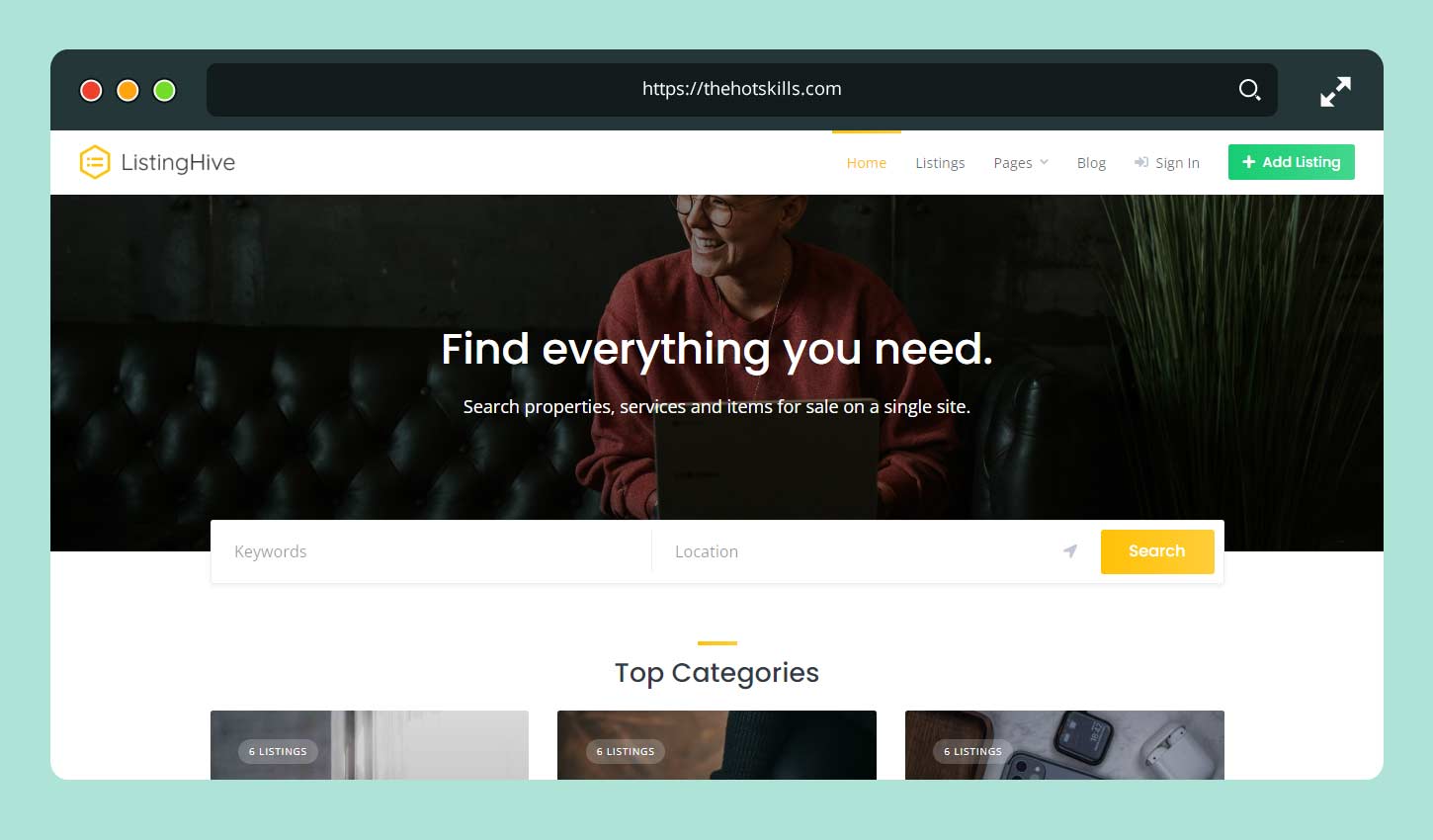 Listing hive is another free theme to create a multi-page classified website. No matter the domain of your work, you can use the theme to create any listing or classified website. You get full control, so you can easily tweak the elements according to your required needs. The theme will serve as the perfect tool to create an excellent website without adding stress to your budget.
Classiads – Classified Ads WordPress Theme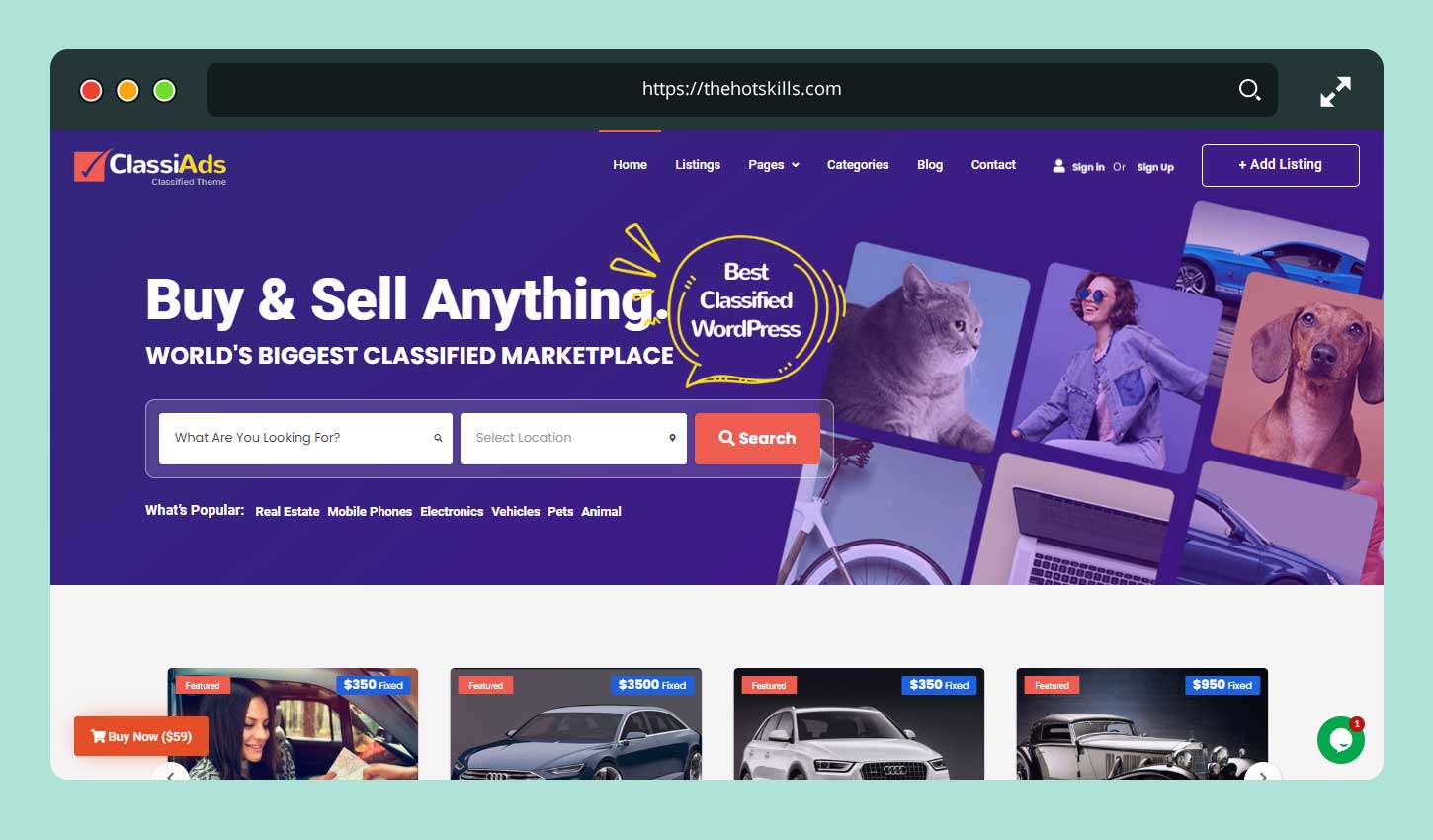 ClassiAds is one of the excellent choices when you are looking for the best themes for classified websites. The feature-rich theme is highly flexible and comes with several perks. You get a drag-and-drop system to perform the customizations and a page builder to create a multi-page website in no time. You can easily create responsive pages that will fit different screen sizes. Besides all this, the theme is easy to set up and highly user-friendly.
Classima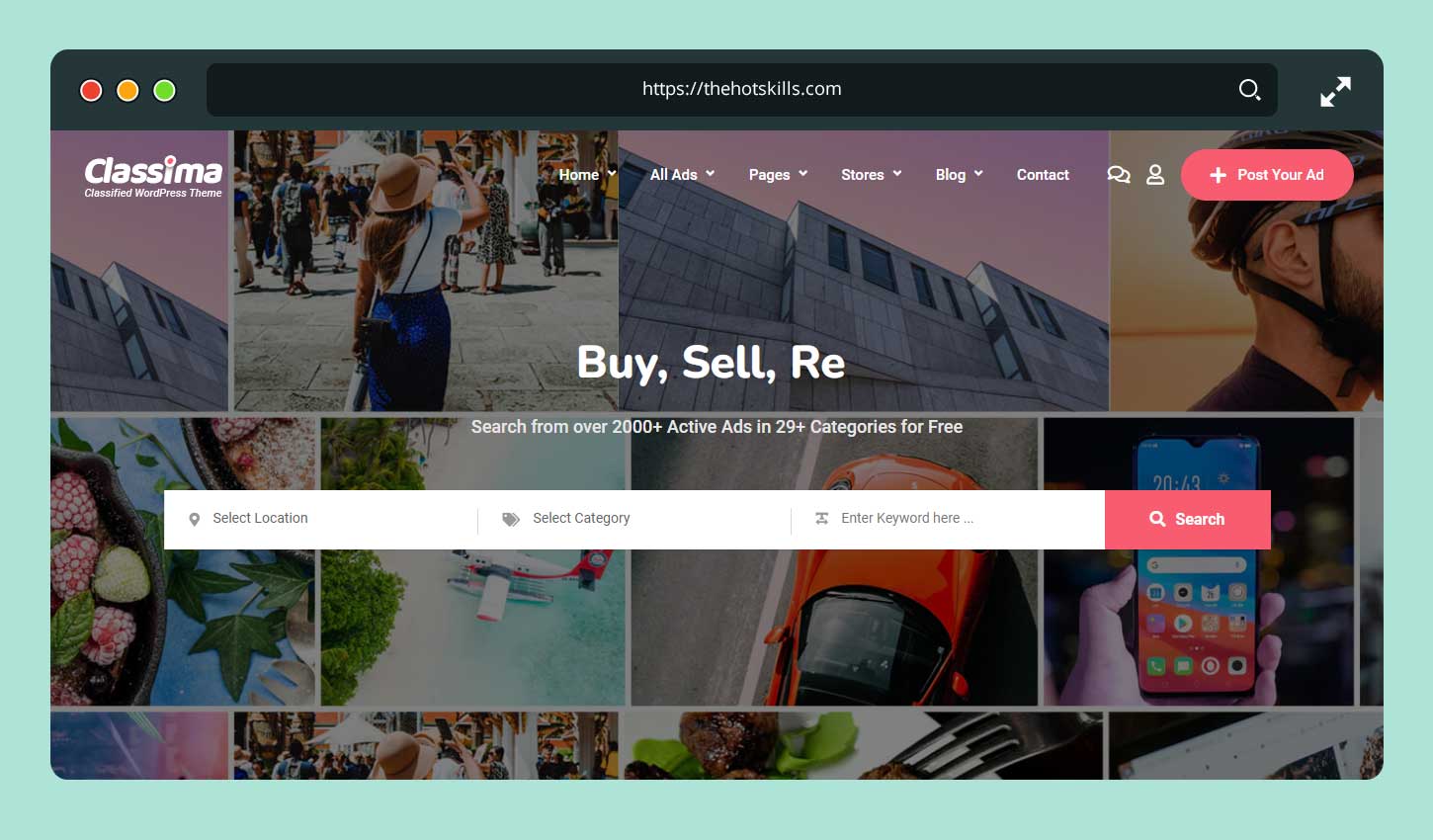 Classima is one of the clean and modern classified WordPress themes. The theme comes with four different homepages that you can customize according to your needs using the excellent page builder in the package. You can perform real-time changes to your theme by using the Redux admin panel. Moreover, you can encompass the power of social media and grow your brand to the top with this superb theme.
Listivo – Classified Ads & Directory Listing WordPress Themes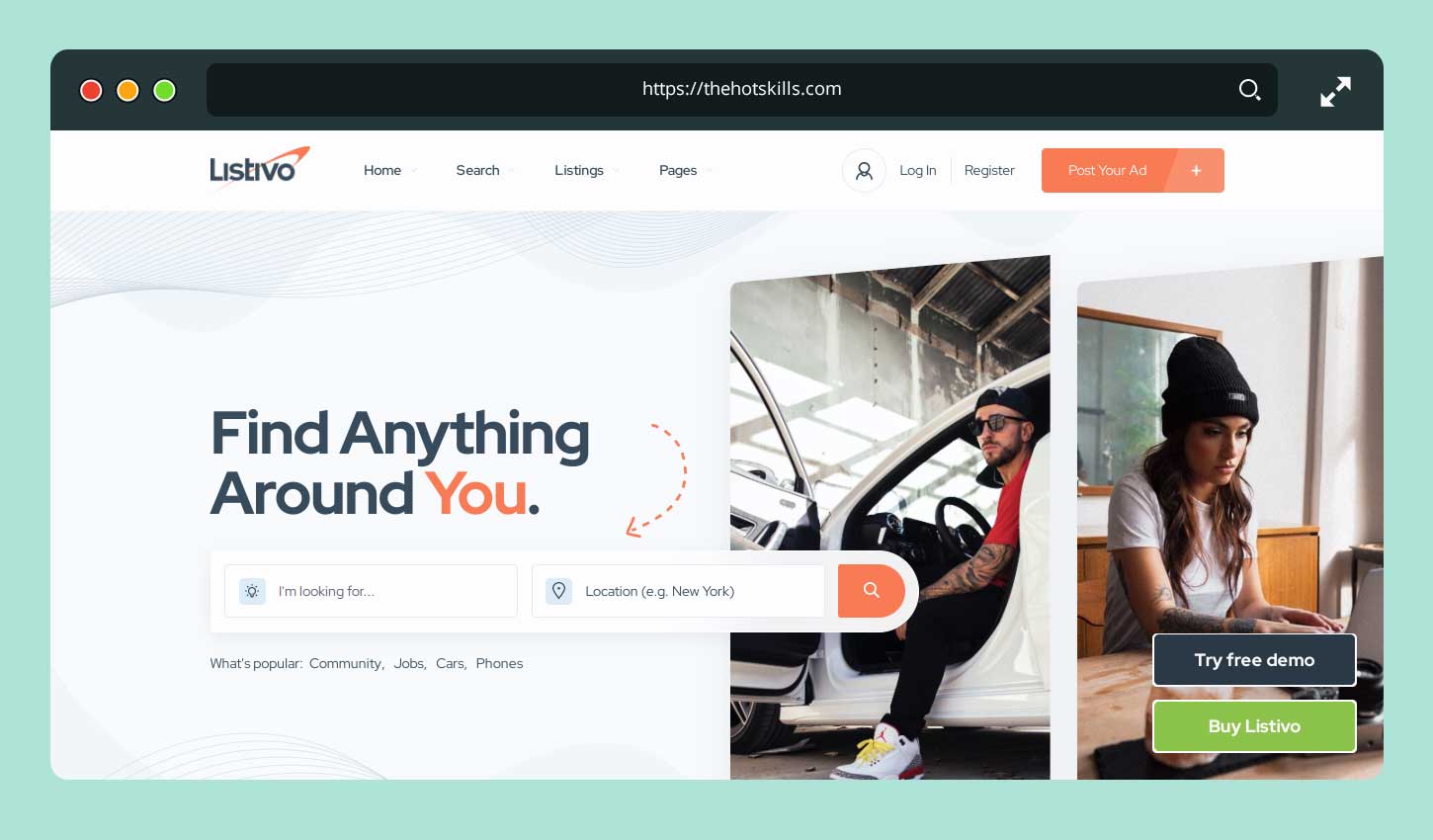 Being a multi-purpose theme, Listivo has global adaptability and offers all the necessary functionality to create a top-notch website. You can import all the pages with a single click of your mouse. When it comes to listing, you can choose the look from the nine pre-defined types and add your unique touch to mark your presence. Besides this, you get a flexible menu, Elementor plugin integration, and several Google Fonts to customize your website.
Classiera – Classified WordPress Themes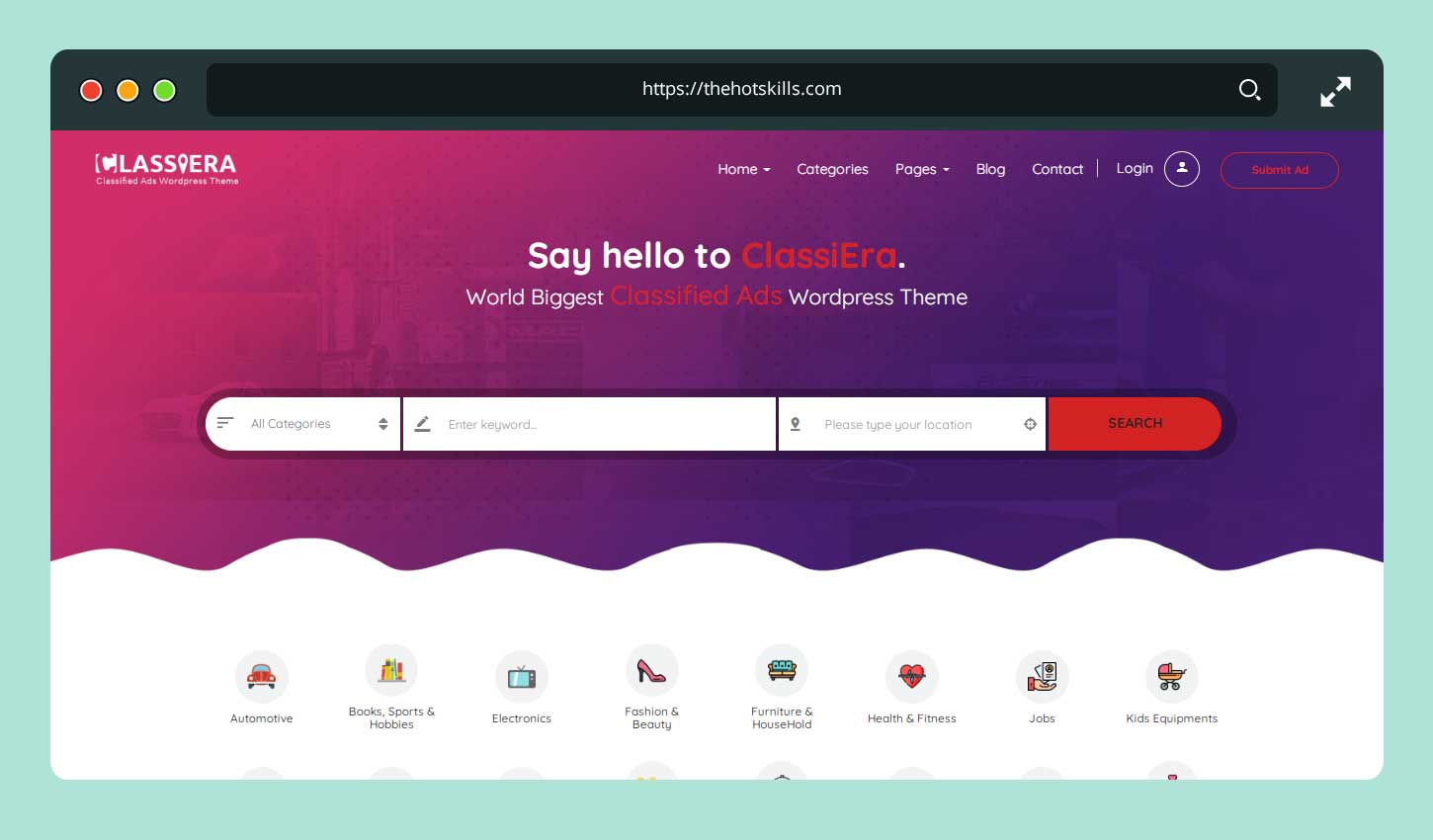 When it comes to user experience, Classiera offers high-end usability and a responsive website. You get seven different unique layouts to create your pages. You are in full control of all the customizations. You can change the elements, color, background, and several other aspects to add your unique touch without going through any unnecessary hassle. Moreover, you get smooth integration for Google Maps in the theme.
AdForest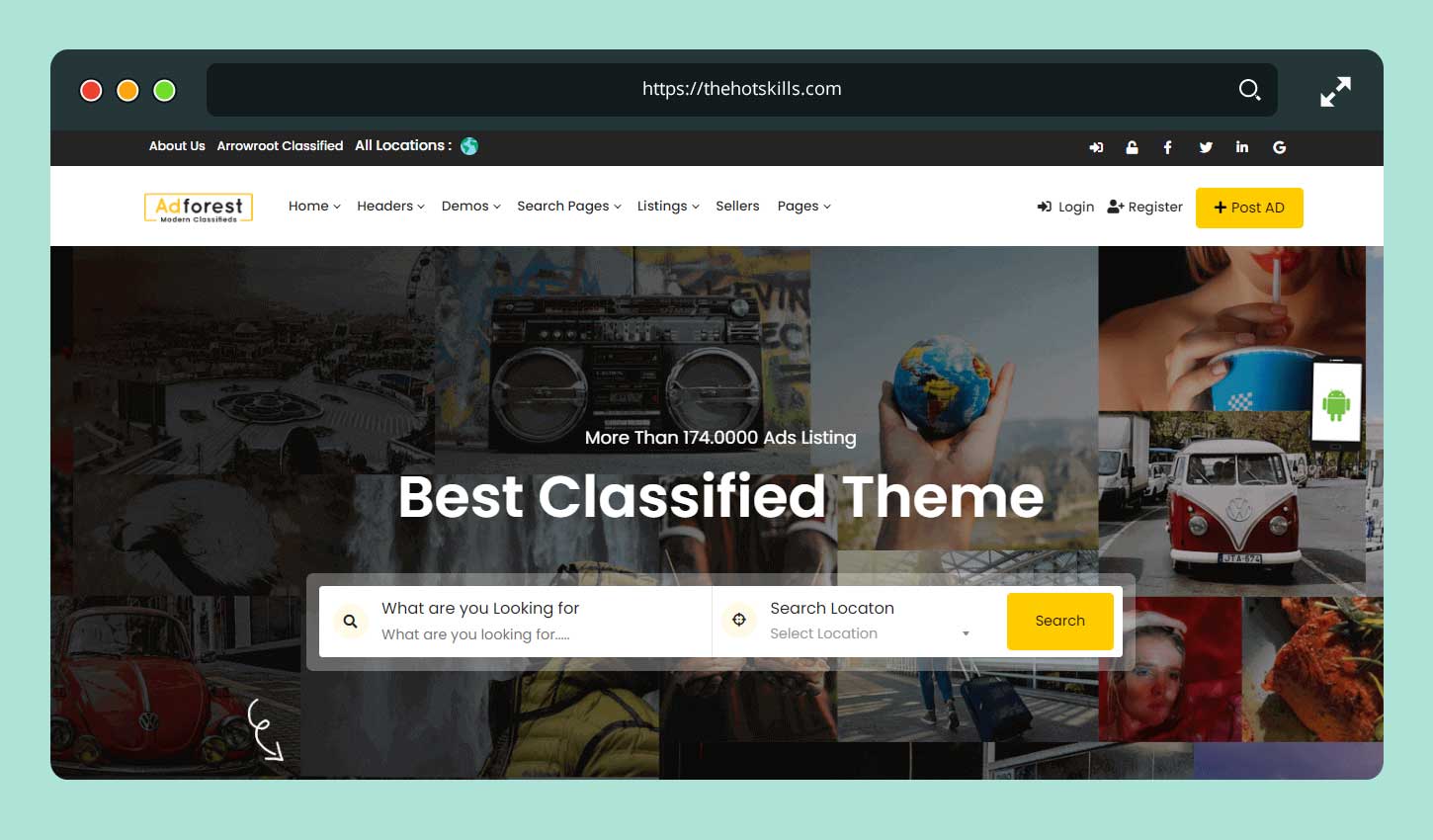 Being one of the premium classified WordPress themes, AdForest allows you to create a mesmerizing front end and UI. The theme comes with a fully responsive design, so you don't have to worry about different screen sizes. It is highly flexible and allows you to create a multi-page website without any unnecessary hassle. It is easy to customize and comes with in-built Google Maps integration.
Classifieds – Classified Ads WordPress Theme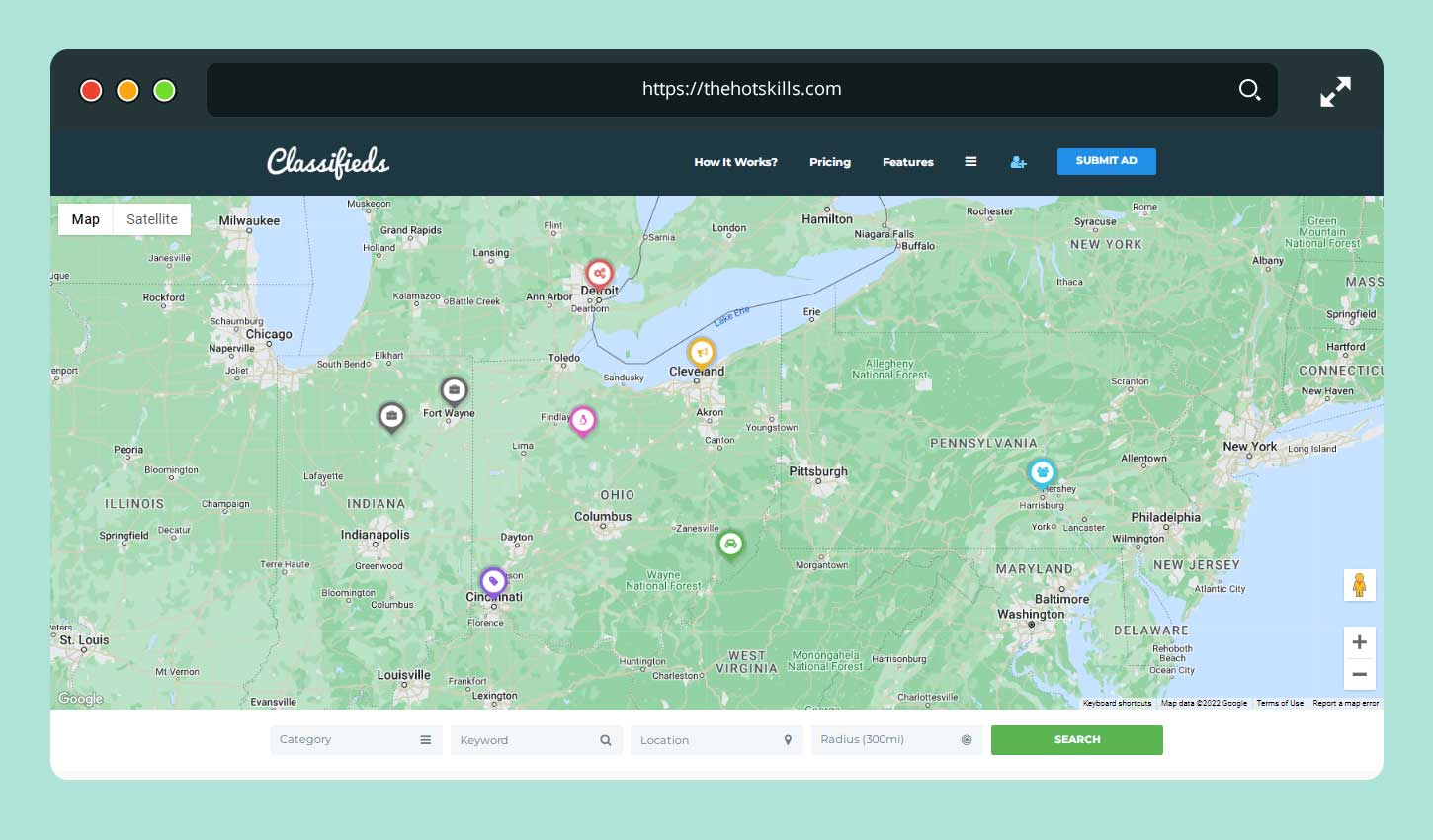 Classifieds is one of the top advertising WordPress themes. You get access to the author dashboard from where you can manage everything easily. You can add auto expiration ads on your website and enjoy Geo-location search. Moreover, the theme allows you to make monetization channels that support multi-currency. With this theme in your hands, you can create an outstanding listing and classified website in no time.
Classify – Classified Ads WordPress Theme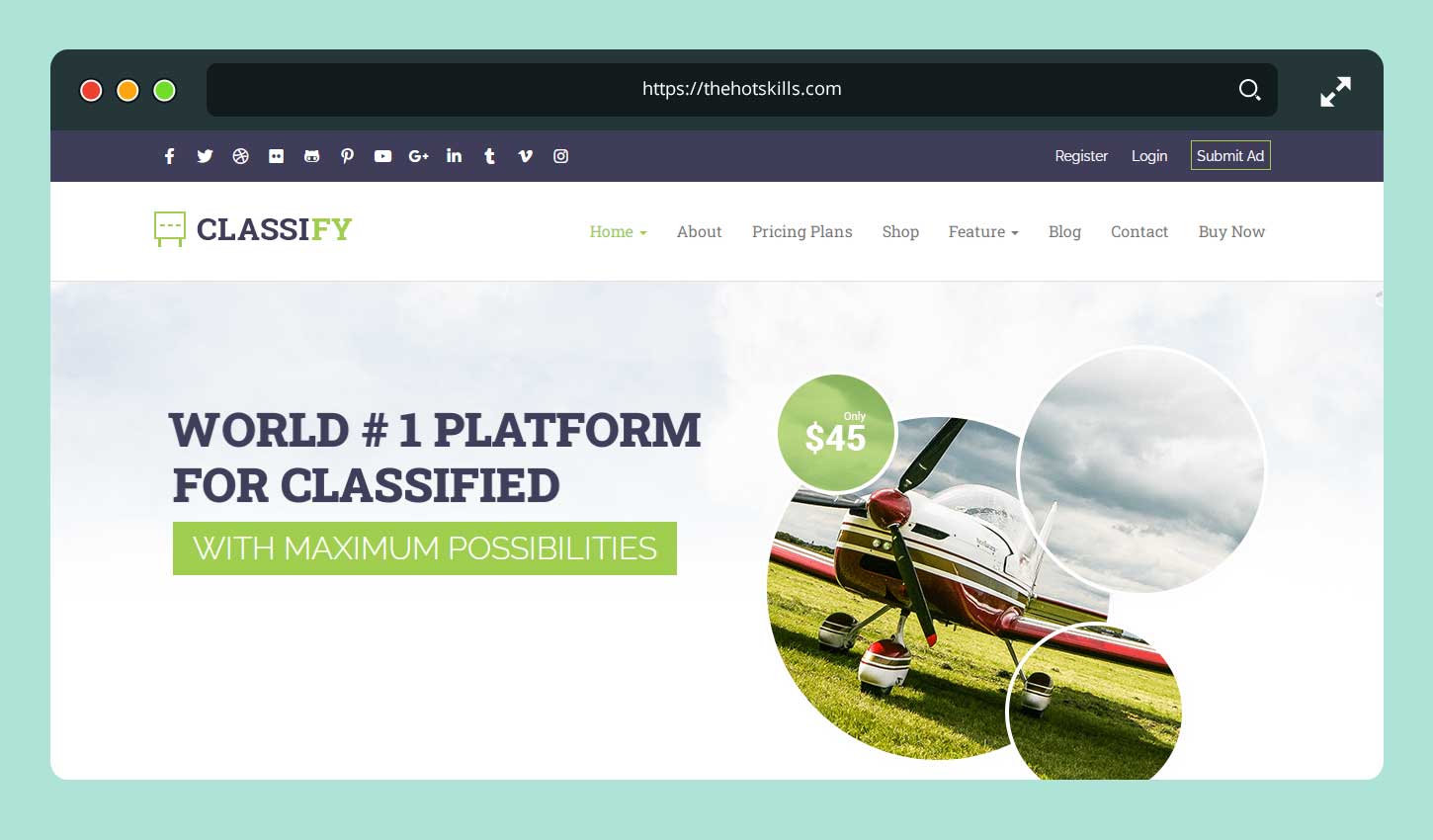 Classify is one of the most powerful WordPress themes that you come across. It comes with a free demo setup. The theme is highly responsive and fully optimized for SEO. So, you can create a website that will rank in the top position on Google. The theme is compatible with most of the popular browsers. Moreover, you get free 24X7 support and lifetime update support with this excellent theme.
Lisfinity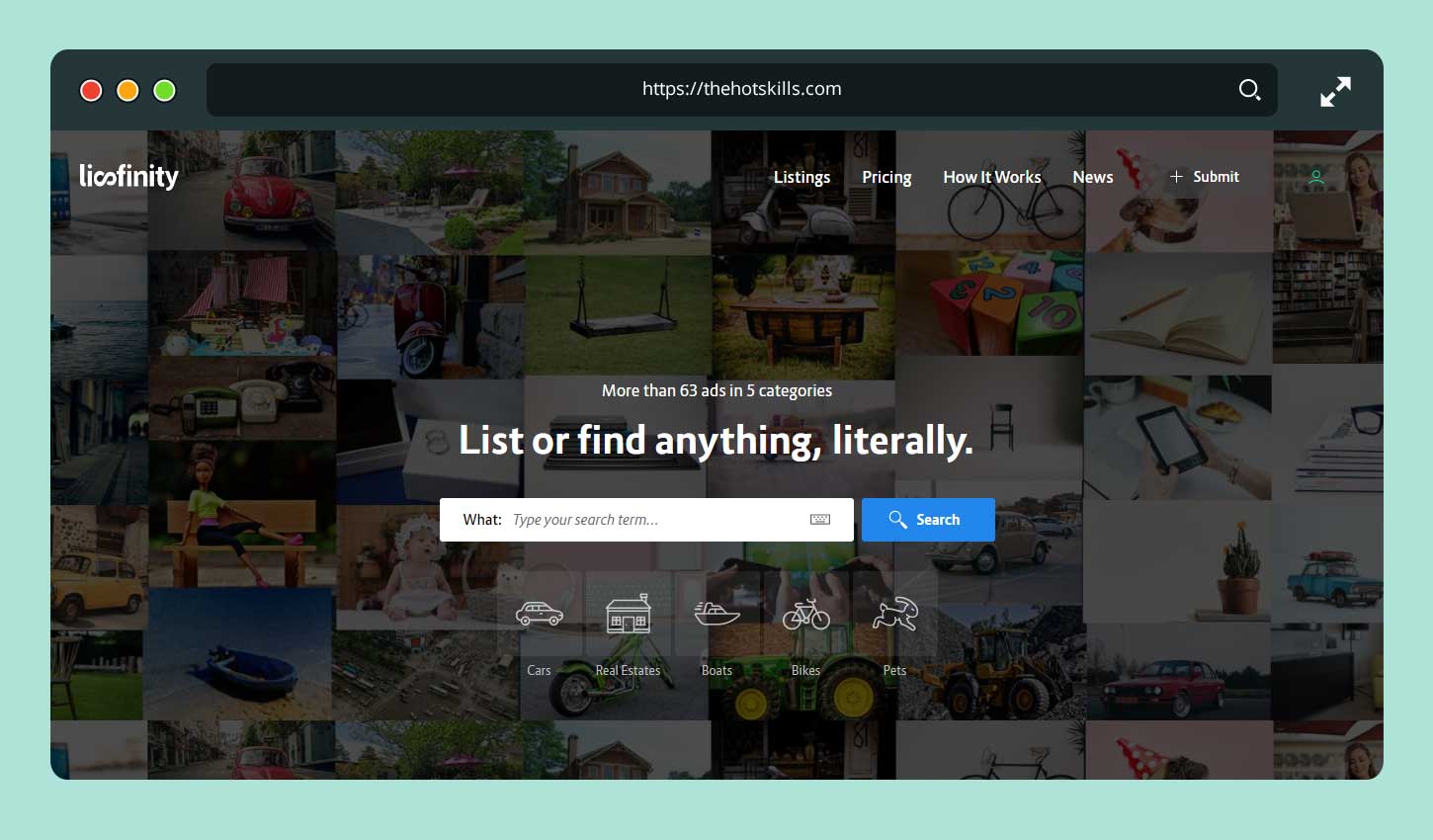 Build any type of classified website with multi-functional classified WordPress theme Lisfinity. You get drag and drop ability to create a multi-page website in no time. You can integrate the theme with WooCommerce and start a store to earn good profits. You can customize all the fields according to your needs and put forth a unique online presence to take your brand to the top.
Classifieds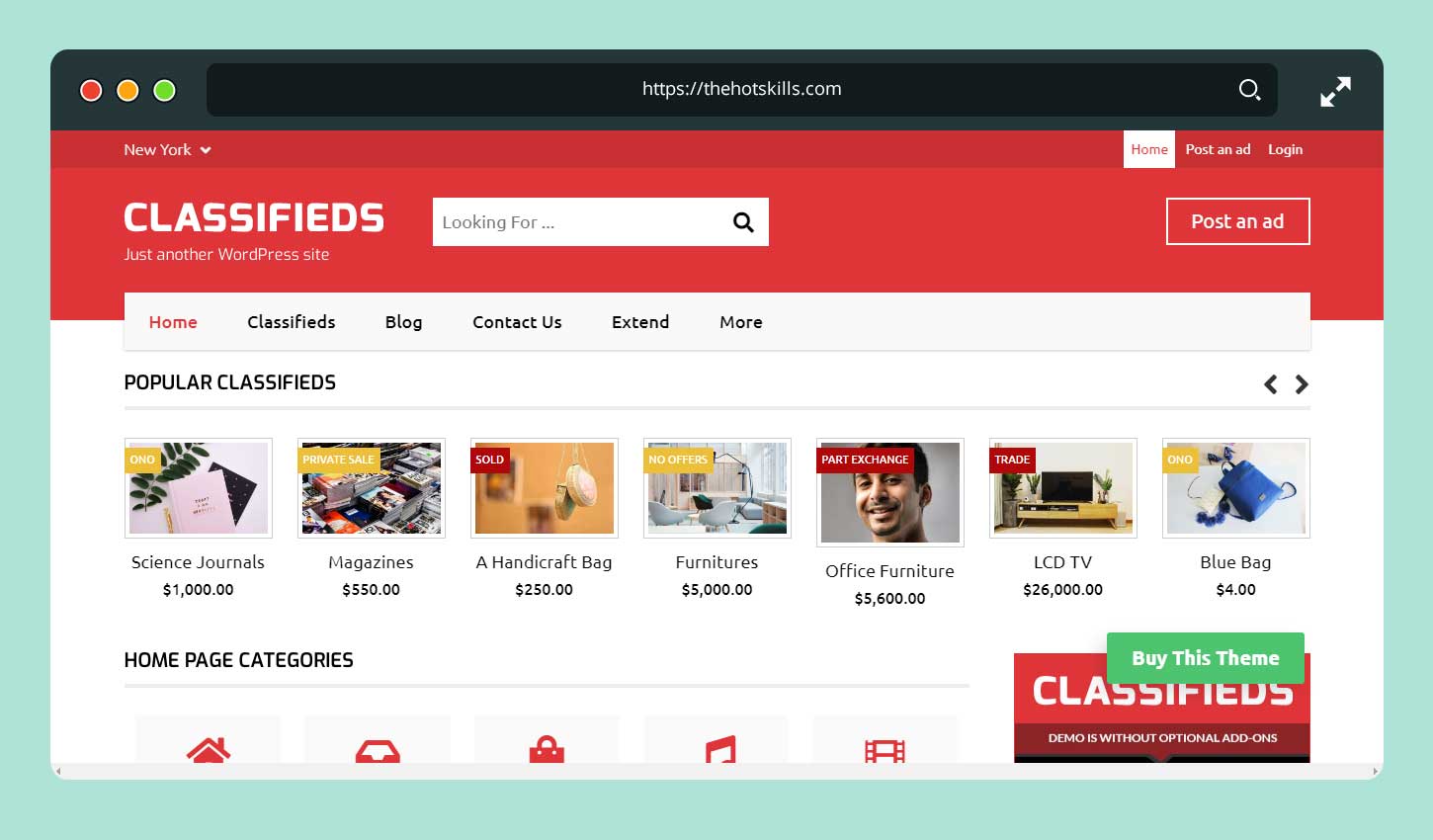 The theme helps you create a powerful ad listing or directory website in no time. It offers all the required functionality to create a top-notch ads portal system.
You gain full control over the customization of all the pages. You get a separate mobile app view where you can make the changes according to the specific screen size. Besides this, you get tons of filters and features to ease your work and elevate your productivity.
Final Thoughts
Here are the free and premium classified WordPress themes to look into. Go through the whole list and pin down the one that fits your budget and caters to your needs appropriately.
Creating and promoting a website isn't a harsh territory to navigate. You can easily create a classified website with WordPress using best classified ads WordPress theme by Radius Theme. If you do follow the instructions to the letter, even the management of your site's ad listings later should be a piece of cake. Good luck as you create your classified website.
FAQs
How much does it cost to build a classified website?
The cost depends on the type of hosting, theme, and several other factors. You can choose a free theme to reduce the stress on your budget and create a beautiful website in no time.
How can I make a website like OLX and Craigslist?
You can take inspiration from both platforms and use a suitable theme to create a website like them. In the above article, you will get top classified theme options that you can use to create a website like OLX and Craigslist.
Which is the best classifieds website?
Craigslist is one of the best classified websites. The interface is clean, and you can easily navigate it to get the desired results.
Are free WordPress themes safe to build a website?
Yes, free themes are safe for building a website. However, you should get a classified website template free download link from a trusted source.
Should you pay for a WordPress Theme?
If you are looking for premium features, extended support, and responsive templates, then you should upgrade to paid WordPress themes.