Write for us a Guest Post on Graphic & Web Design, Development, WordPress, Hosting and UI/UX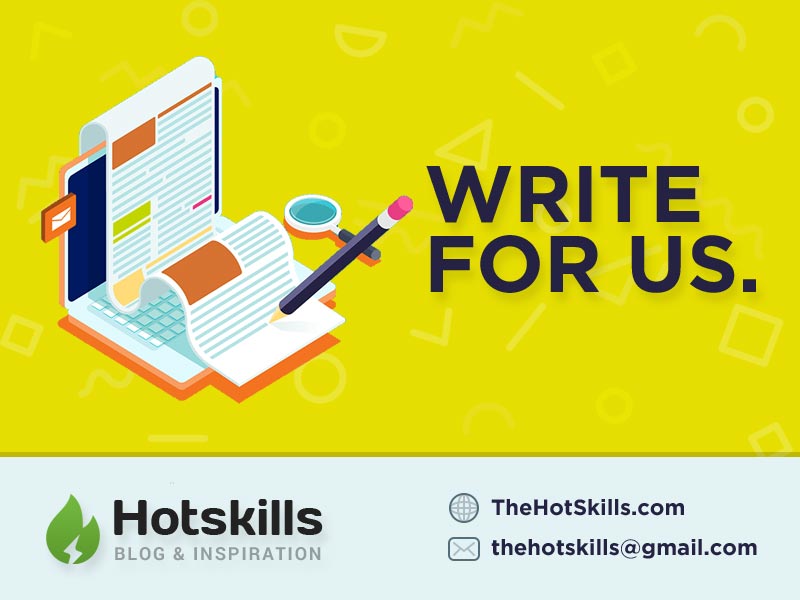 Hello Writers, you want to write for us? We'd love to publish your guest post. We're always looking for passionate authors.
We publish high-quality and informative content that our audience love to read and get some value. Our utmost priority to provide content quality to our readers. We don't compromise on quality.
If you're able to write a unique, well researched, in-depth and how to peace of content on our given topics, then you're in the right place.
So please read the submission guidelines before sending a blog post for review. Avoiding the guidelines can increase the chances of guest post rejection.
Why should you Write for TheHotSkills?
TheHotSkills is a fast-growing web design resource blog with more than 10,000/month visitors and 7000+ email subscribers. Here are the latest TheHotSkills stats that you'll want to see:
Pitch your Guest Post ideas on Topics we're interested in
We have a specific type of audience. You can't write and publish on any topic. Here are the post topics and content ideas we're interested in:
Web Design
Web Design Tutorials, Landing Page, Web Design Inspiration, Web Design Tools/Software Reviews & Resources, and anything about Web Design.
Graphic Design
Logo/Business Card/Brochure/Flyer/Illustration Design, Tools/Software Reviews & Resources and anything about Graphic Design.
UI/UX
UI Design, UX Design, Tools/Software Reviews & Resources, and anything about UI/UX Design and Development.
Web Development
HTML/CSS, Development Language, Tools/Software Reviews & Resources, and anything about Web Development.
WordPress
WordPress Tutorials, WordPress Themes, WordPress Plugins, Guide, Tools, Resources, and anything about WordPress.
Templates
Website, Mockups, and Graphic Design Templates.
Web Hosting
Informational Guide, Tutorial and Reviews.
Here are the Guidelines to Follow for Submission
If you want your content to get accepted by us, please carefully read and follow the submission guidelines below:
Choose Topics – First, you need to suggest some 3-5 topics via email on which you're planning or want to write for us.
Word Limit – The article should have a minimum of 2000 words.
Formatting – Use proper H1, H2, H3, Unordered List (UL), Ordered List (OL), Bold, Italic and Image tags.
SEO Friendly – Just writing content is not enough. Make your content SEO friendly so your post can rank on search engines. It will help you send referral traffic to your site in the long run.
Readability – Keep in mind that you're writing for humans. Keep your paragraph short (max 4-5 lines/sentences). Long paragraphs are hard to read.
Plagiarism Free – The content should be unique and not published elsewhere. Also, your content should not have language or grammatical errors.
Images Size – Featured images should have a custom design and size 800 x 600 px. We recommend you use Snappa for designing a featured image.
Dofollow Links – We only accept one dofollow link, but you're allowed to link sites valuable and relevant to your content. Please do not include any affiliate or self-promotional links.
Author Bio – The bio should have 3-4 sentences. You have to provide an email for the author photo, which is associate with Gravatar. You can add your personal brand, company name or website name, including a link. The links on keywords are not allowed.
Approval Time – We'll inform you via email in 1-2 business days if your guest post reviewed and approved by us.
Publication Time – Once your content gets approved, we'll publish it within 2-3 days and email you the live article link.
What does it cost?
NO FEE for quality and long form original content (ideally 2000+ words).
$$ for shorter content. Please email us for the price.
What We Don't Publish
Irrelevant Content – We do not accept guest post (with or without links) on casino, gambling, CBD, adult, essay writing related content.
Copied Content – We do not accept copied or plagiarized content from other websites similar to writing. We manually check each and every post with best plagiarism tools. Please do not waste our and your time by sending content that already published on our or another website.
Spun Content – We do not accept content that rewritten by Spinner Tools or Article Rewriter. This includes content provided by Private Label Rights.
Misleading Content – We do not accept a guest post with fake data and information. You must have to give credit to a natural source, website name or person name.
Copyright Images – We do not allow the use of copyright images in your content. We highly request you to create your own custom image. We recommend you use Snappa online image editor.
Already Rejected Content – We do not accept a request to publish a blog post (with or without making changes in old content) that we already rejected.
Revision – You're not allowed to make changes or revision once the article is published. You can request via email if it is highly required.
What is Guest Posting or Write for us?
Guest posting is writing and publishing an article on someone else blog or website. Many websites like Entrepreneur, Forbes, Inc. etc., invite authors, marketers, writers or business owners to contribute a piece of content on their website.
These websites have a section/page for "Write for us" where they share guidelines or how to contribute a guest post on their website. As an author or contributor, you will get a chance to connect with a new audience.
As a blog or website owner, you usually publish blog posts on your own website to providing valuable information about product or services, share your experience, provide a guide or training and much more. Blogging helps to convert the audience into customers.
The Benefits of Guest Blogging
The first thing you need to know is that guest blogging is better for B2B than for B2C. If you're in a B2C niche, you probably shouldn't waste your time with guest blogging. For B2B, it's incredible and works exceptionally well.
Do you know how many blog posts are published every day? According to the Internet Live Stats 2021 data, an average of 7.5 million blog posts get published daily.
As I said above, you usually publish blog posts on your own website. It will waste time and money if you don't make your blog post accessible to the right audience. Promote your blog post using digital marketing or SEO to reach a new audience.
The backlink for your website or blog post is a vital part of your SEO strategy. It helps to get a higher ranking on search engines, and guest posting is an excellent method that allows you to build backlinks naturally.
You can easily create valuable and high authority backlinks by publishing guest posts on top websites. You'll not only get a backlink, but you'll also gain:
Personal and Brand Exposure
Build Brand Awareness
Build Relationships
Boost Domain Authority
Reaches to New Audiences
Drive Referral Traffic to your Website
Grow your Email List
Grow your Social Media Following
Guest Post Examples
For your help to understand what kind of content we accept, here are some examples:
List Type:
How To:
Guide:
Latest News & Trends:
So what are you waiting for? Write for us today!
How to Request for Guest Post?
If you are interested in writing for us, please content us for paid or free guest post via email at [email protected].