The demand for UX designers keeps growing.
Currently, Glassdoor alone has over 4000 UX design positions across the U.S. only. And, according to Dice, the demand for UX designers will increase by 14.9% over the next 5-10 years.
Because of the growing popularity of this job position and the general shortage of skilled professionals, companies are willing to offer more money to UX designers, as their skills are currently in demand.
In Australia, for instance, UX designers with a medium level of experience are paid over 110,000 AUD (about 90,000 USD) a year.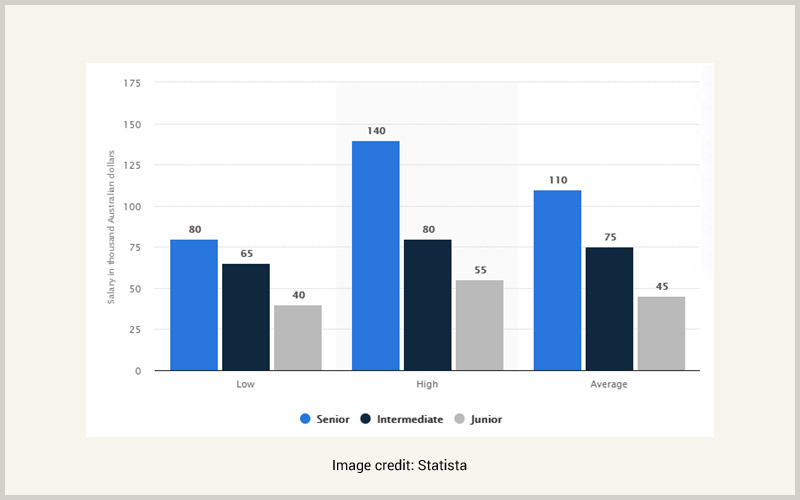 With the growing popularity of UX designer jobs, it's natural that more and more people will be looking for opportunities to get into this field. Besides, the popularity of this job position is not going anywhere in the upcoming future.
If you want to try on a new role as a UX designer, you might be interested in starting with an internship.
Benefits of UX Design Internships
There are many benefits of exploring this option first instead of switching to the full-mode career right away.
Gaining work experience. Whether you're a student or someone looking into changing careers, an internship is a great way to smoothly introduce yourself to a new field. If you haven't worked in this field before, getting a UX design internship will help you jump-start your career in the field with the relevant work experience.
Acquiring and refining your UX design skills. UX design is a relatively new field, and there are only a few universities around the world that offer degrees specific to this field. But to become a UX designer, it's not necessary to have a degree. Having strong skills is what matters to employers, and the best way to get these skills and practice them right away is through an internship.
Getting valuable connections. Even though you might not get a job after completing an internship, it still gives you an opportunity to get connections that will help you get a job in the future.
Getting an internship will slowly introduce you to the field, and it doesn't make you attached to the job. You can still pick up other projects to improve your skills and add them to your work experience while doing an internship.
Apart from that, it also gives you a competitive advantage in your career. Even if you decide not to follow the path of the UX designer career, you will still have a great experience to add to your resume.
Where can you get UX design internship opportunities?
Here are the top 5 websites for you to explore.
Chegg Internships is one of the most popular resources to explore internship opportunities in different fields. There, you can find 10,000+ internships for professionals from different industries.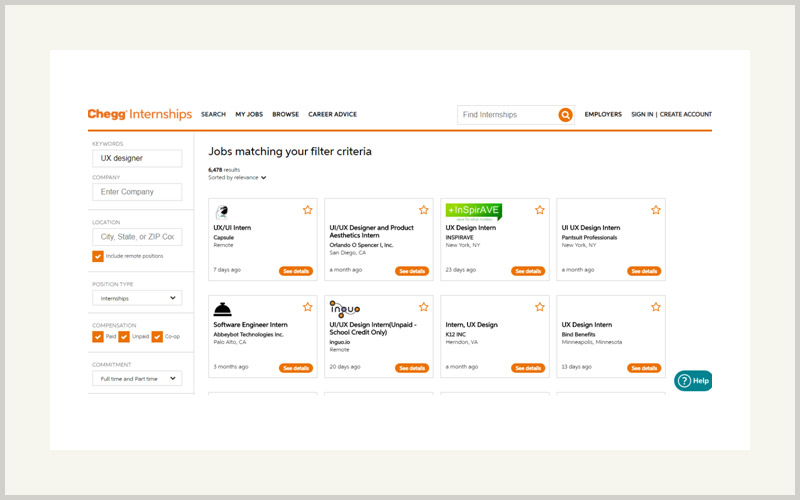 To search for an internship that fits your needs, you can adjust the filter to get internship offers from a specific company, in a specific location, and select the compensation type you're interested in.
Apart from that, you can search for a UX design internship by category –summer internships, remote internships, or even high-school internships. If you are planning on doing this internship in off-work hours or while studying, you can set the filter to find suitable UX designer internship options.
One of the benefits of this resource is that the majority of internships posted there are paid. This is great for those who cannot afford to lose time and money, but still want to explore the career of a UX designer.
However, even if the internship is unpaid, you still can get a lot of benefits from it. As you improve your UX design skills, you can also start a freelance career and complete projects, while working as an intern for a company that can later offer you a job position.
WayUp is a subscription-based service, where you can get exclusive access to internship opportunities across the U.S.
To get access to the internship offers, you need to fill in your personal information, including your first and last name, location, and whether you are enrolled in the university.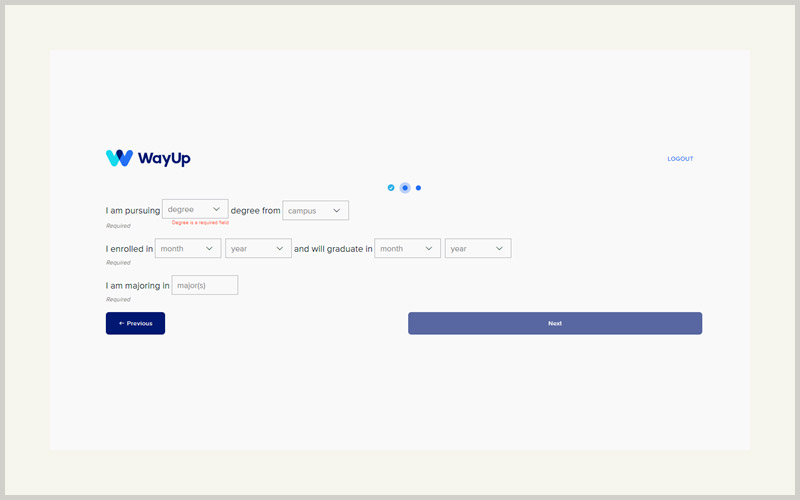 After you set up your profile, you can search for UX design internships in a specific location or the entire country.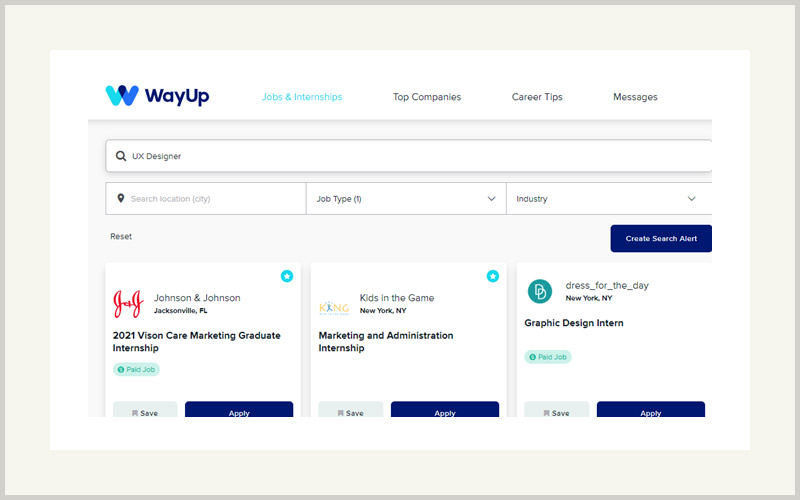 You can also create a search alert, and the system will send you relevant internship alerts if there are currently no options. The website is updated quite frequently, so setting an alert will help you keep track of relevant internships.
The advantage of this website is that there you can find UX design internships not only from web design and development companies but from businesses that operate in a variety of industries, including educational facilities, best writing companies, manufacturers, etc.
For those, who are looking for relocation opportunities connected to a job, a paid UX design internship can be a great idea to start your career outside of your home country.
If this is your intention, you can apply for Global Experiences – a subscription-based resource with global internship opportunities. Global Experiences connects with employers from around the world, who want to attract talented UX designers and other professionals from foreign countries.
To become a member, you need to fill out a form and provide your personal information, contact details, education status, and what internships you're looking for.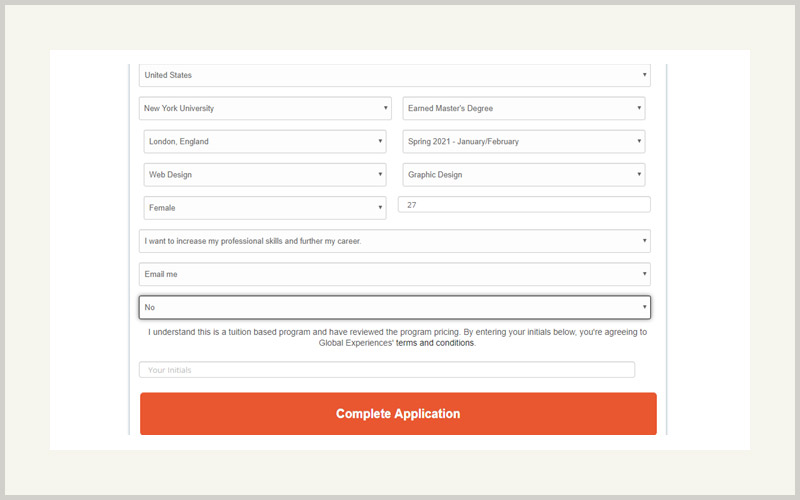 After completing your application, you can browse available UX design internships.
The subscription to the Global Experiences platform isn't free. However, the participants get an admissions counselor and help from the placement team to guide them through the process of applying for an internship. All the internships on the platform are also verified to eliminate the risks that a company lists false details about an internship.
Global Experiences also support all their interns until the internship is finished. So, if you are willing to relocate to another country, it is a safe and secure way to start your UX designer career abroad.
Another resource, where you can find UX designer internship opportunities from around the world is Idealist.
This resource operates similarly to Chegg Internships and WayUp. You enter the position you're looking for, the desired location, and search for internships.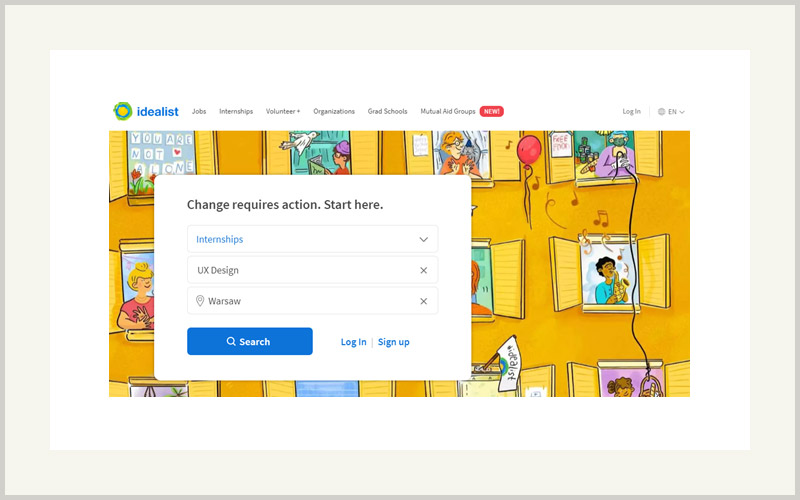 Similar to WayUp, you can create your profile on Idealist, create an internship alert based on a certain location, and the platform will pick the relevant internships for you.
5. LinkedIn and Glassdoor
If you're searching for a UX design internship either locally or globally, you can get relevant opportunities on Glassdoor.
Glassdoor exists primarily for job search, but there are plenty of internship opportunities there as well.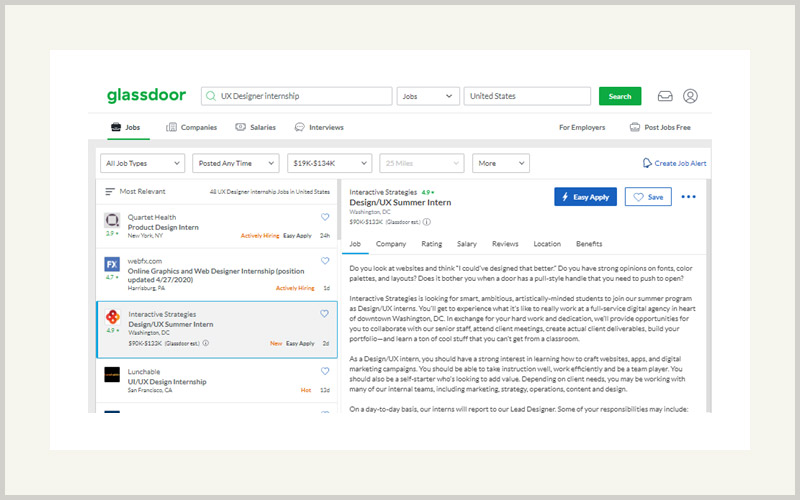 You can also easily apply for an internship with one click if you have an active profile on Glassdoor, the platform will instantly send your resume to the employer. The website also contains relevant up-to-date information about every employer that places a job ad there, which makes it easy for you to pick the company that fits your needs.
If you're considering a UX design internship at a particular company but it doesn't have any relevant internship programs yet, you can follow this company on LinkedIn for updates.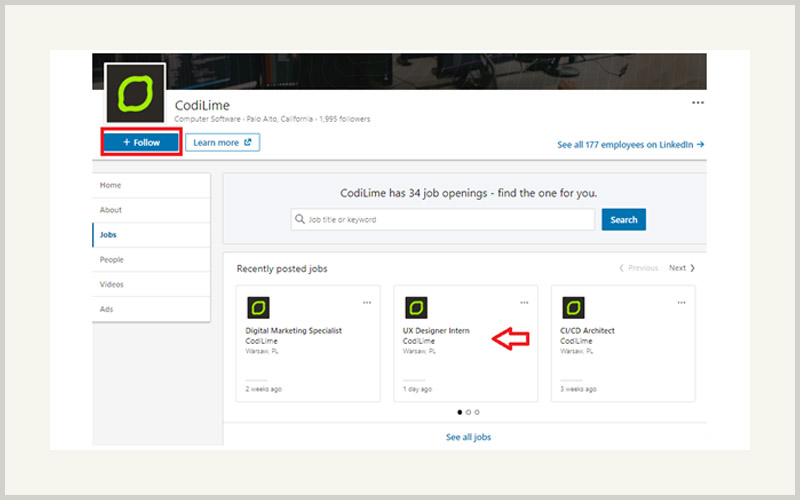 On LinkedIn, you can also search for UX designer internships in general, either locally or globally. The platform also sends you notifications, when relevant internship program opportunities appear.
Get Ready to Skyrocket Your UX Designer Career!
There are many benefits that an internship can offer future UX designers, from perfecting necessary skills to getting the desired job offer.
Whether you're a student exploring career opportunities or someone who wants to change their career, starting your path with an internship is a smart way to boost your UX designer career.
There are plenty of UX design internship opportunities around the world, so you can make your first steps as a UX designer somewhere abroad, while also learning a foreign language and culture.
To expand your search and get as many internship options as possible, we encourage you to actively explore all the above-mentioned resources. These platforms are updated quite frequently, so there is a high chance that this way you will find the UX design internship you're looking for faster.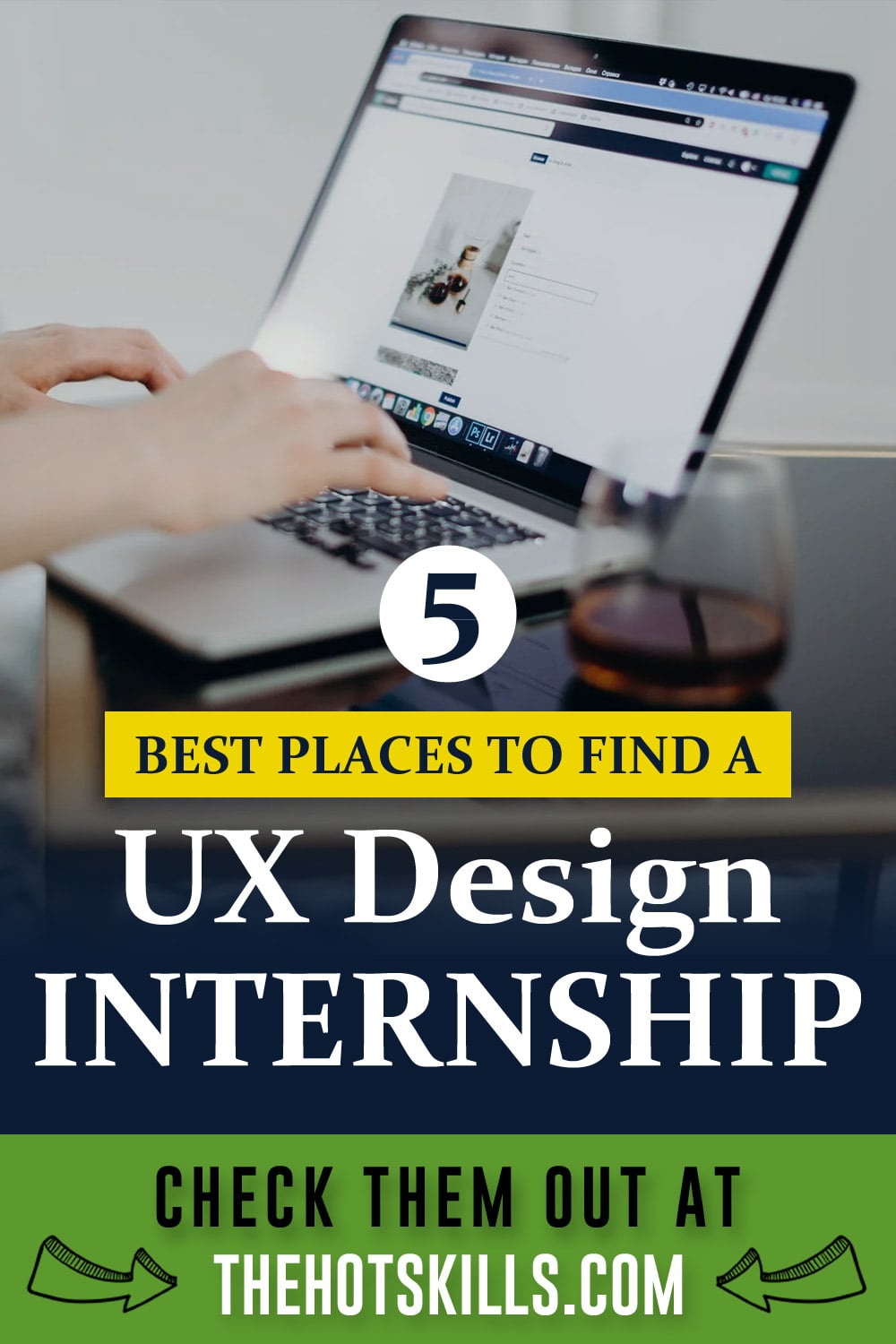 You May Like: