Every designer needs to create a rough prototype before beginning with the best website or application design. With so many wireframe tools breaking the market, selecting the best is a quite daunting task. However, we have simplified this task for you and have come up with the ultimate list of wireframe tools. These tools are also well-known as essential web design tools.
There are some free mockup generator tools available online while the others are paid. However, all are comprehensive to use and impart ease of use to the users. These Prototyping tools are mainly used to fabricate a simple layout of the website or application covering each part of the rough design.
In this guide, we shall cover some of the top wireframe tools to be used by the designers to ease up their prototyping task. Along with this, you will also look at some of the terrific design inspirations as a bonus to make you all prepared for your elegant wireframe journey.
So, Let's get started!
What is Wireframes
Wireframes are an essential step in turning any digital product into a reality. Wireframe is like a building blueprint for your digital product. The goal of a wireframe is to create the basic skeleton for each screen in your design that way you can review the overall layout of the design with your clients before things like imagery, colors and branding of product, website or mobile app. A wireframe will save you and your clients a lot of time.
How to Make a Wireframe for Free?
Now you may be asking yourself, what program do I need to create a wireframe? Well, no program is required. All you need is a piece of paper and pencil. However I prefer to use InVision Freehand tool when creating the wireframes.
Pencil and paper are great but freehand allows me to send my wireframes directly to the client present them in real time and also gives them the opportunity to make notes in the same document.
When starting a wireframe you should know what your product needs to accomplish. For example, if you need to wireframing a simple sign-in screen for a mobile app. The sign-in screen typically have a few required items such as:
Username Input Field
Password Input Field
Submit Button
Forgot Password
etc
The main goal is to get the user signed in. So, before you start creating the wireframe, you have list them in an order of priority or in order of what is most important for the user. When you priorities the items, the next important part is sketching. The sketching is essential in wire framing because it enables you to get your ideas out quickly.
The sole purpose of communicating your ideas quickly and focus on the user experience with wireframes.
Exhaustive List Of Top 25 Wireframe Tools
Every year a large number of wireframing tools come online with a different set of features. Thus, if you are looking for the best of best, your search ends here. We know that the best prototyping tools for all the UI/UX designers are hard to find. So, we compiled all the web design tools in a bundle here, just for you. Let's begin!
Pen & Paper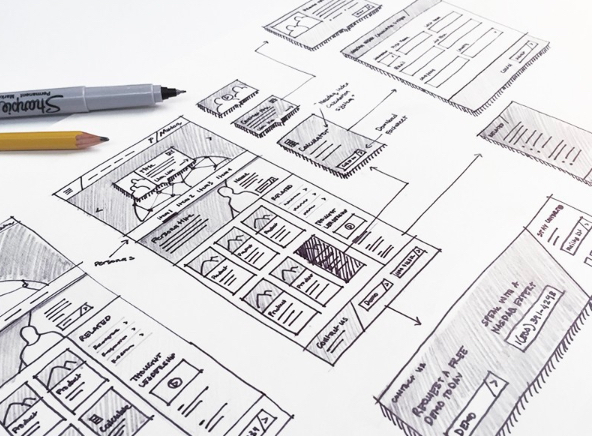 The oldest and still working technique can never be ignored by our extensive wireframing tools list. Yes, using actual Pen and paper to give a rough shape to the web design requirement of your client. This tool will not only give real shape to your design idea on the piece of paper.
Wireframe CC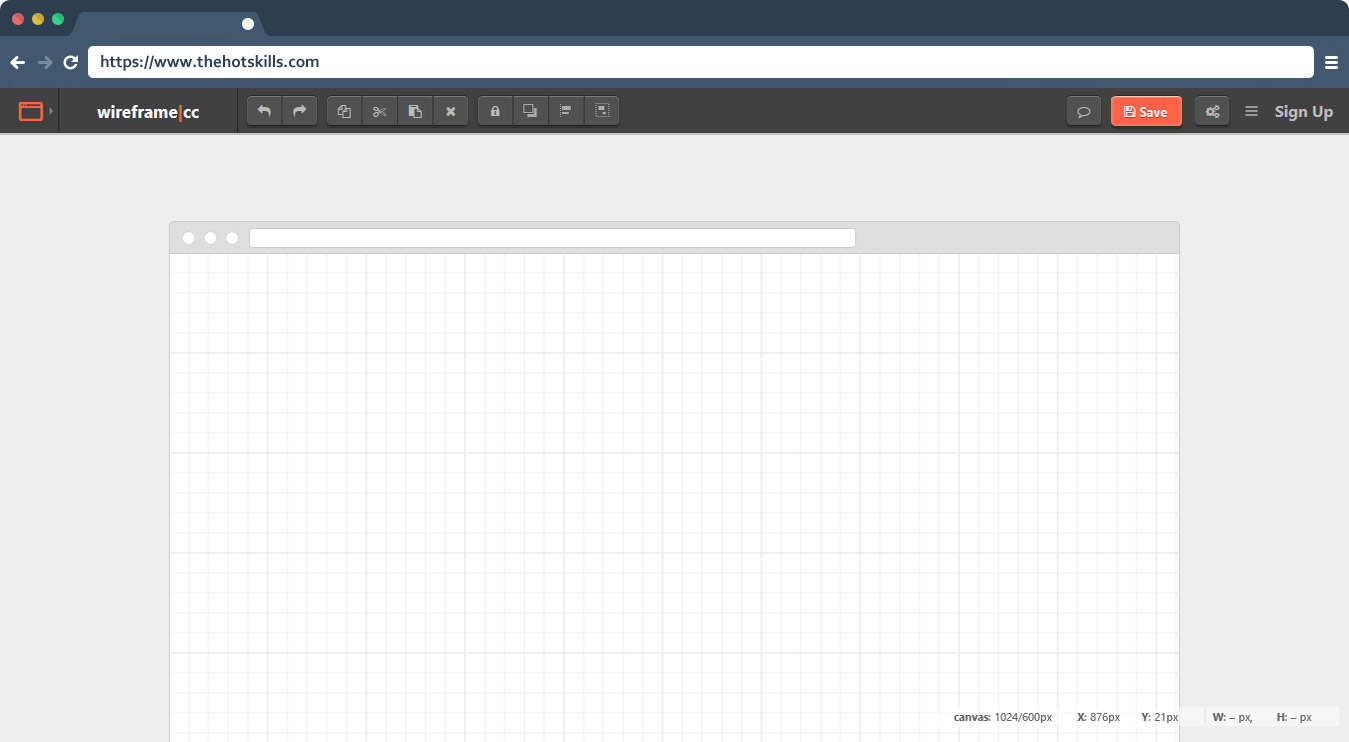 It is one of the best wireframe tools where you can easily click and pen down your ideas. It also provides you with palette options along with the content sensitive UI icons. Apart from this, it offers three basic templates like a tablet, a browser window, and the mobile phone. Wireframe CC is available in two options. Either you can subscribe to the free version to enjoy the basic features or you can subscribe to the premium version where you can get a wide variety of advanced facilities.
Adobe XD CC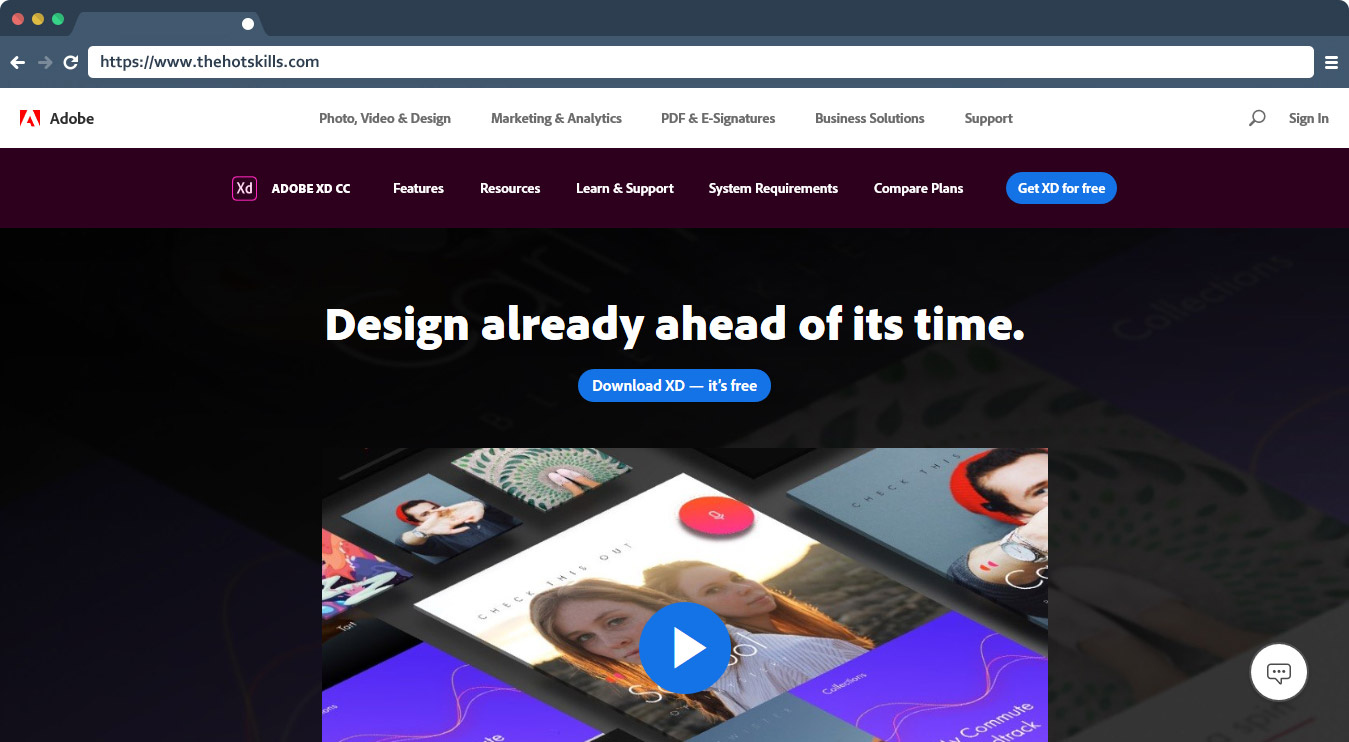 Adobe XD CC is regarded as a unique combination of creativity and innovation which is an important part of Creative Cloud. It offers you a huge variety of advanced features such as integrating new applications, resizing of different designs, voice prototyping, and the creation of amazing animations, easy management system, simple deployment options, and many more which reduces the time and efforts of the designers. It offers two kinds of plans which are free starter pack and paid plans.
Mockplus – Free wireframing and prototyping tool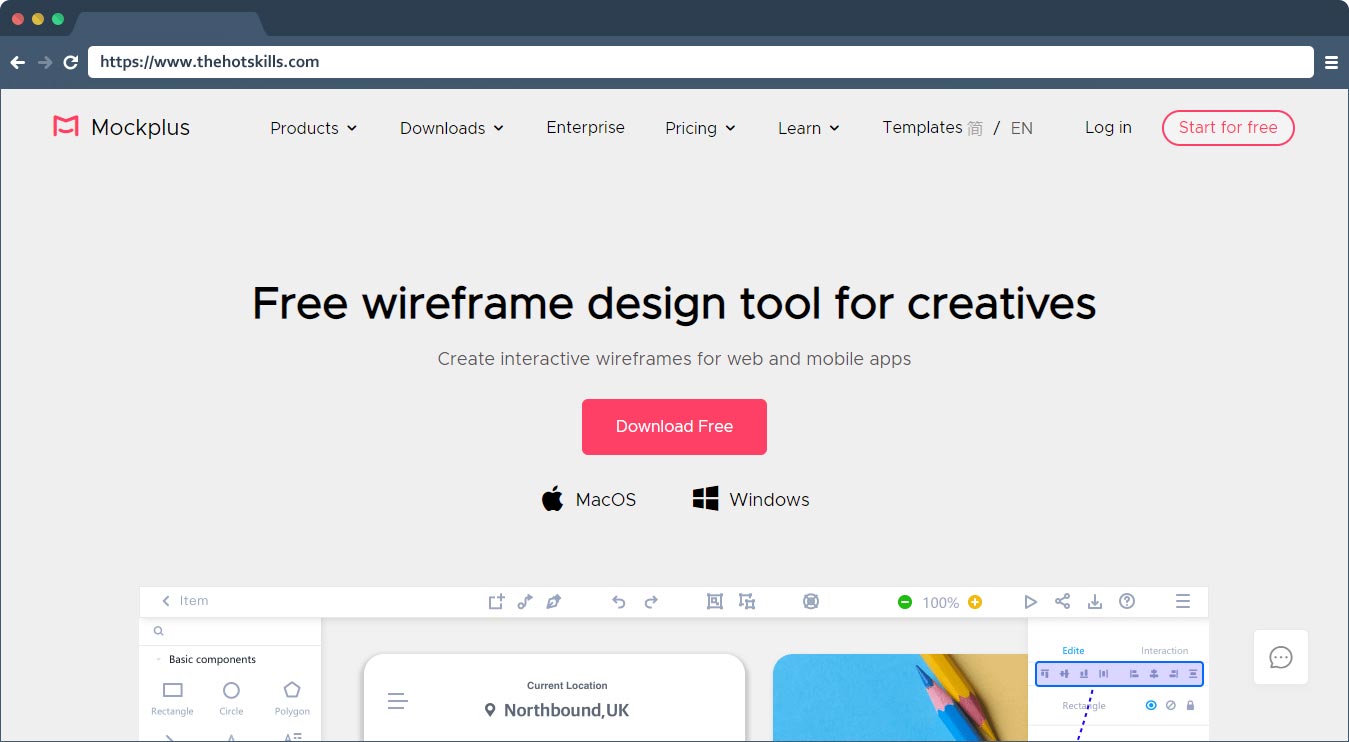 Mockplus is a faster and simpler wireframing and prototyping tool that allows UX/UI designers to create interactive prototypes or wireframes in under 5 minutes. If you are looking for a real quick tool, Mockplus is definitely your first choice, by offering a wide range of premade components, icons and templates to simplify your design process. What's more, when you've created an account there, you can also enjoy the free plan with 10 team members and 10 active projects completely for free.
It includes everything you need from ideation to fully interactive, responsive and testable hi-fi prototyping.Nowadays, Mockplus users are all over the world now, including more than one million product managers and designers, 50 well-known companies and 300 universities. It is committed to becoming a faster and simpler UX collaborative design platform in the future.
MockFlow – Wireframe Tools, Prototyping Tools, UI Mockups, UX Suite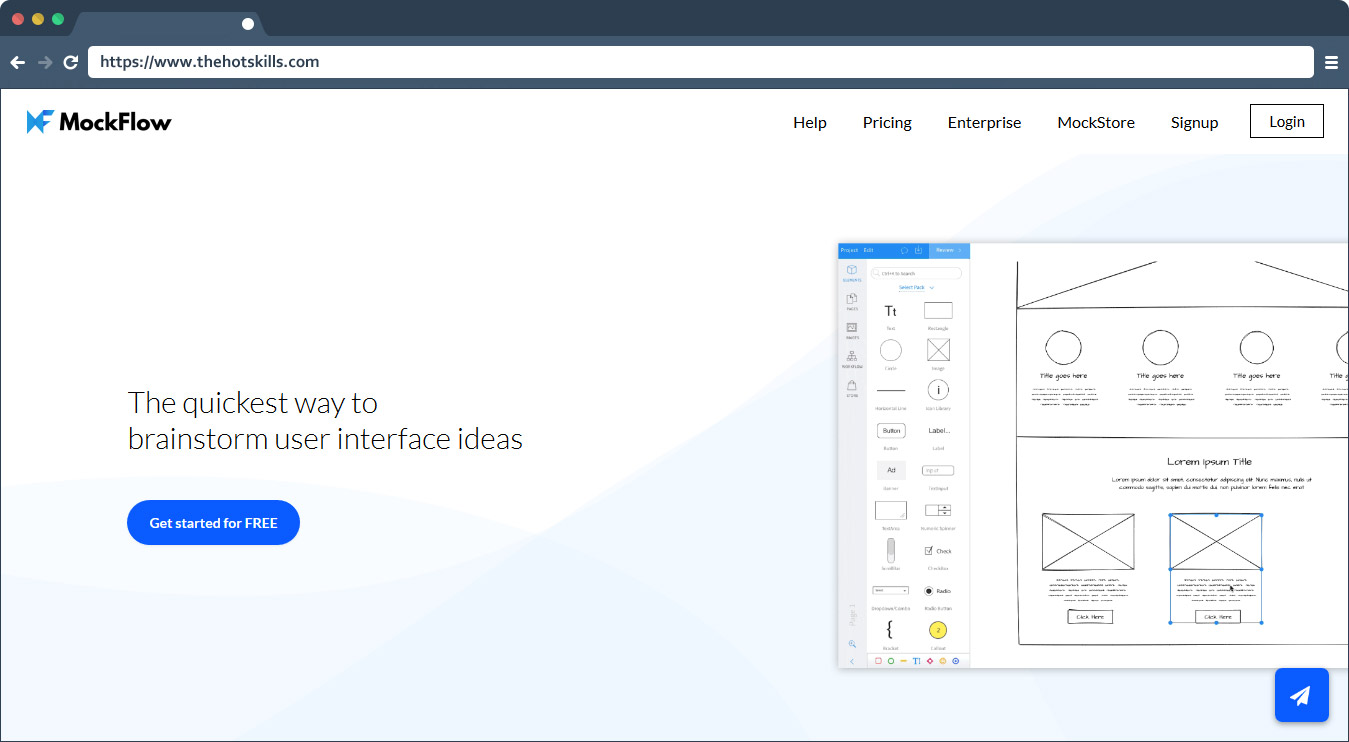 This application is based on the Adobe Flash program that enables its users to enjoy world-class minimalistic interface along with extensive editing options. It is one of the important web wireframe tools that offers beautiful pre-filled templates like graphs, tabs, profiles, images etc apart from numerous formatting ranges such as MS PowerPoint, Adobe PDF, MS Word and many more. The progress board of MockFlow enables inspection as well as detailed analysis of the project.
Balsamiq Wireframes – Quick & Easy Wireframe Tools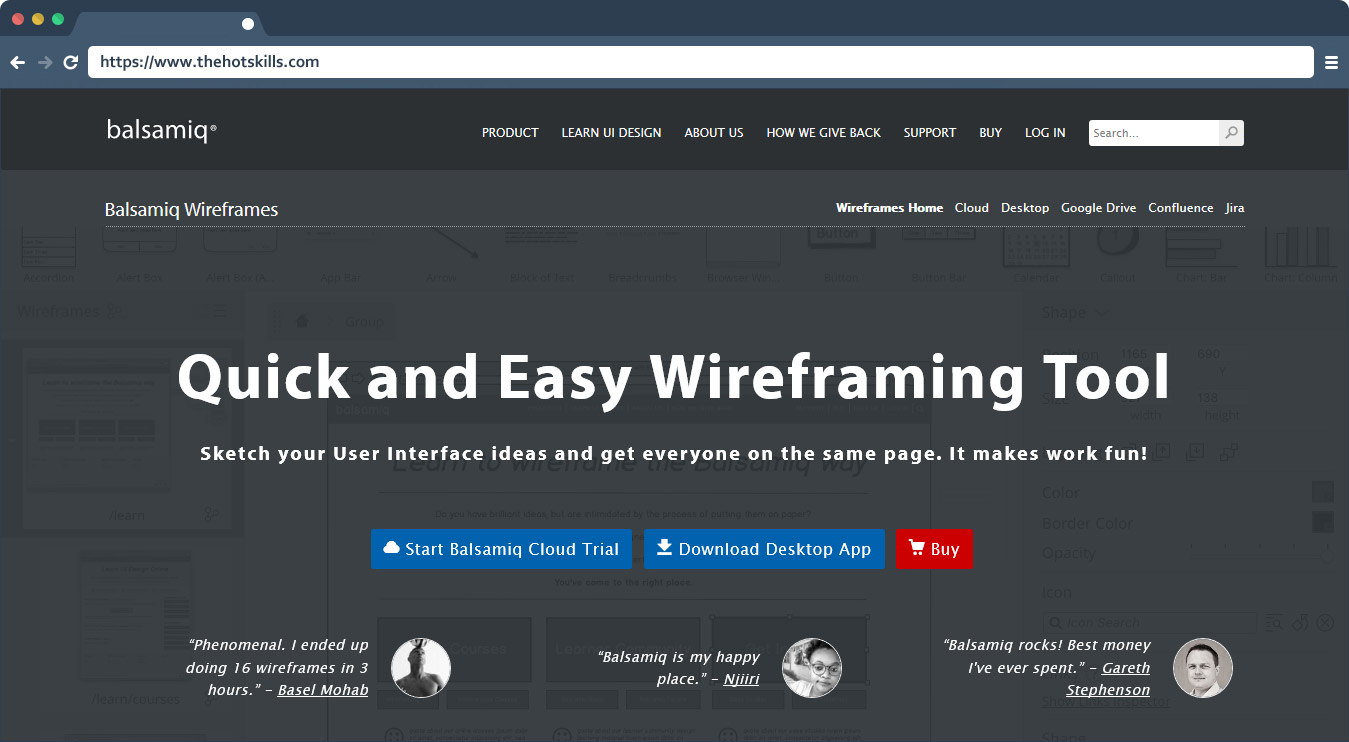 Balsamiq wireframe tools online is a user-friendly wireframe that ensures excellent user experience with more number of feedbacks. It offers many special facilities such as the arrangement of pre-built widgets, usage of free wireframe skin and sketch skin samples, hand drawing style and various UI elements for their users. The files can easily be transported to Google Drive for management as well as file creation and can be converted in PDF format.
Justinmind – The Best 100% Free Wireframe Tool for Mobile and Web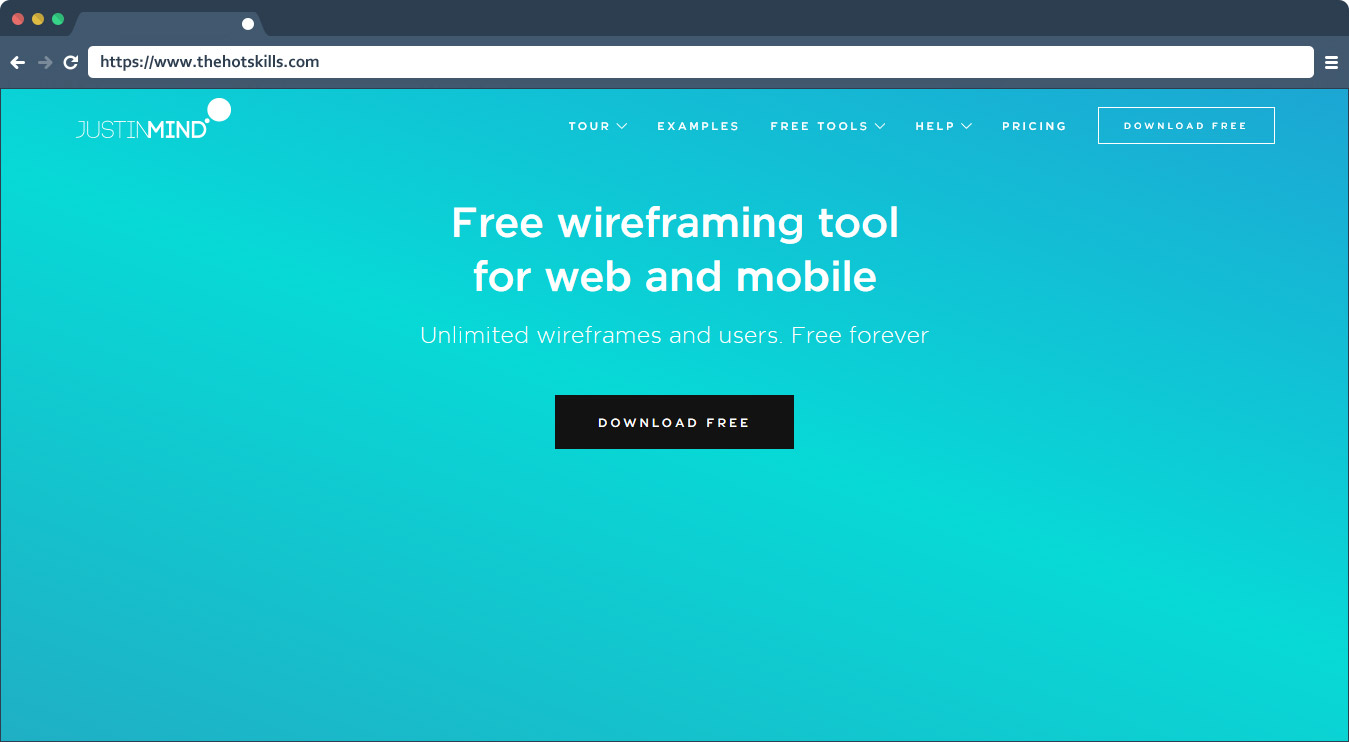 Justinmind is a spectacular wireframe and prototyping tool that offers the best design solutions using a wide variety of features like resizing, formatting, pick and drop placement and widgets import/export options. It allows you to test your designs by easily sharing it on real devices. Also, it provides interactive code free wireframe design with mobile gestures and web interactions. It offers sophisticated prototyping results and can be used on both IOS and Windows.
UXPin – The Premier UX Design Platform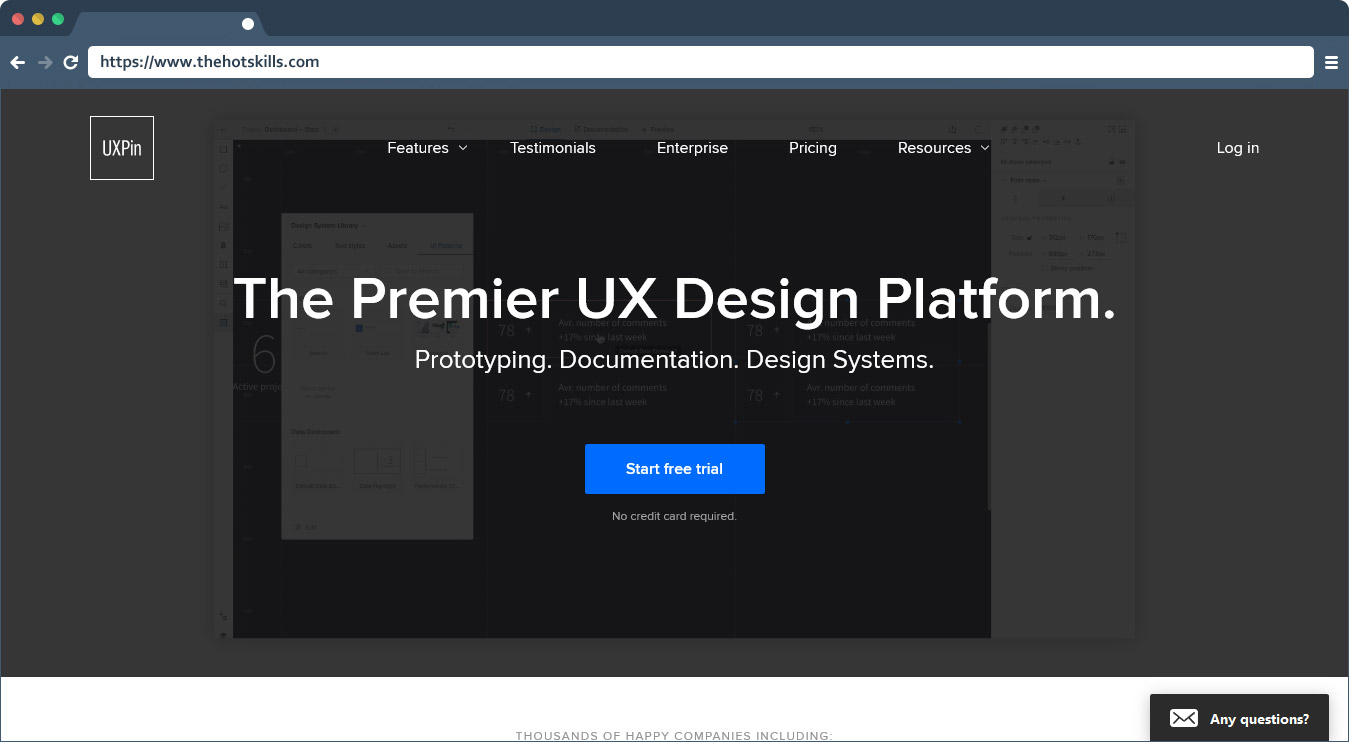 UXPin is regarded as one of the most popular wireframe tools. You can easily generate high fidelity mockups and customize the existing UI elements. It is a cloud-based prototyping tool that provides flexibility in operations and detailed functionality of different components like drag and draw, resizing, image and graphical formation and many more. UXPin is available in four different plans offering unique price range with the different servicing feature. This platform works with Bootstrap, Foundation, Android etc.
Fluid UI – Create Web and Mobile Prototypes in Minutes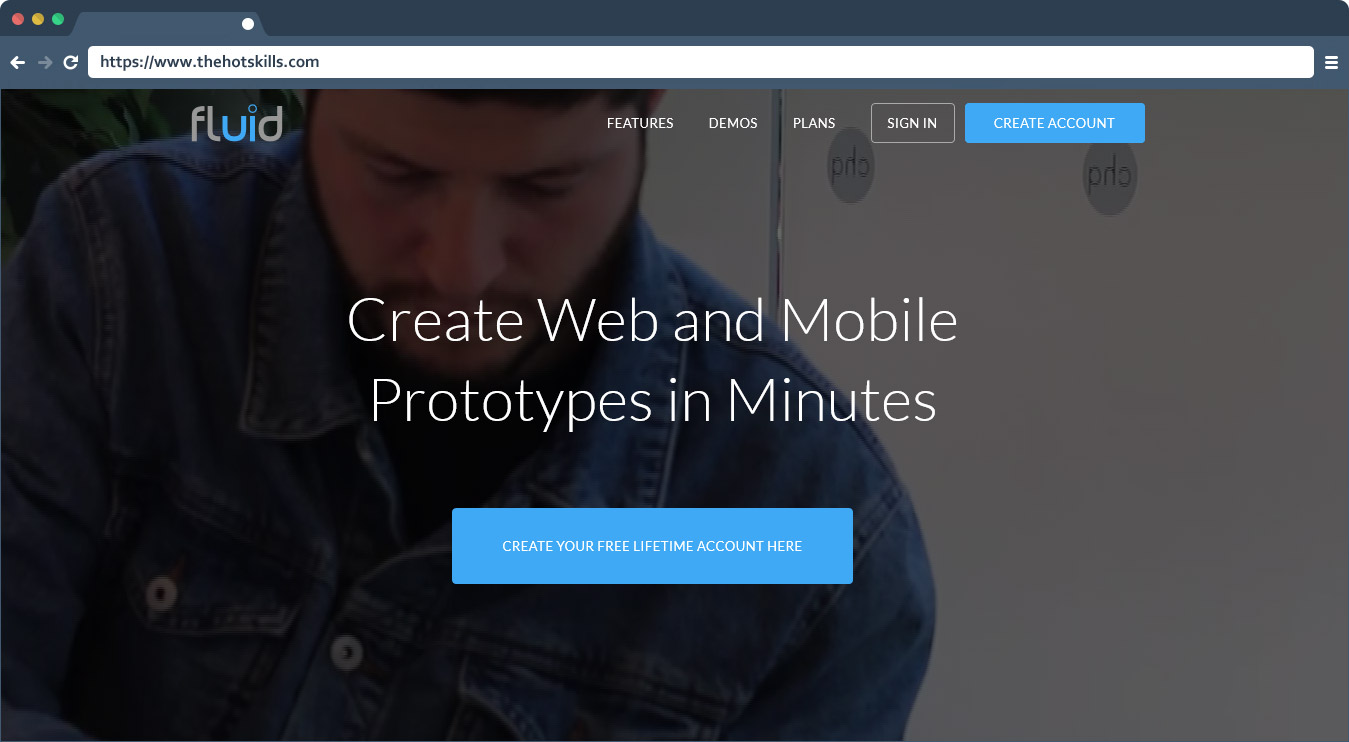 It is a web-based wireframing and prototyping software which develops high-class mobile interfaces. It enables a number of features like adding hyperlinks, the creation of graphics, images, and animations, initiate live video discussions, the addition of reviews and comments and many more. The experienced team of designers and specialists of Fluid UI keeps on adding advanced specifics to their application in order to increase their popularity among users and boost the customer experience.
Axure RP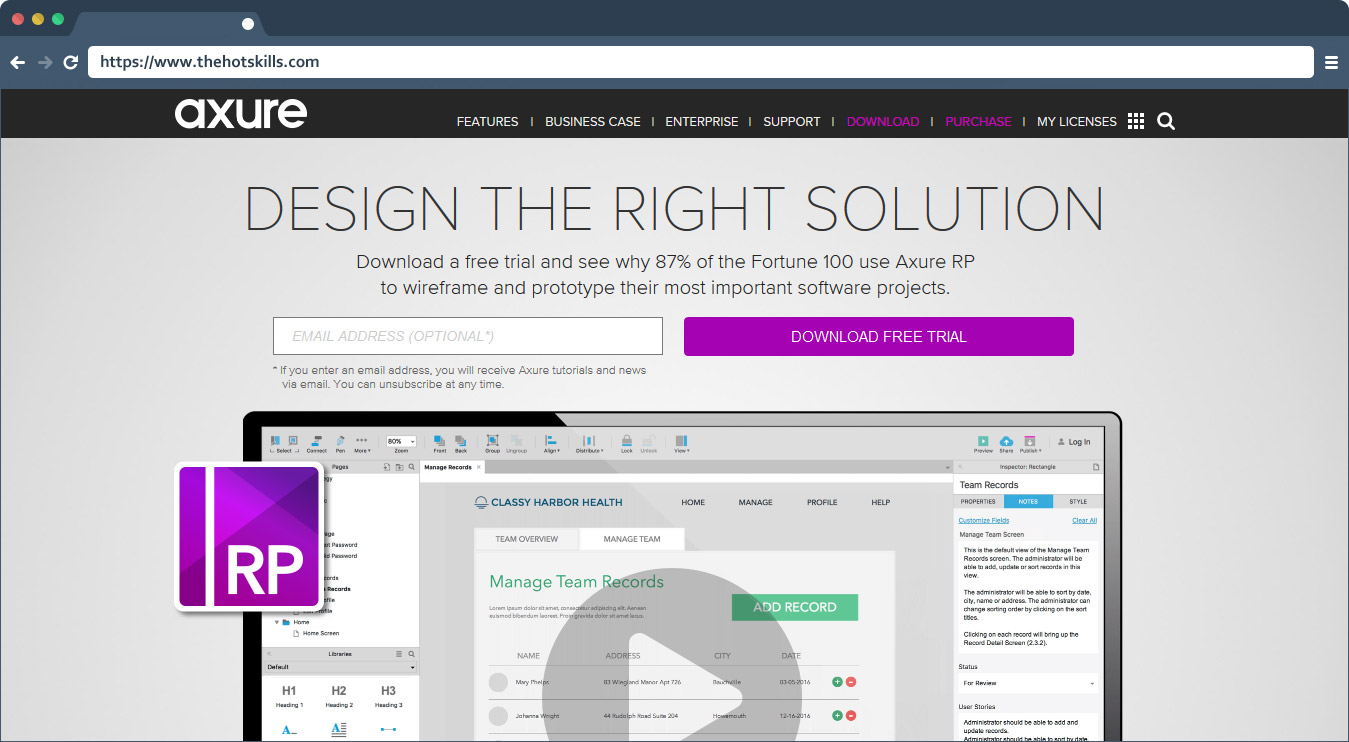 Axure RP was first initiated in 2003 and was developed to create innovative projects for different MNC's all around the globe. It offers unique wireframe tools for Mac and Windows. You can easily create powerful prototypes without using codes. Also, it provides dynamic content with conditional flow and animations along with adaptive view and utilization of mathematical functions in a convenient manner. It also facilitates team project making wherein you can use the check in and check out features to keep a record of the work done by the team members.
Pidoco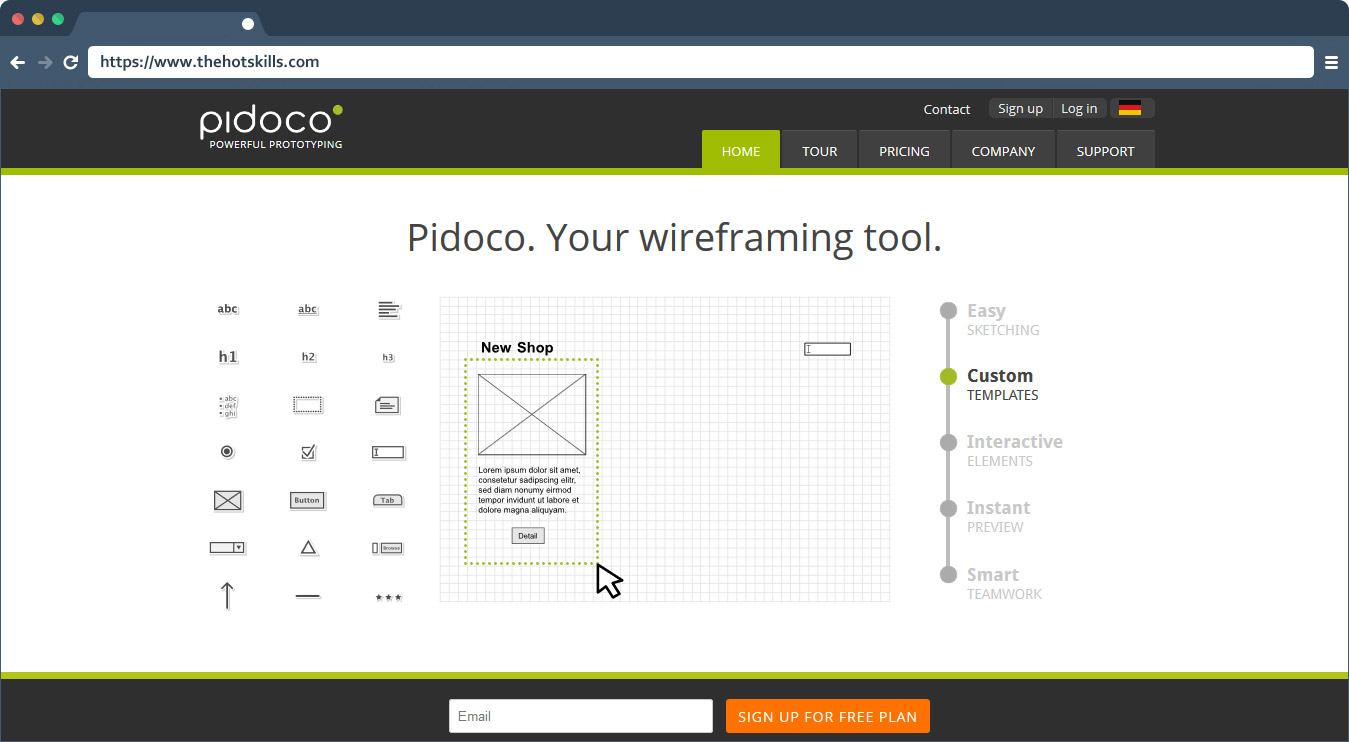 Pidoco is one of the highest ranking paid web-based prototyping and wireframe tools that helps in the generation of revolutionary and interactive prototypes for the websites. It offers several advanced features such as interactivity, collecting reviews and comments, test driving on Android and IOS devices, usability, integration, customization and many more. Pidoco wireframe tools are not only useful in creating building blocks but also helps in making masters and layers in order to enhance the consistency of the project.
Indesign CC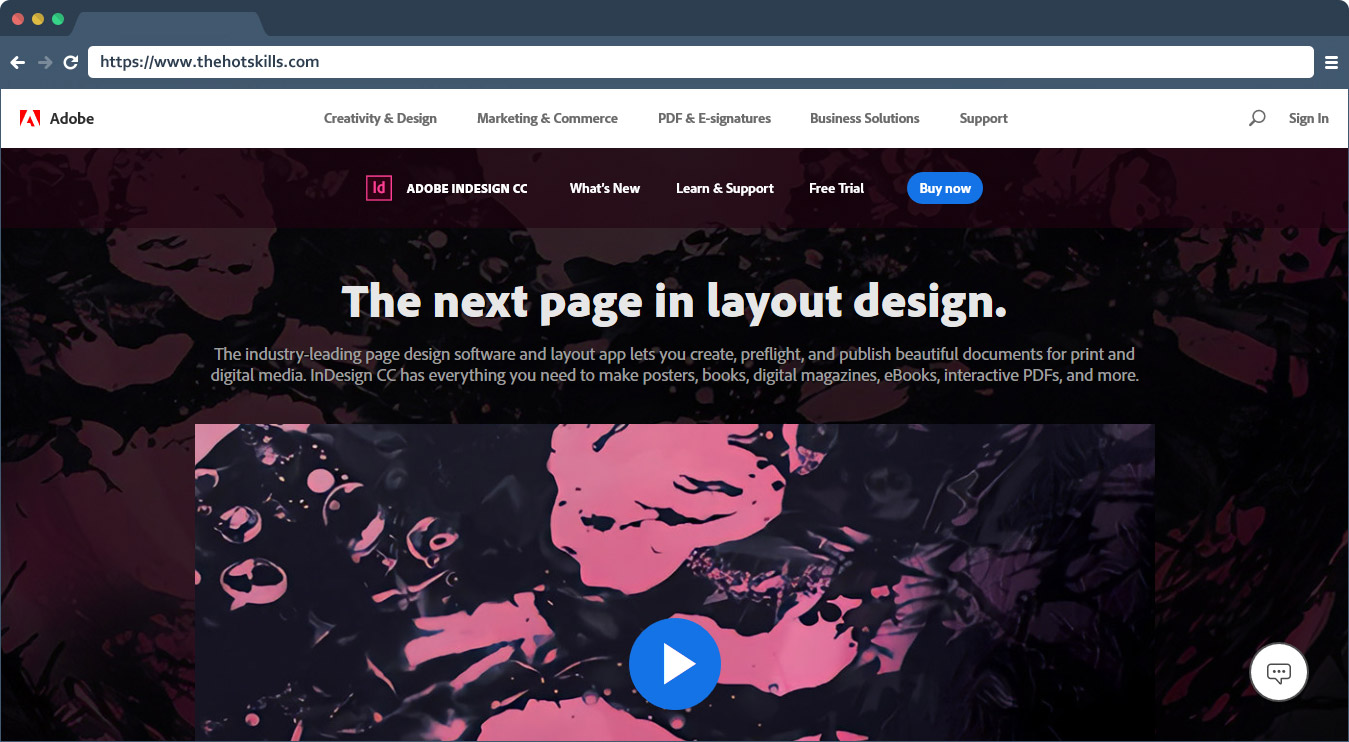 It is considered one of the most innovative platforms for using wireframe tools. Indesign CC ensures that the customer's experience is increasing by providing high-class facilities such as live video, formatting, resizing, listing, including animations and many more. Also, this platform offers innovative PDF files that symbolizes a wireframe for your application or website. The highlighting element of Indesign CC is that you can easily generate libraries of page elements and reuse the graphics on your wireframe.
Sketchapp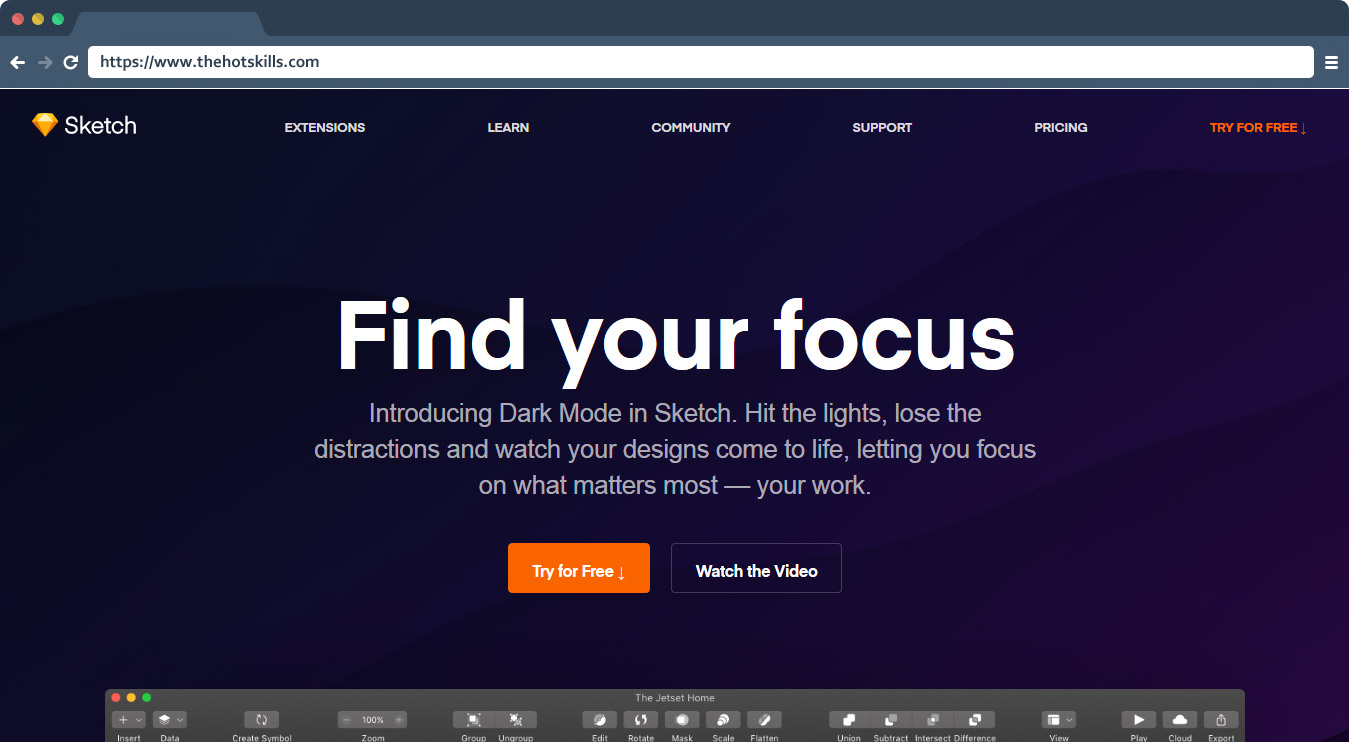 Sketchapp free wireframe tools have redesigned the way of creating the most intuitive prototypes for the desired websites. The key components of this software are dark sketch mode and 2.7x fast performance facility in order to boost up the user interface. Moreover, it has a creative plugin ecosystem offering a bundle of features such as pixel precision, code export, prototyping, grid and guides, formatting and editing, complete toolkit, non-destructive editing, vector editing and many more.
Moqups – online mockups made simple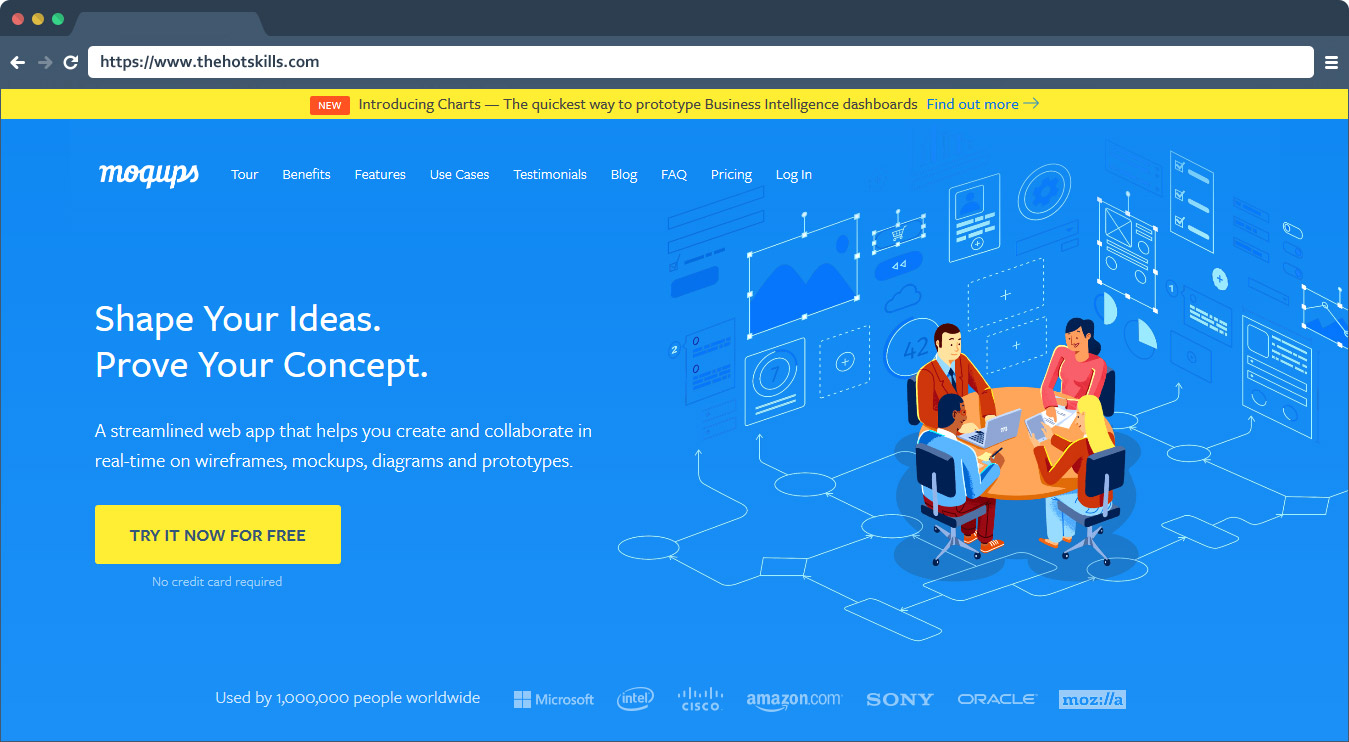 This platform provides a flexible designing solution for the creation of different prototypes, mockups, wireframes, and diagrams. It is a simple, sophisticated, fast and user-friendly technique for validating your ideas on the detailed structural wireframes. Apart from this, Moqups is famous for its team momentum and collaborative learning along with the utilization of stencils and built-in libraries of icon sets. The highlighting features of this platform are page management, importing images, object editing, styling options etc.
InVision Studio – The world's most powerful screen design tool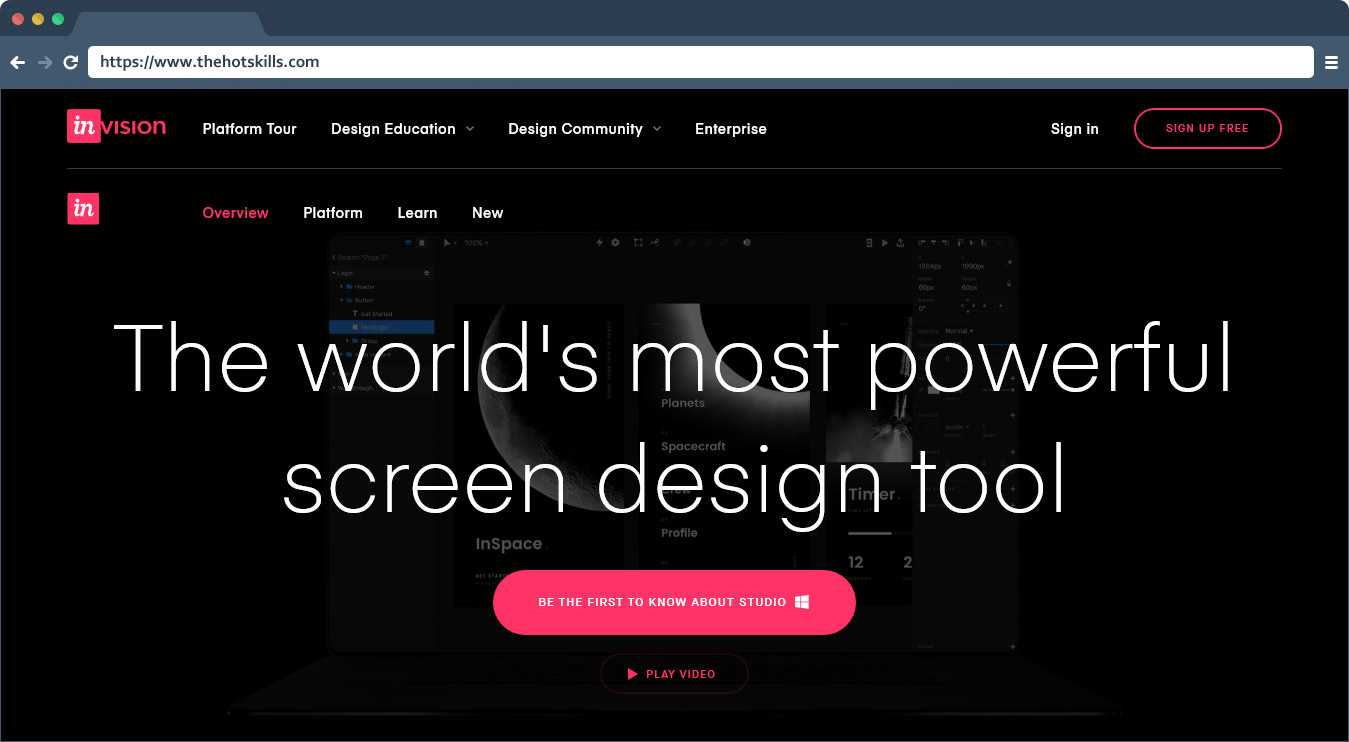 It is a new platform for designing prototypes, animations, and wireframes for its users. This software offers numerous wireframe tools for Mac users. The main features of InVision Studio are fast screening responsive lightening designing, rapid prototyping, collaborative teamwork, flexible layer styling, pixel layout, vector editing, inspection, global syncing, real-time updates and many more. InVision Studio has become a powerful medium for creating networks and gaining feedbacks through comments and reviews.
Figma – Free Online Wireframing Tool

Figma is an effective wireframe tool for free online that is available for Linux, Mac and Windows users. It provides a smooth, smooth, hassle-free and easy functioning and designing of prototypes and wireframes of the websites or applications of the customers. It is a bundle of extensive features like updating sync, keeping feedbacks, adding links, vector networks, precise fills, resizing the screen, layouts, and grids formation and many more. It is a creative way of outlining and creating digital products.
InVision Freehand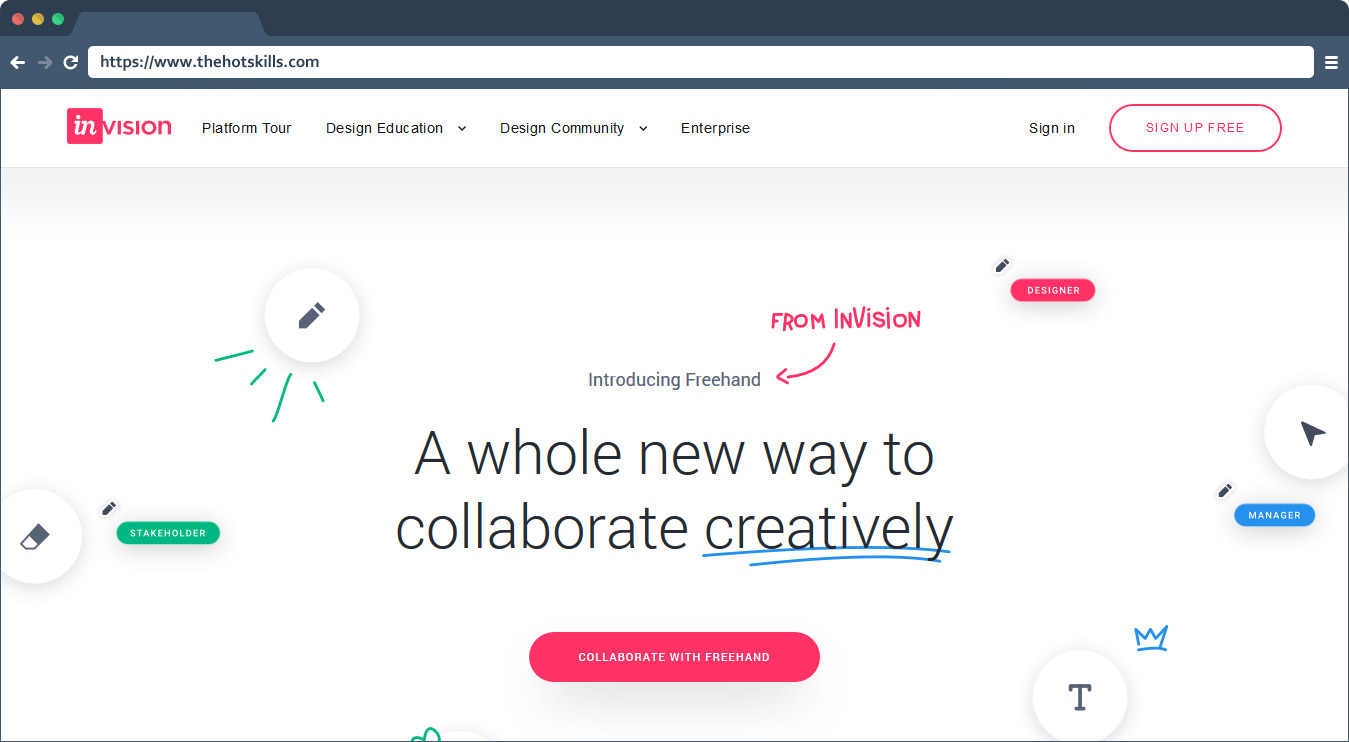 It is an all in one application for the creation of a detailed structural outlining of a website or an application through prototypes, wireframing, designing presentations, planning, and feedback. InVision Freehand is made up of simple intuitive tools like graphics, images, tables, text, drawing, sketching and many more. The wireframe tools used by InVision Freehand have influenced its users to create a virtual image of their ideas and provide a quick overview of it through reviews or comments.
FlairBuilder – Best Tools for Beautiful Wireframes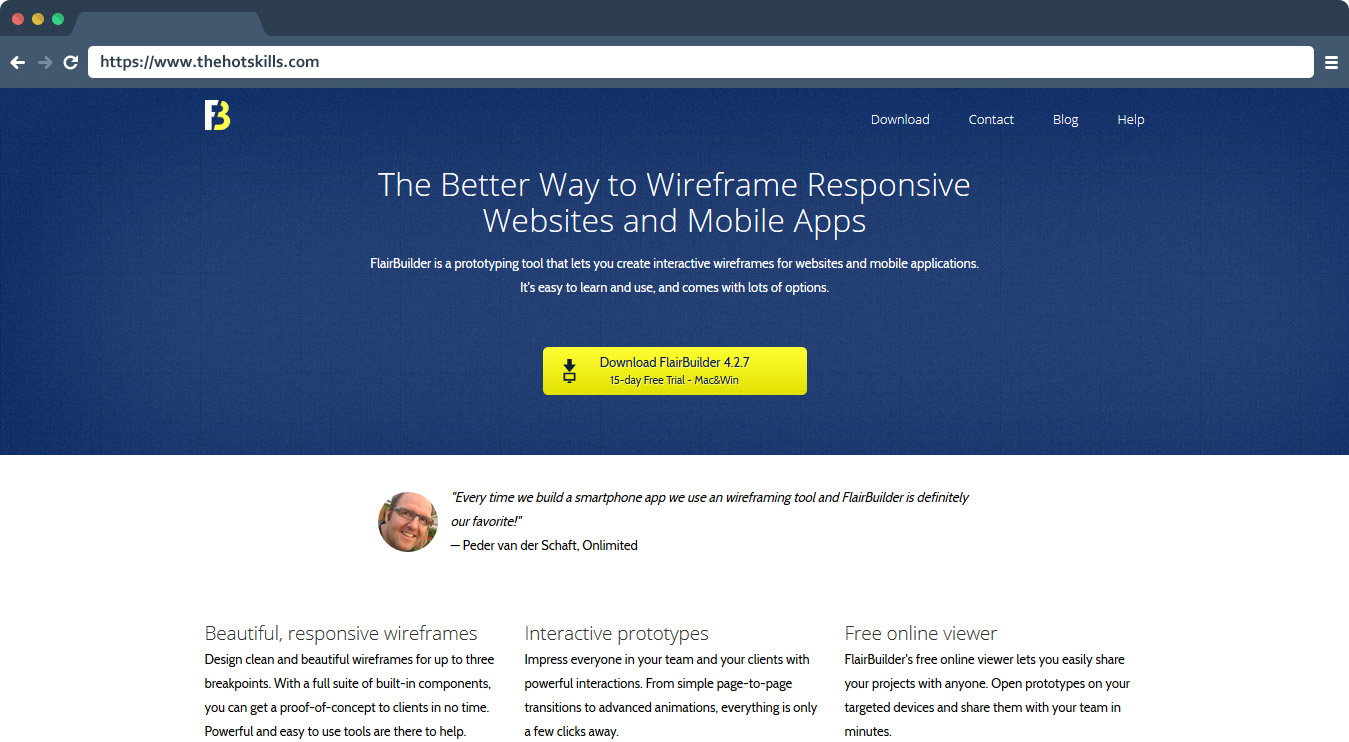 It is a powerful tool among other wireframing tools that provides you the facility to create interactive prototypes without much hassle. The prototypes obtained are beautiful, responsive and impressive. Flairbuilder also offers a facility to view them online by its easy share feature. It is an amalgamation of expert typography, amazing animations with many other exciting features. You can easily download the 15-day trial package and then, buy its premium version later.
Gliffy – Diagraming Software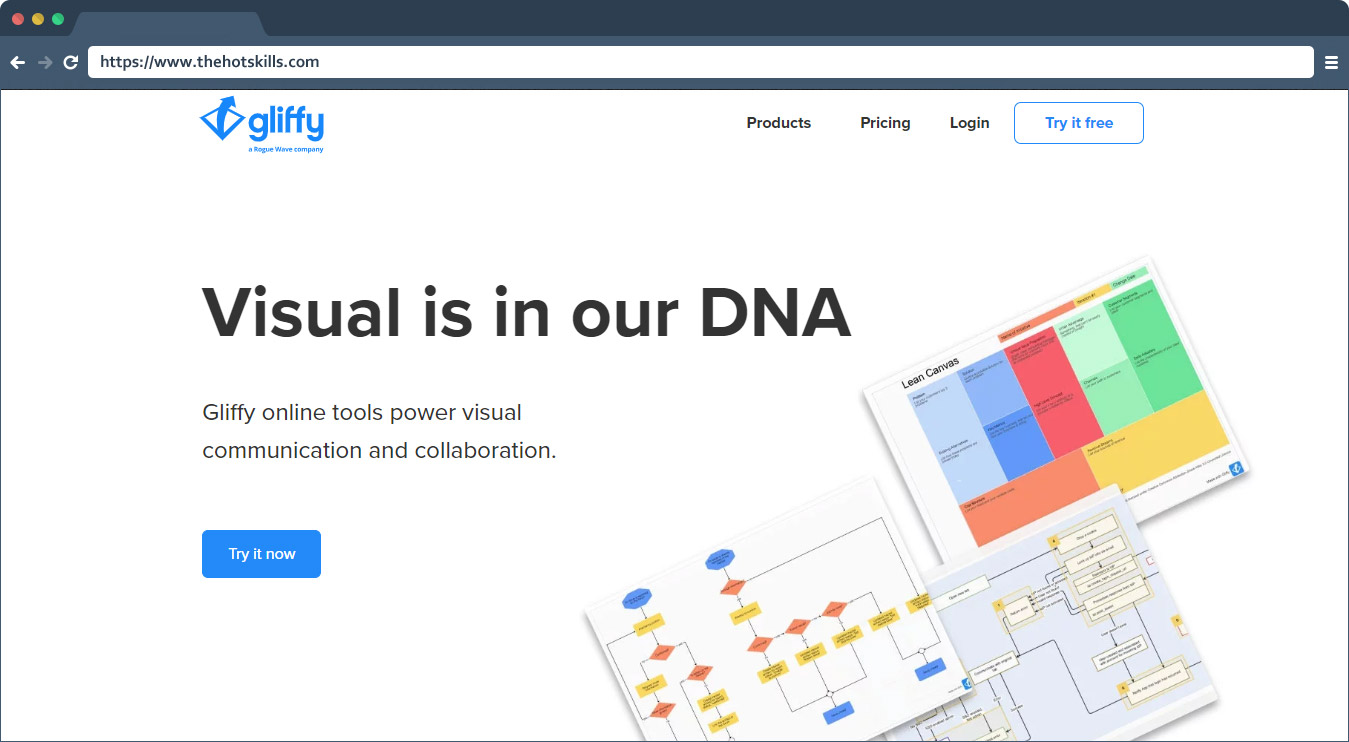 This online platform has empowered many web developers to create amazing wireframes in no time. Gliffy is considered as the perfect tool for visual communication and collaboration. This is most widely used wireframe tool among all the other UI/UX design tools. The obvious reason is its user-friendly features that are loved by everyone and enhanced features at a cheap price. All the big brands such as Cisco, Samsung, Adidas, Pandora, Visa etc. make use of its extraordinary service and create mind-blowing designs.
Proto.io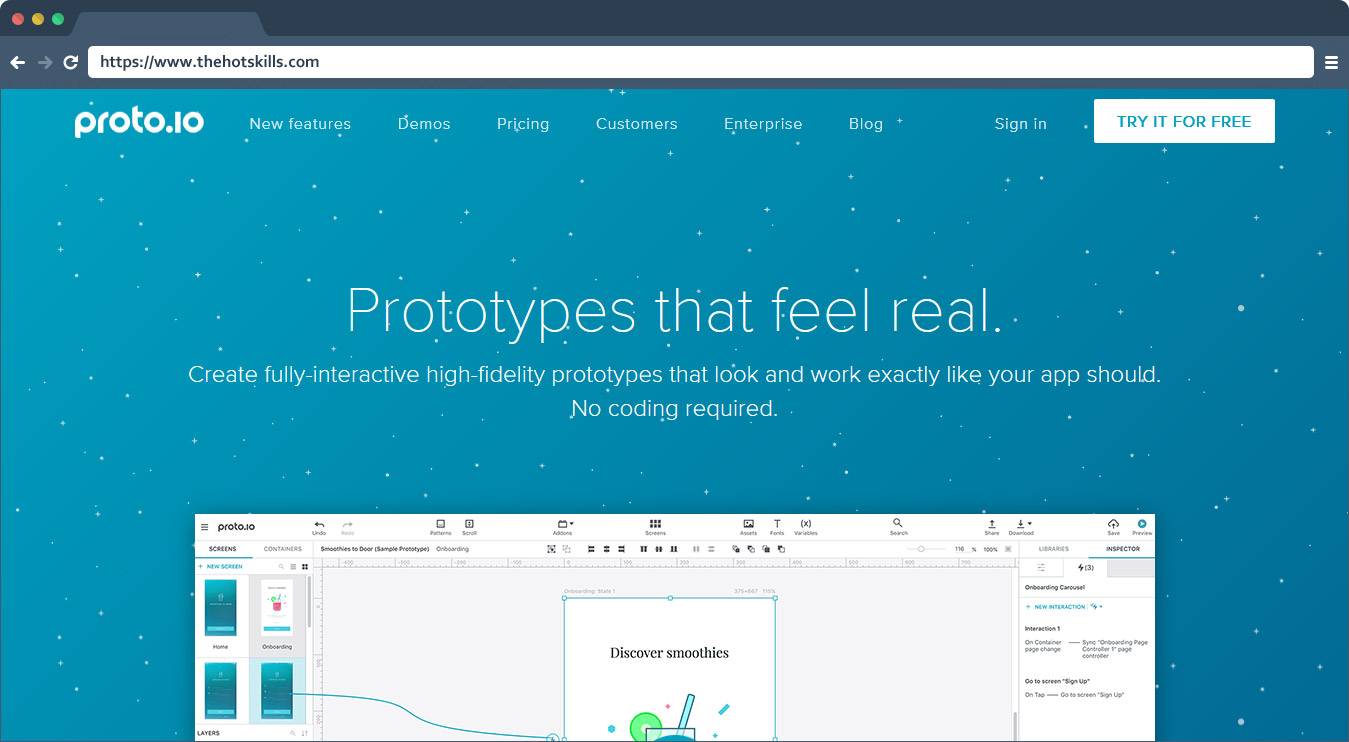 Proto.io is regarded as one of the most spectacular online wireframe tools which is used for generating innovative wireframes and creative designs. It offers a wide variety of amazing features such as high fidelity interaction experience, mobile gestures, transitions, animations, resizing, editing, formatting and many more. This platform is supported by Windows and Mac devices. There are four paid plans which offer different services to its users depending upon their need and plan description.
Affinity – Professional graphic design software for desktop and iPad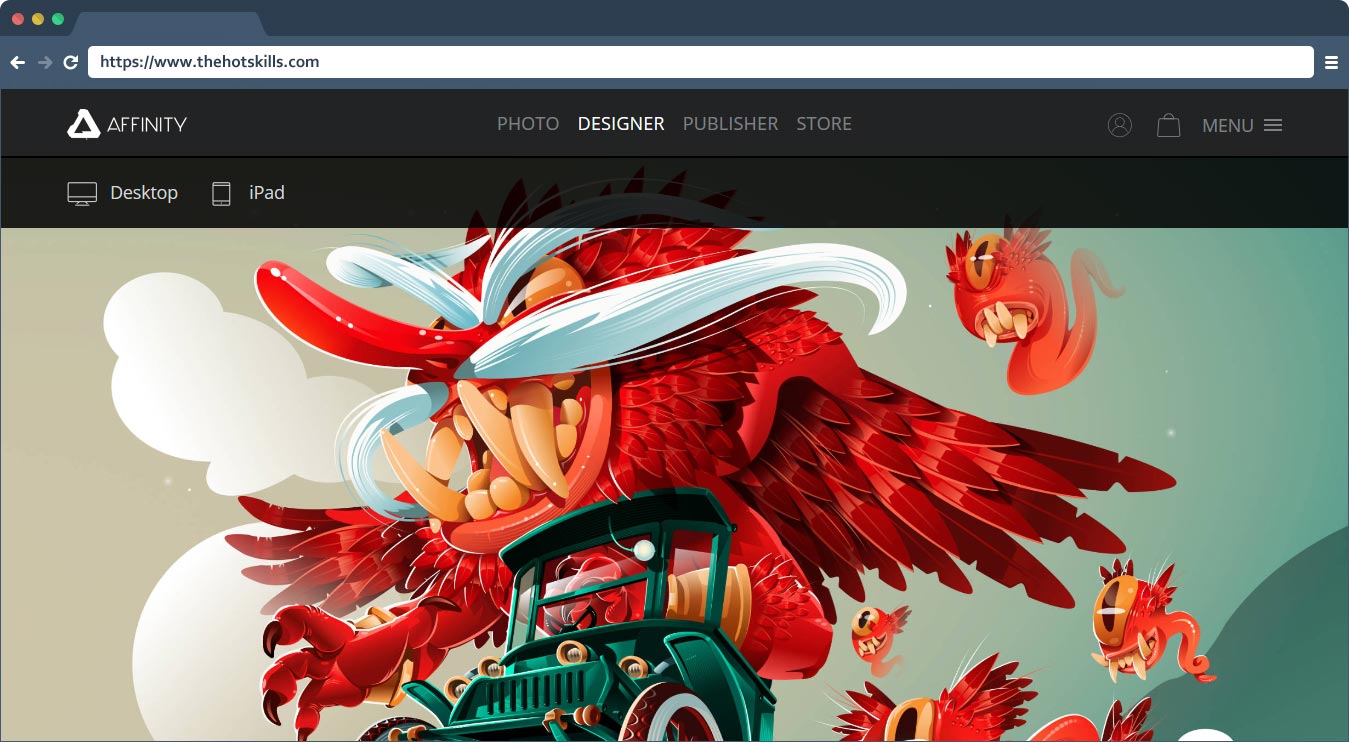 Affinity is a web-based designing software that has revolutionized the way of creating prototypes and wireframes. It is not only available for windows and tablet formats but is also available in the form of a workbook. It is easy to use, faster to create and simpler to modify the existing designs and graphics. You can also add animations and images in your illustrates. It is helpful for unifying and connecting people through reviews and comments.
Marvel – Rapid wireframe tool for iOS, Android Desktop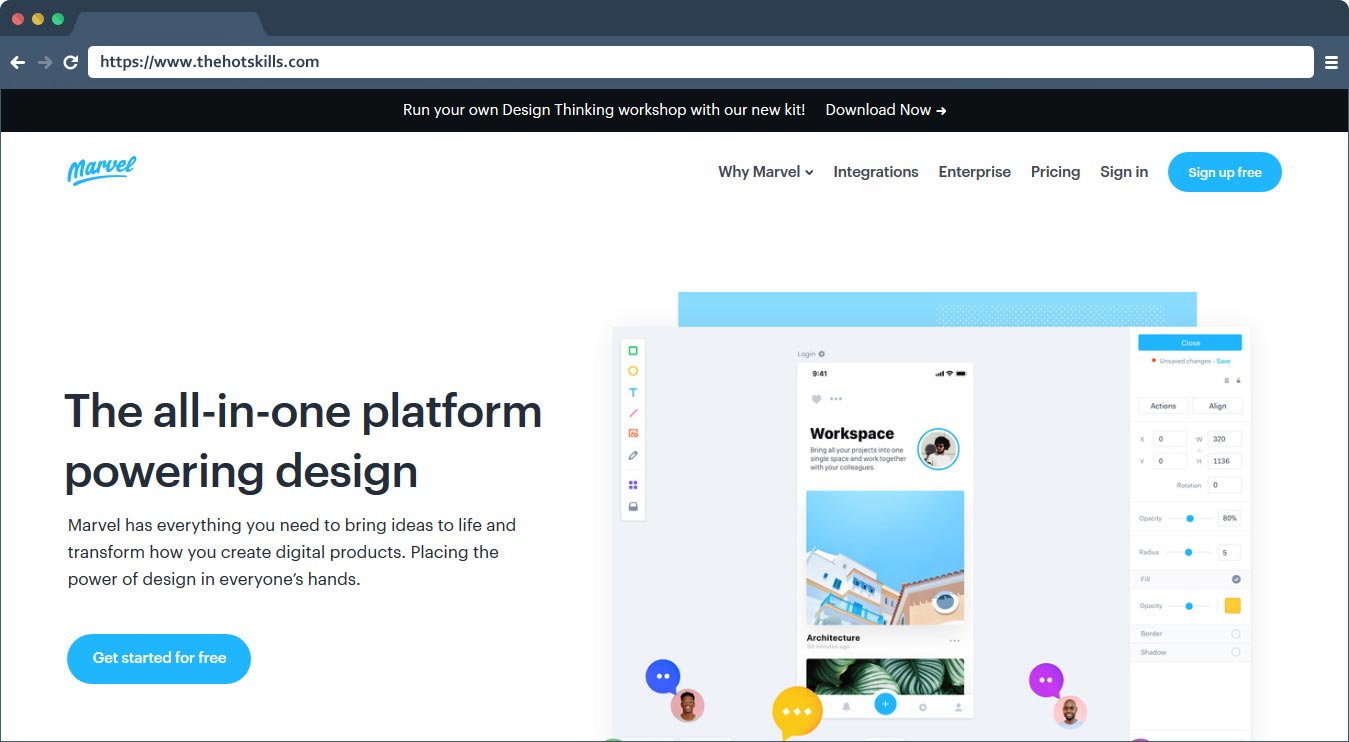 Marvel is an amazing platform used by top companies such as Trainline, Deliveroo, Buzzfeed, BlaBlaCar etc. in order to create wonderful and innovative designs, graphics, prototypes, and wireframes. It is a unique combination of perfection and simplicity as it provides all in one tool range to its users and helps them to generate beautiful prototypes without any hassle. Apart from this, it also supports collaboration, handoff, and integrations.
Cacoo – Online Diagram and Flowchart Software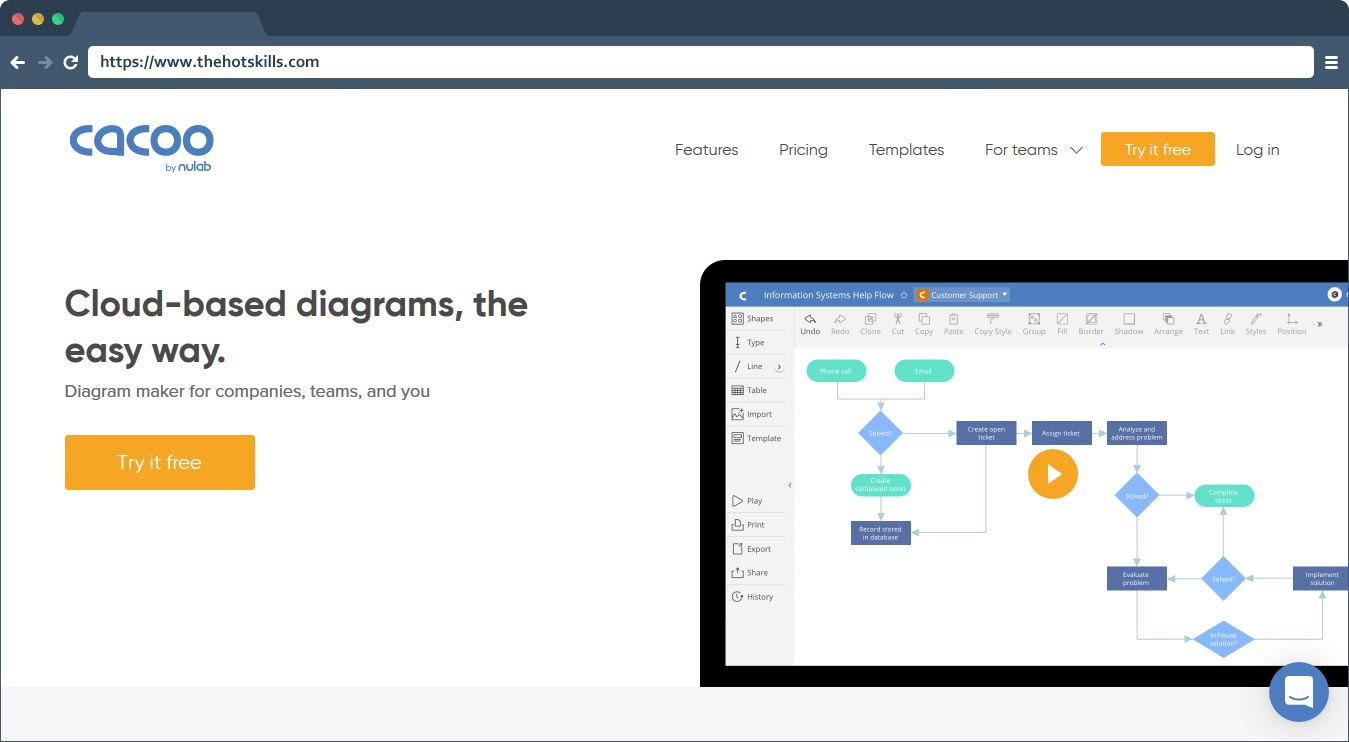 Cacoo is a cloud-based platform that provides open source wireframe tools and is given by Nulab. It has a huge collection of shapes and templates along with an extensive variety of flowcharts, network diagrams, UML diagrams, mockups, minds maps and many more. Moreover, it is regarded as an inexpensive tool for freshers and engineers. It has an experienced team of professionals that look after the queries of the users.
Adobe Photoshop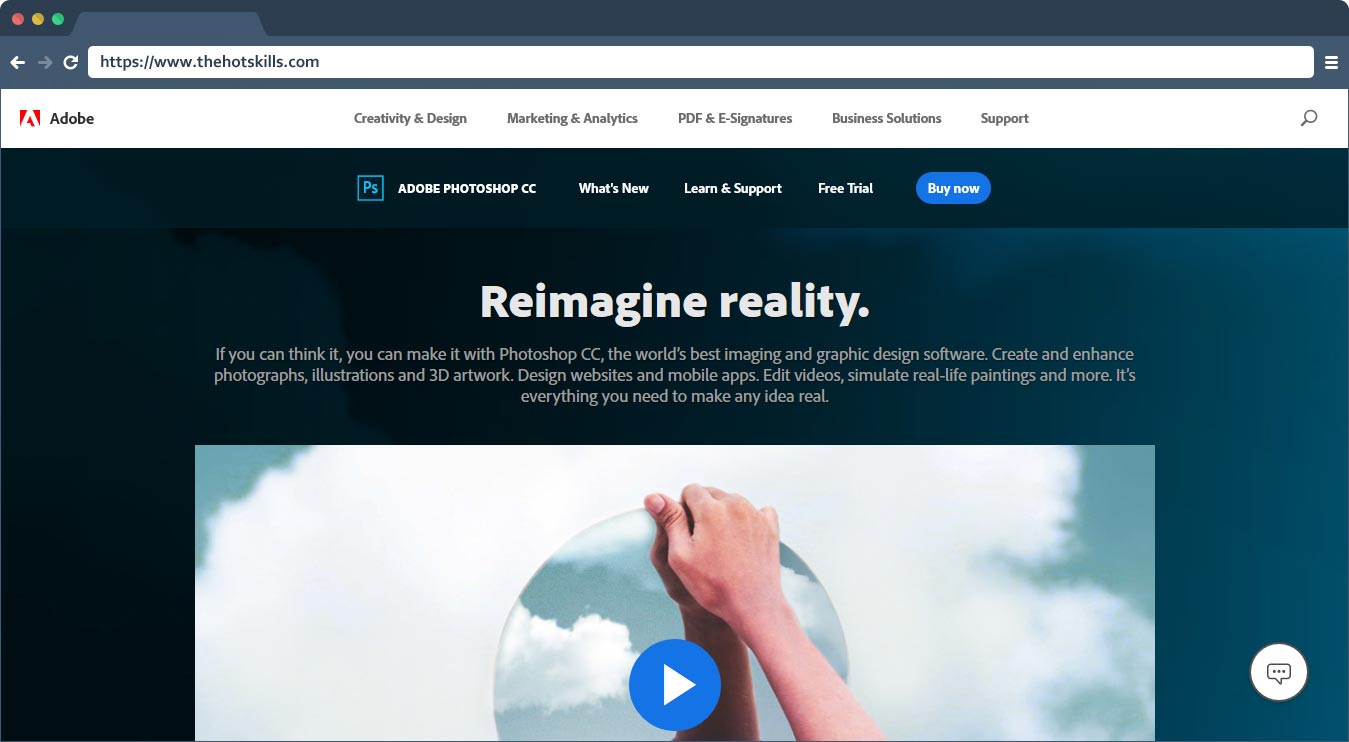 This is the ultimate tool used to design all types of graphics and perfect wireframes too. Any designer who uses Adobe Photoshop can achieve any design limit with his creativity. Not only is it a reliable wireframing tool for mac and windows, but all designers around the world take it as the most essential tool to develop a website. It empowers the designer to paint anything on the canvas of photoshop and become amazed at the breathtaking outcomes in just a few minutes.
Adobe Illustrator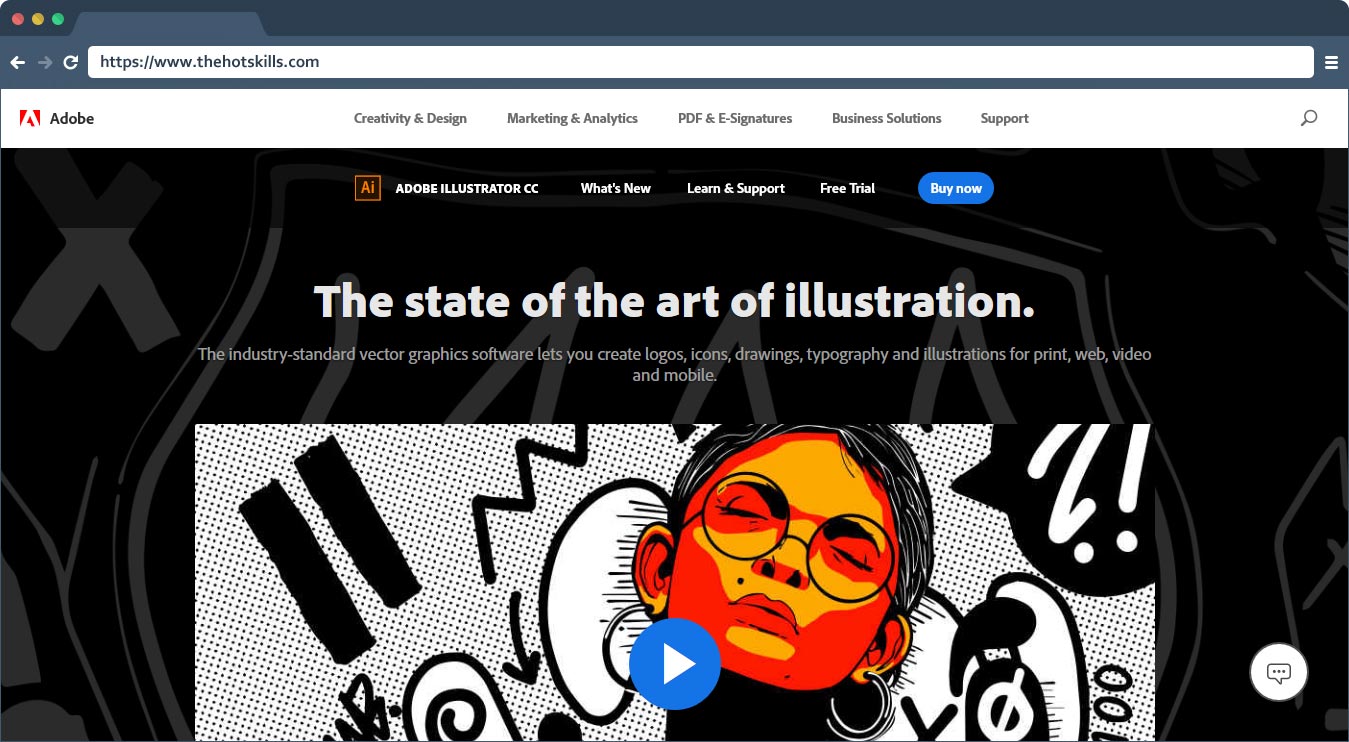 This is another magical tool by Adobe family that works in creating excellent logo designs and icons, perfect drawings, killer typography and pixel-perfect illustrations for print, web, video, and mobile. Adobe illustrator is known for its iconic wireframe designs that will grab the attention of all the viewers in no time. You can take its one-week free trial to get astounded by its never-ending fun. With its Global editing, trimming and custom toolbar feature, you can easily create your masterpiece.
Some Unique Wireframe Design Inspiration that you don't want to Miss
Wireframes have ruled the design world from a long time. But sometimes, you are tired of designing something out of the same old mind and want to try something new. No need to worry! We have got you covered with our personal favorite prototype inspirations that we shall share here with you.
These design inspirations will help you in your projects to think out of the box and make your wireframe designs more impressive to the clients. Not only this, these are some truly perfect and lovely ideas to bring a more refined shape to your idea in just a few seconds.
Check these given inspirations for your reference:
Now that you know these amazing mockup designs, go and try them out on your best wireframing tool for yourself.
Some Final Words
Creating a wireframe is a crucial part of the whole designing process. Therefore, when you begin with designing your first wireframe using any web wireframe tool, it must be a classic one. We hope we could provide you with all the relevant information regarding all the exceptional wireframe tools that are present online.
If you are still a beginner in creating good wireframes, you must follow all the good tips and tricks to create wireframes that will surely aid in mastering this technique eventually. For now, go and enjoy your experiments with these amazing wireframe tools and don't forget to share the links of your creative wireframes with us. We would love to see them here!
Enjoy Professional Wireframing With these Tools!