If you are reading this, chances are you have a business and want to take it Instagram. Instagram is, by far, one of the most popular social media platforms globally, with millions of users joining monthly. While it started as merely a platform to share photos, it has become a medium for wide scale marketing for businesses and brands of all types and sizes.
Registering for an account on Instagram is free, which means you have no reason not to join immediately. Get on Instagram, create an account and switch to a business account. Then, upload a high-quality picture with your brand logo, fill up your bio, and add a link to your website or channel. The business account allows you to choose the category your account belongs to, which makes it easy for your visitors to understand what your page is about.
Why should you hire an Instagram Marketing Agency?
Building your brand and boosting your online presence as efficiently as possible is imperative to boosting sales and generating revenue, which is why you should consider hiring an Instagram marketing service.
Agencies are up-to-date with the latest trends
Never underestimate the value of trends on social media. Trends play a critical role in directing attention and traffic, and in turn, money. If you want to stay relevant as a brand, you need to be on top of the latest trends and optimize your marketing campaign. Getting an Instagram marketing service to do this is an excellent idea.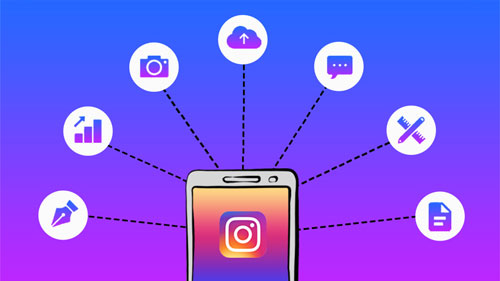 While you could attempt to handle this yourself, you will not be able to get much done. Furthermore, you will not know how to capitalize on the data you have and use it to your advantage. Hire an agency to take care of this for you.
Continuous support and supervision
You can expect to receive continuous support and supervision if you are working with an Instagram agency. If you have doubts about Google Analytics, landing page issues, Search Engine Optimization (SEO) strategies, and many other things, all you have to do is get in touch with your Instagram agency. It can be incredibly liberating knowing that you can contact your agency that has people who know what they are doing.
You get access to the top tools on the market
Adding the best tools to your arsenal is another huge plus point. As you probably know, the best social media tools work on a subscription basis. Paying a subscription fee for each tool may be out of the question for you. Instead, hire a social media agency because they usually have the best tools on the market at their fingertips for reporting, analytics, optimization, setting up workflows, and a myriad of other functions.
Hiring an agency not only gets you access to the best tools, but you also have people who know how best to use these tools to get the results you want, while saving you heaps of cash in the process.
Increase efficiency and save time
If you own a business, you probably have a ton of things to take care of, including money, infrastructure, products, services, scouting talent, and much more. Make sure that marketing is not one of them. You are better off delegating your social media marketing to an Instagram agency and investing your time, energy, and money on the other aspects of your business to ensure everything runs correctly.
Doing so can help you save a lot of time and not have to worry about training your in-house employees to handle Instagram marketing.
What to keep in mind as you look for the right Instagram agency?
By now, you know the value of working with an Instagram agency to manage your marketing needs. Here's how you what you need to know to choose the right agency:
Look for agencies offering multiple services
Instagram agencies that offer a variety of services are ideal. At this point, you may want them to only handle your Instagram marketing. However, as you expand your brand, you will have to cross-promote your content, which means you need to start becoming active on other platforms.
You may need to work with an agency that handles your SEO, Facebook, Instagram, LinkedIn marketing, and everything else. While you always have the option to work with a different agency for each platform, you save a lot of time and energy working with a single agency that handles everything.
Agencies willing to work with your budget
As you work to expand your business, you need to keep a budget aside for marketing. The next thing is to find agencies that you can afford to work with. Find as many agencies as possible that share their prices on their website. Unfortunately, many agencies do not display their prices on their website, forcing you to call them and hope for a response. Be sure to consider working with agencies who are open about their charges and disregard everyone else.
This is the best way to work with credible agencies and save tons of money and time in the process.
They need to monitor results
This is another thing you need to keep in mind. You can only track your progress by monitoring certain metrics. These metrics include:
Reach
Engagement
Growth
Lead generation
Website traffic
The agency you plan on working with must track these metrics and submit full-fledged reports to show your progress and areas for improvement.