According to the survey conducted by Planview, 49% of the companies have experienced a decline in projects since 2017. Since everything is changing rapidly, it has become essential for organizations to switch to evolving technology environments and transform their systems and processes to meet emerging business needs. Digital transformation demands skills and expertise to align business goals with technology solutions.
Solutioning design has become the most critical practice executed before beginning tech solution development. The article focuses on the terms and how they are different from each other. Furthermore, we will shed light on solution architect roles and the skillset required to become a competent one.
What is solution architecture?
Solution architecture involves developing and documenting architecture content for specific architecture stakeholders to enable business outcomes. Solution architects address the requirements of individual businesses and organizations, producing functional and non-functional requirements saved in the solution architect document.
Moreover, the solution architect elaborates and decomposes the target architecture into concrete deliverables called building blocks for all architectural domains.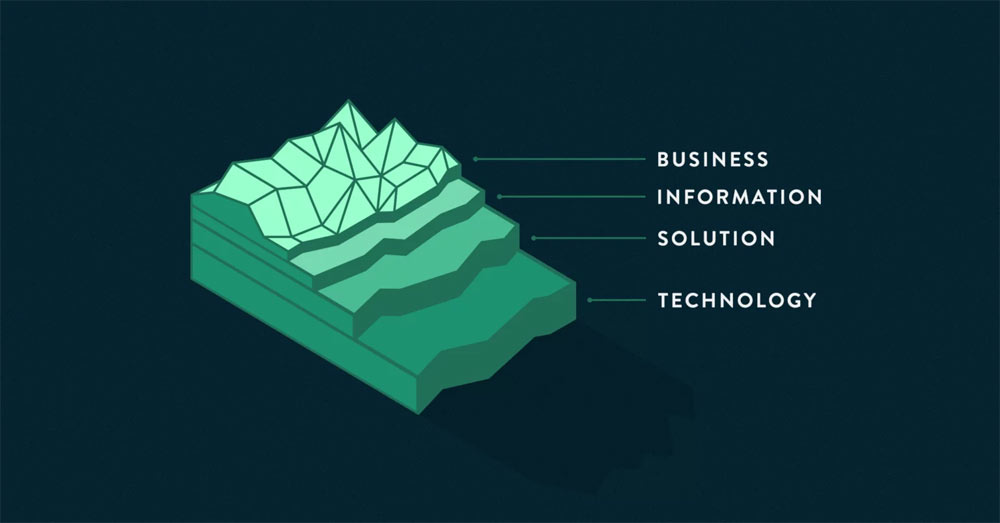 Source
What does a solution architect do?
Solution architect comprises complex processes with sub-processes that link business problems and technology solutions. It involves:
Looking for the correct answers to solve business problems
Describing the characteristics, behavior, structure, and other aspects of software
Defining phases, features, and solution requirements.
Solution architects begin by closely examining the elements of business and information and ways to use technology to solve business problems. Next, they involve a combination of building blocks to fix the issues. It is a complex step where they connect pieces to solve specific problems.
Once they have designed a solution for the existing problem, it becomes their responsibility to manage tasks with successful implementation. While assessing the entire process, they evaluate the risks involved to ensure an efficient solution for the existing problems.
What is the difference between architecture and design?
Architecture and design do not have major differences. Both are closely related. However, the difference between them is how we face it. Architecture involves structure, strategies, and purposes, whereas design involves implementation and practices.
Role description and responsibilities of Solution Architect
Solution architects focus on solution-level decisions and analyses that affect business goals and outcomes. The key responsibility of the solution architect is to look for technological solutions and implement strategies to solve business problems.
Once they have developed a technical solution, they are responsible for estimating the budget and presenting it to the stakeholders. Once the stakeholders approve, solution architects monitor development processes and update the progress of the stakeholders.
A solution architect's responsibilities are as follows:
Support project management
Control solution development
Participate in technology selection
Create a solution prototype
Set the collaboration framework
Analyze and document requirements
Analyze enterprise specifics
Analyze the technology environment
Solution architects ensure that planning, resources, and risk recognition stay connected with technical solution goals.
Skillset and background of Solution Architect
Once you have understood the significance of solution architecture, the next step involves hiring the right person for the job. Here, we discuss the core skills a good solution architect must possess.
Technical background and experience
Solution architects must have a technical background to provide engineering teams and management with technical solutions. They must have the proper knowledge with years of experience in IT areas, including:
DevOps
Engineering and software architecture design
IT architecture, infrastructure, and cloud development
Business analysis
Project and product management
Great communication skills
Solution architects must have excellent communication skills. Since they need to deal with stakeholders, manage risks, and understand and communicate the business needs. Therefore, a lack of communication can put the company into hot waters. Since their job requires working closely with software architects and other professionals, an experienced solution architect must be able to listen, explain, suggest and empathize.
Analytical skills
Designing a solution requires an in-depth understanding of the function of a business. Solution architects must recognize business processes and corporate strategies that define the process of achieving business goals. Therefore, solution designs deal with analytical and technical work.
Project and resource management skills
Even though solution architects' job description does not include project management, they still focus on high-quality results and timely completion of tasks. Solution architects must be capable of making favorable decisions for the business. They must focus on business goals and the process involved in achieving them within the given timeframe and resources.
When does a company consult a solution architect?
Technology consulting organizations can introduce solution architecture to the corporate structure if new software systems are not systematically integrated. Organizations do not need solution architects for every project. However, let us look at the scenarios where companies consult solution architects.
Unsure of solutions that suit the enterprise ecosystem
Solution architects ensure the suggested solutions meet the company environment. For instance, if you shift back-office processes to the cloud, solution architects analyze multiple options and recommend the one that is relevant based on technology, human, and financial resources.
Running a digital transformation project
Running a digital transformation project requires organizations to consider how they deliver value to their customers. Businesses will never find answers to the questions without connecting technology and business perspectives, which is the job responsibility of solution architects.
You face many risks
Companies need solution architects when they face technical risks. Since uncertain requirements appear during different processes, it is advisable to consult solution architects to reach a technical solution.
Communicate between stakeholders and engineers
Solution architects help bridge the communication gap between stakeholders and engineers. They also collaborate with project management teams to cover the risks and ensure solutions that fit the specific situations.
The Bottom Line
Solution architecture involves an in-depth understanding of the functioning of a business and the processes involved to achieve technical solutions. Companies require solution designs to communicate with stakeholders and engineers. Moreover, companies consult solution architects when they face technical risks. Solution architects play a significant role in solving technical and analytical problems of the organization and work within the timeframes to achieve the set goals.