A lot of us have been transitioning online. Whether it is for personal use, work or business, we know that having an online presence is a must. As we continue and build our website, we are stuck with various choices. It includes picking web hosting just for you.
People who already have a website know the importance of having a reliable and fast web host. It will affect your business and website's productivity.
SiteGround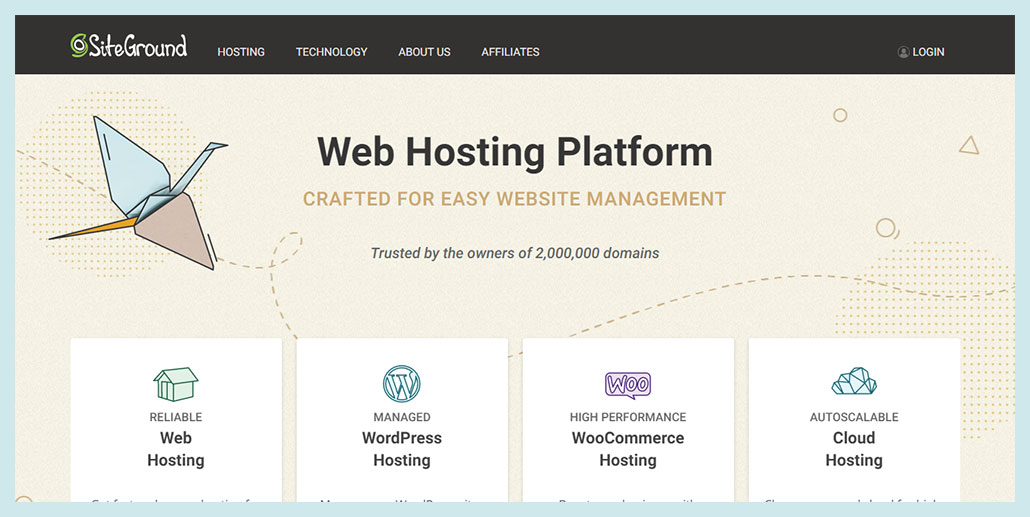 SiteGround is the fastest web hosting provider with an average global speed of 136.9 m/s. Well, this is no surprise as Google Cloud powers this site host. The key features of SiteGround's hosting plan GrowBig are:
Google Cloud,
20GB SSD storage,
Supercacher,
Automatic daily back-up,
Free restores,
24/7 customer support
Another feature that appeals most to website owners is their 25,000 website visits per month. SiteGround offers a variety of plans, but I highly suggest you try their GrowBig for only $7.99 per month. It contains all the benefits we just mentioned. If you plan to go faster, Cloudflare is integrated into the system. Just click the Cloudflare button, and you are good to go.
A2 Hosting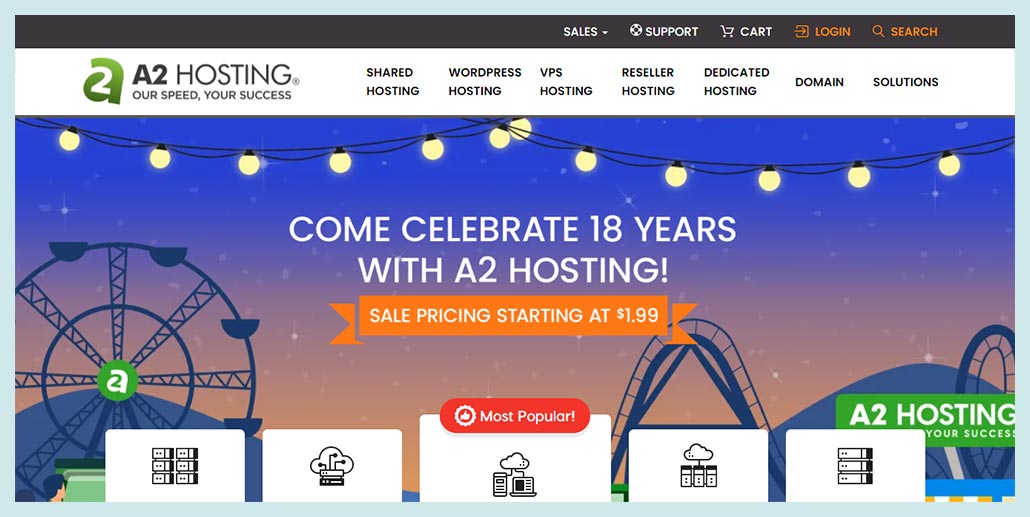 If you have a small business or a personal website, then A2 hosting is for you. It currently offers 4 hosting plans, the most basic plan starting at $1.99 a month. However, if you want to avail their best plan, I recommend getting their Turbo Boost plan. Just prepare to shed some extra cash because this plan will cost you $14.99 a month.
The key features of the Turbo Boost plan are:
Unlimited SSD NVMe,
Unlimited bandwidth,
Free site migration,
A2 optimized WP plug-in,
30-day money-back guarantee.
Currently, the average global speed of A2 is 150 m/s. A2 also has Turbo Servers that support its speed boosts. When these servers are combined with their Turbo Cache, they can load 20 times faster than standard servers.
Hostinger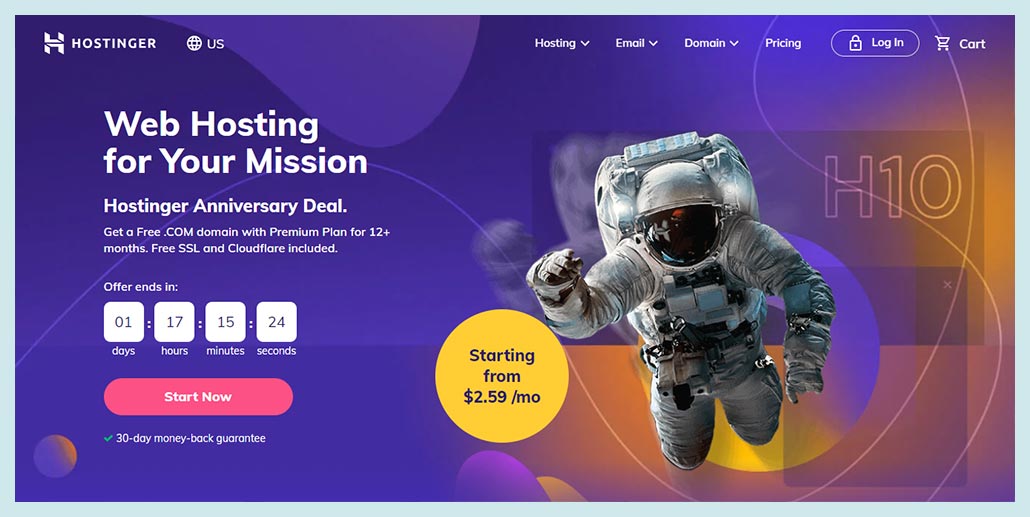 Hostinger is an incredible site host for new site owners. It has three host plans you can choose from, the single shared hosting starting at $1.39 a month. But we're here for speed! Hostinger made sure not to be stingy with speed offering an average global speed of 136 m/s. I recommend that you avail of its premium sharing host plan that starts at $2.59 a month.
The key features of their premium sharing host plan include:
100GB SSD,
Unlimited bandwidth,
Free domain and SSL,
Free email,
30-days money-back guarantee.
Hostinger works best on its European and American servers. If you're outside these territories, you can still expect a 141.3 m/s speed, which is still competitive.
GreenGeeks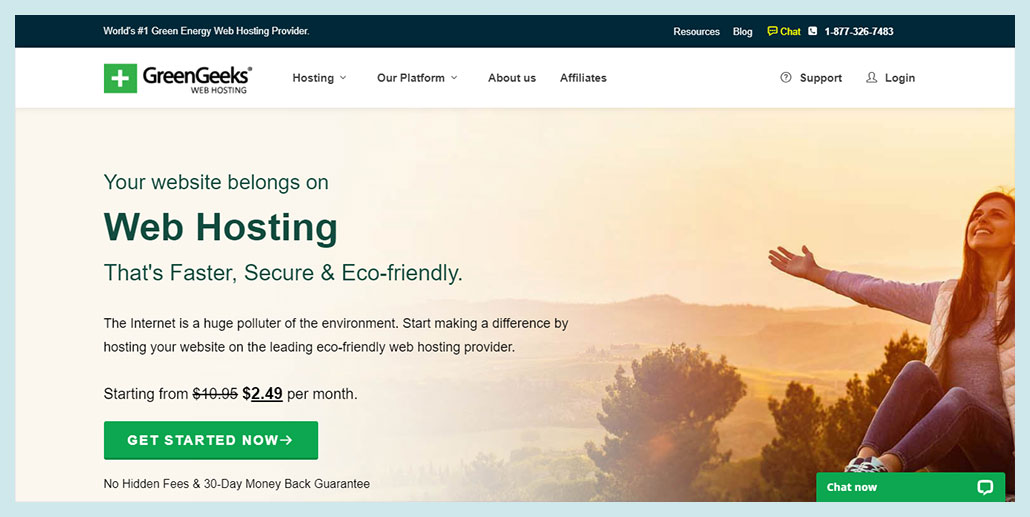 GreenGeeks is a premium website hosting provider for a reasonable rate. Its most popular plan, EcoSite Pro, starts at $4.95 a month. EcoSite Pro includes the following key features:
Unlimited web space,
Unlimited email accounts,
SSL certificate,
Free domain name for one year,
Nightly back-up,
300% Green Energy match,
30-day money-back guarantee.
GreenGeeks made sure it can meet all the demands of incoming site owners by having solid, reliable data centers, customer service support, and Cloudflare integration. But, what makes it different from other providers is their advocacy. GreenGeeks promise that it will invest three times of every amp they use into renewable energy. This is great for people having the same advocacy as theirs.
ScalaHosting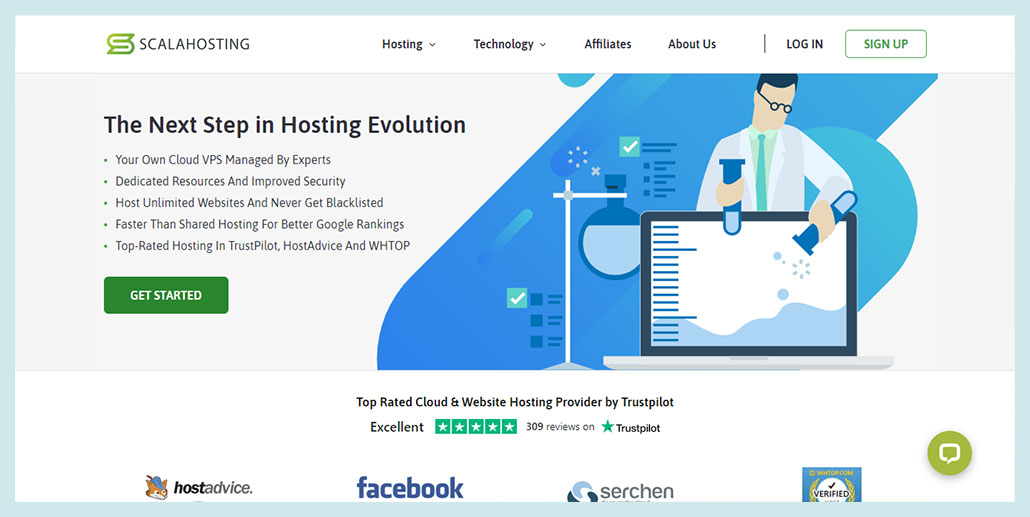 ScalaHosting started in 2007 with the vision to host sites for students up to corporations. With that said, you can imagine how diverse their plans are. ScalaHosting has four plans available, the lowest plan starting at $3.95 a month.
Although all of their plans are reasonable, I highly recommend availing their Start plan if you are a new site owner. The following are the Start plan's features:
50GB SSD storage
2x CPU power
Free migration
Free domain and SSL
Unlimited bandwidth
SShield cybersecurity
In terms of speed, ScalaHosting has an average global rate of 159m/s. With this and its benefits, ScalaHosting made sure to compete with the popular and stable hosting providers.
Kinsta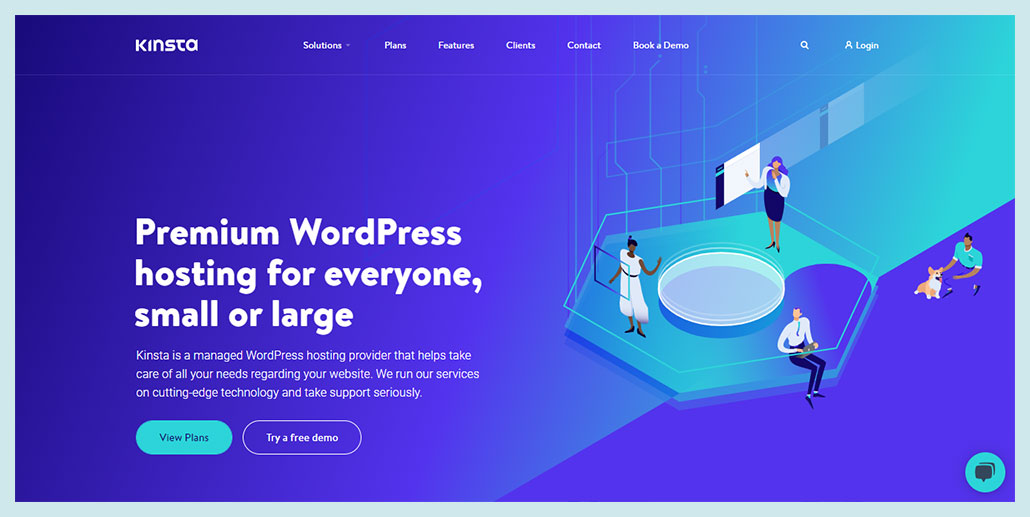 Kinsta is another site hosted by Google Cloud. It made sure to cement its name by providing an average global speed of 179.5 m/s. To ensure it provides for all its users, Kinsta offers ten host plans depending on your needs.
If you are planning to start Kinsta, I recommend trying their Start plan first. The following are its key features:
25,000 site visits per month
One WordPress install
10 GB disk space
Free SSL and CDN
Hack-fix guarantee
Kinsta is a WordPress favorite for its managed hosting solutions. So, if you use WordPress, then this might be for you. Although it has a hack-fix guarantee, protect your WordPress by following WordPress security tips. However, Kinsta may not be for everyone as the plan starts at $30 a month.
BlueHost
BlueHost is likely the most popular site hosting provider. A lot of new and small site owners use BlueHost for their reliable plans. If you are new to BlueHost, I recommend trying their Basic Hosting plan. It comes with the following features:
50GB SSD
Custom Themes
Free domain name for one year
Free CDN
Free SSL
The Basic Hosting plan will cost you $2.95 a month but will provide you an average speed of 153m/s. However, there are BlueHost alternatives available if you feel BlueHost is not for you.
Interserver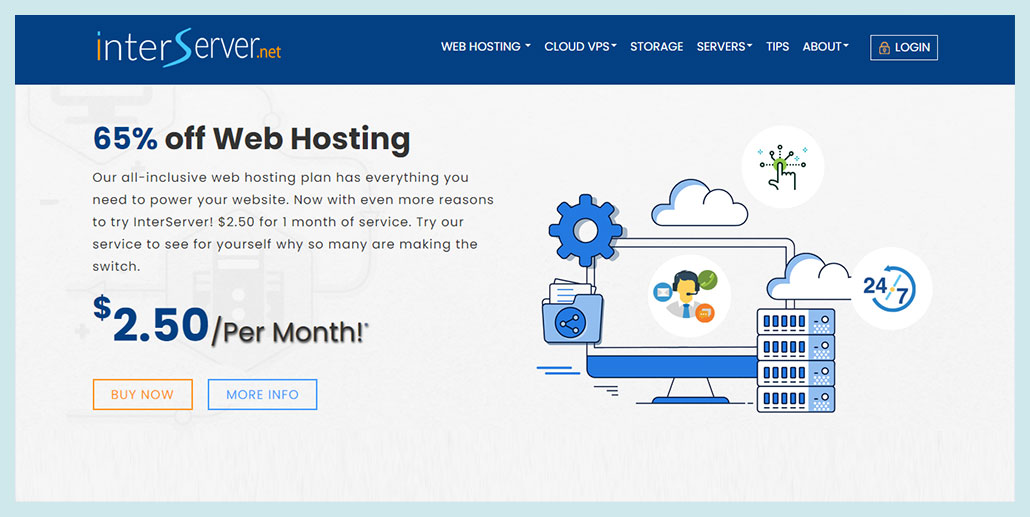 Interserver is another hosting plan that starts attracting small site owners. Their WordPress hosting plan gained traction for its incredible features, which includes:
Unlimited storage space
Unlimited data transfer
Weekly back-ups
Cloud Apps
Speed Optimization
Ultra-fast web server
You can avail of this and all for just $8 a month. If you have other questions, they have a 24/7 support team to assist you.
FastComet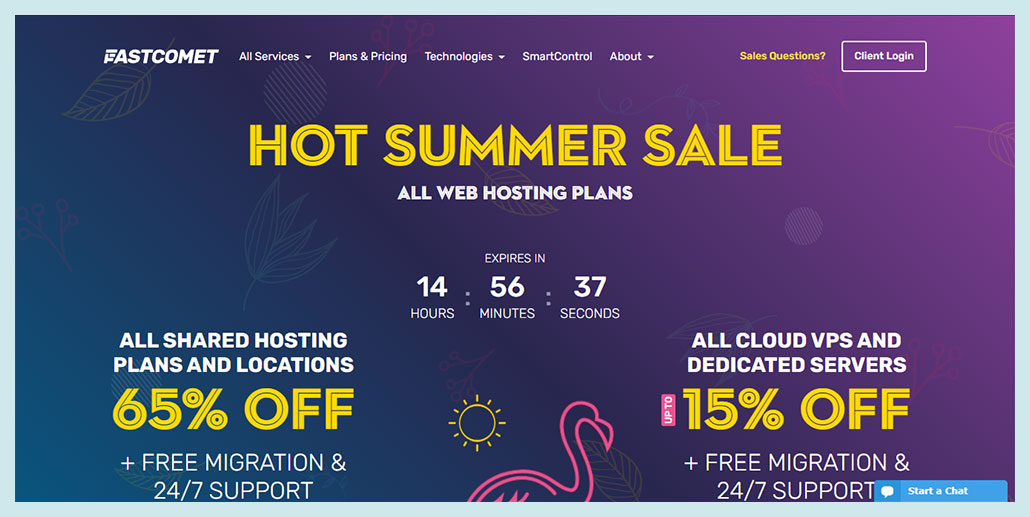 FastComet made sure its users around the globe receive a reliable speed. To accomplish this, it has 11 data centers and 200 global CDN anycast network access points. When availing of its service, try their FastCloud plus plan. If you're curious, here are the following features of FastCloud plus:
Free Cloudflare CDN
Unlimited sub-domains
Multiple PHP versions
cPanel and softaculous
Free private DNS
You can avail of all these benefits and more for a starting price of $4.45 a month. Definitely a steal for newcomers and site owners wanting to transfer.
Verpex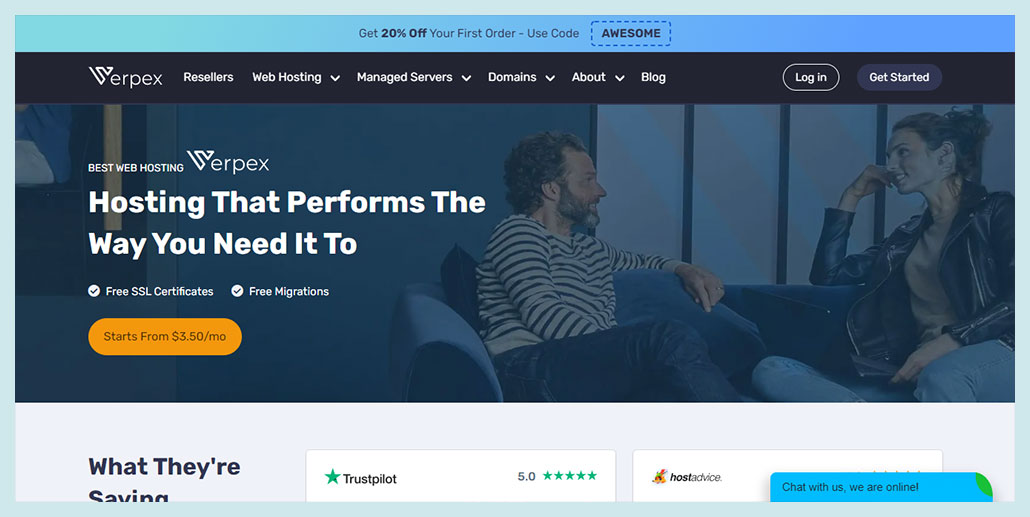 If you are still undecided what site hosts work for you, then Verpex is a good choice. It has a reliable speed and reasonably priced plans. You may want to try their Silver plan to try and test them out. As for its features:
Unlimited bandwidth
100GB disk space
Free SSL certificate
Daily back-ups
cPanel control panel
The Silver plan starts at $5.50 a month. However, if you think that Verplex is not for you, you have a 60-day money-back guarantee. Definitely a win-win situation.
Conclusion
All of the mentioned site hosts offer incredible plans just for you. What only remains for you to do is find suitable works for your site. By now, you understand that one site host provides something that the others don't. But if you are a new site owner, then you may want to try some of these site hosts. All of them offer a money-back guarantee, so there is nothing to worry much about.