Blogging and the concept of marketing is a big thing today. WordPress makes it easy for you to start a blog and connect with your audience minutes after setting up your platform without any programming skills. Why is this? WordPress offers you a pile of impeccable themes on which you can display your content. Over time, WordPress updates these themes, which is why, in the coming year, you need to focus on best WordPress themes to appeal to your audience.
Being an Author is an achievement for lifetime. Thus, showcasing your achievements via a WordPress website should be your initial step towards being a successful author. So, you need to make the right choice while selecting the best WordPress themes for Authors to present your work online and make quick money via your own channel.
In this comprehensive guide, you will get in-depth details on the how to select the apt WordPress theme for your Author website. Moreover, we have covered a handpicked list of popular WordPress themes that can easily grab user's attention without any hassle.
Things to Consider When Selecting a Theme for Authors
Want to select the perfect theme? Check out the given checklist of essential things while picking the right theme for Authors!
1. Flexibility
This indicates ease of adding and removing functionalities as per usage. It is important to help you create a stunning website on your own without any hassle. Check out the features of the themes and choose the one that offers more flexibility.
2. Loading Speed
Website loading speed and performance must be checked beforehand to ensure no issues later. A quick website enables you to retain customers for a long time. You can even add some speed enhancement plugins to get fast loading speed.
3. Compatibility With Page Builders
Want to get the best landing pages swiftly? Select a WordPress theme that offers drag and drop page builder features. This will help in customizing different pages in a jiffy which means, setting up of website with ease.
4. Responsive and Mobile-Friendly
Choosing a responsive WordPress theme will be your helping hand in gathering more engagement in a small span of time. This is because it provides easy access to all users be it, mobile or PC to seamlessly view the website without facing any problems.
5. SEO Friendly
Always go for an SEO-friendly theme as it enables you to rank your website on the internet. Simply put, it allows you to add relevant keywords that will make your website more visible to the online audience. This will improve your brand awareness and help you create a wide customer base for your brand.
6. eCommerce Functionality
An addition of eCommerce functionality will be super helpful in maintaining a direct sales channel via your website. It will allow your customers to purchase your books online even more smoothly.
Best Premium WordPress Themes for Authors
To cut out on your research for the right WordPress themes for Authors, we have covered all the top-notch themes right here for you! So, let's get started!
ChapterOne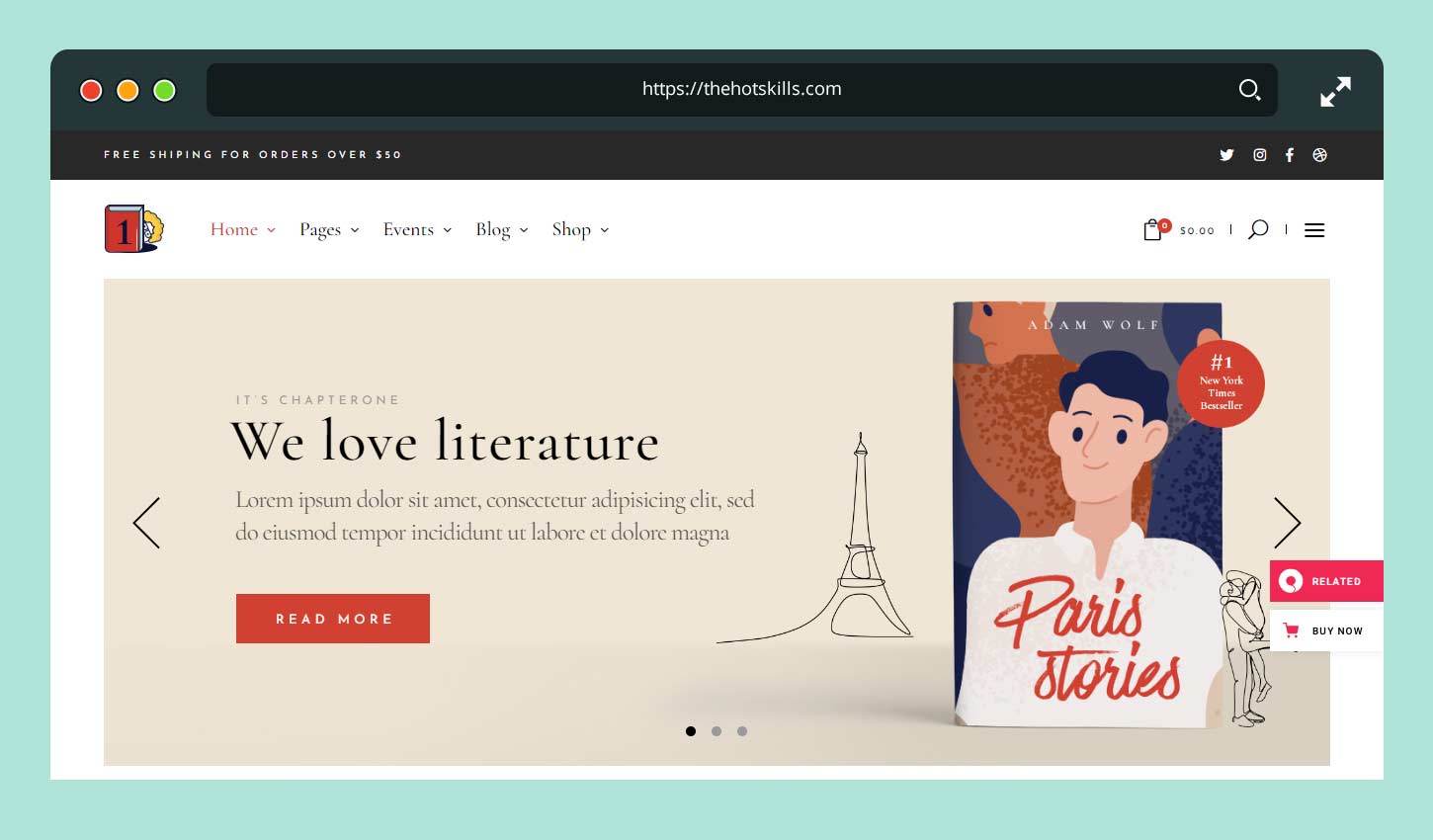 Being one of the top WordPress themes for authors, ChapterOne allows you to start your online journey with ease. You can tweak several elements according to your preferences and share your amazing work with the online community.
Auteur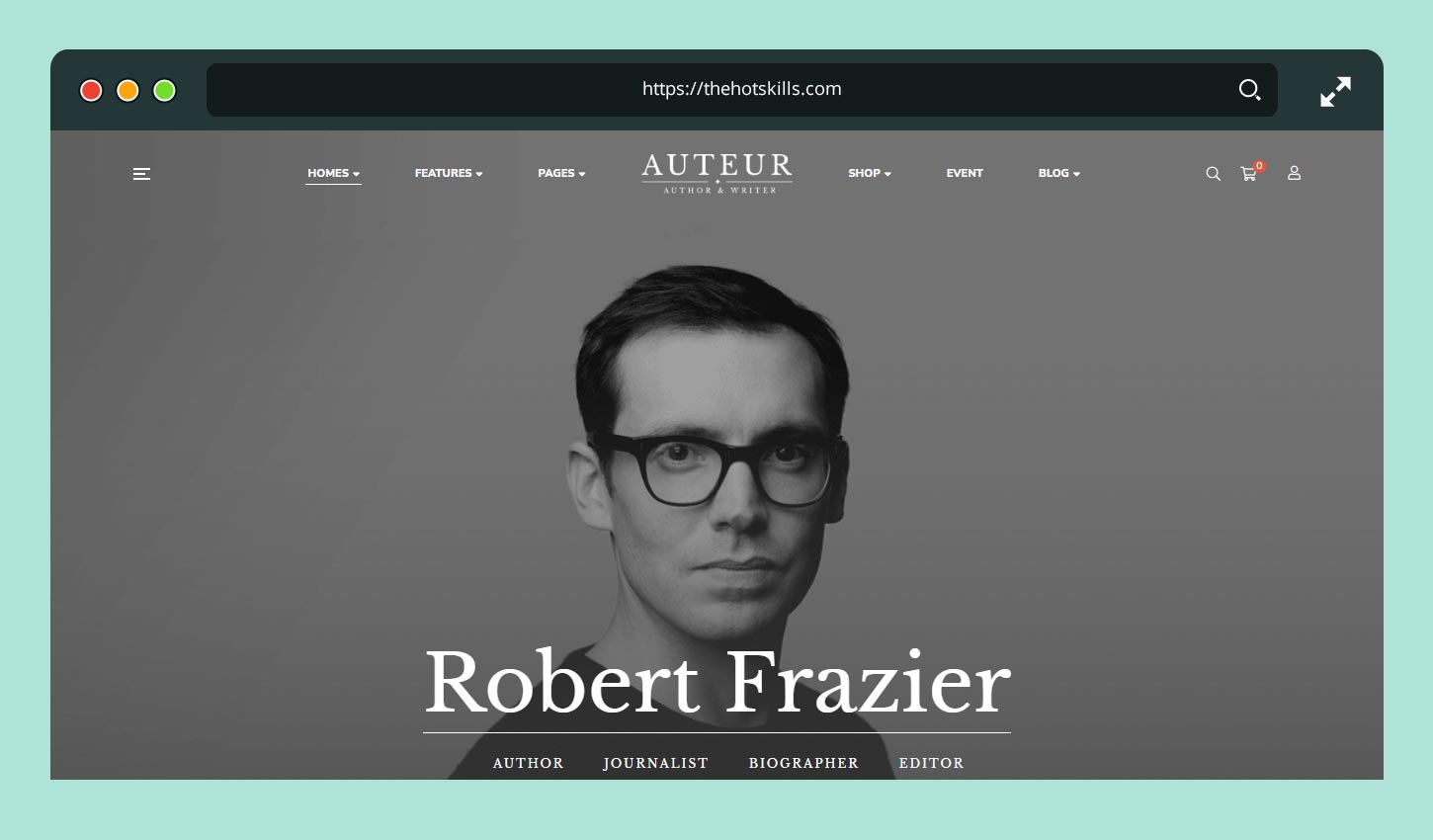 Are you looking for a theme dedicated for authors and book related services? Don't worry. Auteur is here to the rescue. This WordPress theme for authors has everything from design to functionality. You can create your website within a few clicks and get set to share your articles with the world.
Leona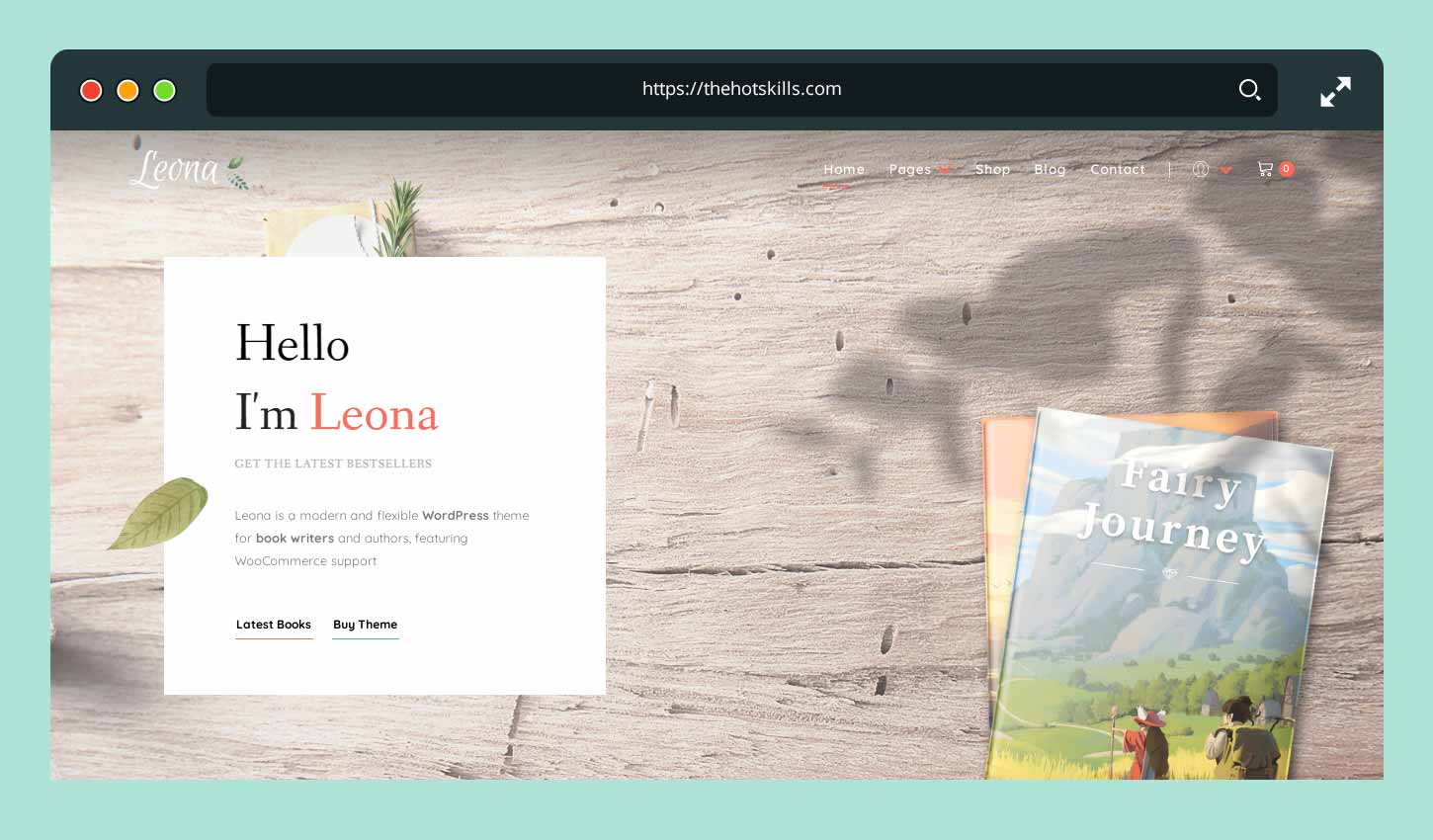 Encompassing modern design, elegant interface and premium plug-ins, Leona gives the writers everything to showcase their material in the online world. You get pre-defined layouts and tons of other tools to develop beautiful webpages for your brand. You can get the theme and everything with it at just 64 dollars.
Preface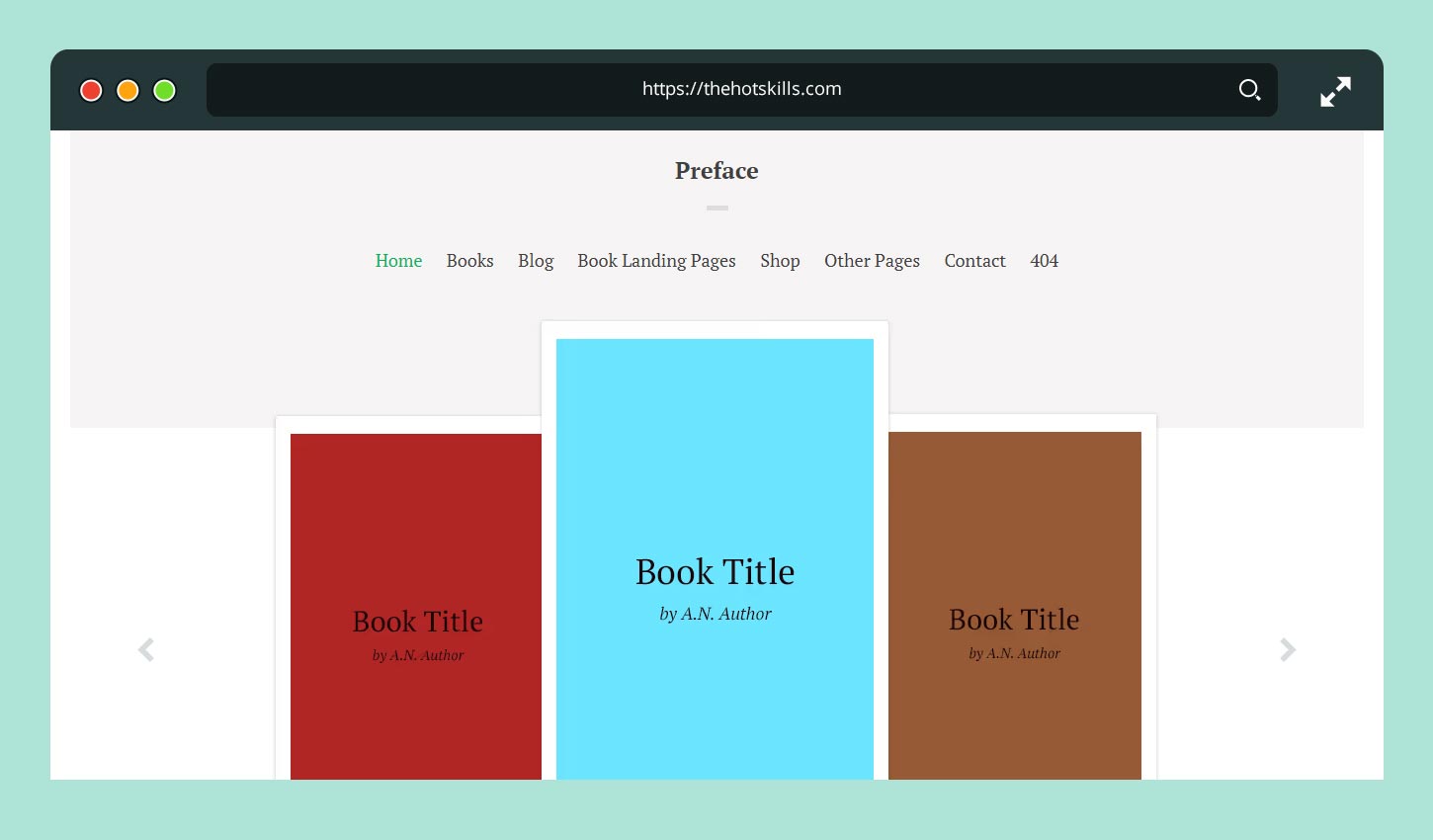 Get set to showcase your masterpiece to the online reader community with Preface WordPress theme for authors. The theme is completely compatible with Woo Commerce which will help you in creating an e-Store easily.
Gutentype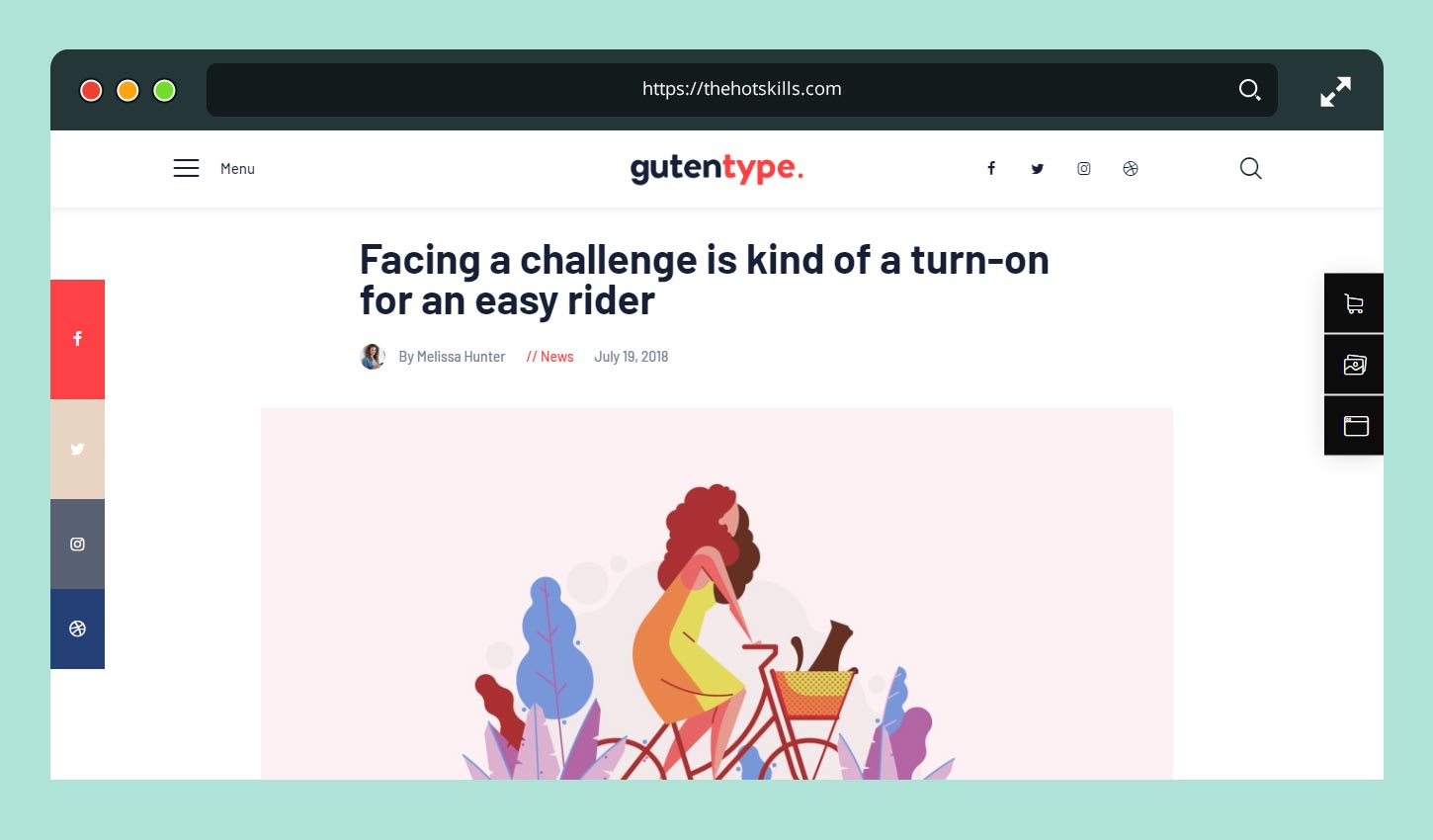 Based on Gutenberg page builder, this WordPress theme for authors is one of the best themes suited for the writer community. You get premium plug-ins with free 6-month support from the expert team.
Blog for Writers and Journalists With Bookstore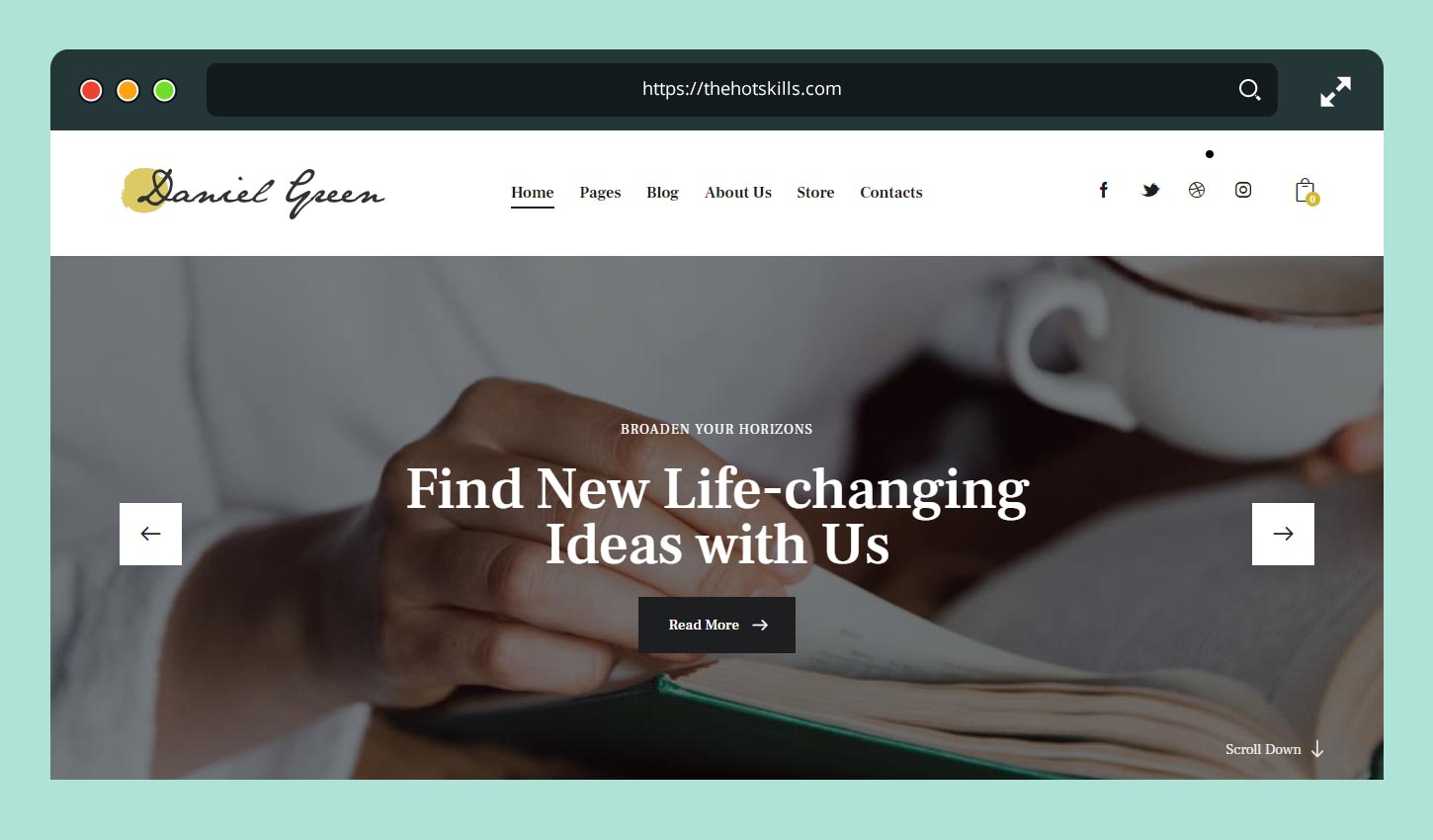 This stylish and elegant theme comes with 5 homepage and blog styles that will help you showcase your material to the online audience. Besides this, you can set an e-Store within a few clicks of your mouse and earn better profits.
Katelyn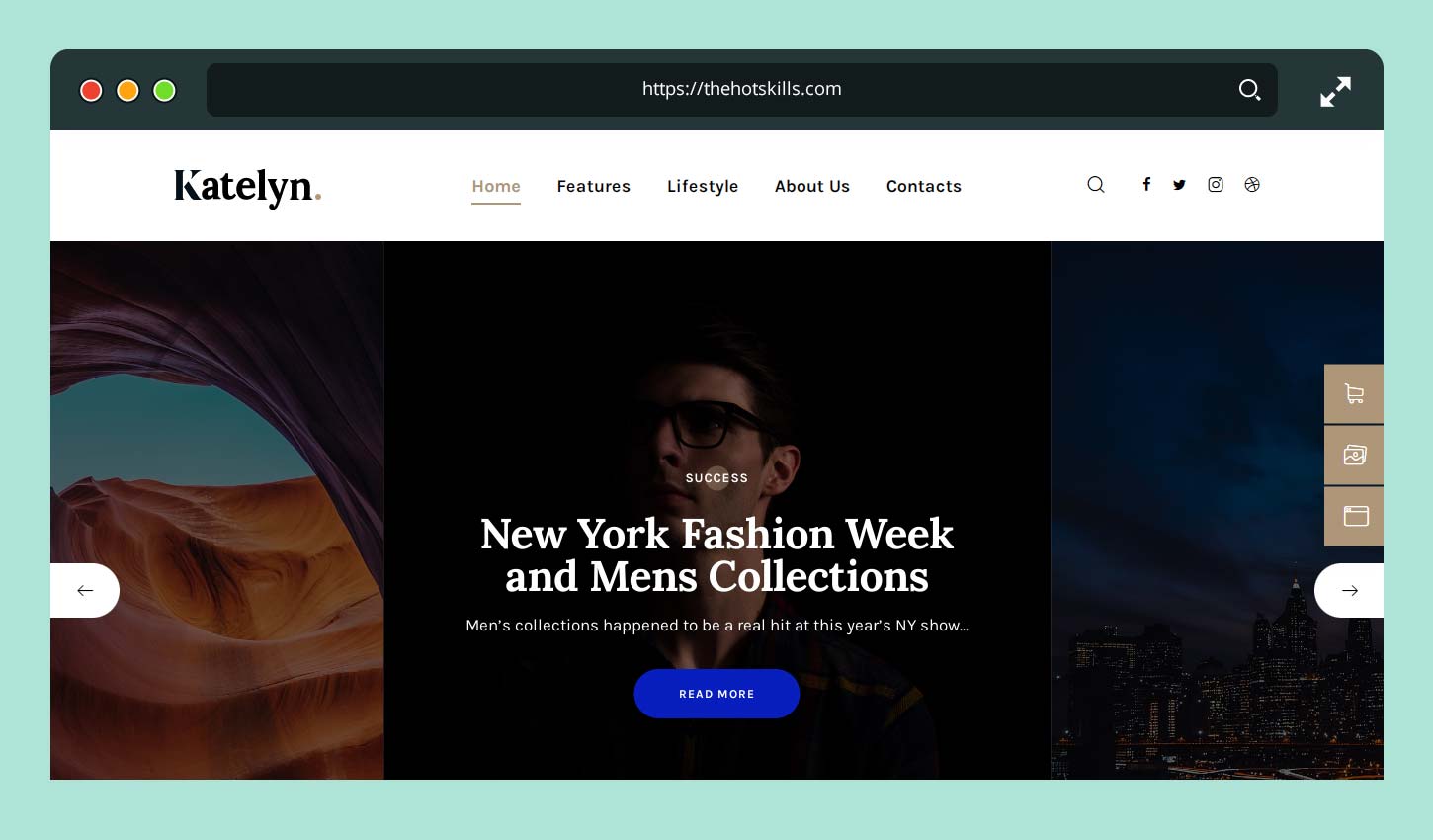 Katelyn is a clean and minimalistic theme for writers and author community to showcase their talent to the online world. You get premium plug-ins and amazing page builder to elevate your productivity.
Squaretype – Modern Blog WordPress Theme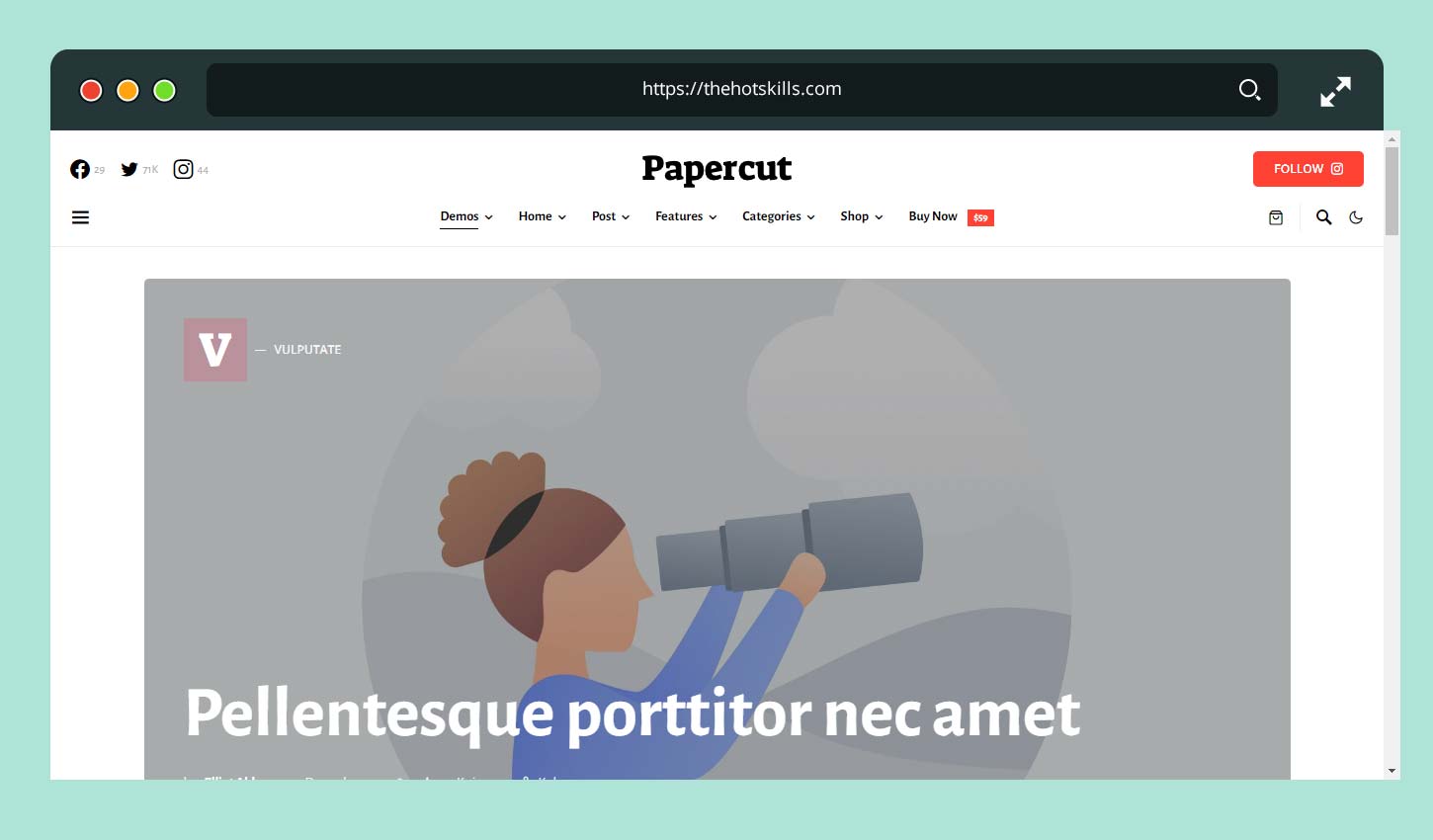 This is one of the top WordPress themes for authors that come with multiple layouts. It will help you create a customized design for your online presence. Besides this, you can switch to dark mode with a single click of your mouse.
Nord – Minimal and Clean WordPress Theme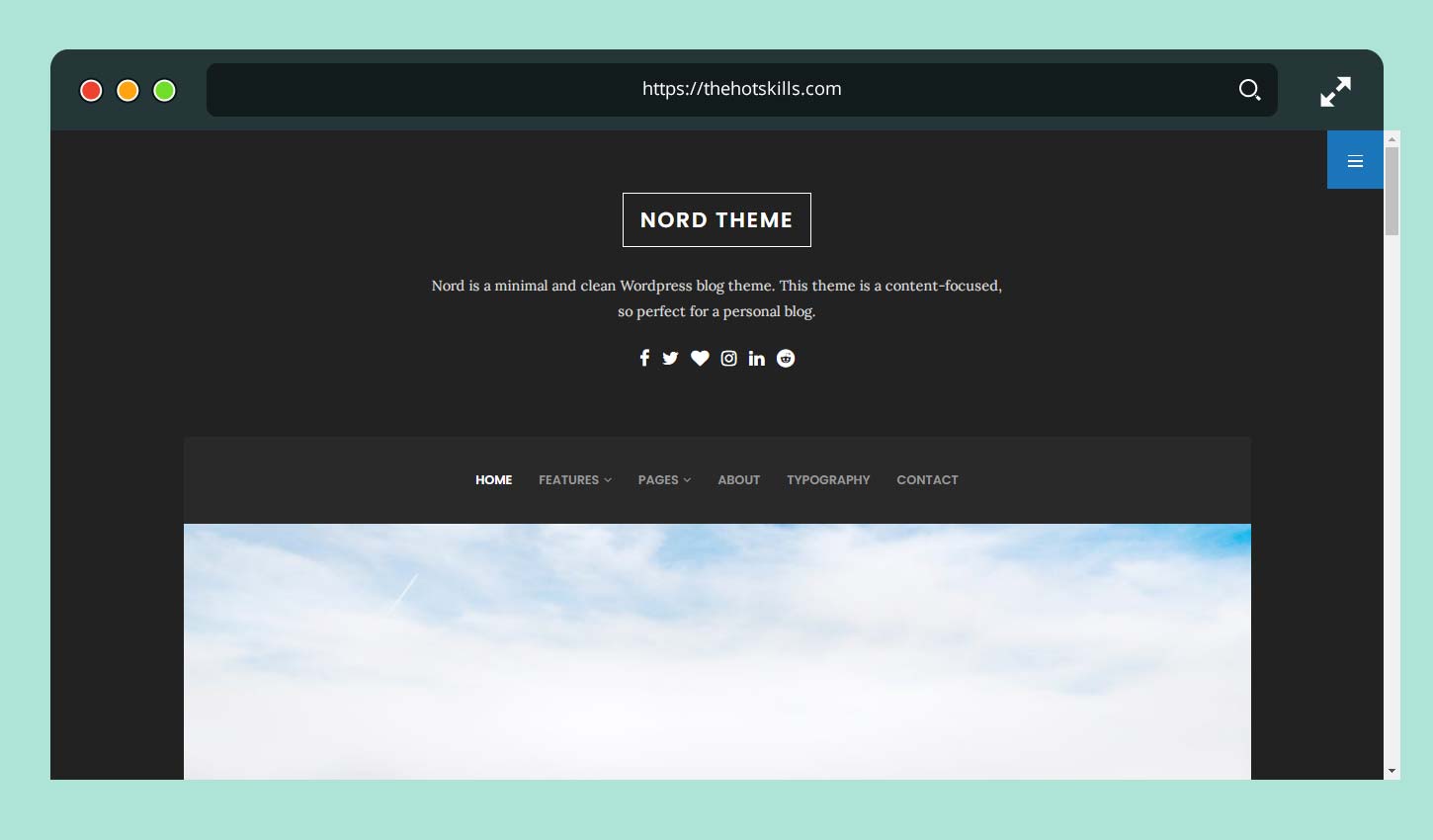 With live customizer, several post formats and infinite color schemes, Nord WordPress theme for authors is a one stop solution for the writer community to set their business and grab new opportunities.
Johannes – Personal Blog Theme for Authors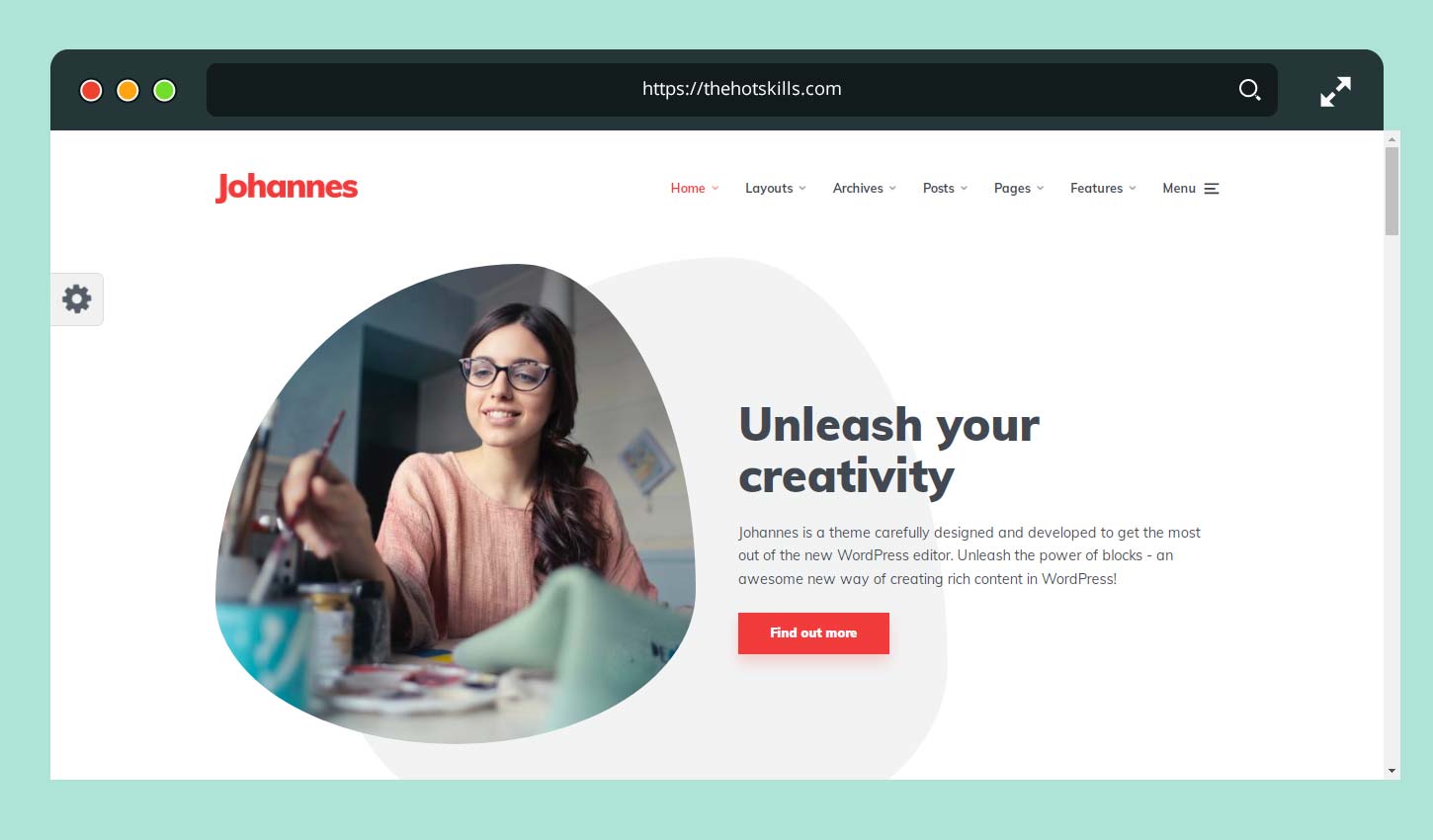 Johannes is one of the multi-concept WordPress themes for authors to grab new opportunities for their work. It incorporates the latest design and trends so that you can gain an edge over the competitors.
Neve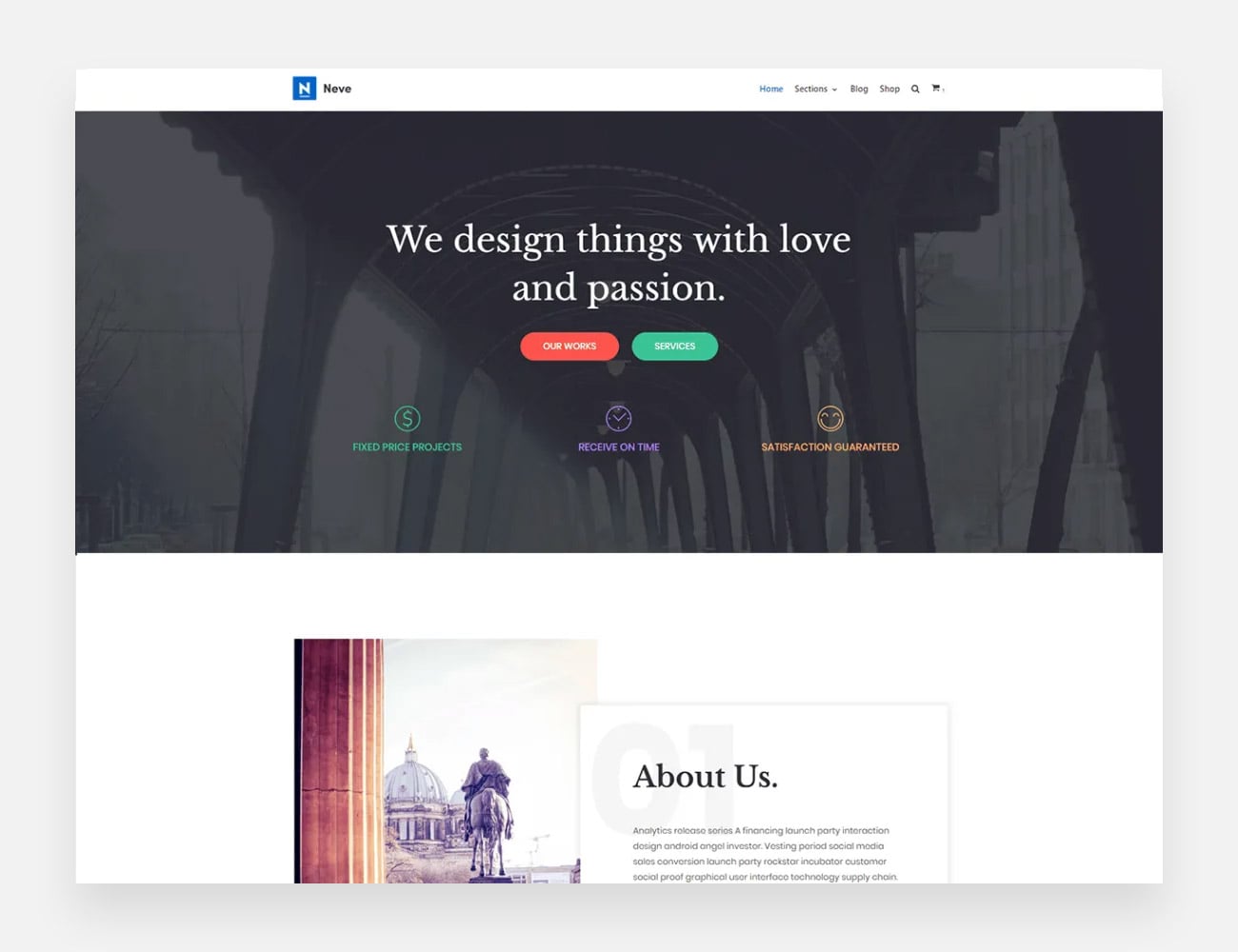 Neve is a lightweight beginner's theme that can fit any blog you might want to put up. With Neve you do not have to worry about the speed of loading. The theme is also easy to customize into your most specific requirements. Key features of this theme include:
The platform is impressive on mobile
Neve is optimized for search engines
The platform offers real-time changes while editing
Works on most page builders
It is snappy given one can get it up and running in a snap
Neve is exactly what you need when looking for a specific appearance for your page. In case you are looking for additional features such as premium starter sites, custom layouts, and excellent support, you can update to higher plans from $39 to $99 annually.
OceanWP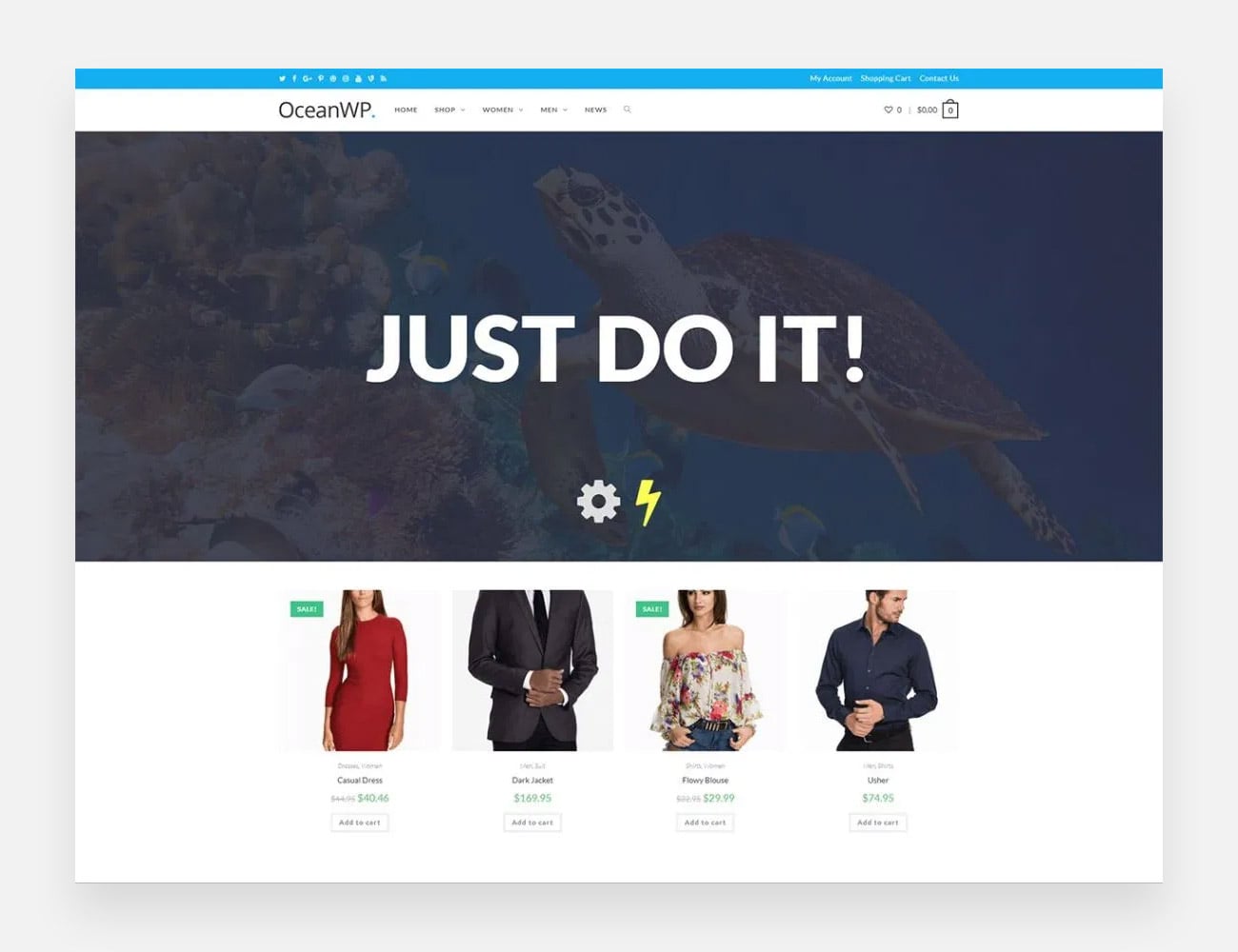 Another theme that you may want to use on your blog is OceanWP. If you are looking for a cleaner theme that allows you the discretion to customize your page, this is the theme for you. Some must-know features of OceanWP include:
A bulky extension library that allows you to improve the functionality of your page with knowledge of code
Ocean WP allows you to edit settings for your portable devices such as tablets and mobile phones.
Works on most page builders besides Beaver Builder and Elementor
Luckily with OceanWP, there is no premium version. You are free to use anything that is on the theme, which is quite cost-effective.
Astra – Most Active Free WordPress Theme for Authors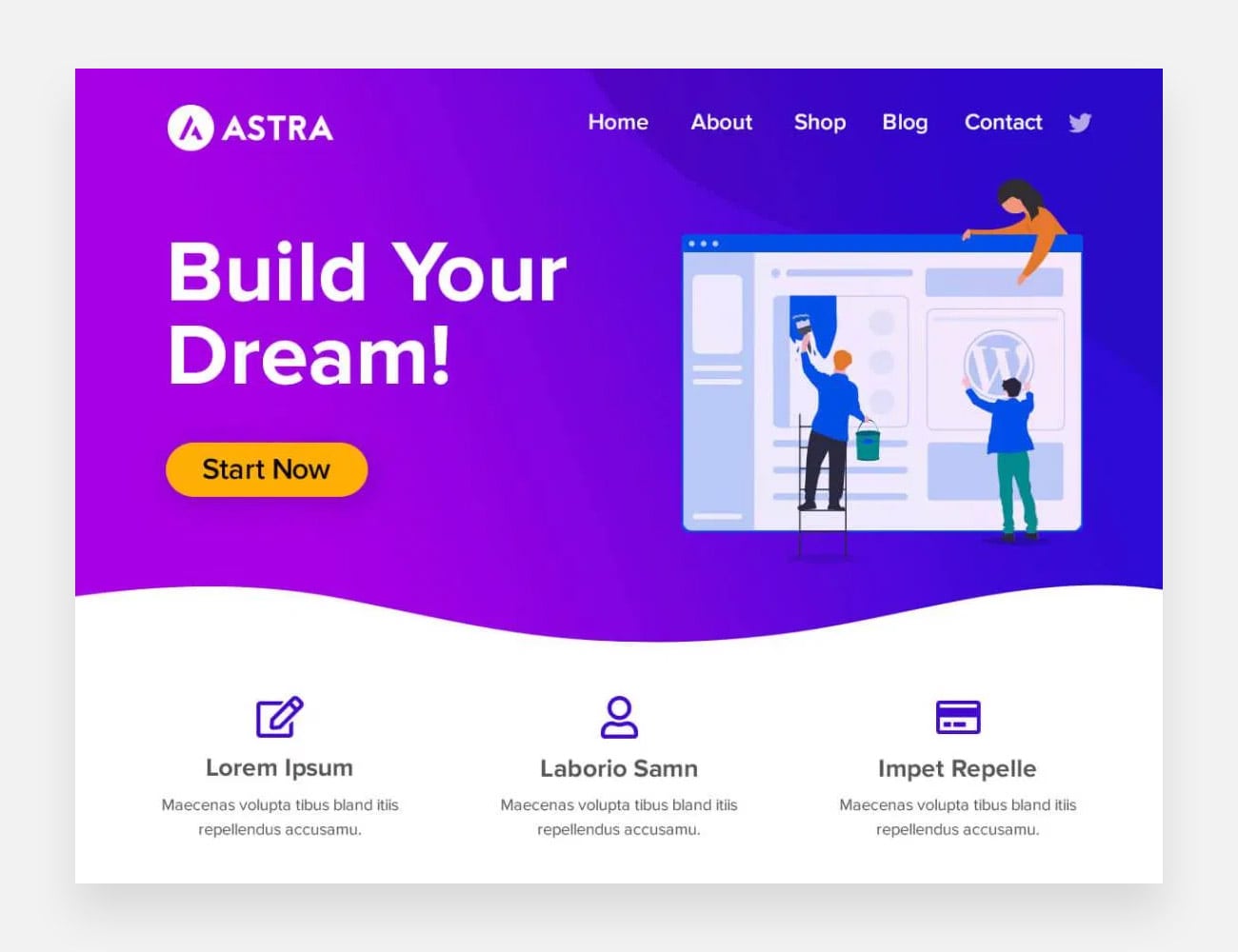 Next in line in is Astra. If you want a theme that is easy to customize, navigate, showcase content, and sell products online, Astra is the right theme for you. Must know features for the Astra theme include:
Comes with impressive extensible premium add-ons
Astra is e-commerce ready for platforms like WooCommerce
The theme is mobile friendly given its compatibility to AMP
When compared against other free WordPress themes, Astra has the largest library of already-built sites, making it possible for you to find the ideal look. There are many great themes out there that can make your blog outstanding. There are tips on themes that can come in handy in this regard. Nevertheless, it is quite recommendable if you one day think of selling a product or service online. If you need to enjoy using it, even more, you could subscribe to its premium version at an annual rate between $59 and $249.
Poseidon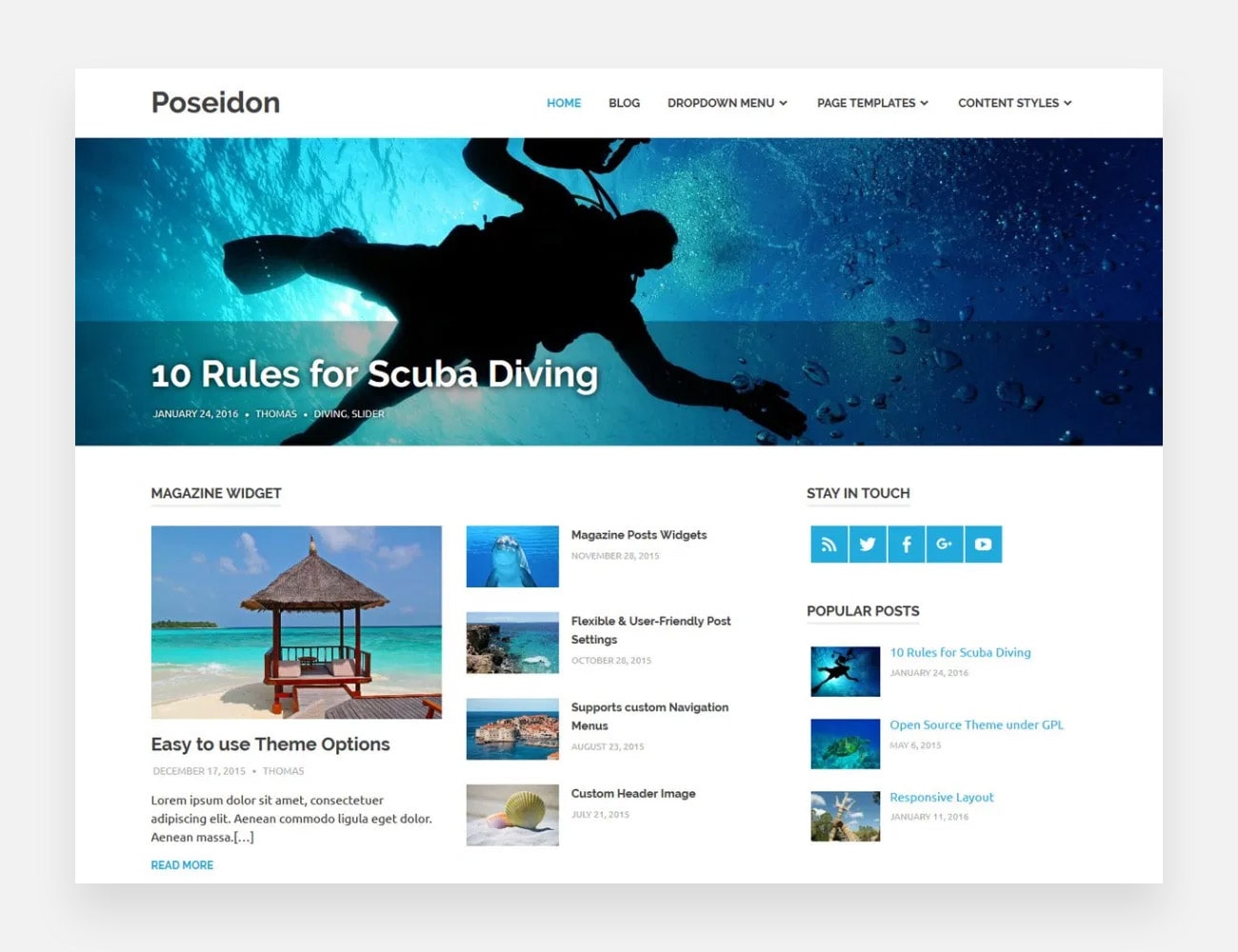 This near-perfect theme is suitable for showcasing content in crispy and exciting visuals. Poseidon offers you a full-screen image basket, offsetting any negative spaces might be easy. One special attribute of Poseidon is the fact that it is appropriate for your mixed content blog. Any posts or pictures you might use on Poseidon appear shiny, something that might excite most of the audiences you target with your content. Poseidon is free, but you can also update to premium at an annual rate that starts from $72.00. If the cost goes beyond this amount, it might be because of the level of support you might require as well as the number of websites needed.
Hemingway – Best Free WordPress Theme for Authors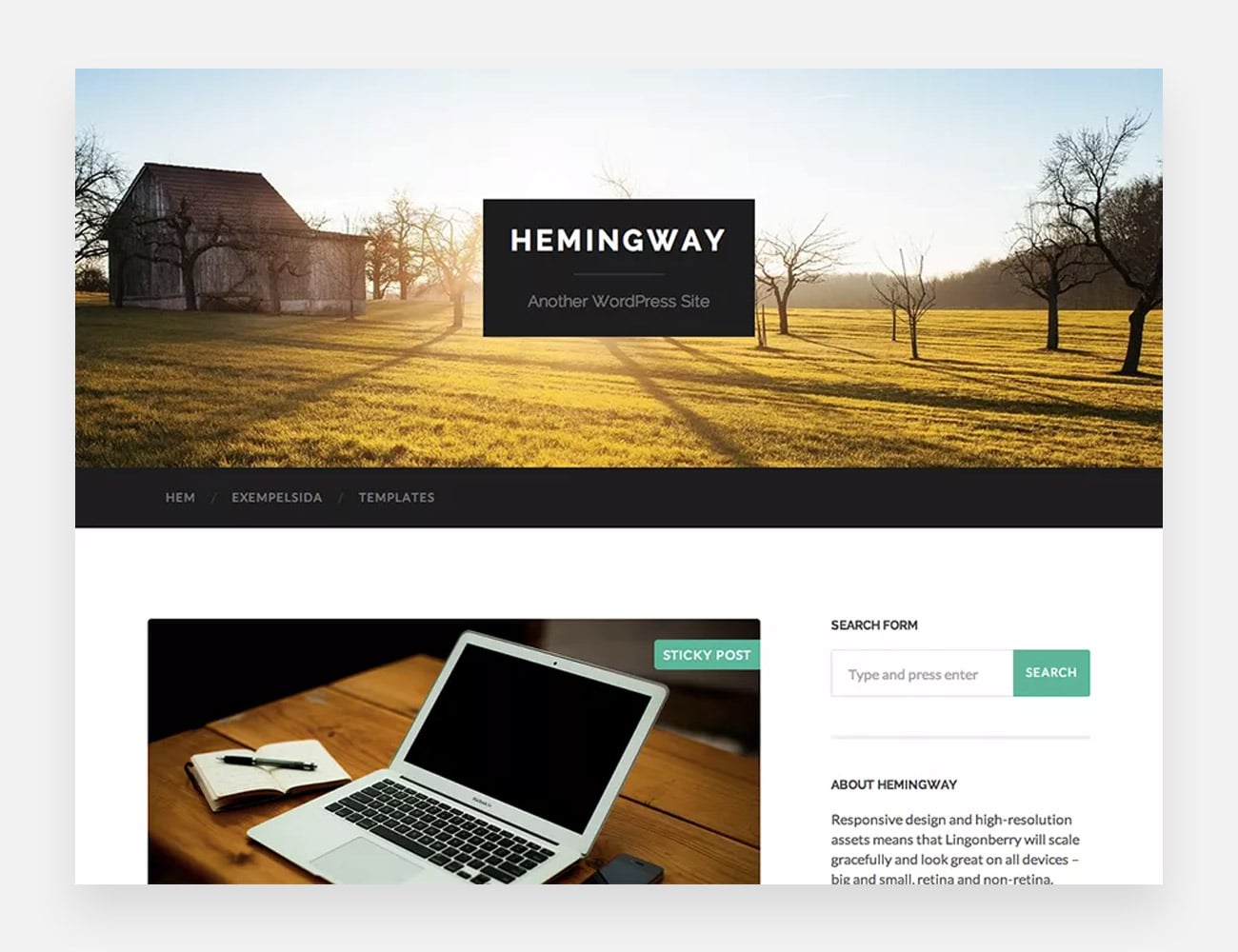 Most blog sites use a two-column design today. The Hemingway theme is the most appropriate theme for such a design. Hemingway is clean and straightforward; it draws your attention only to the content you work on above everything else. Other key features of the Hemingway include:
An impressive scrolling effect given its full-width header image
Discretion for a lot of customization but with complex requirements
Hemingway is clean enough to accommodate most of the simple blogs you may want to create. Moreover, it is extensible for complex sites. Whereas most of the themes we have talked about have a premium, Hemingway is among the few that does not have a premium, therefore budget-friendly.
Olsen Light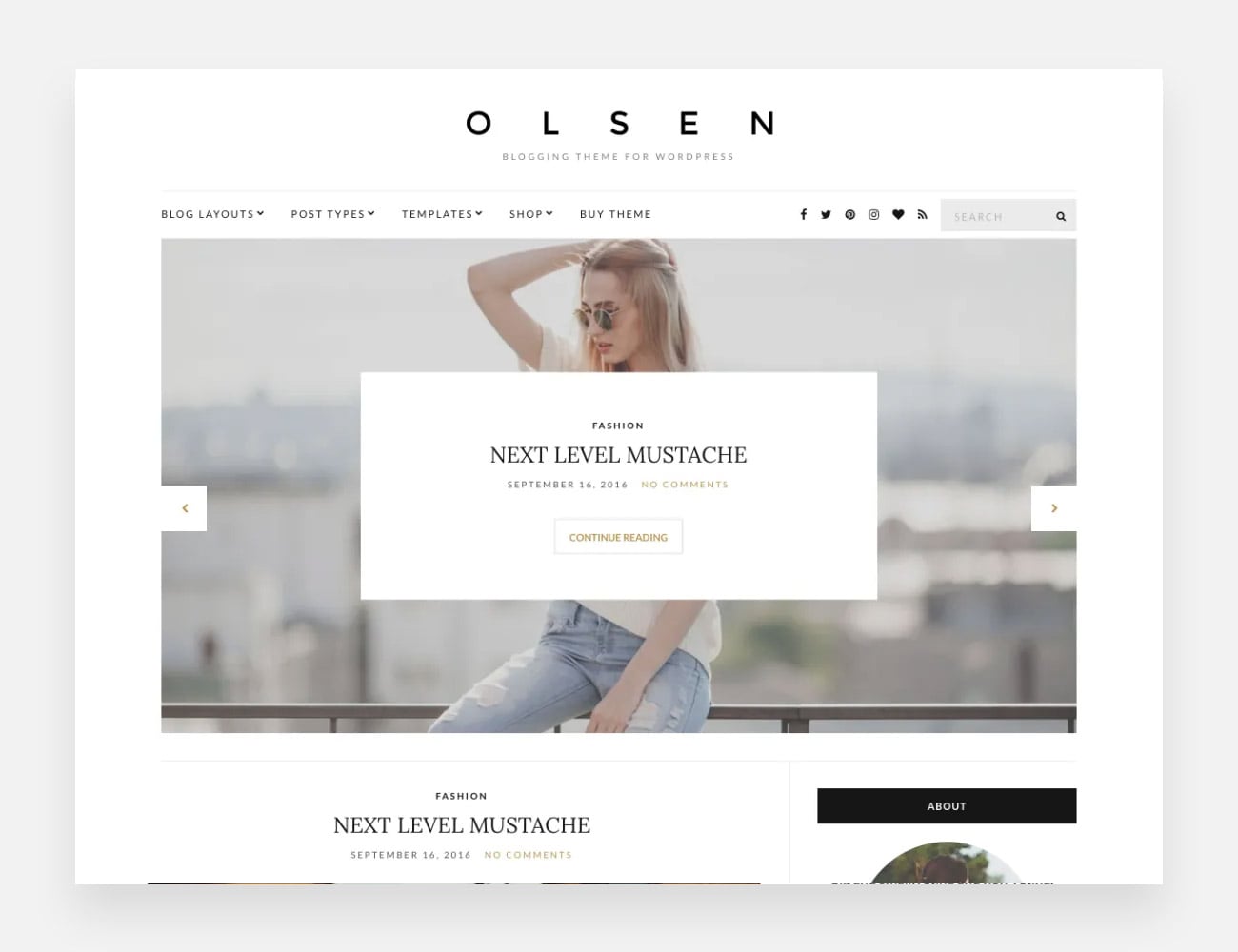 Are you starting a lifestyle blog on niches such as fashion and travel? Olsen Light is the theme you need. With its impressive array of customization options, this theme allows you to integrate with a significant number of custom widgets. With this website, you can find almost anything you need to create your blog. Olsen Light is:
Quite customizable and easy to use
Compatible with most page builders
Olsen Light's default design offers a high-end sheen to your blog. If you are a sophisticated web creator, this is the theme for you. Do not think that the theme limits you to lifestyle sites but also professional blogs like those that feature product reviews. For regular premium support and updates, you will need the premium version at $49. Given its impressive functionality, this cost should be pocket change.
Lovecraft – Free Minimalist WordPress Theme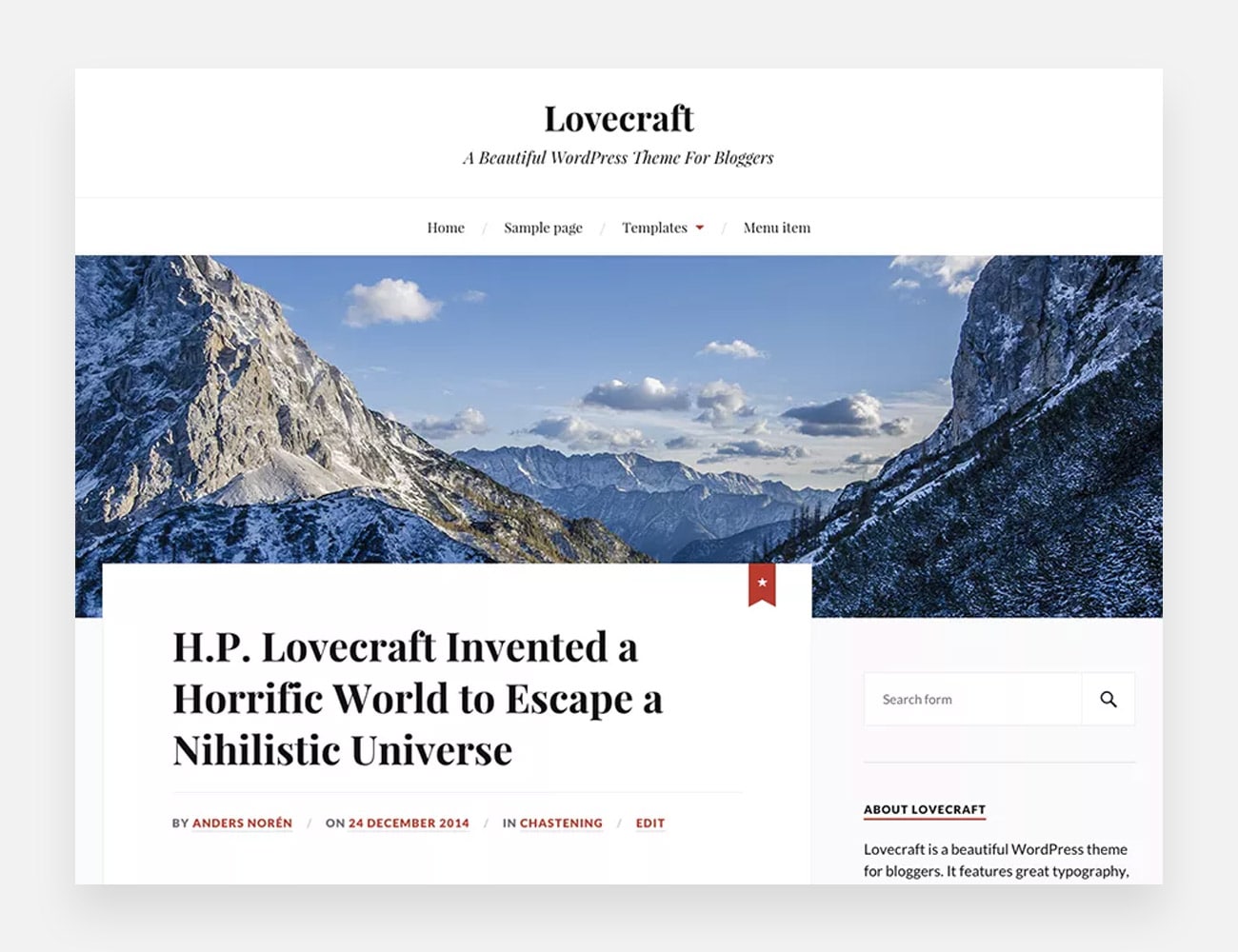 Another theme that comes in a two-column design is Lovecraft. The theme functions explicitly on the needs of a Authors. The theme, moreover, features a full-width header image. Lovecraft also comes with impressive logos, custom accents, and styles that can improve the appearance of your blog. Lovecraft is quite snappy. It will be up and running any time the set up completes. You might think that with its minimalist look and its allowance for mixed blogs that it has a premium version. However, there isn't any. Everything you will need is available.
Hueman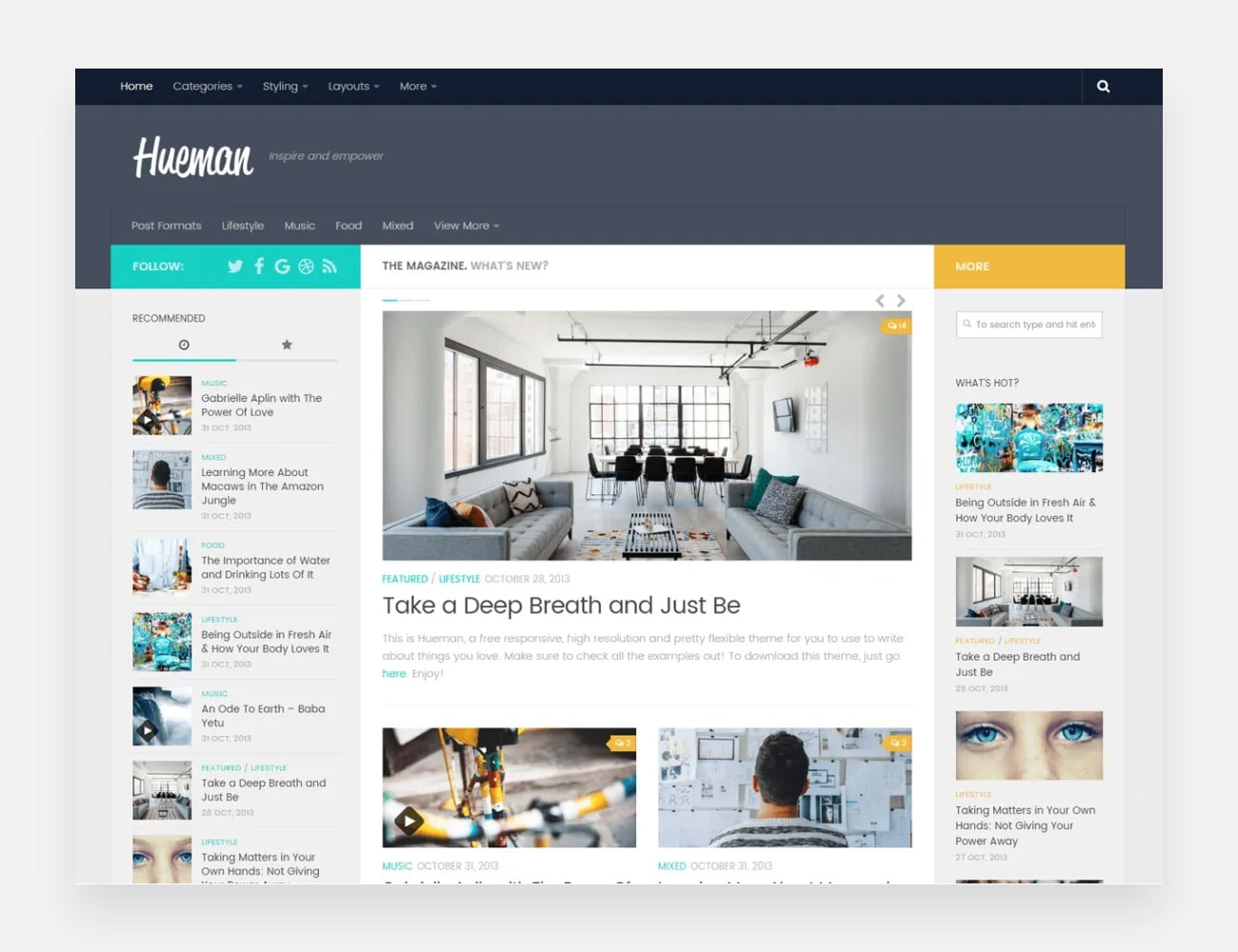 Hueman is slick and customizable. It is mobile-friendly, therefore, suitable for a moving user. Key features include:
Being one of WordPress highly rated themes
A three-column design
A versatile design
You will find this theme when you are a long text blog writer. When using the related posts strategy, this is the blog for you. Hueman comes with a premium at the cost of $59 for one year or a one-time payment of $99. The benefits with these premiums are the enhanced support and the unlimited activation of sites.
"Everybody reads, shops, and authors on their mobile phones. I try as much to choose a slick, customizable, and mobile-friendly theme for my websites. It helps me reach a passionate mobile using generation today."- Shares Estelle Leotard, a freelance writer at WowGrade.
Writee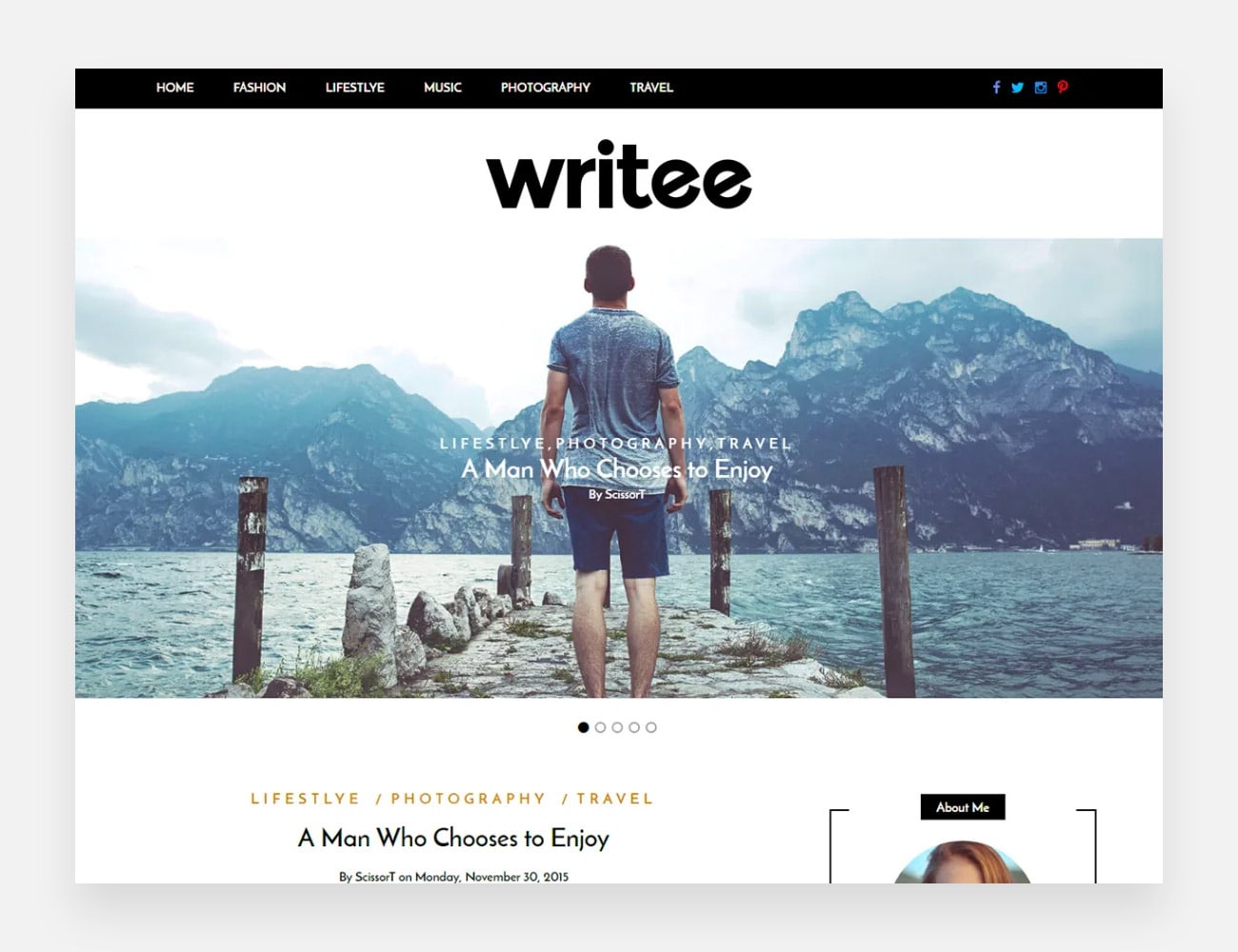 This is the best theme for personal blog authors. If you need a template for content about fashion, food, and travel, this is the best theme for you. Features of Writee include:
Impressive appearance on small screens
Full-width slider for your content
Custom widgets that can improve your sidebar
One thing you will like about this theme its ease of use. Writee looks stunning and leaves you anxious to create new content. If your needs supersede what it offers, you may want to consider its premium plans. The license for one site goes at $34.99. A five-site license will cost you $99.99.
Tracks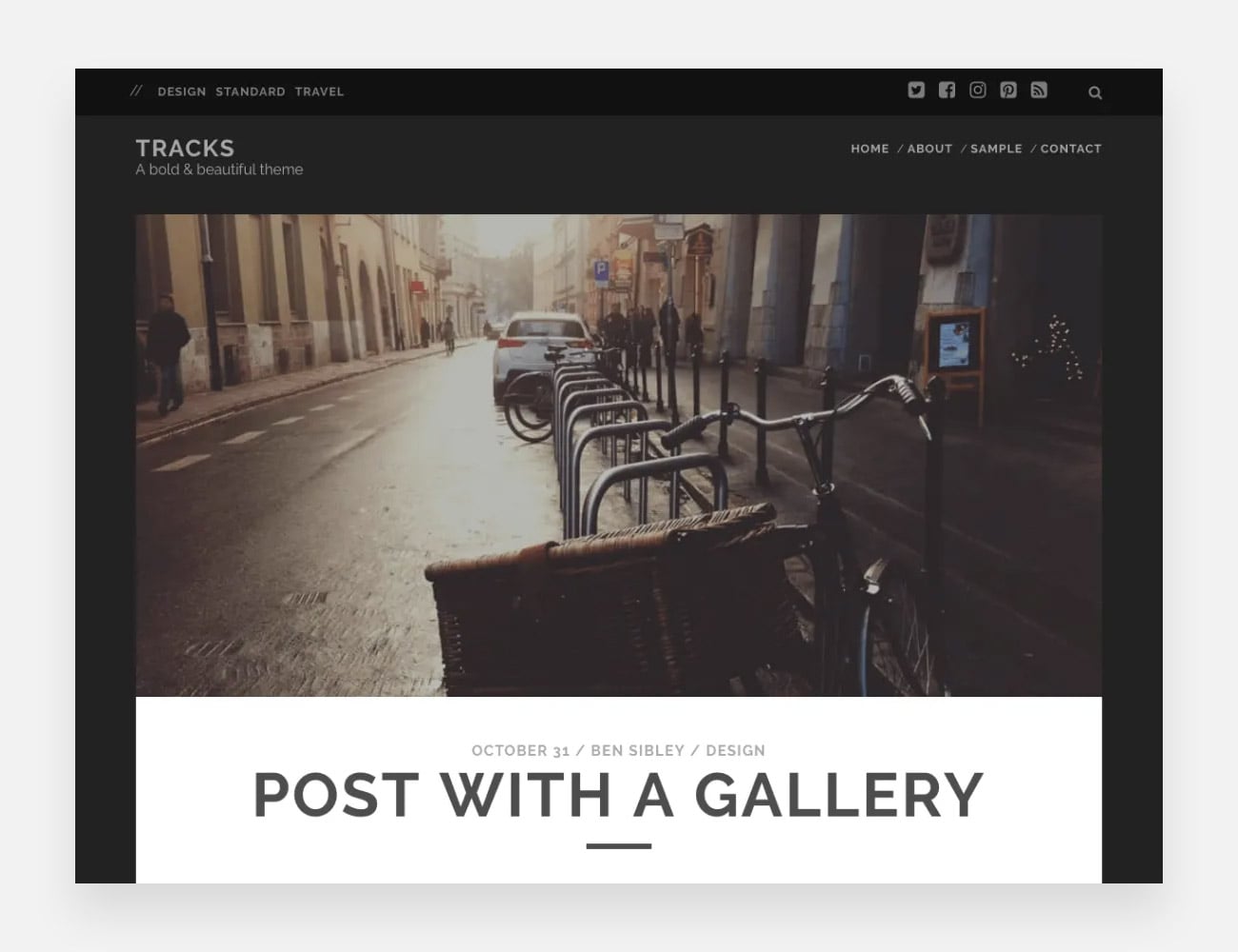 Tracks comes in a dark and minimalist feature's design. The theme has a unique default appearance as compared to other free WordPress blog themes. Its compact layout is appropriate for photography, magazine sites, and blogging. Must know features of Tracks include:
Image-based content is suitable for creatives.
Compatible with e-commerce platforms like WooCommerce.
Overall, Tracks works best on image-heavy sites that require a dark color palette. Tracks is free. However, it always premium upgrades at a cost starting at $49 each.
From website colours to themes and designs, there are multiple themes to use. These are just but a few to make your search for good themes easy. Make your choice now on the most appropriate theme for yourself and readers.
Create Your Author Website with WordPress
Although WordPress makes it super easy to create an Author website, it is vital to ensure that it includes everything given below to make it look brilliant!
1. Homepage to showcase your book(s)
2. Responsive design and eBook previews for hassle user previewing from any device
3. Book description and Author page for some deep insights on both the book(s) and Author
4. WooCommerce plugin support for selling books in a few clicks
5. A bevy of payment gateways valid internationally
6. Testimonials page to cover some top book lovers
Final Words
We have covered all the pointers to help you in getting the best WordPress theme. By now, you must have understood the main requisites while deciding on the WordPress Themes for Authors. Along with that, you can have a look at all the themes mentioned above since they cover everything decently and come with a pleasant design. Once you pick your favourite design, do let us know about your favourite theme in the comments below!
FAQs
What makes a good author website?
Well, not just a catchy headline, a good author website is the one that grabs the visitor's attention in one go and hooks him/her to the page until checkout. For that, pointing the visitor's pain points clearly and providing direct solutions in the book can be super helpful.
Are free themes best for WordPress?
There are a plethora of free WordPress themes available online. They may be helpful for budding authors however; they may come with limited functionality and design elements. Thus, it is necessary to opt for a paid WordPress if you want to sell maximum books online.
What is the best platform for an author?
WordPress is a powerful platform that can help authors in designing an ultimate website. On that website, they can provide all the books details and even payment options for hassle-free checkout options.
Which website builder is best for authors?
WordPress is considered to be the best platform for authors owing to the fact that the platform offers user-friendly features on your fingertips. Not just this, all the users love the easy drag-and-drop features with smart customization.
Is Squarespace good for authors?
Like WordPress, Squarespace is a terrific website builder for authors to boost their reach. The only thing to pay attention is that every user needs to choose a relevant template that caters to both your business and personal needs properly.