Are you interested to learn building a website with WordPress? Well, you are at the right place. WordPress, a widely used platform, is known for its ease of use. There are no complicated rules or fees involved.
And, you don't really have to possess any computer, programming, coding, or IT-related skills. Building your website may appear a really difficult task, and the formation may seem complicated, and you might also think that only people with an IT background can create them. But, in reality, anyone can do it. Do you also want to know how to make a WordPress website? Keep reading the shreds below.
You might think that to design a website with WordPress, you will need great expenses, but let me tell you that the prices vary according to the website's nature. There is no need to be an expert in computer science or machine languages to create one. The process is straightforward. It takes about a week to learn it. And anyone can learn it. However, for building websites yourself, it's essential to become familiar with and adept with WordPress.
Got Zero Coding Skills? No Problem! We Got You Covered
In today's world of small businesses, building a website from scratch is a highly valuable skill. Some of the advantages of building a website with WordPress, you can find below.
Your website can also be updated to keep up with market trends without having to hire a programmer.
By minimizing developer involvement in your projects, you can stay ahead of your competitors by building most of what you need yourself.
Design Website With WordPress
WordPress isn't just a tool for economic growth but also a platform for sharing stories, ideas, building communities, and doing awesome things. Small businesses can use it to make their online presence, while bloggers can launch their first blog with it being economical as well.
A major eCommerce platform, called Woo Commerce, runs on WordPress. It is popular among online stores, and with it, plugins and themes in WordPress enable users to build any type of website they desire.
Guide to Building A Website With WordPress Having No Programming Knowledge
Being no coding expert, you can still easily create a WordPress site, especially if you figure out some awesome tutorials. With the basic know-how, you can tailor your website to whatever needs your company might have.
Now talking about the tutorial, below is a basic step to step guide that you can follow to create your own WordPress website.
1. Sign Up For Your Webhosting Account
Websites can be built on a variety of platforms. One of the most common platforms is content management systems. You can do anything you want on your website without having to know how to code by giving you easy access to editing tools in a content management system.
When you publish new web pages, documents are created and published. Finding a suitable document is an easy task. All you have to do is sign up.
Among all the software out there, WordPress stands out. This platform is divided into two categories. It is held on an external server, and this is the main difference between WordPress.org and WordPress.com. There are no better self-hosted platforms than WordPress.org. With WordPress, you can utilize all of its features directly, which makes it popular and outstanding from others.
Another good thing about WordPress is that it's free. Any platform can be used to run a website. Additionally, it is fast, secure, and performs efficiently. As a bonus, the platform is search engine optimized, which aids in promoting and indexing your website.
2. Choose a Domain Name For Your WordPress Website
The moment you decide on the platform you want to use for building a website, you will have to select a domain and hosting service provider in order to build a website with WordPress. An address for your website is its domain name.
The process of purchasing a hosting package may seem intimidating at first, but it's not as difficult as you think. Unlike some processes, feware short and simple, which requires no technical capabilities.
Most hosting starts from $7.99 per month, and a domain costs $14.99 per year. These are immensely expensive for someone just starting. Domains and hosting deals are free for beginners at Bluehost. A domain can be purchased for $2.75 per month.
3. Install WordPress Software To Design Website With WordPress
After registering with Bluehost and entering your credentials, you only need WordPress. The installation of WordPress manually is technically possible; however, why would you when other people can do it for you and for free?
Your Bluehost account will be activated upon joining, and you'll receive an email from them with information on how to log in and start your website. Once you log into your account with Bluehost, you will be guided through installing WordPress.
4. Select Theme for Building a Website With WordPress
Choosing a theme is the first step in creating your website. Visitors should be attracted to your website by the way it looks and feels. In order to know how to make a WordPress website, the next step you need to follow for getting your website started is creating content.
How the web pages' look is entirely up to you. Your WordPress dashboard will be prompted to let you choose a theme once you click the appearance section on the left.
You can choose a different theme if you don't like the one you selected before. And, the same can be done in the future. Following a theme selection, you can create the content for your site. Although an out-of-the-box theme may look nice, it should still be customized to suit your needs exactly.
5. Check Final Settings After You Create a WordPress Website
Do all the changes required after you have created the website. Change the settings according to your preference. Check the dashboard. Arrange the menu bar. The menu can be configured in various ways, depending on your theme.
The menu could be made easier to navigate by adding a few key pages. It's a good idea to include other useful pages as well, such as those that will help you in making a WordPress website along with the about and contact pages.
Depending on your blog's format, you can either click on appearance * menus on your dashboard or go to settings > appearance. The default panel can be expanded by selecting the page to the left. The menus and settings can be found on the right side of the default panel.
6. Login to Your Account and Enter the Dashboard
Login to your account after creating your website, and enter the dashboard. Following the header and footer of the page will be the body of the page. For building a website with WordPress, the image must be set to feature. The featured image is displayed somewhere on your page in a prominent place in most WordPress themes.
A similar interface will be used for this portion of the page as it is for Microsoft Word. This button contains simple text formatting options (bold, italic, align left/right/center, list creation, etc.
Adding images is also possible by using this button. Submit a text or a visual document. If you've finished editing the content of the page, click "Publish" to make your changes public.
7. Additional Settings and Scrubbing Off General Stuff is Important When You are Building a Website With WordPress
Add the basic stuff and information about what you offer. Any website requires a menu as the primary navigation mechanism, so you should consider its importance when constructing one.
Several options are available for menu settings, with some themes more advanced than others. You can normally accomplish these steps based on your blog format: Click on Appearance * Menus on your dashboard. Adding menus to the left of the default panel is possible by selecting a page. Setting up menus comes right after the default panel.
You will have a menu displayed at the top of the page if you select "primary menu". You will probably see the main menu if you do this. Click "save menu" to save your changes. In this way, you will be able to design a website with WordPress.
Adding a few key pages to the menu will make it easier to navigate. In addition to the About and Contact pages, make sure to include any other useful pages you believe are necessary for the menu and wipe off all that is unfruitful. One of the best features about this whole panel is the ability to drag and drop menu items within it. Simply choose the position at the bottom to add the menu.
8. Build WordPress Permalink
A separate hyperlink will be included with each post you create so that your visitors can have access to that particular post straight away. Permalinks for WordPress are the links included with each blog post. Your domain name must appear after the Permalink domain name. Let's take "xyz.com" as an example.
If you are editing your post permalinks before publishing, don't make changes after publication. To get a lot of content into your website, you can create multiple posts and save them as drafts.
9. To Create a WordPress Website, It is Essential to Manage Your Content Strategy
Marketing your website and products through content marketing is generally the best strategy. Inbound marketing is regarded as the top priority by 55% of marketers.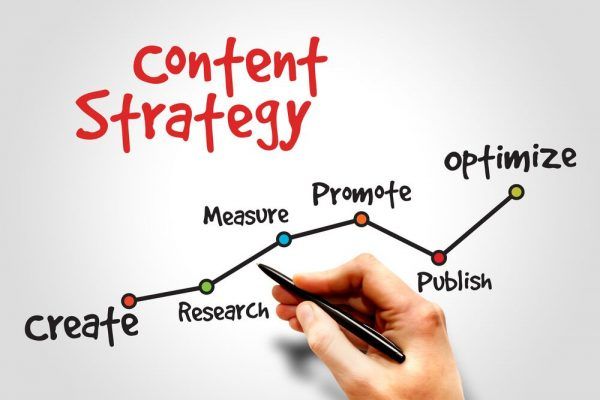 Source
These figures prove that blogging works since raw data prove it. Blogs are relatively straightforward to run. Articles published on your website related to its topic are the main function of your website. Technically speaking, building a website with WordPress needs blogging tools embedded right in it. This is why it was created for blogging.
10. Install Plugins that Can Widen Your Website's Proficiency
WordPress plugins are some necessary tools to not overlook. These extensions add valuable features to your website that enhances its basic functionality. A site to buy assignment online UK prefers to add plugins saying,
"You can use plugins to add some great features to your website while you're figuring out how to do it yourself for making a WordPress website."
Click on Plugins in the WordPress dashboard to add a new plugin. You can activate a plugin once you have found it and click the "Install" button.
11. Create The First Page
Your WordPress dashboard will display Posts * add new on which you can create a new blog post. It can be done similarly to adding a page. As you can at most platforms, almost the same options are available in the editing panel. Among the few differences between WordPress and Blogger is that posts can also be assigned categories and tags.
You should have a page that lists all your blog posts once you've finished writing for building a website with WordPress.
One of your pages should serve as your main blog listing to make your posts easy to find.
12. Market
At the top right of the page, click the publish button when you are finished writing your post. By putting the address of your website into your browser, you can check the status of your post after it has been published. The domain address is required to encrypt your traffic.
Your website has now been created with WordPress. Edit your theme; add or delete posts; add media, or do anything you want with your website at any time and Market your brand!