Instagram is still the most popular platform for businesses.
Many businesses, influencers, and professionals have discovered Instagram to be an effective platform for advertising their products and increasing sales, as well as increasing brand recognition and achieving business objectives.
These accomplishments may be feasible as a result of the features and tools that Instagram has made available to businesses, allowing them to carry out their promotional operations in the most efficient way possible. One of them is the ability to convert a personal account into a business account.
There are, however, some additional things you can do to make your profile stand out from the crowd. Continue reading if you're interested. In this post, we'll look at five ways to improve the performance of your company Instagram account.
Let's get right to it.
1. Write a clear and concise bio
Editing the design of your business Instagram account, and therefore the first things visitors will see and read once they get on your profile is one of the first things you should do to optimize it. Using instagram email extractor, you can extract emails of all these people who have followed any Instagram profile.
As a result, your Instagram bio is quite important. It's the sentence that appears underneath your nickname and identity in your Instagram profile.
This part mainly helps to define your company's mission, or simply what you do as a professional.
It should be clear and concise, and it should encapsulate your aim in a few words.
Users will be able to tell right away whether or not your profile and business are of interest to them based on your bio, and you'll only attract folks who can eventually convert into paying clients.
Examples of great Instagram bios
Target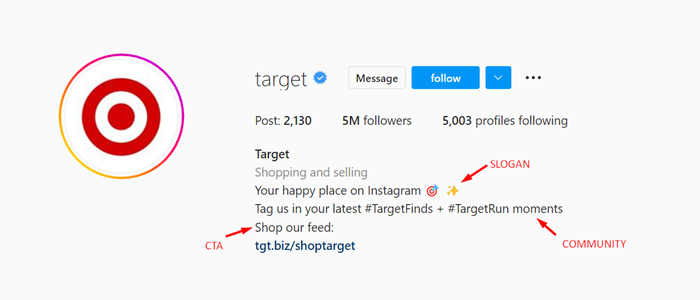 Target has chosen to use a playful tone of voice in order to entice individuals and allow them to fantasize about being a part of the community it portrays. In order to increase brand exposure in a fun way, it has also generated branded hashtags and placed them in the bio. Finally, it included a call to action (CTA) at the bottom, which will assist the firm in achieving its business goal of getting consumers to buy.
Pura Vida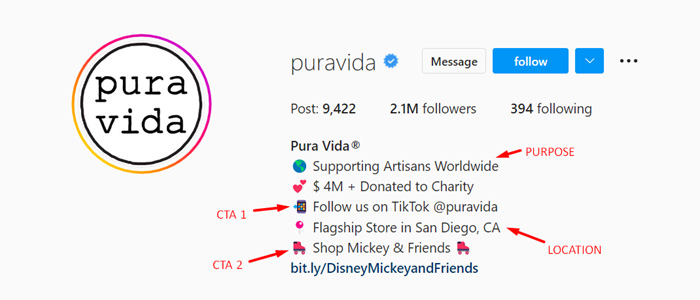 To begin, the Pura Vida Bracelets Instagram bio is organized with emojis, which saves space and gives off a playful vibe. Because the corporation uses a lot of vivid photographs of happy individuals modeling the products, "fun" works. It has also set in place all of the information that new individuals who come on its profile could find valuable, such as location, purpose, CTAs, and humanitarian efforts.
Ryanair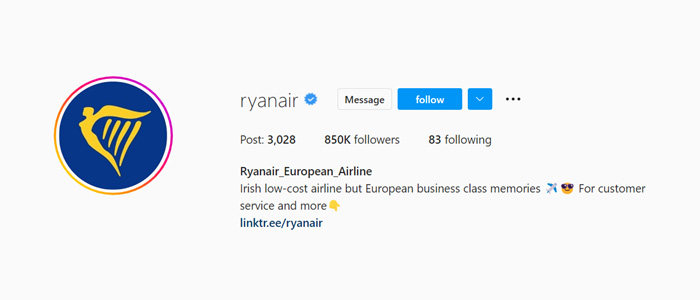 Ryanair maintains its bio short and sweet by writing "Irish low-cost airline but European business class memories," making it clear what company is most known for while also emphasizing its distinct value. It also includes a call to action that directs users to a Linktree.
2. Create a FAQ story highlight
People may have a lot of questions regarding your products and services. For example, regarding the precise use of a product, whether or not it is the best option for their needs, and so forth.
When these concerns are not answered, clients will have doubts about completing a purchase, causing you to lose sales and conversions.
To avoid this problem, you may include a FAQ section to your Instagram profile. The easiest approach to accomplish this is to establish an Instagram story highlight, which will make it immediately visible and accessible to users.
Consider all of the most important questions, as well as those you are likely to get or have previously received. Then, possibly respond with as much depth and precision as possible. Provide audio or video content that demonstrates what you're affirming in your response.
Example of FAQ Instagram story highlight
Peachy Candle Co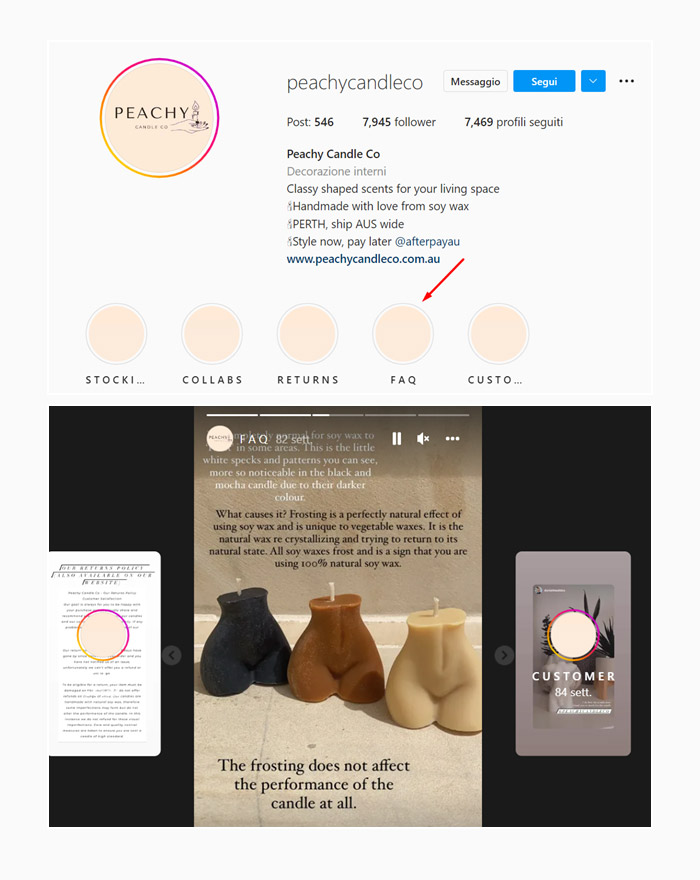 Peachy Candle Co, a small candle company, has collected and highlighted all of the questions that customers are likely to ask. People will have formal answers and will be ready to proceed with the purchase, and the business owner or employees will not have to answer the same questions again and over.
Miss Ayla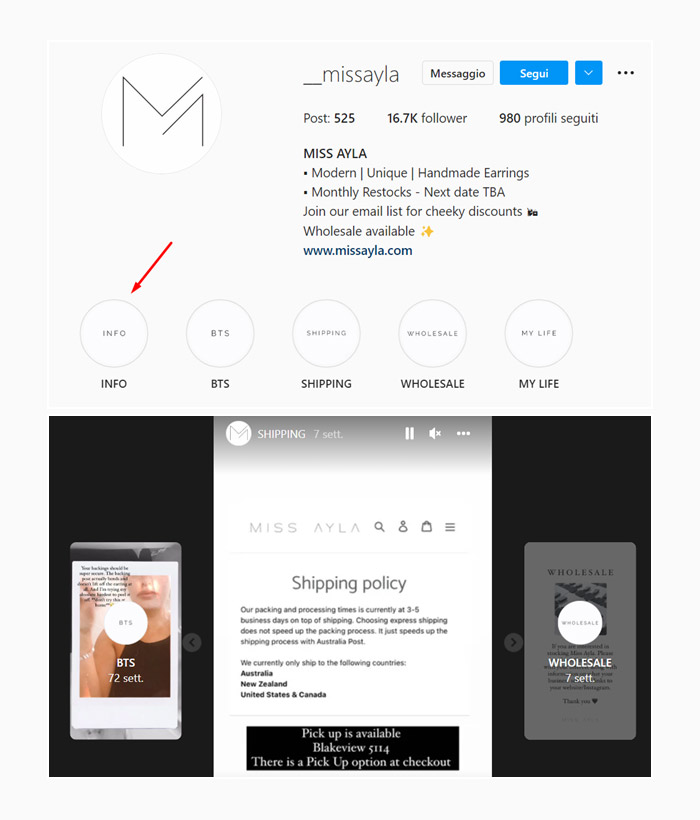 MISS AYLA, a small business that sells handmade earrings, has also chosen to clear up any doubts or issues that consumers may have by collecting all of the FAQs and answers in its Instagram account. It has, for example, made explicit information on shipping, restocking, and other topics.
3. Promote special offerings to increase your Instagram followers
If you're just starting out, you'll need to achieve awareness and popularity on the app.
To achieve that in the shortest amount of time possible, get Instagram likes or offer something unique and valuable to consumers and give them a reason to follow your Instagram account. It may be good to offer something unique and valuable to consumers and give them a reason to follow your Instagram account.
To sum up, Los Angeles influencer agencies can be an asset to anyone trying to 'up their Instagram game' by increasing followers and engagement. They bring with them the resources needed to devise strategies geared towards achieving this goal. Whether it's using targeted advertisements or understanding data analytics behind likes and comments, modern-day influencers have the advantage of industry professionals working alongside them.
This step is crucial to grow your number of Instagram followers.
One way is to promote limited-time offers available exclusively through the app. You may, for example, use discount coupons, create raffles and giveaways, and so on.
Examples:
Blackcatmotocoffee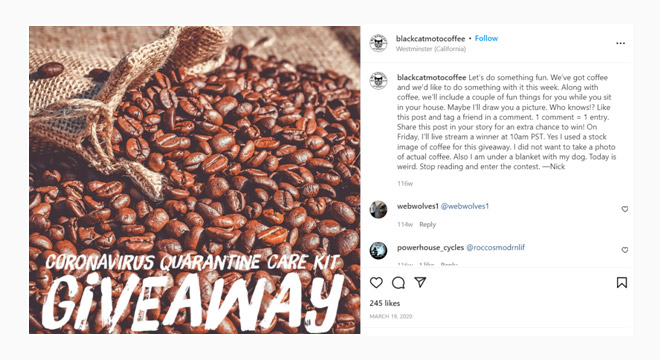 In this case, a well-known coffee brand utilizes the news of a viral outbreak to advertise its business through a giveaway. And their primary purpose is to expand their audience.
To be eligible to win the contest and receive more entries, fans had to do the following:
Like the post;
Tag a friend in the comments;
Leave a comment;
Share the post in their Instagram story (optional).
The gift went viral, with over 240 likes and 760 comments, helping the company to meet its goal.
4. Highlight all of your locations
It may be beneficial to list all of your locations in your profile and in the posts you make, especially if you have physical shops, restaurants, and so on.
This will assist your Instagram business account in gaining prominence in the nation in where you are located.
Furthermore, this will assist you attract people who are likely to become clients, and you will profit from greater sales and conversions.
Examples:
Sprout Artisan Bakery

Sprout Artisan Bakery is an example of a business Instagram profile that combines emoticons and offers users useful information. Indeed, it emphasizes location, opening days, and hours, providing consumers a good understanding of when and where they can go and buy, minimizing uncertainty.
Fenty Beauty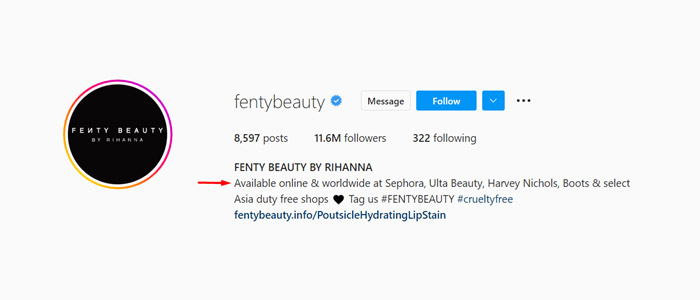 Even while Fenty Beauty's business Instagram account does not explicitly indicate the location, it does identify the stores where people can find their products, making it clear to customers where they can find them.
5. Make wide use of hashtags
Hashtags are crucial components of nearly every social media platform available. Hashtags help others find your posts and profile.
They allow you to gain visibility to people who have similar or identical interests to the hashtags.
For example, if you run a food-related business, using the hashtag "#food" can assist your posts and profile appear more frequently to individuals who share similar passion for food, are professionally or personally involved in it, and so on.
Other than in single posts, Instagram lets you add hashtags to your profile in the same spot where you put your bio.
It is best not to overdo it with hashtags on either the profile or the postings. Otherwise, you risk seeming unprofessional, attracting spammers, and being penalized by Instagram's algorithm.
Also read: 5 Strategies to Rank on Instagram Hashtags Fast
Examples:
Bershka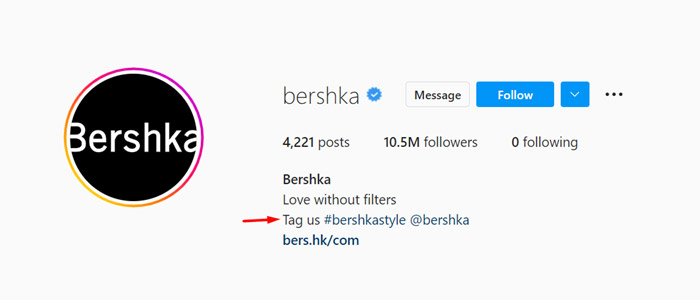 Bershka maintains its Instagram bio brief and simple, focusing on its branded hashtag. It encourages users with a "Tag us" CTA next to its branded hashtag #bershkastyle. People will be encouraged to use that hashtag in their photos of them wearing the brand's clothing. Bershka gains from free advertising, and brand awareness increases as a result.
Stradivarius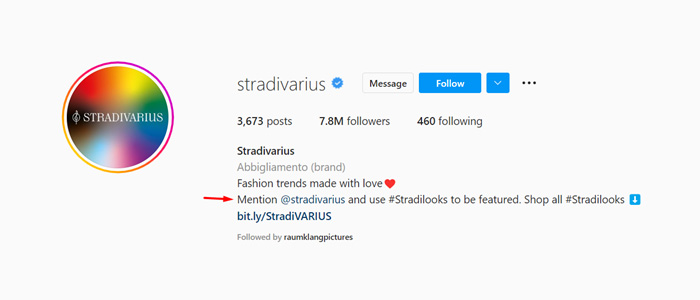 Stradivarius, like Bershka, bases its Instagram profile on the hashtag concept and the community's commitment to taking action. In fact, in order to be featured, people are encouraged to mention the company's Instagram page and include the branded hashtag #Stradilooks in their posts. This appears to be a win-win situation, with customers feeling important and valued by the company and the brand benefiting from free marketing and increased sales.
Wrapping up
Instagram is a strong business tool that, when used properly, can provide extraordinary results in terms of revenue and brand visibility.
There are several recommended practices to follow in order to do this. In this blog post, we discussed some of the most successful ones that will help you obtain the finest results in the shortest amount of time.
Using them will provide you a competitive advantage and help you stand out from the crowd.
Thank you for taking the time to read this article. Hopefully, you found it informative and helpful.
If you want to read more, please check out this article on how Instagram will change in 2022.