As competition in the real estate marketplace grows fiercer, you want to heighten your marketing game to stand out as a winning realtor. Of course, a huge marketing budget is part of this equation. But what if there was a cheaper, faster, and more intuitive route to take?
Yes, that's right. You no longer have to spend heavily on real estate marketing campaigns if you know the right solutions to leverage. So, what's the alternative? Marketing apps.
As technology advances to unprecedented heights, tons of real estate marketing apps have emerged to help you promote your listings, build your brand, and grow your real estate empire more powerfully.
The most popular real estate marketing apps to leverage and become a phenomenal realtor
Wise Pelican – Direct Mail Marketing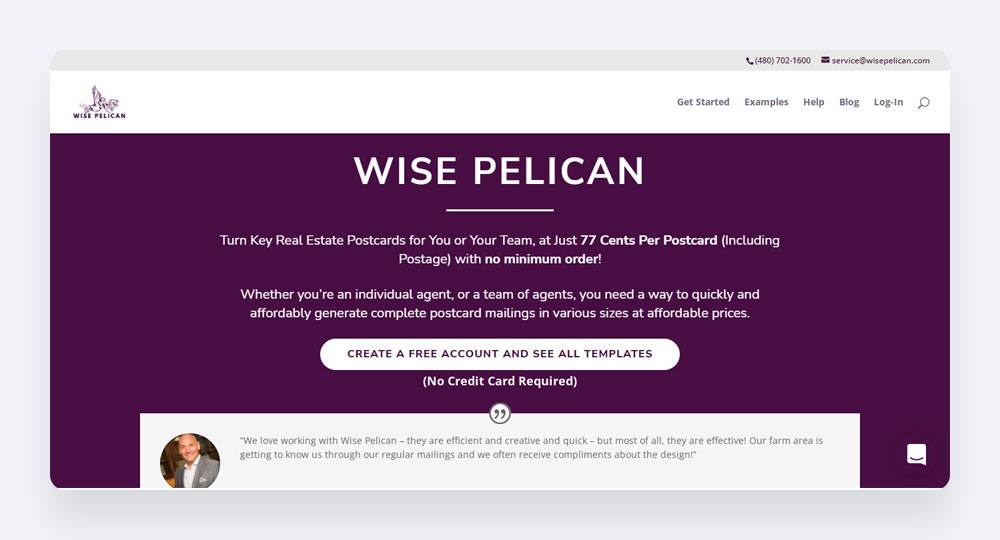 Topping the list, Wise Pelican is a timely solution for evolving real estate agents. Through the web-based platform, you can effortlessly generate postcard mailings of different sizes at only 77 cents per postcard. The tiny fee is inclusive of postage without any restrictions on the orders posted.
Once you create a free account and gain access to the site, you are immediately immersed in an explosive world of graphic postcard templates. You have the option of either choosing from the hundreds of postcard templates provided or allowing Wise Pelican to customize a unique template for you.
Furthermore, if you opt for the pre-built templates, you can easily swap out the information to feature your brand voice. The realtor postcards come in a jumbo size, high-gloss card stock paper, and full color for an aesthetic professional brand presentation.
To ensure you stay connected to your prospects, Wise Pelican boasts an integrated mail campaign tracking feature. Thus, you can seamlessly keep tabs on the dispatched postcards as they navigate the USPS system and get notified upon delivery.
Zoom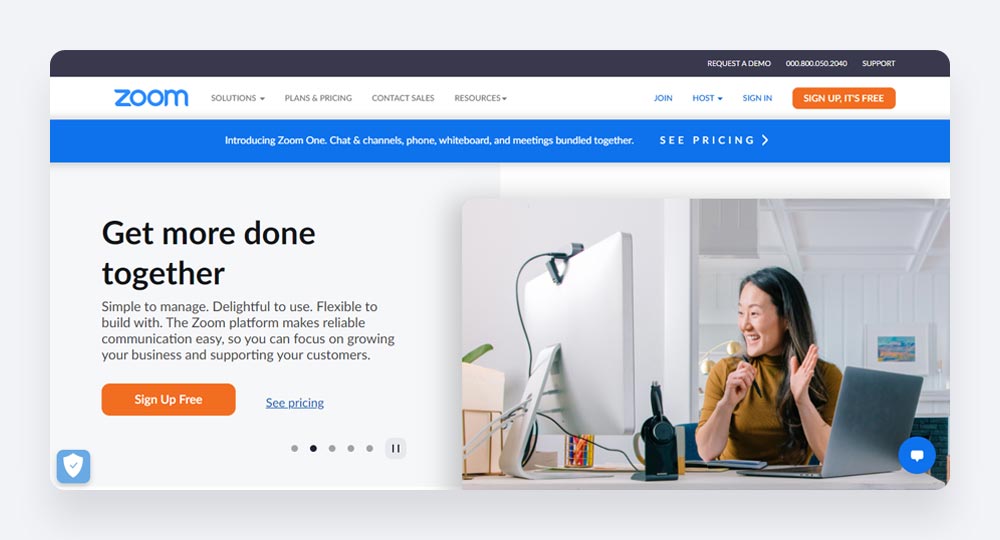 The Zoom app is an inexpensive platform to effortlessly boost your interactive marketing efforts. The platform is free and allows you to host endless video meetings with as many as 100 prospects or customers.
What's more, if you install the mobile version of the application, you get the convenience of booking meetings with clients on the go. Interestingly, you can even share your phone screen with the client should you need to demonstrate or clarify a critical property detail.
Both the Zoom mobile app and desktop app boast a unifying versatility that makes customer interaction more effective and personal. From the app, you can hold a video conference, make a phone call, host a live meeting, and chat right from the same platform and device.
Thanks to such up-close interaction with prospects and customers, Zoom essentially helps you strengthen your bond with leads. This may further augment your efforts to solicit future reviews and referrals. Other powerful features like voicemail, call recording, and call hold help you retrieve conversations with ease for follow-up sales.
Zillow Premier Agent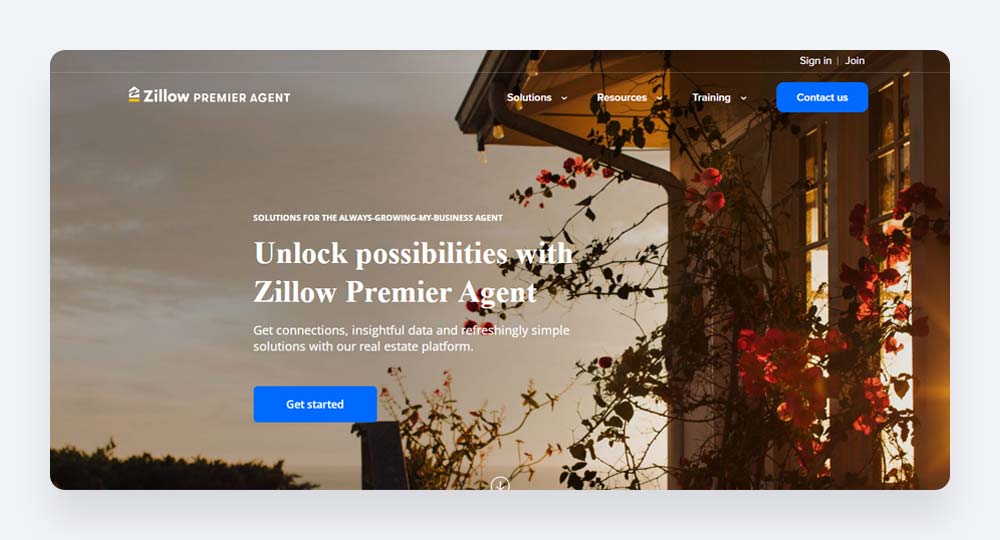 Zillow Premier Agent is an intuitive real estate platform that keeps realtors abreast with the latest insights, trends, and solutions in the industry. It also offers an interactive way to ramp up your connections with customers and prospects.
Whether you run solo or work with a team, the platform features uniquely tailored prospecting solutions to help grow your network. As soon as you set yourself up with a striking realtor profile on the site, you gain access to the vast real estate network offered by Zillow.
On the secure platform, it becomes less hassling to connect with interested real estate buyers once they launch their home search. Moreover, when you leverage the advertising feature on Zillow Premier Agent, you can connect live with buyers for faster conversion.
Importantly, the platform boasts a rich network of leading real estate sites bundled together for a more fruitful prospecting. This affords you more latitude to reach your target audience faster.
BombBomb – Video Email & Messaging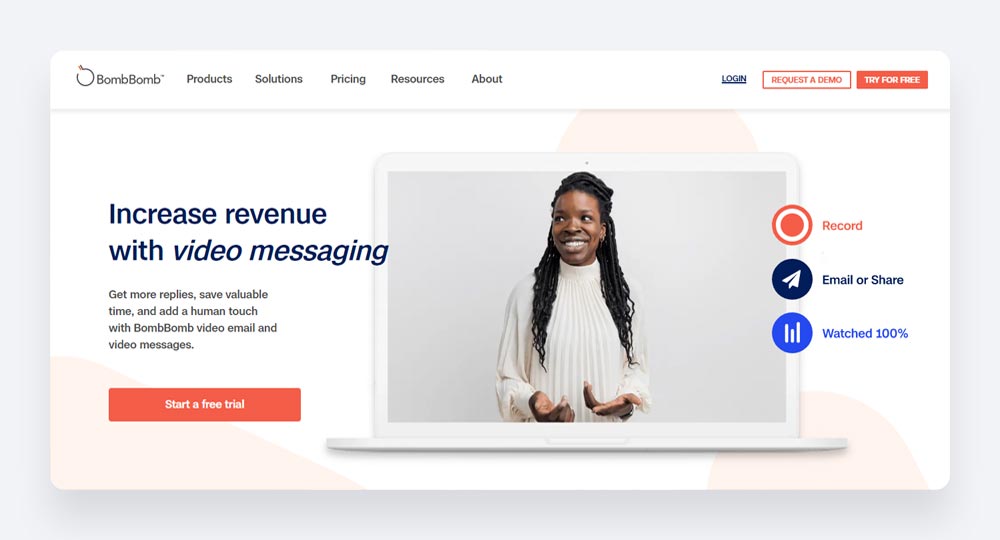 BombBomb is an intuitive video email and video messaging platform carrying a profound ROI potential for real estate marketers. It helps to build healthier client relations, and in so doing, increase your revenue potential.
Faceless, typed-out text messages with a low likelihood of conversion can be replaced with amazing effectiveness by BombBomb. It brings in the human touch to typical marketing emails and messages. Thus, through the platform, you are empowered to cement your client relations with more personalized messages.
All you have to do is simply record your face or screen, and then start sharing them out through email, text message, or even social media platforms. From there, you can reliably track your video performance in real-time including video plays, opened emails, and link clicks.
What's more, BombBomb comes with a trial version before signing up for a monthly subscription. Thus, you can determine whether the platform is a good fit for your real estate business before committing.
Real Geeks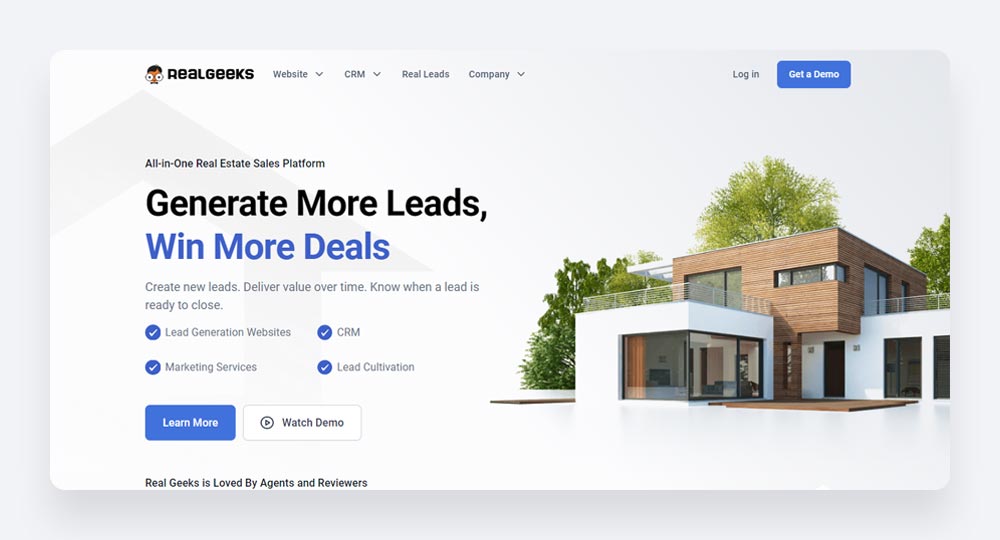 An interactive customer relationship management software (CRM), Real Geeks is intuitively geared at seamless lead generation to help you close more deals. In other words, it is a one-stop real estate sales platform bundling lead generation, CRM, marketing solutions, and lead cultivation.
You can fully integrate Real Geeks with your website to help you deliver value to your client relations gradually. Thanks to the live activity feed, you can track real-time activity such as the exact time leads start engaging on your site. The intuitive CRM will also trigger you to follow up on high-engaging leads for faster conversion.
Moreover, the game-changing platform features an auto responder tool to lessen the lead response time while boosting engagement and conversion. Real estate marketing has never been easier!
Mailer Lite – Email marketing software for Real Estate Agents
Mailer Lite is a results-driven email marketing software for progressive real estate agents. It intuitively consolidates different digital marketing tools to help you scale your audience and revenue faster. Some of the powerful integrated tools are a website builder, subscribe form generator, and paid newsletter subscriptions.
Armed with Mailer Lite, you can effortlessly and professionally create conversion-centric email campaigns thanks to the built-in drag-and-drop email editor. Then, the platform allows you to automate your campaigns backed by intuitive timing and audience targeting.
Next, your user dashboard lets you track performance to determine the best lead prospecting approach for your brand. What's more, Mailer Lite comes with top-notch versatility, allowing you to integrate your marketing efforts with other web apps for information sharing, workflow automation, and customer experience enhancement.
Conclusion
In the recent past, real estate marketing apps have proven useful in lead prospecting, lead generation, and lead nurturing. Infused with intuitive CRM tools, these apps have become a one-stop shop for forward-looking realtors to close more sales. Thus, they are a must-have tool.
However, with the market flooded with endless such tools, you need to be careful about your selection to optimize your gains. Fortunately, this list of the most popular tools will bring you a step closer to the app that best resonates with your brand needs. Good luck picking the best app!