Do you know what kind of website content tends to rank highest in engine searches? The answer is long and high-quality content. A study shows that the average Google first page result contains 1,890 words, but you can often find much longer posts on the Internet.
While long-form articles are certainly a way to go in 2020 and beyond, they do come with a simple downside – it is difficult for users to navigate through enormous content pieces. This is exactly where the table of contents steps in to help WordPress webmasters present their posts more logically.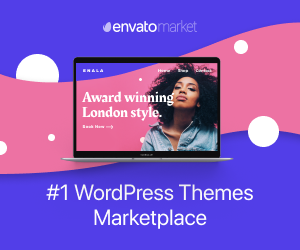 For instance, if you need help with dissertations, you don't want to read about essay papers or thesis writing. On the contrary, your only goal is to get to the dissertation section immediately. If you are not really sure about it, let's check out the key benefits of installing a table of contents WordPress plugin:
A table of contents for WordPress enables a clear preview of webpage content
It helps users identify the most relevant piece of the post almost instantly
It minimizes bounce rates
It gives search engines a simpler overview of the content and boosts SEO results
With so many advantages of installing a table of contents plugin, the only real issue is how to choose the most appropriate tool for your site. In this post, we will help you narrow down the options by presenting the eight best table of contents WordPress plugins for 2020.
1. Easy Table of Contents WordPress Plugin
We open the list with Easy Table of Contents, a popular WordPress plugin with over 100 thousand active installations and a five-star rating. This is our choice number one because it's easy to use, which makes the platform perfect even for beginner-level webmasters.
As soon as you install it, Easy Table of Contents will automatically create content previews based on your headings. Of course, you can customize it and decide whether a certain page really needs a table of content or not. Easy Table of Contents comes with lots of supporting functions such as:
Customizable content table templates
Smooth scrolling
Multiple positioning options
Multiple counter bullet formats, including none, decimal, numeric, and roman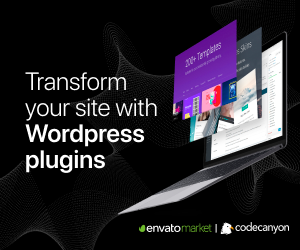 2. Simple TOC
If you are a true fan of Wikipedia, you might want to install Simple TOC. Just like the name suggests, it's a user-friendly plugin with tools and features that are easy to understand and put to action. It requires zero coding skills, which makes the platform suitable for WordPress beginners.
Simple TOC creates tables of contents that look like the ones you can find on Wikipedia. It's a free plugin, so you can test it and quickly determine whether it suits the needs of your site. Simple TOC offers you a few more functions that you mind find to be useful:
Auto-generation of headings based on your heading tags
A brand new Tiny MCE editing button
Creation of multiple tables of contents
3. Fixed TOC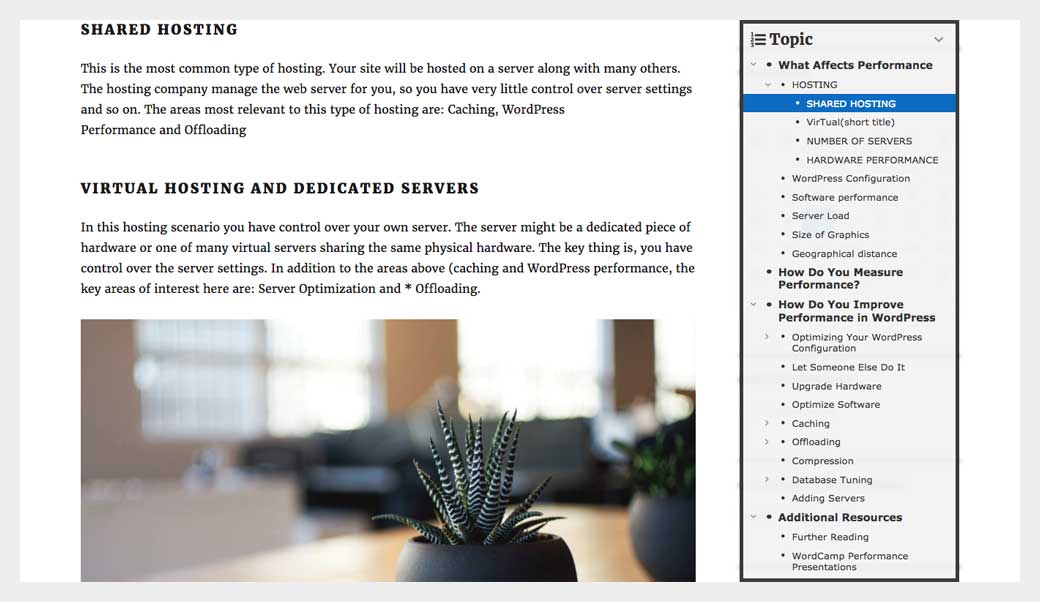 Fixed TOC is one of the most comprehensive table of contents plugins as it offers you much more than you'd expect from this sort of tool. Needless to say, Fixed TOC automatically generates a table of contents for each post on your websites.
You can customize the plugin so as to find the ideal style, which is very important for webmasters who pay attention to the branding part of the business. Essay writers at My Assignment Help Australia praise the platform's mobile-friendliness: "Unlike many other table of contents WordPress plugins, Fixed TOC works well with all types of devices and screen dimensions."
We can also highlight a few more features such as:
Dozens of animated effects
A well-designed meta box
Translation-readiness
4. Thrive Architect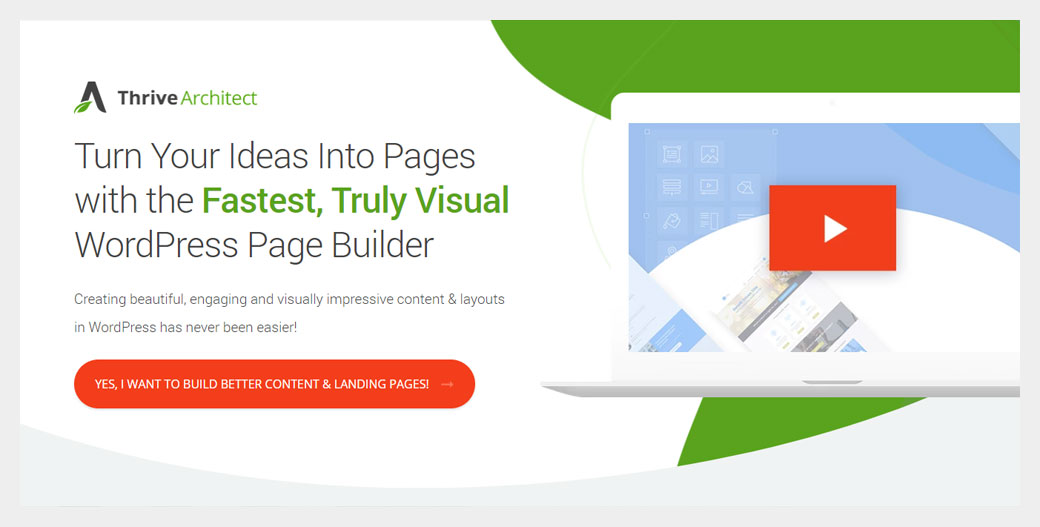 A lot of webmasters are looking for a more versatile plugin that covers a broad scope of functionalities. For those webmasters, Thrive Architect seems to be a natural solution because it's a full-time webpage builder with a built-in table of contents feature.
What can you expect from Thrive Architect? First of all, it will help you to build eye-pleasing tables of contents. Secondly, it will drastically improve the overall readability of your website. Besides that, it extends way beyond content previews to give you the following options:
Simple content editing
Easy to tailor landing page templates
Pre-build conversion elements
Opt-in forms, galleries, and many more
5. CM Table of Contents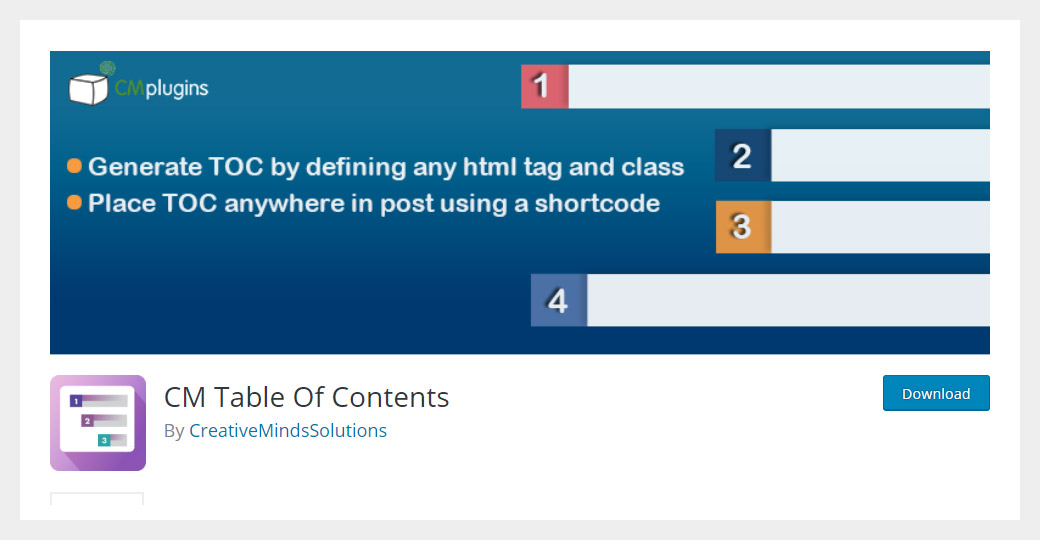 CM Table of Contents is a user-friendly plugin that will help your website visitors orientate and find the desired piece of content within seconds. Each table you add to the website is fully customizable, so you can play with templates to find a solution that your audience will love.
CM Table of Contents makes it possible to design different sections, headers, positions, sidebars, and a wide range of other components. At the same time, you can count on extra functions like:
Specify a table of content based on the class, tags, or ID
Collapse the table on page upload
Shortcodes for specific requests
6. Ultimate Blocks – Gutenberg Blocks Plugin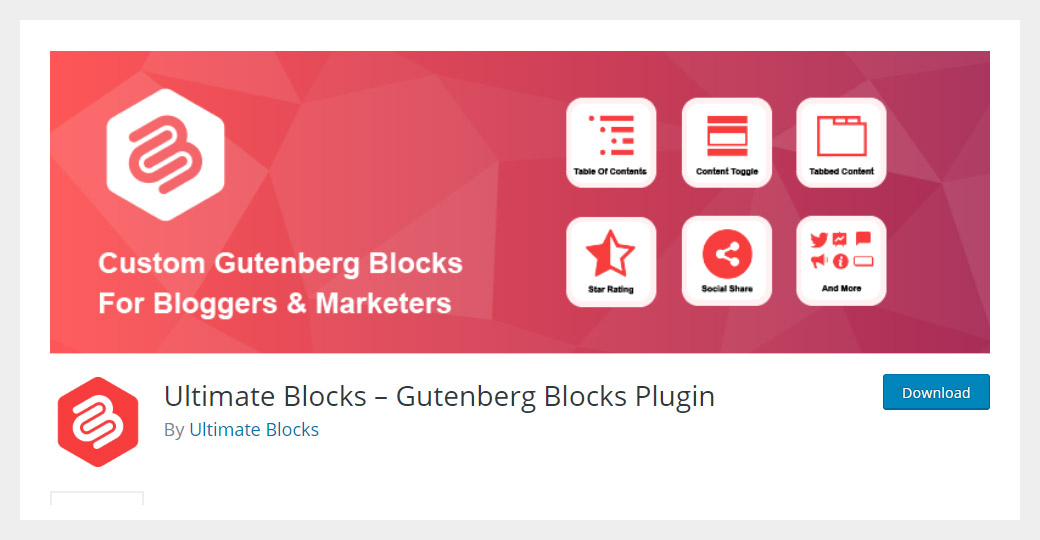 Ultimate Blocks is a special plugin developed for Gutenberg blocks in particular. The creators claim that their goal is "to make it insanely easy for you to create better and engaging content with Gutenberg."
What does it mean for your tables of content? Well, it means that it's just one of many options that come with Ultimate Blocks. However, it doesn't mean that the tool is not good. On the contrary, it is super-easy and comes up with excellent tables of content.
The best thing about Ultimate Blocks is that webmasters can enjoy a simple drag-and-drop builder to form tables very quickly.
7. LuckyWP Table of Contents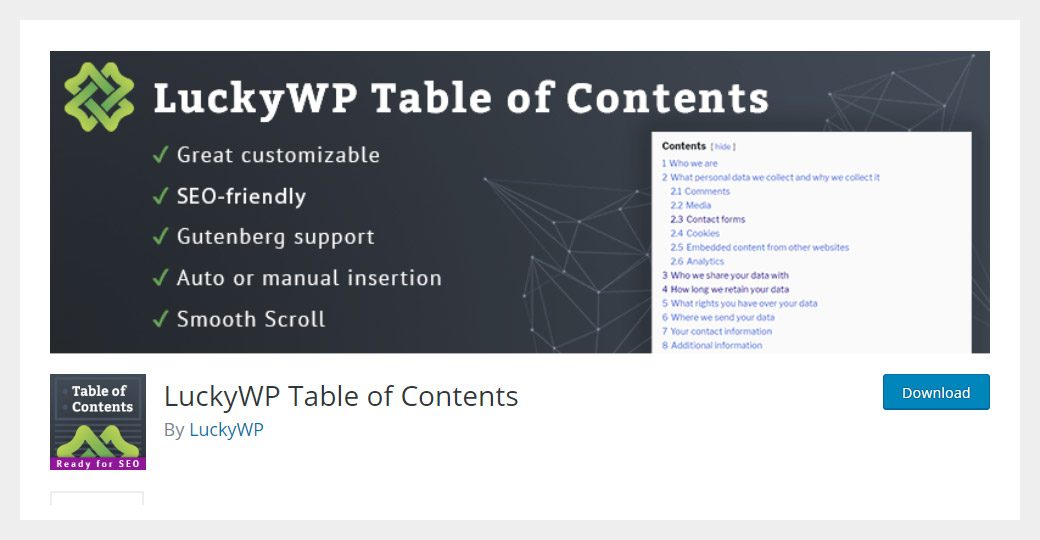 LuckyWP is a professional and highly-reliable WordPress plugin. With this tool at your disposal, you don't have to worry about tables of contents as it will generate each table automatically and make it look amazing.
LuckyWP also pays attention to search engine optimization by customizing content previews in a way that makes your content easily discoverable by search engine crawlers. At the same time, the tool gives you additional benefits:
Easy integration with Gutenberg
Hierarchical and/or linear preview
Customizable color schemes
Customizable appearance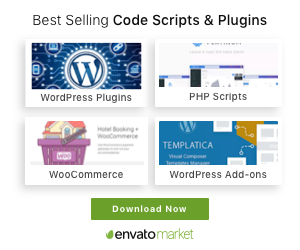 8. Table of Contents Plus
We saved the best for last since Table of Contents Plus has more than 300 thousand active installations. What makes this platform so impressive? It is the fact that Table of Contents Plus is able to craft an entire sitemap along with the corresponding categories.
The plugin doesn't force you to write shortcodes, but you can utilize the feature if you want to tailor the look of content tables. That way, you can control almost every aspect of tables of contents and make them perfectly aligned with the rest of the website content.
The Bottom Line
If you are publishing a lot of long-form posts, failing to use a table of contents plugin would be a huge mistake. In this post, we showed you the top eight table of contents WordPress plugins for 2020. Now it's your turn to choose the best solution, but feel free to write a comment if you need more explanations from our side – we would be glad to help you out!