WordPress is one of the largest used content management systems to create and manage websites. Integrating WordPress with WHMCS makes a powerful system that allows handling all the hosting business requirements in a seamless manner. This is so because WHMCS is the best hosting automation software that offers various tools to get started with a web hosting business. It is probably the billing software that makes controls and monitors all the business, for example, billing, provisioning, etc.
Why Do You Need Themes in WHMCS?
WHMCS provides multiple options and features to manage your web hosting business easily. However, it doesn't allow users to customize, design, or alter the client area of your website, as a result, your website looks super simple and lacks attractiveness. Besides, you cannot add customized options to your website or design your invoices. This is where you need WHMCS themes to deliver a seamless experience to your clients and make your website look amazing.
In addition, there are times when our website grows and we start getting a large number of visitors on a daily basis. In that case, managing things becomes a little complex, especially the SEO and billing part. This is where we need some addons or themes that offer the functionalities to manage everything from a single interface.
How to Choose a Perfect Theme for WHMCS Website?
Today there are multiple WHMCS themes and it's almost impossible to check each theme's features, drawbacks, closely and find the right one that suits your website the best. That's why here are a few essential properties that you must consider before choosing a WHMCS theme:
WHMCS theme must be fully responsive and highly compatible across all devices like computers, tablets, mobile phones, etc.
The theme must give your client area a professional look, easy-to-use, and give your website a striking look.
You must go for a theme with advanced modern design and is simple (avoid fancy themes causing agitation and confusion).
The WHMCS theme must be using a modest layout, plugins, widgets that are appealing.
You must be getting pre-designed pages so that you don't need to do so many modifications.
Your theme must provide security to your website and perform well. This is important because web hosting sites often comprise crucial business data and sensitive details, so there should be no security loopholes.
Last, but not least, your WHMCS theme must be budget-friendly. It should not be too expensive.
So here we will show you 3 top-selling WHMCS themes for WordPress that will make this easy for you and allow you to manage your business efficiently.
3 Best WHMCS WordPress Themes You Should Start Using Now
It is recommended to check each theme carefully and pick the one that suits your business requirements.
#1. HostX (Best Overall)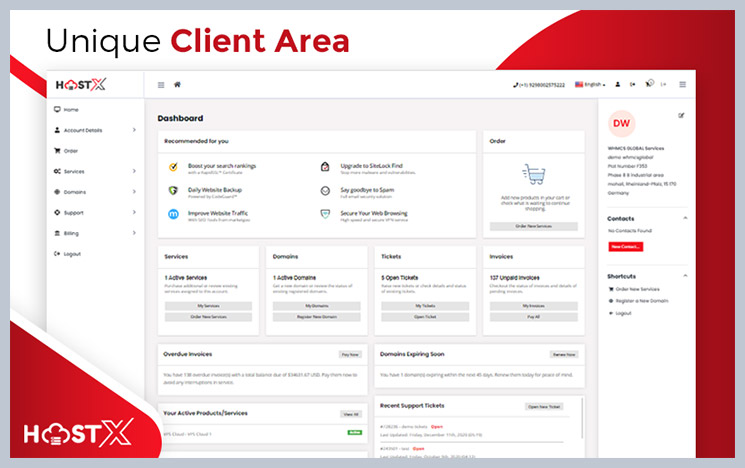 If your website has multiple web pages, categories, menus, and you want to manage all this from a single interface then, HostX is for you. It is a complete WHMCS theme that will allow you to edit, alter, or update your web pages content, social media channels, tracking code, support mediums, and other aspects.
Key Features
Some of the key features offered by this theme are as follows:
Page Manager
Top Menu Manager
Dynamic Testimonial
SEO Manager
Live Time on offer
Live Chat
Who Can Use HostX?
You can use HostX if you are a…
Web Hosting Provider
SSL Service Provider
VPN Service Provider
Domain Service Provider
VOIP Service Provider
IPTV Service Provider
#2. TwentyX (Most Selling Child Theme)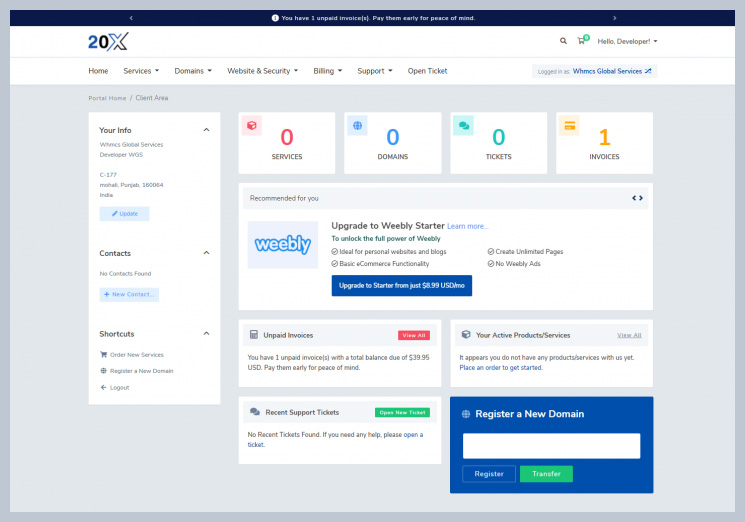 If you don't want to lose the changes you have made to your WHMCS default directory while upgrading the WHMCS version, then start using the WHMCS theme. This child theme is designed for the WHMCS Twenty-One theme and can be used by anyone who is using WHMCS on their WordPress website. This theme lets you customize your WHMCS client area in such a way that you will never lose the changes you have made to your website.
Key Features
Highly Responsive
No License Check
Never Lose Changes
Flat and Modern Design
Ultra-fast and Easy on WHMCS
Multilingual Supported
#3. ClientX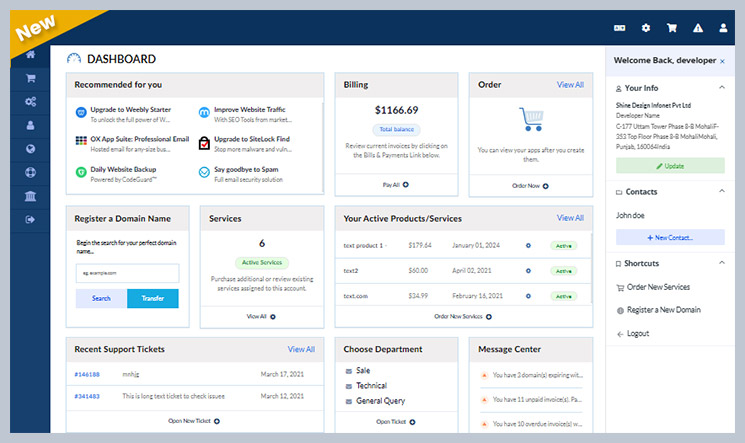 ClientX is one of the most unique WHMCS client area themes that offer a professional look to your WHMCS client area and comes up with various styles and features. This makes client area management easy for the end-users. With this, you can change color and styling according to your business theme even without any technical knowledge.
Key Features
Attractive Home Page
Color Scheme Changer from WHMCS admin
Multiple Menu Styles
Comes with Social Signup
Fully RTL Supported
Inbuilt custom-designed Order Form Template
Refreshed Domain Search Page
4. OPC
WHMCS One Step Checkout Orderform is the most powerful WHMCS Orderform template that offers the most-refined checkout experience to your customers. This WHMCS theme is highly responsive and allows you to add multiple features to your checkout page. With this WHMCS One Step Checkout Orderform, you can set up country-based payment gateways and track your billing easily from any location.
Key Features
Country Based Payment Gateways
Set up Payment Gateway Icons
Mini Cart for Mobile Devices
Detailed Order Summary
Informative Product Selection
Multiple Configurable Options
Wrapping Things Up!
These WHMCS themes will make things easy for you and you will be able to manage your website and its client area easily. Besides, these WHMCS WordPress themes will make your client area even smarter so that your clients will be able to navigate through your website simply. These WHMCS Themes for WordPress will increase your conversion rate and attract potential clients to your website. So, we advised you to incorporate your WordPress website with WHMCS and run your business seamlessly.