Besides online marketing, print marketing has always worked its magic for promotion for hundreds of years! Thus, using best mockups can make your marketing campaign even more fruitful with its special focus on the brand's services and products.
Are you looking for the best free Tri-Fold brochure mockups that will help you generate your valuable business in a jiffy? If yes, we have covered all of them in detail in the following sections.
Keep going to select the ones that suit your business needs in the best way! Lets' get started!
Free Tri-Fold Brochure Mockups PSD Download
Check out the top free mockup designs that will serve your purpose well!
Free Advanced Trifold Brochure Mockup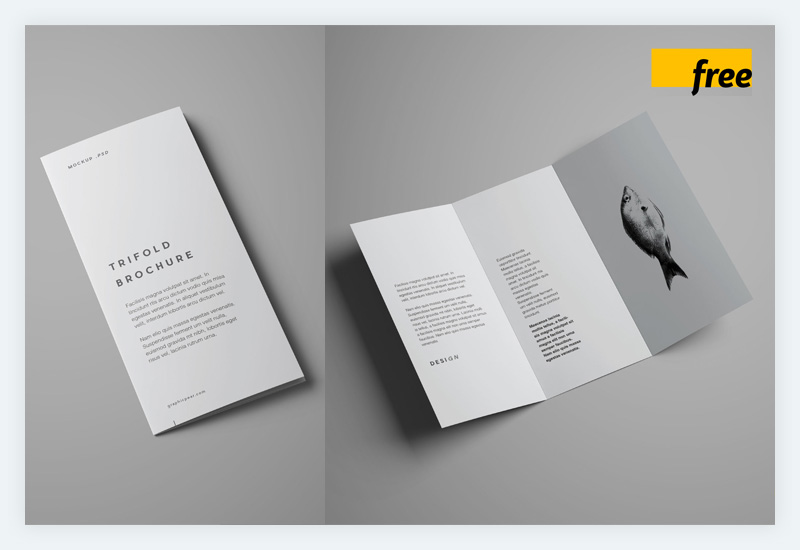 With 7 unique angles and easy-to-use features, this tri-fold brochure has all the essential elements that you are looking for. Being open for edits in different elements such as shadows, light, highlights, or backgrounds of the image, it is excellent for all business types.
US Letter Tri-Fold Brochure Mockup (PSD)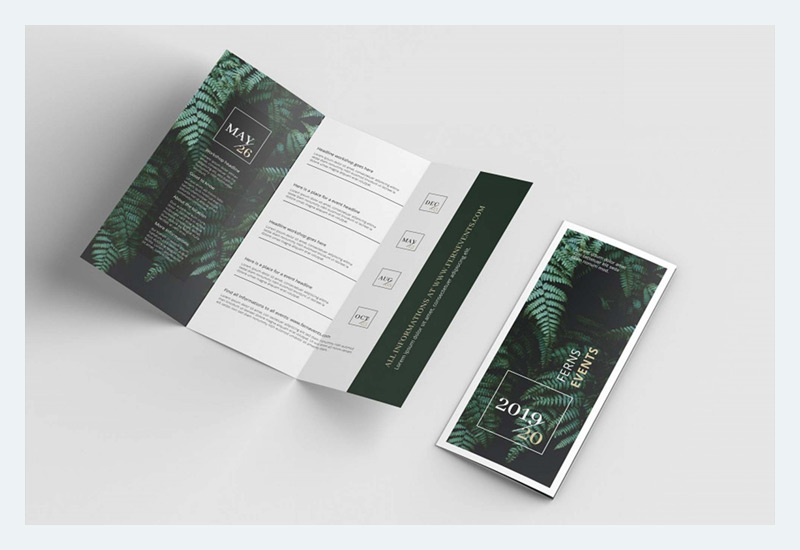 Want to promote your personal or commercial brand professionally? This mockup is the answer to all your brochure mockup woes. Owing to its customizable features, it is easily used for all types of branding projects without facing any unnecessary hassle.
Free Trifold A4 Brochure Mockup (PSD)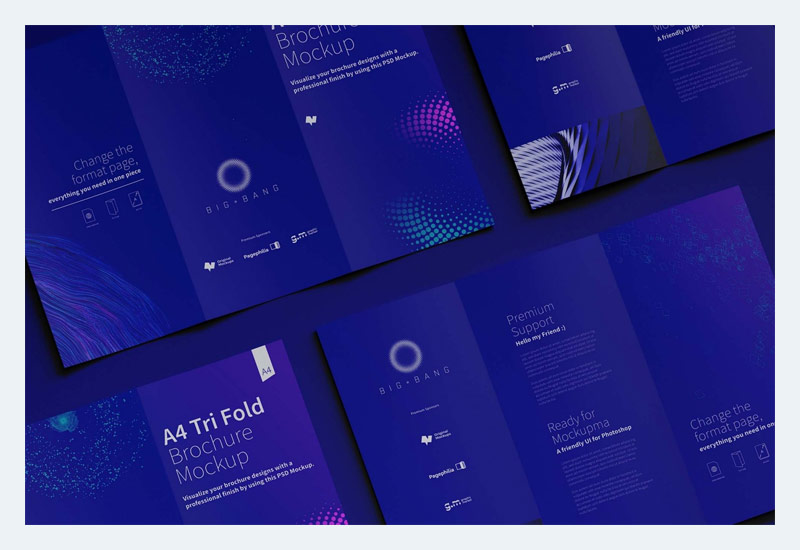 This 3 sided brochure helps create presentable masterpieces for your business needs. You can easily use Adobe Photoshop to edit and add your touch to its terrific elements such as color, background as well as other noteworthy features.
8 Trifold Brochure Mockups (PSD)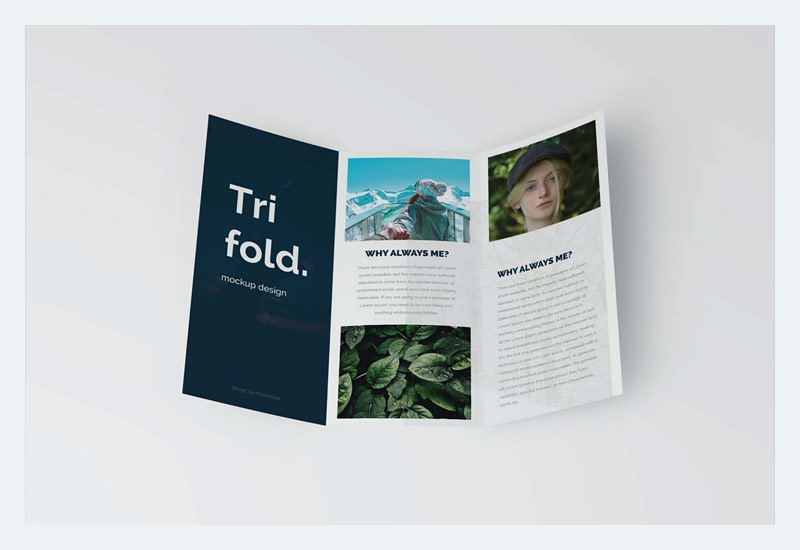 Get your hands on these 8 superb tri-fold brochure mockups that present the ultimate designs in the best way. Using its smart object layer, you can quickly change its headlines and logos. Not just this, you can personalize them too!
Free Realistic Trifold Brochure Mockup (PSD)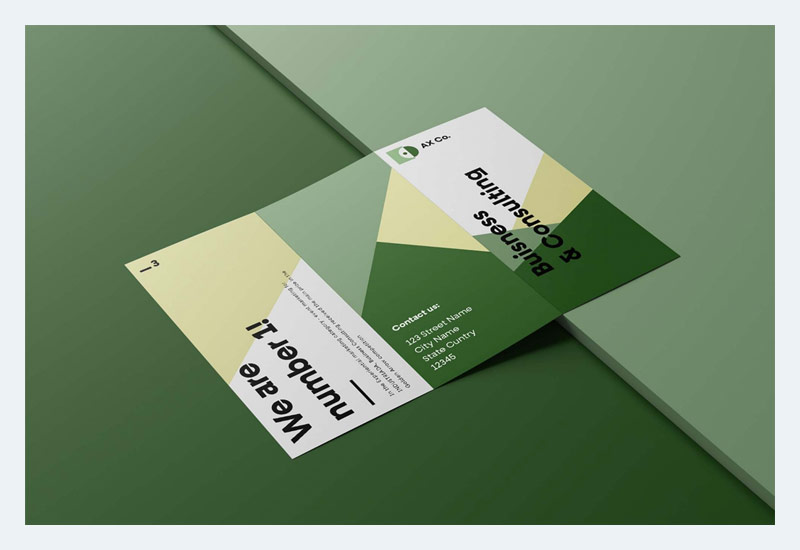 Since you want a free realistic brochure mockup, you can easily pick this trifold brochure design. The best thing about this is that caters to all your specific needs properly and quickly helps you create a branding essential in no time!
Trifold Brochure Mockup For Business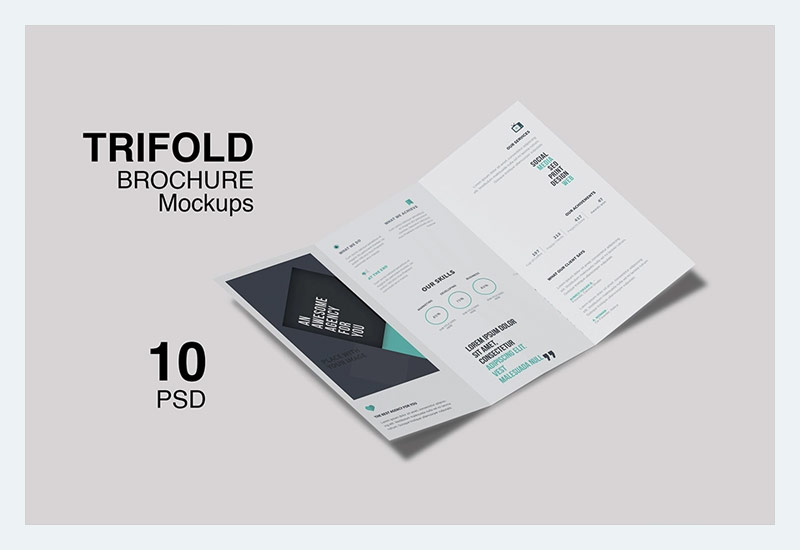 This exquisite tri-fold brochure mockups set is everyone's favorite. If you are looking for an all-in-one set, go for this one that comprises all the vital options required when designing a good-looking brochure mockup set.
A4 Trifold Brochure Mockups
Get your hands on this A4 brochure mockup that comes with isolated background and easily editable elements! You will totally love this design for its best creativity, dynamic elements and compelling visuals. Do try it out for getting a terrific design in no time.
Free Trifold Brochure Mockup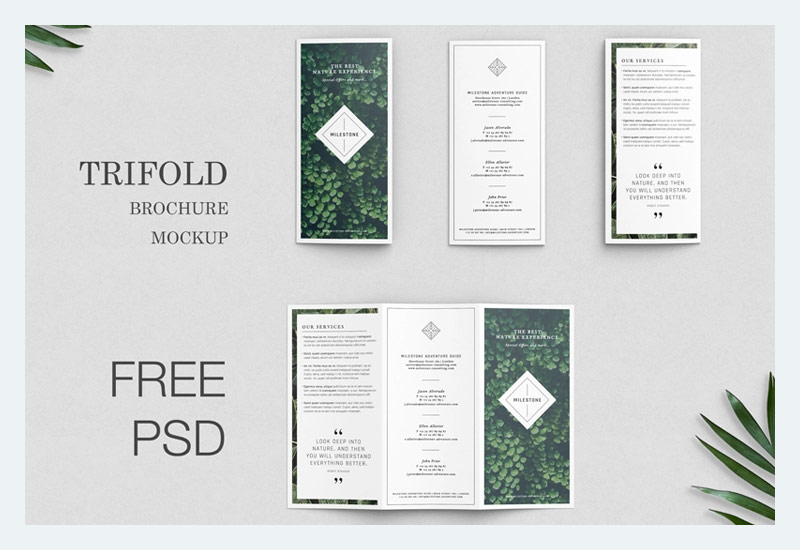 This well-layered mockup holds 10 items that can be easily modified in Adobe Photoshop. Anyone can easily add or remove elements as per customization required in your design. This gorgeous design can add a touch of charisma to your branding brochure.
Free Trifold Brochure Mockup PSD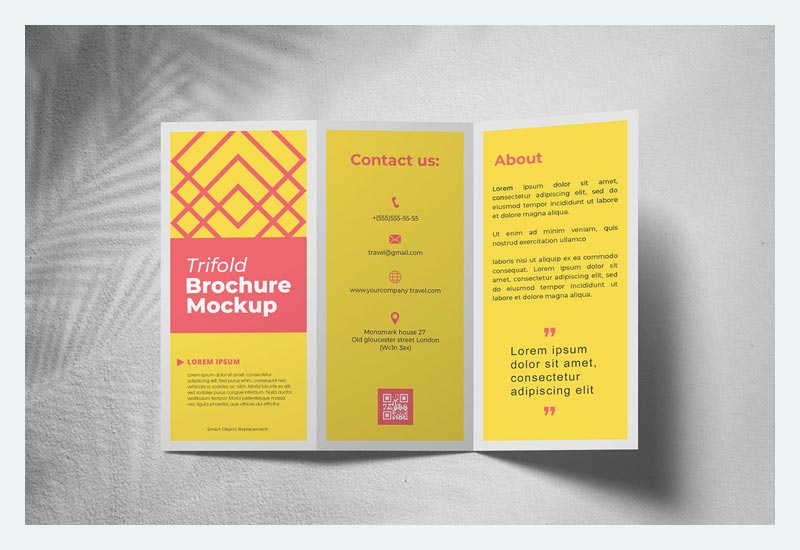 Go for this exclusive mockup PSD for elegantly describing your products and services. Being a great help in designing a device manual, it serves a key role in a plethora of business niches be it, clothing, manufacturing, jewelry, food, etc.
Free Brochure / Flyer MockUp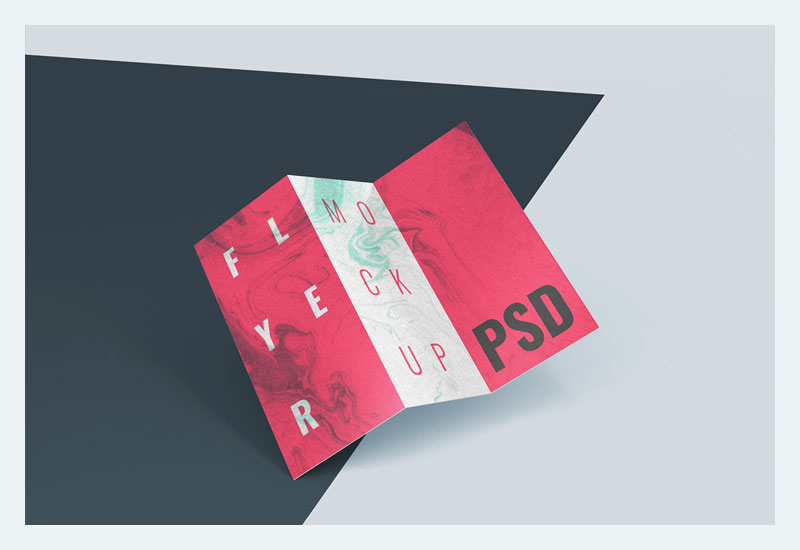 Want a sophisticated design that hits the customers with its strong message? Well, this tri-fold brochure mockup is just made for you! All you need to do is adjust your background as per light or dark themes besides making adjustments to the background colors.
Free Modern Premium Tri-Fold Brochure Mock-up PSD File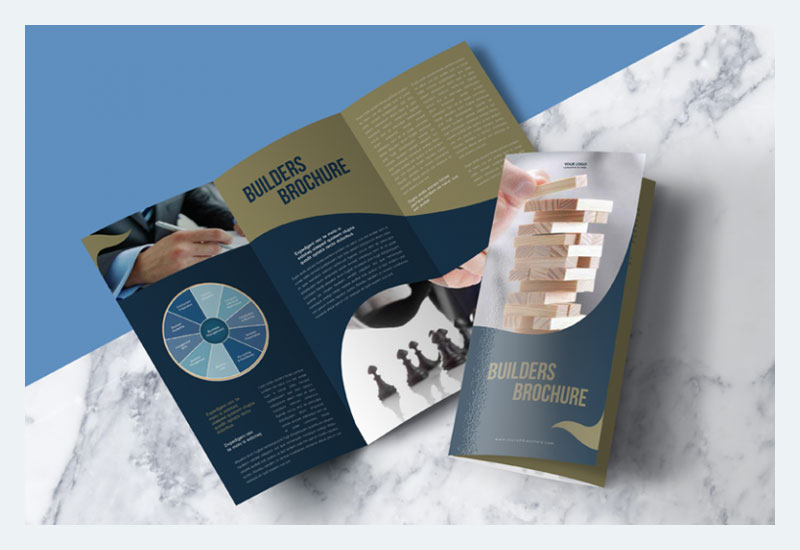 Looking for a premium mockup design that has editable smart objects for free? Opt for this modern mockup design that can be used both for personal as well as commercial use. All you need to do now is select the right colors.
Front & Back Tri Fold Brochure Mockup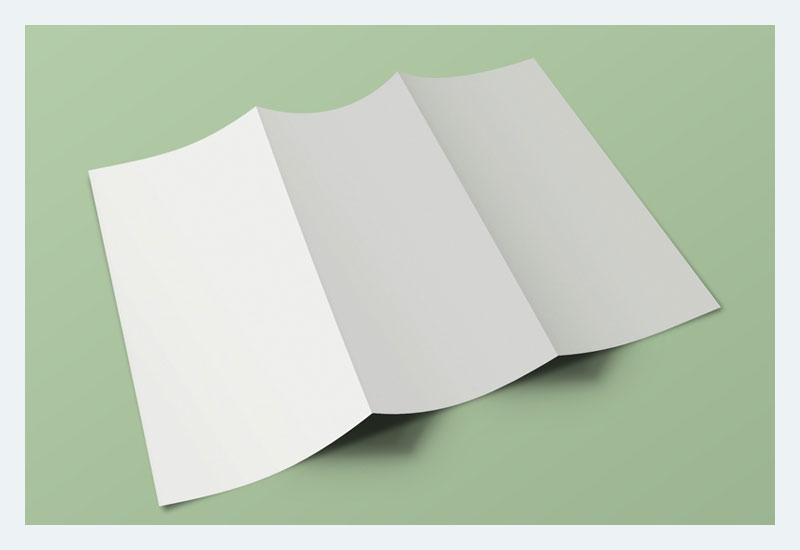 Showcase the best designs to the clients with the help of this easy-to-use tri-fold mockup that can perfectly simplify your marketing strategy. Its front and back mockup design is excellent to cater to your needs well. The mockup is quite flexible and gives you a wide array of customization options. So, just grab this PSD file and customize it as you seem fit.
Free Trifold Brochure Mockup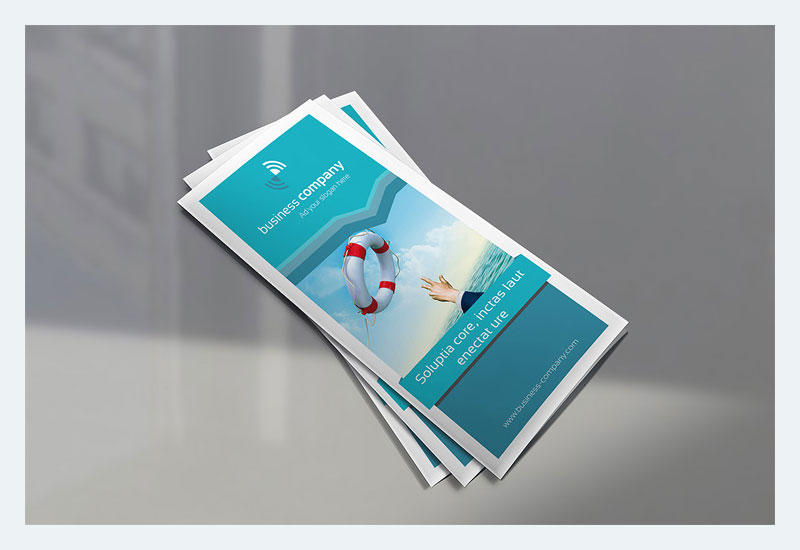 Enhance your tri-fold brochure's design using this chic mockup that comes with a free license and editable vector. The file comes in the PSD format, so you can easily edit it according to your needs. You can change the background color and the brochure design according to your demands. It is a good option for all those who are looking for providing maximum information via this resource.
Free Trifold Brochure Mockup (PSD)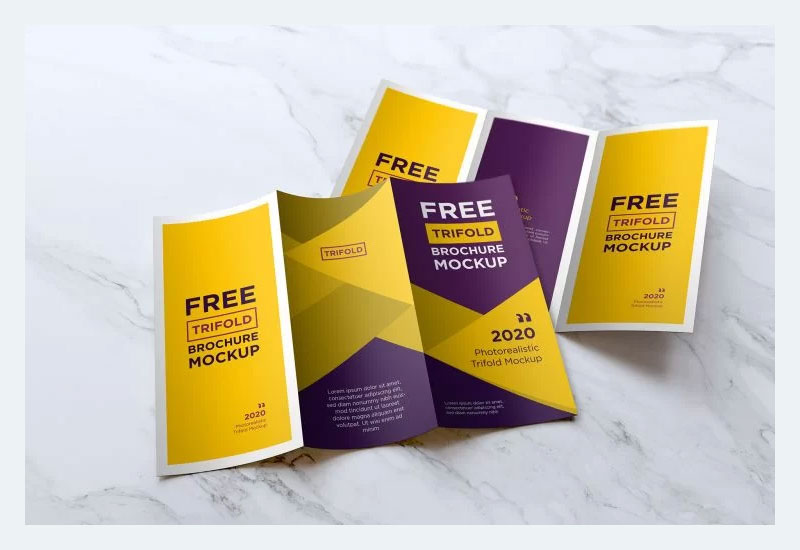 Do you want a free 4k resolution brochure mockup that is both customizable and dependable? Well, this tri-fold brochure mockup definitely serves you in the best possible way! Not just this, it has movable sections and smart layers too for a perfect design.
Premium Tri Fold Brochure Mockups
Given below are the premium brochure designs that elegantly present your information.
US Letter Trifold Brochure Mockups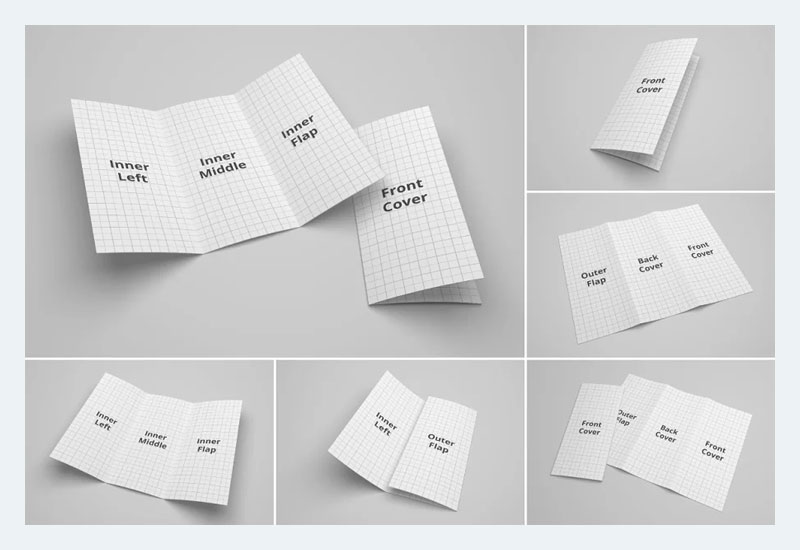 For just $16, you get instant access to a well-organized and layered mockup that has a very high resolution too. It also has smart objects for easy edits in Photoshop. Have a glance at its exquisite design that covers all angles smoothly.
Trifold Brochure Mock-Up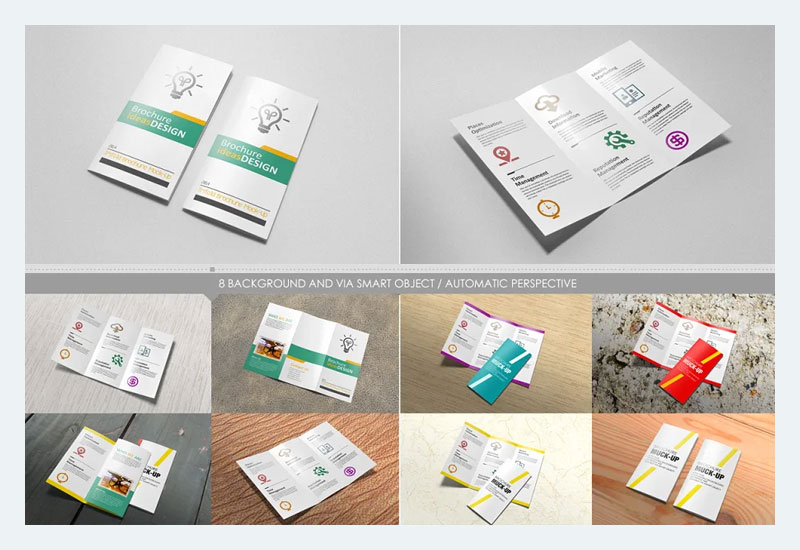 At a decent price of $14, you will enjoy 8 files that offer realistic designs along with 6 PSD mockups. Anyone can easily access and edit its background and other elements using the smart objects feature. They also have a help video to demonstrate its editing in a structured manner.
Isometric US Letter Tri Fold Brochure Mockups Set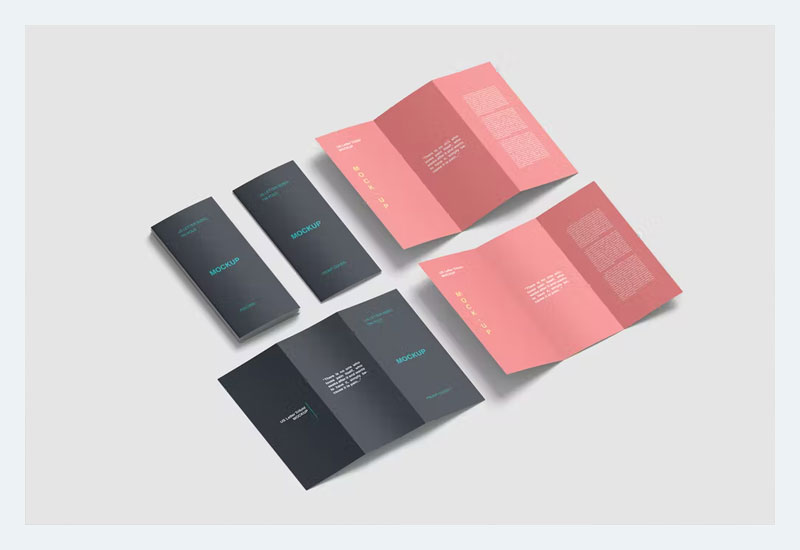 With a full realistic preview, this mockup set is available at a reasonable fee with full personalized features. You can change its texture and background color without facing any hassle. Try this all-in-one set that is exclusively designed to meet all your brand needs easily. So, what are you still waiting for? Get it right away at negligible costs!
Tri-fold Brochure Mockups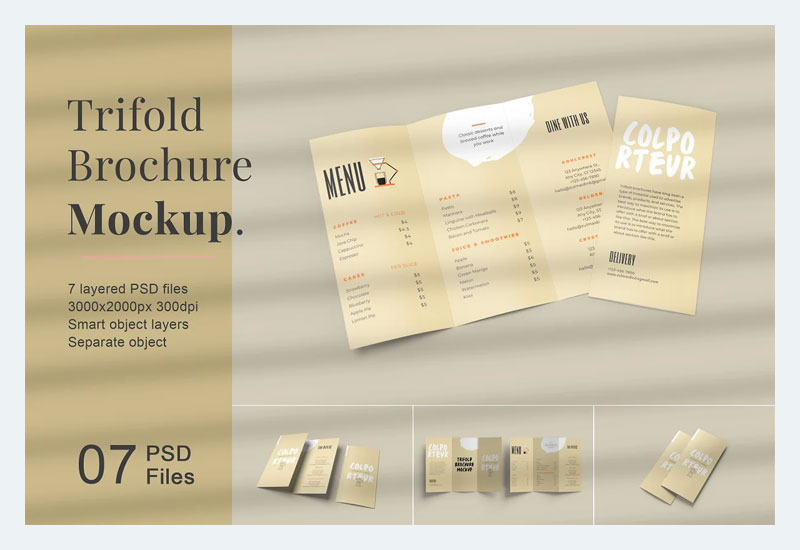 Covering all the essential features, this mockup design can be bought for just $17! It is a steal at such a rate owing to its well-organized layers and smart objects that allow swift transition in background and color changes. We are sure that you will fall for the final result instantly.
Mockups Leaflet DL Trifold Brochure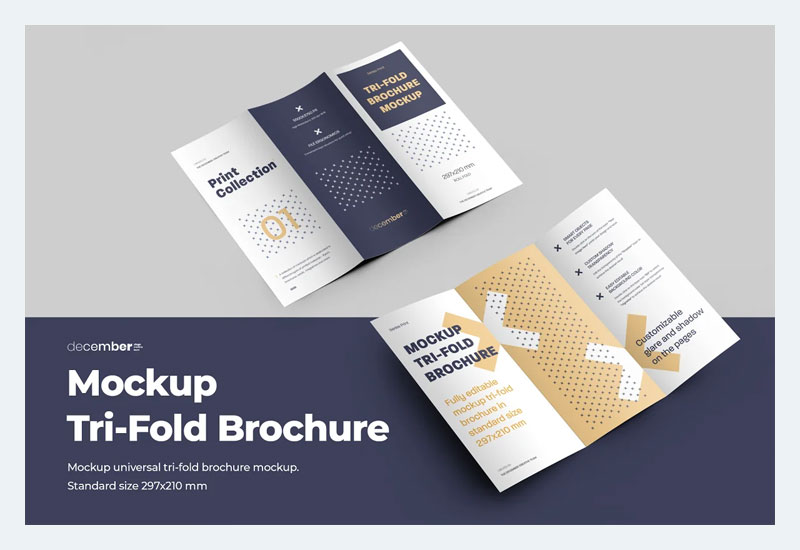 With editable glaze, color background and shadow, this brochure mockup is a perfect pick for all brand builders. You can buy it for just $14 to get all its best features under one roof. Its marked layers help designers to easily use and edit any section without facing any troubles.
A4 Tri Fold Brochure Mockups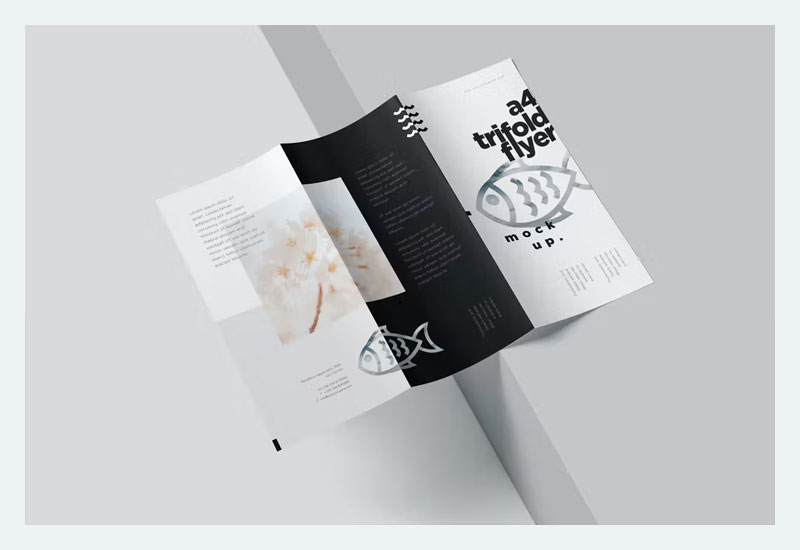 Presenting 7 rustic PSD mockup designs, this tri-fold brochure mockup has all the noteworthy features at one stop. All you need to do is open its layers and edit as per your desired details and voila! You'll be all sorted for the work in no time. Not just this, all the files are available in high resolution making your final design even more worthy.
US Letter Trifold Brochure Mockups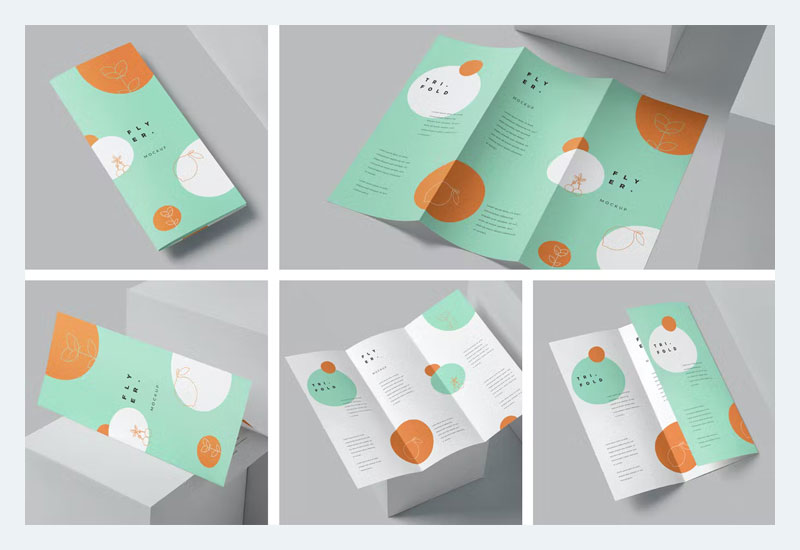 Armed with smart objects and all the top-notch features, this trifold brochure mockup design will cater to all your specific mockup requirements swiftly. It also has documentation included to help you go through editing in each scene without facing any issues. From background to paper shading, it covers all the unique aspects brilliantly.
Trifold Brochure Mockups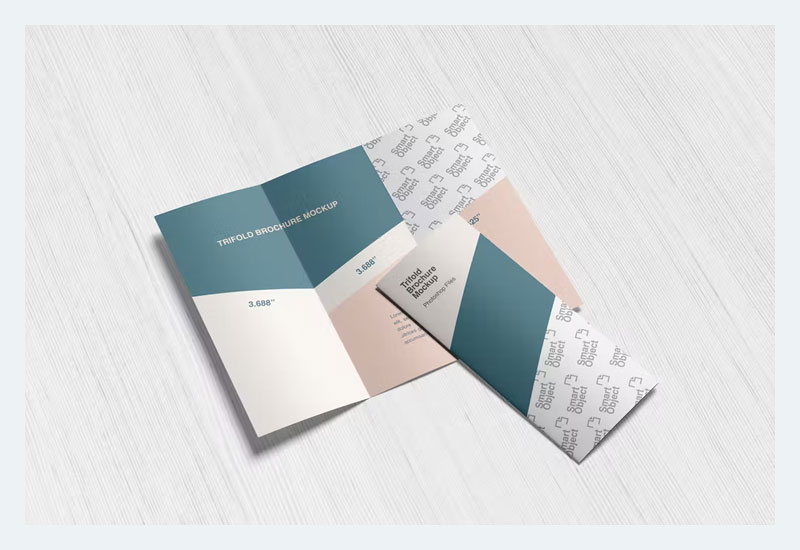 Having 6 PSD files, this brochure mock-up set consists of alluring designs that are fully editable using smart objects. They can easily make the design just as you want. Its customizable feature is helpful in easy background color and texture as you like. Take assistance from the help file whenever you need any help in making on-demand edits.
Tri-Fold DL Brochure Mock-ups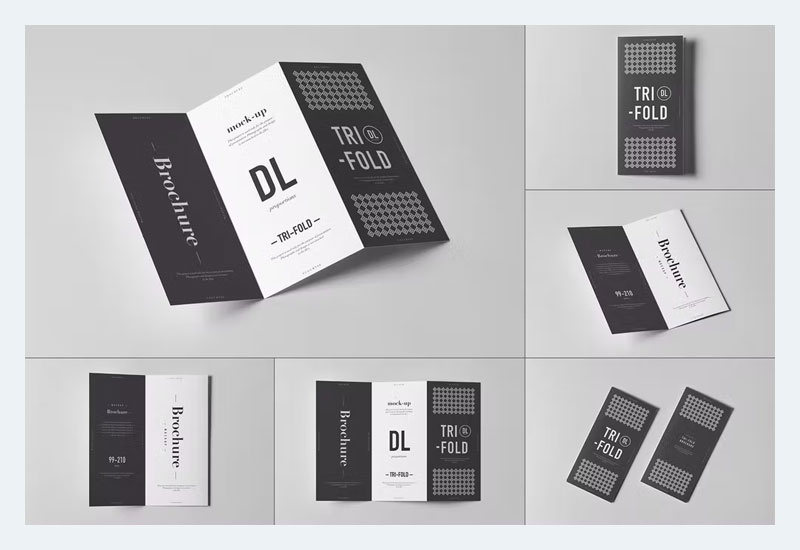 Get your hands on the perfect 9 photorealistic presentations that are easy to navigate and available at a reasonable price. From changing the automatic background perspective to making personalized changes to color and background, this mockup has organized layers that facilitate faster editing.
Placeit – Tri-Fold Brochure Mockup Generator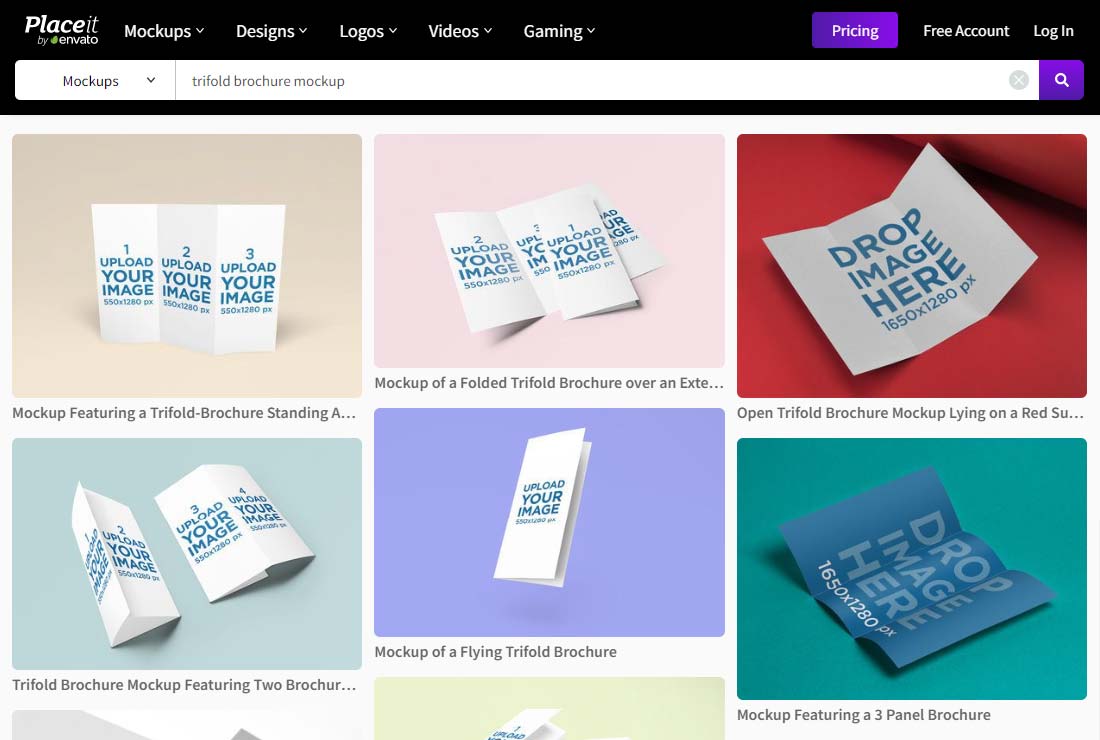 This amazing tool is your partner in crime with access to unlimited mock-ups. You can easily go through these free mock-ups and create the finest designs in no time. Placeit is your go-to tool when you need to generate the best tri-fold brochure mockup easily. From the brochure standing on a wooden surface to the one lying on a solid background, Placeit helps you to create the best mock-ups that aptly suffice your business needs.
Conclusion
Since tri-fold brochure mockups serve a powerful role in making and breaking your brand, you should never ignore its usefulness by going for just any design. In this guide, we shared some top-notch options that will always help you in selecting the apt tri-fold brochure mockups at a reasonable cost as well as freely! Go through them and comment to us below which one is your favorite?