Searching for best online project management software? The days are gone are when using whiteboards or papers for planning and running projects. As the workloads continue to grow there are workplaces also continues to develop. In the modern era, most of the agencies prefer cost-effective and most efficient software tools over manual task handling to make simpler their workflow and get more with doing less.
Without any glitches, project management software is the best solution to handle the workflow of any company or agency.
Project Management Software Overview
Traditional methods such as manually making spreadsheets, creating notes with word processing software and writing down meet-ups talk on papers are just killing your limited time. And there comes, project management software to help out an individual or group to efficiently organize their work and manage their big or small projects or tasks in an easier and fast way. Also, these online software are easy-to-customize and tweakable as per as the once requirements.
Common Features of Project Management Software?
There are varieties of features of these tools different from each one. But below have the major features of project management software:
Scheduling: Plan and delegate your work all-in-one place with tasks, subtasks, templates, folders, calendars and workflows.
Documentation: Use file management features such as editing, versioning, and storage of all files to avoid your files missing.
Resource Allocation: Ensure that group is working on the right and same things.
Evaluation: Using resource management and reporting you can track or estimate your productivity and growth.
Collaboration: You can use project management software to add comments, assign tasks, for proofing & approvals and organize dashboards.
Benefits of Using Online Project Management Software
Budget Management: These software assist project manager to decide upon the budget of work so work can be adjust accordingly to that.
Collaborate Easily: Project management software allow staff a system to collaborate with each one on projects by confers upon timelines, documents, outstanding work etc.
Assist in Decisions: These software help you in making the correct and more accurate decisions as you have all the details in one designated place.
Monitor progress: Project management software let you know the current phase of your project whether it will complete on given time or not.
Besides above mentioned four there many more benefits for of project management software and also depends on how you use them.
How to Choose Best from Project Management Software?
Considering best online project management software for you, it completely depends on your particular needs or requirements. But if you are out of choice or looking for best working tools for organizing your projects and better team collaboration.
Below we have created a list of 10 best project management software that are going valuable for your business after using one from them.
Basecamp – Project Management & Team Communication Software

Launched in 2004, Basecamp is an ideal project management software for your any professional's team or group. Coming to interface it offer a modern social media-like interface. It can be use and accessible from any of your Android, iOS, PC and Mac devices, which a make it's a great pick for small and large agencies and everyone else's.
Features:
Real-time chat, To-do lists, Schedules, File storage, Documents, Automatic check-ins etc.
Price:
Basecamp offer 30 days trial after its charges 99$ per month. Here is one more thing to mention that it's completely free for teachers & students and 50% for non-profit organizations.
Trello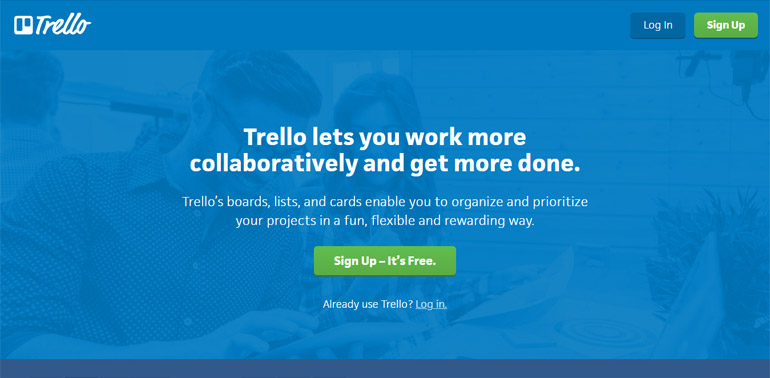 Trello is one best project management software providing stand-out features with simplicity. You can use Trello boards for commercial or personal task handling and at end of the day get your work done in a best possible way. Using it you can manage short tasks or assignments quickly with its cardboard-like dashboard.
Features:
Easy organization with tags, labels and categories, a Quick overview on front and back of cards, checklists with progress meter and much more to explore.
Price:
Trello is free to use for unlimited projects and users but for more exciting features and power-ups it will cost you $9.99/month per user.
Asana – Track Team's Work and Manage Projects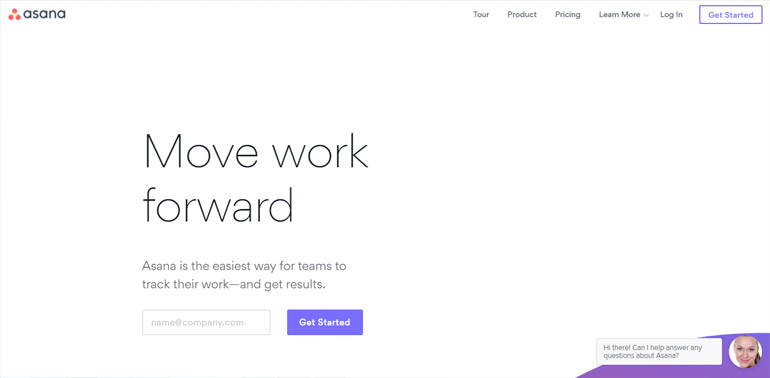 One from best project management software called Asana which allow its users to manage their projects easily, store their files, collaborate with the group of team members and assists to manage their projects with teammates without even emailing. Users can split their ongoing projects into sections and sub-lists, alongside with dashboards to know the ongoing status of the project.
Features:
Activity feed, Automatic updates to email/inbox, Create custom calendars & views, Email bridge, My tasks list & focus and more.
Price:
Asana is free to use for 15 members and for expending users and more features it starts premium version from $9.99 user/month.
Slack – Where Work Happens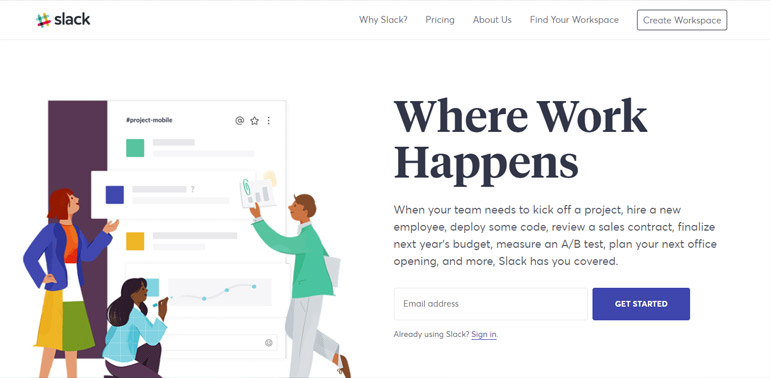 Slack with its free smart set of features and well-designed, easy-to-use UI interface makes its one from best project management software online we have. It will make sure that your group communication remains quicker and finish in a smoother way. Slack, so far one of best tool for notifications & communication. Available for desktops and mobile devices.
Features:
Real-time messaging, Real-time data, Screen sharing, Document imaging and others explore here.
Price:
Slack offer their service free for everyone but for getting best you have to pay $6.67 per user/month.
Todoist – To Do List and Task Manager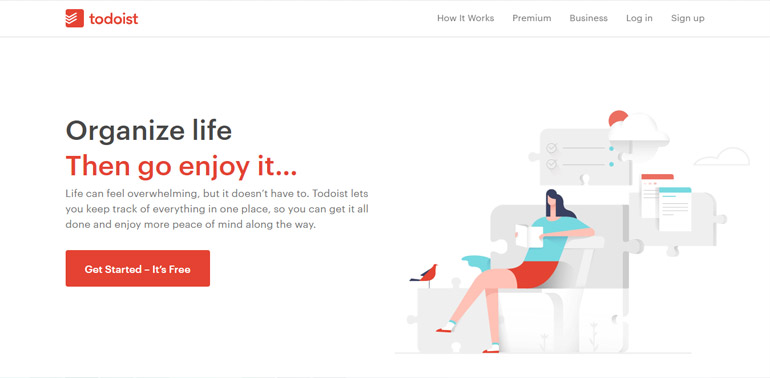 Crafted by Bosnian refugee Amir Salihefendic in 2007, it was just an app to organize his own work. But nowadays it's popular software for project management software usable for all professionals. With Todolist users can finish their tasks in a fun way, set reminders, collaborate, attach files and make subtasks. It's a recommended tool to increase productivity and organize tasks. You can access from web to mobile app.
Features:
Task Labels & Reminders, Centralized team billing, Productivity tracking and charts, Recurring due dates, Sub-tasks & sub-projects and much more.
Price:
It's free to use software for managing projects but for real serious users Todoist, charge $2.50/month price tag.
Wrike – Your Online Project Management Software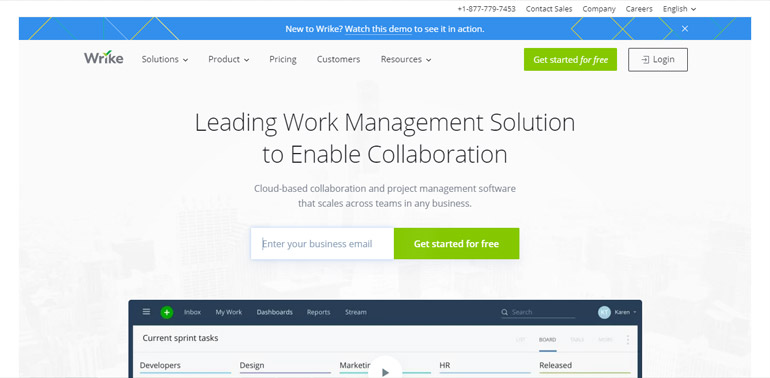 Launched in 2006, Wrike is now a well known international group of 500 professionals serving 14,000 companies and millions of users. Wrike will be one best project management software for your business and great cloud-based collaboration for colleagues. Wrike users can analyze their work or tasks organized in various views from personal dashboards.
Features:
Task management, Task prioritization, Interactive timeline, Document collaboration, Real-time newsfeed, Time-tracking, Workload management etc.
Price:
Wrike has both free & paid plans with the variety of options for all sizes of agencies. It also offers free trial period of every plan. Their premium plan starts from $9.80/month.
ProofHub – All The Tools Your Team Needs Put Under One Roof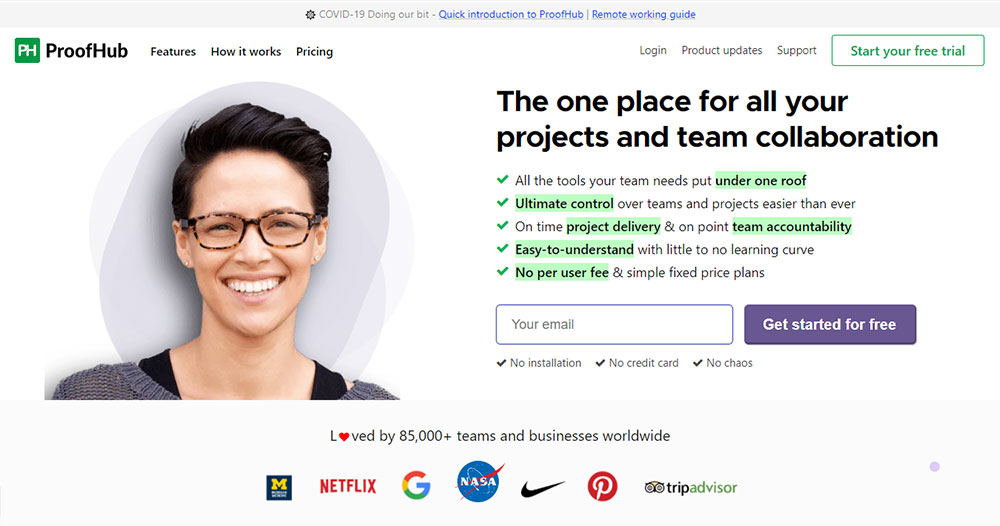 ProofHub is used by more than 85,000 teams and businesses worldwide for seamless and simplified project management and team collaboration. With remote work taking the place of conventional, in-office work, it has become imperative for remote teams to collaborate better on a shared platform. ProofHub enables teams of any size, from any industry vertical, to share a single platform and use a wide range of features for better planning, execution, and tracking of tasks and projects.
Features:
Online Proofing, Custom Fields, Table View, Group Chat, Discussions, Kanban Boards, Gantt Charts, Task Management, Timesheets, Scheduling Calendar and much more.
Pricing:
ProofHub offers two pricing plans to users. The Essential Plan with basic features is priced at $45 per month, billed annually. The Ultimate Control plan is fully loaded with powerful features and priced at $89 per month, billed annually.
Mavenlink – Online Project Management Software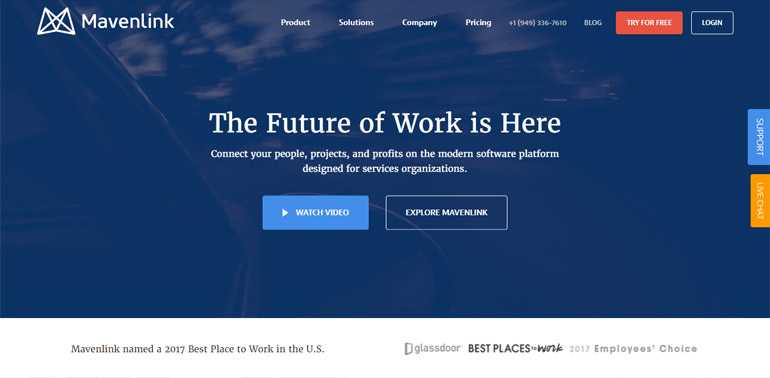 One from best project management software, created with an aim to make project manager life easier, there we have Mavenlink, relieving users from workloads with a clean and user-friendly system to put project management efficiency at their fingertips. Mavenlink has a great project scheduling tool that enable you to create and assign tasks, view a Gantt chart, schedule resources and check real-time the status work.
Features:
Team Collaboration, Time, Expense & invoice reports, Business Intelligence, Resource Planning.
Price:
Mavenlink offers "try for free" option but there plans starts from $19 per month.
Workfront – Online Project Management Software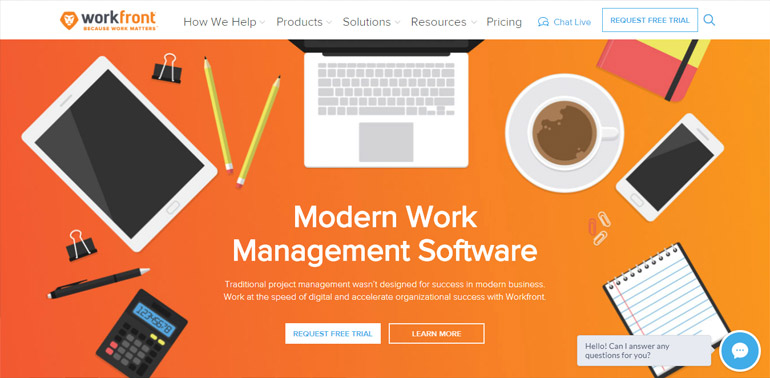 A popular software-to-use in the category of best project management software. Workfront with a 360-degree view of operation, it can without any effort find issues & trends in any business and assist each person of team to be conscious of all conditions & better optimize projects and have fully control over workflow. That's why it's an advanced project management & collaboration tool of this category.
Features:
AGILE Project Management, Enterprise-Grade Security, Digital Asset Management, Capacity Planning, GANTT Charts, Workflow Automation and much more.
Price:
After a trial period it wills charges around $30 to $40 per month for a single user.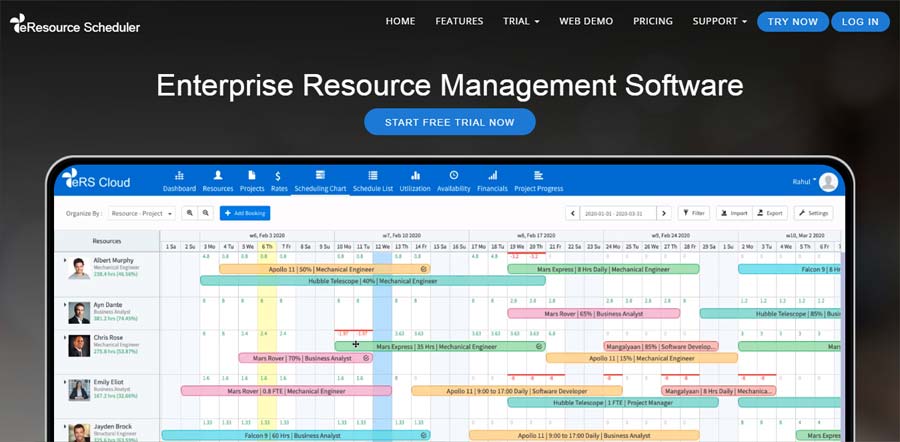 Enbraun's eResource Scheduler (eRS) is top user-friendly project management software. eRS Cloud enables you to deliver flawless projects on-time and within your budget. A feature-rich and intuitive interface, and the best-in-class design helps to execute feasible resource schedules for better coordination and achieving optimum productivity and utilization. Its drag and drop interface lets you schedule and manage your resources and project in a few clicks. The client-server architecture enables multiple users to collaborate as a team and share data in real-time.
Features:
High level of configurability, drag and drop interface, ease of use, multiple calendars and daily monitoring, graphical and comprehensive reports, Open REST API – efficient integration, and automated alerts and email notifications.
Price:
eResource Scheduler offers a flexible licensing based on how many resources you need toschedule. For 25 resources, the price is USD 150/month, for 50 resources, you pay USD 275/month and USD 450 for 100. Get a free trialfor this top-rated and award-winning tool today and clarify all your doubts.
Conclusion:
We hope this listing of best project management software will help you to speed up your workflow for better productivity, organize tasks and collaboration with your colleagues.