There are plenty of helpful WordPress landing page plugins to choose from.
There's no doubt about that.
However, what if you want to combine your WordPress website with helpful software?
You might consider getting software that also comes with the ability to integrate with WordPress. After all, this will allow you to maximize the number of features and value that you get.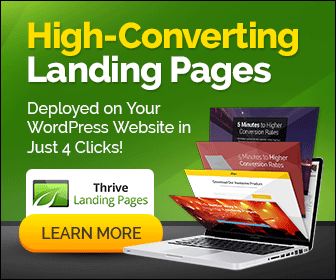 So be sure to keep reading on as we discuss some of the best software tools that also come along with WordPress landing page plugins.
Top Landing Page Software (That Comes With WordPress Landing Page Plugins)
It's a really big perk when landing page software comes along with a WordPress plugin integration.
Not only can you utilize the features of your website, but you also get to utilize software and many of the perks that they offer. Plus, their servers can handle a ton of traffic so you don't have to worry about your website crashing.
So if you're looking to pick a software that integrates through the use of a WordPress plugin, these are going to be some of the best options for you.
Without any further ado, let's take a look at some of the top picks.
Unbounce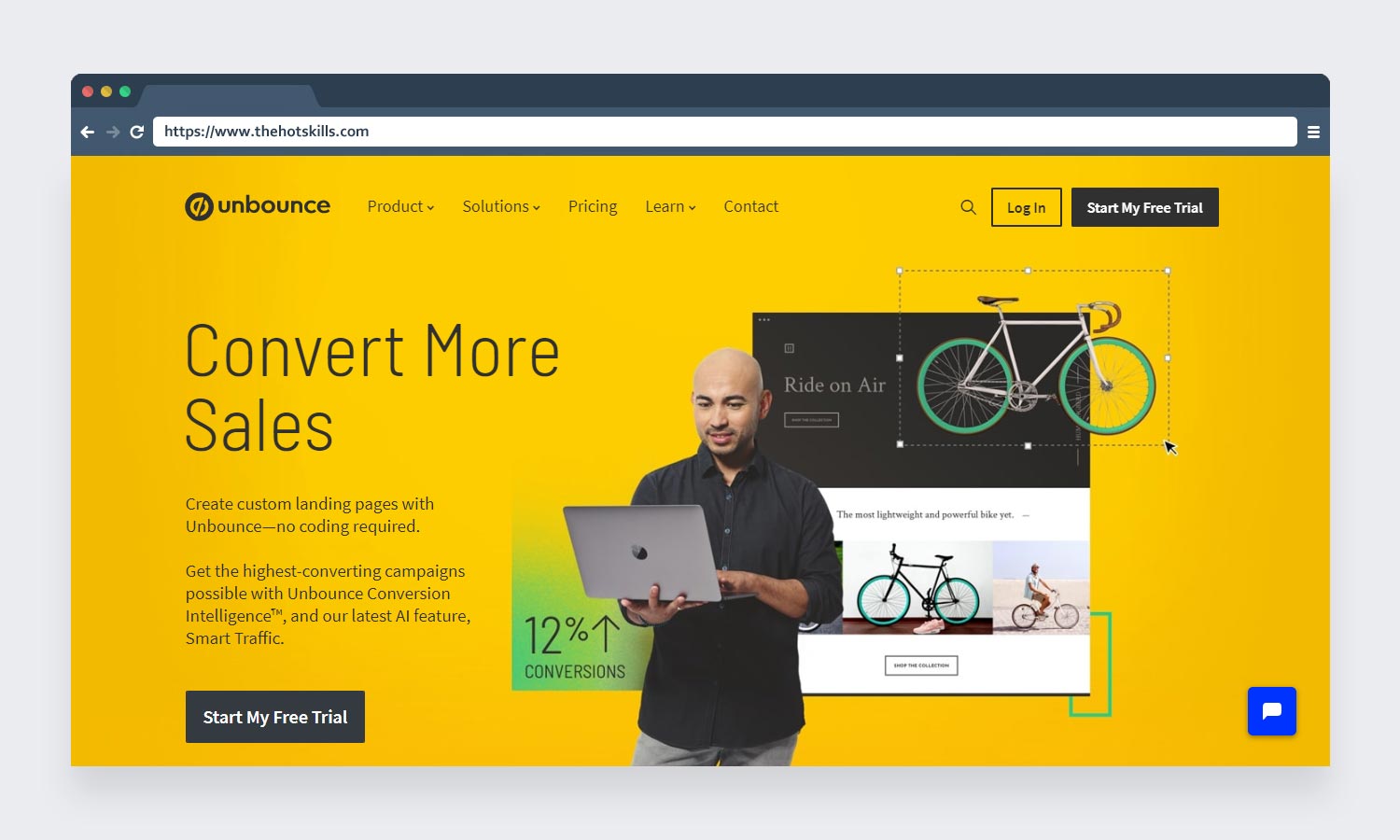 Unbounce has often been considered as one of the best premium choices when it comes to landing page builders. Not only are they competitively priced, but they come with a wide variety of features to help you build and grow your online business.
Landing pages.
Sticky bars.
Popups.
Unbounce also offers you a valuable amount of monthly visitors. 500,000 to be exact. Just imagine how much more you'd have to pay if you wanted to have your website handle that amount of traffic. Let's just say that you'd have to be contacting your hosting provider for more information.
What's also great about Unbounce, of course, is that you can connect your domain using their WordPress plugin. This allows you to keep your brand intact while you collect leads, get your message out there, and make sales.
If you're looking to create custom landing pages without any fancy coded needed, then they are certainly worth giving a shot.
Instapage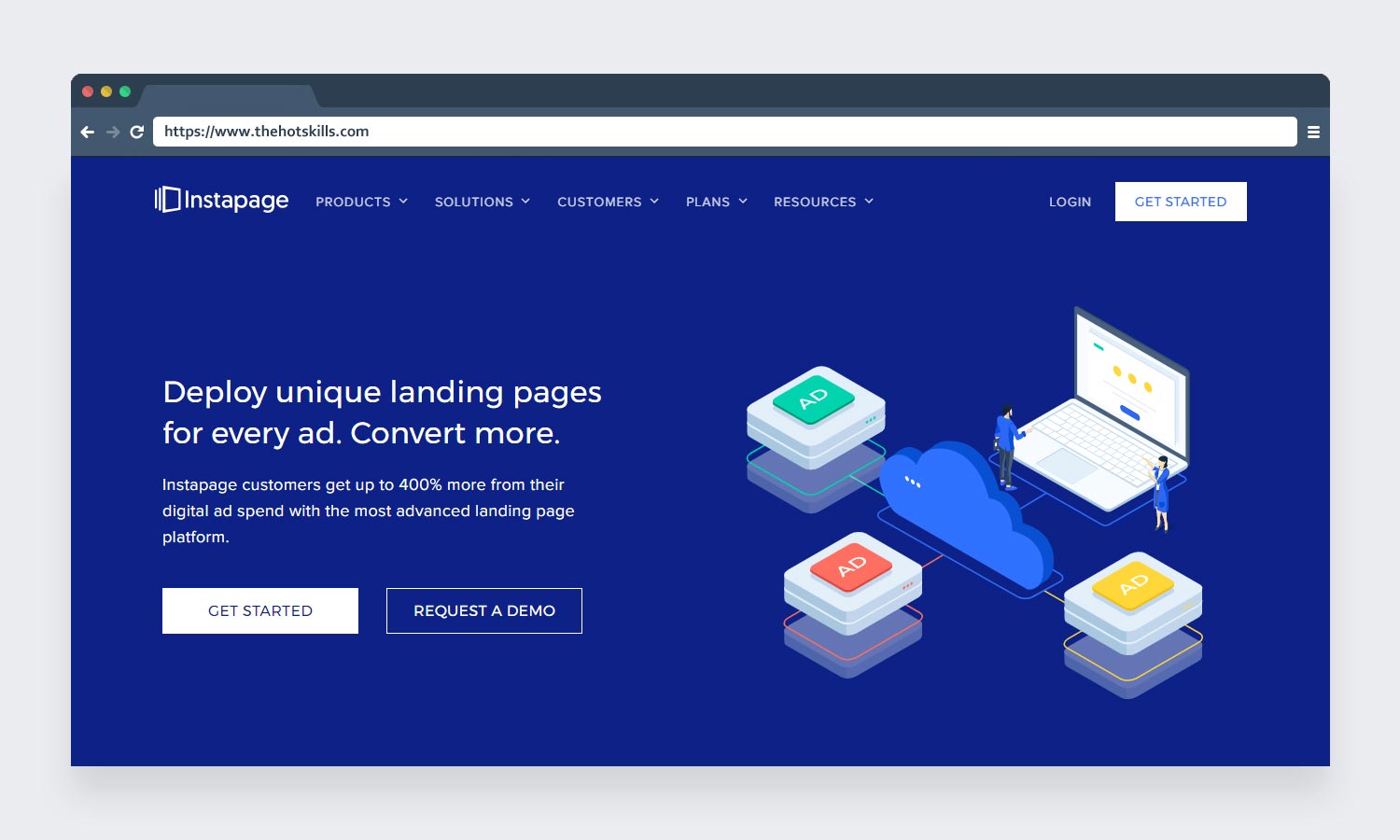 Instapage is another premium landing page builder that's also very similar to Unbounce. One of the biggest differences is that it caters to a different section of the market.
Instapage is going to be the best for online marketers who have some sort of experience. In other words, this is not a landing page builder that's suitable for beginners.
If you've got experience with online marketing and you run pay-per-click advertising, then you'll certainly love what they have to offer.
Admap.
Conversion analytics.
Heatmaps.
Post-click score.
The above features will certainly help your landing pages convert, which is very important when it comes to getting a return on your investment with paid advertising.
And don't forget about the ability to connect your landing pages to WordPress, thanks to their WordPress plugin. One of the biggest perks about their WordPress plugin is that it allows an unlimited amount of domains.
That's something to like if you find that you have quite a few websites on your hands to utilize.
ClickFunnels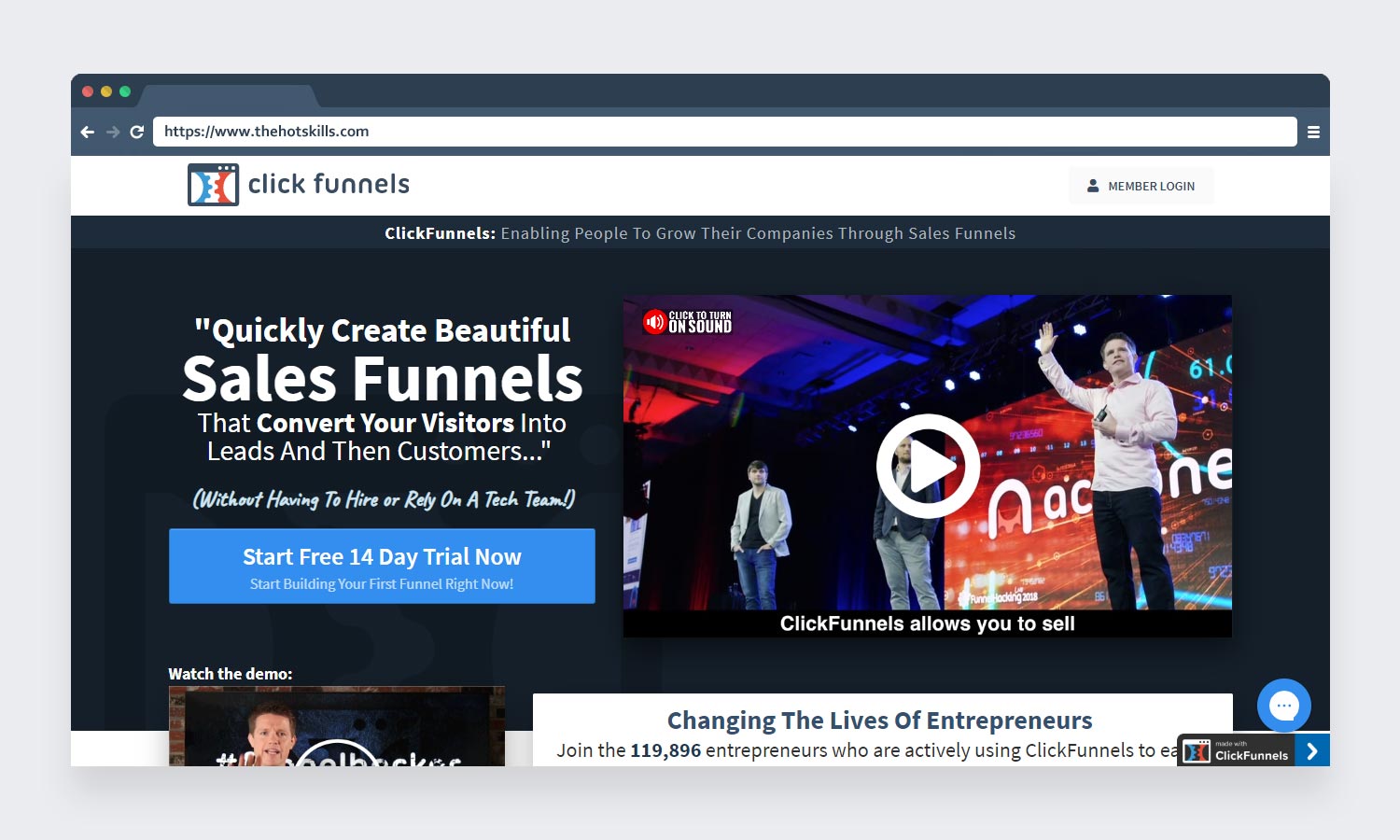 This might be a surprise to a lot of people, simply for the fact that ClickFunnels mostly focuses on sales funnels.
Nevertheless, sales funnels come along with landing pages, and this software has more features than you could ever imagine.
Here is a very quick list of what ClickFunnels comes along with.
One-click upsell and downsell pages.
Landing pages and sales funnels.
Secure shopping cart pages.
Membership sites.
ClickFunnels even has their very own affiliate management system as well as its own autoresponder. Keep in mind that in order to use those features, the price will jump up to almost $300 per month.
That's only the tip of the iceberg when it comes to their features though. Given the fact that ClickFunnels made the list, they also have a handy WordPress plugin that you can upload to your website.
This allows you to attach your ClickFunnels landing pages directly to your website. By doing so, you'll be able to leverage your domain name as opposed to using a URL with ClickFunnels in the name.
LeadPages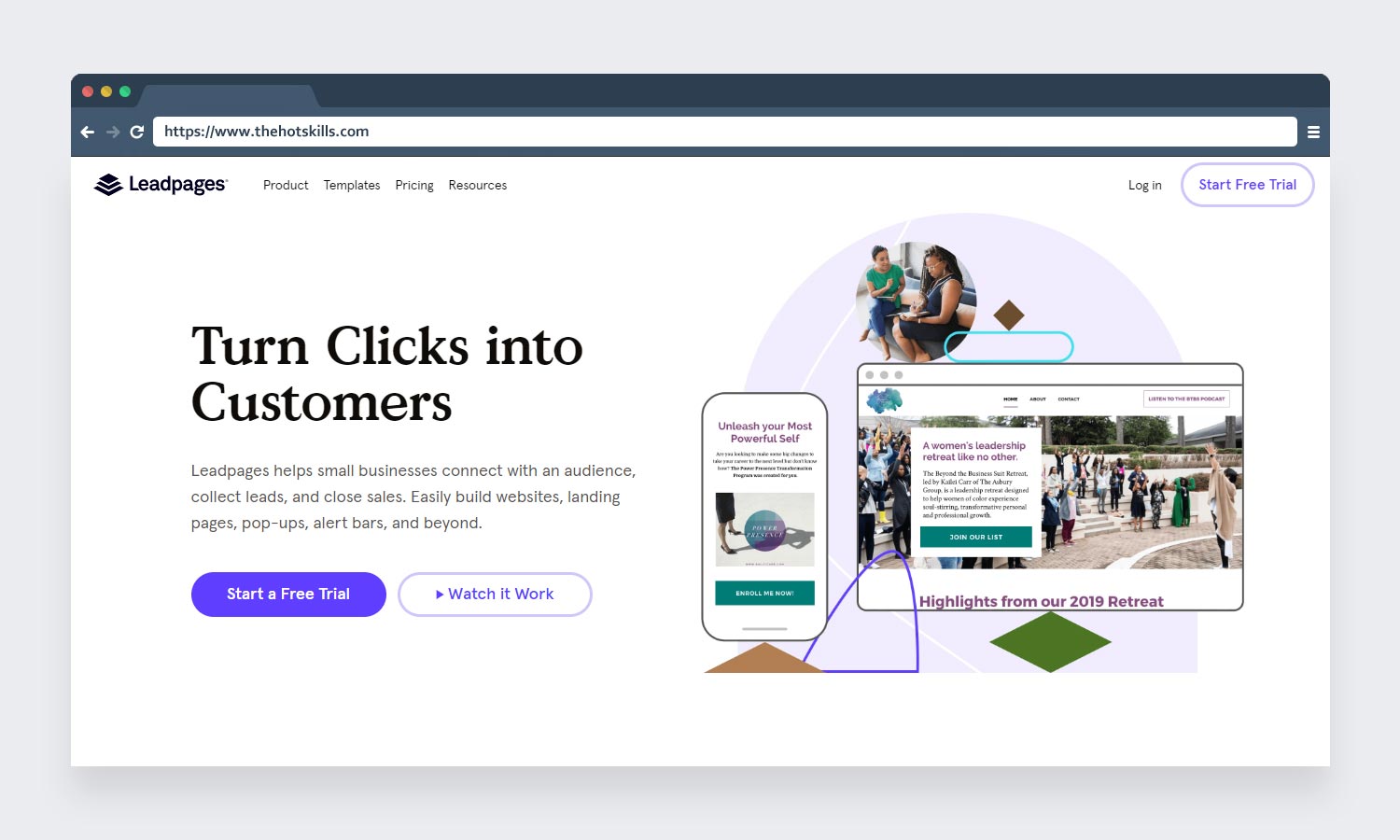 LeadPages is both a website and landing page builder. Aside from having some of the best pricing plans around, they have many helpful perks which include the following.
Unlimited landing pages, pop-ups, and alert bars.
Unlimited traffic and leads.
LeadPages is similar to Unbounce, especially for the fact that they come with similar features and allow you to both design high-converting landing pages.
Depending on the plan that you get, there's also the ability to run split-tests as well as the ability to collect payments and make sales.
LeadPages also comes with the ability to install their WordPress plugin. This will allow you to publish landing pages, pop-ups, and alert bars straight to your WordPress site.
Being able to utilize pop-ups and alert bars on your website is very beneficial, as it allows you to increase your clicks, generate more leads, as well as make more sales. Who doesn't want that?
Let's look at the next landing page software.
Landingi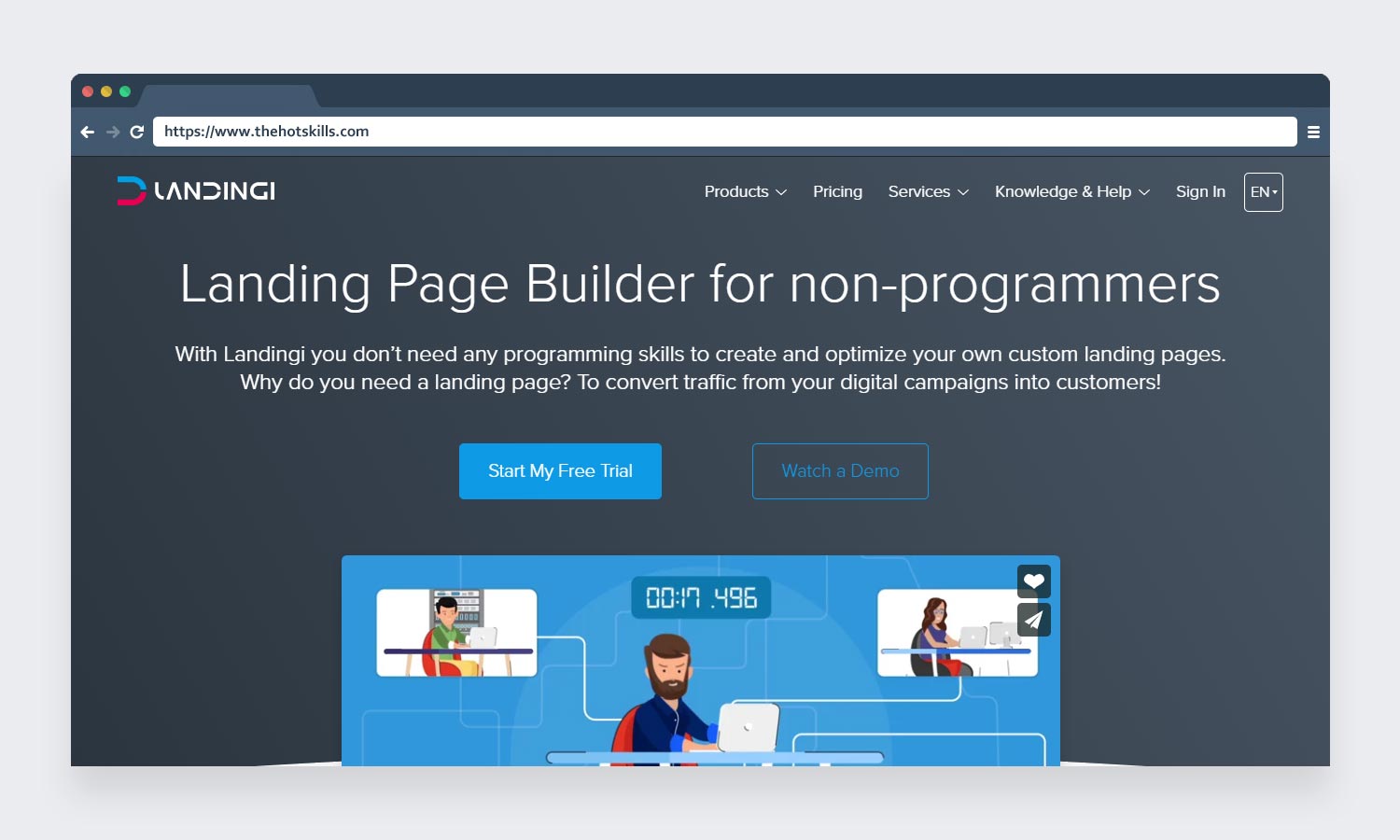 Landingi is going to be the last choice when it comes to landing page builders that also come along with WordPress plugins. You might not be familiar with Landingi, and that's no fault of your own.
Landingi was first released a couple of years ago on AppSumo when you could get their lifetime offer deal. Since then, they have moved to a monthly recurring price and offer some valuable features. A few of them include the following.
Unlimited landing pages.
100,000 visitors for their core plan.
10 active pop-ups fo their core plan as well.
Landingi is similar to LeadPages for the fact that they are also priced just right. In fact, if you get referred by the right person, you can save up to 30% on all of their pricing plans. So you'd be looking at paying a little less than $30 per month for their first plan. Not too bad.
To make the cut on the WordPress landing page plugins, they certainly feature the ability to connect your landing pages to your WordPress domain.
Their WordPress plugin allows you to import your landing pages to your WordPress website, and you don't need any type of programming skills, whatsoever. Just focus on creating the best possible landing pages yourself, and let the WordPress plugin do the rest.
Final Words
So those were five of the best landing page tools that also come along with their very own WordPress plugin.
Given the fact that you have to pay monthly for these software tools, they are certainly worth the price of admission. After all, there's plenty of ways to make your money back and have the software pay for itself.
Features that can help you with that include the following.
Alert bars: A great way to get your best content in front of every visitor.
Pop-ups: Helpful for one last effort at generating leads or sales.
Split-testing: Great for increasing your landing page conversions.
Make sure that you do a little bit more research, just so you can find the landing page builder that's going to be best for you.
You May Like: