On the internet, there are many web design tools available free and paid which assist designers. Having equipped yourself with best web design tools make your tasks easier and hassle-free the most of your designing process.
So today, we're going to make your day with best tools for web designers that will find the best solution to optimize your working atmosphere even better.
Best Web Design Tools for Designers
Without any more words, let's start our best Web Design Tools.
Best Typography Web Design Tools
Google Fonts is use to make a website more attractive, beautiful and responsive through varity of typography.
WhatTheFont allows its users to scan in or provide the URL of a font and it will tell what it is.
FontStruct allow you to quickly and easily create fonts constructed out of geometrical shapes, which are arranged in a grid pattern, like tiles or bricks.
Fontface Ninja is free to use an extension for browsers that let its users explore, try, purchase and get any type of fonts from a website.
Typecast a free program to design beautiful and attractive fonts. You can design a font, using their simple visual controls and afterward distribute end result through URL.
Font Flame is an easy web program that assists web designers finding new and unexpected pairings of web fonts.
1001fonts is a website containing a huge collection of attractive fonts for personal or commercial use.
TypeKit is a big collection of premium and high in quality fonts. These all fonts are tested by TypeKit for making a sure best performance with quality on different browsers.
Best Sites for Stock Photos
Pixabay roams through a big library of free photos, vectors and art illustrations. Here all the art are released under Creative Commons CC0.
Zoomy Images provides high-quality stock photography. It has a face-recognition-enabled software, that provides faster search times and an innovative reverse image search function.
Unsplash is one of the best sources for a huge set of free high-resolution free stock images.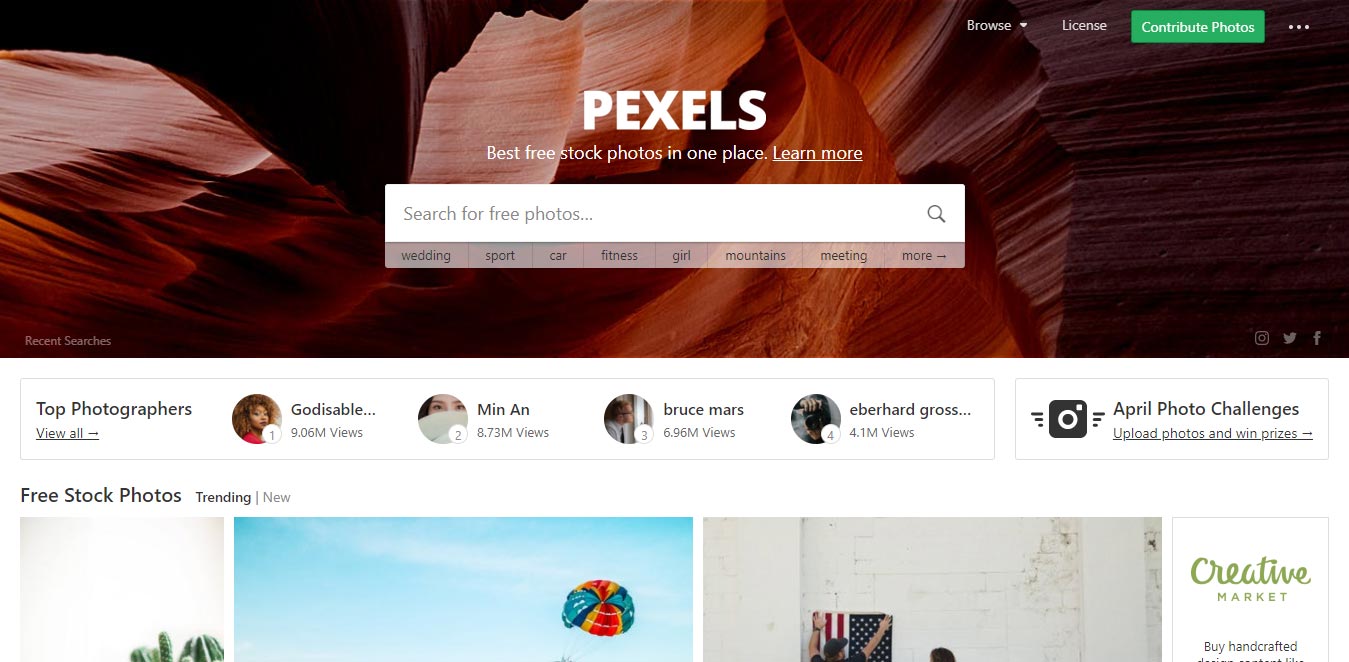 Pexels offers completely free high quality stock photos. All photos are simple to search, well tagged and also easy to find your favorite through "our" discover pages.
Gratisography full of high-resolution photos for your personal or commercial projects. All the photos updated weekly and are free of copyright restrictions.
Stocksy is easy-to-use paid source for best photos. Here you will find top relevant results for your search and even can filter the results.
New Old Stock offers free vintage pictures from the public archives without any copyrights.
Death to Stock an updated collection of each category for mockups, blog posts or social media.
Split Shire has over thousands of stock images for users that are easy to use, download and share. It's a paid source which also offers videos.
Adobe Stock is one of the best paid stock image websites on this list but before getting any buck from you they offer 10 images free trial.
Best Places to Find Stock Graphic and Vector Images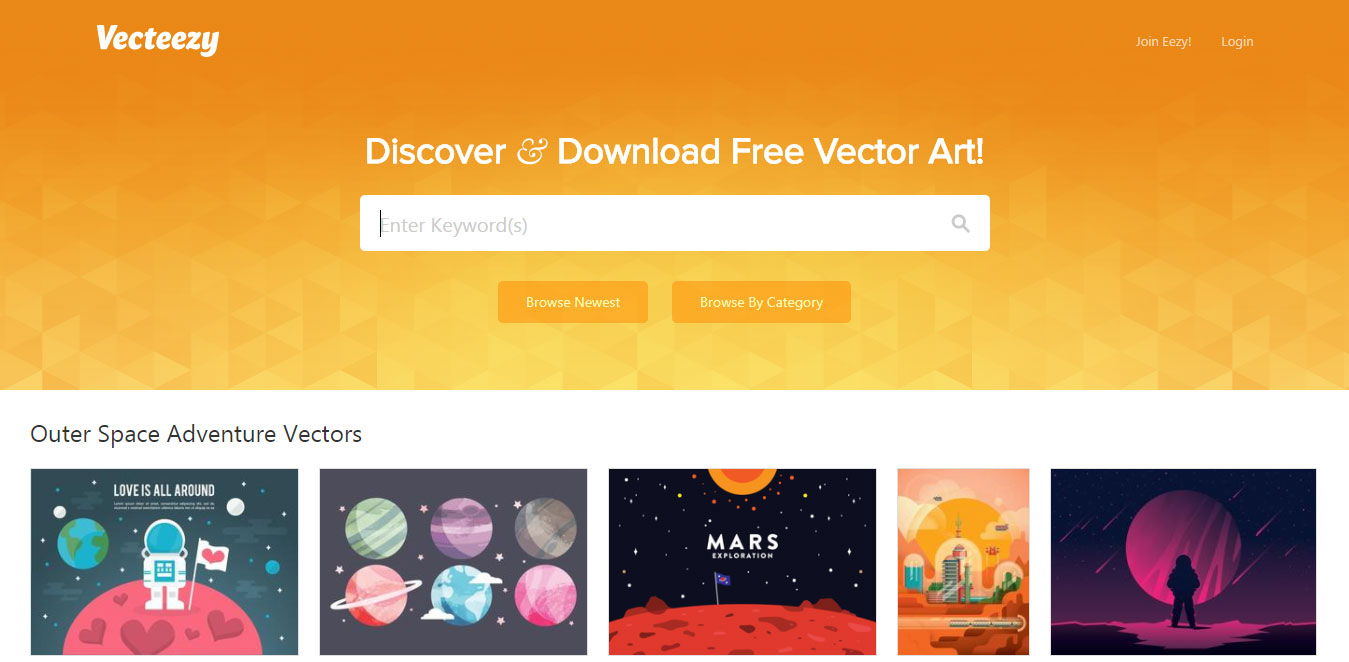 Vecteezy is a best and has a big collection of free vector art, illustrator brushes, vector graphics, silhouettes, vector wallpaper backgrounds, and even more.
Finding icons is easy with Iconfinder. You have access to over a million of free and premium icons. Downloads are available in multiple sizes and file formats.
Iconjar for incredibly cute and incredibly free icons. The unlimited high quality icons from a single design team.
Flaticon is a wonderful source for getting flat style icon. With 70 thousand of icons, they have the biggest collection of free vector icons on the internet.
Roundicons is an ultimate source for unique hand-crafted icons. Providing over 6500 icons in various styles at a reasonable price.
Illustrio, a 100% free customizable image database providing high-quality icons and will assist you to build your brand.
Theispot is a place to find illustrators fresh artwork for your projects. Get fresh and quality artwork from illustrators around the world.
Webalys offering free and premium lots of colorful collections of attractive icons from across the web. Great for personal or commercial use.
Brusheezy offers free and premium icon sets for personal or commercial use. Make use of search for improved website functionality.
Best Design Tools to Create Graphic Online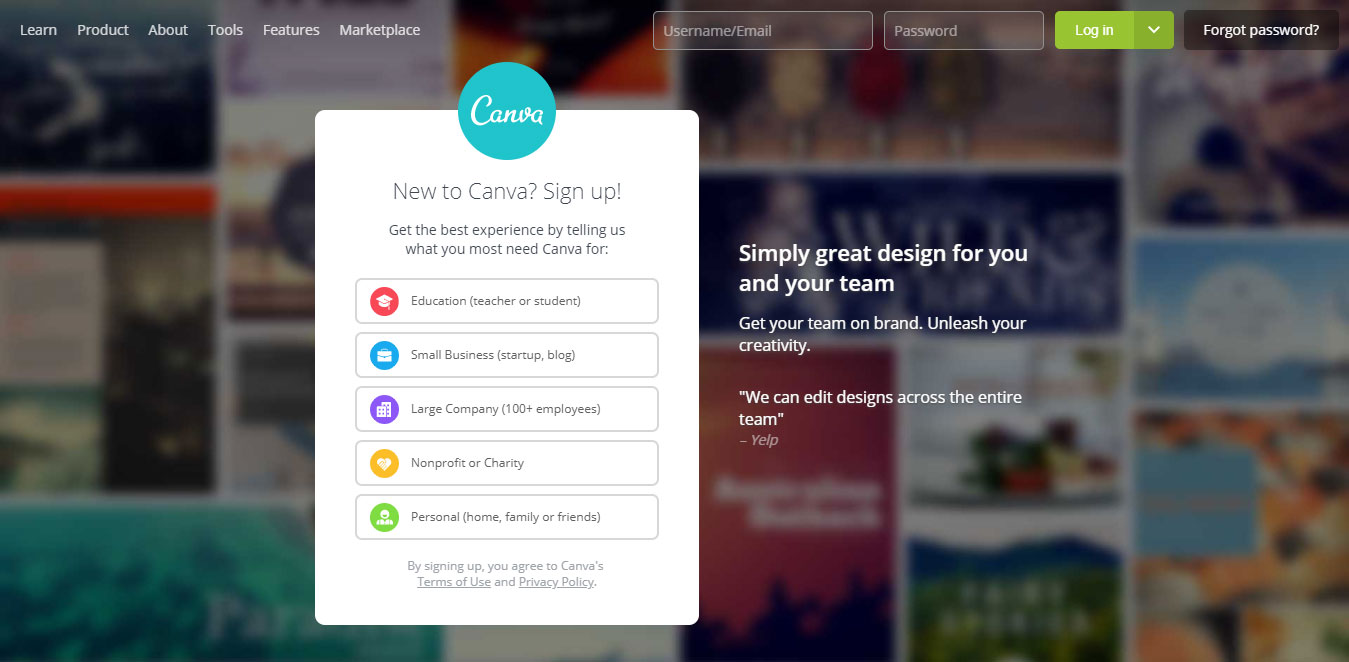 Canva is most used and popular free infographic maker. Canva is the best tool to create Facebook cover photo, a presentation, ad, poster, business card, banner, or infographics.
Visme is a wonderful infographic creator that allows you to create infographics, interactive presentations, animations, ad banners, customer layouts, and more.
Ease.ly is an infographic maker that will help you put together images in just a few clicks to creator an attractive infographic.
Visualize.me mainly focused on to create "infographic resumes". But, the template designs are not limited for that purpose only. Still, you can create what you want.
Piktochart has over 400 fully customizable themes with retina-ready images, objects, graphs, and colors you can edit and adjust according to your preference.
Infogram, whether you are educationalist, brand ambassador, blogger or an organization, you can create infographics or charts with the help of infogram in just 3 easy steps: pick a template, visualize the data, and publish.
Venngage to choose from hundreds of professional looking templates. Venngage has all that you need to make your free infographic and publish them on the spot.
Gliffy will convert your thoughts into shapes by providing you with a range of UML diagrams, flowcharts, network diagrams, wireframes, org charts, and sitemaps.
Visage is an infographic design tool that makes it easy for anyone to create visual content that is beautiful and on-brand, with zero design experience.
Draw.io is an online service to create, tables, diagrams, maps, and infograhics. Its an extremely versatile free online tool with a host of features.
Best Tools for Collaboration and Prototyping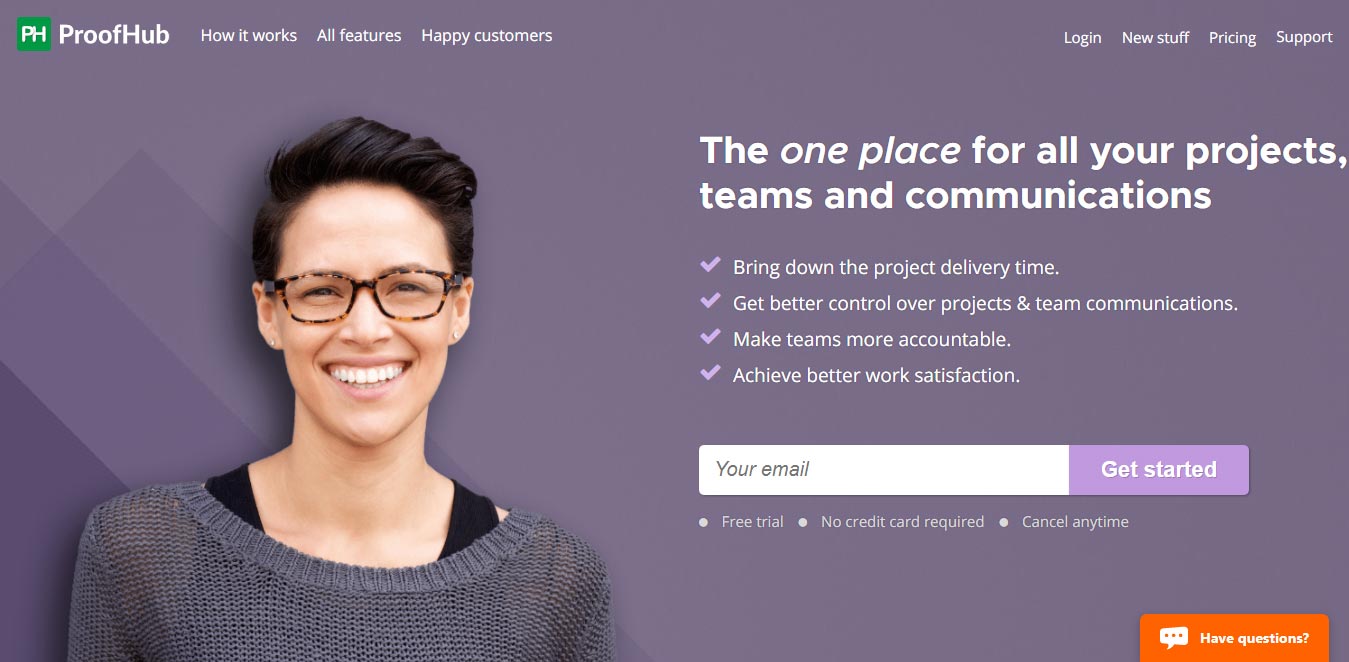 ProofHub is a work management tool that offers a comprehensive suite of collaboration and project management functions.
Cage is all about improving the way creative teams collaborate and work. It helps your team to manage projects, comment on all important aspects, and have team discussions on video.
Invision is a tool created specifically for designers where clients can provide feedback in the form of comments on your designs, and you can keep them up to date with the project's progress.
RedPen allow you drag & drop your designs into a dashboard and invite specific colleagues (or even clients) to let you know their ideas in real- time as you roll out your latest updates.
GoVisually designers and clients can collaborate to revise projects online without sending painful emails, which should ultimately increase productivity.
Zeplin might be your next great shortcut. Zeplin is a popular UX design tool for asset management, team collaboration, and documentation.
Wake collaboration platform allows designers to make screenshots of their work and share them with others directly from their design tools (Sketch, Photoshop or Illustrator).
Marqueed makes the designers process even easier by simplifying the sharing and discussion of images, with an intuitive app that allows users to communicate and collaborate on images securely.
Bounce is an effective tool to collaborate. Just upload an image file or enters the URL, then click and drag to make notes.
Lingo is a macOS cloud-based visual asset library app that enables collaboration between creative teams.
Best Tools for Colors Combinations
Pictaculous will automatically generate a color palette for you based on an image that you upload, helping you find out which colors an image uses.
Color Hunt is inspiration sites consist of hundreds of beautiful and professionally picked color palettes. This site is managed by a community of designers and updates every day.
Adobe Color CC use this tool to easily save a color scheme on your Adobe Creative Cloud and then upload it to your Adobe CC apps to quickly get started on your designs.

Coolors tool, to generate a color palette instantly. Then you can adjust the colors, rearrange, and try alternative shades to customize the color palette to make it your own.
PaletteGenerator, upload multiple images and create multiple color schemes based on your images at once. It's a fast and a reliable tool for generating colors quickly.
TinEye will display a color palette for all the colors identified in your image. Color extraction works for JPEGs, PNGs, and GIFs.
ColorZilla is an extension for Firefox and Chrome browser that includes a raft of color-related tools including a color picker, eye-dropper, CSS gradient generator and palette browser.
Colicious tool is amazingly easy to use and it needs a substantially little amount of time to generate and find the desired color.
UncIrd is a browser extension which can turn any website in black and white colors. UncIrd can be used via Google Chrome or Firefox and only.
Best Places for Daily Inspiration
Dribbble is a fantastic place to browse through many creative designs from individual designers, teams and companies all over the world.
Design You Trust is an updated and one of the worldwide famous collective web design blogs with new design trends, news and more.
Really Good Emails is a website full of stylish email template designs, organized into many categories to catch your interest.
As the name sound, Awwwards is a website awards site where a jury selects the best design sites and featured on awwwards.com.
One Page Love is a web design directory for websites only with one page. You can check this directory for finding one page landing page design inspiration.
SiteSee is a simple yet attractive best website for web design inspiration gallery with great modern web designs.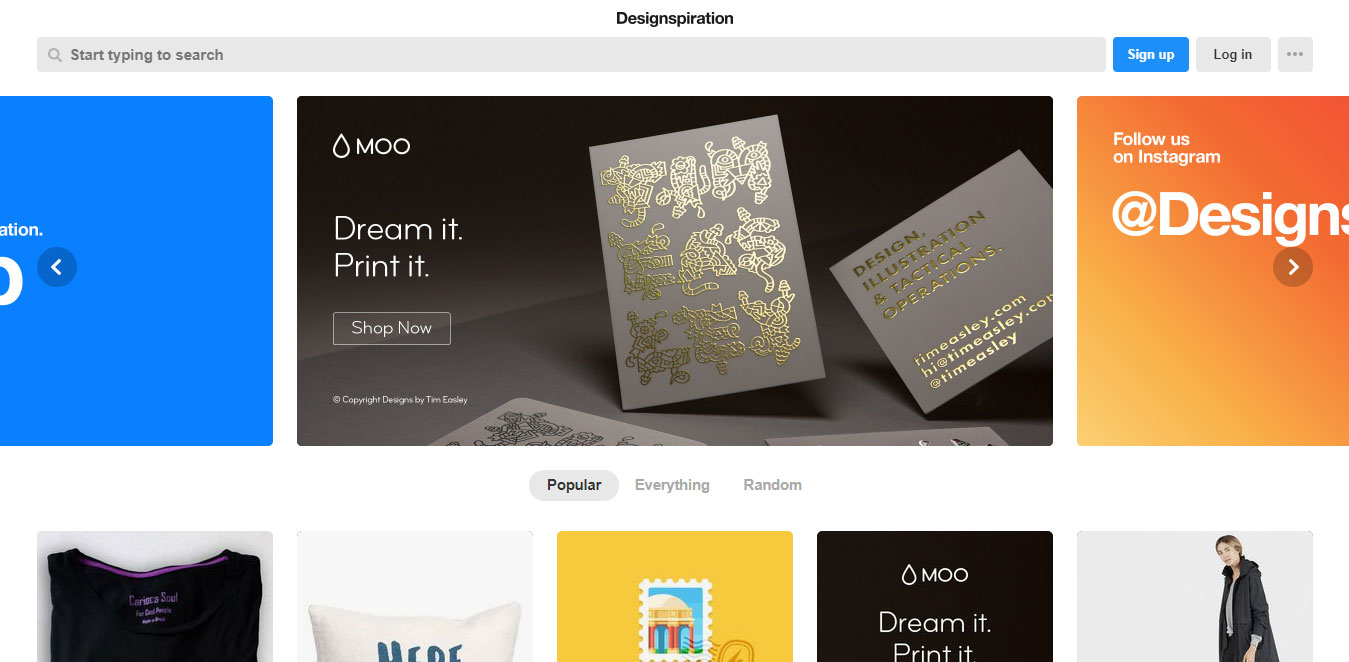 3
Pinterest of the design world so called Designspiration is a massive portal for creatives with inspirational design work.
MaterialUp focuses only on the theme of containing examples of material design such as mobile app screenshots, website examples, tips, tools and more.
Mobile Patterns is best inspirations site for to learn about UX flow of your mobile app.
Best Editors for Pictures and Graphics
Adobe Illustrator allows you to express your ideas into quality artwork. Create high-quality logos, icons, typography, drawings and illustrations for web, print, mobile and video.
Adobe Photoshop is the one of the best graphic design software with features like perspective correction, channel mixing, clone stamp tool and many more. Ideal for every graphic work.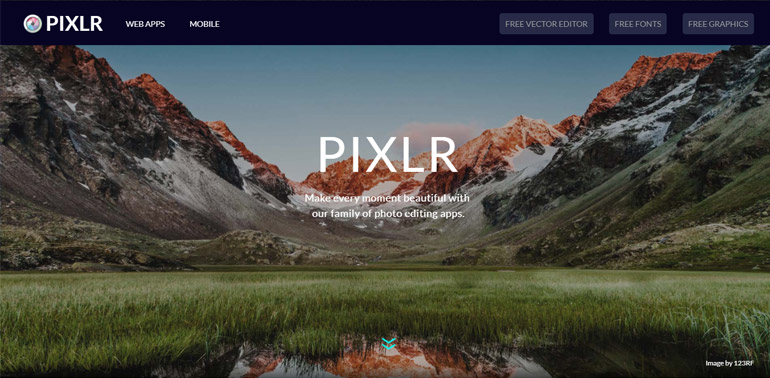 Pixlr is one of the most used online image editors, mainly for e-commerce pictures. It comes in four free editions: Pixlr Today, Pixlr Editor, Pixlr Express, and Pixlr O-Matic.
Gimp is a free popular photos editing software. Users can perform tasks such as color correction, photo retouching, image size and many more.
DAZ Studio is a 3D program for creating 3D objects, including people, animals, and objects. DAZ Studio is easy-to-use and ideal for creating 3D and surrealistic art.
DrawPlus is graphic design software with a powerful tool for editing and producing creative animations, logos, posters and many more.
Inkspace is a free open-source program with an amazing set of features. You can use it to create vector objects, perform all sorts of manipulations, add text, create vector images from bitmaps, etc.
Aviary Photo Editor is a straight forward and concise graphics editor and currently one of the most popular graphics tool. With features contains text, stickers, drawing tools, and tools to remove red-eye, whiten teeth, and add blemishes.
Blender is a professional, free and open-source 3D computer graphics software toolset used for creating animated films, visual effects, art, 3D printed models, interactive 3D applications and video games.
Affinity Photo's advanced user interface and tools, you can add professional-looking enhancements to your photos.
Best Tools for Logo Design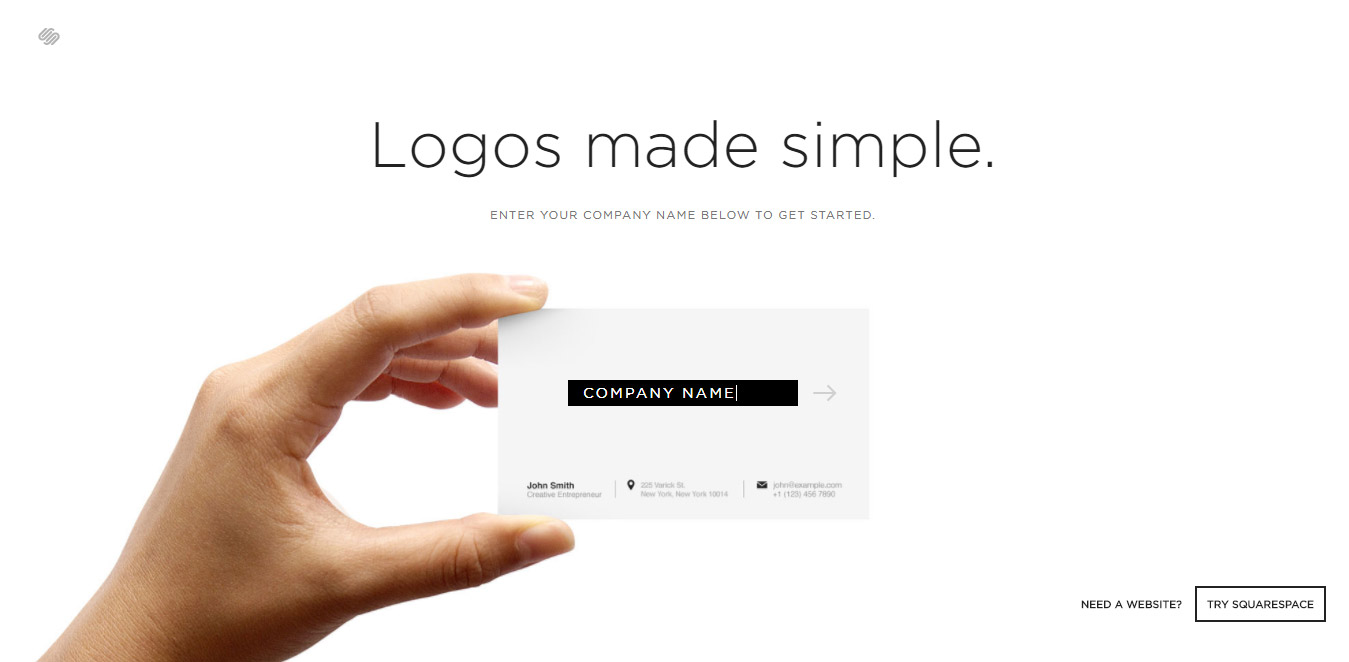 Squarespace is one of the best website builders offering a complete platform for creating a website with ease. Besides, it offers an amazing logo making tool.
Logaster is the best online tool to create really good designs for your logo. It's the most used online software to make super fast and efficient logos.
Logoshi is like the other logo design tools for custom logo design services and online service to create logos based on your inputs.
LogotypeMaker is one of the online logo maker tools for startups and small companies, who can choose any logo from the randomly generate logo page.
GraphicSprings assist you to make a logo design in JPG, PNG, PDF and SVG formats. For designing or using this software you will charge an amount of $20 to $150.
LogoGarden is a free logo creator that allows you to design your logo on business cards, website, coffee mug, t-shirt and smartphone.
LogoGenie provides a very user-friendly interface that enables you to use this design tool easily for making your logo design ideas come to life.
DesignMantic website to get your logo in easiest and fastest way. This particular logo creator assists you to create a professional looking logo design for free.
Best Tools for Prototyping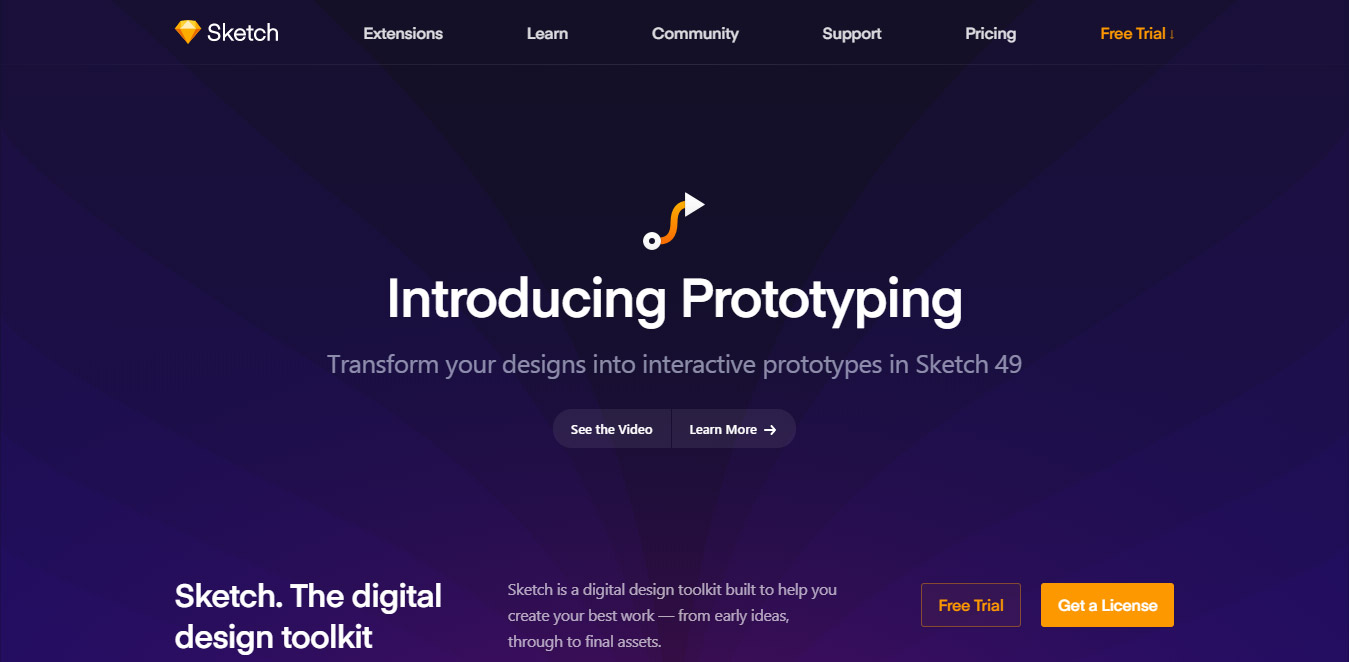 Sketch is one of best prototyping tools for Mac users assists you in design interfaces quickly and naturally.
Proto.io helps people to transform the ideas into a real application with user experience and make them see how it will work in the real life without coding.
Napkin is an online tool that helps you to create or edit some design patterns within a couple of minutes through your iOS device.
Weld is a tool that helps to create animated, visual, interactive design on your already existing website or platform.
Atomic is an online tool that provides interactive design features, for example data, variables and logic which helps every designer to create better products.
Flinto is an application for designers to create authentic, interesting and unique animated prototypes of their own built application designs.
Balsamiq is software that assists you to work faster and smarter. It creates the feeling and experience of drawing and sketching on the white board but using a computer.
AppCooker is a prototyping tool for Apple Watch, iPhone and iPad applications and can be downloaded from app store.
HTML5 Up tool you can design classy, authentic, responsive and highly editable HTML 5 templates.
FluidUI – with a strong focus on simplicity and communication, Fluid UI is a smart prototyping tool. Equipped with built-in high and low fidelity component libraries, live team collaboration, device previews and video presentations, making it a top-notch solution for designers, product managers and founders.
Mockplus is an all-in-one prototyping tool to create faster, smarter and easier prototypes with simple drag-and-drop, supporting mobile, web and desktop apps prototyping.
Axure is a tool that offers prototypes without coding like adaptive news, dynamic content, data driven by some categories, animations and much more.
Conclusion
That's all with long listing of best web design tools. Hope you like our listing and share it with your designer buddies. And also what web design tools you use from above of the list.