It's never been more challenging in today's immensely competitive world to burst through the clutter to reach your target audience. It can often feel overwhelming trying to navigate through the latest digital trends or applications, but fear not, help is just around the corner. In this article, we collected logo and newsletter inspirations that can be useful for small business owners, explain the importance of good branding and how a tool like Canva can turn your digital efforts around and take your business to the next level.
What is Canva and why do small businesses need it?
Canva is an online graphic design tool allowing users to create powerful and effective social media graphics, presentations, and print products, among many other types of visual content. With video becoming the king of all content, Canva also made it possible for everyone to produce stunning videos when it launched its video suite in October 2021.
Small businesses can leverage this platform's speed and simplicity due to its several templates, which can be easily customized in minutes by uploading your brand colors, fonts, logos, footage and you are only limited by your imagination. This not only saves a hefty budget spent on an entire design software suite, but it also boosts your productivity as it doesn't take days or weeks to design a professional layout for your new digital campaign, social media presence, website banner, or embark on the journey of video creation and more.
"Good design makes it easy for people to absorb your message. It catches their eye and makes them stop and look. Just as a baby will gaze longer at a beautiful face, a customer will spend more time with a graphic or website that is well-designed," says Emma Rose Gallimore to Canva. [And] when you combine good design with solid branding you have a winning strategy.
What is branding?
In today's over-competitive market, it is exceptionally crucial for a company to establish a consistent and positive perception of its products and services in the customer's mind and deliver it across multiple channels, essentially creating its own image (brand) that stands out in the market. By combining elements, such as logo, design, mission statement, and a consistent theme throughout all marketing channels, companies can also further increase their loyal customer base.
A Zendesk survey discovered that 87% of consumers claimed that consistent branding across all online and traditional platforms was important to them and influenced their purchasing decisions. This means that your customers expect you to deliver the same tone of voice in your newsletters, website copies, customer service, and pretty much every touchpoint in your business.
This includes your visual graphics and layouts; colors and the overall message of your images are also important. Deciding to rebrand as part of your marketing strategy means having to change your logo and the well-established styling across online and offline channels. Make sure to create a consistent brand so your customers can have a unified experience across all the platforms you are present at.
Keep in mind that branding offline and online can also be very different, with different resources required for each channel. Branding in-store is usually more experiential as customers can walk around and pick up products to observe, decide and purchase. In the online sphere, consumers browse, revisit the website, considering the buying intent, and then fill a shopping cart once the purchasing decision is made. They also experience a two-dimensional scene compared to an in-store transaction. Of course, some aspects of offline and online branding are the same, including consistent imagery and your brand's logo.
Why is it important for businesses?
A unique brand can hugely impact your bottom line by giving you a competitive advantage over your competition and helping you acquire and retain customers for a much lower cost. When new companies rapidly appear on the market, an established brand can be invaluable in generating a profit and bringing in new clients. It's important to note that whether you are investing time and effort into building your brand or not, your business' brand still exists. But of course, your investments into crafting a compelling brand or the lack of that impacts how you are seen as a business.
According to the State of Brand Consistency report by Lucidpress, branding consistency can increase revenue by 20%. By carefully crafting your brand through stories, relationships, marketing messages, and visual assets, you have the chance to shape your customer's expectations and form a long-lasting relationship that goes beyond the buying and selling relationship. Remember, good branding is purely a strategic decision, while marketing is tactical. When you define your higher objectives and your brand promise/message, you will be able to create a marketing plan that guides you towards achieving those objectives.
As it's been said, offline and online shopping experiences differ, as online shoppers don't have the luxury of touching and feeling the product. Hence, the visual experience has to make up for the lack of that experience. The visual assets of a brand are all the front-facing elements, particularly the website design, fonts and typography, color palette, ad design and logo, and last but not least, the packaging experience you create. This effective branding tool reaches its peak when all the different elements are consistent and can work together smoothly. Research finds that having a distinctive signature brand color will increase the chance of customers recognizing your brand by 80%.
Overall, branding plays an integral part in accelerating business growth, and a cohesive, compelling brand can help you grow your brand recognition and raise brand awareness. It can often feel like a daunting task, but it doesn't have to be, as there are plenty of solutions on the market for small businesses to take advantage of.
Affordable solution for wannabe designers and small businesses
When people think about launching a business, they often see the glamorous side of it. Customers love your brand, your business making a huge profit, and so on. It might feel like a dream come true that you are finally becoming your own boss and living the life you always thought you deserved. But it's not until you start dealing with the nitty-gritty of the day-to-day operation of your business that you realize that managing a business is so much more than that, especially if you are a small business owner without a dedicated team for each department helping you on your journey.
As a small business owner, you are responsible for overseeing every detail, as coming up with a business idea was not hard on its own! Chances are, you are probably your own social media and PR manager who manages all digital communications, like the website and social content, among other tasks. You probably also run accounting, you are your own personal assistant and tech department. But how to do so well in so many areas with so little time? An absolute must-have is to have a Canva / Canva Pro account to help you manage your digital presence with minimal investment.
Canva Logo Templates
After settling down on a business idea, coming up with a logo might not seem like a top priority, but here's when you can go really wrong! A logo is an integral part of making your brand successful, as it will be associated with your business for years to come. A good logo grabs attention, makes a strong first impression, and becomes the foundation of your brand identity, it will also separate you from your competitors and foster brand loyalty.
1. Black & White Aesthetic Circle Model Agency Logo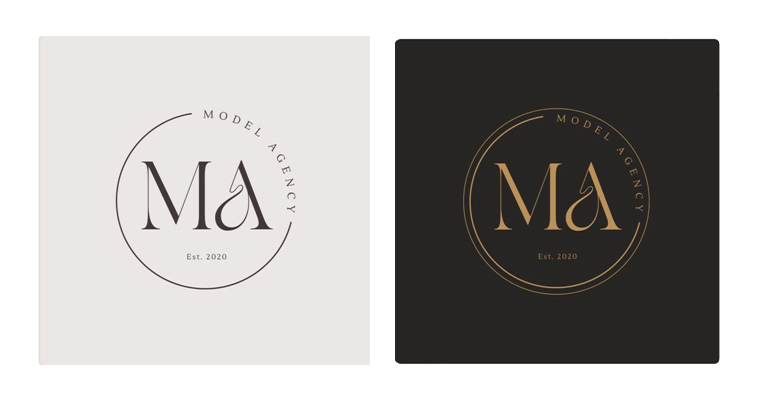 We've all heard that less is more and that a minimalist design can still stand out with a carefully selected color and font scheme, just like this Black & White Aesthetic Circle Model Agency Logo. A simple and pure design with an elegant font and basic color scheme, this logo can be an ideal choice for florists or wedding service providers. Available for free.
2. White Black Bold Minimalist Beauty Blogger Logo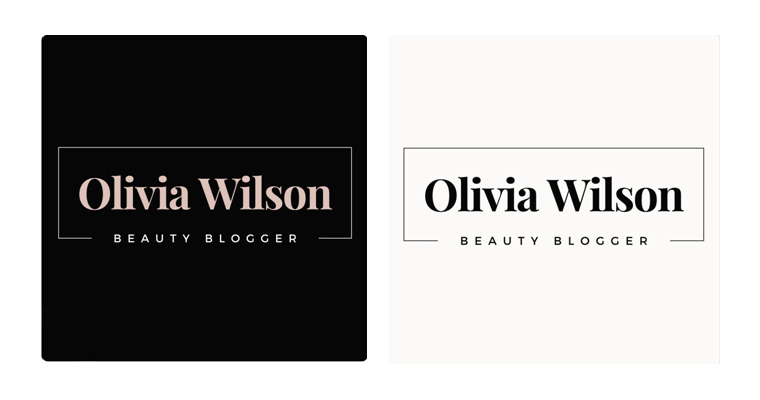 When choosing a simple logo, a good font can also be a distinctive element, just like this White Black Bold Minimalist Beauty Blogger Logo, where the bold font sitting in a frame grabs the attention immediately and makes it impossible to miss the mission statement/profession of the person. A clean, eye-catching design supported by light colors can be a soothing experience for the eye. Available for free.
3. Hippo Ware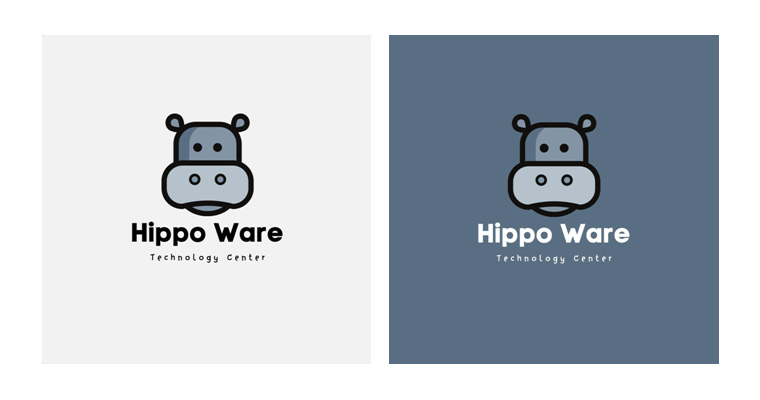 Choosing a witty brand name for your business that's displayed on your products can also be a great choice to go on your logo. The Hippo Ware template is a great example of how your company name can be used as a design element, a simple yet powerful statement, as an object like a hippo can be memorable and stand the test of time in your customers' minds. Available as part of the Canva pro subscription.
4. Beige White Elegant Daisy Flower Logo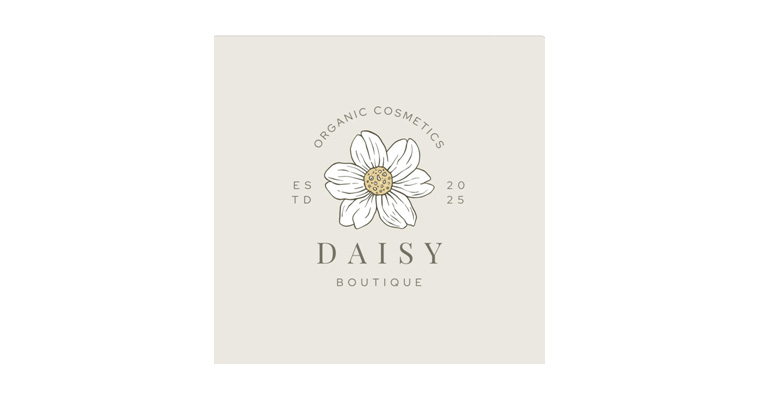 A logo with a colorful yet not too bright graphic, drawn design element at the center can really stand out from a beige, simple background. Combined with an elegant font type, a logo like the Beige White Elegant Daisy Flower Logo can help you establish yourself on the market, as minimalism often says more about the quality of the brand and its products than an overfilled design with too vivid colors and a well-crafted mission statement. Available for free; however, this template contains paid elements.
5. Rose Gold Photography Circle Logo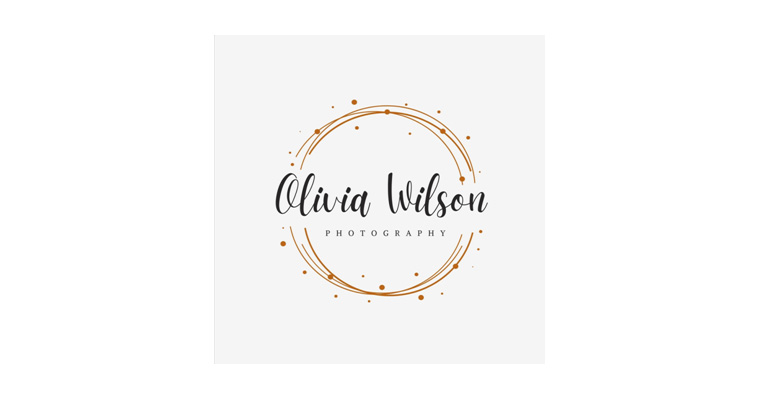 If typography is in the center of our logo, it's best to choose one that's still easy to read and in harmony with the additional design elements. It's always best to keep the color scheme down to three or four to keep the visual experience pleasing, just like the Rose Gold Photography Circle Logo template. Available for free.
Canva Newsletter Templates
You may wonder why newsletters are vital if you are just about to launch a business or have been managing your small business for quite some time. Why now? The truth is that one of the most commonly used strategies used by organizations that desire to consolidate their position in the online sphere is content promotion. And as a small business owner, you'd like to use all channels possible to get the word out of your latest product launch, company and industry news or anything related to increasing your brand awareness and, as a result, pulling in some customers.
1. Brown and Grey Minimalist Simple Modern Success a Entrepreneur Email Newsletter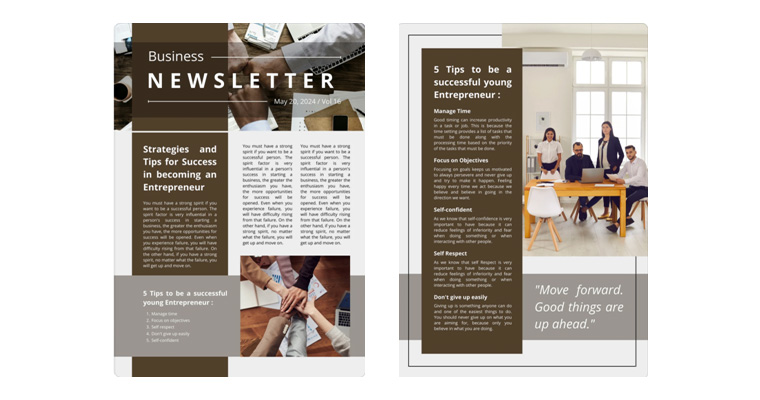 Less is more is also valid when we are talking about newsletters. The main factor to consider here, besides aiming to include only the most essential bits of information, is choosing a clean design that's not filled with unnecessary design elements and display the text in a way that's comfortable for our eye to read, just like the Brown and Grey Minimalist Simple Modern Success an Entrepreneur Email Newsletter template from Canva. This minimalist design grabs the attention due to the colored text boxes; the color of the text is also distinguished, just like the takeaway message. Available for free.
2. Modern Designer Women in Business Sectioned Newsletter Page A4 Design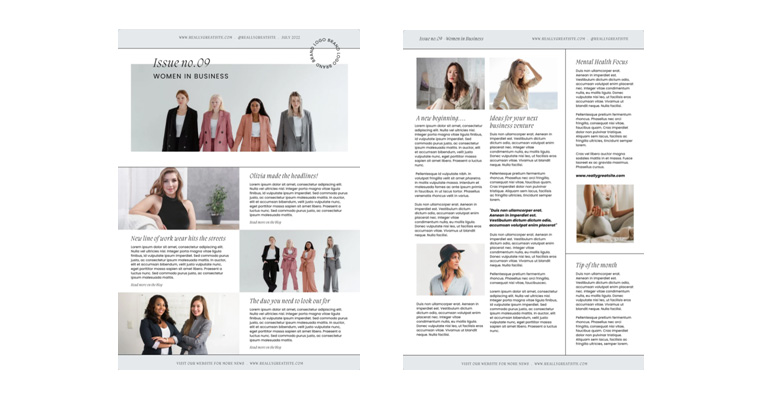 The key to creating a good newsletter lies in a clear design with divided sections, with images matching the color tone of the layout as well as the fonts. It's important not to include too many design elements to help our readers to be able to digest the information we'd like to convey. Almost like a magazine, a good source of inspiration can be the Modern Designer Women in Business Sectioned Newsletter Page A4 Design with content in its focus and a clear message; with images also functioning as dividers. Available as part of the Canva pro subscription.
3. Black Blue Modern Monthly Newsletter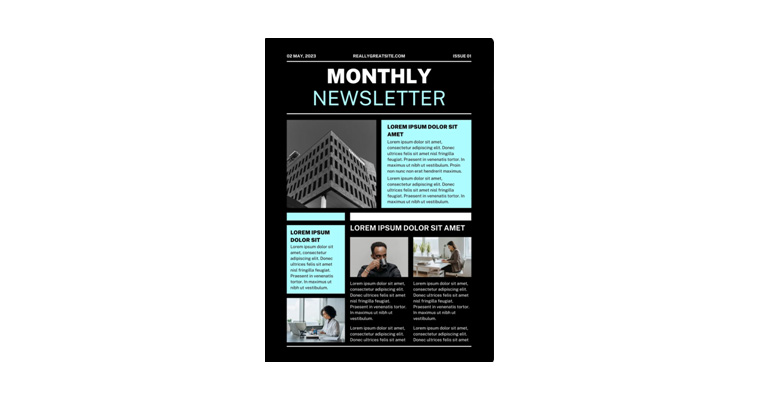 When looking for inspiration for your corporate newsletter, don't be afraid to use black as your primary color and match it with a bright color. It can really make the information stand out and result in an elegant yet powerful design. Filling a text box with this chosen color can also give the newsletter a fresh and modern look, just like in the Black Blue Modern Monthly Newsletter template or demonstrate how colored text boxes can also function as design elements. Available as part of the Canva pro subscription.
4. White Beige Minimalist Fashion Weekly Newsletter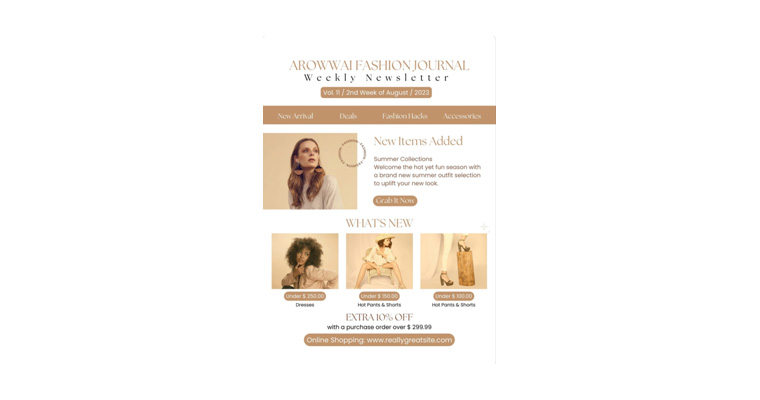 Newsletters don't have to be strictly about written content; they can be a great source to showcase your latest products with particular attention to using quality images, of course. You can keep this simple; there is no need to bombard your customers with all the information at once. Aim for a few, but include all the necessary information, with call-to-action buttons and hyperlinks wherever possible, as more is always better. However, just like in this White Beige Minimalist Fashion Weekly Newsletter, make sure to include a CTA at the bottom of the newsletter. Available for free; however, this template contains paid elements.
5. White Colorful Fashion Summer Collection Newsletter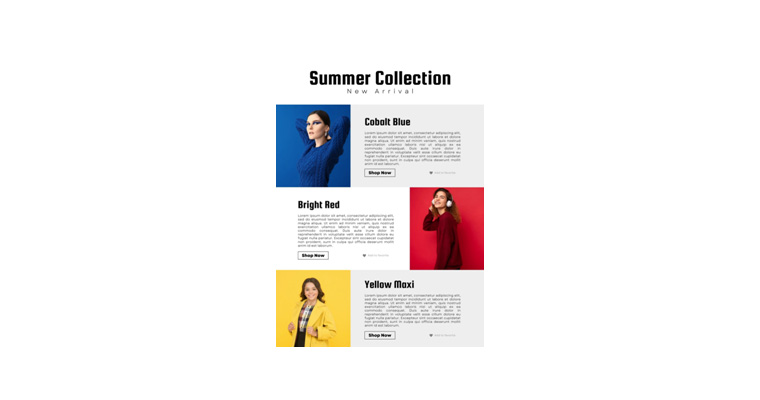 We can't say this enough, but the White Colorful Fashion Summer Collection Newsletter template is another great example of how sticking to a simple layout with three to four main colors can do wonders. By using this template, you clearly distinguish each element, let that be about products, thought leadership content or featuring company news, and make that piece of information visible by implementing a colored box that also compliments your font type. You cannot go wrong with featuring your content simply yet creatively, with optional CTAs in each section. A single-page newsletter also helps you focus on the main message you'd like to deliver in a way your readers can enjoy. Available for free; however, this template contains paid elements.
Conclusion
Hopefully, the ideas in this article help you realize that you don't have to become a photoshop wizard to create stunning designs. And it also doesn't have to take long. We know that building an empire takes time, and if you are a small business owner, you certainly have to make good use of your schedule. Don't feel guilty if design or creativity isn't your strength either, as there are many tools and platforms on the market, just like Canva, that take care of your content needs in no time. Good luck embarking on your journey to becoming a digital connoisseur!