Digital commerce is a broad field that includes any type of sales on the Internet. For this purpose, there are special platforms, applications, pages in social networks, or online store sites that are familiar to everyone. The last option is very popular among sellers who aim to get new customers efficiently and quickly.
However, creating a website may not seem like the easiest way to represent your store online, as it requires coding skills and a lot of effort. To make this option more accessible to the average seller, many companies create software quickly and inexpensively.
A good example is Shopify, which helps in developing a online Shopify store. You only need to choose the desired template, personalize it as you wish, add content, and start selling. In addition to the basic points, there are also some that few people mention when working on this platform. We suggest starting this article with tips for optimizing your Shopify website.
Tips for working on the Shopify platform
1. Read the blog on the Shopify platform. In this section, they have collected a lot of useful information, both about creating and managing an online store website. This knowledge will help you successfully start and run an online business without the need to turn to experts. The blog has articles about automation, effective marketing, the right visualization, and much more.
2. Check out the reviews. A good source of information is the reviews of experienced users. To avoid many mistakes in the first attempts to create a site, we recommend learning about the experience of others on different platforms. Explore the Shopify Galleria theme, a theme with high positive rating, in this ultimate review.
3. Get acquainted with all products. In addition to the site builder, Shopify has many other products that can be useful for your business. Choose from a variety of customization options, theme packs, and tools.
4. Take the visual component seriously. A successful site combines excellent functionality and convenient design. These two components must go hand in hand to get good audience engagement rates. Remember the principles of user experience and try to provide them both practically and visually. For example, choose clear and intuitive icons, do not be afraid to add space to the page, and limit the number of photos only to the necessary ones.
5. Use other resources. The previous point is difficult to combine with the simplicity of creating a site in Shopify. All this is because the platform offers different themes for your store, which you can personalize according to your wishes. Accordingly, the final result depends on the assortment of templates and your skills. The need for editing can be minimized if you use ready-made solutions from other platforms, for example from MasterBundles. This marketplace has been tested by many online store owners, and they achieved the final result quickly and efficiently. The platform has many premium Shopify themes that you can easily edit to match your brand. In order not to get lost in all the options, we offer several products that are worth your attention.
Also read: Shopify Pros and Cons, Pricing, Payments and New Features
5 Shopify Themes You Should Pay Attention To
JazzBeat – Music Shopify Theme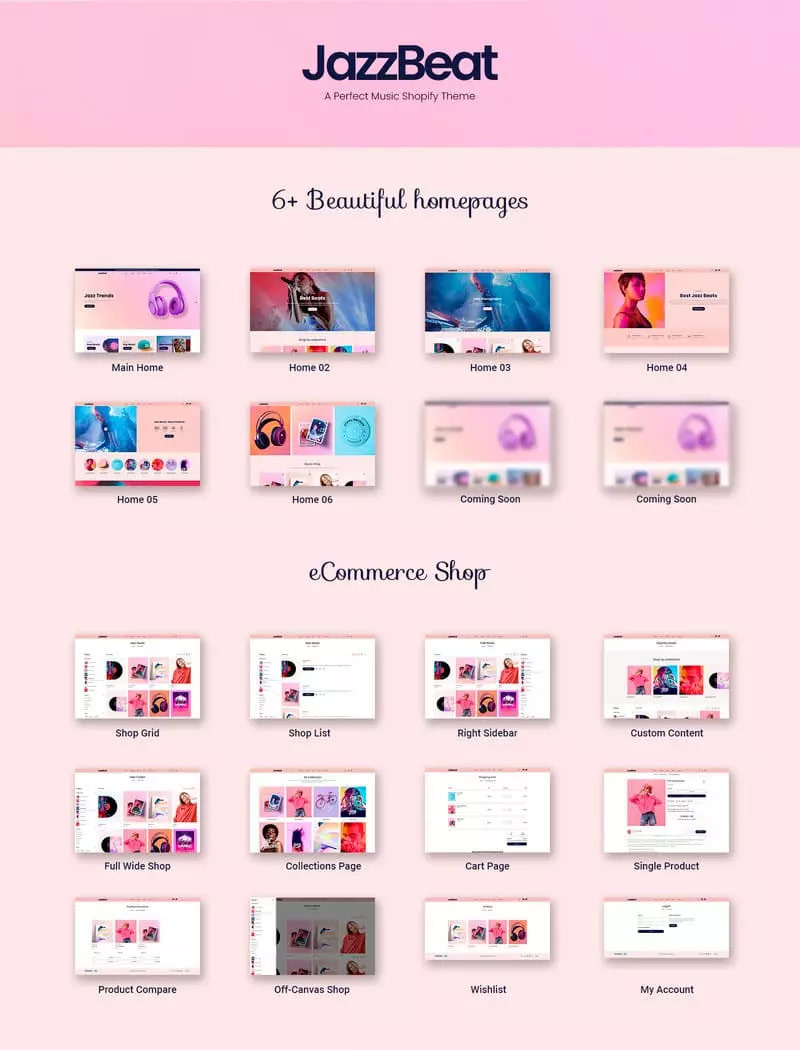 This template can interest you with an unusual homepage that is easy to fill with images of your products, promotional items, and other important information. Photo placement and color themes are easy to change if desired. All template pages adapt to different screen formats and are search engine optimized.
Bright Boho Shopify Theme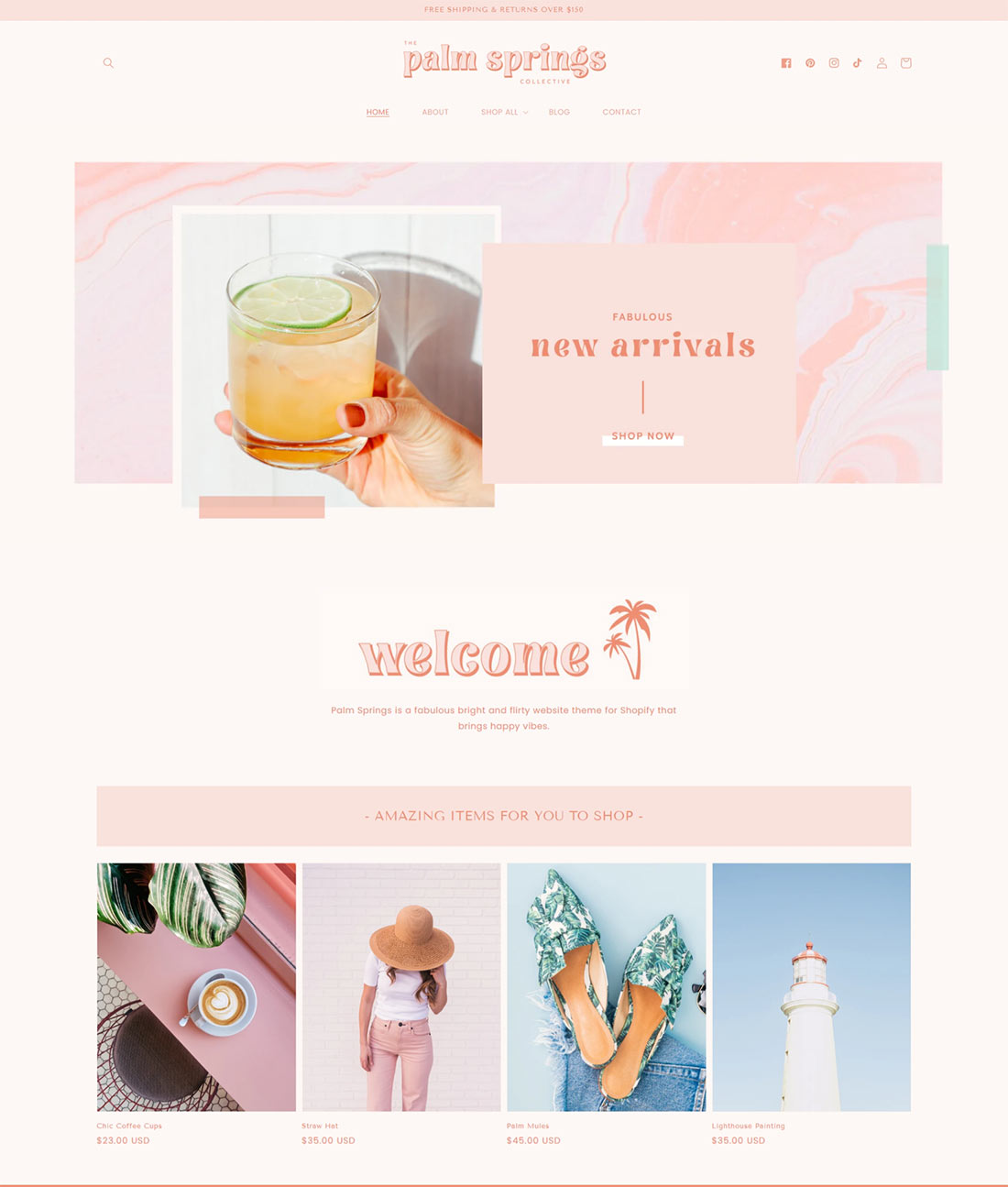 A feature of this theme is a large number of pages for your online store and interesting design solutions. The template stands out from the rest due to its soft colors and minimalist graphic elements. This product has all the necessary components of an effective website, such as FAQs, contacts, and Blog pages. Also, using already included elements, you can easily create additional pages.
Fashion FWNY – Shopify Theme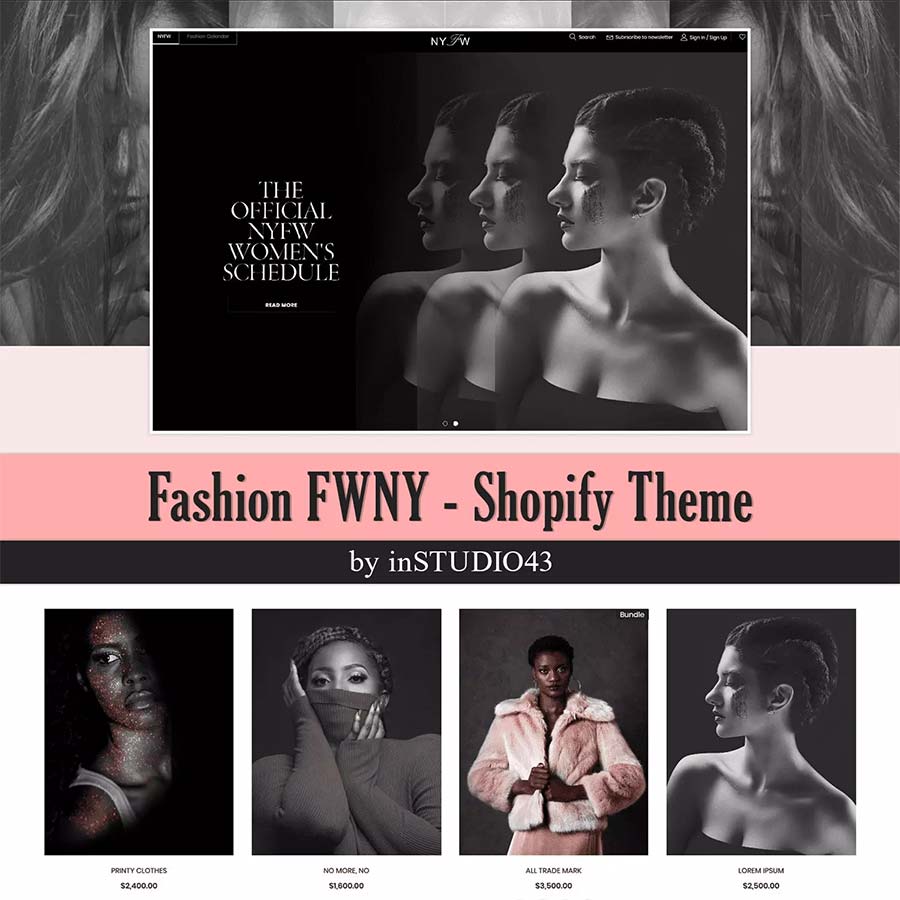 This is a very large template with many options among different parts of the site and a wide range of editing options. The product page has 5 design options, with as many as 6 categories, and you can create the main page in 7 different options. As a result, the final product will be as personalized as possible and meet the requirements of your brand.
Promo – Fashion HTML Template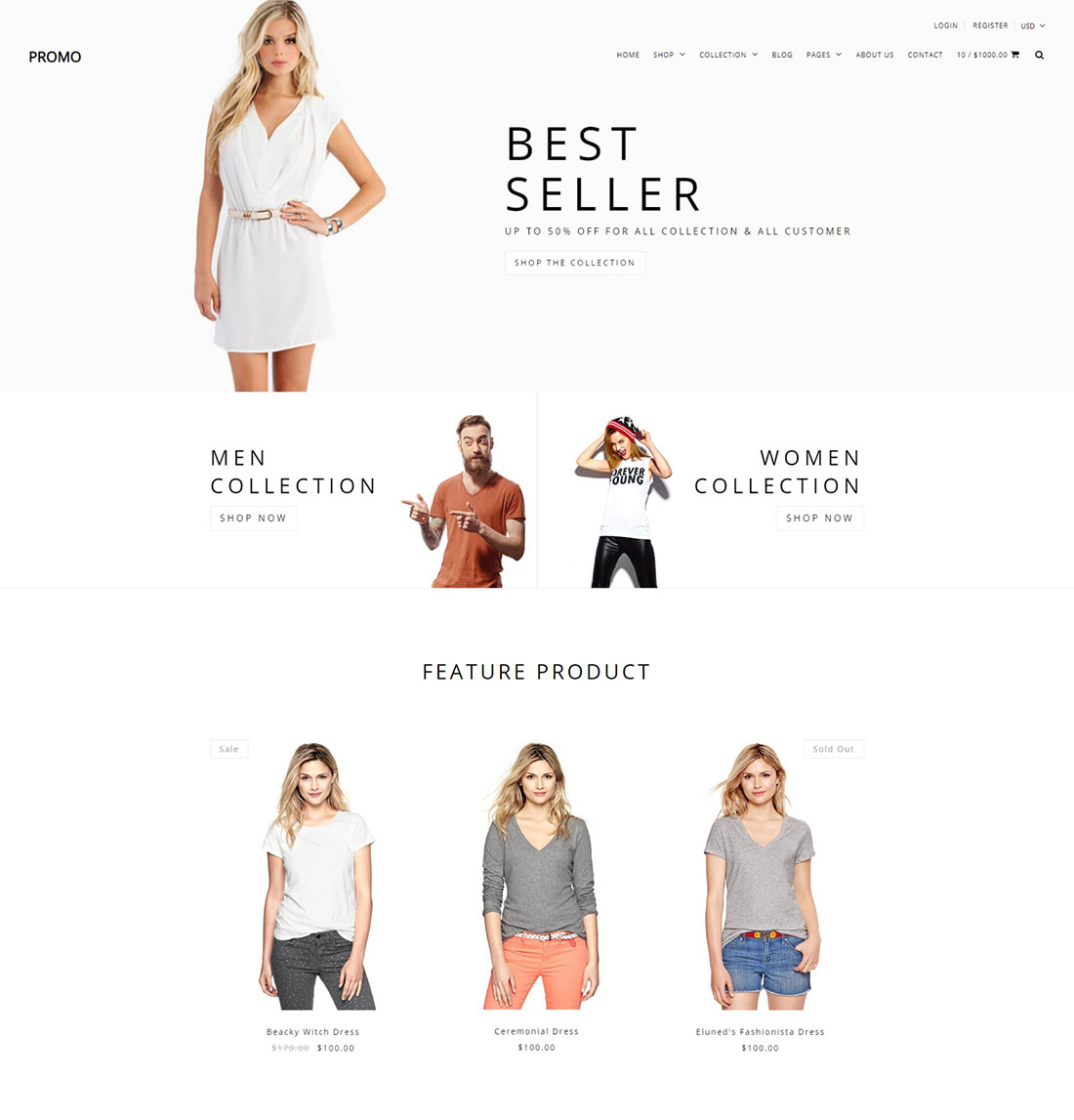 If you need a simple design and clear functionality – choose this theme. The template has many additional elements, such as a map design, two variants of the main page, and a quick view of products. Your future site will be adapted to all popular browsers and most screen formats.
KarDone – Multipurpose Designs Shopify Themes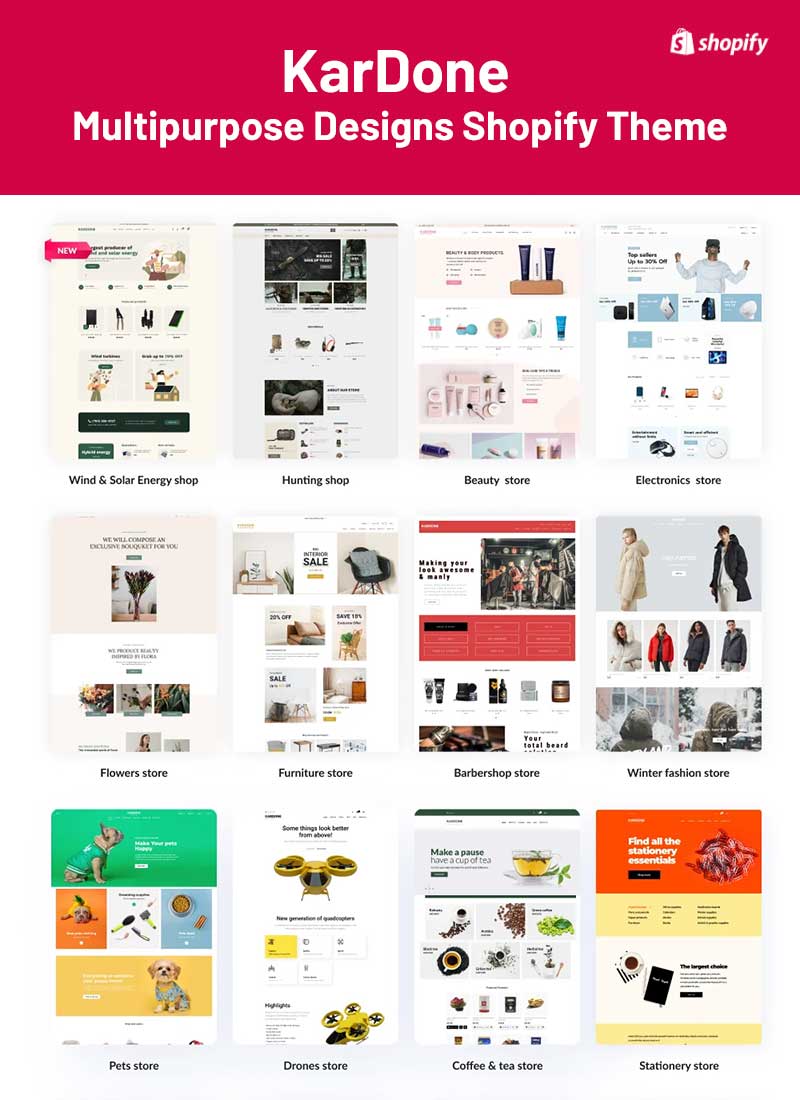 This is a versatile and very practical theme that we recommend to those sellers who need a minimalistic design and an emphasis on the product. The template has a well-designed page with the main menu, where you can choose a currency, and language, and get acquainted with current discounts and bestsellers. The product has four variants of color schemes and the most user-friendly design.
StoreGo – Multipurpose Premium Electronic Shopify 2.0 Theme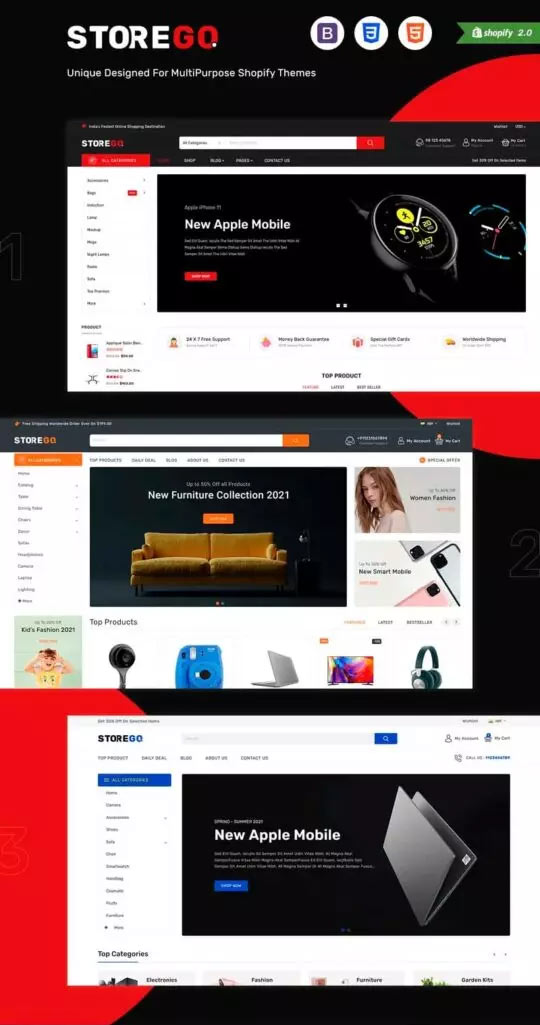 For electronics store owners, this template will satisfy all needs. The site has a convenient search system with many necessary functions, various options for displaying products, a dynamic template, and a place for customer reviews. Such functionality will provide an excellent user experience and show good engagement rates.
Summarizing
Templates are a convenient and effective solution when it comes to creating a shop on the Shopify platform. This method saves a lot of time for the seller, as it requires a minimum of intervention while maintaining the effective use of the site by customers. Do not forget to personalize even the most beautiful template to get an even higher audience reach.