Starting a clothing line is an exciting opportunity to create fashion products that represent your unique vision and share them with the world. However, launching a successful online store requires thoughtfulness and planning.
In this article, we'll provide essential tips on how to get your clothing line off the ground, from coming up with captivating designs all the way through marketing strategies that help you reach your target audience. With our advice in hand, you can have a thriving online store in no time.
Brainstorm Ideas and Identify Your Niche
If you've ever wondered how to start an apparel business online, a single thought might have passed your mind: this has to be hard and complicated. The truth is, with good organization and in-depth knowledge, running a successful online store is just within reach.
The first thing you have to do as a fashion designer is brainstorm ideas and identify your niche before delving into the intricate world of fashion design. It all starts with deciding on the type of clothes you want to design, the target market, and brand elements. This may sound like a daunting task, but taking the time to think through these aspects of your brand will ultimately guide you toward success.
Your designs should reflect your personality and niche while catering to your target audience. Understanding the unique characteristics and preferences of your target market will enable you to focus on creating designs that will appeal to them.
Your brand elements should embody your vision and set you apart from your competitors. Establishing a strong brand identity will make you recognizable and appealing to your customers. Remember, passion and authenticity are keys to designing clothes that will take the fashion industry by storm.
Find a Manufacturer
Unless you intend to procure, cut, and sew your materials all by yourself, you will require the services of a reliable manufacturing partner. A trustworthy manufacturer provides not only high-quality products but also an efficient production process. They can take care of quality control and provide timely delivery of your products.
It can be a challenge to find the right manufacturer, but with the right resources at your disposal, it is possible. Whether it be through referrals or online searches, finding a reliable manufacturer can make all the difference in the growth and success of your online business.
Create a Website
In the current digital age, having a stunning website is crucial for any business, especially one that wants to showcase a clothing line. A well-thought-out website with an aesthetically pleasing design and easy navigation will increase customer engagement and retention. Visitors should be able to land on your website and smoothly navigate their way around to find what they are looking for without any hassle.
With a focus on user experience, your website should be designed with the customer in mind, allowing them to effortlessly browse and buy the products they desire. The right website design is critical to the success of your clothing line.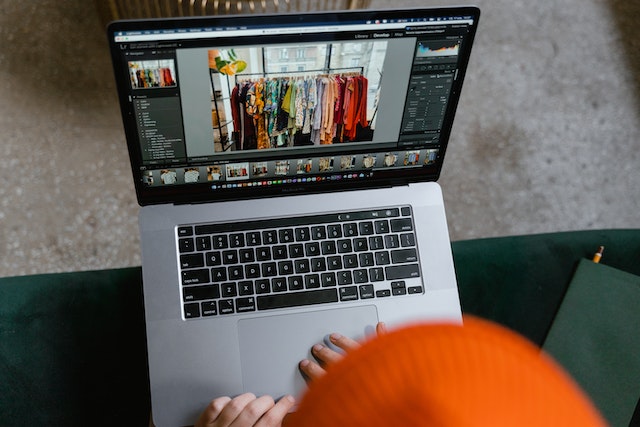 Advertise Your Brand
Using social media and online tools is now a convenient way to promote your clothing line, allowing your brand to gain popularity and reach more people. It's worth noting that 212.40 million small businesses globally are currently taking advantage of social media platforms to expand their reach and reach new customers.
However, simply posting pictures of your clothes won't cut it. To make your brand stand out, you need to craft an online presence that reflects your unique style and brand message. Engage with your followers by posting behind-the-scenes content, sharing customer testimonials, and offering exclusive discounts or promotions. By utilizing social media and other online tools, you can turn your clothing line into a recognizable brand that people are excited to wear and share with others.
Develop an Effective Pricing Strategy
To strike a balance between cost reduction and making a profit, you should take several factors into account. First, analyze your target audience's purchasing behavior and preferences in order to establish appropriate pricing. Second, calculate your profit margin by identifying your production and operational expenses, such as shipping fees, taxes, and marketing costs. Lastly, keep an eye on your rivals' pricing strategies to remain competitive and profitable.
Developing an effective pricing strategy that aligns with your business goals can help you attract and retain customers, grow your sales, and ensure your online clothing store's success.
Bottom Line
Establishing an online clothing business is a challenging task that requires determination, dedication, and effective management expertise. With strong foundational elements, you can achieve great success in this endeavor. Although it may require significant effort in the beginning, the ultimate rewards of having your very own online clothing store will make it all worthwhile.