Shopping carts play a crucial role in every type of business. In fact, many store owners do not realize that the failure to utilize the shopping cart properly can mean all your efforts have gone down the drain. These efforts include SEO, optimization, and analytics. There is more than one type of online cart and you should know about what each of them does. This will help you make the most of each type of shopping cart and use them to convert your visitors into customers and buyers.
There are three types of online carts that are available; open source carts, readymade carts, and custom-made carts. Let us explore what exactly they are and which type your business can do well with.
An open source cart is similar to an already built cart but you can easily make changes to it as you have the source code accessible to you. You can then add your code on top of the code that is already there in the cart or change it when you want.
Benefits Of Using Open Source Shopping Carts:
You have the source code and this enables you to add features and customize to your liking. You have complete power in your hands when you use these types of carts.
These are cheaper because they are free in the first place and then you are the one who is responsible for making the changes that you deem fit to the code.
You have the option of doing everything yourself which can save you a lot of investment in another e-commerce solution. You can then invest elsewhere in your business.
You can hire a developer to customize the shopping cart to suit how your business functions. This can enable you to concentrate on other things of your business.
Maintaining an open source shopping cart is much easier and cheaper. You can hire someone to maintain it or you can do it yourself.
2. Readymade Shopping Cart
This type of online cart is already built for you. In order to use it with your existing online store, you can pay a subscription fee for which you can use the software. These are either monthly payments or yearly payments. Shopify is a phenomenal shopping cart provider that enables you to add an optimized shopping cart to your online store. There are only a few simple settings that you need to take care of after which you are good to go.
Pros Of Using Readymade Shopping Carts:
You can start using them as soon as you get them. This saves time and effort and you can start selling instantly.
There is no need to hire a person for the shopping cart development. This can save on developer costs and you can use this for other purposes.
If you think that a readymade shopping cart is not working for you, canceling is simpler and you can then choose another one.
They are easy to use as they are already made completely. You don't need to think about maintaining them either which is a huge plus.
It is easier to add more features and functions to the shopping cart. For example, Shopify provides lots of integrations.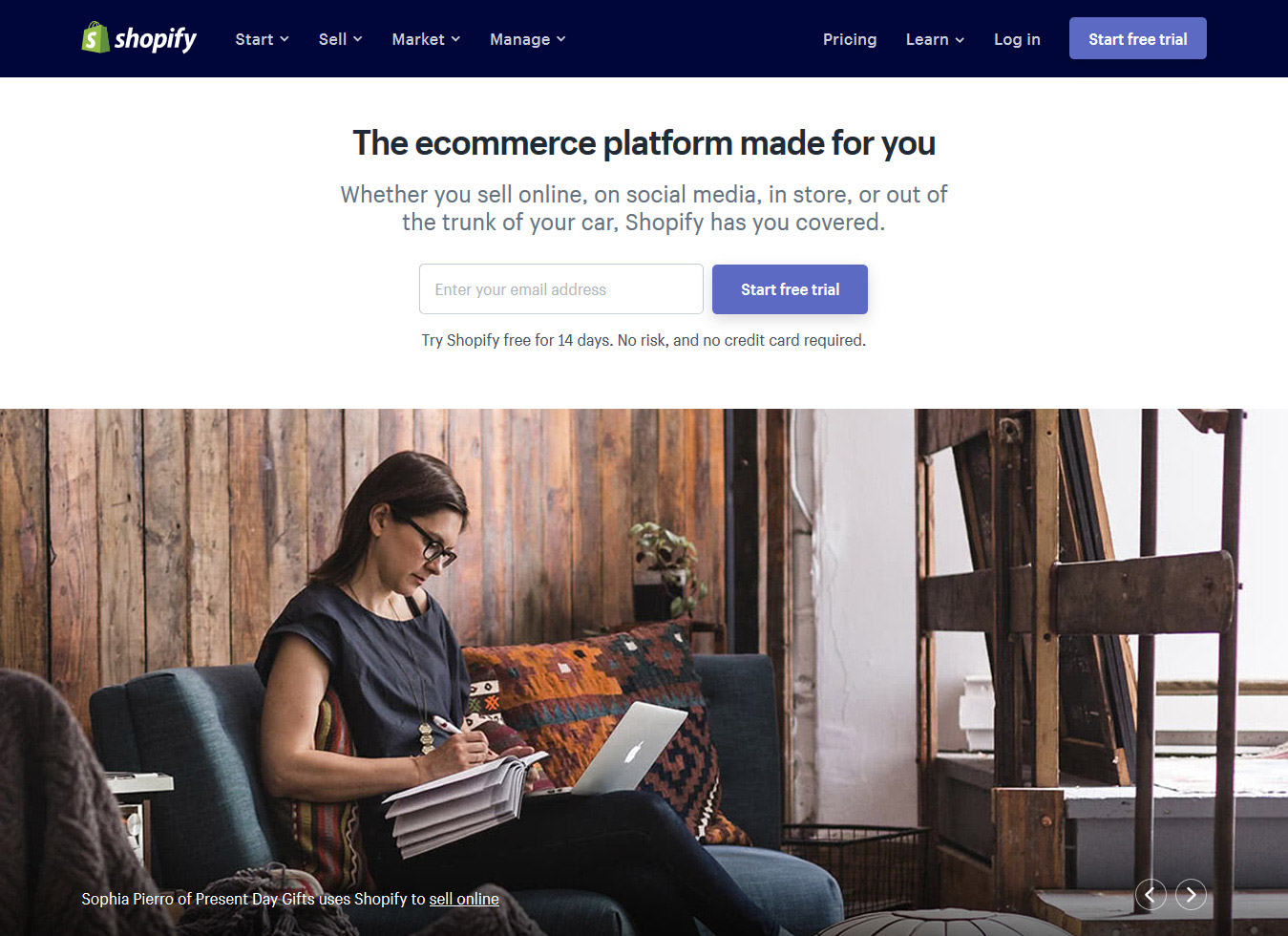 Shopify enables you to get the best readymade shopping cart functionality.
3. Custom Made Online Cart
The custom-made shopping carts are the ones that are created according to your requirements and so they are suited for your business particularly. This shopping cart software will be made as per your requirements and it is made specifically for your business.
Advantages Of Custom Made Shopping Carts:
You can easily integrate with your existing systems such as email marketing, CRM, payment gateways, and so on.
You can get the type of functions that you want. You will have the freedom to choose the features that you want your shopping cart to have.
They will better meet the specific needs of your business as they provide reports that are customized in the format that you want.
You don't need to think about when the updates are going to be there because the software will be fixed immediately if any problems arise.
You will have the data and it is likely to be more secure since you will be in charge of how it is stored.
You own everything of the shopping cart and this can be advantageous. You can use it forever and change it according to your business.
Regardless of which online cart you choose, remember to choose carefully. You should think about the short term and long term when you make your decision. Take your time to explore the online carts available and the type of cart that is best suitable for your specific store.