Content writing is one of the most powerful known weapon till date and highest demands of the digital market and commercial needs.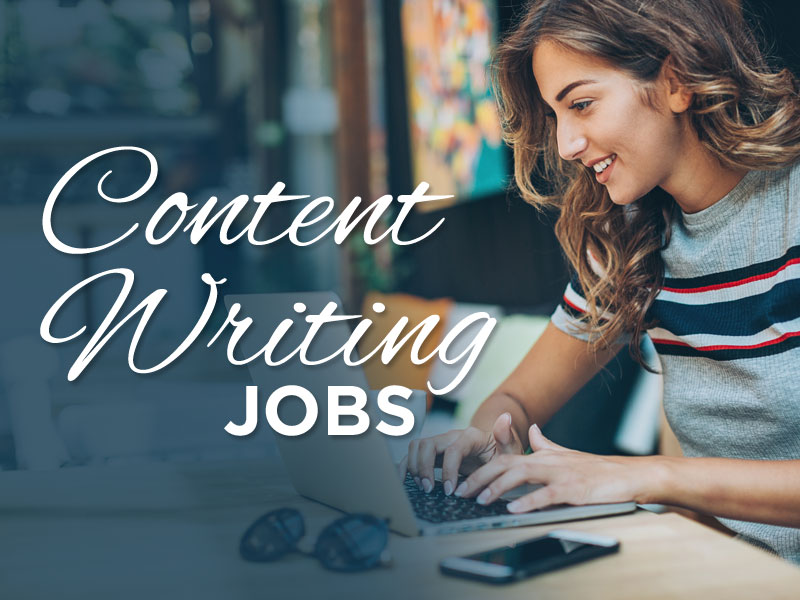 Are you still searching for best resources for freelance writing jobs online to be paid or make extra earnings with your creative writing skills? If yes, then you are on the just right spot. Now, talking about content writing creative yet professional field to keep learning things every single day to become a better writer.
How many jobs you can get just by writing?
This is quite good and common question asked by freelancers that exactly how many jobs you can get just by writing. You need to check this brief study by Aman Khare, I hope you'll get the perfect answer.
Writing is an exploration.
You start from nothing and learn as you go.
— E. L. Doctorow
Above mentioned quote beautifully state that be on the path of writing or being a passionate content writer, one should gain information regarding everything in every field. The content writing helps you to explore and get updated about the world in a better way. Keep professionally writing also improves the language fluency and your writing skills.
Here are the ways to find Freelance Writing Jobs Online
Job Boards – To Get Hired
Would you like to get hired by a reputed company in your city with monthly salary. Here are the top job board sites listed below. I already said above that there is a high demand of content writers and thousands of companies and agencies post a job in the search of talented copywriter.
There is no need to get registered with, just subscribe them and you will get new job in your city notification through email or sms. But many sites ask you fill complete bio on their sites.
Google Jobs – Google is collect the information or job postings from different popular job listing sites, local jobs listing sites and career consultancies and display in place. Check out link and you'll get the idea.
Linkedin Jobs – A great platform for professionals and find some serious job postings. Except of job posting, writers can find more jobs in posts and groups.
Indeed Jobs – Indeed is world's best platform to get hired a candidate for employers. Thousands of online content writer jobs available on Indeed.com. Apply to Content Writer, Freelance Writer, Online Content Creator and more.
Jora Jobs – Jora is another great platform for searching jobs serving 35+ countries. Jora is partnering with job boards around the world to deliver more opportunities for job seekers and making search jobs easier.
Job Boards – To Freelancing
On the web a lot of online content marketplace available and most of the marketplace are very popular. The benefit of joining these platform gives you a bright career, long-term clients, skills improvement opportunities and make money online.
One another benefits of freelancing sites is that you will also get different kind of jobs except content writing i.e. data entry jobs, web content writing jobs etc. and these sites allow you to do online content writing jobs with daily or weekly payout.
These job board sites charge some small amount of fee as a commission from freelancers and provide part time online content writing jobs from home. So check out the list of sites given below and start creating your profile. If you are registering on any freelancing site as a beginner then you just need to keep in mind these simple tips.
Create a profile like a professional with decent working rate, profile picture, bio and Portfolio.
Focus on quality and give your best to get healthy feedback with 5 star rating on every completion of job.
Stay tuned to reply every message received in Inbox from freelancing sites.
So, we believe every writer should be able to get paid for articles instantly, and today in this post we will show you a list of best sites for online writing jobs that will pay you fixed or reliable rates for every your article. Whether you are a newbie or pro writer, just give these sources a try. Each of these websites pays writers for online writing.
Now, it's your time to dive into the listing.
Here are the Genuine Resources for Online Writing Jobs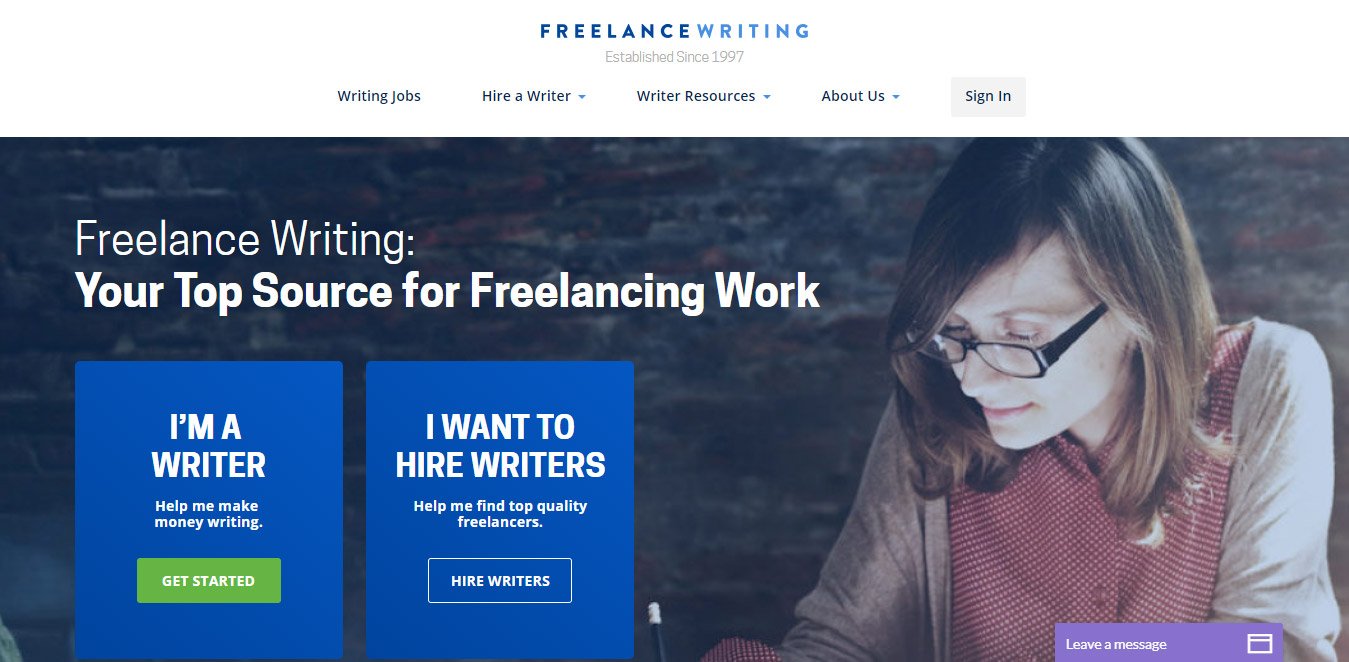 If you're a freelance writer looking for work, definitely give a try to worse than freelance writing for online writing jobs. This is such a great help for freelance writers. So many resources to look into and opportunities that will make you grow as a writer. It delivered daily and real-time freelance writing jobs online for freelance beginners and experts.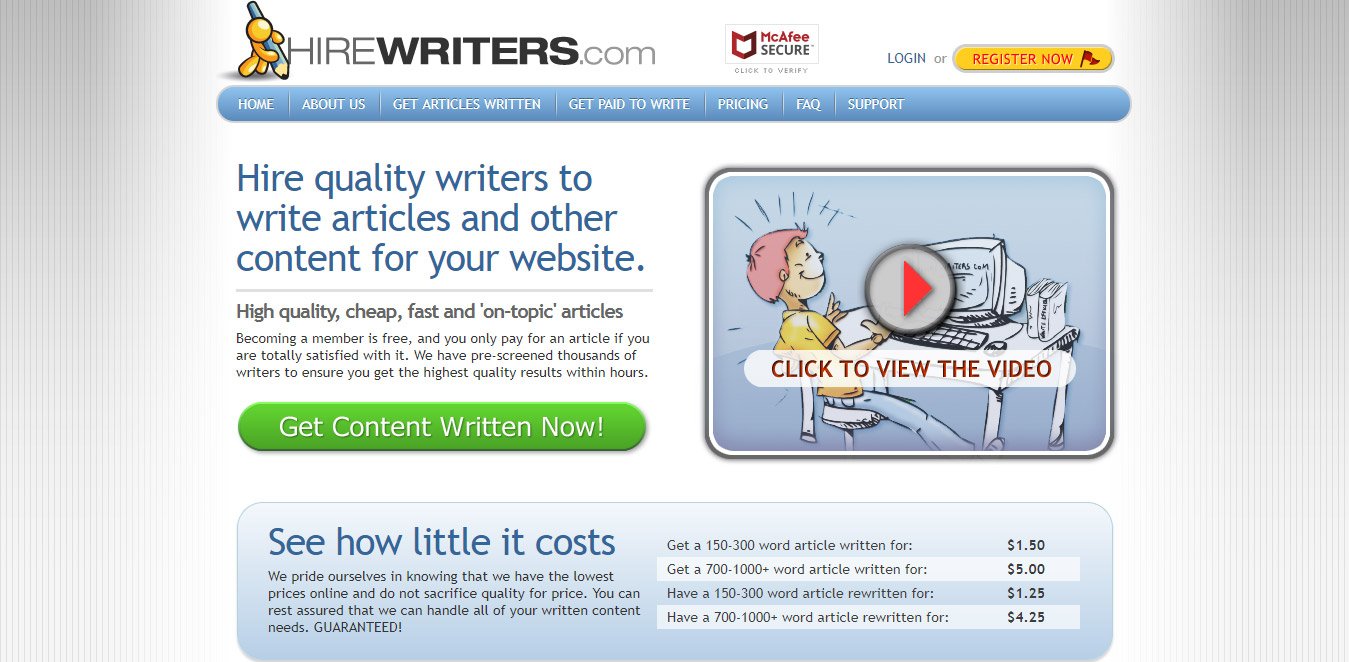 HireWriters.com is an online platform for finding and getting online writing jobs. If English is your first language, you can join HireWriters.com for free and have access to hundreds of paid writing jobs. You can make up to $20 per article.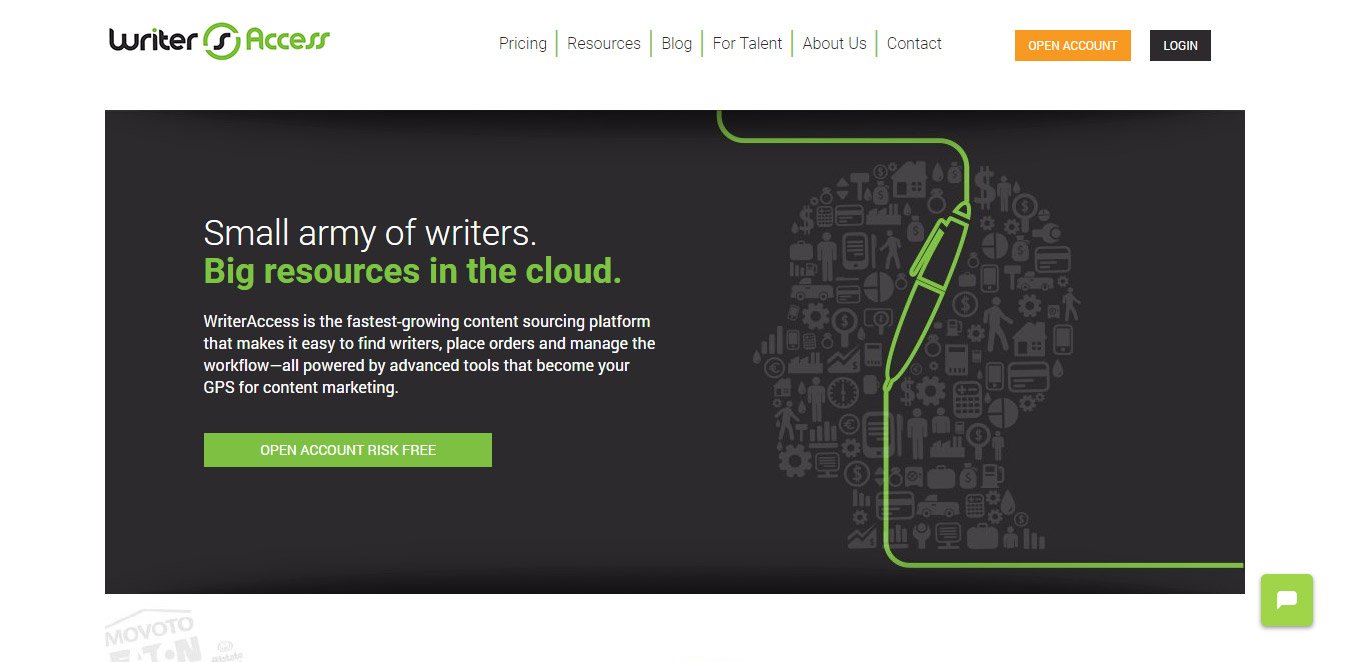 Writer Access is a freelance platform for applying online writing jobs where businesses can find independent writers to work with. Here in they can request certain types of content and be assured that they will receive a product tailored to their creative brief. Writers only get paid if they have at least $10 in their accounts.
BlogMutt – Blog & Content Writing Services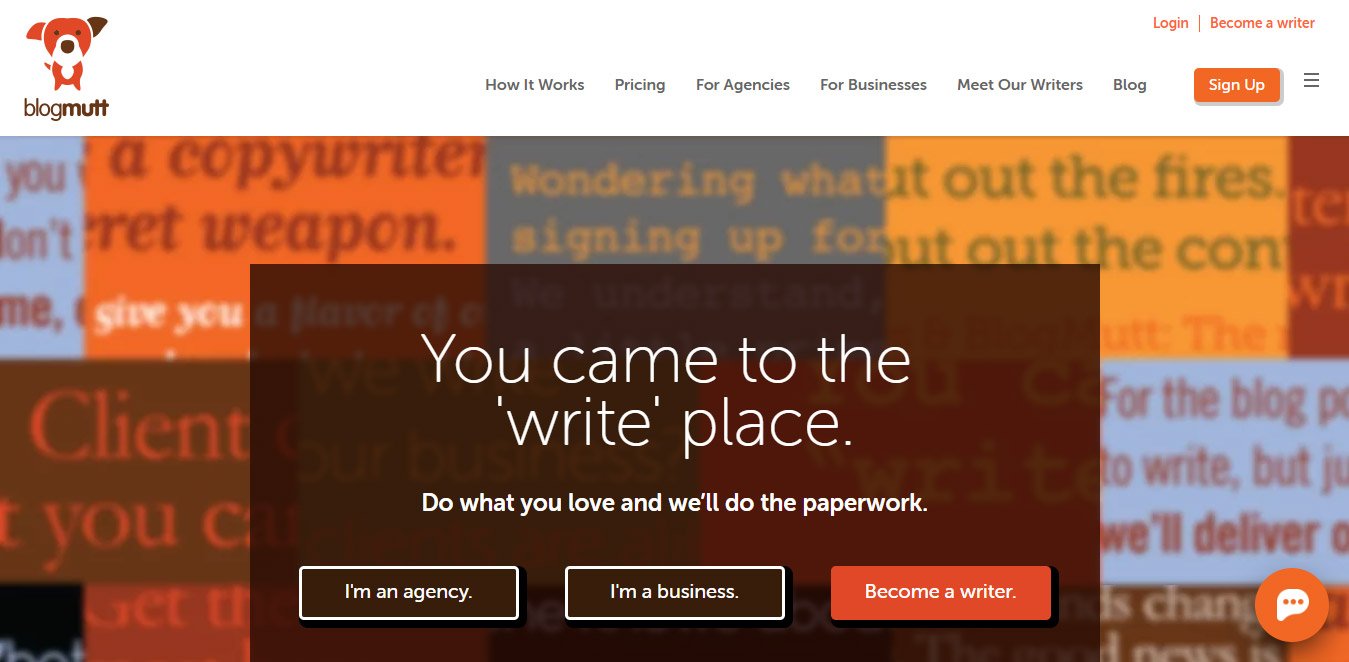 BlogMutt is a content and blog writing service providing online writing jobs to the talented folks, they are basically the middleman between business, agencies and/or website owners needing content for their sites and the people that generate the ever important well-written content, the writers. It also take you through application process and on approval you can earn $8.00 to $72 from this website.
ProBlogger – Blog Tips to Help You Make Money Blogging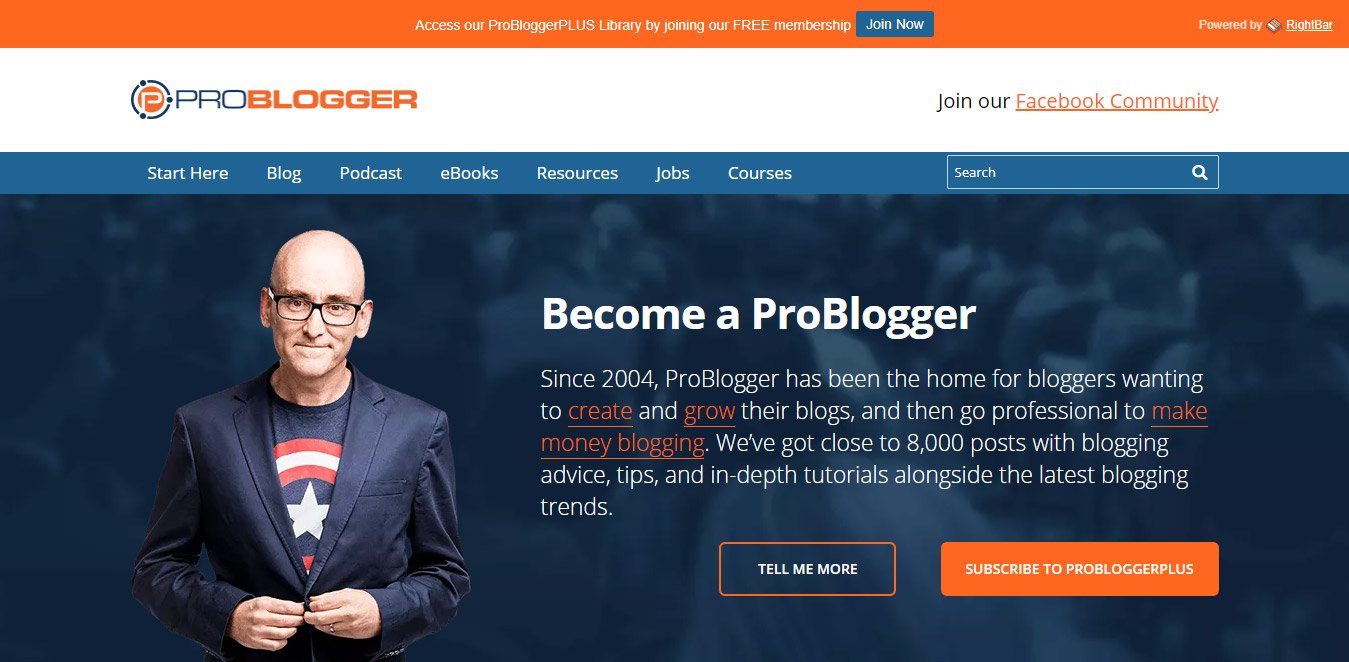 ProBlogger is simple online writing jobs portal where people who need copywriting work doing can post their requirements. This website provided blogger and PreBloggers with information on profitable blogging since 2004. This platform is location based job site so you have to watch out job as per your location.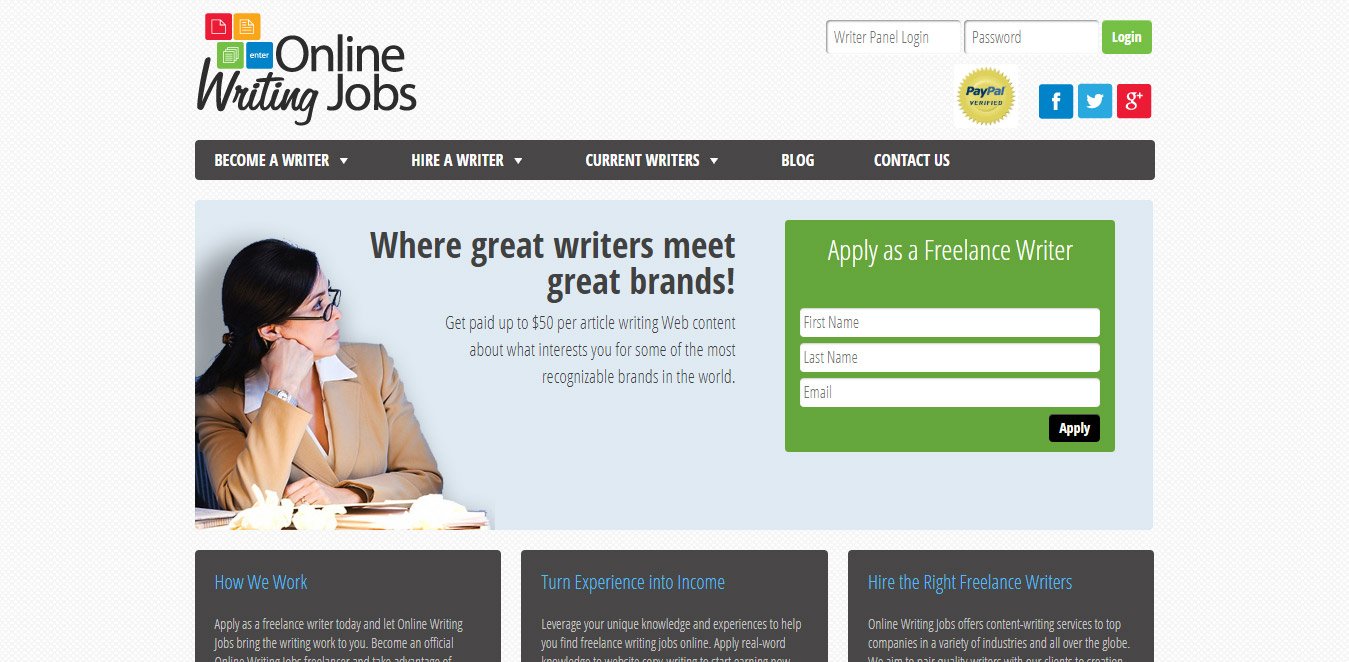 OnlineWritingJobs.com is a freelance online writing jobs website that accepts both newbie or experienced as freelance writers. For writers, they take you an application process and if you selected they provide you writing jobs right from your home. Pay is based on type, length, and your writing level most of the lower end articles pay around $15, with some articles paying $50.
iWriter – Content & Article Writing Services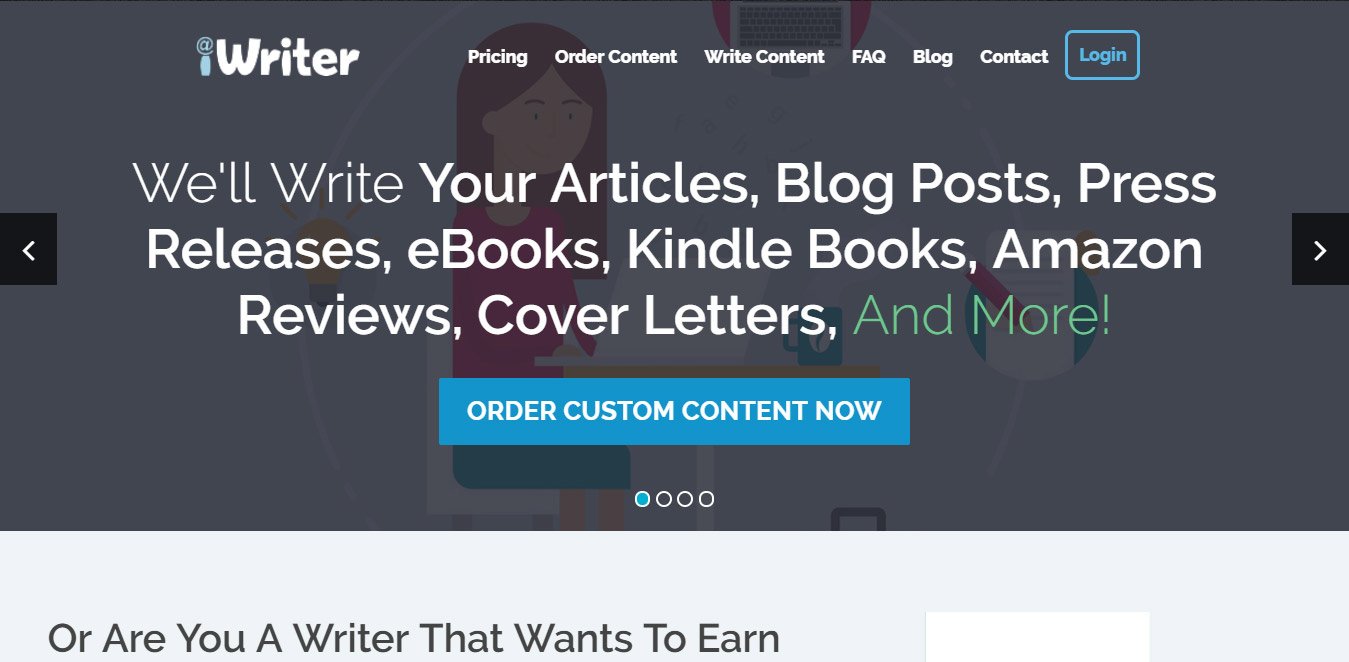 Providing online writing jobs to the talented people, iWriter.com is a platform to purchase articles other people have written and write articles for other people to buy. It is a website where you can earn money by writing the different kinds of articles if you are very good at writing skills and payout depend on clients.
WriterBay – Best Freelance Writing Jobs Online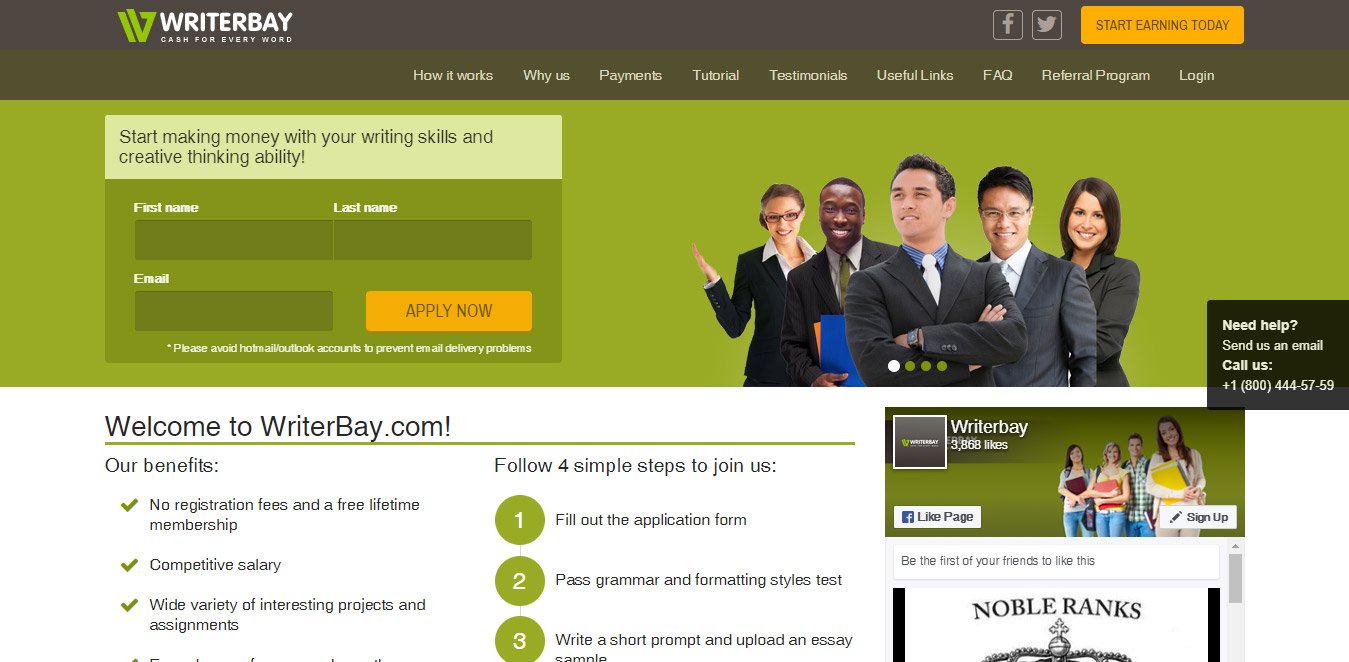 WriterBay.com has freelance writing opportunities for writers and earn with online writing jobs from all over the globe. After passing the test, freelance writers can start writing for them on a wide-variety of topics. Besides writing, Writers can earn extra money by referring writers to the company. If a referral gets approved, the writer could earn "additional 3% from every order completed by the" referral.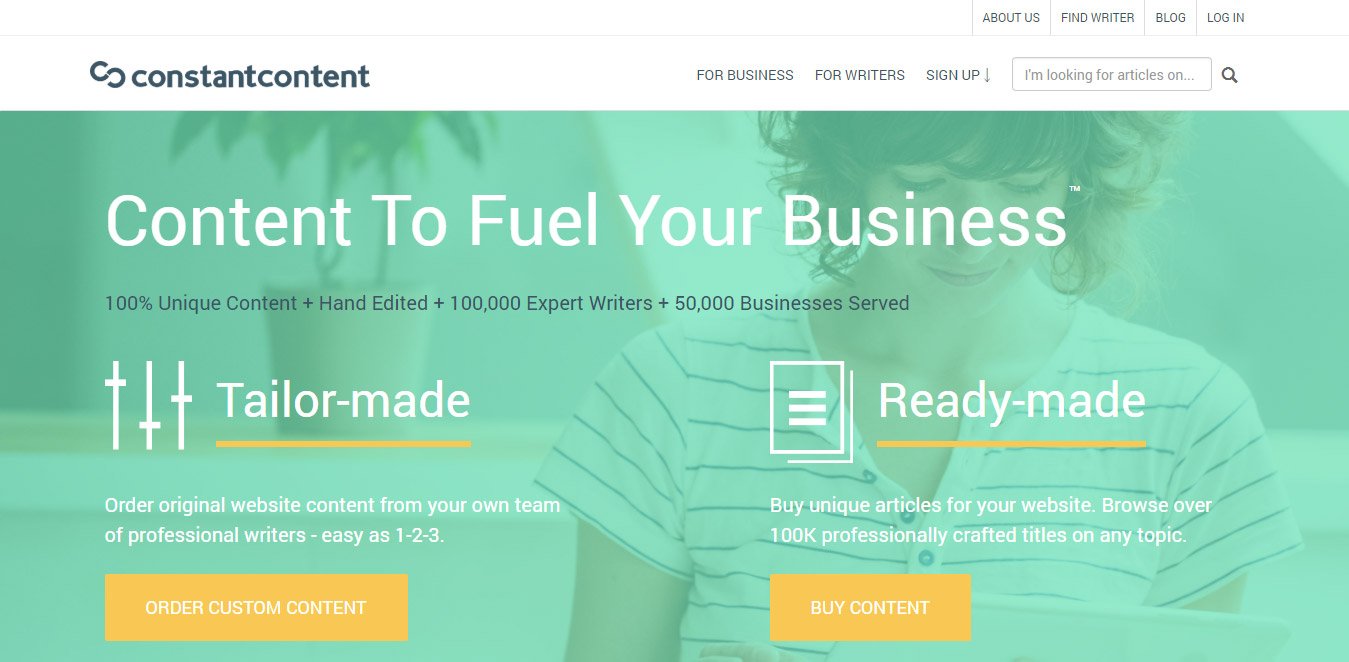 Constant Content is a very popular article selling & buying platform providing online writing jobs. Here professional writers can make money by selling articles and others can buy the fresh content. Also, with their referral program, if someone signs up using your referral link, you'll get a 5 percent commission of their sales.
Contena – Find the best Writing Gigs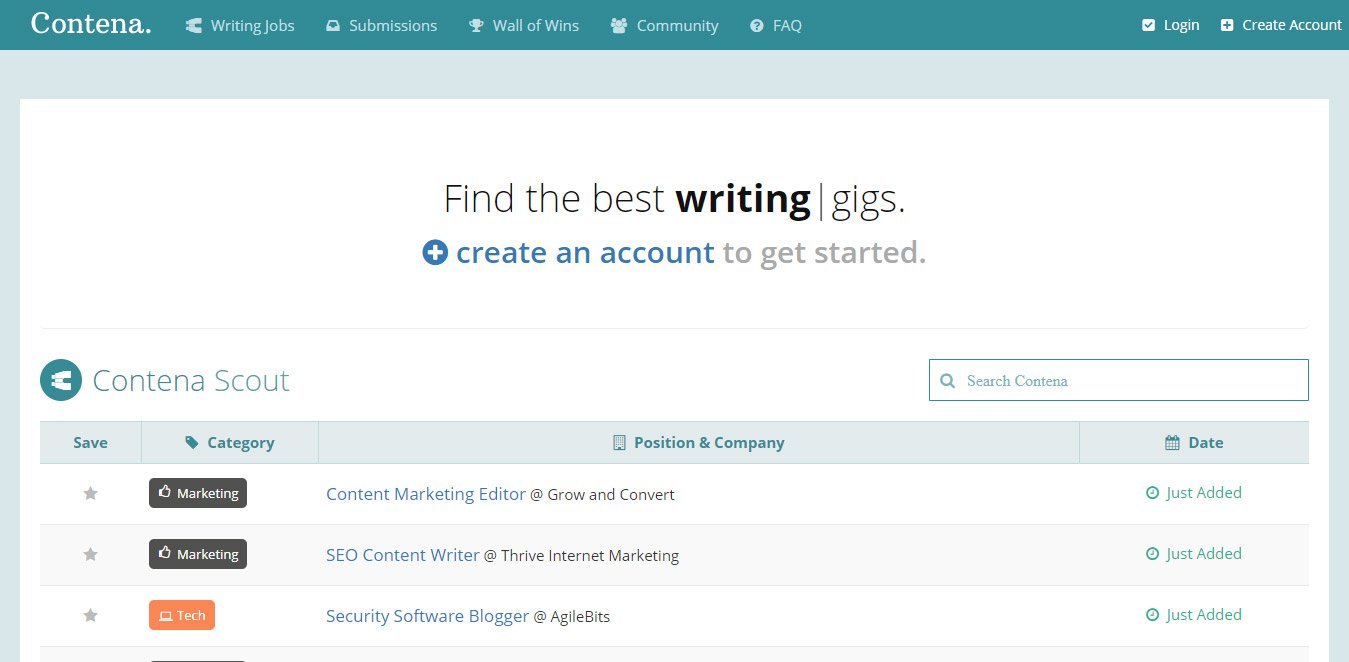 Contena is an online freelance training academy along with a job search board for online writing jobs that allows writers to connect with the highest paid employers on the internet.
Final words
Creating content online not only improve your mental state but also finical, also having freedom to work from anytime and anywhere. With the right knowledge and tools, you can earn with it without any boundaries. And the only things we need are creativity with ideas and good command on words as well as on language and with that anyone can start earn with online writing jobs. You have to write editorials, advertising and trade publications, newspapers and, increasingly, in online forums such as blogs and online magazines.
Content writing can be a very popular and profitable way to make money online. No doubt, as a web writer, you already known of freelancing websites to get online writing jobs and may have generate revenue from your articles. However, because of every time unique efforts of writers it's seemed hard for a writer to get paid really well for work and take most benefit from these websites.