Choosing a tech partner that will be a perfect fit for your web project is a thorny path with many pitfalls and steps to follow. With the large number of companies in the market offering a wide range of services, the selection process becomes a crossroad where a wrong decision can be very costly and affect various teams' workflow. Therefore, it is crucial to create a defined process helping to choose the right web development company. With it, you can be confident in the quality of development services you receive by the end. Among other benefits of in-depth selecting are:
Cost reduction: when choosing the right web development company, cost should not be the determinant factor. Although, by making a comparison of different vendors and their expertise, you can avoid financial risks regarding quality and missed deadlines. Moreover, as a result of successful cooperation, vendors may offer lower rates and discounts.
Trustworthy relationships: communication and collaboration with vendors based on respect, loyalty, and proper management are more likely to strengthen your company's reputation and provide both parties with beneficial working relationships in the future.
Improved service: conducting an accurate vetting of web development companies will help you choose the one that will match your requirements the best and provide you with high-quality solutions made specifically for your business challenge. Serving customers much faster with an improved user experience on the website will increase customer loyalty and purchases.
To make your journey more lightweight, we explore the process of how to choose the right web development company, with the following steps: preparation you need to make before the start, search for the most suitable web development companies regarding services and expertise, and evaluation of your future partner.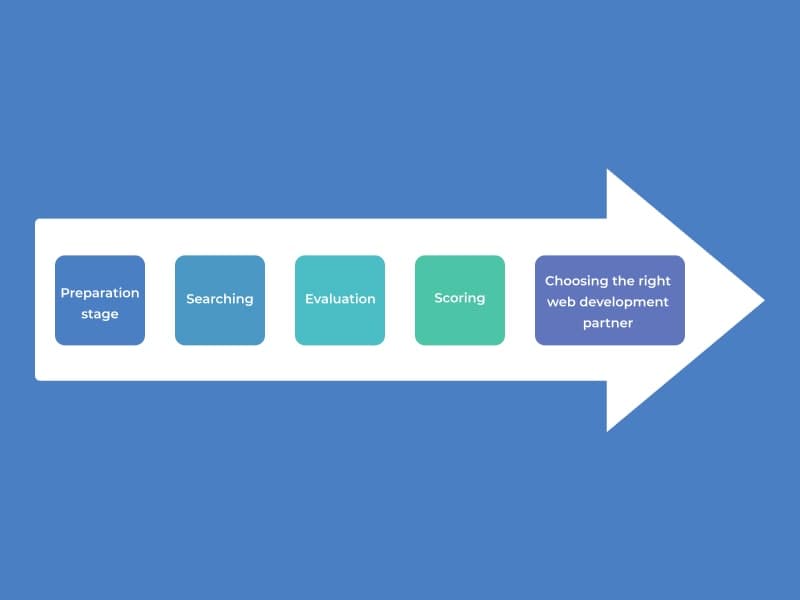 Preparation stage
The first step in selecting the web development partner should not be research for a company but a collection of information about the future project and the definition of goals you want to achieve. The more information you will provide, the easier and more accurate the result will be. Moreover, it will save your time for making changes and improvements. That's why it is preferable to start looking for a vendor after the information is collected. You can start with market research, estimation of your budget, the definition of project scope and its goals, as well as technical details.
Market research
Before implementing new technologies and building an out-of-the-box website, have a look at the market. Answer what your customers look like, how they behave on the Internet, and their habits, and find out their solvency and preferences regarding monetization or subscription options. Online tools such as Conjointly's Conjoint Analysis Tool can help considerably with your market research. Knowing your potential customers is key to building a website they will visit and interact with.
Project scope evaluation
You need to form a detailed list of all aspects of the project, including specific website characteristics, deliverables, timelines, etc. It helps to understand the precise direction of project development and defines requirements for the website necessary to achieve business goals set by stakeholders.
Definition of the project goals
By stating what your project should achieve, the development team will better understand your priorities, and it will be easier for them to dive into the process. It is especially important for large teams that are difficult to manage and get them to adhere to the same vision. Concise and clear goals can help you bind your workers together and come to a mutual understanding.
Clarification of technical details
Tech specifications give both sides a clear picture of work the project should work on and allows to find necessary information about shortcuts, particular screens, or features the project will have. This step of the preparation stage can save you time and money discussing the details when the development process has already begun. Moreover, it is crucial to define the project's tech stack to do a high-quality search for a vendor, since without a clear understanding of needed technology, it is impossible to find a team that will translate your desires into a working project.
Budget estimation
To not face the problem of budget shortage in the middle of the project, it is necessary to correctly and rationally calculate the budget for your website needs. It usually goes after you define the scope of your project, its goals, and technical stack, so you can see the complete picture and do the most accurate estimations. Your budget can be flexible to the evolving trends and market shifts or strict in order to complete the project on time. As a result, you will avoid unnecessary costs for new features and get a website according to the defined deadline.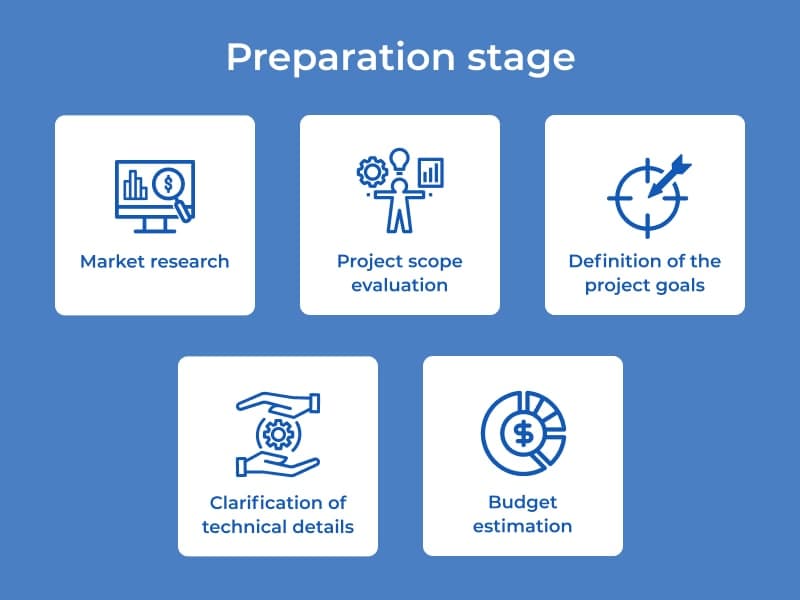 Each step helps to determine the direction of future web development processes and form the main activities necessary to achieve conclusive results. After you come to an understanding of all the points, it will be easier for you to start searching for a company to cooperate with and make sure that its knowledge and experience correspond to your projects and business goals.
Searching stage
The best way to find your next web development partner is to look on the Internet. You can use it for research and sort companies out. If you don't know where to start, here are some tips that will steer you on the right course:
1. Check directories and listings
Look up the profiles and ratings of the most famous and prominent web development companies based on reviews from their clients on portals like Clutch, GoodFirms, G2, Trustpilot, etc. Using them, you may filter companies by different criteria like rating, country, expertise, tech stack, and many more. Every review gets verified by the platform, so it is impossible to fake it.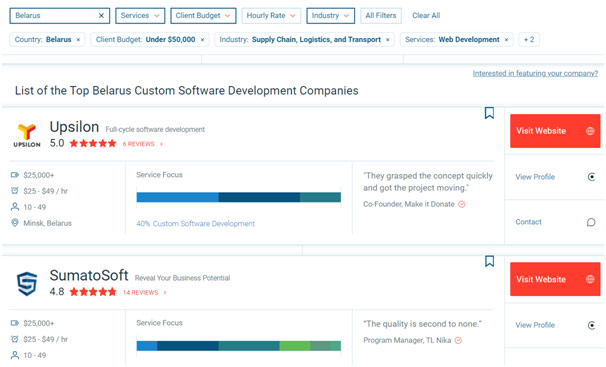 2. Go through local IT communities
There you can find many web development companies offering their services and discussions of all development-related issues.
3. Ask your network
There is a big chance that someone from your network on social media has already partnered with a web development company or knows some suitable variants they may recommend. In this case, you will get a list of companies and trustworthy reviews straight from the horse's mouth.
You can collect the best variants in one place and explore each company in more detail to ensure they are what you need and provide you with the best service and smooth collaboration. After you have chosen several web development companies, you may proceed to the next step and evaluate each of them.
Evaluation stage
Now when you better understand your project and where to find some promising web development companies with good reviews, it is time to choose the most suitable one. We have combined the top eight vendor evaluation criteria to consider when selecting the web development partner for your project.
Expertise and tech skills
In the pursuit of financial gains, companies often forget that there are no universal development teams. That's why when choosing a web development company, pay attention to their expertise in a specific domain and tech stack. For instance, if you need to build a chat app functionality on your website using Sendbird or Sceyt, you should first consider companies that have already created this feature and can provide you with available workers for your project.
Find a company with expertise in doing something similar to your needs using technology you are interested in. In this case, you will most likely get a partner who will understand your project and successfully implement all desired features. Filtering companies by expertise and technology stack, you will be able to significantly curb the number of potential companies and tap into all project requirements.
Industry experience
In addition to the expertise and technology stack, make sure that potential partner has hands-on experience in a specific domain. Small and medium web development companies often focus on 3-4 domains and evolve in these fields. Companies that specialize in logistics and supply chain management will not be able to fully meet the needs of the fintech business from the start.
It doesn't mean that such a web development company can't dive into your business field and provide you with a great result, but it will take longer and may require a certain amount of research and education to begin with the project. This will also need to be taken into account when setting a deadline so as not to disrupt it. Therefore, if you need to get a ready-made project quickly and efficiently, it makes sense to start looking for a vendor with experience in your industry and can proceed to business right away.
Company size
After you define a project scope on the preparation scope, you will get an understanding of what size your potential partner should be. If you have a small project with under 500 hours of development, you can approach a freelancer to do this job. In contrast, big projects with complicated infrastructures and complex business challenges require more proficient teams. You can choose from small (less than 100 specialists), medium (from 100 to 500), and large (more than 500) web development companies.
The company's size can influence how many workers they can give to your project and the scope of their expertise and tech stack. For example, one of the large companies' advantages is that they have broad expertise and more internal resources, while small companies focus on 2-3 domains and have specialists that work with a specific tech stack. It will be hard for small vendors to scale up, but they can provide you with quick communication and lower costs. Take all these factors into account when choosing a web development company to get the most out of your development team.
Communication
The communication factor is often underestimated, but it plays a leading role in the overall project success. This criterion may include different difficulties in communication caused by English ignorance, the lack of soft skills, cultural inconsistency, etc. From a business view, insufficient communication may result in misunderstanding and mutual dissatisfaction with working together. Choose a web development company that shows a sincere interest in your business and collaborative project, scrupulously approaches tasks, and considers your amendments. And at the same time, it can recommend from the experience how to do better and which recommendations don't make sense.
Location and time zone
Where your partner is located can be very important. From the geographical location depends how your work will be operated and how it will influence day-to-day business operations and communication. If you want to have a possibility to manage development processes by yourself and to make the partnership flow smoothly, it is better to choose a partner from within your country (onshoring) or nearby countries (nearshoring). You will not have problems with long flights and big-time differences or language and cultural barriers.
For example, if your company is located in West Europe, the best choice for you will be either West or Eastern Europe. Western countries can be quite pricey while Eastern Europe (Poland, Ukraine, Belarus, etc.) offer high-quality service for an adequate price.
Pricing
It is vital to consider price when choosing a vendor. You don't want to get a cheap website but rather a cost-effective one. To properly evaluate the budget, start with defining your project scope and its goals. Later you can start looking for average rates in the interested region and compare them with your possibilities. Hourly rates will depend not only on the location but also on the seniority of a developer and job specialization. Your final budget will mostly depend on the engagement model you choose.
There are three most widespread engagement models: Fixed Price, Time and Material, and Dedicated Team Model.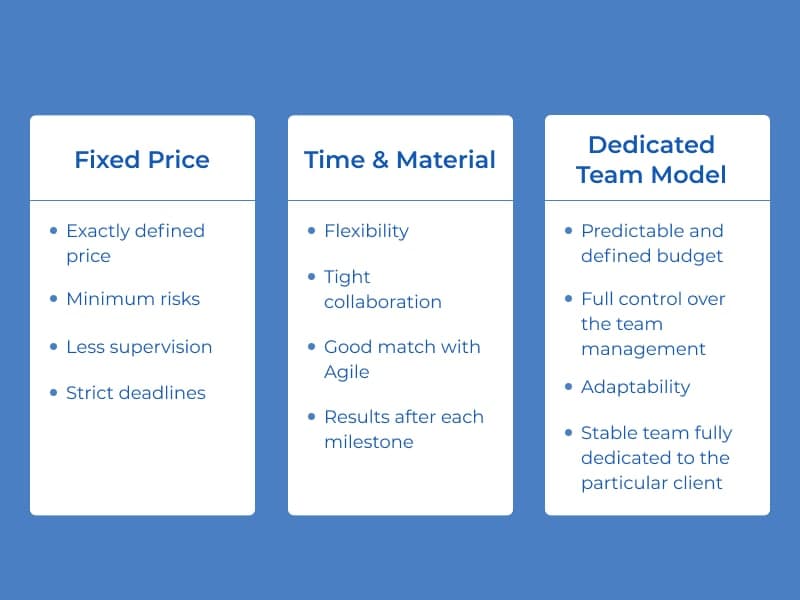 Fixed price will be a good fit for you if you already know what you need, including all requirements and features, and have a clear vision of the final result. You provide your future vendor with this information and get estimation with a fixed price in return.
Dedicated team model, in contrast, is a good option for those who have flexible requirements and a long-term project. The company provides you with a team of specialists that work only on your project. You have complete control over the process and define the workflow of each worker. The most significant benefit of this engagement model is that it is very flexible and fully adaptable to any changes in the project.
Time and Material is a model where you pay only for hours spent. It works the best for businesses that don't know the scope of their project and the amount of work it will require.
Agility
The agile methodology involves permanent communication with stakeholders and requires ongoing improvement at every stage of the project. But in this criteria, we would like to pay attention to the workload and business flexibility. Make sure your web development partner is well adaptable to the changes happening on the market and can quickly scale the project as your business evolves.
Moreover, a good web development partner needs to keep up with modern technologies and innovations because the tech stack you are using today may become obsolete tomorrow. That's why many businesses choose to outsource their web development rather than to have an in-house team. Outsourcing companies will make sure you get the most influential modern technology to stay competitive and tech-savvy.
Your company's success will depend on how quickly the vendor will be able to respond to changes and how flexible their working processes are.
Conclusion
Comprehensive research is an essential step in the way of choosing a web development partner. It should include an evaluation of the company's experience and expertise, its cases, pricing, and technology stack. Pay attention to such factors as communication, company size, agility, location, and time zone, although they are decisive in maintaining a successful work and effective collaboration.
For better clarity, you can make a vendor evaluation checklist with all the information you discovered during the preparation, research, and evaluation stage. A visual representation will help you better understand the pros, cons, and opportunities of each vendor and get a result confirmed by numbers. With it, you will be able to make informed decisions and prioritize when choosing a company. The right web development partner will assist you in your business journey and get the ball rolling in the right direction.