As a freelancer, I always trying to deliver best results when got a new web design project and that time these best websites for web design inspiration help me a lot with my workflow. Using these web design inspiration resources, I'm able to complete the project on time frame with more effectively.
You know well, every client has different needs and demands of their website design project. To fulfill the demands of any creative brief you need to think out of the box. The web is full of amazing web design ideas for beginners but before dive into them, let's see what happened!
According to my past experience returning customers are increased by 70% just only because they love my work. They always contact me for their new website design project and I make them happy with my work. All these happen through web design inspiration sites. These websites not only boost my creativity also keep connect me with latest web design trends and technologies.
There are few more things to consider at the time of using web design inspiration sites. You'll love this!
Focus on Trends
A web design project with latest trends and technology help in engagement. The responsive web design always trending in all over the world. The better way to make a successful project, ask your client about the latest trend and describe their features.
It's good that trends come and out, but when people are desperately looking for some types of trending website designs, it's a big mistake not to offer them what they need. So keep an eye on best design blogs and stay updated accordingly.
Observe the Others Work
Check out the portfolio of best web designers on their personal or official sites. You just need to observe the work what they are doing now. It is a fair and even highly recommended to learn something new from them.
When you have a lack of web design ideas it will be a good move to check what top designers have produced or even check best web design inspiration sites and try the ideas and techniques applied by them.
Best Websites for Web Design Inspiration
Now, let's dive into best websites for web design inspiration to explore them and why you should go with these sites for website design inspiration.
Pinterest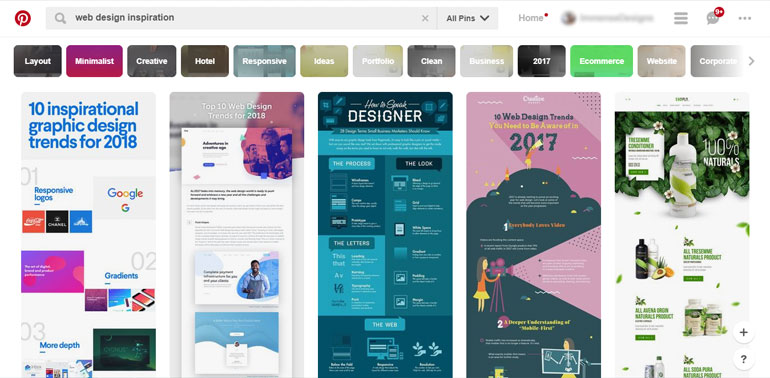 Pinterest is a hub of searching new web design inspiration ideas, via their great grid system. Pinterest is without any doubt is the integration with thousands of inspirational images. With their simple search, Pinterest serves the infinite result of high-quality web designs. So you are able to very quickly browse through hundreds of them and choose the best you are interested in.
Why use Pinterest for web design inspiration?
Easy-To-Search – Simple yet responsive grid layout, combined with the plethora of boards and easy-to-use filters, makes Pinterest a great starting point. Whatever type of site you are looking to build, you will find something of use here.
Hub of Inspirations – Pinterest is all about creative & unique images, it can give you ideas for balancing colors, textures, and copy. Also, you will never know when a Pinterest board could trigger a completely innovative website design concept.
2. Behance – A World's Best Designer Community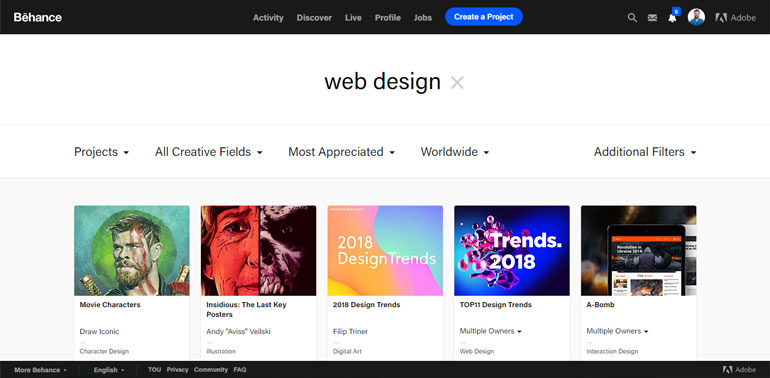 Behance is a place for digital artists who want to show up their best artwork. As well as a platform for discovering inspiring web design work. Behance is one of the largest online portfolio community among designers to showcase their web designing work or digital projects and receive real feedbacks.
Why use Behance for web design inspiration?
Community Inspiration – Search feature like "most appreciated" provide you a better filter to find the creative collections of designs and make sure that you view the best work.
Tools Based Filters – Many inspiration galleries are the pessimist about the tools utilized in the creative procedure. But, on Behance without being complicated you can easily find what tools or platforms are used in the designing process with its "tools used filter" option.
3. Template Monster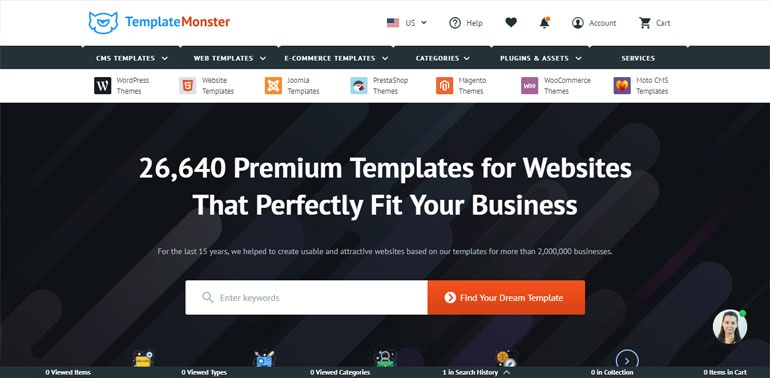 At first, it may feel odd to find web design inspiration from a website that sells pre-build web templates or designs. However, browsing through Template Monster will be a great platform to obtain different thoughts of how content can be laid out. Here you can inspect templates based on industry, platform and features. Use templates as inspiration by reviewing their content formation & their design model, and then craft the all material in your own creative way or as the project needed.
Why use Template Monster for web design inspiration?
Quality Inspiration – Template Monster with over thousand of quality themes is a surely a place where you can easily grab inspiration or something that will help you in your work.
Best Practices – The website (Template Monster) also follows superb practices even when your project search varies across diverse industries.
4. Designspiration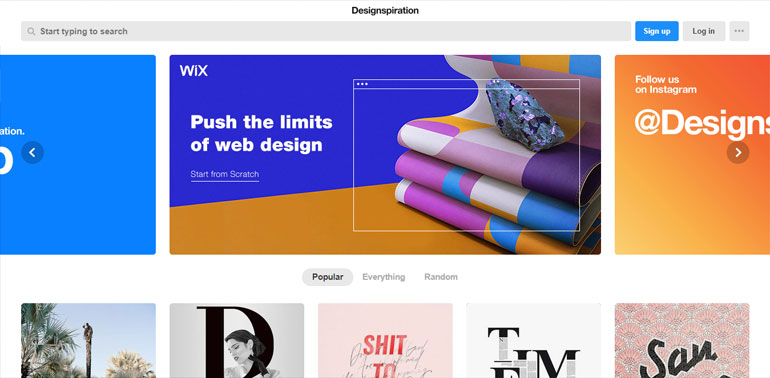 Same as like Pinterest for designers, Designspiration is a massive library that let designers to create their profiles to start their sharing of creative artwork with the community. You can organize bookmarks, with its easy-to-create set of web designs sites based on your desired style, color, or any other format. It also enables you to search by color, which is very handy when gathering inspiration and focusing on a single project.
Why use Designspiration website for web design inspiration?
Save The Content – Like other inspirational sites on our list, this one also allows you to add and save all stuff that motivates you for your later on deep inspection.
Flexibility in Feeds – Rather than focusing on task-related inspiration, this website allows you to create a private store of inspiring websites and fine-tune its feed based on your design or search experience.
5. One Page Love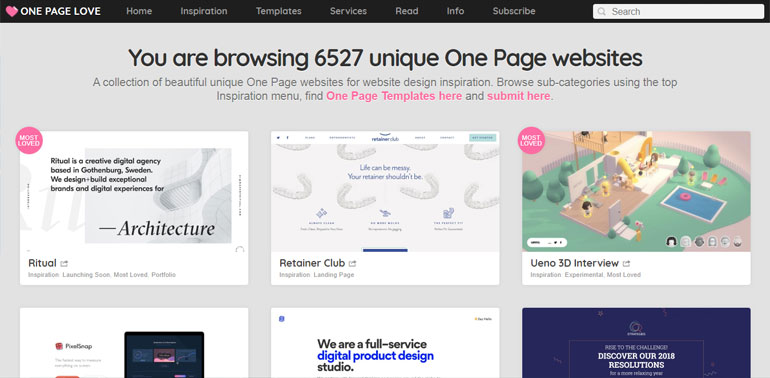 One Page Love deals with one-pagers, websites that consist of a single page. If you had liked to keep your content to a single webpage, One Page Love offers some good inspiration. Every website is displayed in its entirety, as a long scroll screenshot. One Page Love has been a portal for nearly 10 years so that it may be responsible for the growing attractiveness and popularity of this type of platform.
Why use One Page Love website for web design inspiration?
Quality Collection with Filters – This one is an excellent source of inspiration. It has an amazing collection of single-page sites including applications, covers portfolios, and even temporary landing pages to flow creative juice. Also, have searchable tags for finding inspiration from similar websites. The designs can be sorted by categories and features.
6. Best Website Gallery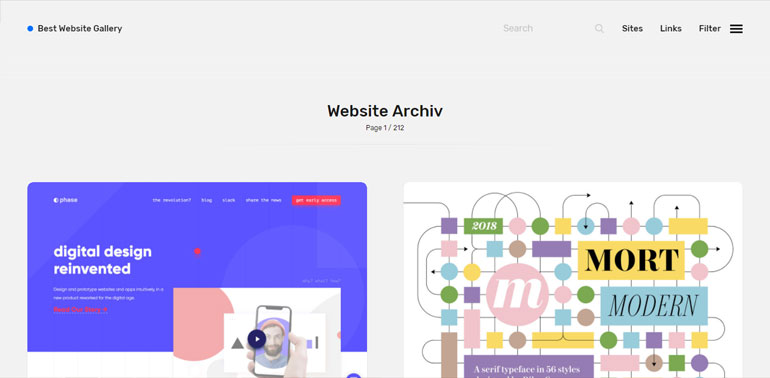 As the name hints, Best Website Gallery is a big compilation of web designs wrapping a range of subjects and styles. The crispy layouts of it make easy-to-scroll through until you find inspiration whereas filters can assist narrow the field. The website also gives backlinks to useful external sources, making sure that you get a full look at the creative process.
Why use Best Website Gallery for web design inspiration?
Portfolio Websites – If you are the type of who love to take part in the different design activities each year, it's useful to have multiple artists' portfolios to take references and also get motivated by the collection.
Color Inspiration – This website offers functionality to sort out websites by diverse colors, so ones can easily stumble on good designs.
7. TheHotSkills – Best Websites for Web Design Inspiration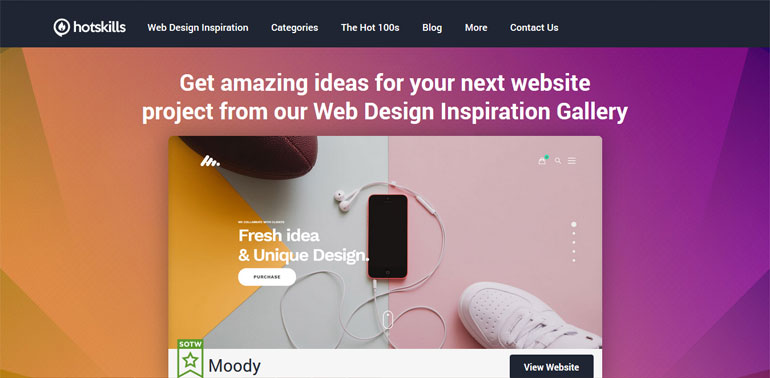 Picking a good web design for your next project can't be easy. Maybe sometime you might be not sure what's to do or in which way to take your design process. Look no further, on TheHotSkills you will find pretty interesting and well-designed collection of websites to get you inspired and assist you to create your own best creation in terms of slick, innovative and clever code design.
Why use TheHotSkills Website for web design inspiration?
Unlimited Collection – It's a portal where you find thousands of websites design for web design inspiration. And the designs can be sorted by categories and features.
Offer Latest Updates – The world of designing never is stable so to update designers with modern trends and news TheHotSkills provide latest web industry information and tutorials.
Assist Newbies – If you stuck in the process of designing or development our team always is there to speed up your process.
What are Your Best Websites for Web Design Inspiration?
That's our list of best websites for web design inspiration to get fresh and trending ideas for designing purposes. However, what web design inspiration source you use to be creative? Let us know in the comment section…