You search ends here if you are searching for a real way of earning like best websites for freelance jobs online that will help you make money online.
Before getting any start let me check your thoughts.
Just see the screen carefully.
Alright, concentrating…. still concentrating on you.
Done! I get it…
From my deep dive into your mind, I have come with that you:
Totally, frustrated with a 9 to 5 job
Want to know how to make extra money online
Would love the flexibility of working from home
Is not that it? Even, I bet that this applies to a lot of you on this page.
Besides it, if you have hot blood and intending to work hardly online especially in time then you are just born to be a freelancer.
With freelancing, you can easily get rid of your annoyed work schedule and start earning money online this month.
Basically, a freelancer, term commonly used for a person who is self-employed & is not necessarily committed to a particular company long term which means it depends on your capacity to work hard to pull off over the thrust of money.
Warning: Freelance jobs online are not for people who just want to find a "magic stick" to make money instantly!
So now here are 2 questions which arise:
1. What you have to offer?
2. Why would anyone choose you to buy?
Hmm… interesting questions to answer
Once you get over from these two questions, you will be on the way of your successful freelance career.
What freelance service you have to offer?
On the planet Earth, every single person has a profitable skill but many of them just don't realize it. Thus, it becomes the most common obstacle preventing people from freelancing or starting their own business.
Now, if you are techy and got great skills like Fluency in a foreign language, programming, SEO, cooking skills, etc people will definitely pay you to teach them or just hire you to work for them in your way (independently).
Now that the good one, let's move to the next one.
Why would anyone choose you?
The answer is People will be willing to pay you for ANYTHING, as long as you're adding value to their lives.
For example, these 2 platforms are totally freelancers that generating bucks despite seeming "unmarketable."
Grammar Girl: Offers you "quick & dirty" grammar tips each day to help you improve your communication & writing skills.
Tennis Elbow Secrets Revealed: Platform dedicated to difficulty persistent in many people's lives me also: Tennis Elbow.
See, people are offering things what they are professional with. It's just the game of showcase, as long as you show others that you're able to offer them real value & benefits, they're going to hire you.
It doesn't matter if you are a pro with grammar or tennis or whatever.
After the answer of those two questions, you're going to be ready to making money online through freelancing.
Wait! Wait! Wait
Before putting your bag-pack, there is still one thing left.
For work, you should have to find a portal according to your expertise.
Top Websites to Find Freelance Jobs Online to Work From Home
There are plenty of portals that connect employers with freelancers but here we have best from globally where you can find suitable opportunities.
Upwork – Get Freelance Jobs Online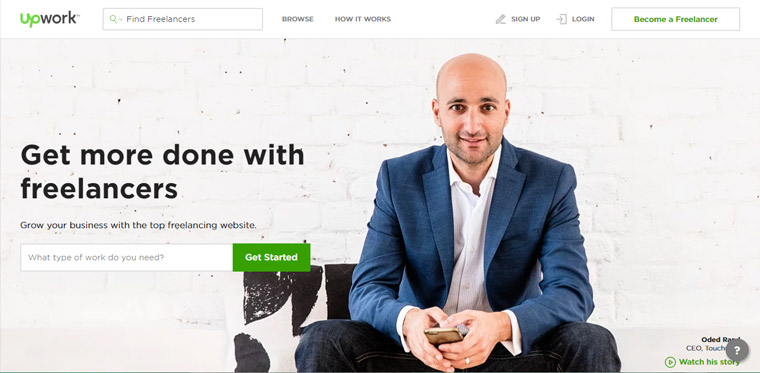 Once known as oDesk, Upwork has over 5 million registered clients and offers projects for all types of freelancers. Whether you are looking for something short or long term, a paid-per-project fee arrangement or hourly fees, you are sure to find something suited to your skills, whether you are an expert or just starting out.
It contains various categories like web developers, mobile developers, designers & creative, writers, virtual assistants, customer service agents, sales & marketing experts, accountants & consultants and much more.
Flexiple – Pre-Vetted Developers & Designers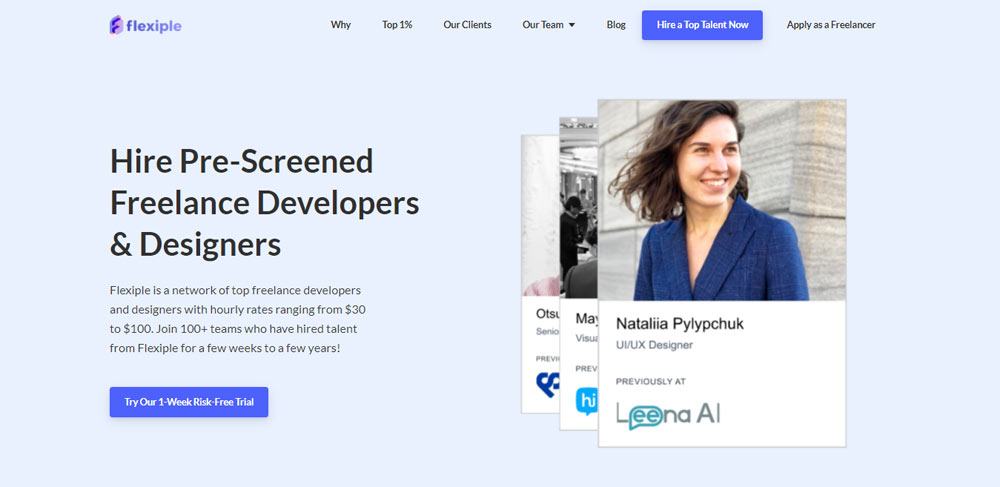 Flexiple is a network of pre-vetted freelance software developers & designers. Through this network, we help top startups & companies find quality tech talent. Our goal is to help tech companies:
1. Find quality talent: Pre-vetted through our screening process.
2. Hire them quickly: Handpicked recommendations from our talent matching team.
3. Onboard them seamlessly: Standard contracts, invoicing and project tracking.
Basically, tech companies should only focus on building their products and not worry about hiring. Similarly for freelance talent, we ensure they get to work with quality startups instead of wasting time in the job search.
Toptal – Hire the top 3% of freelance talent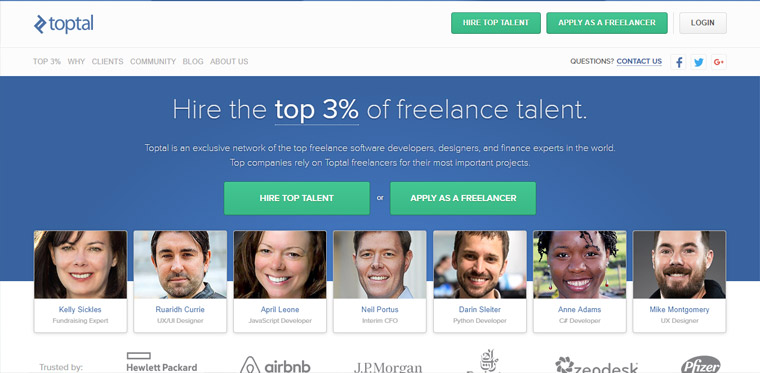 From the most popular & best known freelancing sites. You can create a freelance account in all kind of fields namely developer profiles, designers profile, and finance expert profiles. Once you find a perfect match, you can work with them without any risk, and you will be paid after all the work is done. The best you work, the more popularity you gain.
Some of the important features of Toptal include any company size compatibility, painless communication, zero risks, and superior work.
Freelancer – Find Freelance Jobs Online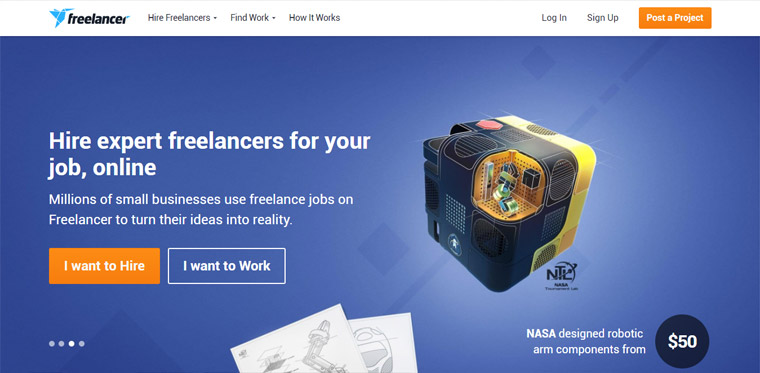 Freelancer gives freelancers the opportunity to compete with each other in contests that demonstrate their skills as well as offering access to countless projects. If you want the chance to showcase your talents in order to attract clients, this is the site for you.
Experfy – The Best Platform To Kick Start Your Freelancing Journey As An Expert!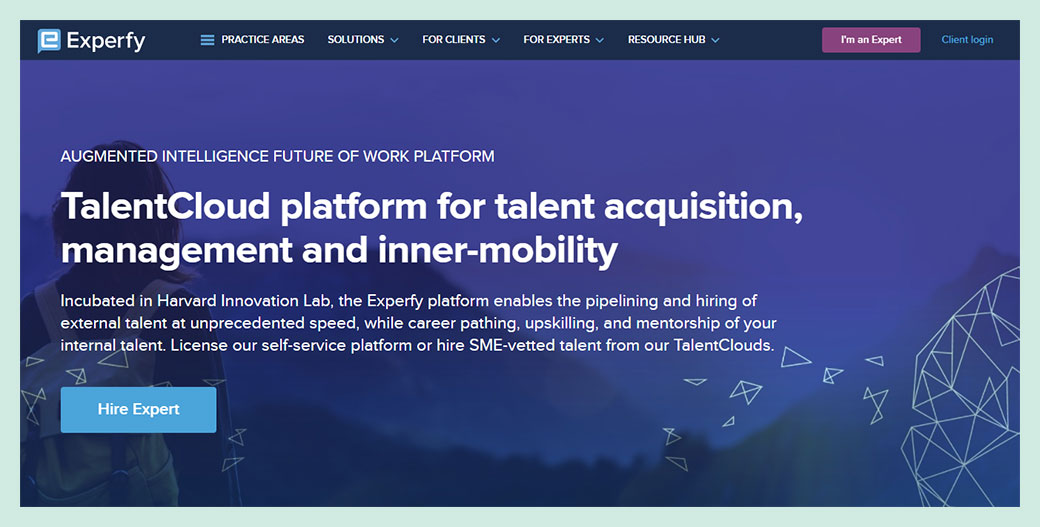 Experfy is one of the best job posting and hunting sites. All, you have to do is to create a freelance account with Experfy, mention your qualifications or specializations, and wait for the top-notch employers to get in touch with you. You can create an account as a freelancing expert in any field, including web design and development, data science, big data, marketing, cyber security, and many more!
Experfy brings out the best in candidates by making a perfect balance between human intelligence and artificial intelligence, which is essential for candidates to excel in the job interview and their careers.
Guru – Find Freelance Jobs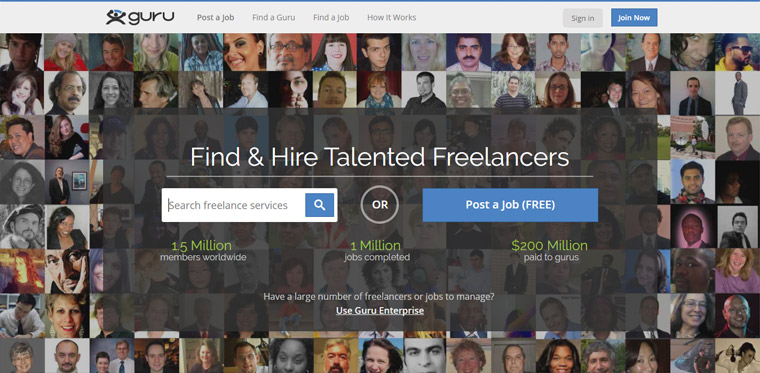 Since being founded in 2001, Guru has received payouts of $2 million and succeeded in completing a million jobs. It has various services which include Web, Software & IT, Design & multimedia, writing & translation, admin support, finance, sales & marketing, engineering & architecture, and legal kind of freelancing jobs.
So, if you are going to jumpstart any of the services mentioned above, then it is the finest place to do so. You can explore around one lakh work collections in this platform.
99Designs – Find and work with talented freelance designers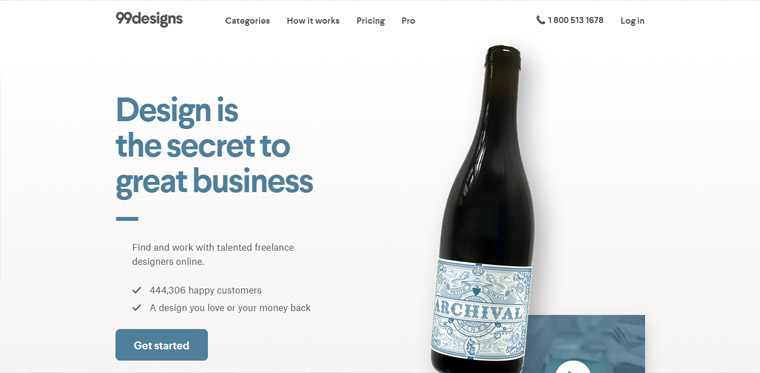 99Designs platform is aimed at designers, You can become one of the freelancers in services like logo designing, packaging design, sell logo & websites, book cover designing, T-shirt designing, business card designing and giving freelancers the chance to participate in design contests, prove their skills and get helpful feedback.

PeoplePerHour is another finest place to showcase your talents & offers opportunities for web projects.
It has various freelancing services namely Admin, business support, creative arts, design, marketing & PR, extraordinary, mobile, search marketing, social media, translations, tutorials, web application development, writing, multimedia, and web development.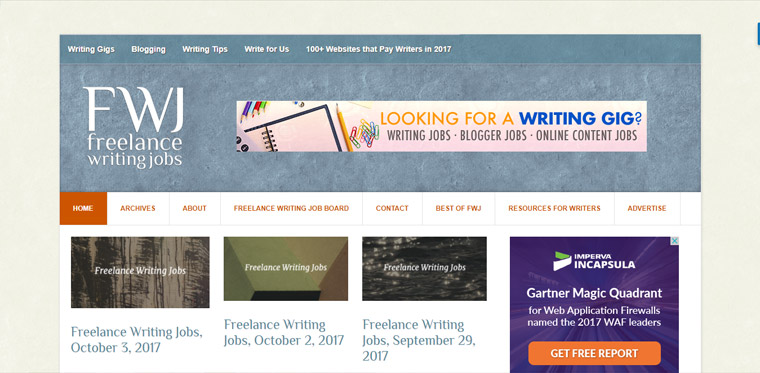 If you are a blogger, publisher, writer or editor, FreelanceWritingGigs is the perfect place for starting your freelancing career in writing jobs.
Even some more opportunities just by filling up a simple form to start writing for journalism, proofreading, content writing & editing jobs, paid internships, and much more. You need to enter the name and Email ID to subscribe and start writing with them.
FlexJobs – Professional Part Time Jobs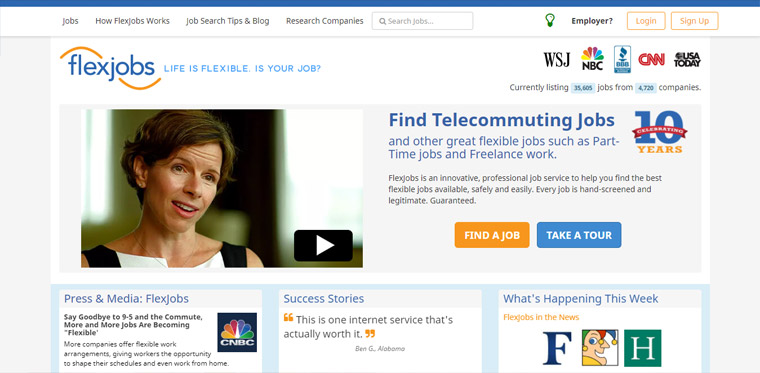 FlexJobs aggregates job postings from all over the web. It is good for candidates that look for a freelance job or a part-time role. If you want to use the platform, you will need a paid subscription that starts from $14.95 monthly.
The main advantage of FlexJobs is that it provides professional research from its staff.
iFreelancer – Find Freelance Jobs Online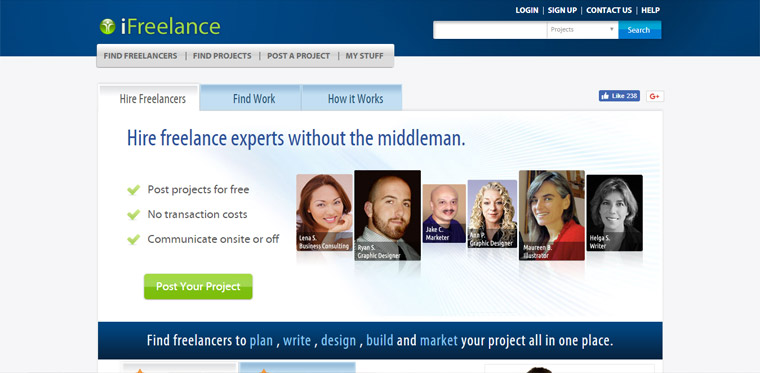 You can grow your freelancing business using this iFreelancer site. Here you can bid hundreds of active projects, showcase your works & generate leads, and more importantly, you can get 100% earnings without giving commissions or fees to the site.
College Recruiter – Internships and Entry-Level Jobs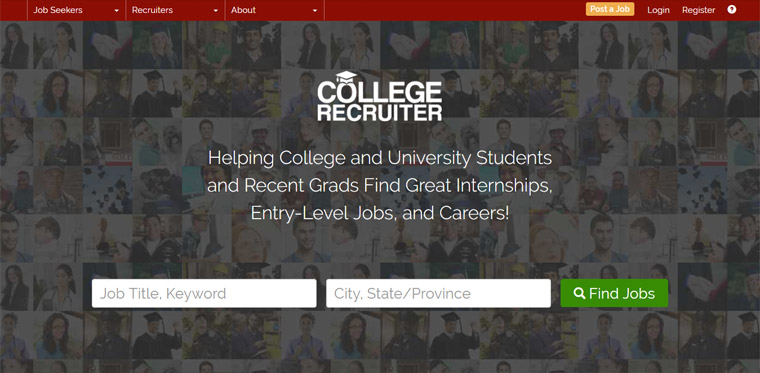 As the name suggests, CollegeRecruiter is for college students or recent graduates, this site offers not only excellent part time opportunities but also a handy way to get your career off a good start.
Once you found a place to get clients and have an email that gets responses, keep it up things until you constantly getting new clients.
This is not the end, I still has something for you…
Startup Tips For Freelancing
Understand Project You are going to Bid: Show you Interest only to those Project if you are clear with what the Client needs and that you are confident in executing the Project successfully, then go for it or else leave it and look for other work.
Be clear with Proposal: Show the client that you had actually read & understood the client's requirement. Remember for a project, client receives plenty of bids so try to be clear and concise while drafting your proposal.
Create a killer portfolio: Once you are done with 2 steps, the next thing is that client would love to see your work. At this point remember that, "FIRST IMPRESSION IS THE FINAL IMPRESSION".
Create a portfolio for clients. Think about who that person or organization is and put together a portfolio based on potential needs. You can also make your own site or choose from one of many portfolio websites out there.
Amount for bid: Now, that the point people get wrong. Never think that just by bidding on a lower cost will help you to win a freelance project. Try to maintain an average bid amount for the Project. Also, calculate the cost involved in executing the project and bid accordingly.
Be online presence: Here am not talking about Social Media (Facebook or Twitter). Instead of them be on LinkedIn. Why? Because about 85% of all recruiters go there before any other place.
And also If you get an opportunity for guest post never neglect it because that will help get your name out there. Even if you don't get it still you can make it, just by leaving a comment with link to your website on other's project.
Keep on hunt of learning: The freelancing is growing & becoming even more competitive. One who lags behind their rivals will find it difficult to obtain jobs.

So… Take online classes, watch videos and tutorials, read e-books and learn from the best in your industry by reading their blogs and articles.
And my last word are…
Whether you're a designer, programmer, college student or something in between struggling with frustrated & disturbing work hours, there's a freelance platform out there for you to find freelance jobs online to work from home, After all…
DOING WHAT YOU LIKE IS FREEDOM, LIKING WHAT YOU DO IS HAPPINESS
Now comment or share it.