Are you looking for the best resources for web design? Do you want to know what visual images are in UI design? Visual design aims to improve a product's aesthetic look and usability with proper images, fonts, layout, space and color. Visual Graphic is not only about aesthetics. Designers place these elements thoughtfully to create interfaces that optimize users and drive conversion.
User Interface design is sometimes known as visual design. Although it is a combination of UI and graphics, it holds a special place in the field of digital design. The clever use of graphic elements draws the audience's attention to the brand. Illustrations and photos, relevant typography, captivating iconography, persuading color, comforting spacing, layout execution, and many other small aspects are used to convey ideas. But how does perception connect to visual design? Reading the article is very helpful for you if you are searching for web design or UI design resources.
UI design focuses on anticipating user needs and ensuring the interface has easy going and understandable elements. UI is a junction between a computer program and a user. It brings together the concept of interaction design, visual design, and information architecture design.
The most important aspect of a web application's design is undoubtedly the user interface (UI) design. Users like engaging and aesthetically pleasing websites and apps; therefore, UI contributes to making user interaction with the app or website page simple and fun. The most effective way for consumers to complete tasks is through a superb user interface design. UI design starts long before the product idea is even thought of.
Did you know that it takes only about 50 milliseconds for the human brain to process visuals, and therefore, a viewer can judge any website within a second. The look and feel of the website page or the app screen is as important as the first impression plays a role. Moreover, the UI functions play an essential role in the success of a web page or an app. However, other factors also influence the users or viewers to make judgements about that particular website.
A successful UI design will automatically attract traffic towards it and hence plays an integral part in the usability of the UI design. The structure and systematic layout of the page with the content and visuals help enhance usability. Users may efficiently access the most relevant content with the help of an excellent user interface. The aesthetic harmony between the page's design elements might aid in clearly highlighting the most important section of the website. You may establish a strong connection with your clients and keep them on your website for longer with the help of creative direction for an excellent design. This would then influence selections, transforming audiences into valued customers. Visuals work to increase conversions.
Best websites to find free vector resources for UI design
Vectors are versatile and useful. Vectors can be utilized in the user interface to give it more pizzazz. Or it can also be used on a landing page to provide it with a breath of fresh air. The vector resources for web design are easy to put on products and merchandise. Various design teams incorporate them into their high-fidelity wireframes to make them look more realistic. The usage of vectors in design projects is strongly recommended since they improve the appearance and draw attention to the design. Even though there are many options online, finding high-quality vectors for your creative projects is not a simple task.
In honor of the most useful and versatile vector resources for web design, illustAC has made a collection of valuable lists of these fantastic free vector resources for web design for you all. Reading this article, you'll find a list of 30 best free vector resources for web design so that you should scroll and spend hours on the Internet. So, let's get started.
illustAC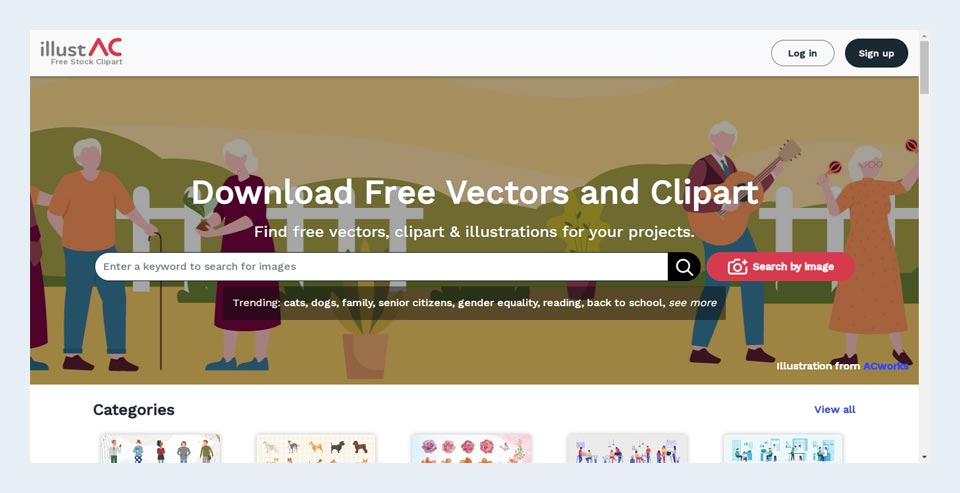 illustAC has made a collection of thousands of cost-free vector images in various styles and themes. Besides isometric vectors, flat illustrations, and hand-drawn clipart of trendy pieces like business, geometric, people activities, food, flowers, etc., you can find all of them Asian and Japanese vector images here. The following are the things that illustAC allows:
It allowed downloading PNG, JPG and EPS/AI formats.
You can use the free vector images for personal or commercial purposes without citation. However, there are limitations while using for commercial purposes like you cannot edit or resell illustAC's resources, not being allowed to use for anti-social purposes, etc.
You can trust illustAC for high-quality and excellent engaging vector resources for web design as its vector images never fail to make an impression and gain attraction. Also, illustAC has also gained over seven million people's trust. illustAC has also offered image search and filter search for the ease of the customers in finding the desired free vector image within seconds or minutes.
Freepik
Freepik has offered over 800,000 cost-free illustration vector resources for web design. There's everything you need or want to choose from. You will get every category, like animals, silhouettes, etc., as you want. Freepik will not disappoint you by bringing you the best vector images you desire.
The files are available for download in AI, SVG, or EPS formats. And what makes Freepik's free vector images the best? You are not required to give credit. Make an account, download illustrations and icons, and then save your favorite ones to your account. Indeed, it is one of the best to get free vector resources for web design.
Vecteezy
Vecteezy has a collection of over 1,00,00 cost-free vector images and is the most significant vector graphics community worldwide. It has made a good collection of vector images, and any individual can easily find what they are looking for. Additionally, you may remark on illustration vectors and offer design critique, which is ideal for vector designers looking for free input or for well-known designers who want to engage in a little digital mentoring.
Many cost-free vector images you'll see on the Vecteezy site are perfect for a header, images, or backgrounds. It is also equally good if you're searching for login buttons and various other UI elements. However, it is not all; Vecteezy ranges expand to include a drink, food, plans, people, business and many more.
Vecteezy offers both cost-free and subscription plans based on images. And the best thing about the site is that the subscription plan doesn't cost a lot, and even a beginner designer can choose it. Moreover, it also has an online editor that gives you a chance to modify the image before you download them from Vecteezy.
unDraw
A library of amazing collections and customizable MIT-Licensed illustrations, unDraw, is developed by Katerina Limppitsouni. unDraw offers free high-quality vector images and doesn't require attribution to download that image. Vector images and fun illustrations are in SVG format that is scalable at any size without losing any of the quality. Vector images and illustrations are also available in SVG format, scalable at any size without losing the original quality.
These free vector images offered by unDraw have every topic imaginable, from SVGs representing online payments and private data to heavy lifting and soccer. Users are also allowed avail of the color image generator unDraw(resources for web design) provides. Anyone can switch up the main color scheme to match the brand identity.
Illustrations.co
Illustrations. co is a website offering cool cartoon-style illustration vectors cost-free to the users. The site's vector images are developed by Vijay Verma from his personal collections. Users can find the desired shape, size or color vector images from these resources for web design as there are various options to choose from.
Error404.fun
Error404.fun(resources for web design) is also a trusted site by users for downloading amazing quality, cost-free illustrations and vector images. Users can download these vector images and use them for personal or professional purposes. Your searching for your need in error404.fun cannot be a disappointing thing.
Scale by Flexible
200+ free illustrations and vector images in monochrome and multicolor styles, covering various topics, are available in the Scale library. Since the site's resources are regularly updated, the number won't plateau at 200 as it does now. You will surely find your desired cost-free vector images.
The scale allows users to do the following things:
The online page for each illustration color customization is offered.
Allowed to save the image in SVG or PNG format.
No attribution is required when using free illustrations for both personal and professional applications.
Freebies by Craftwork
Freebies by craftwork have offered hundreds of high-quality cos-free vector images on different theme packs. Like Lifestyle, Halloween, open stickers, humpy free, Deca, and so on. Users can easily download these vector images and use them for their personal works and projects. Using such amazing quality freebies by craftwork can be the best decision of your life as it always gains great attention from people.
Craftwork freebies allow users the following things:
You can get the theme sets for illustrations and vector images in the formats like SVG, EPS, AI, PNG, and Figma.
You can use downloaded illustrations and vector images for free in personal and professional projects under some restrictions, and there is no transfer of copyright and no redistribution of illustrations.
Icons8
Icon8 is a marketplace with a collection of free illustrations, vector images, premium icons and stickers packs. It has provided over 3,00,00 pre-built icons. Available in 24+ styles, each icon can also be colored to match the brand's color palette.
Storyset by Freepik
Storyset offers a collection of hundreds of cost-free illustrations and vector images on various topics divided into five customizable styles. You can find your work-related vector images for sure.
Storyset allows users to do the following things:
Can change an image's color and the number of illustration blocks.
Animate each image directly on the page.
Download graphics as images in the SVG/PNG or GIF/MP4 formats or as animations.
Use the downloaded files for professional and personal projects as long as you appropriately credit the source. There are some limitations on usage as well.
Best websites to find free photos for UI design
Many designers prefer to use royalty-free videos, images and music, but not a single designer wants to get involved in a copyright infringement lawsuit. Finding these fantastic cost-free photos can be challenging because even though some say it is free, you can only download limited images for free. Also, it would be best if users gave attribution to buy an updated one to experience the full benefits. So, with the list of amazing resources for web design websites, you guys don't have to worry about any of that.
Are you looking for the 10 best options for free photo download for UI design are as follows:
Unsplash (resources for web design) is one of the best resources of free stock photos for UX/UI designers, and for a good reason. It provides more than 2 million premium photos that are ideal for all of your creative requirements. You will always have new, fresh options because each photo is made available under the Unsplash license, and thousands of new photos are added daily.
Another free stock photo website is Pixabay, which provides over 2.3 million free materials, including pictures, music, and videos. Pixabay, in contrast to Unsplash, has a stronger emphasis on business and marketing; as a result, it is an excellent option for UX/UI designers who want to update their company's image.
There are other more helpful services that Pexels offers, in addition to the enormous selection of royalty-free photographs that can be of interest to UX/UI designers. To start, Pexels gives you a choice to set your private collections, allowing you to keep your favorite images and use them as often as you like without having to look them up again.
Second, you can follow your favorite photographers to receive updates whenever they publish new work. The Pexels app for Zoom comes last. As soon as it is installed, you can use any image or video as your virtual background when making a video call.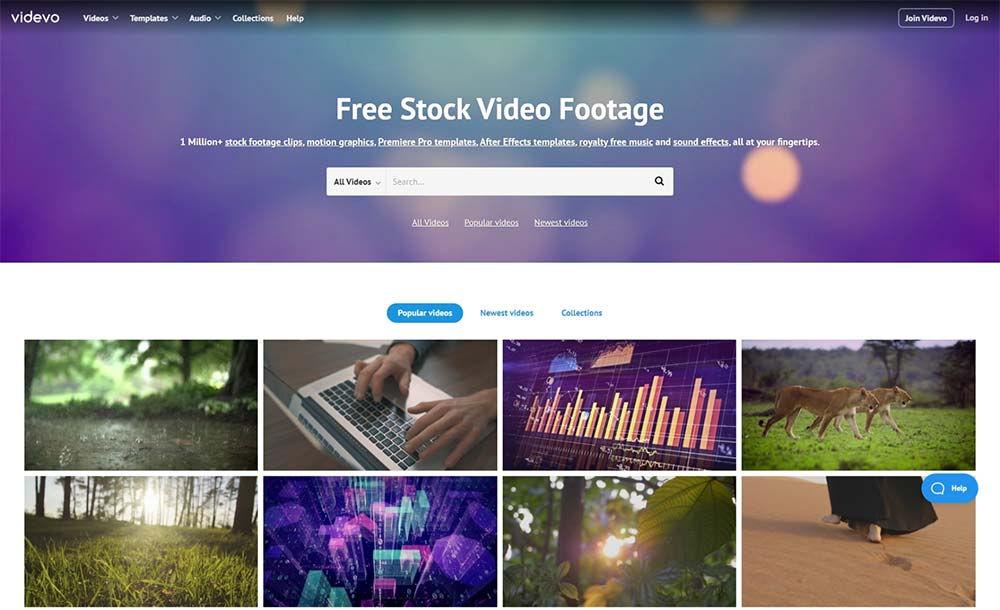 Videvo is a little different from the other stock photo websites on this list because they don't actually carry stock photos at all. Instead, they specialize in copyright-free stock footage that you can use in all of your videos. Free users have access to over 50,000+ clips, motion graphics, sound effects, and animated backgrounds. Whether you're looking for high-quality ocean background videos or the sound of footsteps, you can find them on Videvo.
A massive selection of high-quality photographs is available for both personal and professional usage on Stocksnap.io. Due to the daily addition of hundreds of fresh photos, they continuously improve their pool. The tag feature might also make it much simpler to find what you're looking for.
The best location to seek for uncommon stock pictures is Gratisography. Gratisography does not prioritize the volume of photographs like many of its competitors. They favor quality. They pride themselves on being the "quirkiest" collector of high-quality photos.
Another great cost-free stock image resource for web design (UI designers) is Stockvault. Like many other resources, Stockvault also adds to its daily collection. In addition to vector and stock photos, users can easily find the textures.
Resho offers a vast collection of stock images and graphics. A platform to share their work and creativity has been created for freelancers as well as new designers and photographers in this community. One benefit of Reshot website is that you can download it in various formats, including PNG, SVG, and others.
Picspree is one of the outstanding stock photo resources for web design. The community of contributors on Picspree shares their work so that it can be downloaded for both private and business use. No attribution is necessary to use any of the photos, which are all free to use. However, they also provide a separate premium service that lets you buy an image from one of their chosen partner websites.
If you are looking for one of the best web design resources, looking at Skitterphoto might help you find the desired one. A free image library website called Skitterphoto was established in 2014. Its photographers at the time uploaded and freely distributed their work. These days, other photographers can accomplish the same thing. They have a wide range of categories, including business/commerce, industry, travel, and technology.
Picjumbo is one of the best resources for web design is finding the desired photos for UI design. Viktor Hanacek founded Picjumbo, a site that offers free access to stock photos, in 2013. More than 8.2 million downloads have taken place on the website so far. Their goal is to spread stunning, original images that are free to everyone. They can choose among various categories connected to animals, cuisine, nature, and technology.
Also check: 15+ Best Websites to Download Free Stock Images