As a freelancer, you'll agree that keeping track of your finances can be daunting. Not only do you have to keep track of your income and expenses, and manage your invoice software, but you also have to file taxes every year. This can be much easier if you use accounting software to help you manage your money. To help you search for reliable accounting software, we will discuss the top 10 accounting software for freelancers. We'll talk about the benefits of each program and help you decide which one is right for you.
The Top 10 Accounting Software for Freelancers
Below are some of the top-ranking accounting software for freelancers today.
Fresh Books – Best User Experience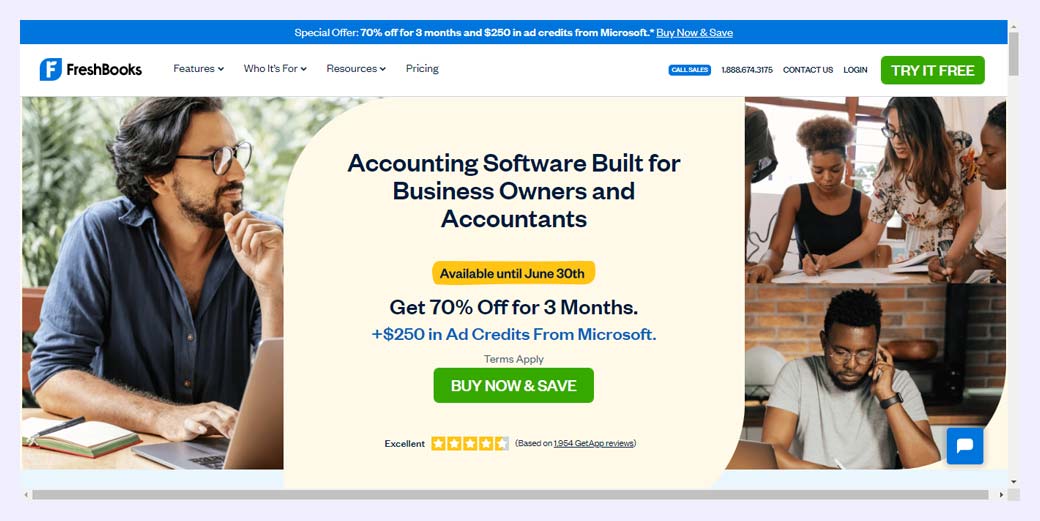 You want accounting software that is easy to use and understand. Fresh Books has an excellent user interface that makes it simple to navigate. You can easily create invoices by using freelance invoice template, track expenses, and view reports with a few clicks.
The software also allows you to accept online payments, which is very convenient for your clients. Overall, Fresh Books is an excellent choice for freelancers who want great accounting software without hassle.
Key Benefits:
Simple and user-friendly interface
Integrates with Gusto Payroll for more manageable payments to employees and contractors
Create invoices, track expenses, and view reports with just a few clicks
Accept online payments
Cons:
Some users have complained about the customer support
The software can be a bit pricey for some freelancers
Pricing:
Fresh Books offers a free 30-day trial. After that, it costs $4.50/month for the Lite plan (up to five clients), $7.50/month for the Plus plan (up to 50 clients), and $15/month for the Premium plan (unlimited clients).
You can also request custom pricing if your business has more complex needs. This pricing plan allows you to enjoy specialized features and send invoices to an unlimited number of clients, among other outstanding features.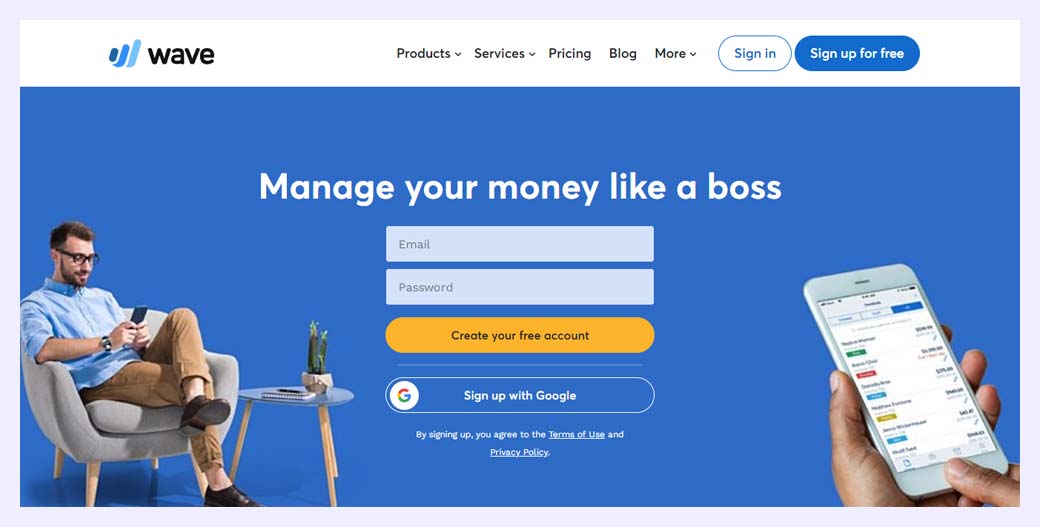 If you are looking for free accounting software, Wave Accounting is a great option. It has many of the same features as paid programs, such as invoicing, expense tracking, and report generation.
The software is also straightforward to use, which is essential if you are not an accounting expert. Wave Accounting is an excellent choice for freelancers who want to save money on their accounting software.
Key Benefits:
Unlimited invoicing
Expense and inventory tracking
Easy to use
Integrates with H&R block for easier filing of tax
Cons:
Limited features compared to paid programs
Customer support is equally not as responsive
Pricing:
Wave accounting is available for free!
Refrens – Free Invoice Generator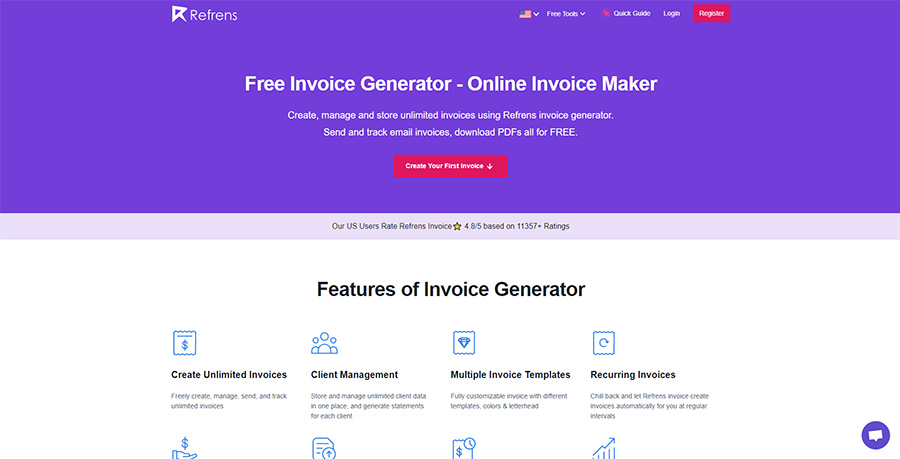 Refrens is the best invoice generator since it allows you to make an infinite number of invoices for an infinite number of clients without having to pay a single dime.
With only one click, you may produce a delivery challan, payment receipt, debit note, and credit note.
The invoice can be changed at any time, and you can send it by email, WhatsApp, or by immediately saving it as a PDF and sending that instead.
Refrens Features That Stand Out:
Free Unlimited Invoice
Permission control
Quick Easy Invoice
Customization of Columns
Email & Track Invoices
Recurring Invoices
Custom Formula
Invoice Templates
Insightful Reports
Client Management
Ready Data
Xero – Best for International Freelancers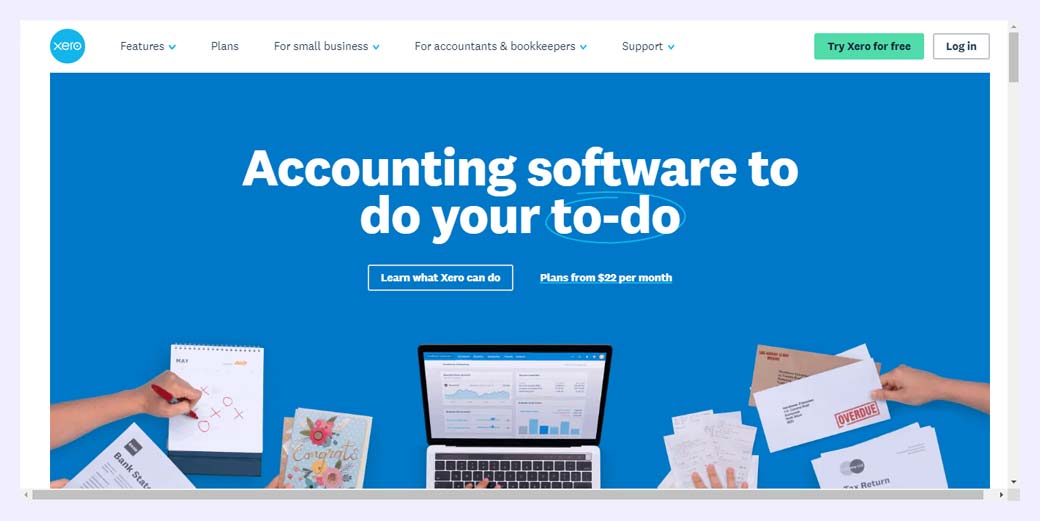 If you work with clients from all over the world, Xero is an excellent option. This accounting software is cloud-based, so that you can access it anywhere. Xero also has a great mobile app to keep track of your finances on the go.
This program is a bit more expensive than Wave Accounting, but it is worth the price if you need the extra features.
Key Benefits:
Multi-currency support
Double-entry bookkeeping
Invoicing and quotes
Project tracking
Cons:
It poses a higher learning curve
Pricing:
Xero starts at $12/month for the Early Plan, with which you can send up to 20 invoices and five bills. The plan is ideal for the self-employed, small businesses, and sole traders.
The Growing Plan goes for $34/month for unlimited invoices, bills, and quotes. It's an ideal plan for businesses that are growing.
Its Established Plan goes for $65/month, with additional features like the use of multiple currencies and the ability to track your projects.
Zoho Books – Best for Project-Based Freelancers
Zoho Books is an excellent option if you are a project-based freelancer. This accounting software allows you to track your projects and see how profitable they are.
It also has a time tracking feature, so you can bill your clients for the hours you have worked on their projects.
As a freelancer, Zoho comes in handy as it offers project-based accounting software that helps you keep track of your projects, time tracking to bill clients for the hours worked, and also see how profitable each project is.
Key Benefits:
Time tracker abilities
Project tracking made easier
It's easier to track sales tax
Customizable invoices
Cons:
As with most accounting software, you'll have to battle with the learning curve associated with Zoho Books.
It doesn't have a double-entry bookkeeping system, which some businesses prefer.
Doesn't have a mobile app, so if you need to do your accounting on the go, this might not be the best option.
Pricing:
You can get started with Zoho Books for free or choose one of their paid plans.
Zoho Books paid plans are available starting at $15 per organization/month paid annually for the Standard Plan. With this plan, you can send up to 5,000 invoices, perform bulk updates, and track project expenses and invoices.
The Professional Plan is available at $40 per organization/month paid annually and includes features like time tracking and multiple currency support.
Bigger organizations with massive monthly transactions can opt for the Premium Plan, which is available at $60 per organization/month paid annually. Some notable features include the multi-transaction number series, custom reports, and custom domains.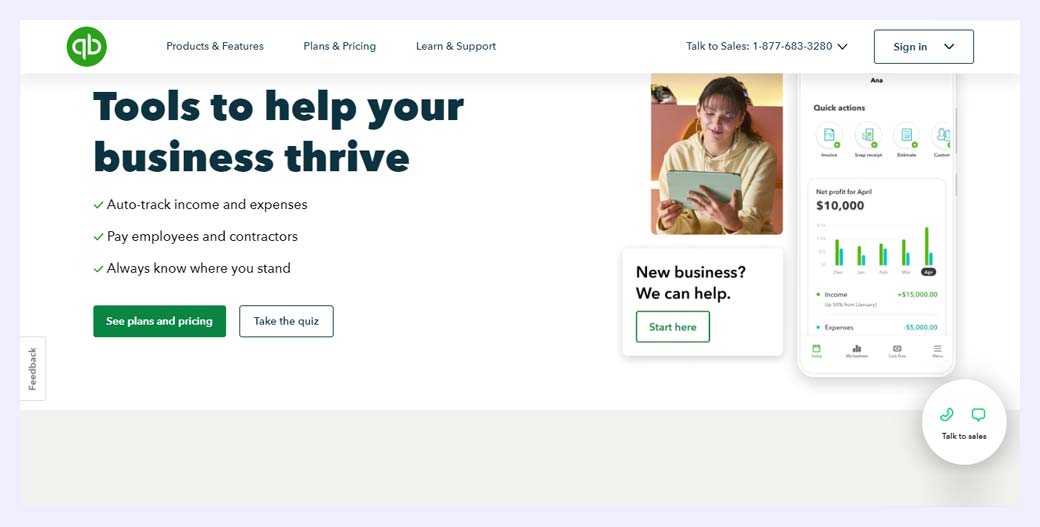 QuickBooks Online is comprehensive accounting software that offers remarkable accounting solutions to businesses of all sizes. Its ability to provide various features based on business size makes it the best accounting software for freelancers.
For instance, the software's Simple-Start Plan is designed to meet the needs of freelance businesses.
It also offers an intuitive interface that allows users to easily create and send invoices, track expenses, and manage their finances.
Moreover, the software also offers integrations with popular apps like PayPal, Stripe, and Square, so you can easily send and receive money through your preferred app.
Key Benefits:
Offers bank reconciliation abilities
Double-entry bookkeeping
Tracking of inventory levels
Cons:
Offers fewer features than some of the other accounting software on this list.
No time tracking capabilities
Doesn't have a built-in payment gateway
Pricing:
QuickBooks Online has a free trial period of 30 days.
After that, it costs $25 per month for the Simple Start Plan and $50 per month for the Essentials Plan. The Essential Plan can accommodate up to three users at a go.
The Plus Plan is available at $80 per month and can accommodate up to five users. The highest-paid plan is the Advanced Plan which goes for $180 per month and can accommodate more than five users at once.
The QuickBooks team is offering a 50% discount on all plans for the first three months for users who buy any of the plans now.
Fiverr Workspace – Best Customer Support for Freelancers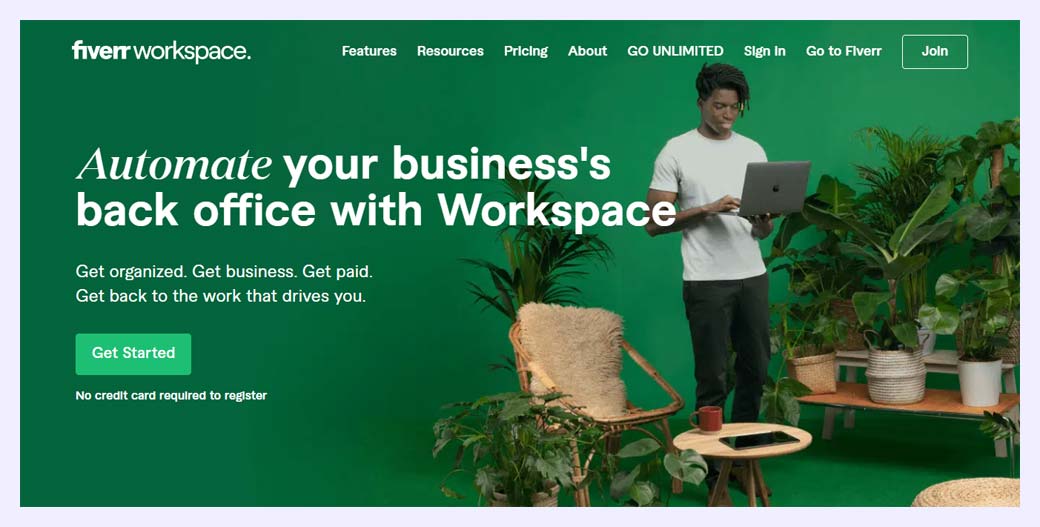 Known as one of the leading freelance marketplaces, Fiverr stands out as excellent accounting software for freelancers at a pocket-friendly price.
The software is easy to use and comes with many features such as invoicing, time tracking, expense management, and bookkeeping.
Fiverr Workspace also offers excellent customer support, a significant plus for freelancers who are not accounting experts.
Key Benefits:
Offers a 50% discount on all plans for the first three months
Excellent customer support
It's a combination of both a reliable workspace and an accounting software
Offers an affordable and easy-to-use accounting solution
Cons:
The software lacks tax support capabilities
It's not a complete accounting software
Limited integrations
Pricing:
The software starts at $18 per month for freelancers with more than one client, making it one of the most affordable accounting and aerospace solutions for freelancers. If you only deal with a single client, you can opt for the free plan.
Kashoo – Best for Personalization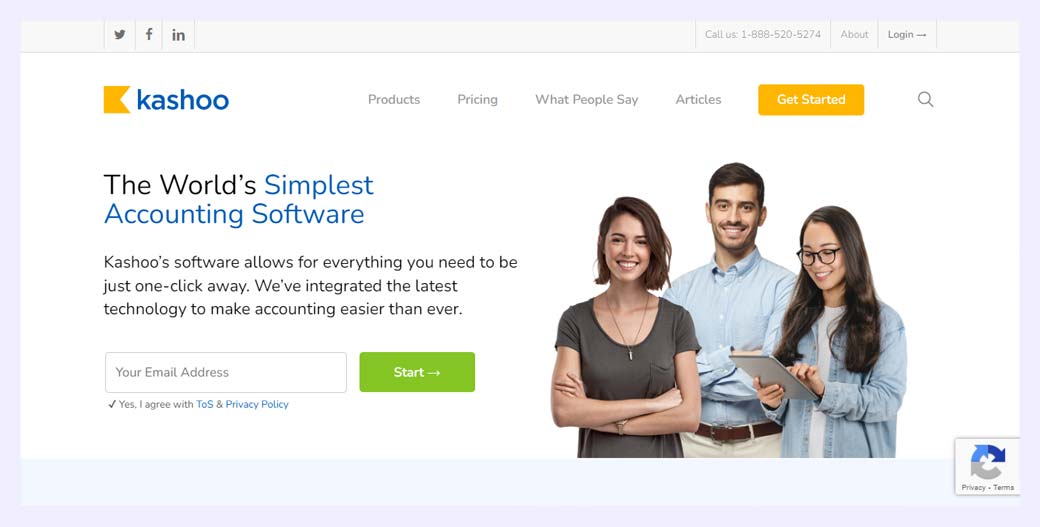 Kashoo is one of the most popular accounting software for freelancers. It's known for its excellent customer support and ability to offer affordable and easy-to-use accounting solutions.
One of its most remarkable features that attract many freelancers is it's customizable. Freelancers can set up their accounts to match their specific business needs.
Kashoo also allows freelancers to track their time, expenses, and invoices in one place. This makes it easier for you to manage your finances and keep track of your progress.
Key Benefits:
Customizable accounting solution
Excellent customer support
Ability to track time, expenses, and invoices in one place
The world's simplest accounting software
Cons:
The software lacks tax support capabilities.
It's not complete accounting software.
It has limited integrations.
Pricing:
Kashoo has a free accounting plan that covers all the accounting and bookkeeping basics.
The second plan is $20/month and comes with attractive additional features like unlimited invoicing, double-entry bookkeeping, and accrual accounting.
The last and most expensive plan goes for $30/month, packed with powerful features such as inventory management, time tracking, project budgeting & more.
Freely – Best for Simplifying Taxes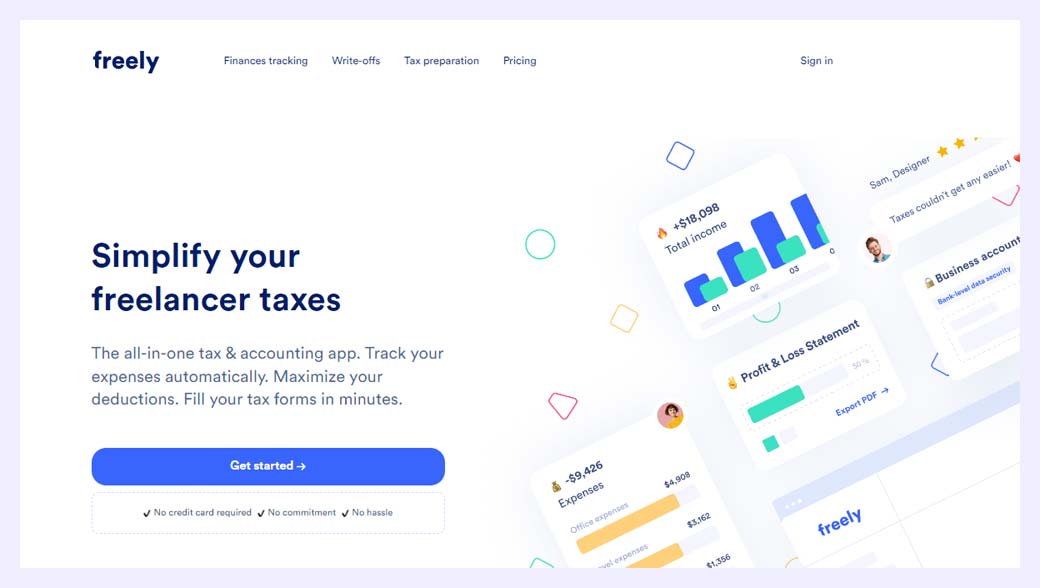 If you're looking for an accounting solution that will help you maximize your deductions as a freelancer, then Freely is the best pick.
With Freely, you can easily track your business expenses and get real-time insights into where you're spending the most.
Moreover, the software comes with a handy tax deduction guide that will help you save money come tax season. Additionally, you can securely link your bank accounts and credit cards to Freely to make tracking your finances a breeze.
Key Benefits:
Easily track business expenses
Get real-time insights into spending
Save money with the tax deduction guide
Comes with prefilled tax documents which makes your work much easier
Cons:
The user interface is a bit dated and could use an update
Limited customer support options
Pricing:
Freely offers a free trial, after which you'll need to upgrade to the paid plan for $15/month available for freelancers. With this amount, you'll be able to access unlimited expense tracking, ready-to-file tax reports, and unlimited bank connections.
As a freelancer who needs to send professional-looking invoices and bills to your clients, the Indy invoice generator is a perfect accounting software to consider. The company focuses on offering an easy solution for receiving and sending invoices.
Users can enjoy numerous supported payment methods, including PayPal, Stripe, and Zelle. You can also send invoices in multiple languages, making it easier to do business with clients worldwide.
The best part? Using the software is easy. With the ready-to-use templates, you have to fill in your client's information and add the services rendered before hitting the send button.
For those who need more customization options, the software also allows you to include your company logo, change fonts, and add personal messages.
Key Benefits:
Allows you to create and send polished invoices and bills with just a few clicks
Offers a wide range of templates so that you can find the perfect one for your business
Gives you the option to include your company logo, change fonts, and add personal messages
Cons:
The software doesn't have a mobile app, so you can only access it on your computer.
Some users have reported that the customer service could use some improvements.
Pricing:
The basic plan is free for life! However, if you need more features such as recurring invoicing or custom branding, you'll need to upgrade to the paid Pro Bundle Plan for $4.49/month.
WORKetc – Best Invoice Solution and Business Management Tool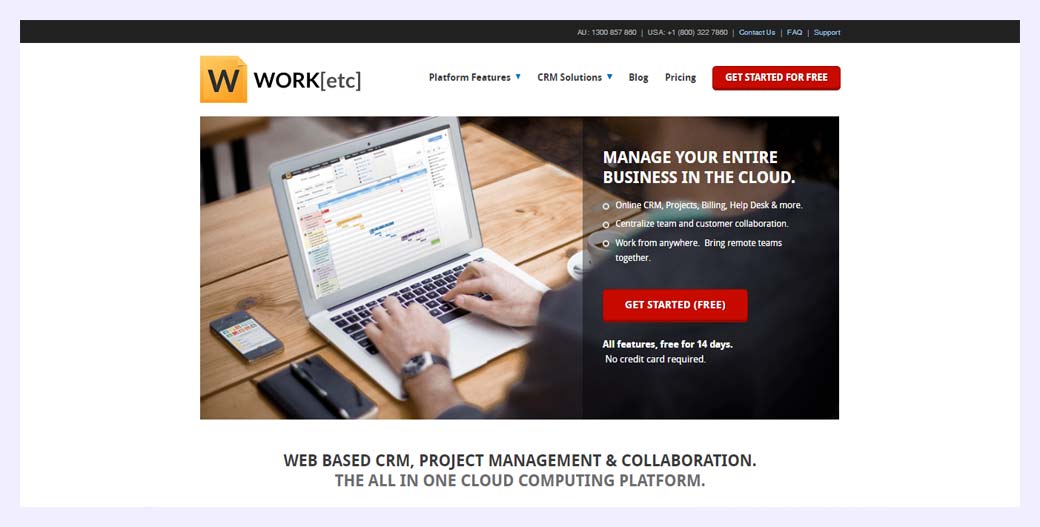 Freelancers oftentimes suffer the lack of credible business management tools that can help them keep track of their work progress. The situation is even worse if, as a freelancer, you cannot find an equally credible invoicing or accounting tool.
This is where WORKetc comes in, as it is not only an invoicing solution but also a project management tool that can help freelancers keep track of the work being done for each client.
This software works as a SaaS (Software as a Service) tool while also emphasizing CRM. You can use this to your advantage by connecting with clients through the WORKetc interface and manage every aspect of your freelance business from a centralized location.
What's more, you have the option to give clients limited access to their project files so they can monitor your work progress without having to go through the hassle of sending them separate updates.
Key Benefits:
Complete project management and accounting solutions in one
Freelancers of all levels of experience can use it
Connects with clients through the WORKetc interface
Cons:
The interface can be a bit confusing and overwhelming at first glance
It could be too expensive for beginners
Pricing:
WORKetc pricing starts at $78/month for the Starter Plan user, then $195/month for the Team plan, and $395/month for the Foundations Plan. A free trial is available for each plan for 14 days.
Conclusion
Finding the right accounting software as a freelancer is key to keeping your business organized and running smoothly. The above accounting software programs are all great options that offer various features to meet any freelancer's needs.
Ensure you do additional research and find the accounting software program that is the best fit for you and your business. With the right accounting software, you'll be on your way to financial success as a freelancer.