Among thousands of paraphrasing tools available on the internet, Paraphrasingtool.ai stands unparalleled. What sets it apart? It's sophisticated AI-driven algorithms and machine learning technology. Paraphrasingtool.ai is a comprehensive solution for all your writing needs, thanks to the dozens of writing and editing tools under its shed.
Well known for its paraphrasing capabilities, Parapphrasingtool.ai does not just swap out words; it reimagines sentences while preserving their original essence. This intricate dance between understanding and recreating has made Paraphrasingtool.ai an indispensable asset for professional writers, students, and researchers across the globe.
When you use Paraphrasingtool.ai, you're not just rephrasing content but elevating your work, ensuring every restructured sentence resonates with clarity and precision.
In this article, we will review the transformative power of this powerful paraphrasing tool and see how effective it is in rephrasing content.
Let's get started!
What Purpose Does Paraphrasingtool.ai Best Serve?
Ever found yourself in a creative rut, struggling for the right words? Or maybe you're trying to wow your readers with persuasive prose and a rich vocabulary but just can't strike the right note.
This is where Paraphrasingtool.ai comes into the picture as a lifesaver. It doesn't merely rearrange your sentences; it elevates the entire essence of your writing, making the process faster and more efficient.
The best part of the Paraphrasingtool.ai Rephrase Tool is that it is available for free!
Moreover, in cases where a rephrased version is away from the proper tone according to your audience? No worries!
Paraphrasingtool.ai's unique 'tone customization' feature has got you covered. You can change the writing tone from professional to casual, formal, and witty. Keep tapping until you find that perfect tone of your thoughts based on your readership.
Beyond rephrasing content, Paraphrasingtool.ai shines as an anti-plagiarism rewriting tool, ensuring your content remains both original and outstanding.
Let's have a quick look at how Paraphrasingtool.ai works and see where it can help you in the writing process.
How Paraphrasingtool.ai Works to Rephrase Content?
Undoubtedly, Paraphrasingtool.ai emerges as a standout platform designed to breathe new life into your content. With its promise of a fresh, engaging touch, here's a deep dive into how this tool works.
Starting with the free features, you can paraphrase content spanning up to 20,000 characters in the 'free rewriter' mode.
But the free limit doesn't end there. Paraphrasingtool.ai unfolds a couple of other modes: 'text improver' that refines your write-ups and the 'near human' mode that brings an almost human touch to your rephrased content.
If you're looking to tap into the free version, it's as straightforward as visiting the website and entering your content. In just a few clicks, you'll get the paraphrased version of your content.
For those eyeing the more feature-rich premium usage, begin by entering the login details. After entering your premium credentials, enjoy its premium features and watch your content become more effective.
Your Step-by-Step Rephrasing Guide
Paraphrasingtool.ai offers a dynamic way to recreate your content, ensuring it's refreshed and engaging. Here's how you can make the most of it:
1. Open the Tool: Open Paraphrasingtool.ai on your browser.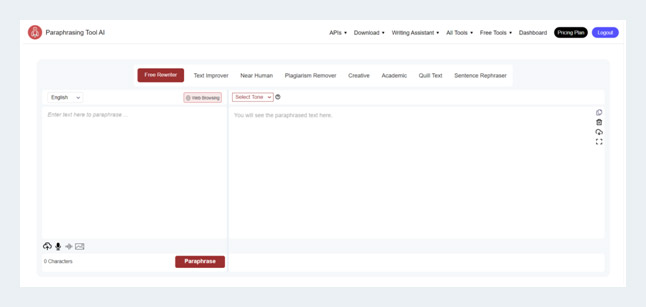 2. Upload Your Content: You have flexibility here. Copy and paste your text or upload a file. What's exceptional? This tool supports multimedia paraphrasing – be it images to text, speech-to-text, or even audio paraphrasing.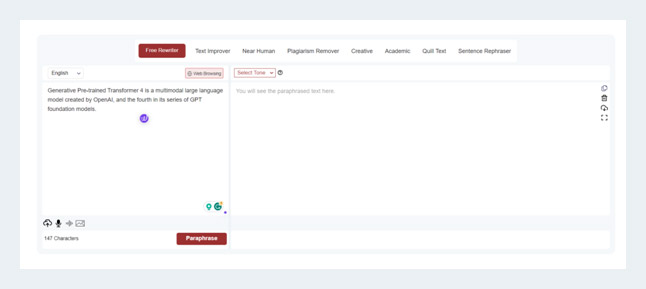 3. Choose Your Mode: Select from the available paraphrasing modes, tailoring it to your needs.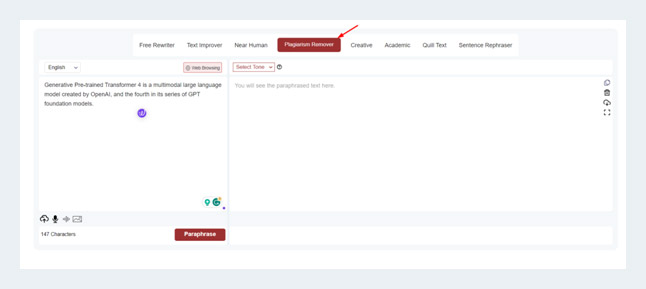 4. Set the Tone: Determine the tone you want your content to adopt.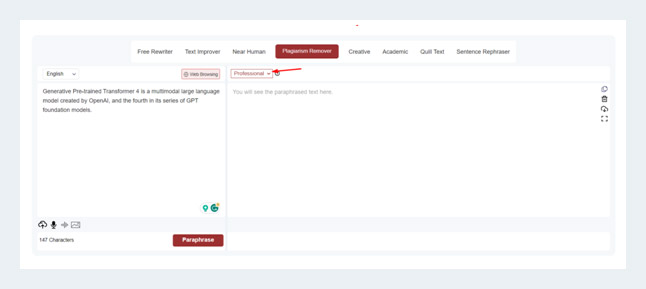 5. Hit 'Paraphrase': Once satisfied with your selections, click on 'paraphrase'. Watch as your content is brilliantly transformed!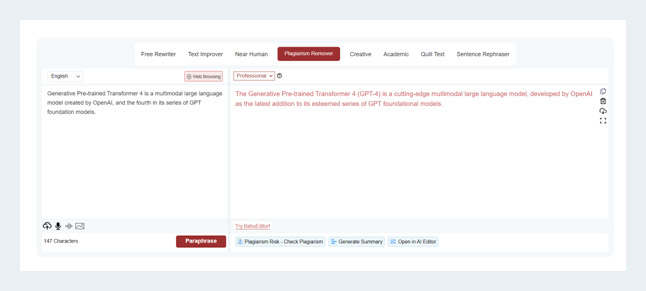 See how easy it is to work with this amazing paraphrasing tool.
Listed below are the features provided by the Paraphrasingtool.ai
1. Editor Interface:
At the core of Paraphrasingtool.ai is its user-friendly editor interface, designed with simplicity and intuitiveness in mind. The interface allows users to easily input, modify, and view content, making the process of paraphrasing smooth and efficient.
2. Seamless Integration:
Paraphrasingtool.ai understands that users may employ various browsers for their work. Hence, it offers seamless integration with major browsers including:
Chrome
Mozilla Firefox
Microsoft Edge
Safari
Opera
3. Mobile Availability:
Recognizing the need for mobility, Paraphrasingtool.ai offers dedicated apps on both the Android and Apple App Stores. This makes it convenient for users to paraphrase content on the go, ensuring productivity even when away from a desktop.
4. MS Word Add-On:
To enhance its utility, Paraphrasingtool.ai offers an MS Word Add-On. This means users can directly use the paraphrasing tool within their MS Word documents.
5. Tone Customization:
Every audience is unique, and the tool's Tone Customization feature allows you to switch between casual, professional, formal, and witty.
6. Web Browsing Integration:
With Web Browsing capabilities built into the platform, users can directly search for content, extract relevant information, and paraphrase it without leaving the tool.
7. Multimedia Paraphrasing:
Paraphrasingtool.ai is not limited to just text. The Multimedia Paraphrasing feature is a game-changer, allowing users to convert audio and images to text and then paraphrase them. Think of it as having a tool that listens, views, understands, and then rewrites content for you.
8. Built-in Plagiarism Checker:
To ensure content originality, the Built-in Plagiarism Checker is indispensable. After paraphrasing, users can instantly check the content for any unintentional similarities, ensuring the content's uniqueness and authenticity.
9. Advanced AI Editor:
The AI Editor takes content editing to the next level. Powered by advanced algorithms, it can suggest edits, refine content structure, and even offer translation or summarization options, making your content polished and reader-ready.
10. Get Synonyms and Definition:
Ever stumbled upon a tough word? The synonym-changing feature not only allows customization but also offers definitions of challenging terms.
11. Diverse Paraphrasing Modes:
Understanding that not all content requirements are the same, Paraphrasingtool.ai offers a variety of paraphrasing modes. Whether you want a simple rewrite, an academic overhaul, or a creative spin, the tool has a mode tailor-made for your needs.
The Eight Paraphrasing Modes
With eight distinct paraphrasing modes, Paraphrasingtool.ai has something for everyone.
Free Rewriter: Available to all, it paraphrases up to a whopping 20,000 characters without costing a dime.
Text Improver: Enhances readability and repairs sentence structures. And guess what? It's free too!
Near Human: Delivering a touch so refined, it's almost human. Available for all to use.
For those willing to go the extra mile with their content, the premium package offers:
Plagiarism Remover: Ensuring the authenticity of your content by making it distinct and safeguarding writing integrity.
Creative: Amplifying creativity and introducing fresh, unique writing perspectives.
Academic: Tailored to refine academic pieces, perfect for research endeavors.
Quill Text: Simplifies and streamlines, making content clear and concise.
Sentence Rephraser: A deep dive into every sentence, rephrasing for optimum impact.
Note: Each mode is intelligently crafted. Click on a rephrased sentence, and voila, you get five alternate renditions.
Conclusion: Is Paraphrasingtool.ai Effective for Rephrasing Content?
After a comprehensive exploration of Paraphrasingtool.ai's features and capabilities, the answer is a big yes.
The tool goes beyond the traditional boundaries of mere rephrasing tools. By integrating advanced AI, multimedia capabilities, diverse modes of paraphrasing, and a suite of other user-centric functionalities, it not only rephrases content but also elevates it.
Whether you're a student, researcher, content creator, or professional writer, Paraphrasingtool.ai offers a handy approach to your paraphrasing needs. Get it a try today!