Are you looking for the best online sketch resources? Well, there are a plethora of sketch mockups, free sketch UI kits and wireframe templates/kits that can be used for every designer's project. These are scattered all over the internet and to find all the perfect ultimate free sketch resources is just so much of work. So, here we are!
We have come up with all the information that you would fulfill every designer's dream in no time. Sketch being the top vector design tool running on Mac, has a huge number of lovers owing to its simple UI and indefinite designing capabilities. If you are aware of all the useful tips and tricks to use the sketch in the right way, this handy information will act as a show-stopper all for the Sketch lovers. It is precisely made to impart ease-of-use to them for their every upcoming design projects.
With that being said, what are we waiting for? Let's begin by discussing the top sketch resources that include different UI kits, wireframes and even plugins. All these will suit all your needs and you can begin designing some creative yet decent designs in just few minutes.
Best Sketch Resources Available Online
Sketch has been one of the favorite platforms on Mac for all the designers. It comes with many sophisticated features that give your projects a ravishing finish and that is the only reason why everyone loves to use sketch so much. Given below are some amazing sites that you must look out once:
Platforma Web Wireframe Kit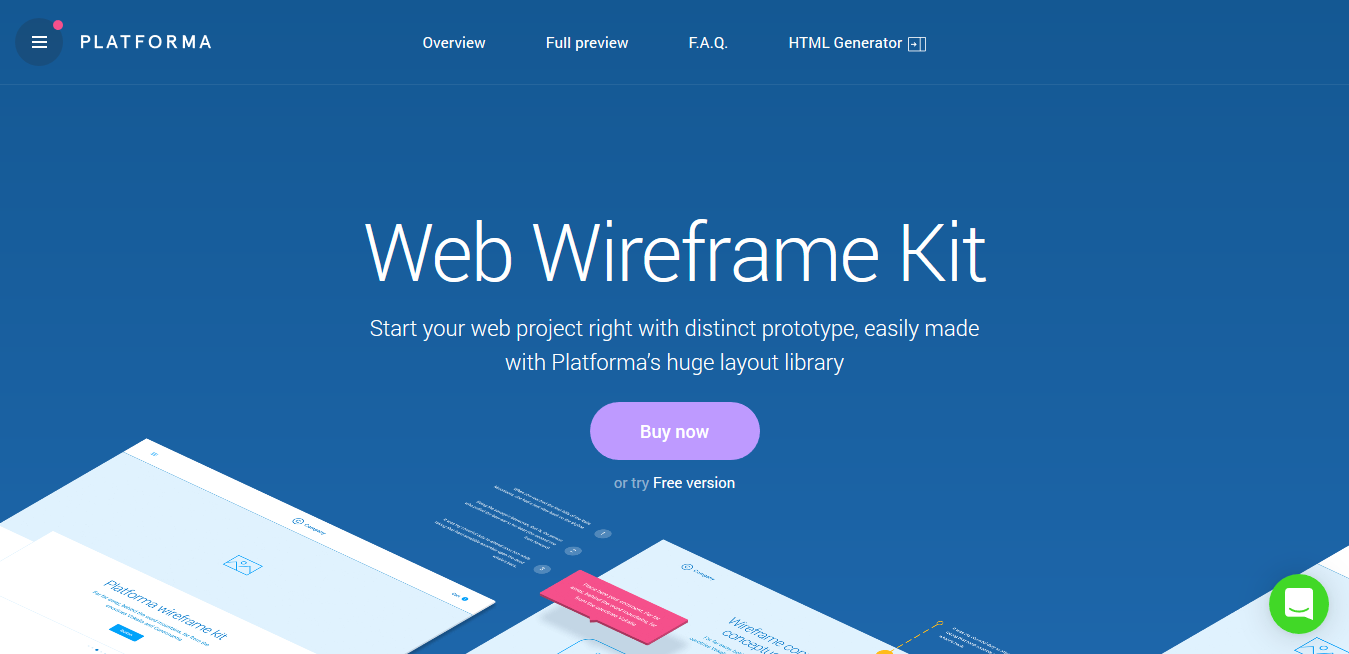 It is considered one of the best sketch wireframe kits that can be used for designing spectacular layouts for our website or application using Sketch, Illustrator, HTML, Photoshop and many more. Platforma provides various paid wireframes kits which distinguish depending upon the need and the specification of the user. It is a web-based designing and rearranging platform that provides you a huge variety of unique layouts with a number of features like drag 'n' drop generator, advanced export, sketch resizes, editing tools, Google fonts etc.
Sections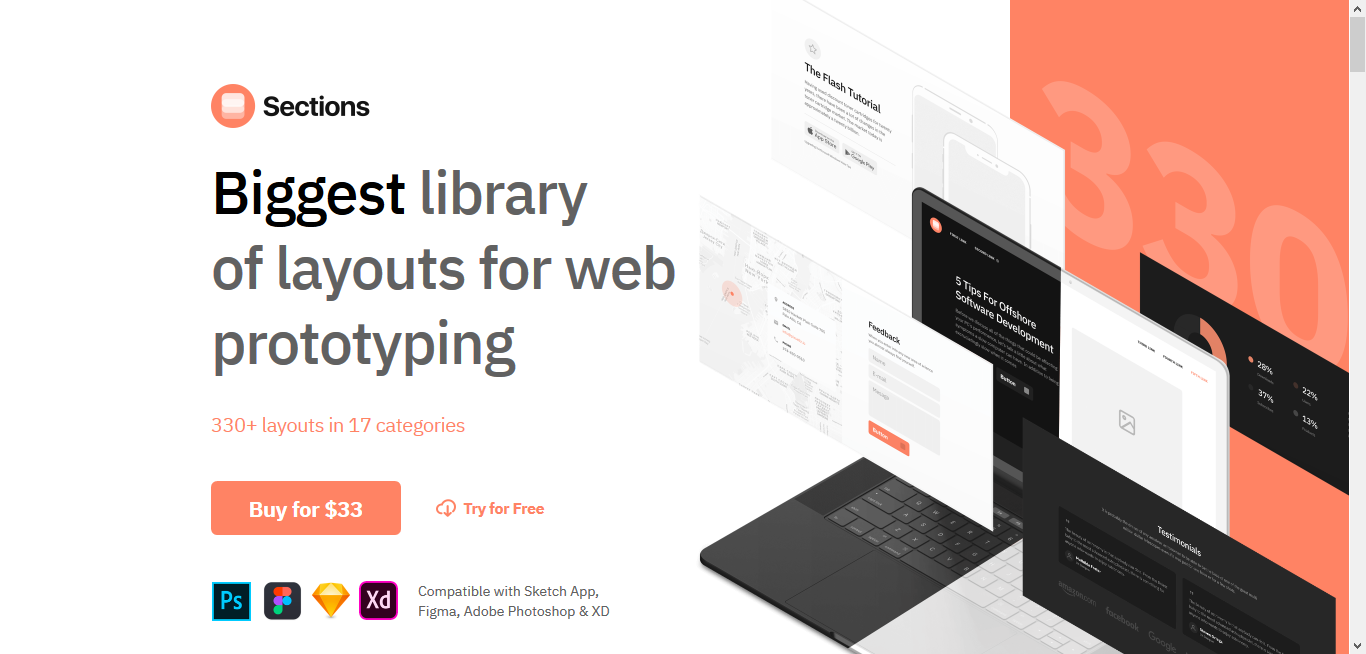 Sections is a platform that has a plethora of 330+ layouts and screens so that the users can easily create a prototype and customize it as per their style and requirement. You can simply try its free sketch UI kits for experiencing the highlighting features of this software which are layer styles, resizing options, text styles, nested symbols, and many more. It is the best kit for sketch mockups and building web UX development projects.
KK UI Store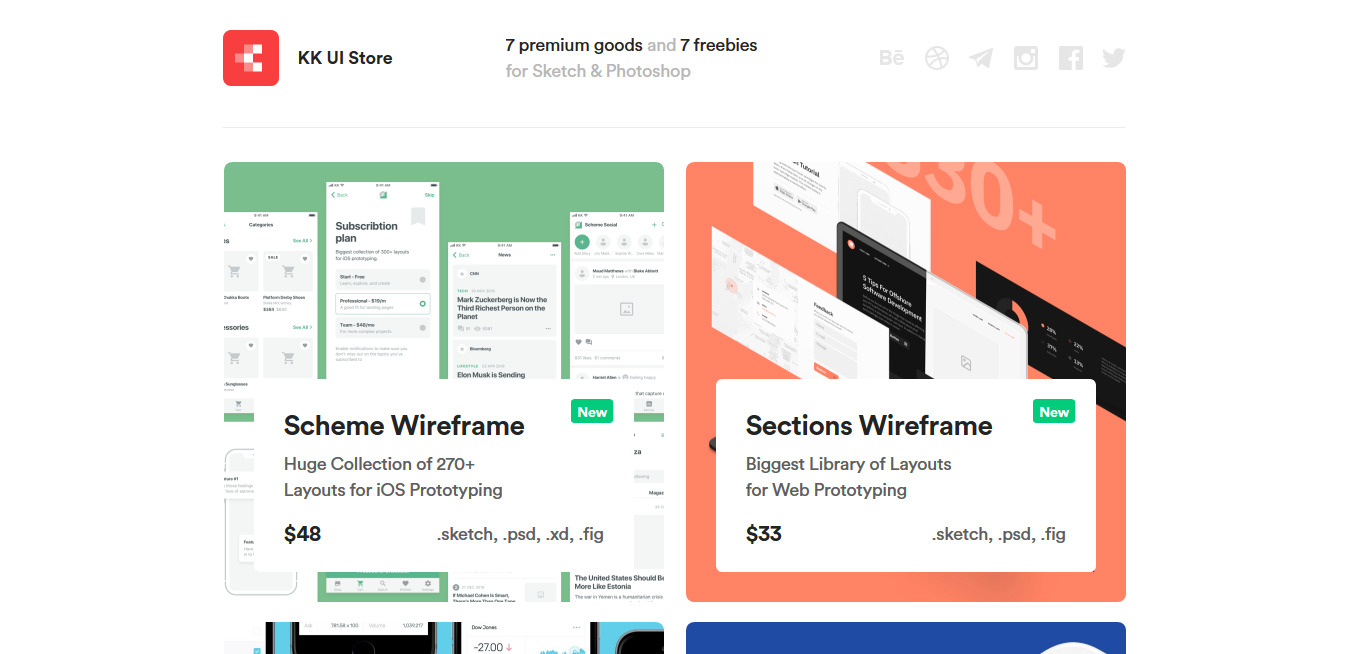 This platform is famous for its sketch website templates and offers a wide range of layouts, templates, and wireframes for different mobile applications, websites, IOS devices, UX designing, and projects. KK UI Store has a series of freebies and paid UI kits such as Flowchart Starter Kit, Font Combination, Mockups Library, Grid System Library, Vera Block Mobile UI Kit, Scheme Wireframe, Aware Mobile, Fair UI kit, Ease UI Components and many more.
Market by Designmodo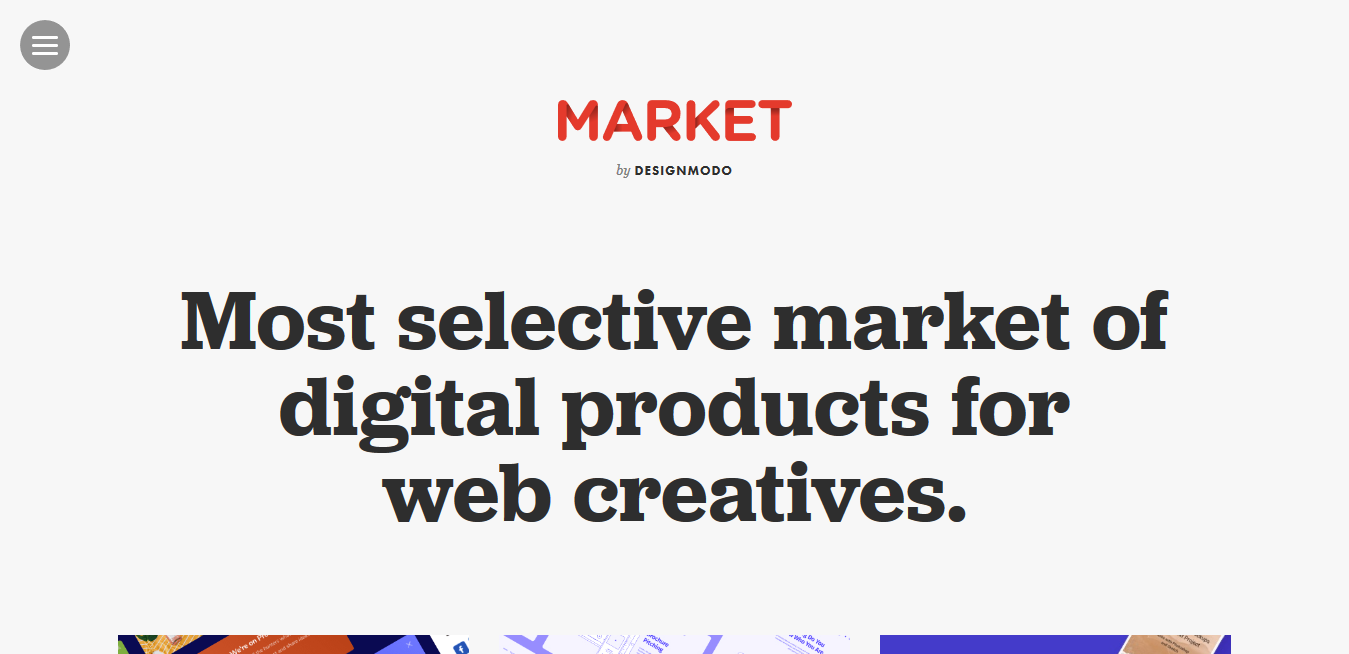 Market is a place where you can get a huge range of intuitive layouts, mockups, UI kits, prototypes and wireframes for different products. This platform is initiated by a group of intellectual and creative web designers and app developers under Designmodo project. It is a web-based platform that has a wide variety of paid sketch wireframe kits like HERO Samsung Galaxy S9 Mockups, Awesome IOS UI Kit, Replica Android UI Kit, Universal Web UI Kit, Collector IOS Wireframe UI Kit, Knock-Mobile UI Kit with Wireframe and many more.
Sketch Repo – Free Sketch App Resources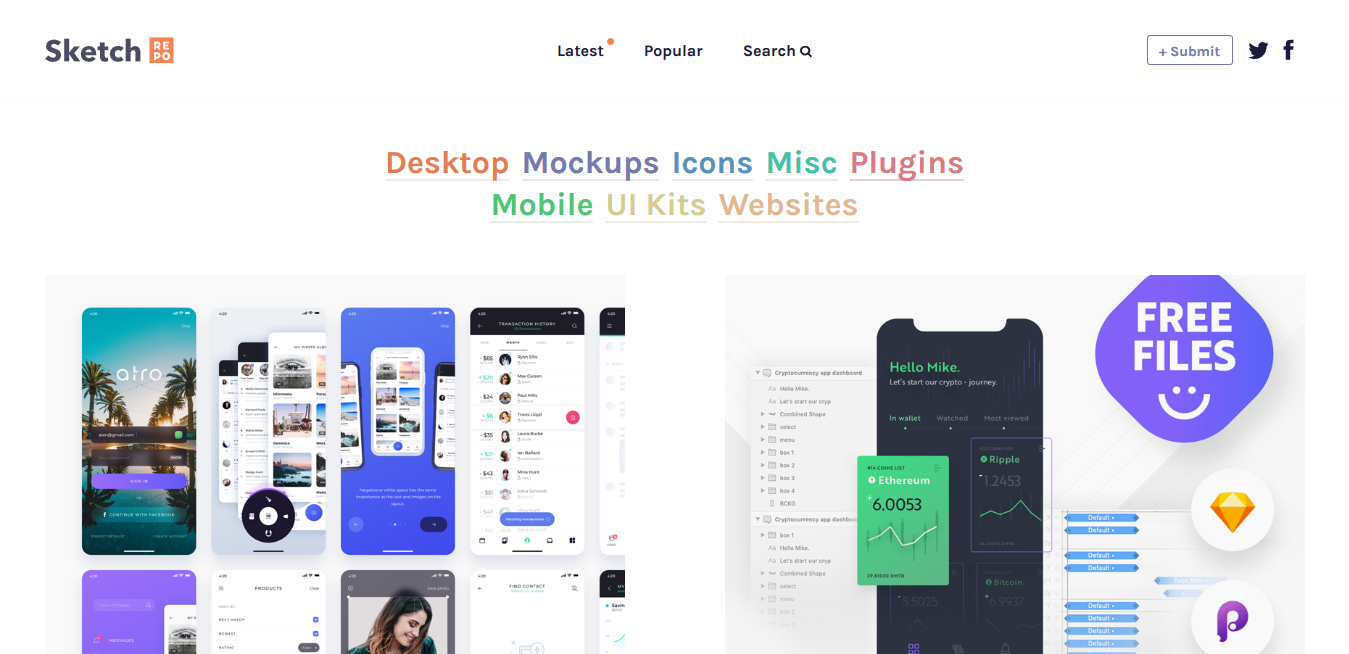 Sketch Repo is an all in one web-based software which is famous for providing layouts, sketches, and wireframes for desktop, websites, mobile screens, plugins, mockups, and UI Kits. It is basically designed into different categories of concepts such as Spotify App Concept, Macintosh 128k Mockup Sketch, Flowchart Cards Sketch, Hostel Booking App Concept etc. The main highlighting features of this software is that it has a different set of icons, graphics and logo designs for a different range such as Christmas Candy icons, Dating App Concept etc.
Sketch App Sources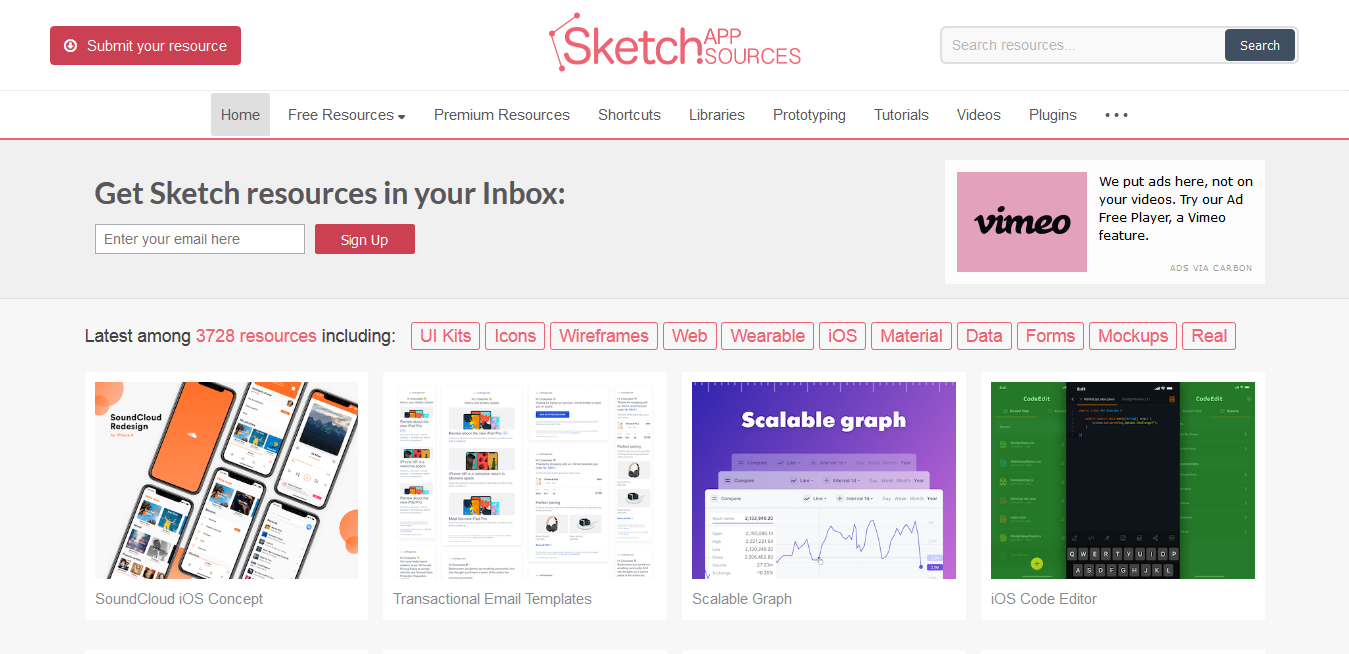 It is regarded as one of the largest platforms for high-class sketch website templates. This platform has a huge collection of top quality articles, logos, buttons, tips, layouts, plugins, UI kits, icons, wireframes and many more designing resources which are not only easy to use but also creative for designing. Sketch App Sources is available in freebies and paid packages and the users can simply download the required format for designing their prototypes.
SketchAppTV – Free Sketch Video Tutorials Design Resources Sketchapp Freebies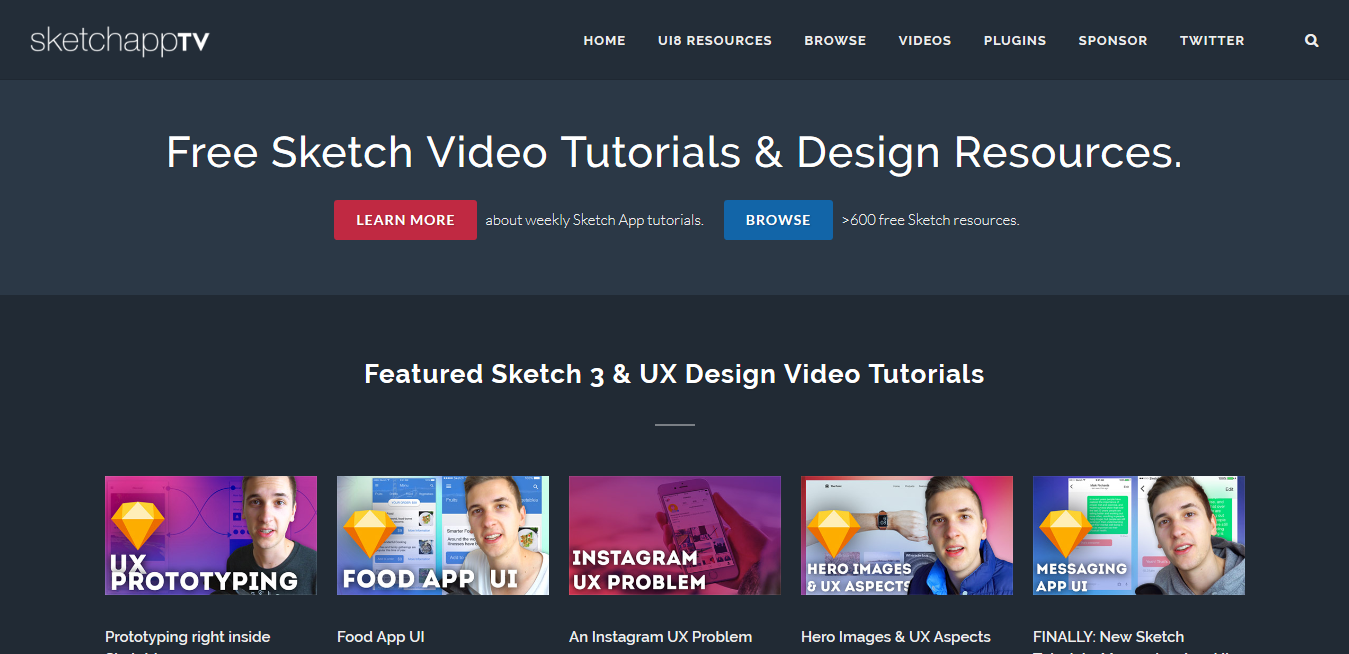 SketchAppTV is considered one of the most popular platforms that provide a hub of free sketch resources and sketches video tutorials for its users. Most of the designers and graphics developers of the leading companies use SketchAppTV in order to design beautiful graphics, icons, images, and drawing for their websites and mobile screen applications. Not only this, it is a perfect platform that is available different bundles of freebies and paid UI kits like Clothing Store App UI, Apple Watch Kit, Night and Travel UI Kit and many more.
Sketch Plugins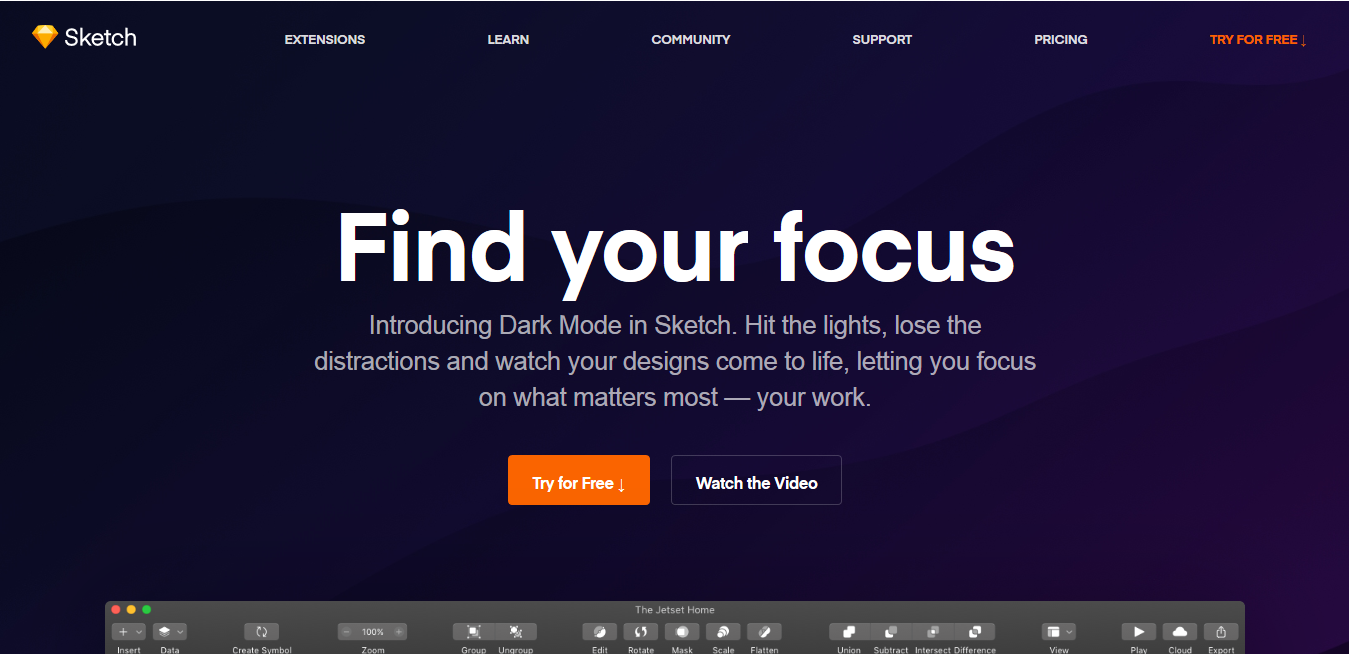 It is a place where users can easily design and create wonderful sketch app resources especially plugins and extensions. The key highlighting feature of Sketch Plugins is that it has a huge variety of plugin formats such as Material Theme Editor, Jira Cloud, Plant, Overflow, WeTransfer and many more. Also, it has an SVGO Compressor that will automatically compress your SVG assets at export timing. These extensive sketch resources are easy to use and faster to generate wireframes. It has a wide variety of wonderful integrations like Abstract, Scribble, Versions etc.
Sketch Tricks – Sketch App Tricks Articles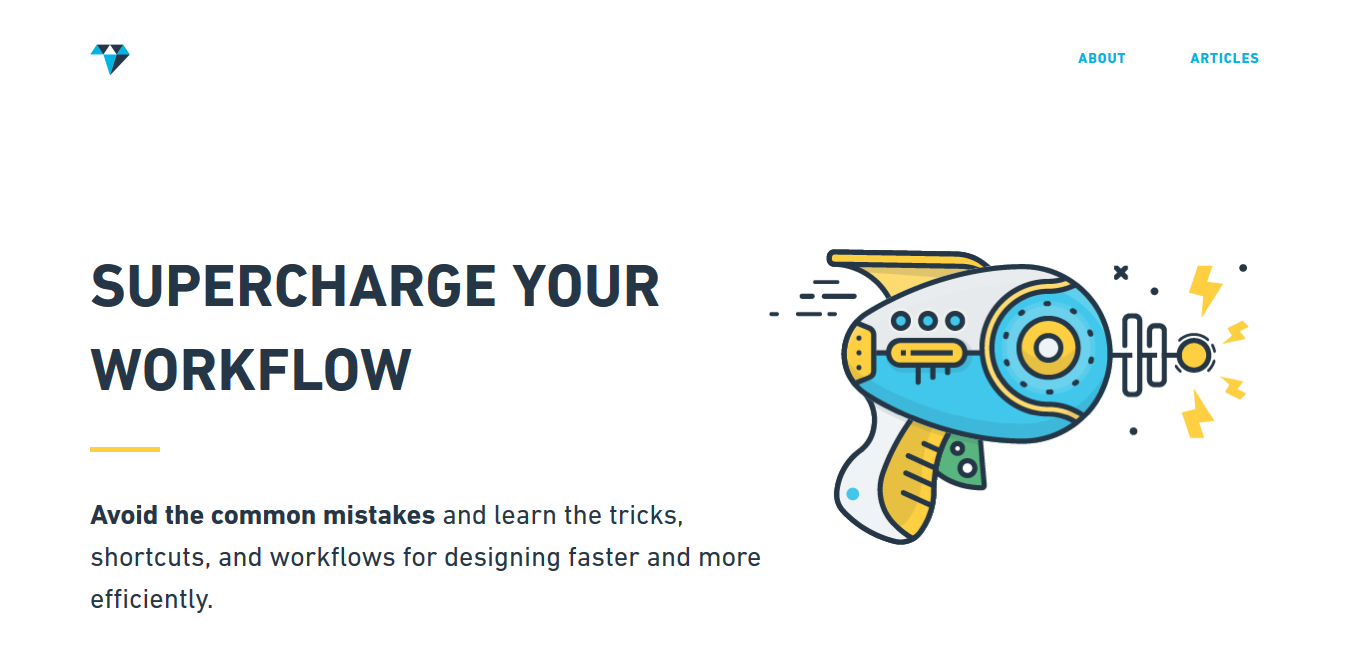 It is regarded as one of the best software for designing beautiful things like plugins, icons, layouts, and extensions in order to generate value for the money of its customers. The main focus of Sketch Tricks designing team is to create and discover some of the simplest tricks and valuable practices for its users. It is an efficient means of creating designs which you can easily edit and resize using the Sketch app's toolbar.
Sketch Talk – Friendly Sketch App Community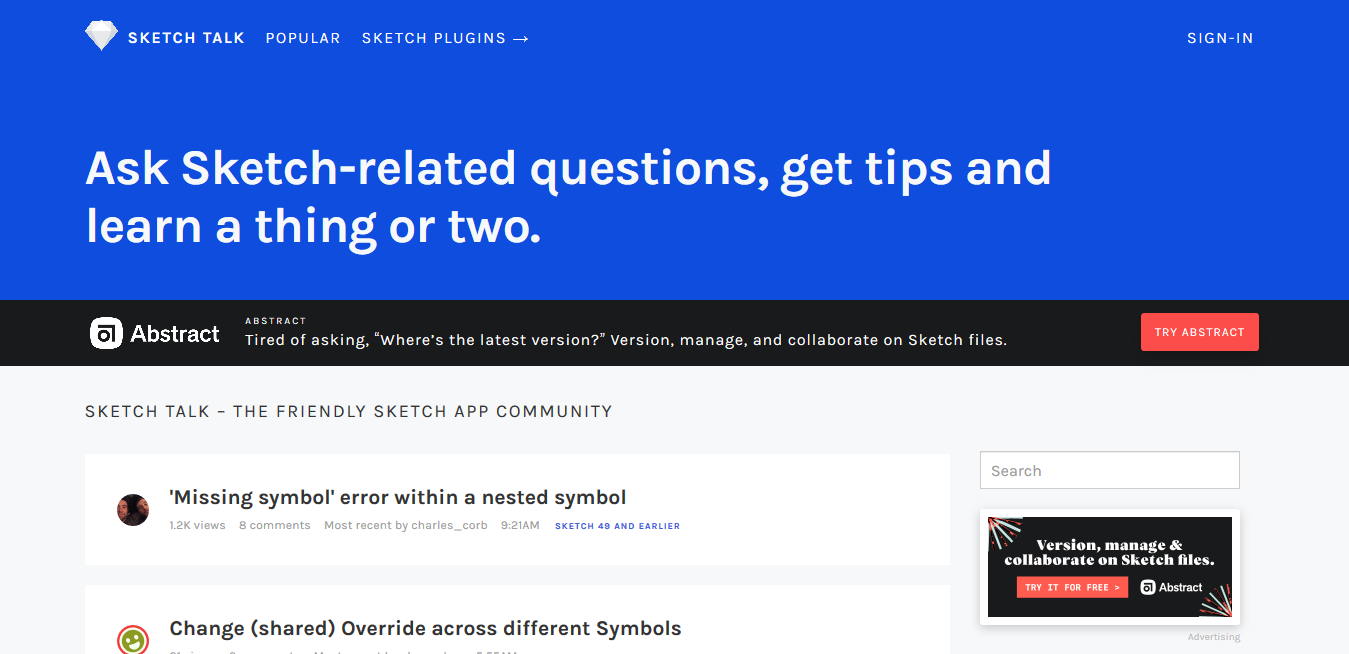 Sketch Talk is a place where different users can get tips, tutorials, plugins, and many other sketch resources. It acts as a guidance and support center for its customers. It has become a leading network of thousands of entrepreneurs, startup executives, UI designers, and other leading companies. You can get a wide range of comments, reviews, previews, and ratings of different users. This will not only enhance the customer service but also boost up the efficiency and trust level of the users on the UI/UX designers.
Sketch App Hub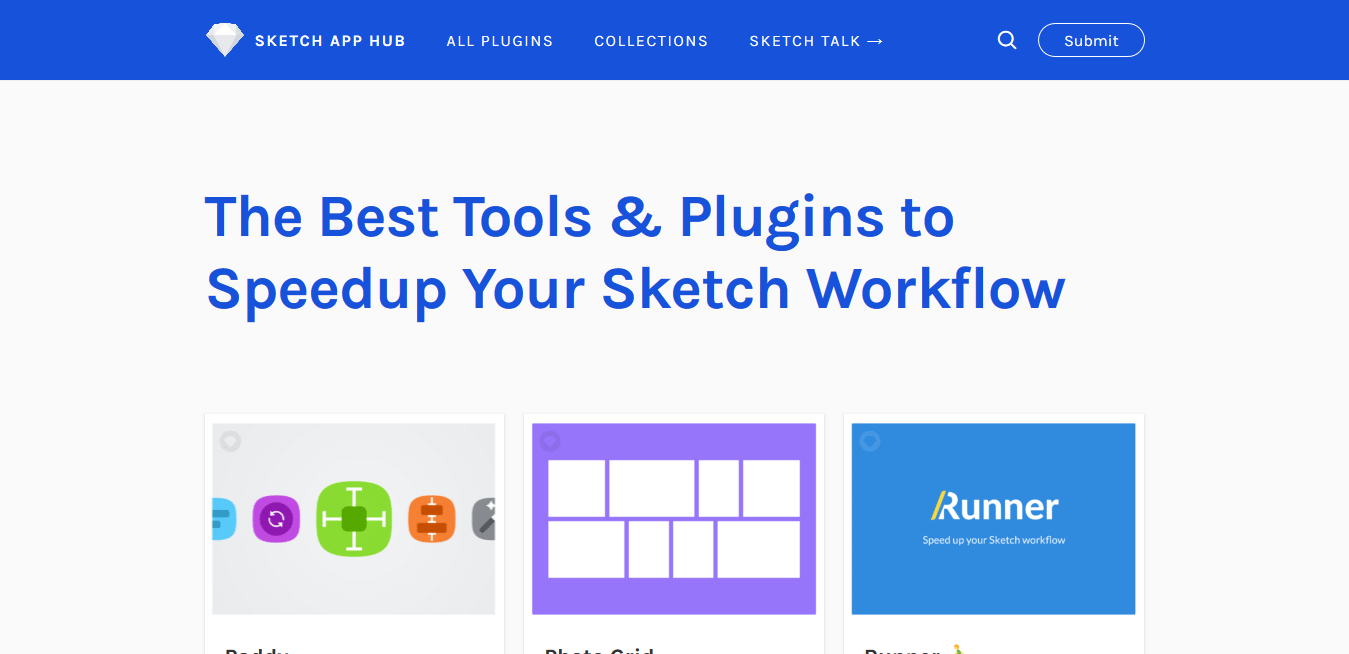 Sketch App Hub specializes in design workflow management and Sketch version control. It is designed and initiated by Olivier Heitz. The main features of this software consist of automated padding, Runner, Photo Grid, Library Symbol Replacer, FontBudyy, Text Style Master, Abstract, Icondrop and many more. It has a vast collection of prototyping tools, sketch techniques, templates, kits, icons, repositories, visual designs, and many other sketch resources. You can even subscribe to their monthly newsletter in order to get timely updates about new Sketch tools.
Sketch For Designers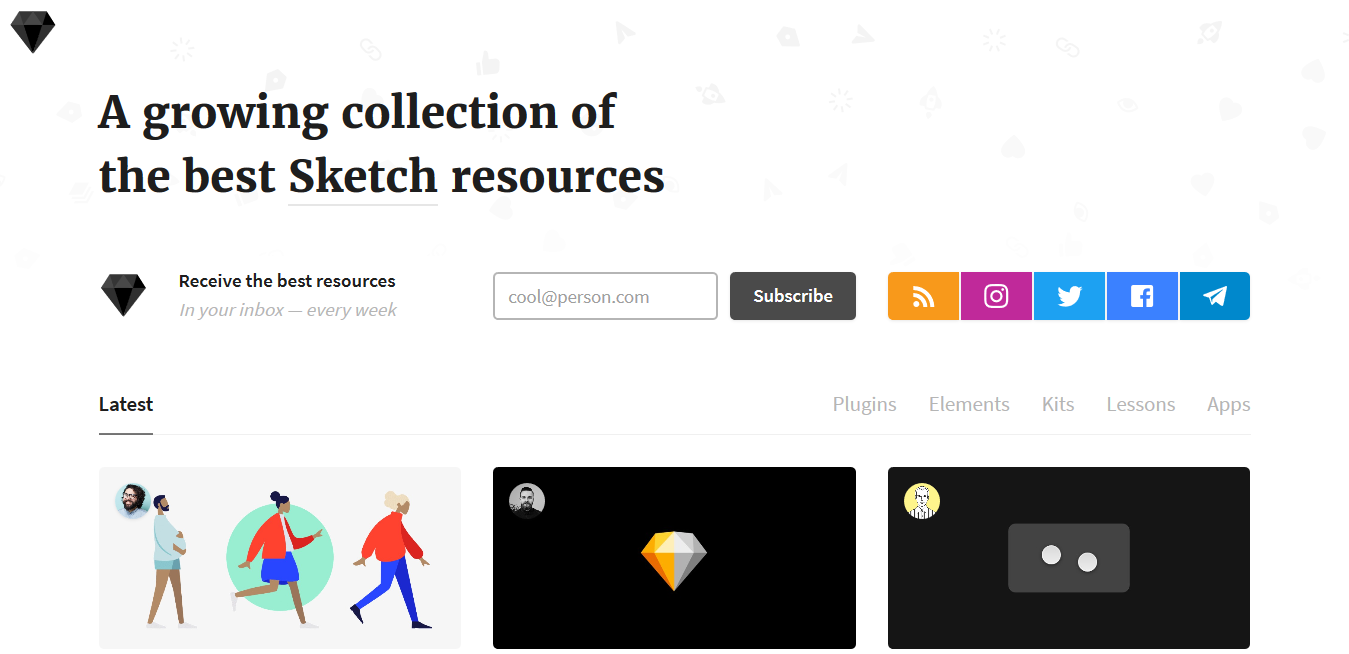 Sketch For Designers is a software created in Auckland in order to provide the best collection of unique sketch template IOS and Android such as Artboard Framer, Material Theme Editor, Plot, Bottts, Sketch Trackpad Speed, Humaans, Replica Android UI Kit etc. This software is popular for its excellent quality of service and high-class material design quality. It is created by an intellectual team of professional designers and creators in order to increase the growing productivity of Sketch designs and prototypes.
Creative Market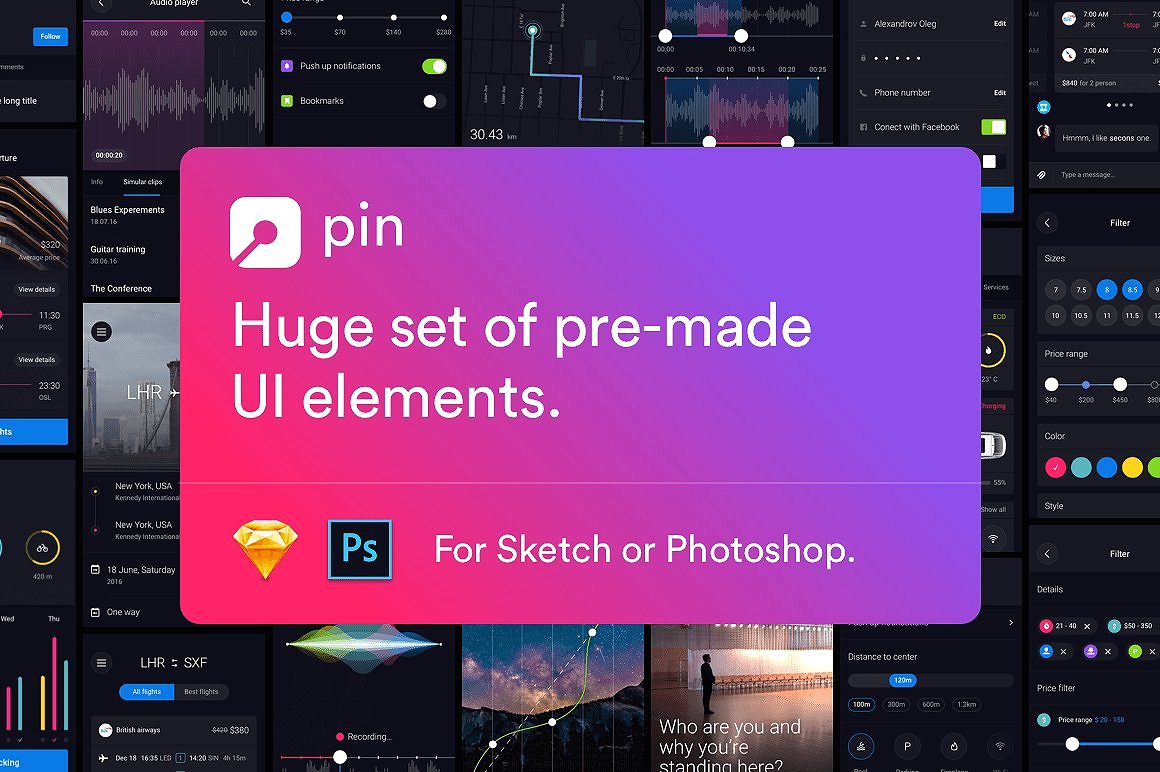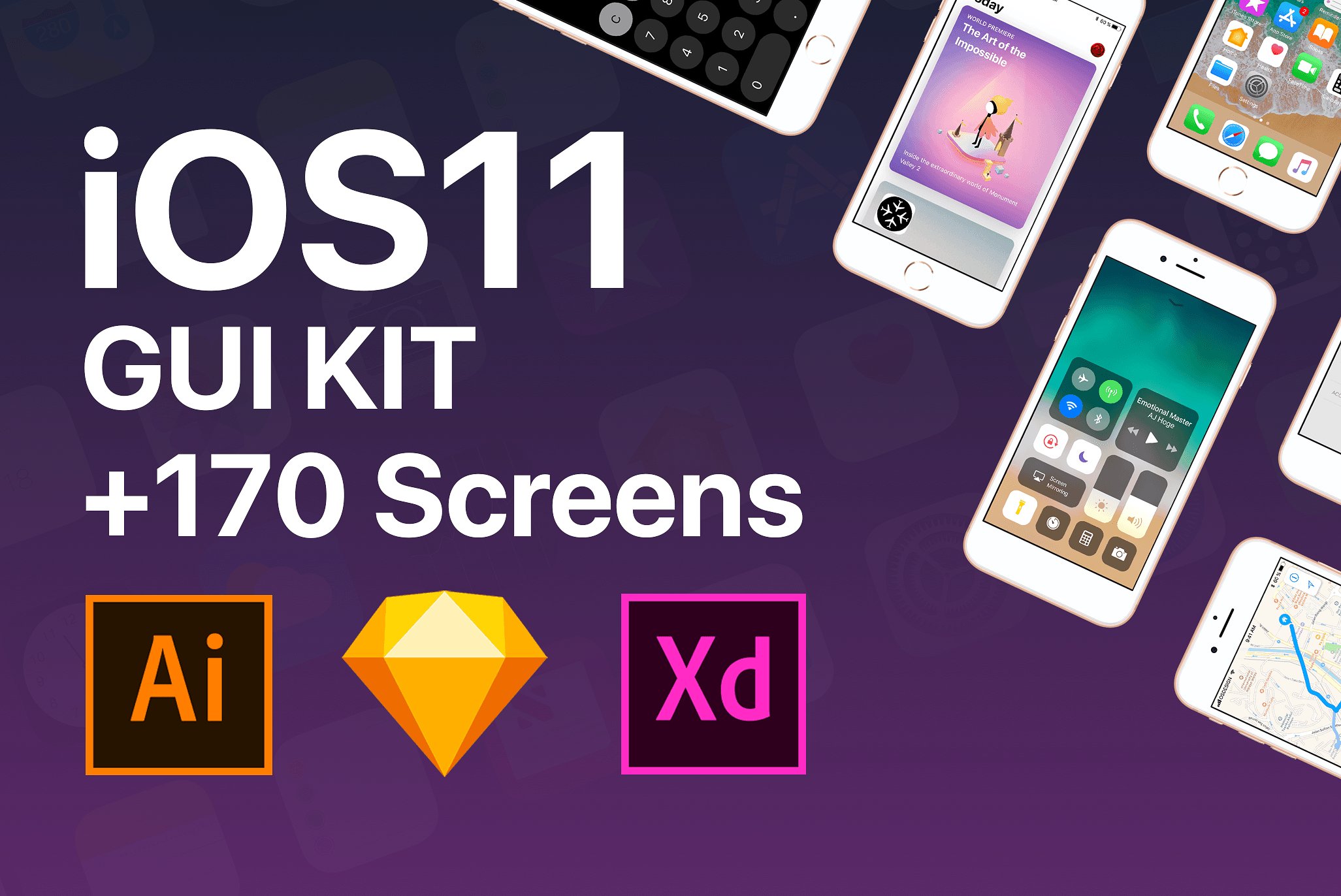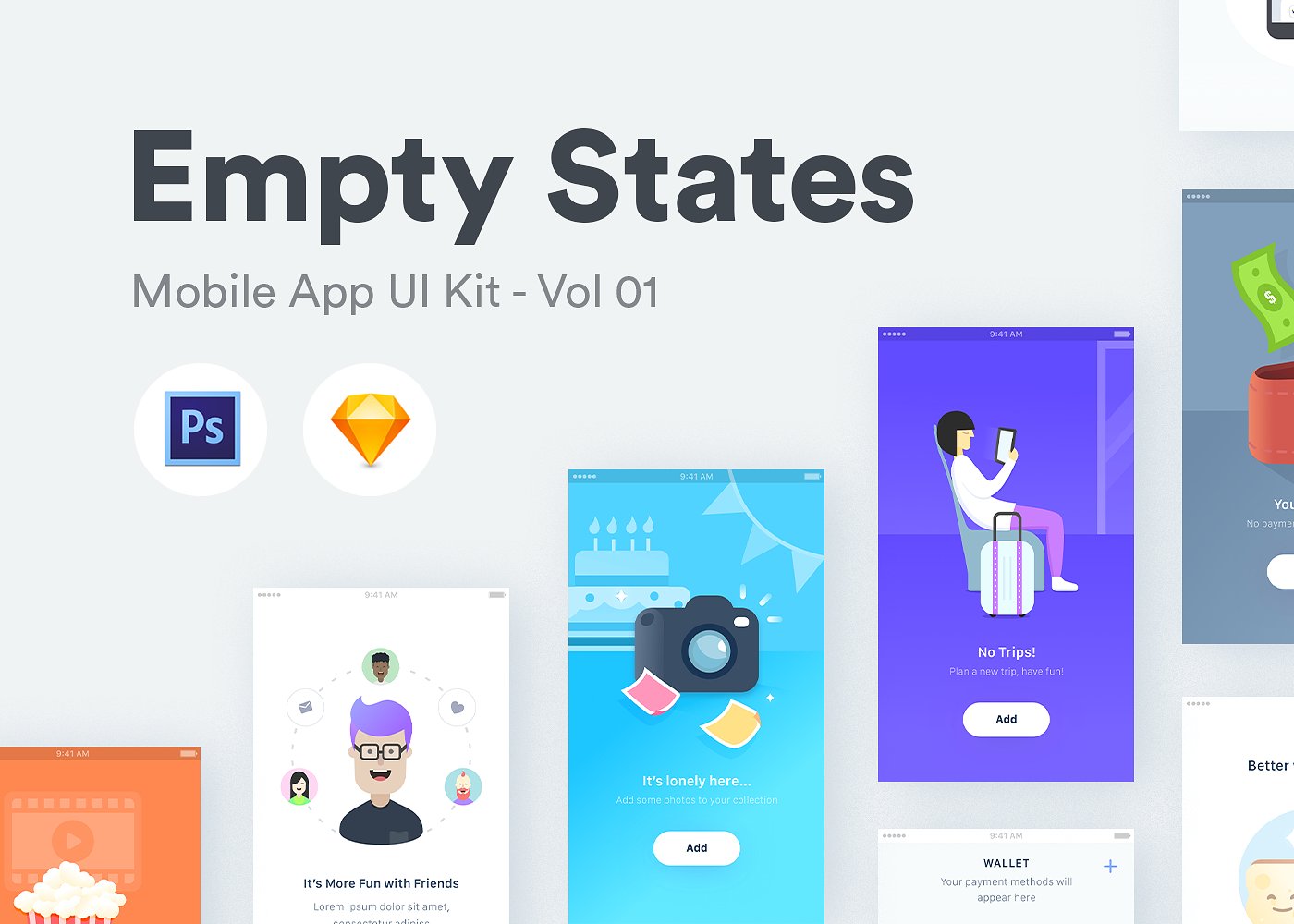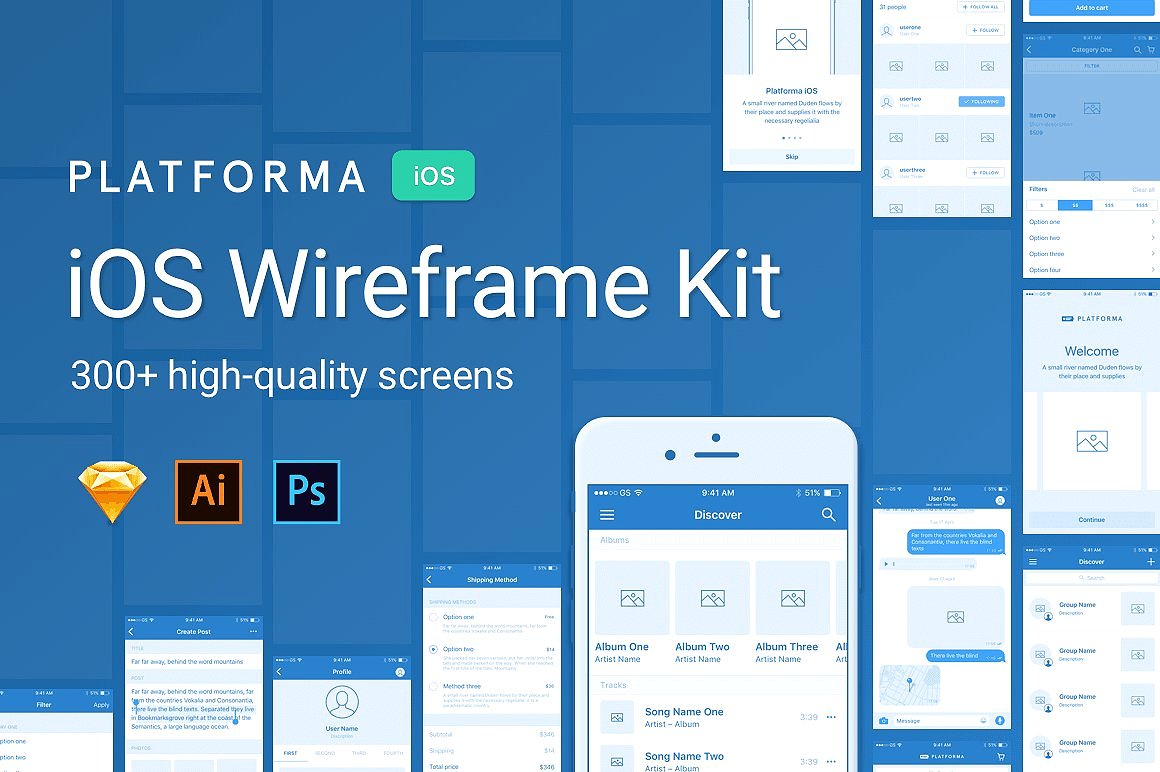 It is considered one of the largest platforms that provide a huge range of ready to use designing assets like fonts, graphics, patterns, scripts, mockups in different categories of paid sketch UI/UX kits namely Procreate Brushes Bundle, Infographics, Margo, Breeze, Sophia Ronald, Santorini, Silver South Font, Northwell Font and many more. Creative Market is a perfect combination of creativity and innovation by more than 25,000 creative designers and application developers. Some of its key components are 3D animations, animals, environment, food, objects etc. along with add on features like brushes, palettes, shapes, gradients and many more.
With this, we halt here as the list is literally endless but we only wanted to share the best that can be used at all times. Mind you! These resources will make you fall for the sketch app and you will love using it more.
Some Final Words
What we discussed above were some mind-blowing sketch resources and they will leave you surprised with the results. Not only will they help you in getting the best material design UI kit for the sketch and other stuff but they will also bring to you the best kind of result for your future design projects.
We hope this guide could help you with all the essential information and you were able to identify all the beauty and charm these excellent resources for sketch app can bestow on your designing projects saving you large search time.
For now, our job is done! We hope we could get you all the stuff you ever thought of having. Thank us later! we would really love to see how you used these material to create your own designs in the comment section below. Do share with us all the links below! See you again!
Till then, Enjoy Your Sketching!!