In visual design, change is the only constant. Designers must look at people's latest choices, preferences, and requirements. So explore the world of popular colors, curves, and themes from this visual trends guide and hinder creative ruts.
2023 is the year for designers to experiment with their unique ideas through AI and technology. Designers favor simple graphical illustrations with 3D designs and bold colors. Over time, minimalists have also used neutral colors. Using futuristic and fantasy themes alongside reality have also garnered a different fanbase.
To stay relevant among users, you have to get out of your comfort zone. Hence, tone up your mind absorbing new trends around you.
Here are 10 visual trends for 2023 likely to dominate the industry.
Top 10 Visual Trends for Designers
1. Photography
Photography's visual trends have a shorter lifespan. It is simply due to its hanging on to ever-evolving ideas. So enter the domain of surrealism to integrate fantasy and reality with photography.
People are trying to escape from reality. They desire to dive into the bewildering kingdom of fantasy or a dystopian future. Adding a quintessential utopian past or idealistic future effect has been trending.
Inserting mythical elements not representing anything about the world has garnered vast popularity. The users' favorite shows simplistic everyday life enveloped by a dreamlike landscape.
Capture the Nuance of Human Feelings
Photography has evolved from visual art to a tool for telling human stories. You must be considerate and take photos in a familiar setting to make clients feel at ease. This simple trick will aid and abet you to freeze the subtlety of the people's feelings.
People yearn to see the unfiltered true stories presented through a camera lens. In 2023, this trend gained traction among those who value inclusion and integration.
Thus, prepare to take a snap of human emotions, plying it as the central part of storytelling.
The Assimilation of Technology and Nature
There will be no bar between technology and nature. The hyper-surrealistic scenario has earned popularity among designers. Designers are devoted to putting both technology and nature in a single frame, and they might do things like explore using CPL filters in order to achieve specific effects, such as enhancing colours and reducing glare and reflections.
They are breaking all bounds and exploring their ideas merging technology and nature. This amalgamation can create the effect of a futuristic utopia highlighting natural resources. This theme promptly promotes sustainability.
2. Vector Trends
Audiences now rely on designs, shapes, curves patterns that describe the core concept of photography in the most straightforward manner — the tendency to accentuate the positive attributes of a photograph and its subjects through a simple vector style.
The visual trends for vector styles highlight minimalist design and simple themes stirring human emotion for being relatable.
Sustainable Patterns and Tone
Sustainability has become one of the critical visual trends in 2023. Humans are getting more dedicated to environmental preservation. As people strive to conserve ecology, their aspirations are reflected in various mediums.
Logos, posters, and templates reflect people's eco-conservation goals. We can see the prevalence of blue and green palate infused into the realm of the artistic venture.
Many vector styles and themes represent the essence of mother nature and ecology. Thus, scale up your skills and get experimental with sustainable visual design.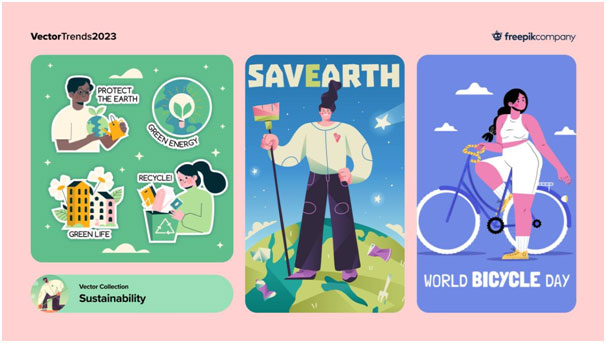 Stroking Retro and Nostalgic in the Project
Designers are adding spices of nostalgia and retro effect in their visual illustrations. The design inspiration has been derived from the people's need to ride on the nostalgia lane. The energetic and bubbly colors are back in styles resembling the pop culture of 90′ and early 00s.
The illustrations give a fun vibe in line with cartoonish, y2k, and vaporwave styles. Additionally, designers cling to ultra-bright colors to fill up the landscape.
Also, minimal drawings are preferred not to overwhelm the viewers. So evoke your audience with childhood emotions following these particular vector visual trends.
Creative Hand-Drawn Illustrations
The immense popularity of 90s pop culture is a major graphic design inspiration in 2023. Creators craft unique hand-drawn art in graphic formats based on the 90s theme. Cartoonish, neon-colored hand-drawn designs, sketches, and writings are popular.
Designers have been creating simple or surrealistic images to capitalize on this trend. The designs roll out imperfect lines, curves, texture, or image welding modern technology. Hence start experimenting with hand-drawn illustrations right away to show off your skills.
3. PSD Templates
The demand for user-friendly and high customization has shaped the visual trends of PSD templates in 2023.
Let's check what option designers are looking for to crack the code of creativity.
Tranquility in Muted Colors
There's a drastic growth in using neutral illustrations and templates in 2023. The unification of neutral and non-bright colors grabs the attention of the audience.
Muted colors give off a serene vibe making other elements in a canvas more enchanting. They also complement minimalist visual designs igniting multifaceted human emotions.
Dramatic and Visual Gradients and Duotones
Buckle up your seat and start playing with colors. Both bright neutral colors have a separate fanbase, and their scope is distinct. When you are experimenting with colors, there are no rule books that you should follow.
All you need to understand is the areas in which the PSD will be used. For example – designers should use eye-catchy, bright colors for music-themed visual formats.
Vibrant colors export energy and enthusiasm. You should add valued messages to convey optimism to the users' minds with sutited pigments.
4. Mockup Trends
Designers and clients need to create mockups to test and improve products before launching them. Given are the visual trends for a mockup that you must go through. Retro style, sustainability, and surrealism inspire mockup trends this year.
The Experiment Station With Glass Morphism
The glass morphism style has become popular due to the trend of blending reality and fantasy. Graphics with transparent objects, image patterns, or blurry backgrounds are in high demand.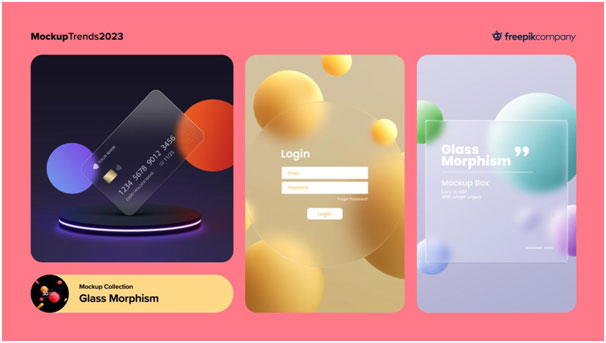 Glass morphism creates a futuristic fantasy world by letting viewers see through objects. Glass morphism emphasizes bright colors to energize the audience. It has become one of the top visual trends for mockups among designers.
5. Icons
Designers also use simple icon designs to improve client user experience. Here is a few visual strength that revolves around icon design.
Bemusing Animated Icons
Animated icons have been central to communication for a while. Simple animated icons substitute for spoken language has become pervasive.
Animated icons have influenced visual design in online articles, magazine banners, and posters. Bright colors, thick lines, and imperfect shapes draw attention to the animation.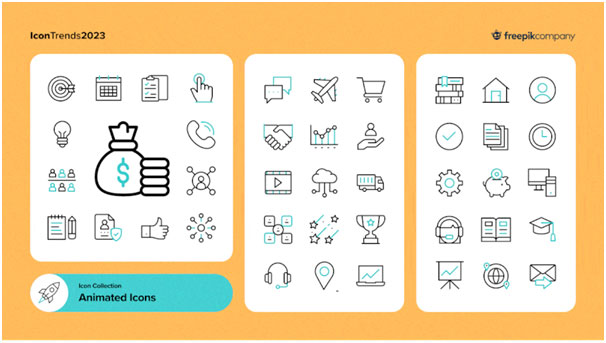 Stylized Neon Touch
One of the noteworthy visual trends of icons is the imbuing of bold and vivid colors. It provides a feeling of energy and playfulness to the users.
This year users are craving to use any style related to the 80s and 90s vintage visual style. Therefore, keep in mind it's always a few colors.
6. Font Trends
Fonts are a significant part of any project giving a glimpse of what you are trying to convey. Designers are choosing daring, large, and vintage-looking fonts to attract users. Following are some of the visual trends for fonts used devotedly.
Sophisticated Font Enclosed by Vintage Theme
The font designs in 2023 are based on vintage styles derived from the 20th century. Vintage-styled typography attracts users and transmits an underlying message of the intended project. Classy fonts engage users with the graphic's message, tagline, or dialogue.
Light-Hearted Groovy Style
Many users have shown substantial support for graphical components attached to groovy-styled fonts. The theme evokes 1970s disco, hippy style, color and accessory experiments, and more.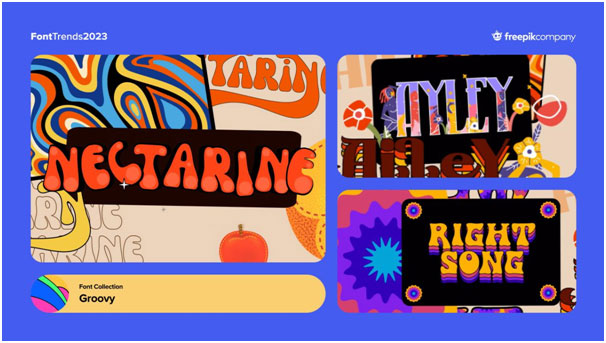 The thick, round, bright-colored phones bring back memories. Feel free to be flashy, adding funky colors or shapes to your font design.
7. 3D Trends
The designer has immersed creativity in 3D designs for years, and 2023 is no exception. Designers have introduced 3D design this year using AI and machine learning.
3D designs are also used in serialistic image photography. 3D design lets you present unique ideas in endless ways.
3D Objects
In images, banners, magazine articles, and more, 3D objects bridge reality and fantasy. Designers need 3D objects to lay out creative ideas to engage users.
You don't have to go by the rule for applying any 3D objects in your project. Use cartoonish colors or a sustainable design based on the theme.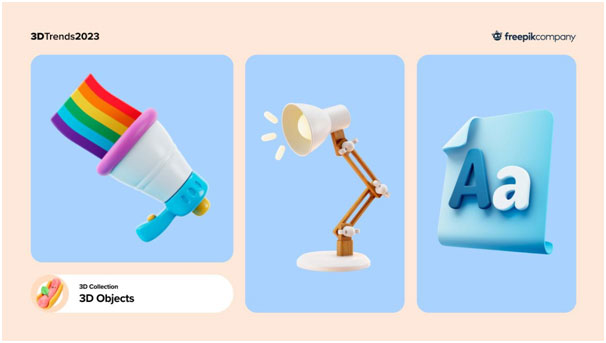 The Inclusion of 3D Realism
Users have become obsessed with seeing their fantasy dream in an email created by 3D realism. This design removes all bar between fantasy and reality. It is one of the intriguing visual trends, letting the designers master the art of completing a user's dreams.
8. Color Palette Trends
Colors are a significant part of accentuating visual designs and seizing user engagement.
The following colors are contributing immensely to the design process in 2023.
The Cheer of Neon Color
The preference for neon colors has been visible among teenagers for a while. Yet the impact of the neon palette has spread over the young age cohort.
And a large number of users feel energetic, confident, and comfortable in it.
Old pink, orange, light blue, and green are the most famous neon shades. These specific colors symbolize fantasy users want to picture themselves in. Hence these colors have become highly popular.
Natural Green Symbolizes Sustainability and Ecology
Natural green is gaining popularity as people become more eco-conscious. This color represents earthly essence motivating to have fresh breath. This color suits restaurants, schools, parks, fashion shows, and more.
The Futuristic Icy Blue
Since users gravitate towards surrealism, icy blue thus is in high demand for designs. This color reminds us of soft R&B music, the mountains' soothing air, and the lakeside's scenic beauty. It is a pivotal color, blending futuristic settings with reality to create surrealistic scenery.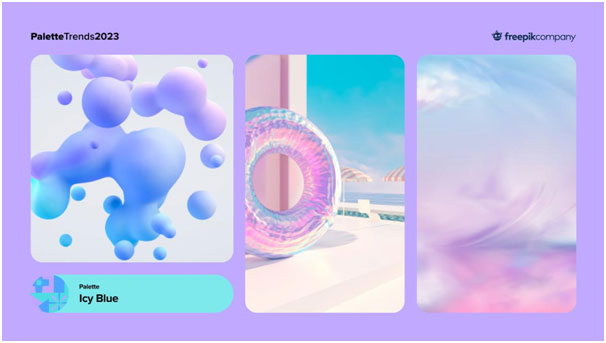 9. The Color of the Year
In any form of the visual format, you can see the prevalence of Viva Magenta. This bold, fearless red shade symbolizes the free spirit and independence. Viva Magenta dominates posters, magazines, greeting cards, logos, videos, and digital photography.
This color reflects ancient natural pigments that inspire designers to create unique themes. Viva Magenta shows a naturalist view in the modern setting, reinforcing the depth of the contents.
10. AI-Generated Image
The visual trends of AI have acquired ample growth in recent years. This application is still in the initial phase and evolving.
However, there are a few trends likely to stir designers' innovation in the designing process.
Enhanced realism and Personalization
In 2023, people preferred realistic design. With generative models, designers try to get designs that couldn't have been developed. High-quality training data will increase fundamental themes.
AI-generated images receive commands on personal preferences and requirements and produce pictures accordingly.
Designers will use AI technology for user-customized images due to its flexibility. AI technology allows designers to create accurate client mockups.
Conclusion
Based on the article, retro and surrealistic will dominate 2023. These styles will prevail in the photography vector illustration mockups, PSDs, and icons. Create a craft using trendy colors, fonts, themes, and templates.
Also, look into the most efficient technology to retain clients' needs through your designs. You must utilize AI technology this year to keep pace with the year's vogue.