In today's competitive world, setting up an e-commerce store for selling baby items is a challenging task. besides dealing with the high competition, you have to deem about different elements to develop the store and ensure proper functioning. On top of this, the most important factor is to appeal to the parents towards your products. You might be a little overwhelmed right now but don't worry. With smart strategies and tactics, you can ease the whole process and reduce the burden on your shoulders. Opting for a suitable baby shop WordPress Theme will help you a lot and reduce your unnecessary hassle. Here we have listed out the top free and premium baby shop WordPress Themes that will help you attract more traffic. So, without any further ado, let us dive into the list.
Free Baby Shop WordPress Themes for Your Online Store
WS Baby – Free Kid Clothes Store WordPress Theme
If you are looking for a theme that focuses on kids and baby clothes then the WS baby theme is a perfect choice. With the user-friendly interface, you get to showcase your top deals in an attractive manner. Besides this, you can customize different elements of the theme without going through any complex process. The theme is integrated with WooCommerce, so you don't have to stress about the payment methods. To further grab their attention and elevate the trust level, you can showcase the number of your happy clients.
WS Toy – Free Kids Store WordPress Theme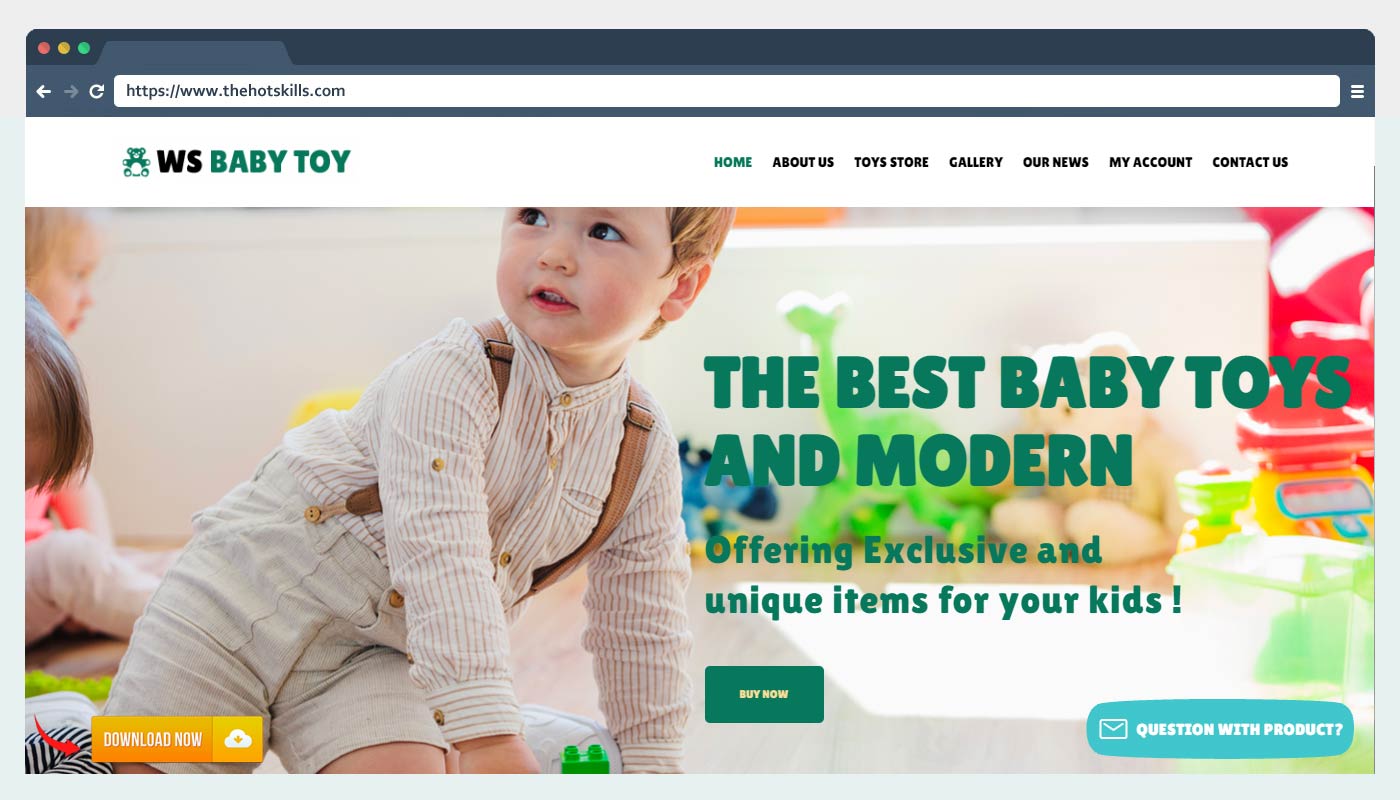 This theme will help you create an online toy store in no time. It encapsulates an appealing and eye-catchy design that attracts a lot of customers to your products. You can perform all the customization on different elements of the theme to add your unique touch using the Elementor Page Builder in no time. You can present the highlight features of the products in a different section to broadcast them properly.
LT Baby Shop – Free Kid Shop WordPress Theme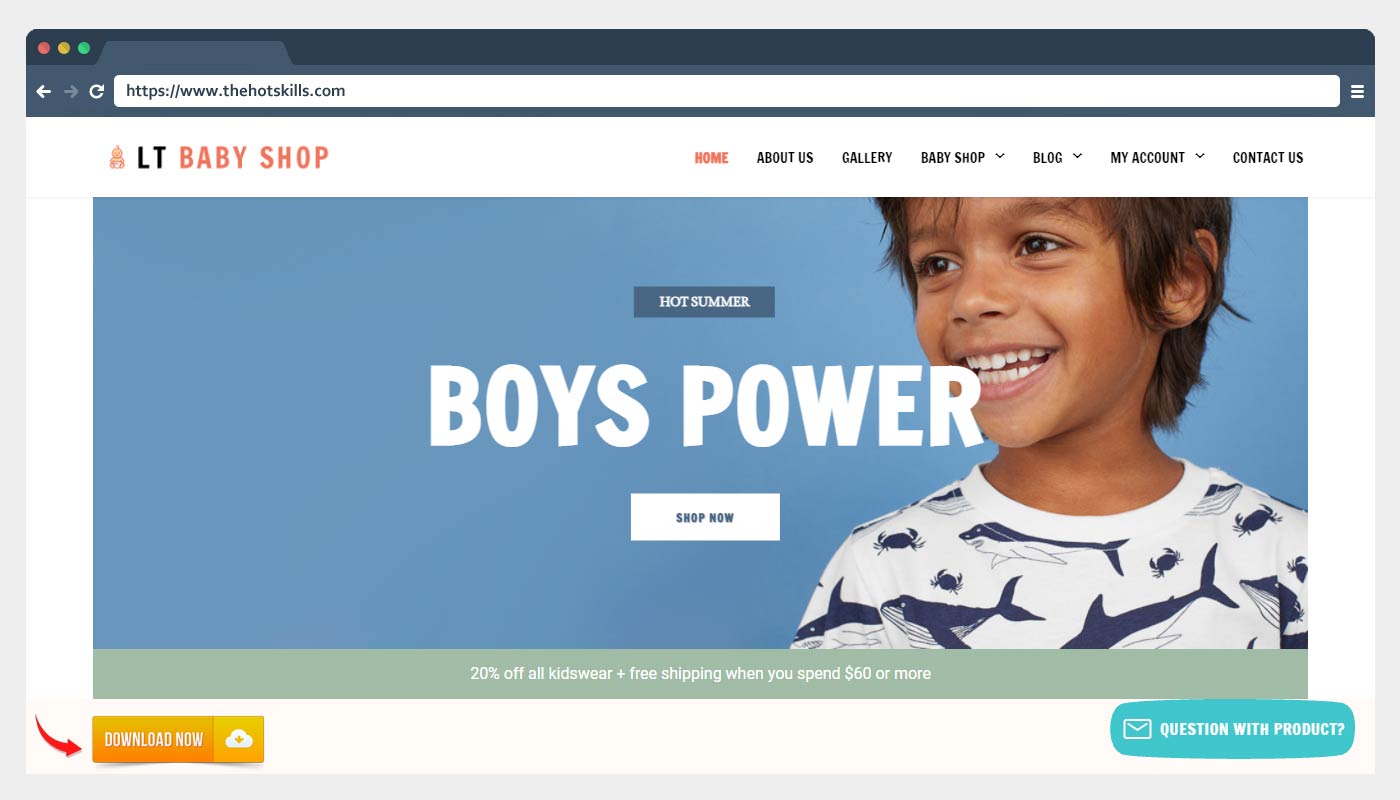 LT Baby shop is one of the best kids store WordPress themes. Besides the attractive design, you can add your unique touch by customizing different elements of the theme with few clicks of your mouse. In this theme, you can direct the attention of your clients towards the new arrivals and hot-selling products by dedicating a different section to them. You get a user-friendly interface for your website which works perfectly with different types of devices.
Zigcy Baby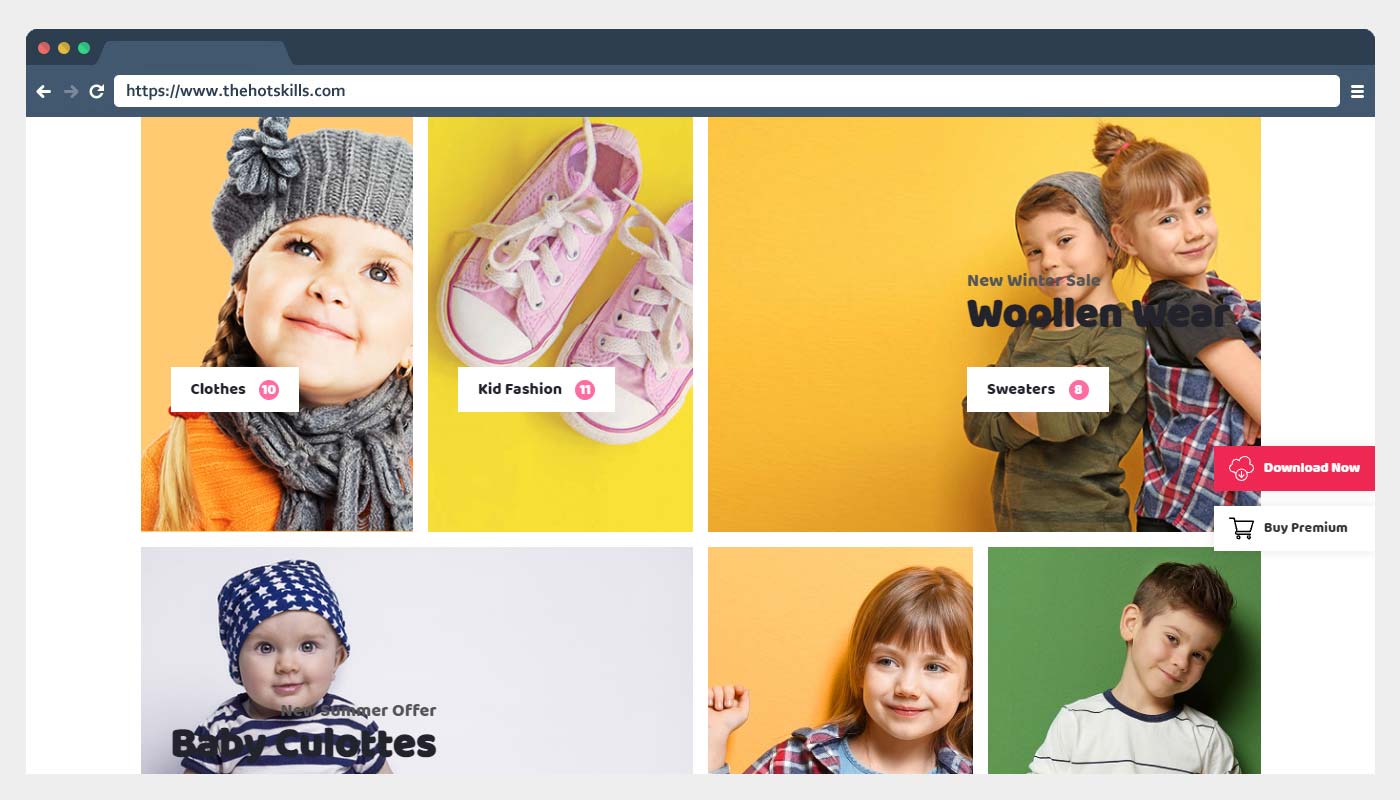 There are several baby shop WordPress themes present in the market, but Zigcy Baby is one of the lightweight and fast themes that will help you attract a lot of customers in no time. You can create a fashion store, baby care product store, toy store or perform different adjustments according to your wish. The best thing is that you can get the theme for free.
Bonbon Theme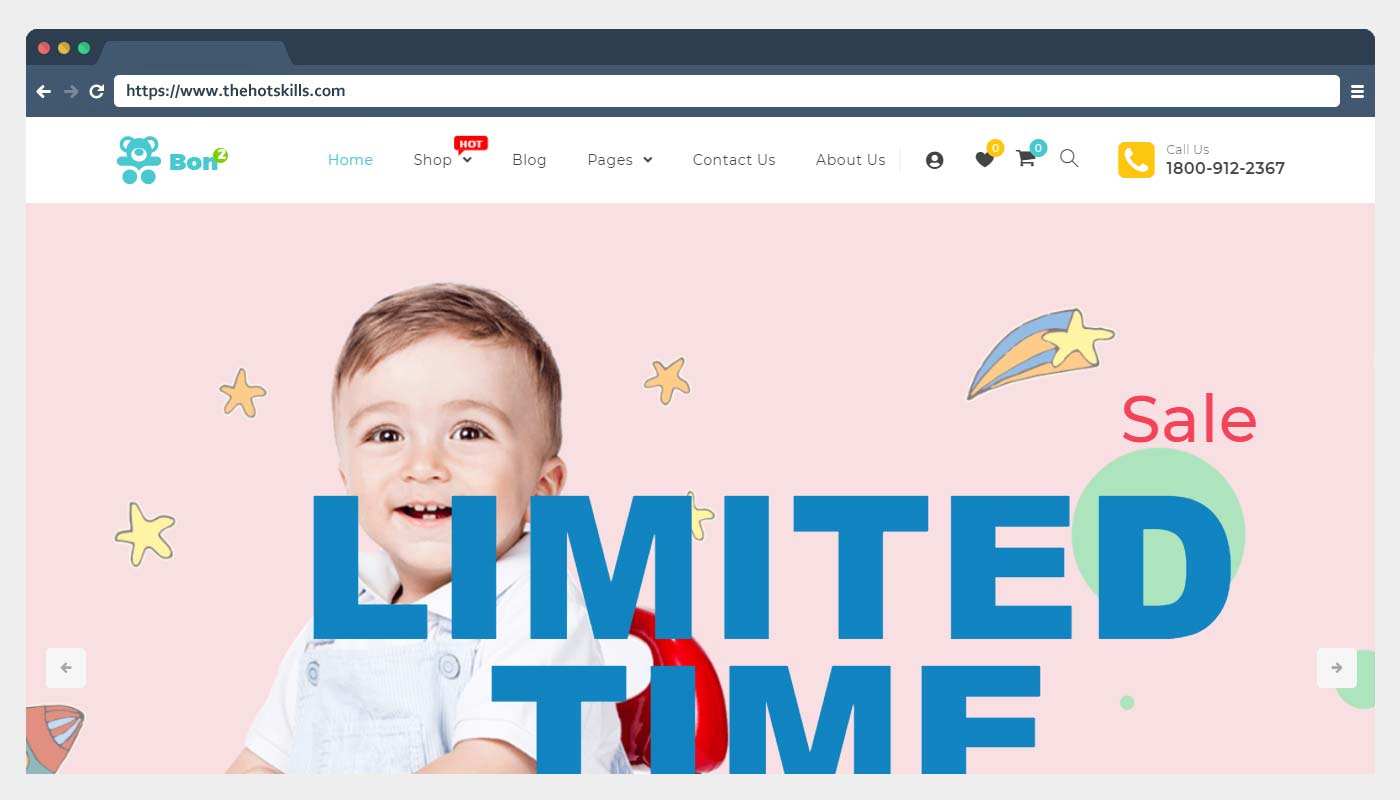 Well, with this theme you will be able to create adesign that is dedicated to kids' products and activities. You can even create an online shop for kids' toys, games, clothing, or anything you have in your mind. You get eight prebuilt layouts that you can get for free within few clicks of your mouse and optimize them according to your preferences.
Zixton Baby Fashion WooCommerce Theme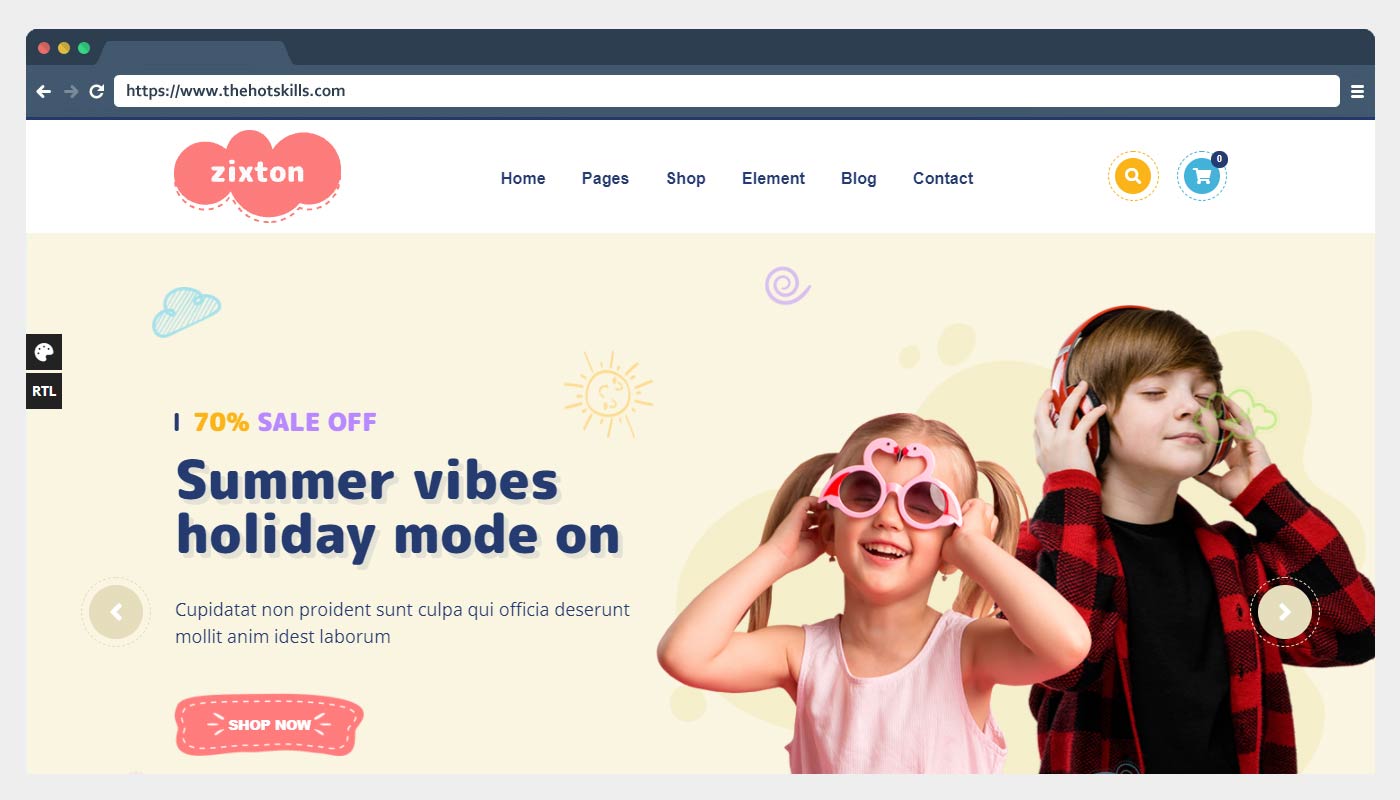 This modern WooCommerce theme has all the necessary pages already included with demo content. They can be edited with the Elementor built-in page builder. Its unique design and user-friendly experience make it an instant favorite. The best part is that its design is fully SEO-optimized with superb cross-browser compatibility and excellent dedicated support at any time. So, what are you waiting for? Check out this amazing theme option that will aid in modifying and configuring things in a hassle-free manner.
Cocco Kids Shop and Baby Store Theme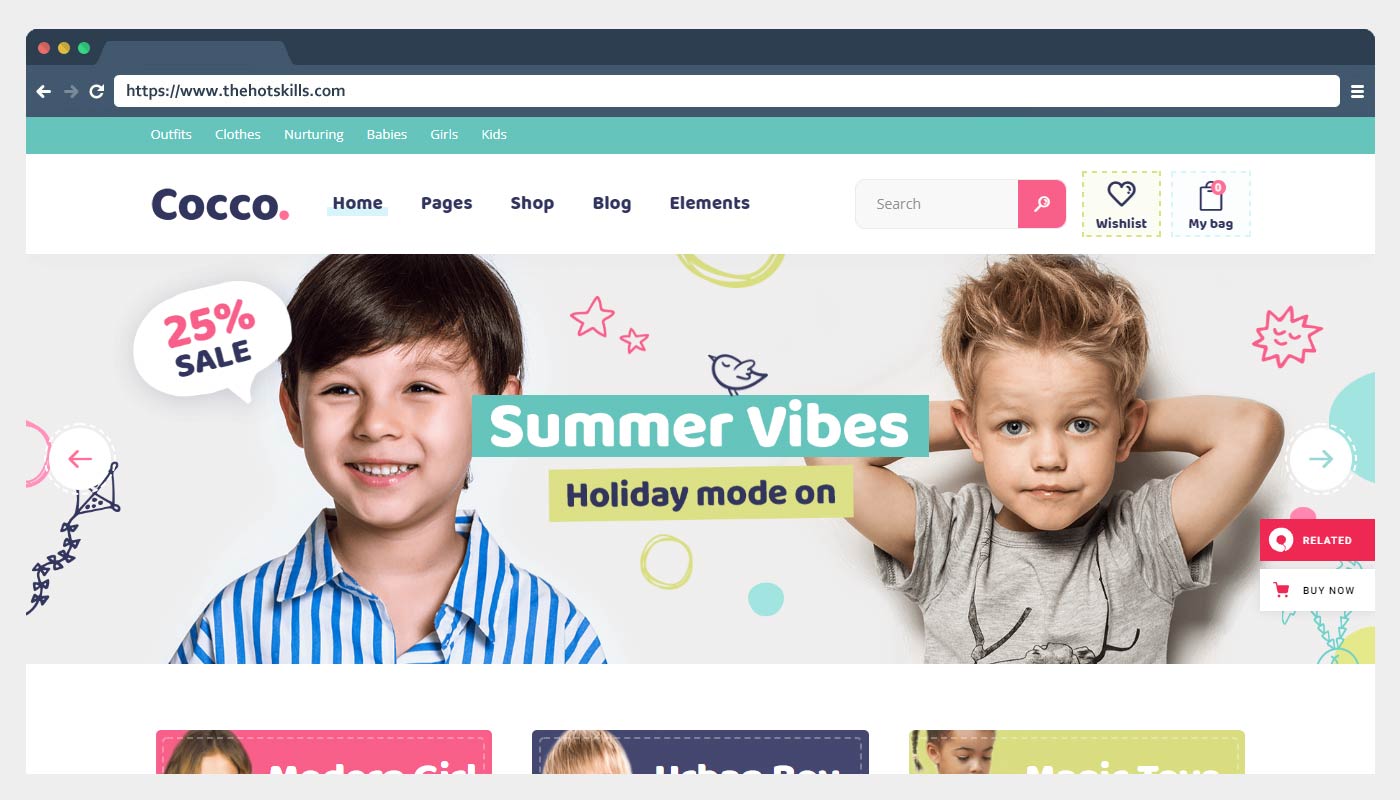 With Cocco in the ultimate Baby Shop WordPress Themes, anyone can design an elegant WooCommerce site for your exclusive baby and kids store. You can quickly add a user wishlist, dropdown cart, and newsletter. Loaded with numerous terrific plugins, this fantastic theme also includes a plethora of responsive and retina-ready layouts as well as other elements. This powerful site is highly customizable with an admin interface and sliders as well.
KIDZ Baby Store and Kids Shop Theme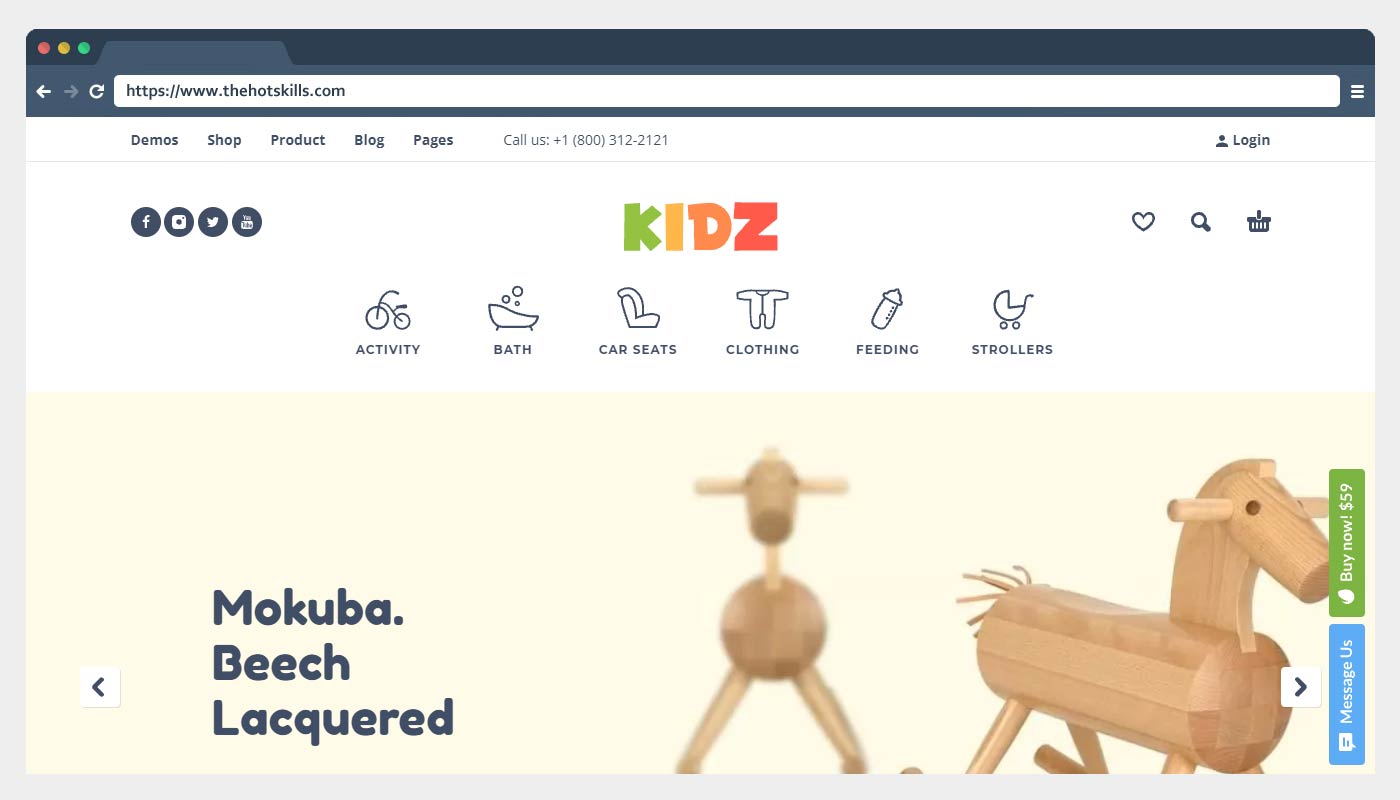 Want to create a perfect baby store? If yes, you can easily design it using KIDZ minimalistic theme which is ideal for people looking for a modern SEO-friendly theme. This fully customizable theme is amazing with a friendly and fast support team. Its terrific social share integrations, plugin compatibility, video slider, 50 vector icons, and mega menu with multiple columns are some of the great features that make it an apt pick.
Kidsy Kids and Baby Shop WooCommerce Theme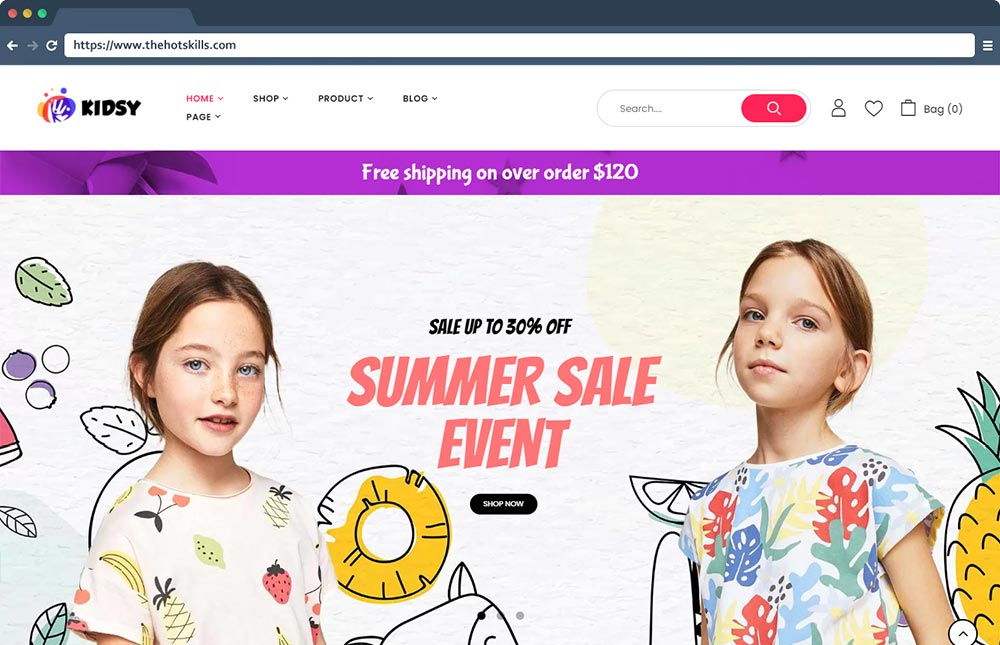 This multi-purpose theme makes use of Bootstrap and helps in the impressive designing of all the products catalog. With 3 multi-vendor plugins, anyone can personalize the site and highlight their web components perfectly. It also has a gamut of widgets that display best-selling products and banner sliders for all products. If you are looking for a custom theme that imparts all the explicit eCommerce functions, then this is the right choice for you!
Hayden Baby Store & Kids Shop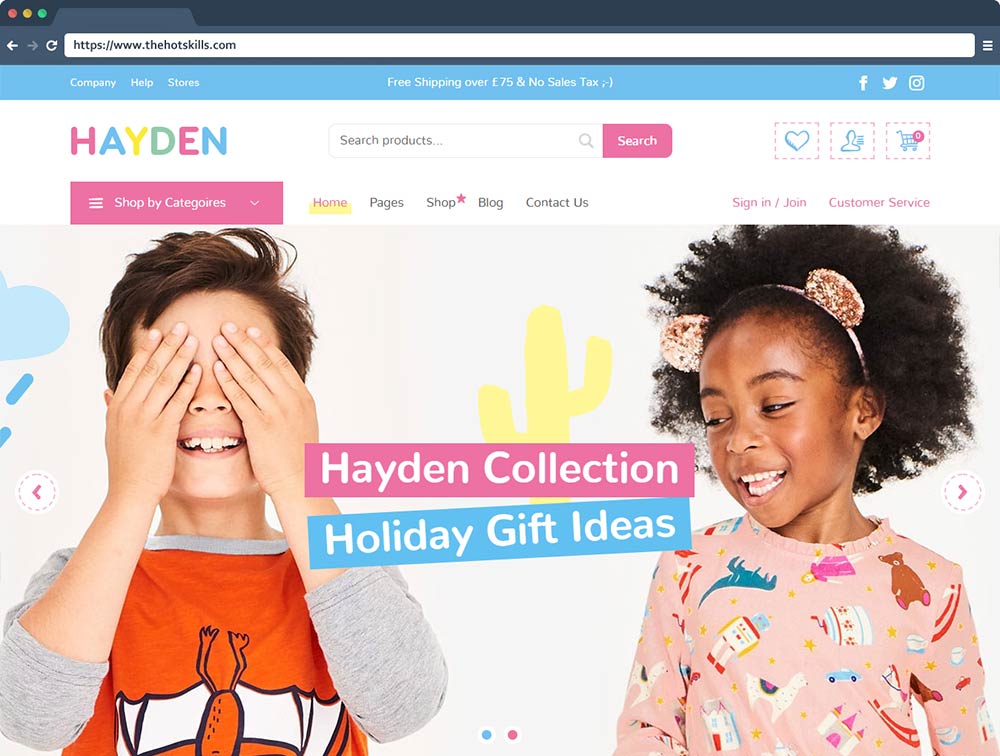 This is one of the best baby shop WooCommerce themes as it comes with an outstanding design and is developed for your exclusive online kids and babies store. Amp up your website-building process with this powerful theme that is both responsive and well-documented. They even impart undaunted customer support in case of any problem.
BerryKid Kids and Baby Store WooCommerce WordPress Theme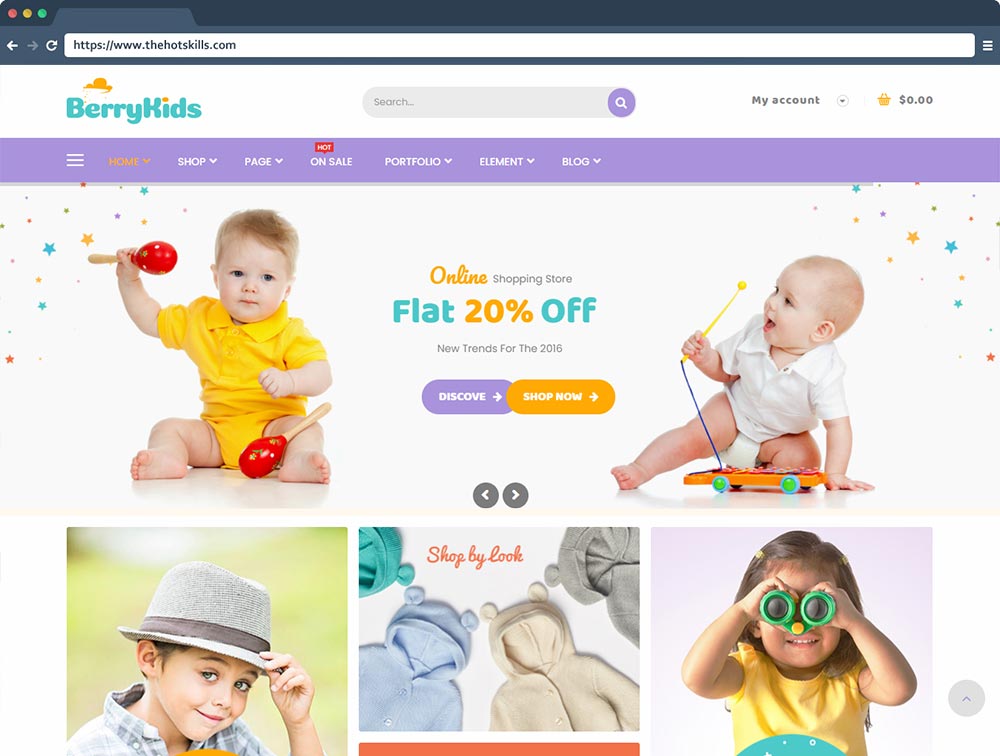 This WooCommerce WordPress theme offers cherry and colorful design that enables to design a fully operational site with professional designs in no time. Its intuitive panel comes with numerous features to ease the site managing and designing process. From containing multiple pages and elements to being a fully responsive site, this theme is a perfect blend of ultimate premium plugins and widgets.
Baby & Kids Store eCommerce WordPress Theme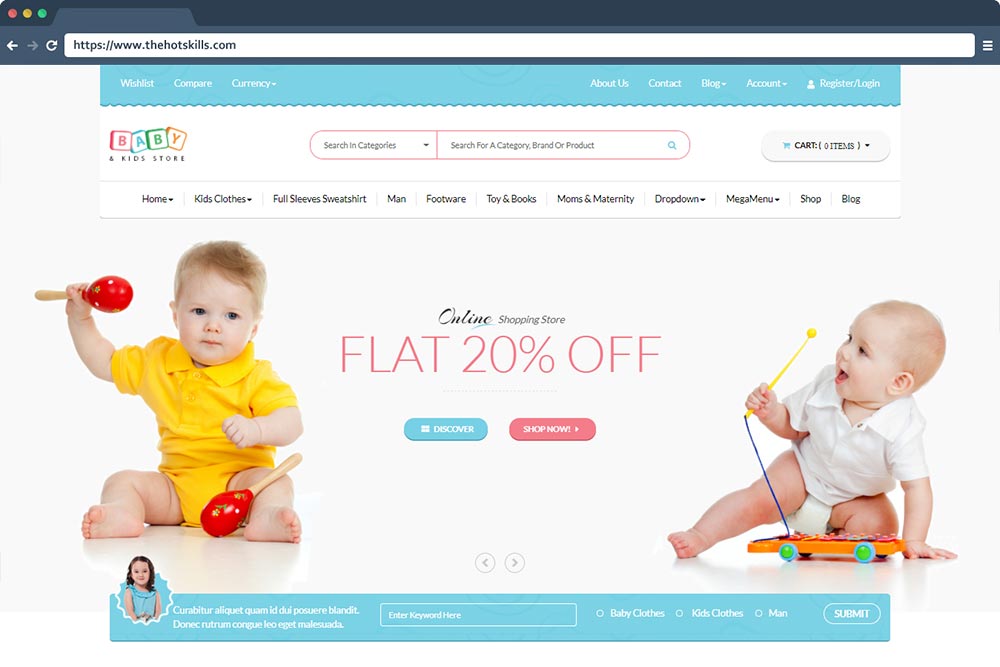 Looking for a vibrant theme? If yes, check out this super adorable theme that users can install in just one click! Its easy-to-use drag and drop customizer is amazing. You can choose among the 7 home page templates and manage the entire site using its active admin panel. Its advanced Ajax functionality and the availability of a sticky & fix header enhance the user experience further. They even proffer reliable support to all users every time they require assistance.
BabyStreet Theme for Kids Clothes and Toys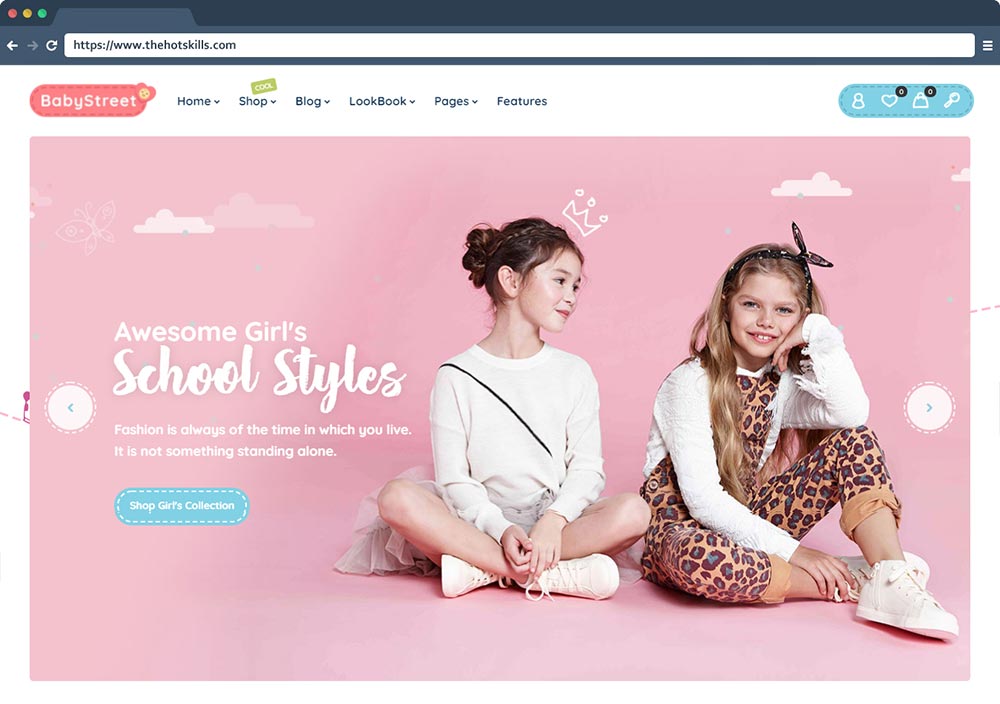 This feature-packed theme is an amalgamation of smart e-commerce features that are required for the smooth functioning of the website. Its compatibility with WooCommerce and fully responsive design make it a great pick for baby shop developers. Its intricate design has a plethora of plugins used to build user engagement and boost the conversion rates manifolds.
Elessi – WooCommerce AJAX WordPress Theme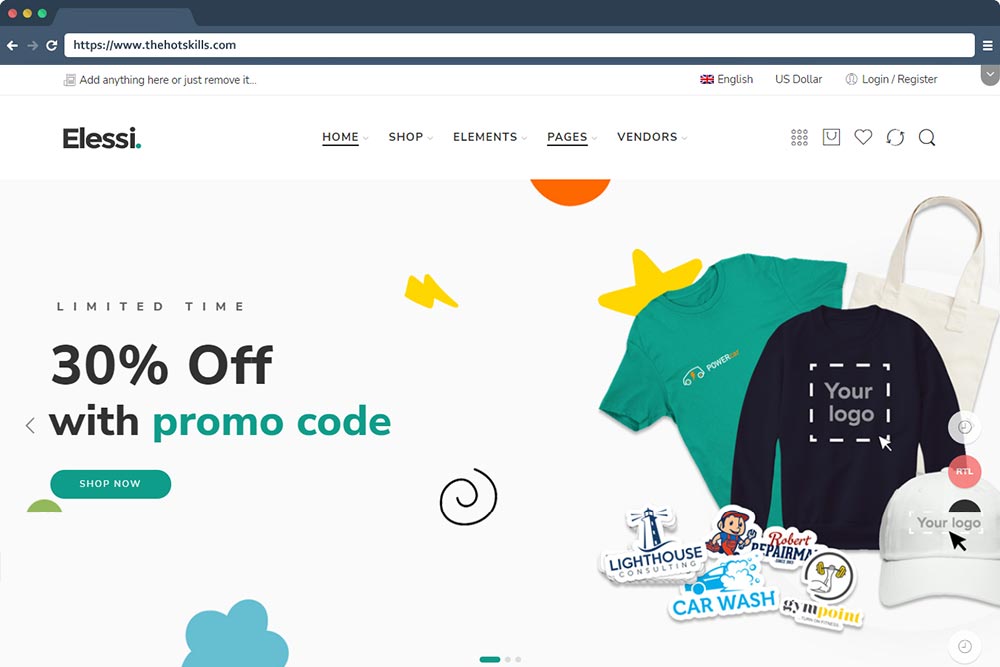 Well, if you want to reduce the stress of alluring traffic from your shoulders, then opt for Elussi which is a conversion optimized theme. The theme encapsulates all the elements that will take your project to the next level. It is easy to use ad you don't need any coding knowledge to make the adjustments according to your preferences. You can add effects, adjust elements and perform different actions in a jiffy.
White Rabbit – Kids Toys & Children Clothing Store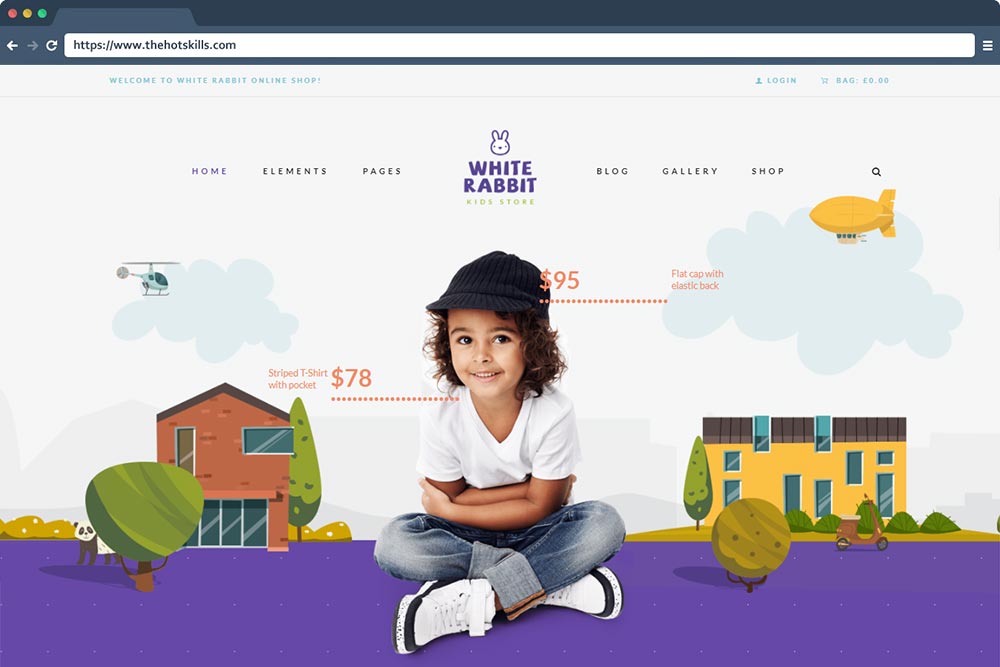 Get your hands on a responsive, attractive theme for your next online kid's store. You will get all the elements to create a website dedicated to the kid's needs. No matter what domain you are going to target, this theme will help you in everything.
Some Last Words
Here are different baby shop WordPress Themes that will help you launch your online store without taking any unnecessary stress. All the options have their own set of features so go through the while list and opt for the one that suits your needs.