Do your content marketing efforts generate significant traffic?
If not, it's time to step up your current content marketing tactics.
According to survey data, 65% of marketers measure a content's success based on website traffic.
The figure highlights the importance of a solid content marketing strategy to boost your website traffic and, in turn, increase your conversions and sales opportunities.
The million-dollar question is, how do you leverage content marketing to drive more traffic to your business website?
Content Marketing Tips to Get Your Website More Traffic
The five content marketing tips below can help you out.
1. Use the right keywords based on search volume
Tailoring your content to your target audience's interests and needs can help you drive traffic to your website.
After all, if your content offers value, your target audiences will likely visit your website to consume your content and learn more.
However, you need to use the right keywords to create content tailored to your audience's needs while boosting your web page's ranking and visibility on Search Engine Results Pages (SERPs).
For example, target keywords, such as "Online Marketing Company in New Jersey", to optimize your landing or service page.
Optimizing your web pages with relevant keywords can increase the chances of your web pages showing up on the SERPs' first page.
People looking for a New Jersey online marketing company can see your web page first, encouraging them to visit your website.
Look for relevant keywords, phrases, or topics people look up online based on their search volume.
Keywords with a higher search volume mean greater competition. You'll need to exert more effort to generate organic traffic for these keywords and rank higher in SERPs.
However, avoid targeting keywords with search volumes that are too low either.
You might fail to draw visitors to your website if no one is looking for content you created based on keywords with too low search volumes. It won't help your web page's visibility or search ranking.
Most SEO and marketing experts suggest targeting uber-specific yet lower competition keywords since these can give you better chances at ranking.
Use keyword research and SEO tools to help you find keyword ideas and insights.
For example, Google Keyword Planner helps you search commercial keywords via the top of page bid range.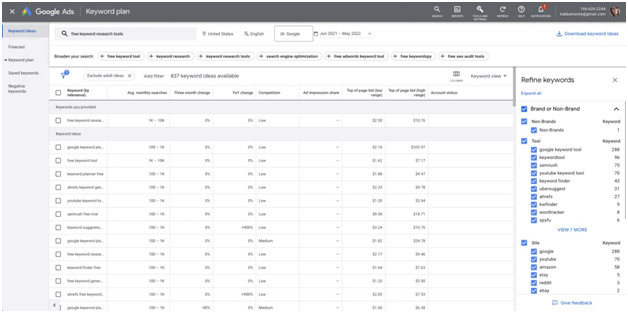 The top of page bid range is essentially the estimate based on each keyword's competition from advertisers and Quality Score.
Google Keyword Planner also offers accurate keyword search volume information from the Google search engine.
2. Conduct content audits
If you're not a total newbie to content marketing, you already have content from current and previous marketing campaigns.
Your blog post about essential content writing tips and tricks counts as content marketing material.
However, before you can improve your existing blog posts and articles to generate more traffic, you'll need to know how well your current content pieces perform.
An excellent solution is to run a content audit.
Conducting a content audit helps you monitor, organize, and assess all your previously created and current content.
You can review your current website and determine if you need to consolidate, delete, redirect, or update content based on performance.
Check your older or no longer relevant content.
You can assess and decide to remove, improve, or tweak specific content pieces that no longer fit or support your current campaigns.
A content audit can also help you detect content that doesn't drive significant traffic any more.
With content auditing, you can determine which content pieces still support your digital content strategy and help you reach your content and marketing goals (and which ones don't).
3. Use a content calendar
The content production process is often time-consuming and tedious, from planning and creating to publishing and distribution.
However, you could miss opportunities to generate more traffic and important deadlines if you don't organize the process.
An excellent solution is to use content or an editorial calendar.
Content calendars help your content and marketing teams plan and organize content production and distribution for seamless implementation.
Develop a content calendar to strategize your campaign's content pieces, including your content marketing activities and special events throughout the month and year.
For instance, project management software Wrike provides a content calendar template.
You can customize the editorial template easily to create, track, and manage your month or year's worth of social media, website, and other marketing content.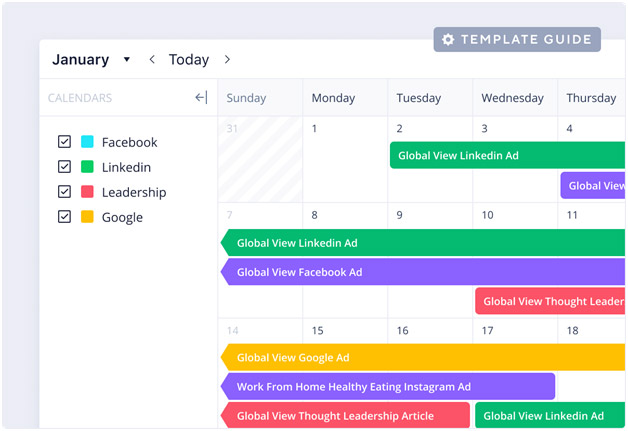 Image source: wrike.com
You can use another platform or a popular Wrike alternative with editorial or content calendar features.
Suppose you're anticipating producing content for a new campaign promoting tools for marketplace sellers.
You could use a content calendar to easily map out the content pieces you want to create for this campaign, including your complete review of ExportYourStore.
The calendar ensures you have your content ready by the time you implement and publish your blog post or article on your pre-defined dates.
Your content calendar helps ensure everyone and everything is on track.
Your teams can also churn out content regularly, save precious work hours, and make your content marketing efforts more efficient.
4. Vary your distribution strategies and channels
An effective way to boost your opportunities to drive website traffic is to publish and share your content across multiple channels.
The more channels you distribute your marketing content on, the more audiences you can reach.
Plus, creating various content based on your target audiences and specific channels helps ensure you give the right content to the appropriate people at the perfect time.
It can aid your efforts to lead more people to your website.
Know the content types your target audiences across various channels best respond to or want.
Then, optimize your content to answer those needs, offering value to your potential customers.
Try not to put all your eggs in one basket by depending on a single content distribution channel.
Spread your content to various channels for more engagement, traffic generation, and conversion opportunities.
5. Repurpose your popular content
Don't throw out your previously published content.
You can still reuse the relevant ones by repurposing them.
This way, you won't always need to make new content from scratch, which takes a lot of time and work.
Repurpose your top-performing content and turn them into something relevant and (almost) new.
For instance, you can reuse important parts of your existing long-form content, such as key points in your article, into an infographic.
You can also repurpose an old blog post by turning it into a short Instagram Reel or Facebook video.
Reuse your existing content into many creative and new formats, as long as they're still relevant, are valuable to your audience, drive traffic, and align with your content marketing efforts.
Double down on your content marketing to boost your traffic
Get boatloads of opportunities to double your website traffic by being more strategic with your content marketing efforts.
Jumpstart your initiatives to level up your content marketing strategies and drive more traffic with this guide's time-tested tactics.