Are you looking for elegant best free mockups? If yes, we are here to help you find the best free iMac mockups that will truly lessen your design work by a few steps and even impart perfect inspiration. Keep reading further to find some of the excellent iMac mockup free to use on any designing software available on the internet.
We believe these epic iMac mockups are perfect for providing a push toward your final design masterpiece. The mockups shared in this article may be free, but their quality and features are no less than a paid mockup. Also, every single one of them comes with a commercial license.
So, you can select any mockup and start using it stress-free!
iMac Mockup Generator
The best iMac mockup generator available for use by both amateurs and professionals is none other than Placeit. Know more about this tool below:
Placeit
This outstanding mockup generator comes with a customization feature that lets you design your best mockup using its large library of designs. It is quite easy to use and comes with noteworthy features that make it a pretty good mockup generator. What else are you looking for?
Since the tool offers myriad mockup classifications, you can pick your desired mockup for making required changes. The best part is that anyone can filter through the giant mockup library as per ethnicity, template type, age, and gender. This helps to get the perfect mockups ready in no time.
Best Free iMac Mockups for Presentation
Given below are different iMac mockups with unique and classy features. We are sure you will love them all for their terrific design. Let's get started!
Free PSD iMac 24 Mockup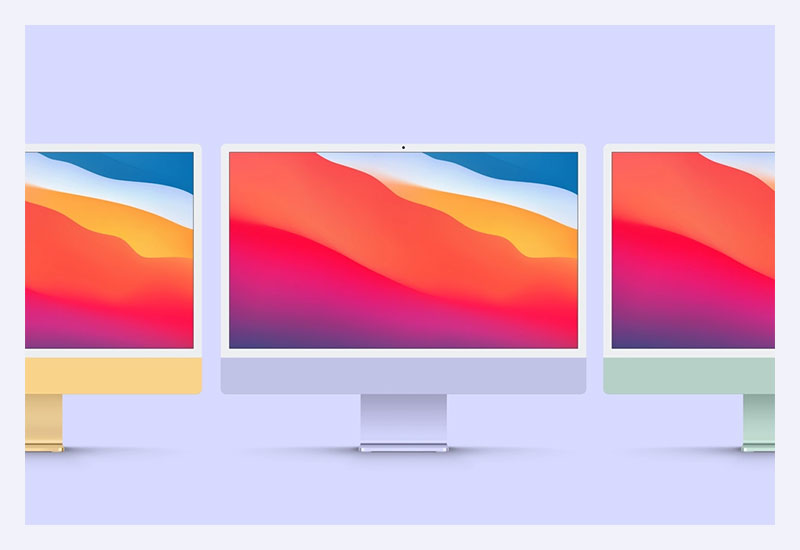 Looking for a marvelous iMac mockup that is both simple and classy to use? Well, don't worry. We have one right here for you. The interesting thing about this one is that it comes in all the available colors.
Free iMac 27″ Mockup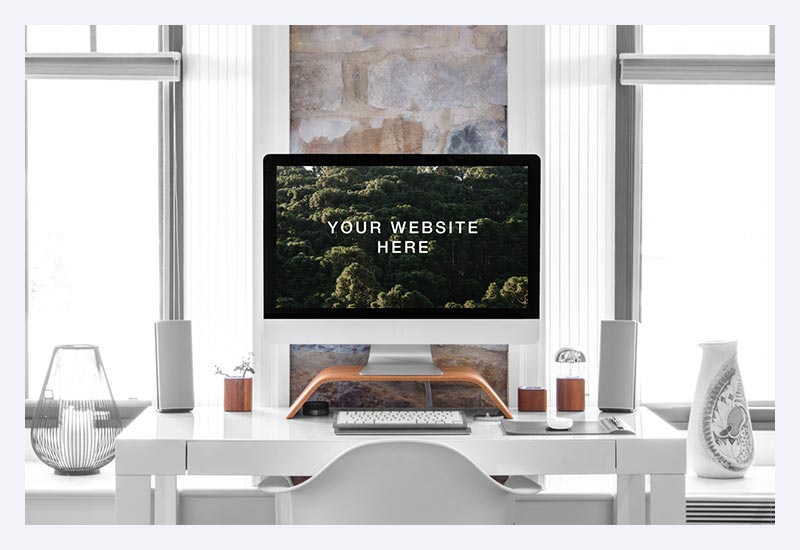 Want a realistic design to showcase your skills? Clearly, this one seems to turn out right to the point. The thing is that this iMac mockup Figma will become your go-to mockup soon after you start using mockups.
iMac Freebie (100% Vector)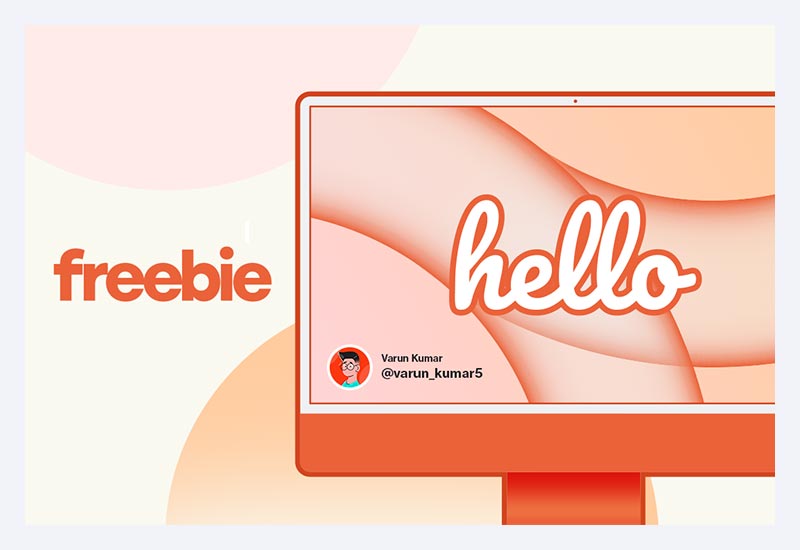 This 100% vector iMac mockup is a concoction of all the good design elements. Developed by Varun Kumar, this free iMac mockup is a true masterpiece to behold. Once you download it, you will find yourself using it quite often due to its charming design.
Free iMac Pro Mockup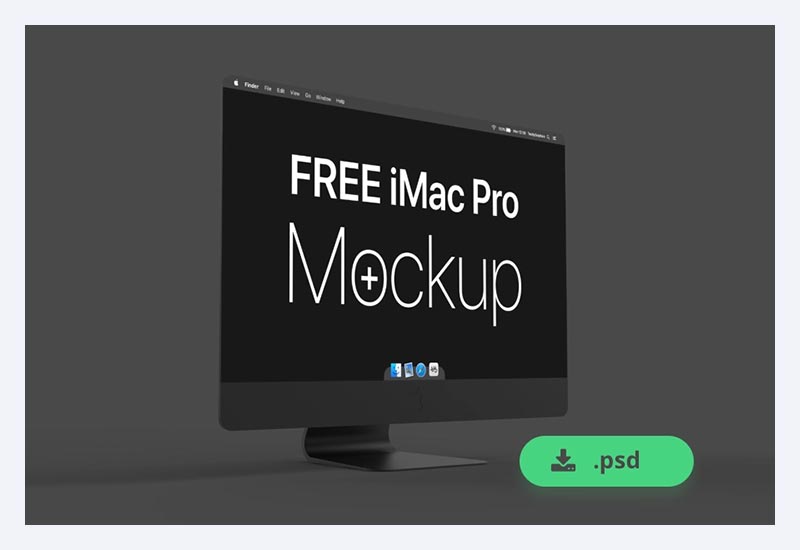 Worried about not getting a commercial license for mockups? Well, guess what, this exciting iMac mockup comes with a commercial license to shun all your worries away! Also, the designer shared an explainer video on its link for hassle-free support.
iMac Pro Mockup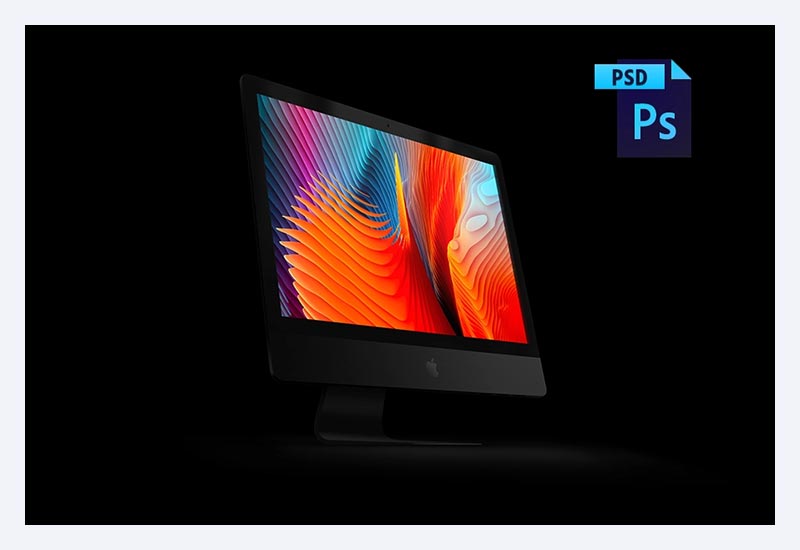 All designers can use this absolutely wonderful mockup by editing its elements in Photoshop. Thus, you just need to download it from the dropbox link to start using it immediately.
Free Workspace iMac Mockup PSD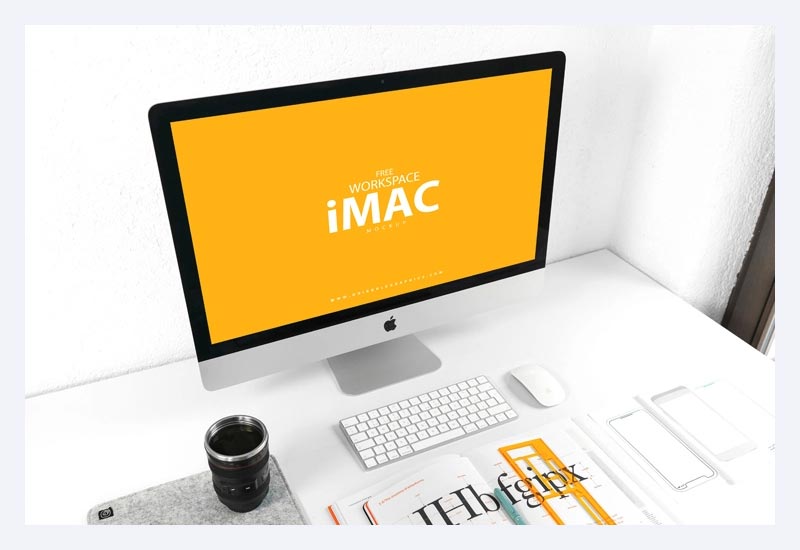 This chic design by Jessica Elle is chic and vibrant in its own way. You can simply download its iMac mockup PSD file for rapid usage. The best thing is that you can use it for your personal as well as professional purposes in a jiffy.
Motion Mocks Freebie #1 – iMac Pro animated mockup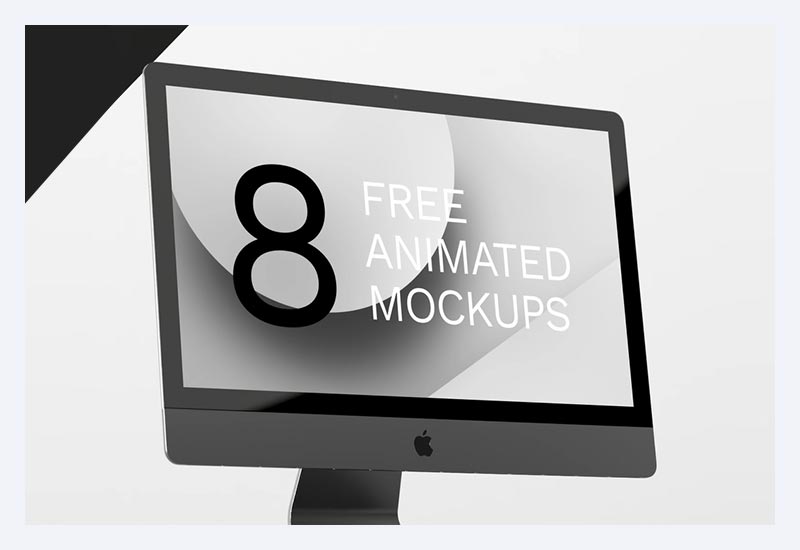 You will find these eight animated mockups worthy of usage over and over again. These charismatic template design shots are expertly designed to meet the needs properly.
Freebie: Minimal iMac Pro Mockup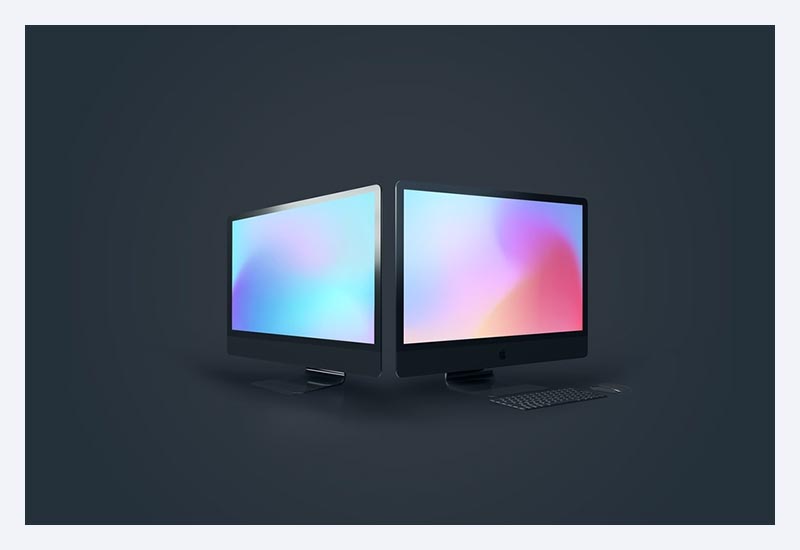 Since the design offers changeable shadows and backgrounds along with Photoshop smart objects, you are really going to find this one fascinating. Also, it comes with super high-quality resolution, adding a cherry on top!
Clay iMac mockup scene creator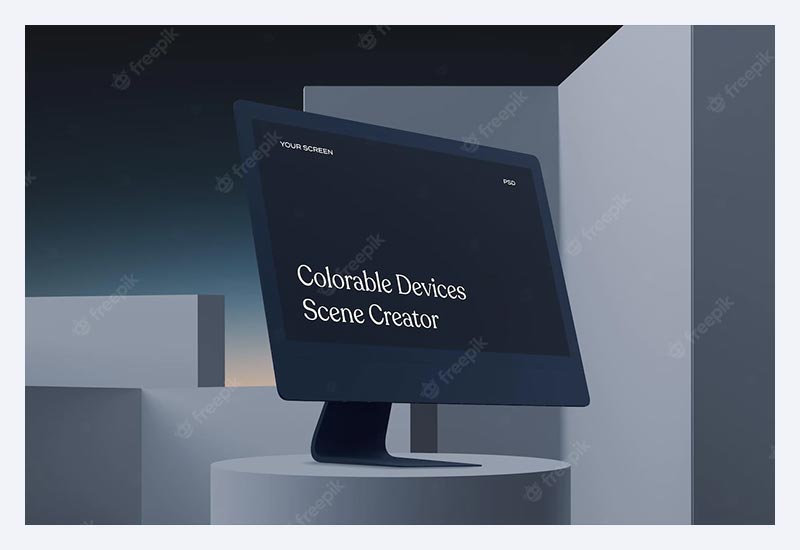 This iMac mockup Freepik is just remarkable since it has both PSD and JPG format mockup content available. You will surely enjoy using it for all your projects.
Apple iMac Mockup PSD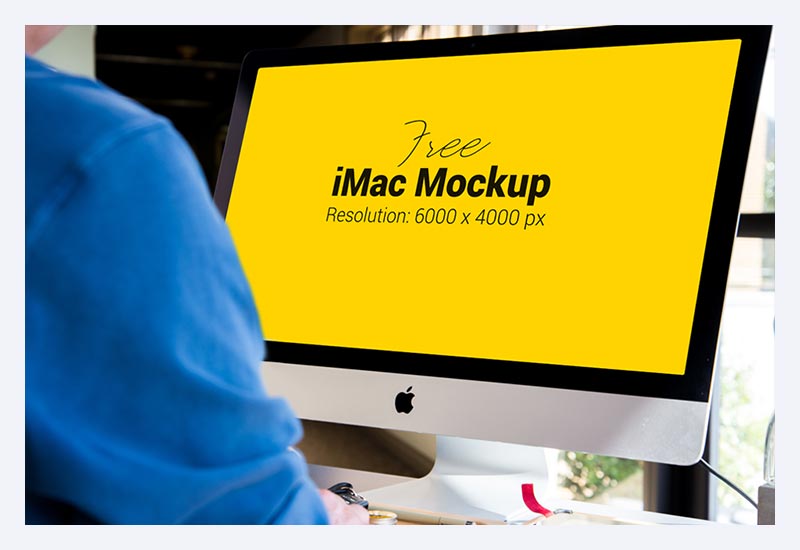 Choose this enchanting design if you wish to present your design in a more sophisticated manner. In this way, you will just have to embed your graphics with its smart layer for a personalized touch.
FREE PSD – IMAC 24″ Mockup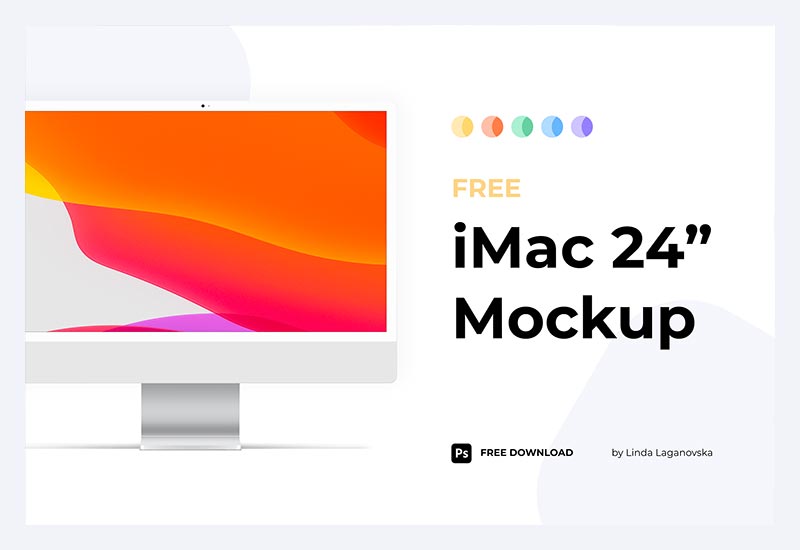 This stunning iMac mockup Behance design is truly a piece of art. This iMac mockup free to use is your ideal pick. You will definitely enjoy personalizing it for your projects.
Free Apple Devices Clay Mockup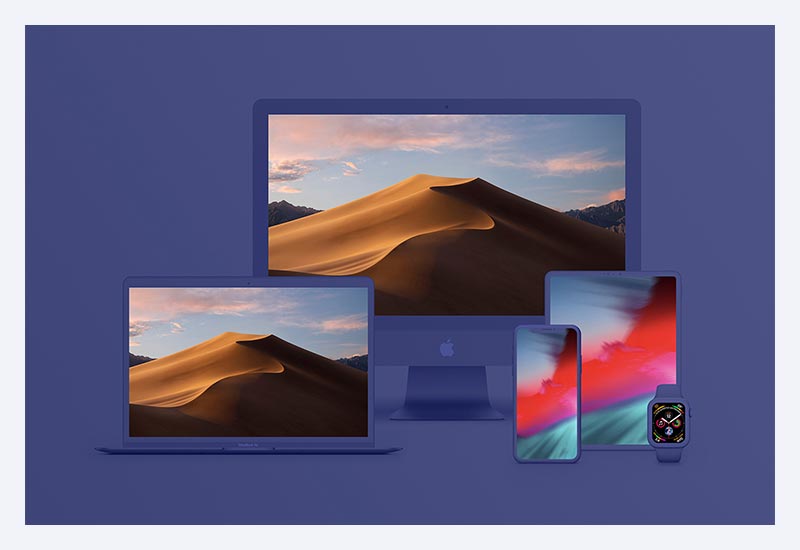 Want a dreamy design package for free? Grab this one without spending a penny with all the distinct features. It is readily available for customization in Photoshop too.
Free The New iMac 24" Mockup Set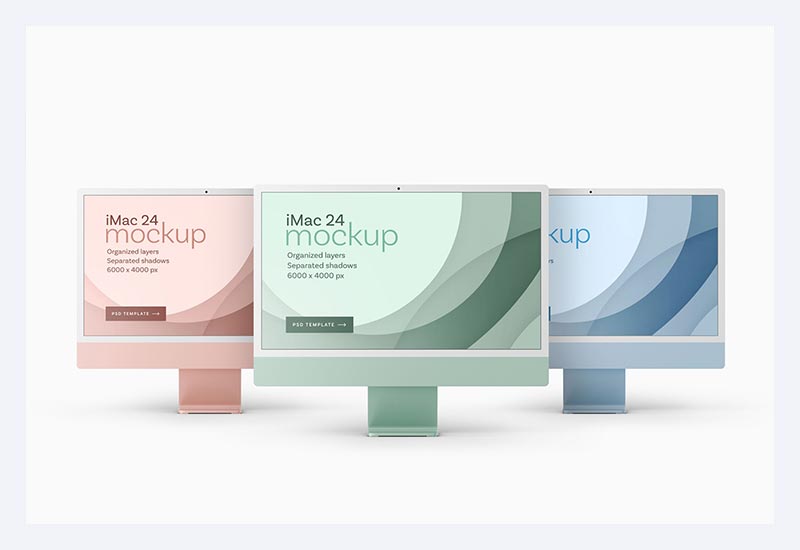 This highly recommended top-notch design is loaded with all the goodness under one roof. Equipped with organized layers, quick-to-edit features, and customizable colors, it is truly a steal from the lot.
Free iMac mockup with marble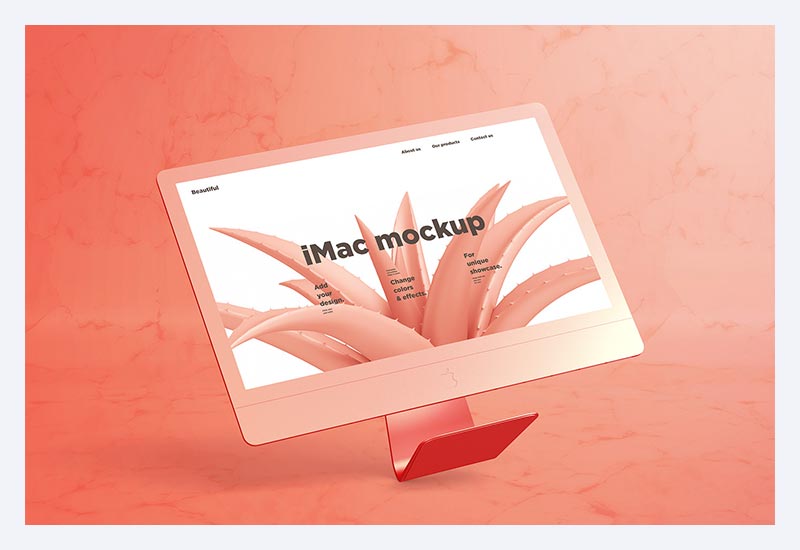 This amazing design is a fully compatible and customizable mockup design. Since the design stands apart from the rest, you can easily make use of it to make a lasting first impression.
iMac 24-inch Mockups
You will like the 10 readymade scenes of this design which can be colored in seven different colors. This iMac mockup Figma set is the ultimate set that can woo everyone in the room.
iMac Mockups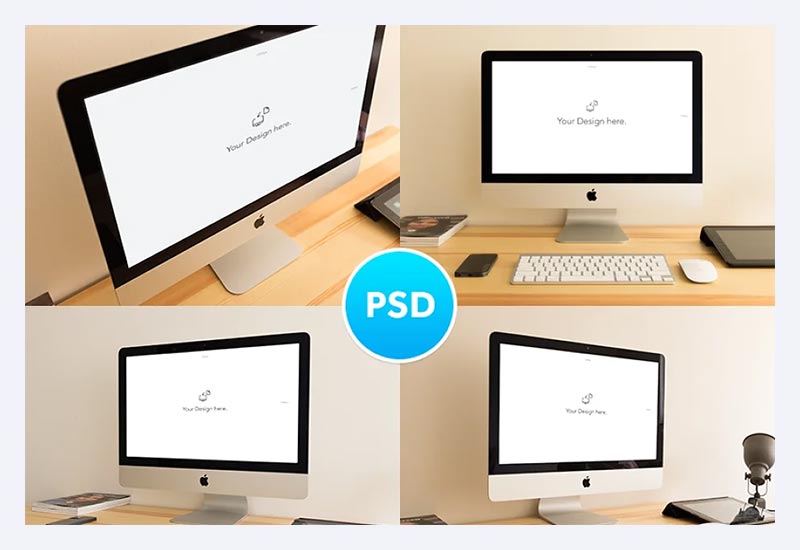 This set comprises four different perspectives to help you in your design journey. Since the design has editable Layers, you can swiftly make all necessary edits to your designs.
Apple iMac Mockup 5K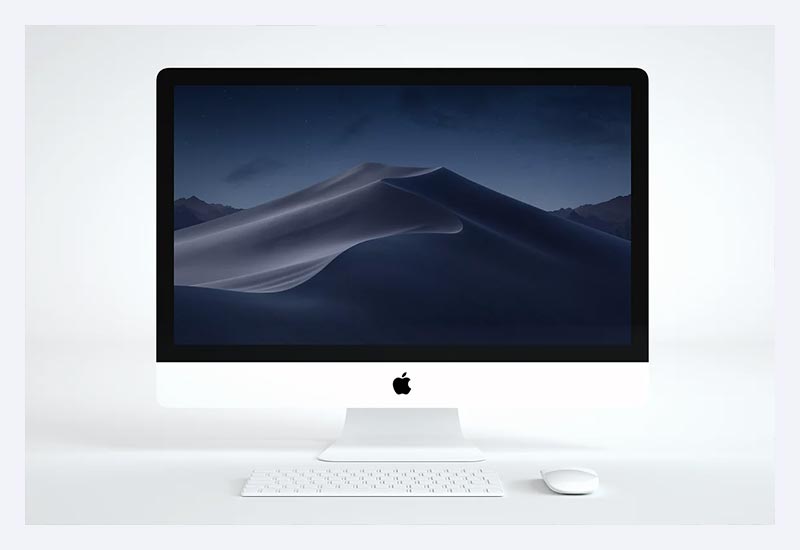 This ultimate iMac mockup PSD template set covers all necessary files with tremendous customization features. The black and white version in each layer in the PSD makes it a perfect mockup for use.
iMac Realistic Mockups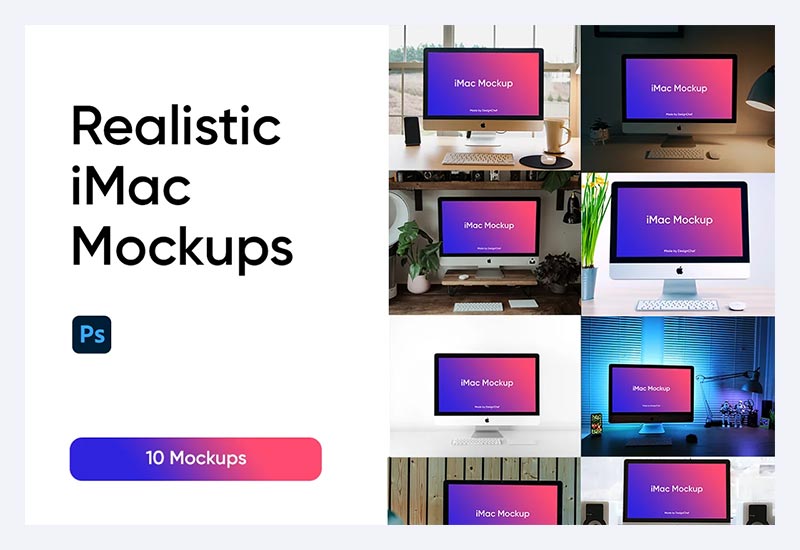 This collection of 10 iMac mockups scenes in this set is truly enthralling. You will enjoy your well-organized PSD designs that come with a 4K resolution.
YDLabs iMac Mockups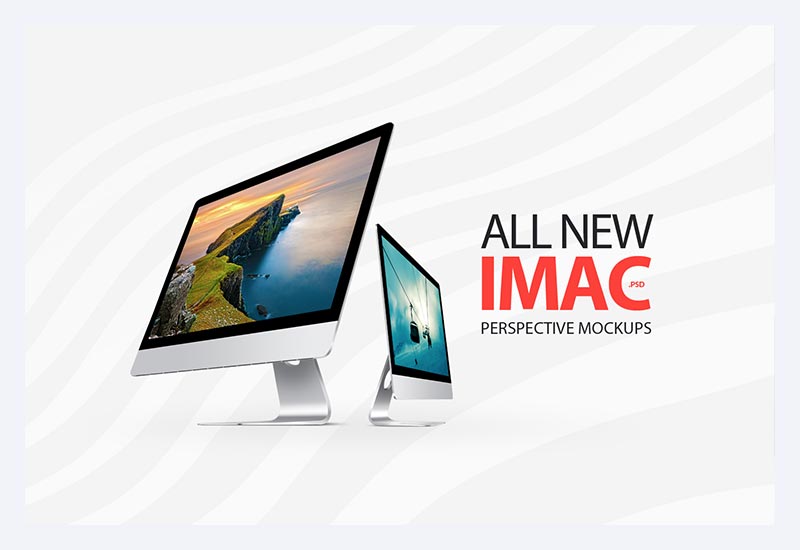 Present all your designs with a dash of style using this bewitching iMac mockup PSD. Its easily editable feature simplifies the job for all designers who need a quick smart object feature.
iMac Pro Isometric Mockups for Photoshop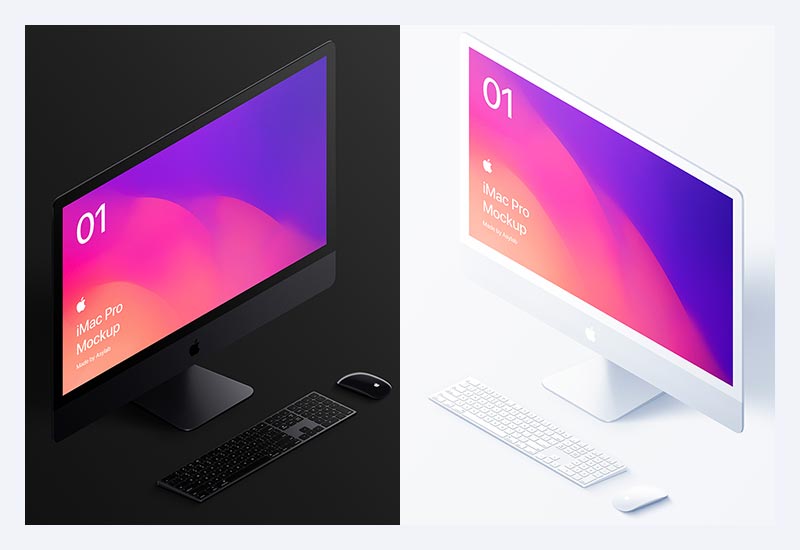 This special collection comprises ten isometric scenes that will help you showcase distinctive designs. You can fully customize the designs at your convenience.
iMac 24-inch Mockups for Photoshop & Figma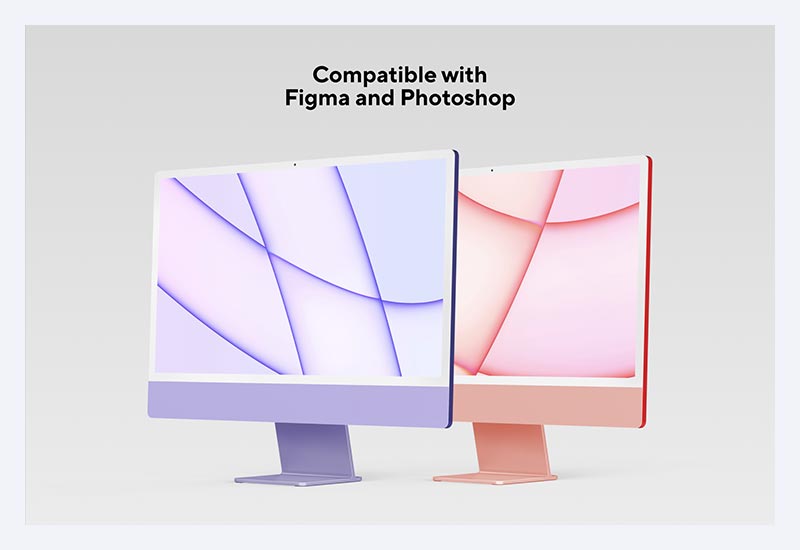 Download this majestic mockups set to create a memorable design rapidly. This special mockup set has 10 captivating scenes that can be edited on both Figma and Photoshop.
Minimal iMac Mockup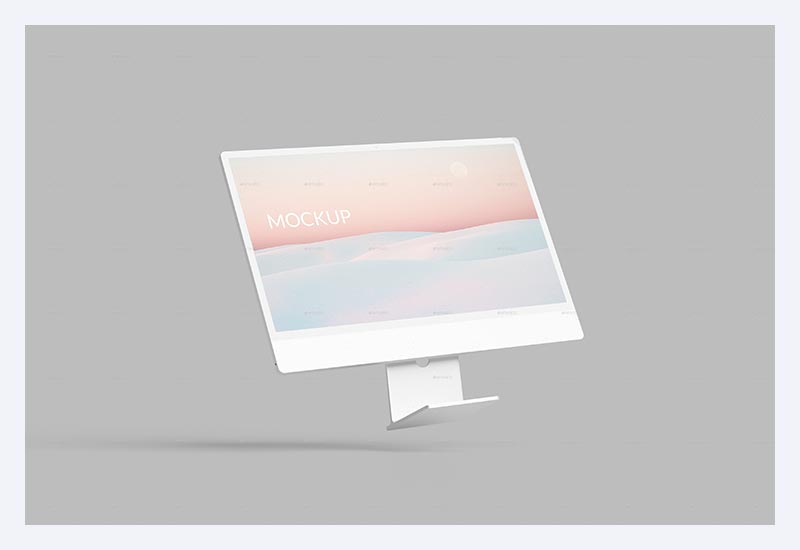 This minimal iMac mockup is all you need to refine your simple design using 10 neat mockup styles. It also comes with a PDF help file to know about all its usage instructions.
iMac Mock-Up Clean Style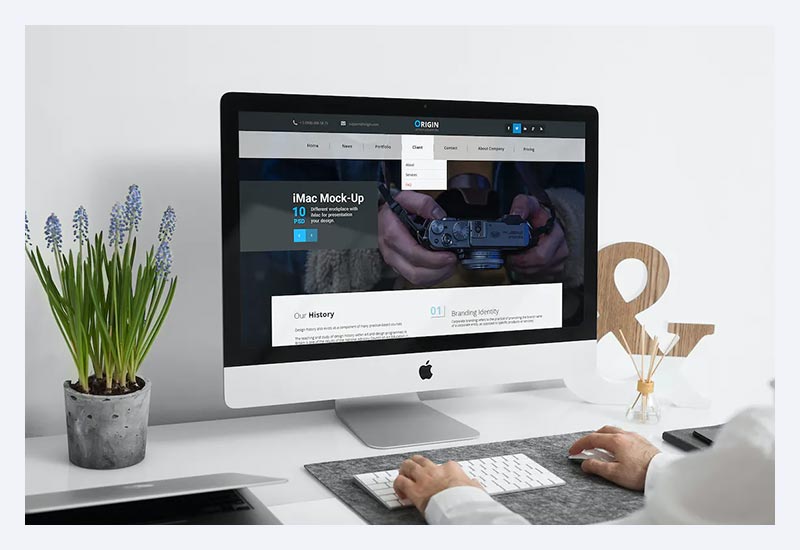 This easy-to-navigate design is an amalgamation of all great things with named layers. The best part is that it works fine for dark and bright themes and can be easily navigated.
10 iMac Mockups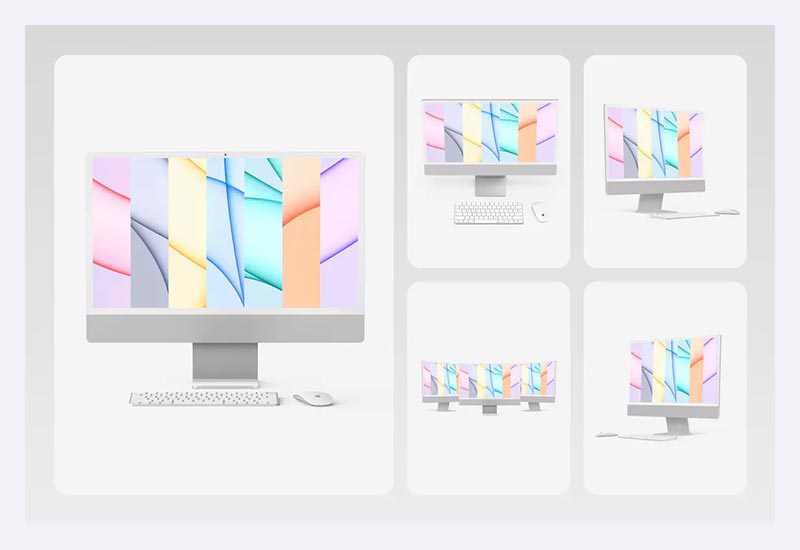 This special design comes with cool features and a very high resolution. Its photorealistic effects are extraordinary and fit for any type of presentation.
Dark Clay Multi Device Mockup Set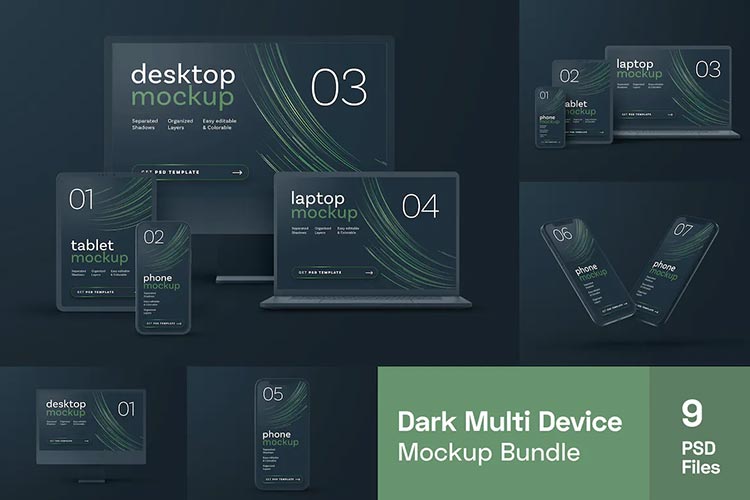 You can easily design your scenes in this set with the help of premium-quality objects. Also, there is a feature of rearranging different objects and transforming individual color elements.
In Conclusion
To wrap this up, we have shared all the beautiful iMac mockups that will draw attention instantly. So, you can go through each of them and settle for the best one out of these free iMac mockups in the list. We know you will enjoy working with these since they all have unique elements to work with.
Do share which iMac mockup PNG became your favorite in the comments section below. We would love to hear from you!
How to edit mockup file?
A mockup file can be easily edited using the world-renowned Adobe Photoshop tool. This tool is reliable in handling all sorts of mockup edits and creation. Owing to its high-end features, it is considered as the best tool for making any type of customization in a mockup file.
What software do I need to work with PSD mockups?
If you have an iMac mockup PSD file to work on, you can use Adobe Photoshop or Photopea tool for making any necessary edits. While investing in the former tool is a pretty pricy affair, the latter comes at no cost. Thus, all you need to do is open either of the software and make changes as per your requirements.
I don't own Photoshop. What do I do now?
We understand that Photoshop is quite expensive and may not be in everyone's possession. So, you can go for some free alternatives such as Photopea and Placeit. If you are not into designing yourself, you can simply visit some trustworthy freelance websites, such as Fiverr, to hire expert designers who can help you with your work in exchange for money.