Marketing is an indispensable business operation that has witnessed vast transformations year after year.
Traditionally, the sole purpose of marketing was to spread awareness and educate customers about the brand. It was never intended to entertain or engage. But eventually, when the customers were growing tired of the same old gimmicks, it was time to make advertisements noteworthy.
Then, it was in 1984, the 'Guerilla Marketing' book was launched by a marketer, Jay Conrad Levinson.
The main aim of guerilla marketing was to use unconventional ways to promote products or services but on a small budget. Guerilla marketing tried to emphasize the elements of surprise, shock, and catching the customers off-guard. Vanilla marketing just wasn't enough.
Ever since then, guerilla marketing has been growing and developing.
Introduction To Guerilla Marketing
Today, the foundation of guerilla marketing remains the same. However, it is a very misunderstood and underused form of marketing. This could mainly be because of the time one needs to spend on it.
It is not just about following the social media do's and don'ts or traditional rules and promoting a poorly crafted, right-in-your-face marketing campaign.
It involves using your creative bent of mind. Guerilla marketing campaigns need to be extremely clever, fun, and engaging. These campaigns don't need your money but your time. This is one form where billions of dollars wouldn't be enough to make even an average campaign a success.
You can show your creativity using any media style for your guerilla marketing – be it text, videos, or just static images but in an unconventional way.
It requires you to be authentic and personal. Try showing off your business or your own personality in such campaigns. This is because people prefer doing business with people and not a faceless brand. When you showcase your true personality, it becomes easier for them to build a connection with you.
Guerilla marketing could include interesting packaging that intrigues the customers. It could also be intriguing street art or a creative social awareness campaign.
Below are all the types of guerilla marketing campaigns that could become a part of your next marketing strategy. We have also shared some great examples for you to take inspiration from.
Types Of Guerilla Marketing
Broadly speaking, there are six types of guerilla marketing campaigns and these include:
Undercover Marketing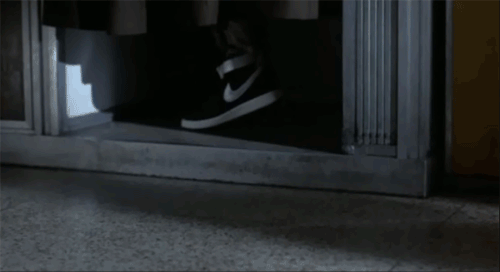 Source
As the name suggests, undercover marketing aka stealth marketing is a hidden sales pitch where your customers don't actually know they're getting marketed to. The main aim of such a campaign is to build a community around the product and create buzz.
One way to market your products in a stealth mode is by hiding them in the movies or TV shows. If you have seen your favorite character enjoying a particular brand's beverage or wearing shoes from a famous fashion house, that's a subtle way of brand promoting their products, without actually being straightforward about it.
Take Nike Vandal High in the classic movie Terminator, for example. Kyle Reese grabs these Nike shoes when he comes from the future to protect Sarah Connor. This pair surely managed to create buzz around itself when the actor showed them off for a good few seconds on the screen.
Street Marketing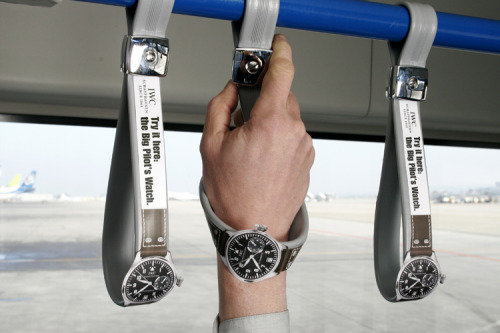 Source
Street marketing was formerly given the name 'outdoor guerilla marketing'. In this type of marketing, you incorporate street elements into your campaign. It could be stairs, buildings, or even trees. Anything.
This also means employing street art to create an element of surprise for your audience. When done right, it can turn out to be one of the most creative and exciting campaigns.
One example of street marketing is by the brand called IWC. In this campaign, they managed to use the handles of the train and turn it into a watch to give their customers a glimpse of The Big Pilot's Watch. Smart, right?
Ambient Marketing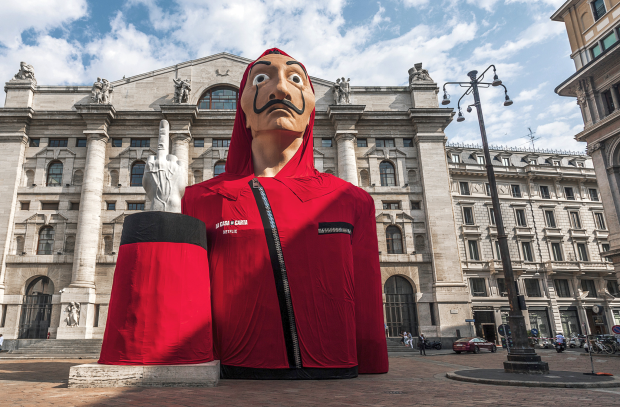 Source
Out of all the types, the most popular one is perhaps ambient marketing. Such campaigns are all about the 'never-seen-before' element and always take place offline. This is the campaign where you catch your audience off guard.
Ambient marketing is placing an ad in a very unexpected place in a very unexpected manner. Although, it's not just about the placement. The message you are trying to portray should be creative and impactful. It should leave the spectators shocked.
One of the most recent examples of ambient marketing was when Netflix turned the renowned Piazza Affari in Milan into a statue of a red-hooded thief. It surely left the witnesses shocked.
Ambush Marketing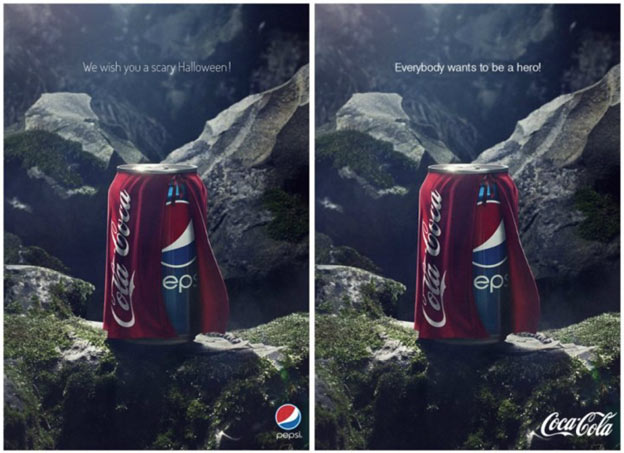 Source
Ambush marketing is a bit risky because it involves meddling with events that are held or sponsored by other brands. But the good thing is that you can make a profit from the event that someone else planned and implemented.
When done right, this can turn into one of the memorable forms of marketing. It also opens up avenues for your brand as you get access to your competitor's audience. But, please note, there are some regulations and agreements with event organizers that are to be followed. Otherwise, it can cause problems with the law.
Take this example of subtle ambush marketing by Pepsi and Coca-Cola. Pepsi released a campaign on Halloween on the left. To counter that, Coca-Cola used the same creative but different and witty text to get back at them.
Experiential Marketing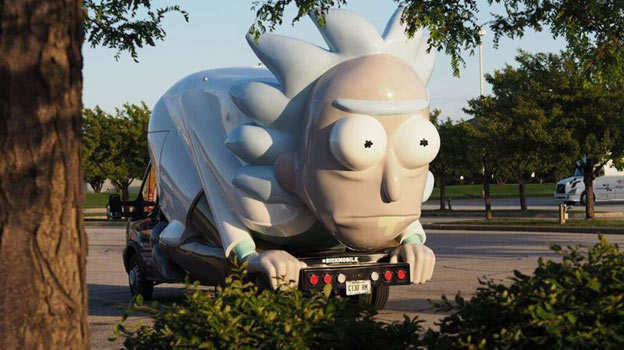 Source
Experiential marketing revolves around emotions and memorable situations. In this type, you create a situation where your target audience can't help but connect a memorable situation with something related to your brand.
This type of marketing is all about targeting the human side of your customers and making them feel the same about your brand.
The most famous way of doing experiential marketing is by hosting conventions and fairs. But one of the most popular campaigns was when 'RickMobile' drove from city to city. This was a merchandise-filled vehicle that got quite a bit of attention from the fans of the famous animated show named Rick & Morty.
Viral Marketing
Who doesn't like going viral? When your campaign goes 'viral', it means it's spreading like wildfire across the web.
And once your brand goes viral, you wouldn't need tools like a free backlink checker to find quality backlinks for your website because people would already be talking about you and adding your links. You will probably need the tool to ensure no poor-quality websites are linking to your brand name.
To reach this stage, you need to be extremely creative and clever. Just like Dollar Shave Club's ad campaign. The video got so viral that they managed to receive 12,000 orders in less than 48 hours!
These were just a few of the several guerilla marketing campaigns that have been shared by different brands. The level of creativity surely leaves you surprised.
To make sure you are able to execute a similarly exciting and quirky marketing campaign, we've compiled a list of tips below that you should keep in mind.
Tips On Guerilla Marketing
Understand your audience well
Before you execute a guerilla marketing campaign, do what you would otherwise do with a normal campaign i.e. know who your audience is. You shouldn't miss out on this step because it is your audience that is the focal point of your campaign.
Guerilla marketing circles emotions. Building an emotional connection with your audience requires you to understand their fears, pain points, and needs.
This can be done by taking the help of your sales team. They can try and provide you with the information on the customer habits and behavior. You need to know who your customers are, why they choose your product, and what makes them tick.
This information can then be used as a basis for your campaign.
Keep up with the trends
The main aim of guerilla marketing is to catch your customers off guard but in an environment that they are familiar with. Thus, it is crucial for you to analyze the moments and trends in the market.
Identify the latest topic of discussion. There are several tools like social media listening tools or Google Trends that you can use for the same.
You should also do a bit of marketing research aka competitor analysis. This is where you should be identifying and analyzing their marketing campaigns. Use this analysis to gain insights into what you should do and what you shouldn't.
Target a smaller group
Your target audience can be vast, each with different tastes and preferences. Does that mean your guerilla marketing should target them all? Definitely not. Try to narrow down your focus to only a small percentage of your audience.
When you focus on smaller groups, the chances of your campaign turning out to be effective are pretty high. Your campaigns will bring the results that you truly desire.
Moreover, such campaigns also allow you to build a community around your brand. You can easily work towards developing sustainable relationships with your customers. This, in turn, pays off by helping you attain your brand advocates.
Be concise
When it comes to marketing tactics, beating around the bush is never a great idea. Being concise and consistent with your message is important, especially when it comes to making sense of your guerilla marketing.
You need to be extremely clear and razor-sharp if you want that element of surprise to be the highlight of your guerilla marketing. Also, now that we have entwined the digital world with the real world, it can be a good idea for you to introduce follow-up communications plan.
You can give your offline campaign a hashtag and track it on social media platforms. This can also help you bring user-generated content that you can further use in your digital marketing.
Set and meet goals
Establishing goals is the key to success and a key to ensuring you have a direction to follow.
Planning a guerilla marketing campaign is fun and sometimes, this fun can take you off-track. But when you have goals in place, you will know what you want to achieve; you will know where your boundary lies.
The main objective of guerilla marketing is to increase awareness and create buzz around your product. But if you want to drive sales with your campaign, make sure your campaigns are aligned with your goal.
You can measure the success of your guerilla marketing either by comparing it with your previous campaigns or if you are new, set your competitor's results as your benchmark.
Strategize well
It is very easy for your guerilla marketing campaign to become boring or extra. It is also very easy for your campaign to be offensive to some customers. This will bring negative publicity, which is never really good for the sales of your product.
When you are planning your guerilla marketing campaign, you must be empathetic and smart. Steer clear of anything that could hurt the sentiments of anyone.
If you are 'not sure' about a messaging or creative or an idea, chuck the entire plan and start from the bottom. You should be confident in yourself when you launch a guerilla marketing campaign.
A few strategies that brands today use to be in the good books are pop-up shops, posters, stickers, and giving a few samples away. These help spread the word, give the customers an idea about your service and your product, and also help you ensure you are not attracting any negative comments.
But if you do want to go all out and be creative, just ensure you are not breaking any laws and you are not inviting any controversies to your doorstep.
Conclusion
To wrap it up, guerilla marketing is an underused and unconventional way to promote your brand. Introduced when the customers were tired of the old marketing gimmicks, guerilla marketing circles the element of surprise and aims to catch the customers off guard.
This form of marketing is, in fact, a cost-effective way but you will have to spend time on building something that's creative and fun. There are several types of guerilla marketing campaigns that you can use but just make sure you read your audience, the environment, and the laws well.
Are you ready to get your creative hats on?