People and businesses are on social media. In fact, 3.5 billion people in 2020 were using social media. It is projected that by 2025, social media usage will grow to nearly 4.41 billion people. With that many people, don't you want to show your best on social networks?
Graphic design can help you a lot in this area. There are many design tools online that are free. You don't have to download and install these programs. They are web apps that you can use anywhere there's an internet connection.
We've tested and tried out several of these applications and came out with the 10 best online graphic design tools for social media. Aside from being web-based and zero-cost, we laid out three other criteria in our selection:
Features – must carry basic image editing and design tools; if they offer free advanced features, these would be added bonuses.
Key capability – while most of these apps in our line-up have common features, there are also those that have distinct specializations like creating infographics or converting photos into art.
Ease of use – must be user-friendly with simple navigation and responsive interface; no steep learning curve required.
Before we dive in, let's quickly take a look at where and how we will use these tools.
What are Social Media Graphics?
The graphic design tools we'll be tackling here will be used for the creation and design of social media graphics.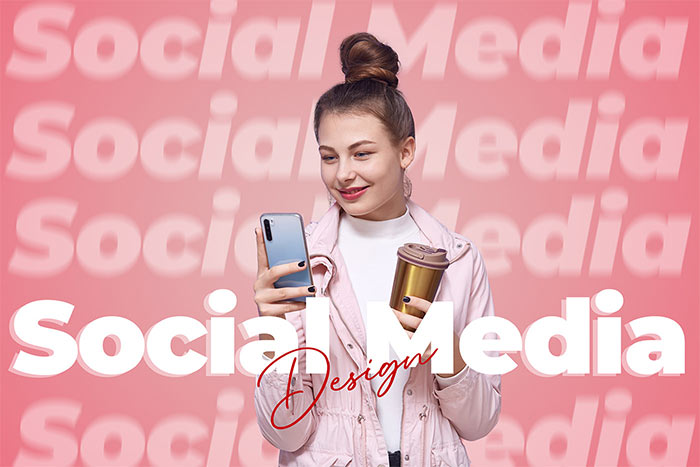 Credit
Social media graphics are the visual elements used in social media content. The content (tweets, posts, ads, stories, pins, posts, etc.) that you upload on social networks can contain any of the following graphics and visuals:
Images
Illustrations
Video
Gifs
Infographics
Memes
Quotes
Charts
Screenshots
Most if not all of the above will have to be designed to be attractive, to get likes, to increase followers or engage the audience.
Whatever the purpose, your posts should be well presented and visually pleasing. That is where graphic design tools come in handy.
Also read: The 8 Types of Graphic Design You Need to Know
Graphic Design Tools vs. Photo Editing Software
You may ask – are graphic design tools different from photo editing software? The two have distinct functions but they are commonly used together. This is why many photo editing programs also carry graphic design features.
Photo editing software carries basic functions for image enhancement. These usually include controls for adjusting brightness, contrast, saturation, sharpness as well as cropping or changing image size.
Some other image editors can have more advanced features like effects, frames, layers, and filters. These pro-level controls are often found in premium or paid software.
Graphic tools allow you to put images and stylized text on backgrounds and templates. You can make logos, presentations, slides, invitations, book covers, and many others with graphic design apps.
You can also alter size and dimension of your designs to fit social media banners, covers, and profiles depending on the type of post. It is a logical combination to have image editors and graphic tools in one package since you are likely to use both for your social media content.
Also read: 11 Most Effective Graphic Design Tips for the Beginners
Best Online Social Media Graphic Design Tools
Get ready to explore some top-of-the-line applications that can visually level up your social media content.
Canva is an online photo editor and graphic design software that has become a favorite of marketing teams, for many good reasons. These include:
Lots of templates. Easily design presentations, Instagram or Facebook posts, social media covers and stories and so much more using pre-made templates.
Straight to social media. Your newly designed post or content can be published directly to you or your company's social media account.
Collaborate on projects. Involve your team in design decisions to come up with a truly collective project effort where everyone is involved and proud of the result.
Powerful photo editor. Level up image enhancement with a robust photo editor that simplifies your creative workflow.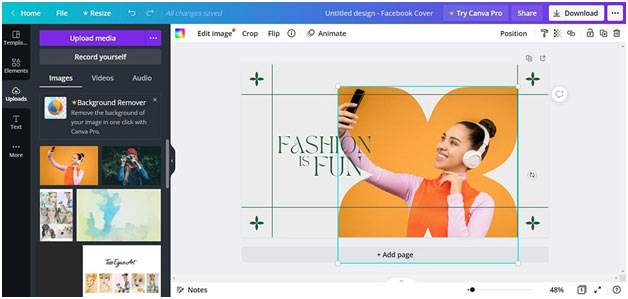 Canva is best known as the go–to app for quick social media graphics design. You can easily create posts, covers, stories, channel art, and even videos and animations with thousands of professionally-made templates.
These templates run the whole gamut, allowing you to design almost anything for your social media content. You can edit and customize your creation to reflect your visual identity or corporate brand.
Canva's free plan will suffice for your personal use or for the needs of a small team. That already comes with thousands of free templates, photos, and graphics plus over 100 design types you can create.
For heavier requirements, there are premium plans for pros and enterprises. Meanwhile, free premium versions of Canva are offered to nonprofits and educational institutions.
Free PhotoAiD Tools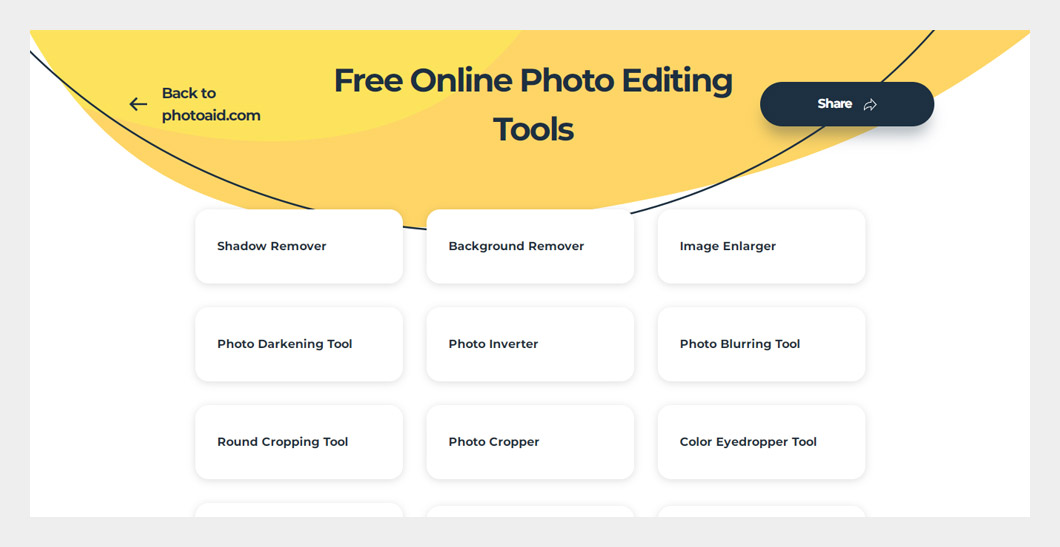 Free PhotoAiD Tools is a website including a set of 14 small photo editing tools.
We all know that making some edits in Photoshop or another photo editor is counter-productive since AI tools make it faster than the program has time to load. Example? Removing the background or round cropping. Also, not all content creators know how to use advanced functionalities in graphic programs. PhotoAiD Tools come in handy to all design creators because they simplify quick photo editing both for professionals and amateurs.
The list of accessible tools includes:
Shadow Remover
Background Remover
Image Enlarger
Photo Darkening Tool
Photo Inverter
Photo Blurring Tool
Round Cropping Tool
Photo Cropper
Color Eyedropper Tool
Black and White Photo Editor
Photo Flipper
Photo Brightener
Colorize Photo Tool
Photo Rotator
Therefore, if you need to remove the shadow or blur your picture, you can just upload an image, and it's ready to go in a matter of seconds.
All of those small tools are ready to use right from the platform, so you don't have to waste your time logging in or downloading anything. Once you visit a website, you can just use the tool to change your photo immediately.
Colorcinch is the present iteration of Cartoonize.net, an online app that specializes in transforming photos into artworks. It's so easy to use even for those with zero design experience.
The software comes with a solid all-in-one image and text editor with basic editing tools as well as advanced layers and adjustable filters. It also has a freehand drawing feature.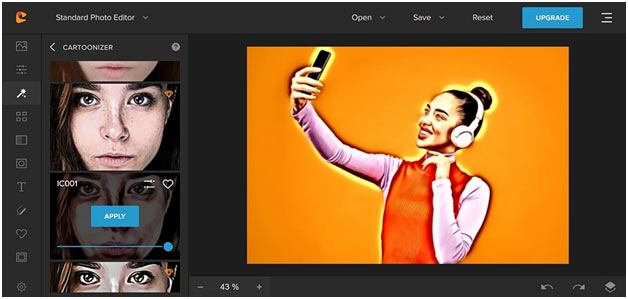 Where the app truly shines is in its AI-powered photo to art converter. In just one click you can turn images into cartoons, sketches, and digital art emulating different painting/art styles.
You may have noticed now the prevalent use of digital art, graphics, and illustrations on social media for various purposes including:
Advertisements
Announcements
Presentations
Infographics
Channel art
Profile covers
Event covers
Story highlights
Banners
With Colorcinch, you can easily create art and graphics for the above examples. You don't have to open an account to use the app although you may want to set up one to save and organize your designs.
If you want full use of Colorcinch features plus thousands of free photos and graphics for unlimited projects you can opt for any of two low-cost paid subscriptions.
BeFunky specializes in photo editing, graphic design, and collage making – processes vital to creating social media visuals.
Its photo editor allows you to resize and crop photos, retouch selfies and portraits, enhance images, and remove backgrounds, among others.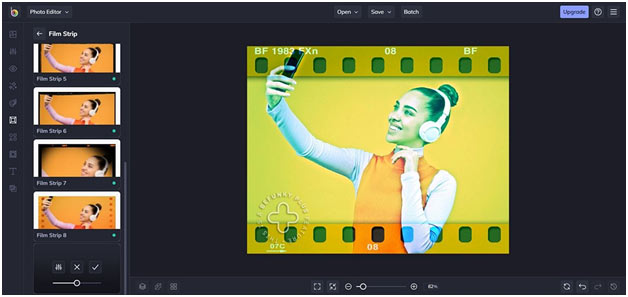 Meanwhile, BeFunky's graphic designer provides drag-and-drop functionality for easy placement of text, images and other visual elements on pre-designed templates.
Its collage maker, on the other hand, gives you extensive layout options. This activity is automated so you can quickly relay your eye-catching photo stories on whatever social platform.
BeFunky is free to use but you must sign in and can only work with basic editing tools. A monthly and annual subscription is available so you can use its complete toolset.
Venngage is well known as a top-of-the-line infographic maker. But that's not all it can help you make. The web-based software is a reliable tool when you create graphics and designs for materials such as:
Presentations
Reports
Business Cards
Diagrams
Collages
Charts
Roadmaps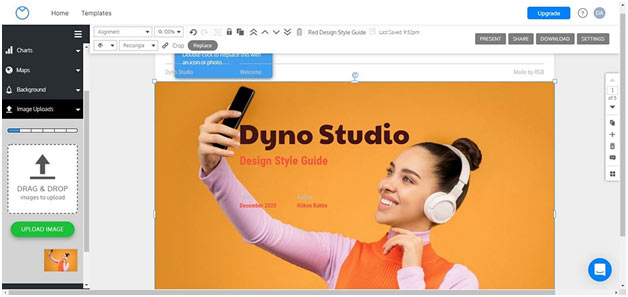 You can use infographics for various purposes including for branding, corporate communication, training and development, and more. The use of visual content by marketers has risen considerably in recent years.
The fact is that infographics have seen the biggest increase in use as a B2B content marketing technique. Moreover, infographics get 3X more likes and shares than any other type of content. Now you see why it's a favorite of marketers.
Venngage is free, although that allows only a limited number of designs you can make and images you can upload. However, there are three paid plans which provide more features and bigger image uploads as well as real-time collaboration.
Design Wizard gives you three easy steps to create impressive designs whether they are for social media, web or print.
Select a professionally made template from a library containing hundreds of choices for a variety of purposes.
Customize your design using your own backgrounds, images, videos, fonts, logo and other graphic components.
Download your design with choices for print or web quality, or you can schedule and share it directly to social media.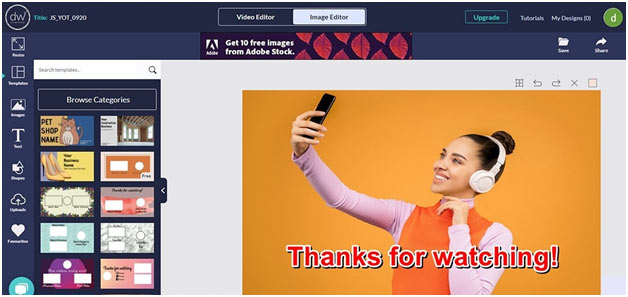 All the above can be done in a matter of minutes, giving you the means to come up with unique and creative content.
We all know that content is king. In that case, great content needs to be supported by great design and Design Wizard can help you do just that.
The app's basic plan costs nothing but, as usual with free stuff online, you get ads. If you want to do away with ads and even have your own cloud storage, pro and business plans are available.
Tailwind is designed for marketers who want to boost audience engagement on Instagram and Pinterest.
It automates social media marketing processes by giving users the means do the following:
Create attention-getting social media posts with one-click photo edits and personalized designs.
Schedule publication of social media posts automatically and streamline workflows.
Optimize growing your business through traffic-inducing tools and approaches.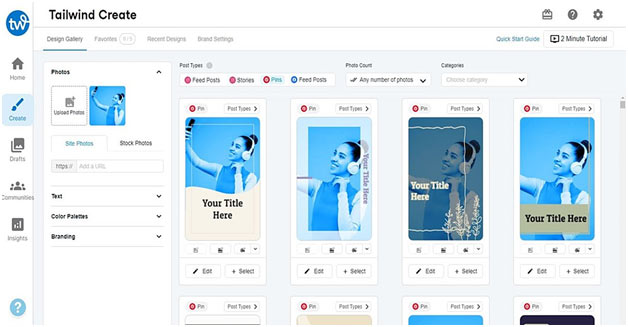 Organization is the name of the game for Tailwind which is why it offers smart, automated features to simplify important social media activities.
For one, it removes time-consuming work in transforming photos into pleasing social posts. You don't need design skills since every design element is laid out for you.
You get extensive lay-out options, curated color schemes, one-click retouch, and controls for resizing photos and designs, and transforming them into the right format.
Of course, you can customize designs with your own logo, fonts, colors, and other branding assets to carry your unique visual identity.
Tailwind offers a "forever free" plan although you need to sign up and is limited to a certain number of projects. There are three paid plan options that allow more design projects and posts.
Adobe Express is a light and free online version of Adobe Photoshop, which was discontinued this year.
The current iteration that is Spark is aimed at helping you easily create web pages, short videos, and social media graphics.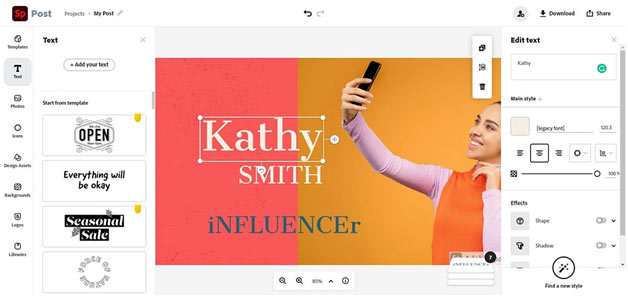 You'll be able to create stunning designs for social media posts in no time. You simply –
Choose a design template (ex. collage, flyer, poster, etc.)
Add text and photos or other elements such as videos and animation.
Resize the design to fit the social media platform.
Spark provides a vast template library for all sorts of occasions and design projects. You can work on templates for Facebook covers, YouTube banners, newsletters, posters, invitations, infographics, brochures, calendars, and many more.
It's intuitive but powerful tools which Adobe is known for makes it a breeze to transform text, remove backgrounds, add brand elements, and apply Photoshop-style filters and effects.
Spark is part of the Adobe Creative Cloud plan but can also be availed as a standalone subscription.
Desygner is an online graphic design editor that offers itself as an affordable alternative to expensive software. It asks the question – why hire a designer when you can do it yourself?
The software boasts of thousands of business users in need of simple-to-use tools for making high-quality design content like presentations, ads, business cards, and social media posts.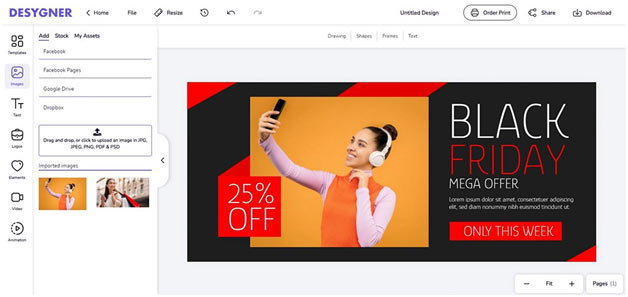 As such it counts among its customers professionals such as marketers, content creators, educators, brand managers, real estate brokers, and many others.
Its graphic design editor allows you to create online social, digital, and print materials. You can choose from a wide variety of pre-made templates, web fonts, and free images for your projects.
Desygner follows the functionality of Adobe Illustrator but on a much simpler scale. It gives you the drag-and-drop style in working with various design elements including multiple pages and layers.
Basic features cost nothing and a free trial is available. There are paid plans for pros, businesses and enterprises for those needing advanced tools and more images and templates to work on.
Snappa provides a quick and easy way to create graphics online. Its name is a play on doing things in a snap and it does just that to save you precious time.
Whether you're creating graphics for blogs, ads or social media, the software gives you tools to simplify the process.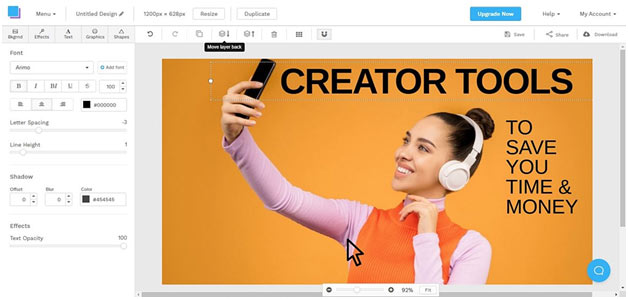 The steps are straightforward – pick an image dimension, choose a pre-made template, put in graphic elements (text, photos and effects), then schedule and share your design.
If you want more tweaks, you can remove the background in just one click or resize in a flash your graphic designs. All these and more you can do without any design experience.
Snappa offers a free plan to get you started. It comes with thousands of free templates, graphics, and royalty-free HD photos. A pro plan and team plan opens more features such as social media integration and team collaboration.
Pixlr comes in two versions – Pixlr X for quick graphic designs and Pixlr E for advanced features. Both are browser-based platforms that can be accessed for free.
What you get from the software are AI-powered graphic design and photo editing tools for whatever project you have in mind.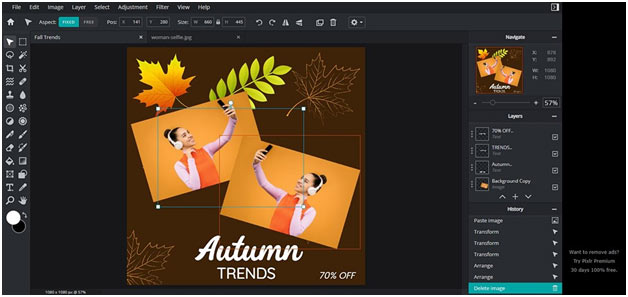 Templates are the launching pads of designs. Pixlr gives you design templates heavily focused for social media which allows you to easily create posts, stories, pins, thumbnails, and the like.
There are also templates for other design projects like invitations, brochures, posters, business cards, slides and more.
Pixlr has robust design tools and photo editing capabilities but one area where it's in top form is in collage making. The software provides dozens of free grid templates where you simply put in and arrange your photos, do some quick editing, and you're done, ready to share your collage.
Pixlr's free plan gives basic and limited use of tools. For full, professional-level editing, two premium plans are offered to maximize creativity
Take These Tools on a Test Drive
With all these programs and their capabilities, you might feel a bit overwhelmed. Don't be. Even if you've never designed anything before, our selections above are some of the easiest to use.
They are tools designed to be intuitive plus there are built-in guides to help you every step of the way. Even if you have no design background, the processes are automated to give you the results you want.
The best thing you can do right now is to try them out. Take them for a test drive, there are free plans anyway. You might be surprised that by using these tools you are able to unlock your creative side and bring life to the social media designs you envisioned.