While it may sound amazing to be your lead, freelancing is equally challenging. Freelancers are self-employed and work independently. The major concern for freelancers is time management as they work from home and get bound by off-work duties. For this reason, freelancers require time management tools.
Freelancing includes multi-tasking, and for each task, time scheduling is necessary to meet deadlines and submit job assignments on time. When you work as a freelancer, no one can notify you about the strict time limit and communicate with you for better ideas.
With the different tasks freelancers conduct, they need to take accountability and fulfill responsibilities as they have no one to look up to. The hierarchical system is broken as the freelancer works as an employee, employer, human resource department, project manager, marketer, and others with a time limit for each role. So how can a freelancer manage time efficiently?
Also read: Top 10 Websites for Everyone to Find Freelance Jobs Online
Time Management for Freelancers
For the efficient and appropriate management of time, firstly, they should figure out how a typical day of work passes by. The individual tracking of time is not possible manually, from which time management tools are a must for freelancers. Here are some ways by which freelancers can manage their time:
Freelancing includes researching whether to screen code snippets from stack overflow or seeking answers from Reddit and Quora. One of the best ways to manage time is limiting the over-information and relying only on proper sources. Time management tools provide productivity metrics for the total time freelancers spend.
Use the Pomodoro technique and work in shorter shifts to manage time. You can start working for 30 minutes then take 5 minutes to break for better results. Some time management tools remind users to take a break. The app available helps in the implementation of a fixed schedule.
A freelancer should remain aware of the distractions that are possible during work. Social media accounts like Facebook, Whatsapp, and others reduce productivity. Time management software sends reminders in case of distractions. Freelancers can stay alert and block distractions to conduct work in time.
When freelancers consider their work a full-time job, the work is completed on time, and enterprise plans require seriousness, and it is important to track other members' time too with proper task management to meet smart goals like OKR Tool.
Also read: How to Convert Leads into Paying Customers as a Freelancer
Why Should Freelancers Use Time Management Tools?
Time management tools are a must for freelancers as they help in overall time tracking. The stress levels are managed while conducting recurring tasks, and better planning for work is possible when one uses time management tools.
Time management tools help the freelancer remain focused, leading to a decrease in procrastination to complete a work. Freelancers who use time management tools are more confident than those who do not.
An individual worker works more productively when tracked by time management tools. With enough time for work, the users can relax and plan for refreshments. Time management tools always encourage individuals to prioritize work and keep the users focused and motivated.
You can take care of good health when there is a device or tool to look after and manage time for you. Time management tools work as your assistant and project manager at the same time to help you endure work even in the busiest and provide the feel of working in an onsite office.
Some Useful Time Management Tools for Freelancers
There are various time management tools available in the market, with the question of which app is the top time management tool. Freelancers have a hard time choosing the best software and tools. Here are some time management tools that are helpful for freelancers.
timeTracko – Workforce Analytics and Productivity Software
timeTracko is an application designed for the management of time. Its feature of tracking time, combined with productivity and report generation, makes it an ideal tool for freelancers.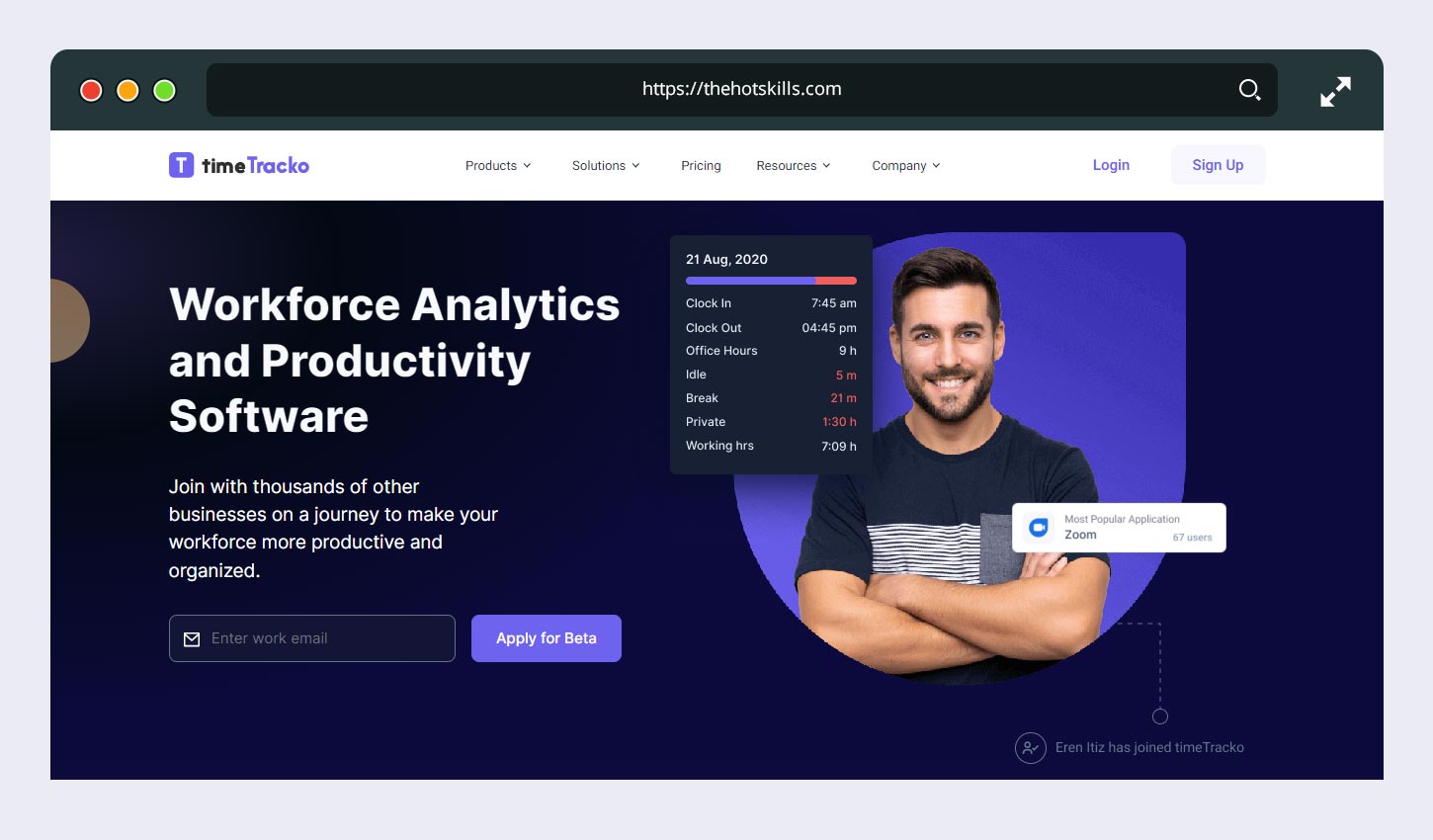 Some Features of timeTracko
The real-time tracking feature lets you track your daily activities, and if you have other freelancing mates like your employees, you can know their work in real-time with access to screenshots and video recordings.
timeTracko holds records of keyboard strokes and mouse clicks of the employees. From which the activity level of the user is traced out.
Screencast feature allows detecting inconsistencies in your' performance, which helps to utilize time and receive feedback.
The level of productivity is generated based on tracking and timeTracko offers categorization of websites and applications and software as productive, unproductive, and neutral.
The app is featured with a summary report that summarises the total work activity of the user with time reports that are easy to analyze on a weekly, monthly, and daily basis.
Pricing of timeTracko
The timeTracko lite plan is free.
The team plan costs $7 per user per month.
The business plan costs $12 per user per month.
Enterprise plans are offered to large companies and have custom pricing.
Indy – Time Tracker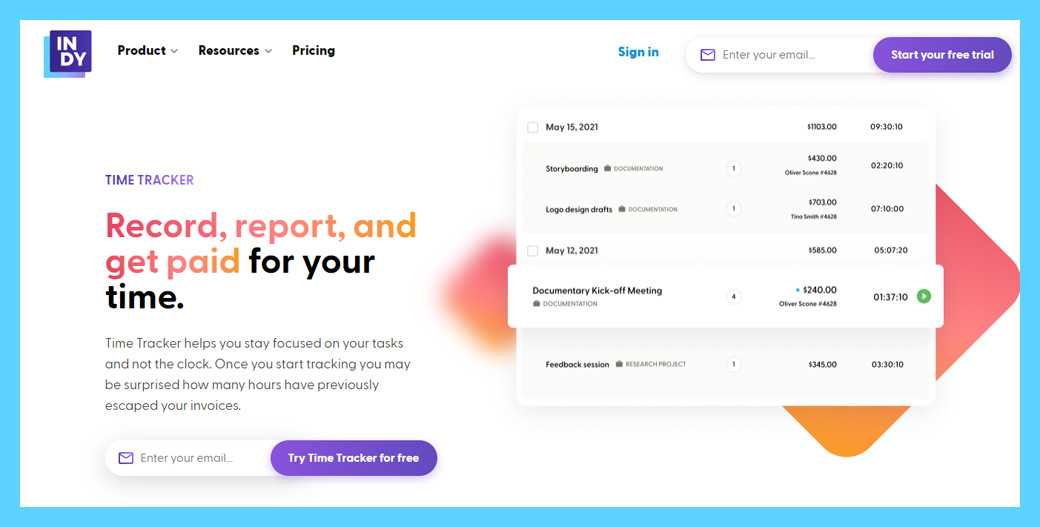 Indy is a set of software tools designed to make freelancing simple – including time tracking. Track your time with a clean interface. Full integration with the invoice tools helps you get paid for every minute.
Indy has several attractive features:
Simple interface – Indy's Time Tracker is simple. Its interface helps you focus on your work, not trying to work out which button to push to manage your time.
Project Management – Indy offers you tools to manage almost any project, and the Time Tracker fits seamlessly into your project workflow.
Easy Invoicing – Create invoices and add billable hours to them in seconds using Indy's Invoices Tool and Time Tracker together.
Pricing of Indy:
A free package is available with limited functionality.
For only $5.99 per month, you can use all the features of Indy with no limits.
Asana – Manage Your Team's Work, Projects, & Tasks Online
Asana is an application available as a web app and mobile app that enables freelancers to stay on track by managing time and productivity. Asana helps organize different projects and is very useful for freelancers.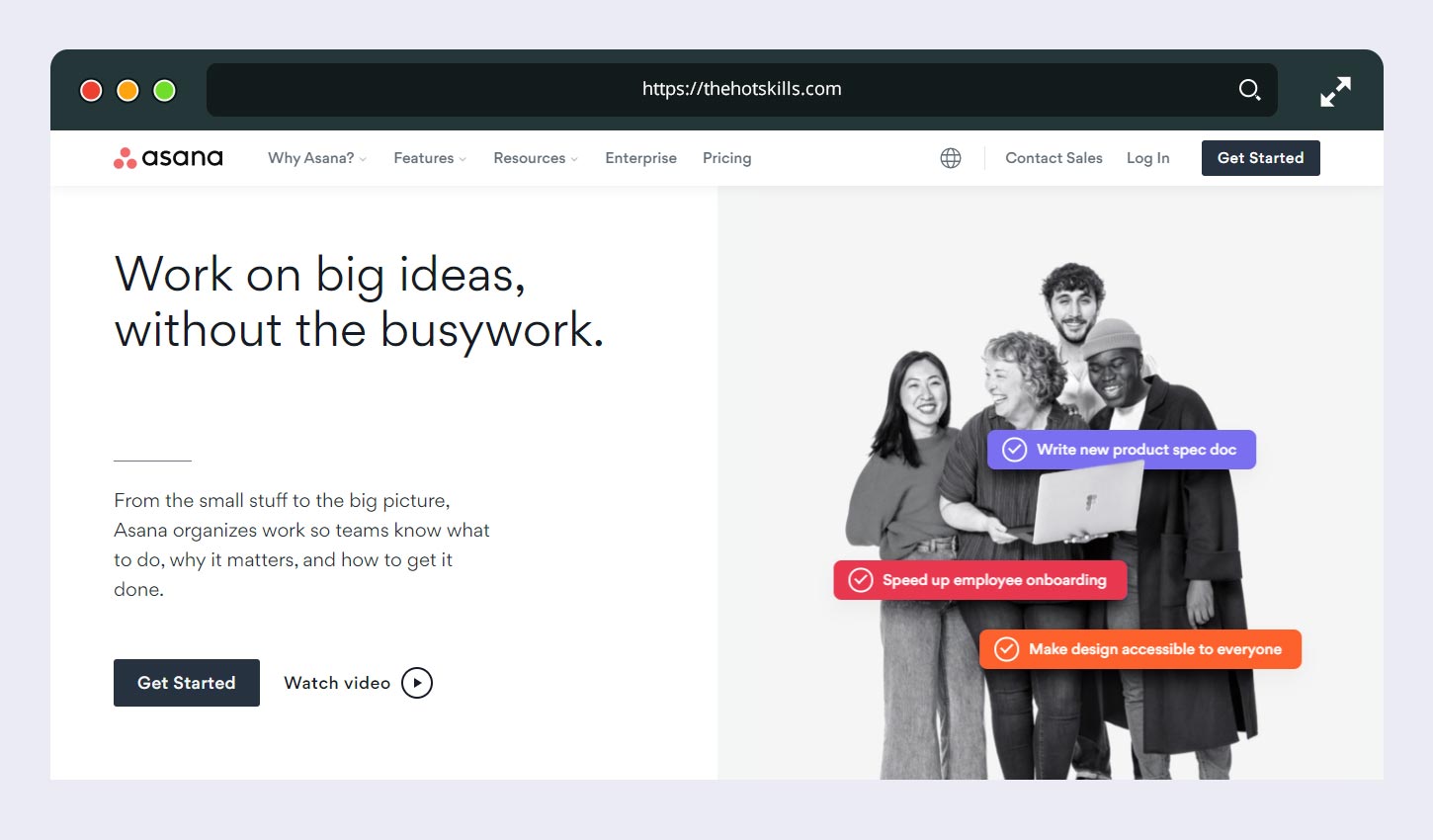 Some Features of the Asana
Asana allows building a Gantt chart in the timeline of the dashboard, and you can track your work on the Kanban board.
You can view the whole team's work in a calendar, and it integrates with third-party apps for better use of the employees.
The forms allow submitting work requests, and portfolios help view the progress in real-time.
Asana provides task comments, updating status, messaging, and adding followers for communication.
Pricing of Asana
The basic version is free of cost.
The Premium version costs $10.99 per person per month.
The business version costs $24.99 per person per month.
DeskTime – A Time Tracking App For Businesses & Freelancers
DeskTime time tracker app is available for use on desktop or mobile. Freelancers can use it to track their time and productivity to maintain proper workflow. It tracks the attendance and employee activity on the device of use.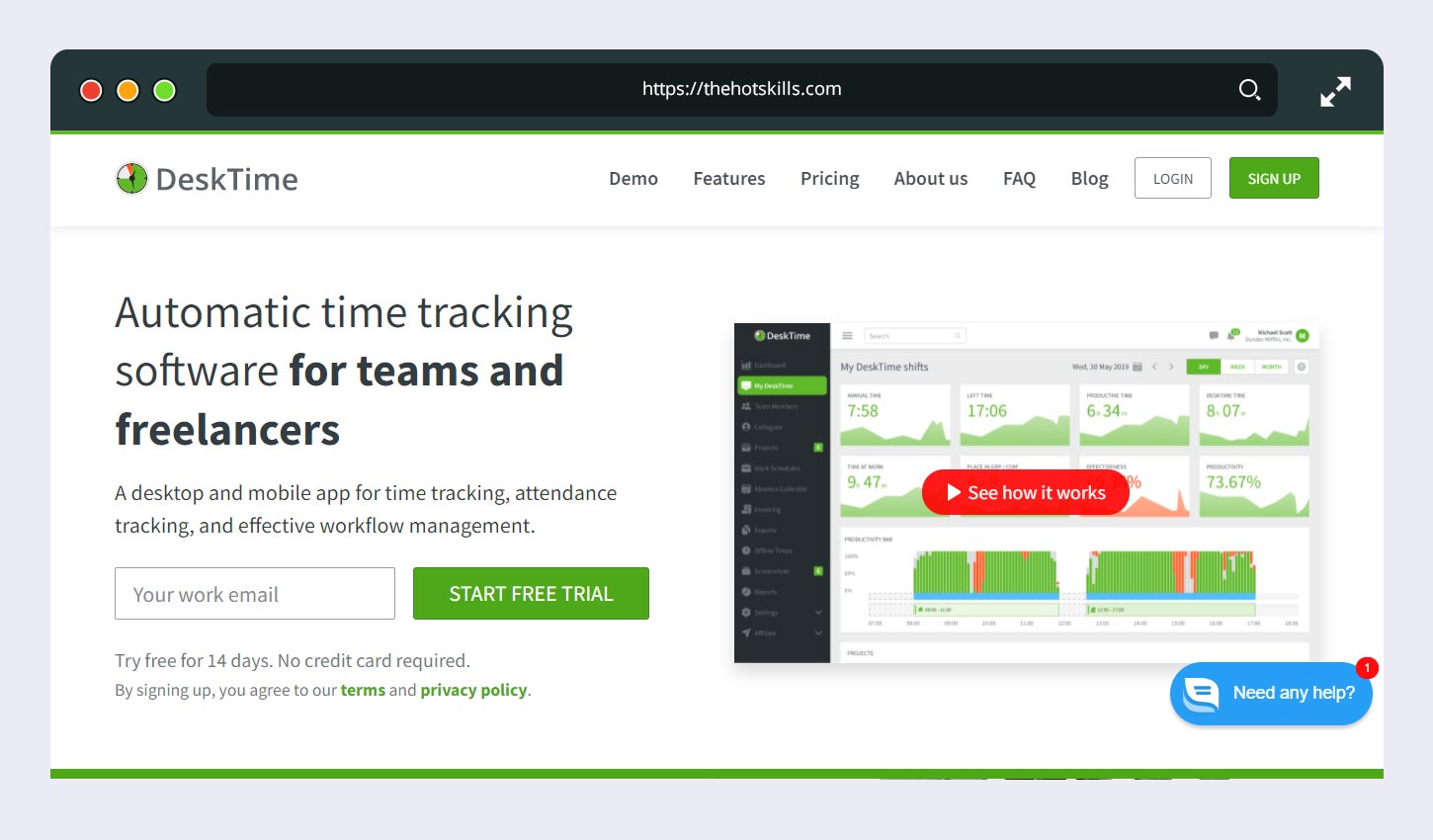 Some Features of DeskTime
It consists of an automatic time tracking feature with offline tracking.
Freelancers can use documentation title tracking features and try the Pomodoro timer.
The DeskTime application helps in calculating the cost and has an absence calendar.
You can use this tool for URL and app tracking and move forward with productivity tracking.
Users can shift schedules and find custom reports, and the application takes screenshots to generate reports.
Pricing of DeskTime
The lite version is free of cost.
Pro version costs $9 per user per month.
Premium version costs $10 per user per month.
The enterprise version costs $20 per user per month.
Focus Booster – Pomodoro App & Time Tracker for Online and Web
Focus Booster is a tool that helps freelancers notice how effectively they are making use of their time. You can utilize your day by using this time tracking feature.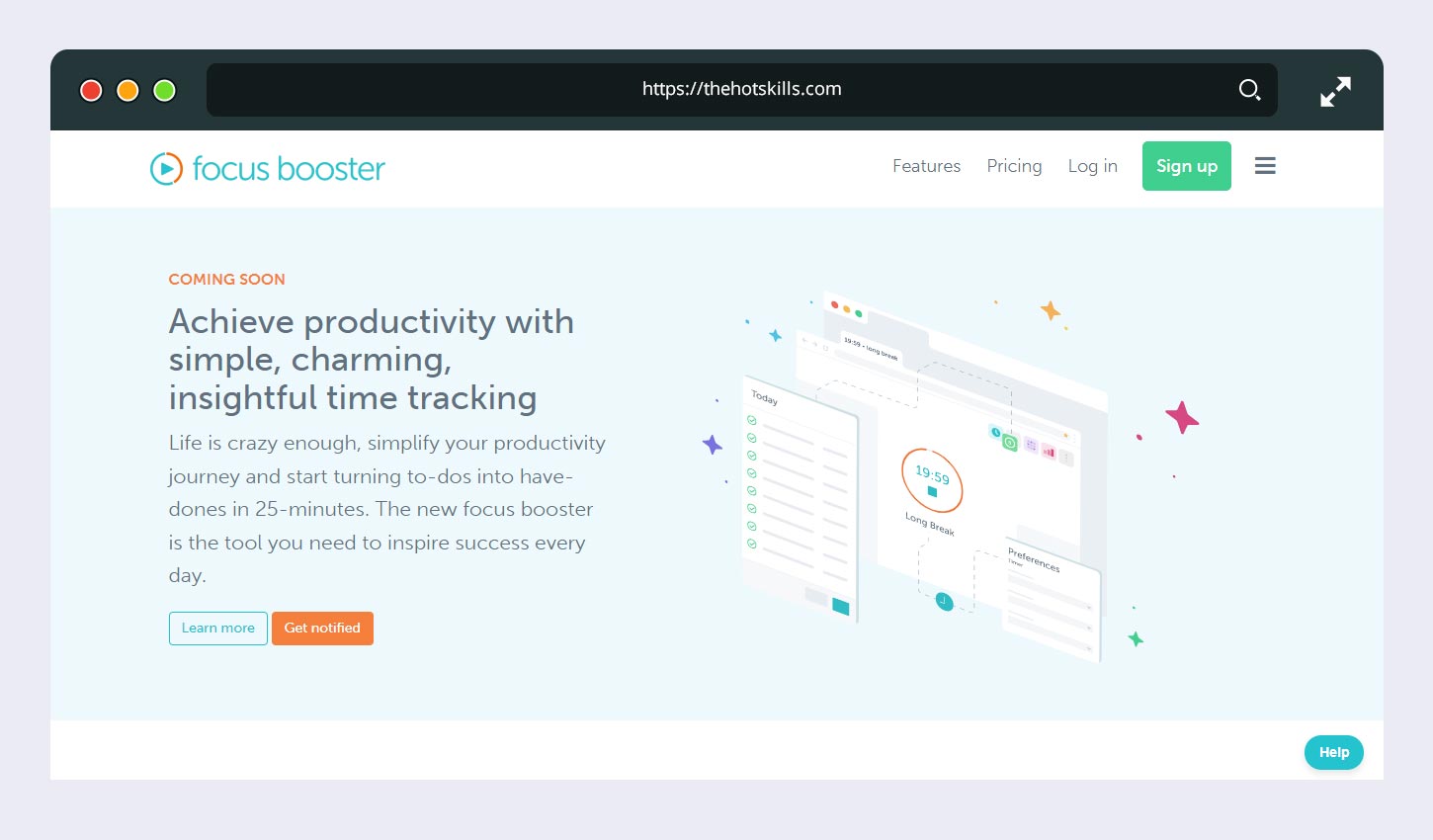 Some Features of Focus Booster
It uses the Pomodoro technique to track time and helps users understand the area they need to focus on.
Freelancers can use this application to avoid distractions and improve focus by setting timers for certain tasks with breaks.
It generates dashboard reports to provide ideas about spending your time and options to figure out employees' billable hours.
The time reports include manual time entries and time entries. Browse table count enables showing the time of breaks and sends notifications with audio alerts.
Pricing of Focus Booster
The starter app is free of cost.
For professional use, it is $4.99
Clockify – 100% Free Time Tracking Software
Clockify is a timesheet application that helps freelancers in tracking their time. Users can track a project or track sessions using Clockify. You can view the timesheets to stay updated on the events you worked for.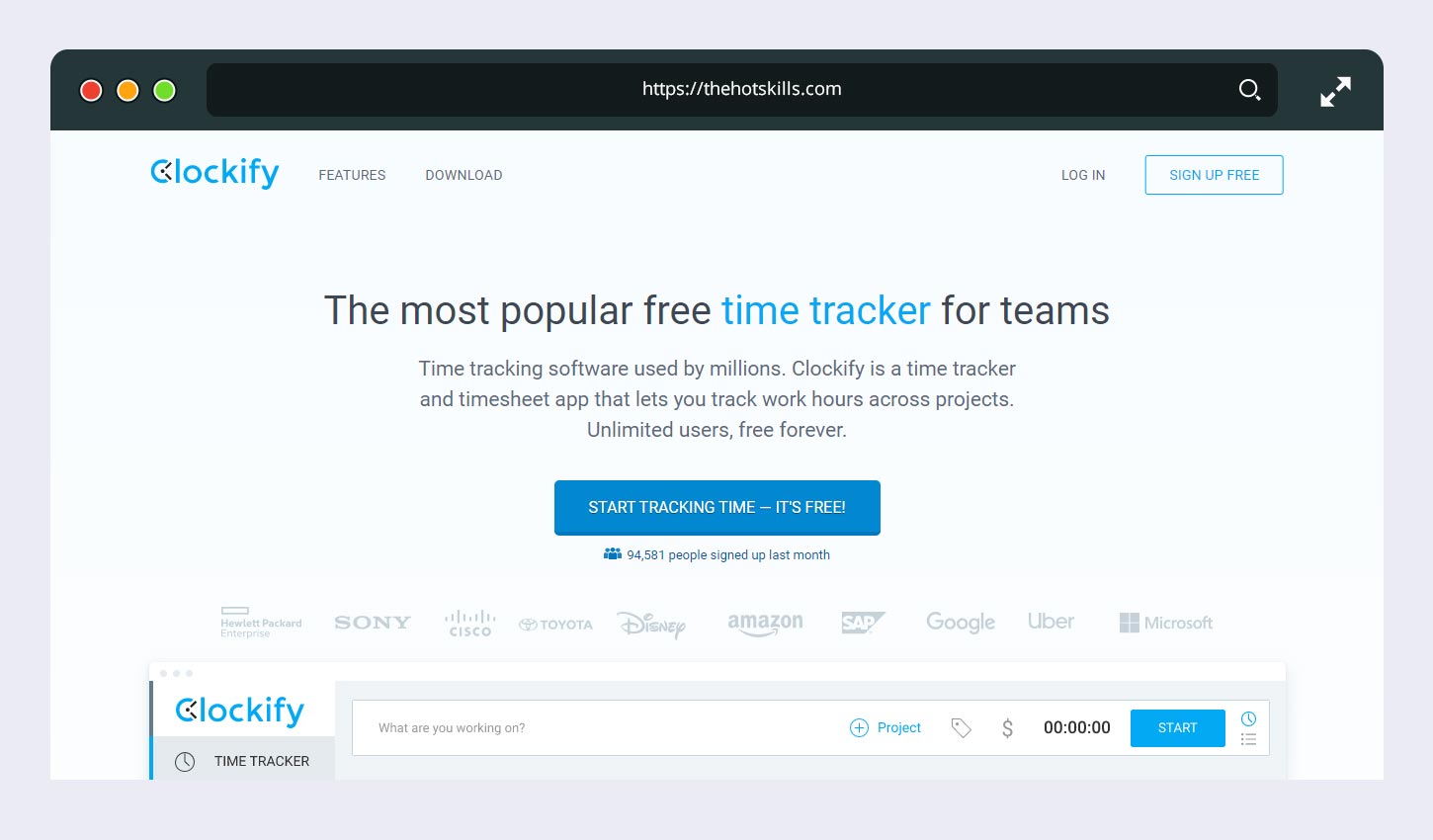 Some Features of Clockify
The time tracker provides options to start and stop the timer as workflows. You can enter the working hours by manually typing too.
Timesheet provides a sheet that includes your weekly activity. You can select an activity and enter time with templates loading activities per week.
The calendar feature tracks time and logs activities simultaneously. You can block hours, visualize your daily tasks and connect to events from Google or Outlook.
Reports provide insights on who worked for how long, and you can review teams' data with money earned.
You can track the time and budget of a particular project and record expenses and fixed fees.
Pricing of Clockify
Free: Small businesses can use it for free.
Plus plan: It costs $9.99 per month.
Premium plan: It costs $29.99 per month.
Enterprise plan: It costs $9.99 per user per month and is suitable for large companies.
Toggl – Time Tracking, Project Planning & Hiring Tools to Help Teams Work Better
Toggl application helps to track time and improve the productivity of users. It is usable from desktop applications like Firefox, Chrome as a web app, and mobile applications.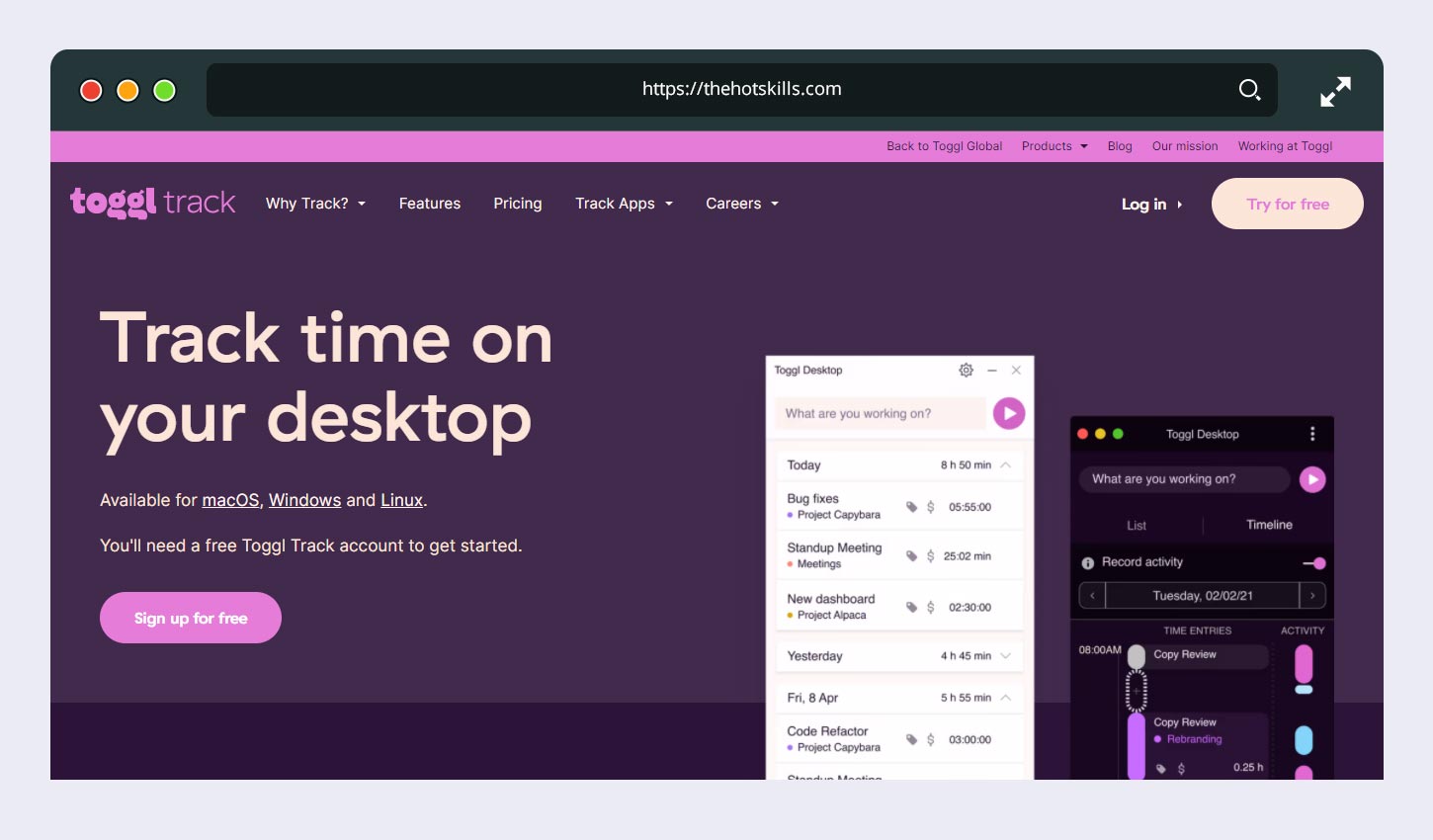 Some Features of the Toggle App
Time tracking is the main feature of the Toggl app. It consists of timer mode, manual mode, and calendar mode.
It tracks the application and websites used by the employee turning data into time entry.
It has a calendar integration feature that provides calendar views according to calendar events.
It provides an option for Jira sync so that the Toggl workspace is in sync with Jira data.
Reporting feature provides saved reports and a detailed weekly summary.
Pricing of Toggl App
For one user, it is free of cost.
For small teams, it is $9 per person per month.
Premium users need to pay $18 per person per month.
Todoist – The To Do List to Organize Work & Life
Todoist is a great application for freelancers, and it helps to increase productivity with methodologies like agile, kanban board. It is flexible, and users can utilize time with the Todoist app.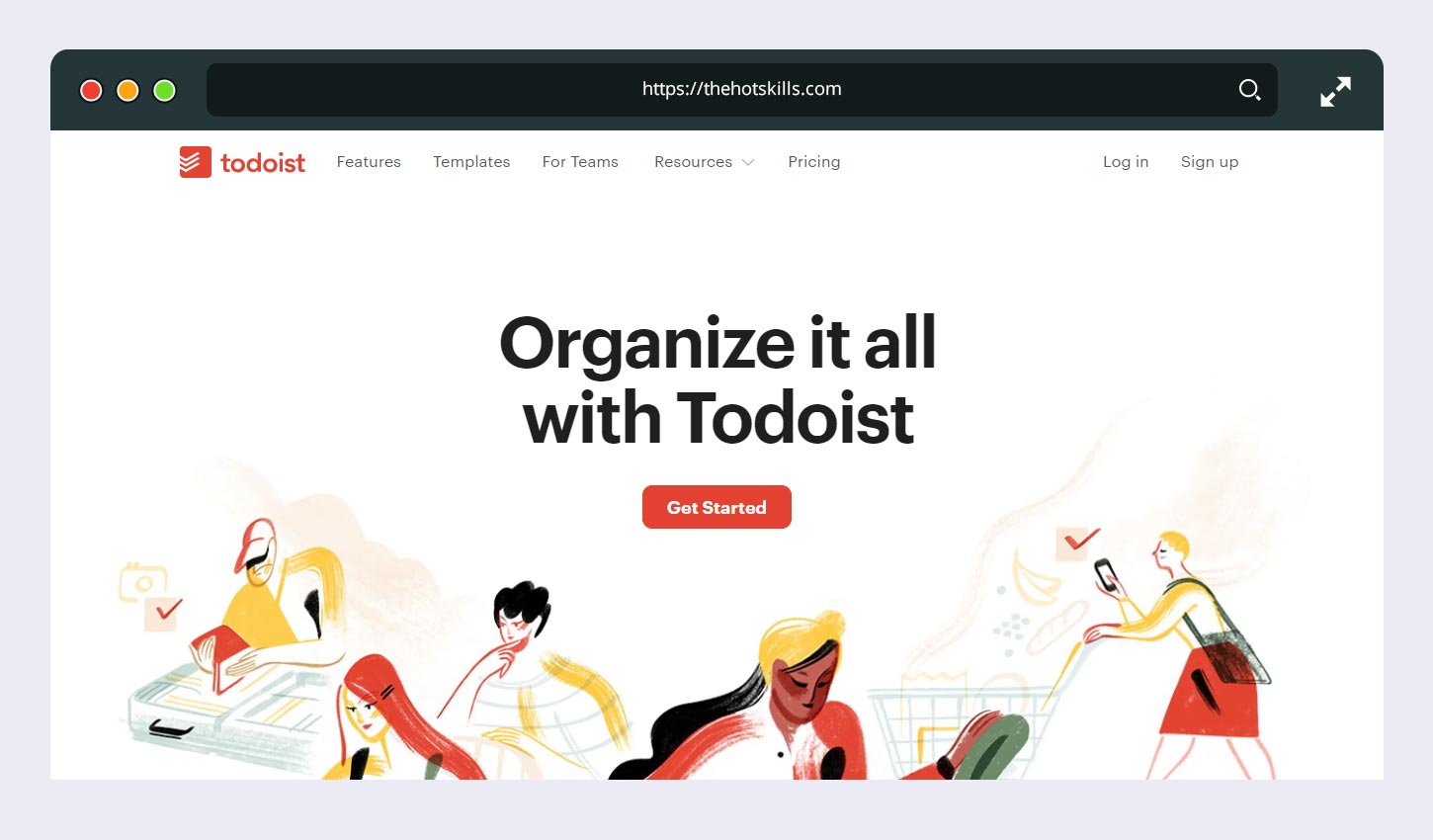 Some Features of the Todoist
You can track your work by making a list of works for which the app allows you to set deadlines and organize tasks.
Freelancers can set priority levels by highlighting the most important task of the day and set reminders when necessary.
You can schedule tasks from your dashboard and delegate them to someone else and receive notifications for the latest comments on posts and tasks.
Users can build views of their choice and choose labels, themes, and filters and you can add files and calendar feeds and track your activity.
Pricing of Todoist
You don't have to pay for the free version.
The pro version costs $3 per month.
The business version costs $5 per user per month.
Monitask – Employee Monitoring Software Free
Monitask is a tool to monitor the tasks of freelancers or workers when they are working. Freelancers can use this time management tool on Windows, macOS, or Linux.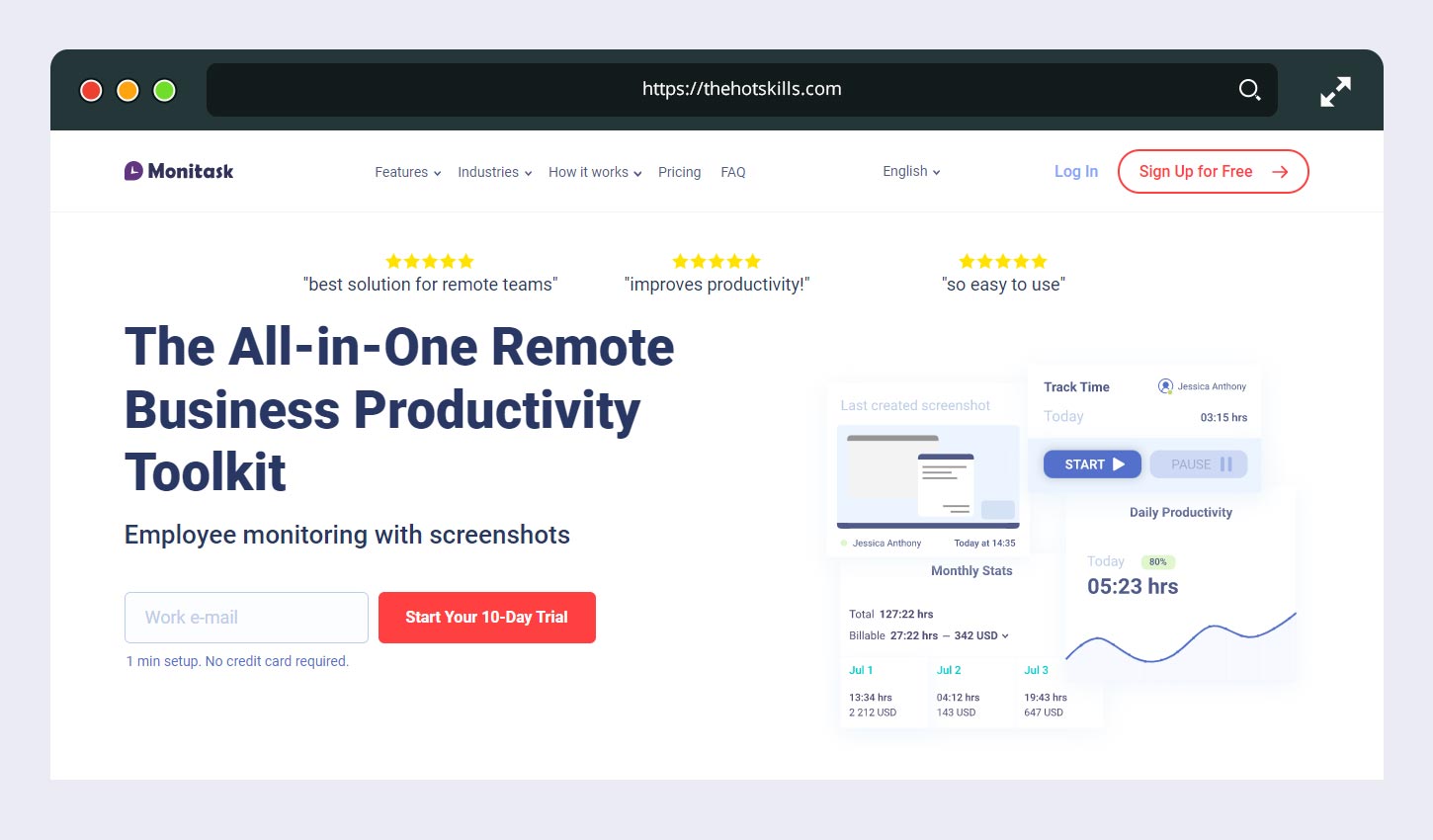 Some Features of Monitask
The user-friendly interface allows proper time tracking of employees at work.
The clock in and out allows tracking of the total active hours of the employees, and attendance is recorded accordingly.
It has a remote employee monitoring feature that automatically tracks time, captures screenshots, and gives scores for productivity.
Employees can generate online timesheets, and the computer monitoring software helps improve users' productivity.
Pricing of Monitask
The pro version costs $5.99 per month.
The business version costs $8.99 per month.
For use in enterprises, it costs $19.99 per month.
Timetric – Free Time Tracking Software & App
Timetric app is used for tracking time with automation. It helps freelancers focus on real work and helps with work and time management. This tool is essential for freelancers.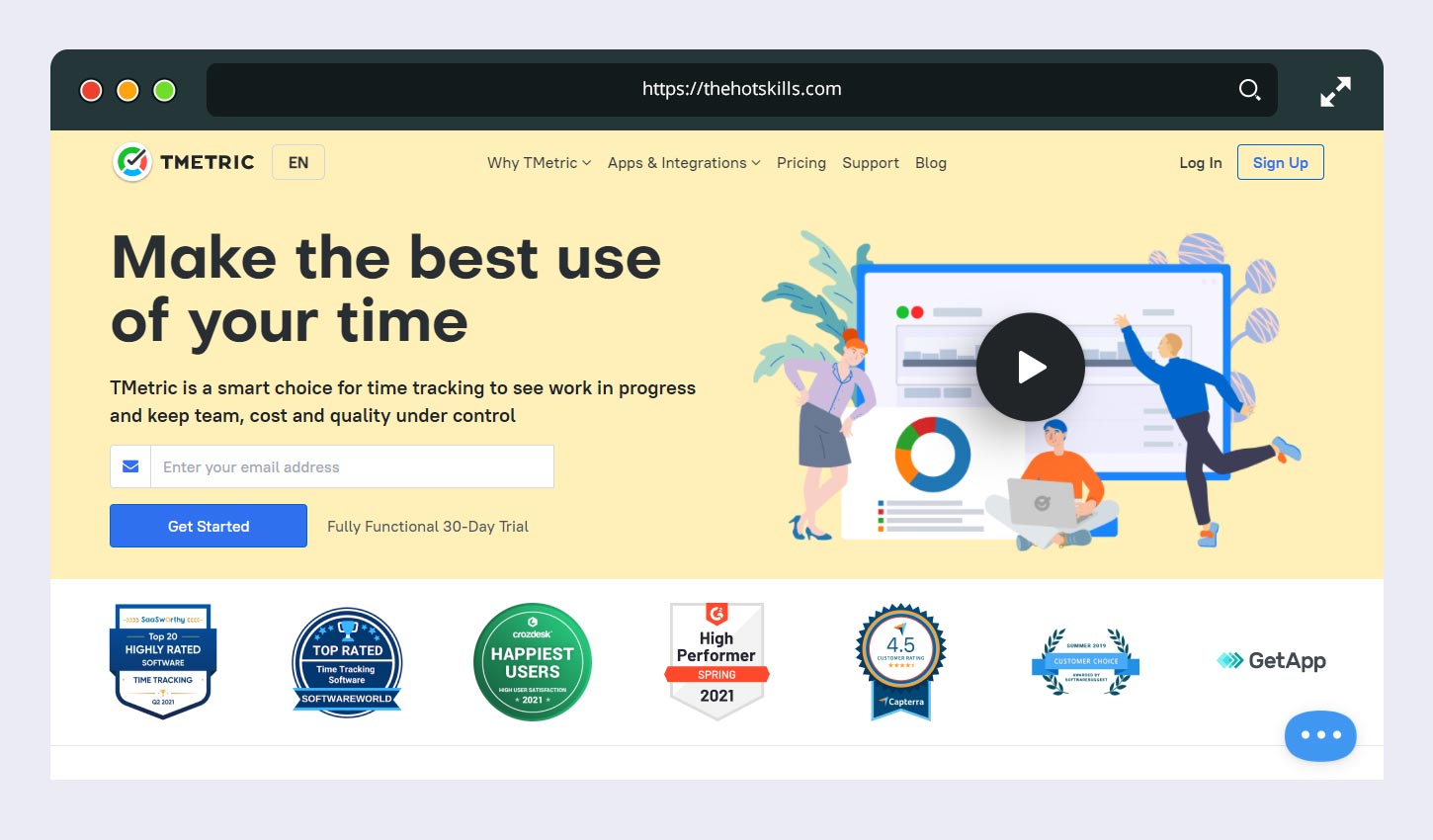 Some Features of Timetric
It tracks the time spent on each project and tasks even when there is no internet connection.
The whole team is managed by its productivity and activity level monitoring.
You can set projects and estimate time and budgets with the Timetric app.
The app makes it easier to manage tasks by setting an easy user workflow.
The reporting feature allows a summary of the work for analysis.
Pricing of Timetric
The free version is free of cost.
The professional version costs $5 per month.
The business version costs $7 per month.
Hubstaff – Time Tracking & Productivity Monitoring Tool
Hubstaff app is used to track time and is a great time management tool that provides automation options. Freelancers can use this tool to run a business and track time using the mobile app, web version, or desktop.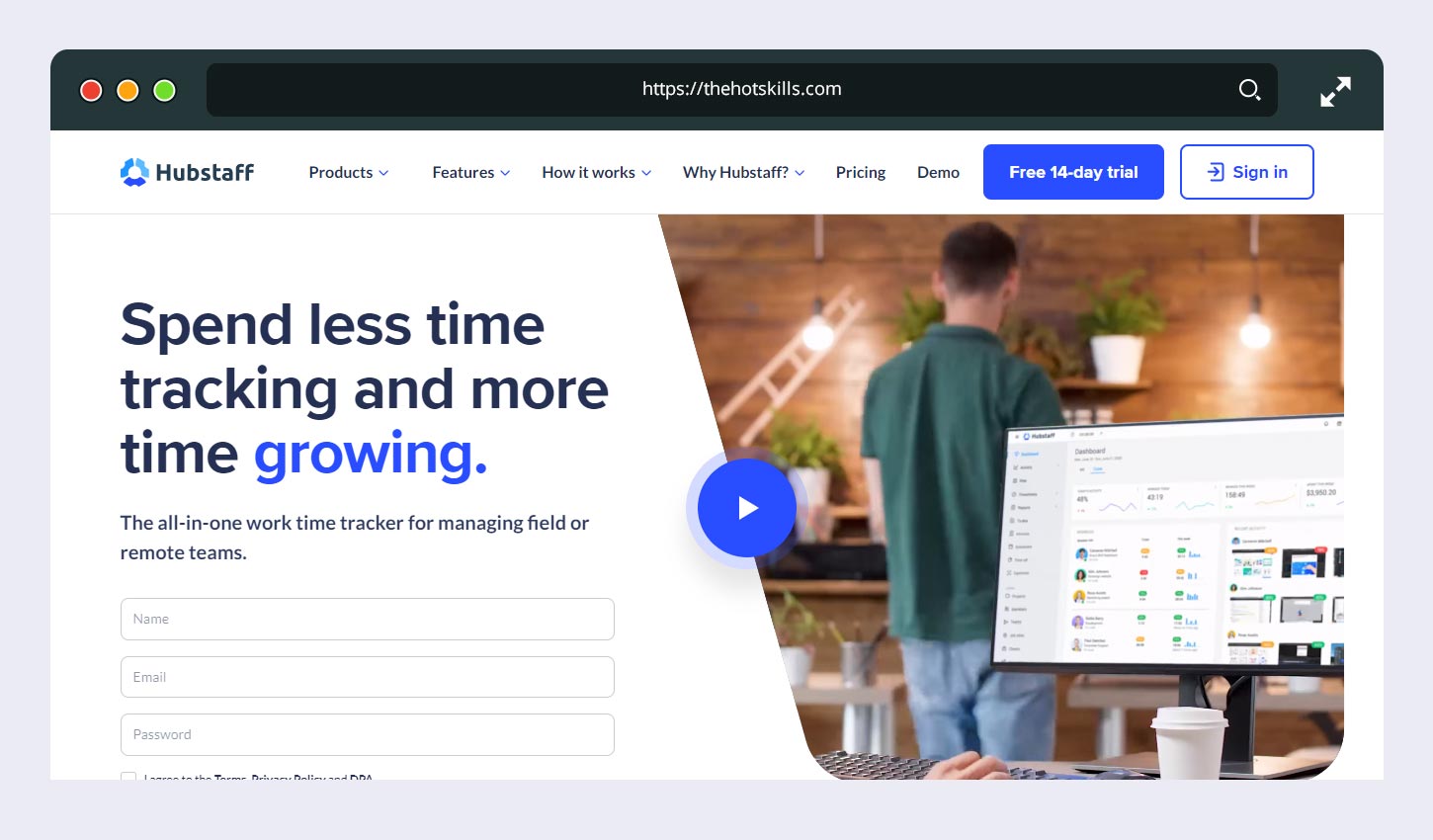 Some Features of Hubstaff
It has features of tracking users' time and geo-fencing, i.e., work tracking based on location.
The employees are monitored by tracking URLs and taking screenshots.
Hubstaff allows receiving budget alerts, and the detailed reports help analyze business operations.
The payroll software helps pay the employees, and the automatic invoice makes it easy for the users.
Freelancers can export the timesheets, and employers can track attendance with Hubstaff.
Pricing of Hubstaff
The basic version is free.
Desk starter costs $7 per user per month.
Desk Pro costs $10 per user per month.
Conclusion
Time management apps help you spend your time efficiently. Management software helps in the planning and implementation of your goal for the day. Freelancers can improve productivity and manage freelance work better with time management tools.