Every Designer desire to create the best eBook that will be loved by all. With this thought in mind, they try to find the best inspirations that will suit the requirements well. In this guide, we have discussed all the step-by-step mechanism how to create an eBook for using free resources that are available in the market. So, let's begin!
What is an eBook?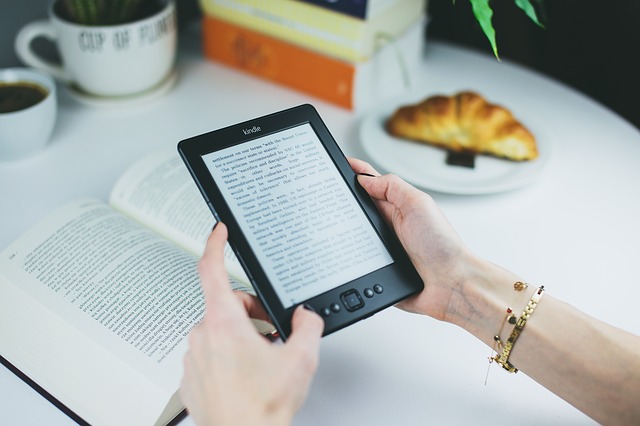 An eBook is a short form for an electronic book. It is a book that is published or released online in a digital form. It contains things similar to that of a non-digital publication. It surrounds upon text and images. These books are available on electronic devices. Different platforms such as Kindle are an eBook ground where you can find books that have a printed equivalent or not. The most common devices that people use to read are desktop computers, tablets, smartphones, and laptops.
2 Main Benefits of Creating an eBook
However, writing an ebook has many benefits, but here I'm sharing the two most popular benefits that experts are using these days.
Passive Income
If you write an ebook, you publish an ebook on Amazon or any platform you like that ebook is now on bookshelves. You've done the work once for creating and publishing your ebook. But, anytime your ebook sell, you make money from royalties that are passive income.
When you're sleeping, you make money. When you're enjoying yourself with your family, you make money. When you're exercising, driving, eating, you make money because you've created an amazing ebook that generates income for you.
Build Email List
You can use giveaways, checklists, secret tools, cheat sheets, or anything else, but a free ebook works well in building an email list fast. For example, if you're selling a "weight loss" product, you can offer a free "weight loss tips" guide.
Make sure your ebook provides value so that you build relationships with the customer. You have to win the customer's trust to sell your product or services.
How to create an eBook? (Follow 10 Easy Steps)
Given below are the complete steps that are helpful in creating an eBook in a hassle-free manner.
1. Write an eBook on your favourite topic
Choosing a topic is the most initial part of writing an eBook. If your topic does not suit you well, there is a chance that book will not work out. This means that in case you are choosing a topic that has no relation to you, you might not be able to include the same emotions in it.
Moreover, it is important that you choose your favourite topic so that you can put all the desired emotions in it and explain it well.
2. Format your eBook
Use different free tools available to do formatting of your eBook. Given below are some of the useful tools that you must be aware about:
Microsoft Word – Microsoft Word Styles would help you to completely format a full-length novel or eBook in an hour. Reformatting before the publication would make your document clean of background codes that might affect font, line spacing, and paragraph styles.
3. Proofreading
Creating an eBook online free can be a hectic process. There a lot of things to be taken care of and one such thing is proofreading. Although no app can beat the efficiency of human proofreader apps like Grammarly allow you to do proofreading till a very good extent. In Grammarly, you just need to copy paste the material online and check your text after making an account on it so that you can save the material after proofreading.
4. File Format of Your eBook

After selecting an eBook cover maker, designing and formatting it, you also need an appropriate file format to save it.
PDF: it is file format developed by Adobe which can be used as an eBook format because it allows one to display text, graphics independent of application software. It is easy to use form a user's perspective.
EPUB: it is an eBook file format suitable and compatible with smartphones, tablets, and computers. It uses a file extension ".epub". It actually refers to electronic publication.
AZW: this file extension is seen with Amazon Kindle eBook files. This is an emerging option because it allows to start from last read position, saves bookmarks and save page number like in an original physical book.
5. Design Cover that Sells your eBook
After we have seen that how to create an eBook for free and choosing an eBook cover template let us loom at its designing.
How to Design — No matter how much we say that a book cover is not everything but content matters. Although in the case of eBook we need to make a first impression with cover otherwise no one would like it. Designing includes choosing a color scheme, selecting appropriate images, a title that speaks for the book, tone, and typography. You can read a complete guide here to get more insights in a clear manner.
Design Your Own using Tools — If you need a completely customised design, you can design all the eBook on your own using this guide. It will make you aware about all the pre-requisites and you will put a personalized touch in the eBook.
eBook Cover Design — There are a plethora of Free eBook cover templates available online that are helpful to save both time and cost. If you are looking for the best eBook cover templates, we have got you covered. Also check out the ultimate eBook mockups to meet your needs.
6. Test Your eBook
How to create an eBook? The answer to this question was a process very simple but when it comes to testing the eBook made by the eBook builder it is the most crucial. Each eBook comes out to be different on different platforms. Adobe digital editions would help you know how your file looks on Kobo, Nook, and Sony. Kindle Previewer would give you the loom of Kindle Fire, Kindle Touch, Kindle DX, Kindle iPad, Kindle iPhone, and Kindle. iBooks and Kobo would work for iPad, iPod, iPhone.
7. Set up your Kindle Direct Publishing account


With Kindle Direct Publishing account, you will receive a lot of benefits. It would take just five minutes to publish your book and it would appear on Kindle and all the person in the world would be able to see it in 24 to 48 hours. You can earn seventy percent royalty for selling books to customers of curtained countries approved by Amazon. You can make changes to your eBook whenever you want and set prices according to you and control your rights. You can publish it as a Kindle eBook or paperback for free.
Recommended read: Explaining Amazon KDP (Kindle Direct Publishing) For Beginner Authors
8. Upload your eBook to the Kindle Platform
You need to follow the following steps to upload an eBook to kindle. First of all, you need to visit kdp.amazon.com and sign in there. That provide your tax information. Further, go on Bookshelf and click on Add new title. Then you will be required to fill the desired information about your book. Now upload the book and cover file. The last step is to select the worldwide rights, royalty rate and set a price for your book.
9. Price your eBook & Make it live on Amazon
You might need to change the book of your price occasionally. In such a case, you need to sign in KDP account. After that go for Bookshelf and click on the ellipsis button. After that select edit pricing. Here you can either edit or set your list price. You can put the price in USD and change to any country's currency or directly use the country's currency. At last, you need to choose to publish to make the changes.
10. Promote Your eBook
After using an eBook maker and solving the problem of how to create an eBook next is to promote it. There are two ways to do so:
Use Social Media: There are a number of social media platforms on which you can advertise about your books such as Facebook, Instagram or Twitter. You might use your digital marketing skills here.
Create a Website: The other way is to create your own website where you can sell the book and describe it very nicely with the use of graphics and mentioning dialogues. If you want to know more about successful sales, learn interesting strategies here.
Tools to Create an eBook
If you have completed the writing process, then it's time to create a perfect look ebook.
Canva — Online Graphic Editor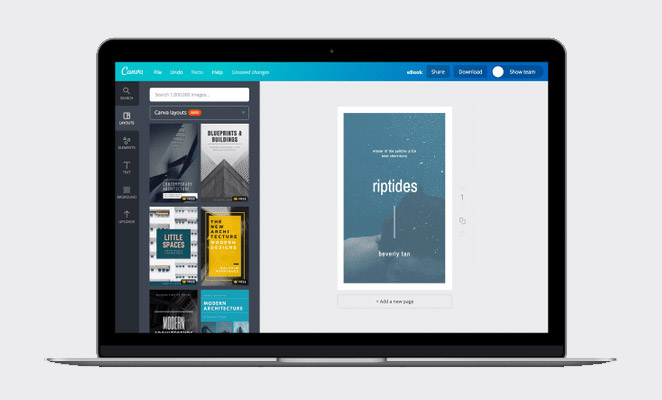 Working with the Canva eBook generator is very easy. You need to create an account and start designing your own eBook cover design, or you can go for ready-made eBook cover templates created by professionals. You can add photos clicked by you or choose what they provide you. Now make changes in images and add an effect or edit the text. Now finally, you can save it.
Designrr — Simple eBook Creator
Designrr provides you with a portfolio unlike others and allows you to keep all the profit you earn from selling the book. It works on three simple steps of writing, designing, and formatting. First, you need to select an eBook template or design that suits you. After that, add your contact just by mentioning the URL. Lastly, you can customize and publish it.
Flipsnack – Online eBook Creator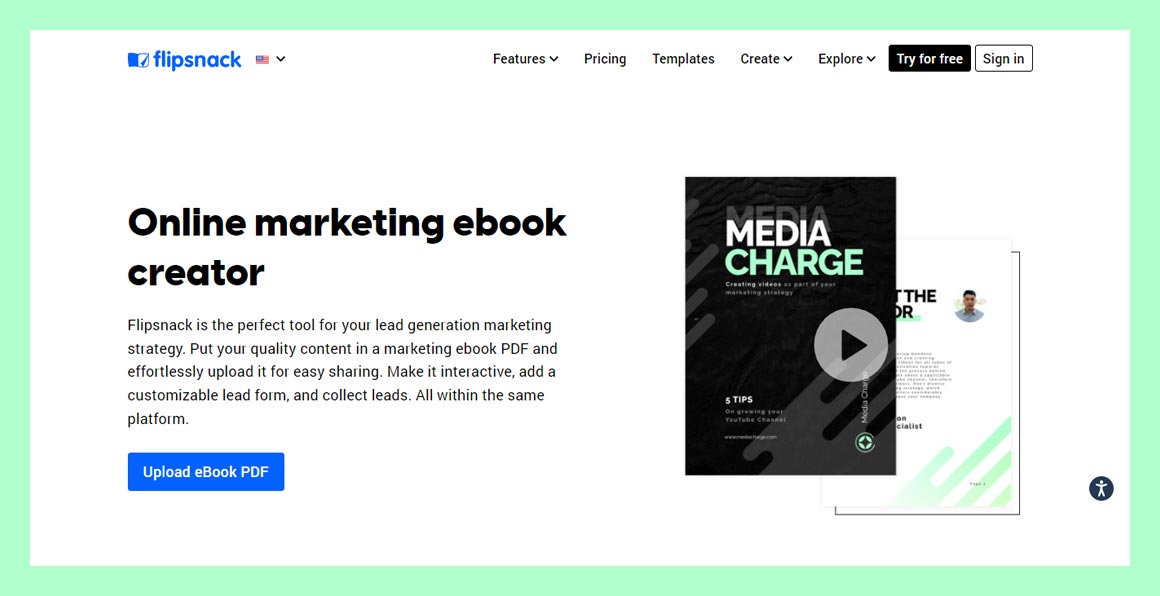 Flipsnack is a 2-in-1 tool that gives you the option to easily create and sell eBooks.
If you don't find yourself quite a skillful designer to create an eBook, then no worries. You can simply choose a premade ebook template from their wide collection. Customize it with your own images and texts and add interactive elements such as video, photo slideshow, or lead form to easily collect leads.
Then share it on social media, send it via email or even embed it on your website to gain more traffic.
Don't forget to keep track of your ebook's performance by checking the statistics, and find out what intrigues your audience most. All these are available on the same platform.
How to Promote and Sell an eBook
Watch this video to know all the essential points that will help you to create and sell an eBook successfully.
When we say that how to create an eBook, here we are talking about the strategy. There are four stages you need to follow:
Planning: While planning you need to know what your target audience is and at what time what stages of publication and advertising you need to perform.
Research: Now you need to research whether your book would be liked in the market or not.
Development: Here you will actually create an eBook online for free and use an eBook templates, design and format it as discussed above.
Distribution: For distribution, you can use platforms such as WordPress, or promote the book on social media platform or make use of Kindle.
FAQs
How do I make an ebook for free?
There are three main steps (formatting, convert and display) to make an ebook for free if you've already completed your writing ebook.
1. The first thing, format your book content (text, images, table, list, heading, etc.). Google Docs is a perfect tool for formatting your content, and you can use it free of cost.
2. Next, you need to convert your formatted document into PDF. There are hundreds of free online file converter tools available online. We've also reviewed the PDFBear tool, which is best and free to use.
3. Last but not least step to create an ebook mockup. Mockups are static and realistic models or images of a design or a product. Check out our blog for free ebook mockups, or visit Placeit to create mockups instantly.
How much does it cost to make an ebook?
It depends on your requirement, so it isn't easy to provide an average cost of ebook making. It cost an average of $500 – $3000 if you hire a ghostwriter for writing, designer for an ebook cover, publisher, marketer, etc.
Are ebooks good for marketing?
An ebook is a powerful tool, and it plays a significant role in the marketing process. Because it provides a detailed insight into expertise, product, or services. The Marketer use this tool to enhance their online reputation. The most important role of an ebook is to generate new leads.
How do I promote my ebook on social media?
There are many ways to promote your ebook on social media. Here are the few:
First, before a launch, post an engaging image for your ebook across your social platform. It's something like a social teaser.
Pin your ebook on Facebook, Twitter, Pinterest and add your ebook name in your Instagram bio.
Design all your social media banners with your ebook cover to grab the attention of new visitors.
Promote your ebook with social media ads.
Conclusion
From making an eBook, planning, designing, formatting and distributing it, the article has covered everything. If you follow all the things mentioned above you would be able to publish and create an eBook online for free and earn a handsome amount along with popularity.
Infographic