One of the most frequently asked questions in the marketing industry is "how to improve your open rates?" Many marketers try to trick people into opening emails, which is never a good idea.
Instead, we recommend a thoughtful approach that focuses on giving your subscribers value, communicating with them when they want to hear from you, and always delivering what your messages promise.
Your average email open rate is the one email marketing metric you need to pay the most attention to. Don't ignore it. Your whole campaign depends on whether or not your email subscribers open them. And this is exactly why you should do everything you can to get more people to open your emails.
What is an email open rate?
An email open rate is the percentage of the people you sent the email to who actually opened it. Usually, your email marketing software will tell you both this and the click rate, which is how many people clicked on a link in your email.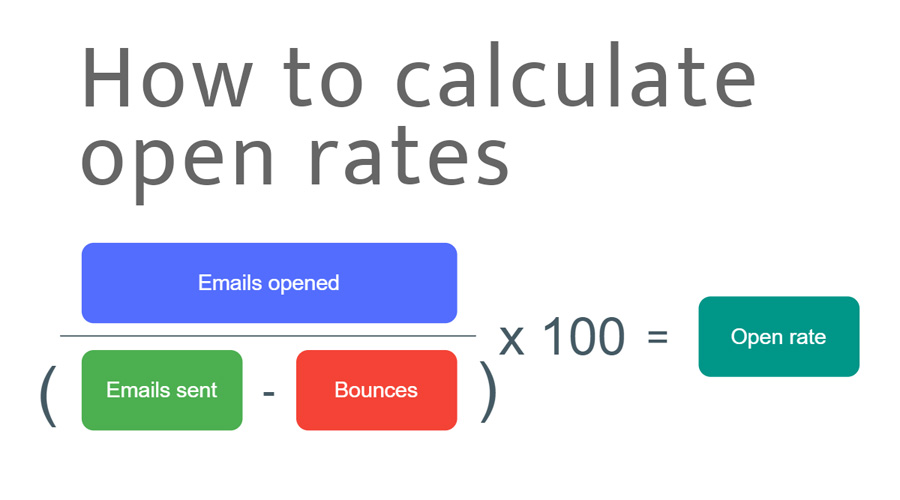 What is a good email open rate?
This depends on your business and how good your list is. Different industries have very different averages, and your open rate will be affected if your list is full of people who aren't interested in what you have to offer.
It's natural for your open rate to go down as your list grows, but there are things you can do to fix this, which we'll list below. If you need help for more marketing tips, feel free to contact CLICKVISION Digital.
The average open rates can be anywhere from 18% to 35%. If your open rate is less than 18 percent, you could probably use some of the tips below to improve it. If more than 40% of your emails are opened, then that's pretty good.
How to improve email open rates?
Find the right recipients
Nearly 50% of your prospects don't want what you sell. In email sales, there's no time to spend. Reaching the correct audience is crucial for sales goals, a healthy sales pipeline, and corporate revenue.
First, determine the right target to enhance your email open rate. Create a list of your target demographic's gender, age, location, and occupation.
Don't spam as many inboxes as possible to save time. Prep instead. Know your ideal consumer, client, customer, or collaborator.
Defining your ideal customer and creating a customer profile will help you determine their buying behaviors and other traits for a successful email outreach campaign.
Constantly send emails
Whether you deliver a daily, weekly, or monthly email newsletter, you must be consistent. If you send one newsletter a week, then take a month off, then go back to one a week, your email readers may get confused or irritated.
If people haven't heard from you in a while, they may forget they joined up for your email list and delete your messages.
Send relevant content
If you provide your subscriber information they can get elsewhere, or worse, ads, your emails may end up in the trash or spam folder. Email deliverability tools can help you avoid spam and make a great impression on subscribers.
Dynamic content can make your material more relevant. It lets you provide personalized, unique material to each subscriber depending on their information. For example, dynamic content lets a clothing firm display women's clothing just to female subscribers.
By targeting the customer's buying habits and needs, the email is more likely to be read.
Speak to your subscribers by asking questions
When you use rhetoric to talk to your subscribers, it feels more personal, which makes people more likely to open your emails. Use 'you' and direct questions to talk to the other person.
For example:
— Would you drop everything to do X? and
— How is your writing coming along?.
Avoid spam filters
Spam filters have improved in recent years. Email filtering isn't ideal, but it does detect unwanted, unsolicited, and virus-infected emails (spam).
Even your greatest emails can go to spam. To maximize email outreach, avoid being flagged as spam. Some best practices include:
Keeping any code clean
Sending through verified domains
Ensuring all recipients have opted-in to receive your email
Showing your subscribers how to whitelist your email
Asking their permission to add you to their address book, including your location, and placing an opt-out option in our emails.
Manage your subscriber list
Don't assume that people will keep reading your emails just because they signed up for your list. According to research, email lists lose an average of 22 percent of their value every year. This is exactly why you should carefully manage your email list.
Think about these few tips and you'll be well on your way to a healthy email list and higher open rates:
Clean your list often
Segment your list
Reactivate dormant subscribers
Let your subscribers decide how often you send them emails
Make it easy to unsubscribe
Keeping up with your email list will make a big difference in how many people open your emails. Keep in mind that a healthy email list will always lead to more engagement, which comes from good open rates.
Use short subject lines
Mobile email apps only show the first few words in an email subject line. Shorter subject lines perform better than wordy ones, so be as concise and snappy as possible when crafting your subject line.
Use good verbs to inspire action
This is a good copywriting tip in general. However, try to use verbs like "claim", "grab", or "create" in your subject lines instead of just "get".
Make subscribers curious
If you're wondering how to improve email open rates, make sure you are using the best-performing email subject lines. They are typically confusing or vague/non-specific. It builds intrigue and makes the reader want to open the email to find out more.
To sum up
These tips can help any campaign get more people to open their emails, but don't give up if you don't see results right away. Email marketing is both an art and a science, so give yourself some room to play around and try out different strategies to see what works best for your business and your subscribers.