A step-by-step tutorial to make a YouTube banner in Photoshop using free stock photos, graphics and some basic tools. You can download the final template PSD file, edit it and use for your YouTube channel.
Let's get started…
How to make a YouTube banner in Photoshop
Step 1: Create a new document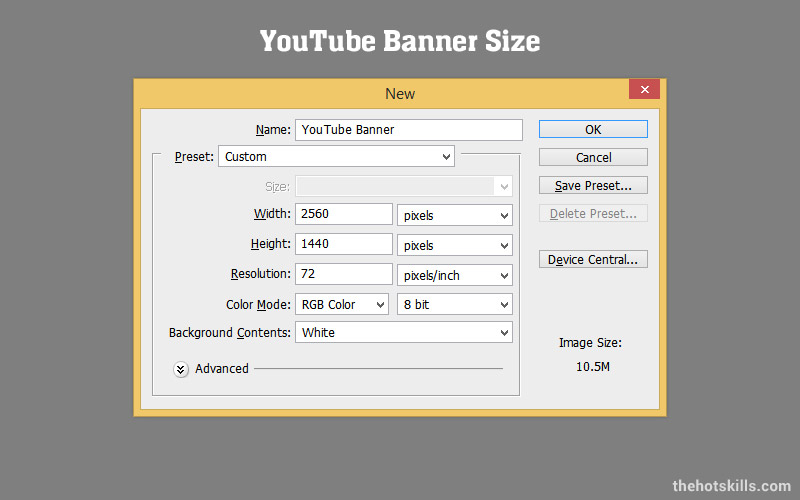 Open Adobe Photoshop and create a new document (File > New) with the dimensions of 2560 x 1440 px and hit the enter button. Or you can download Photoshop YouTube banner template PSD file from here.
(Note: You must have to know about YouTube banner size Photoshop recommended by YouTube – Learn more)
Step 2: Open the template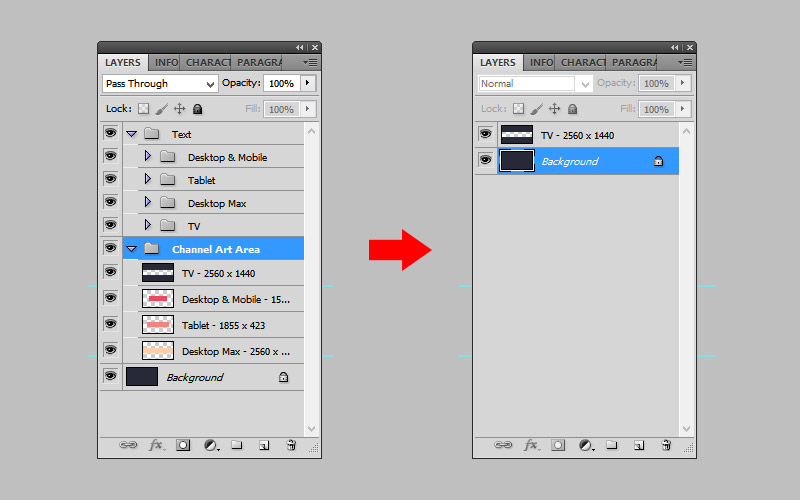 I am using YouTube Channel Art template. Open the template PSD file and remove all the unnecessary layers. Just keep the layer named TV – 2560 x 1440.
Step 3: Adding background & graphics
You can download the background and graphics as per your channel banner design requirement from free stock photo sites. Drag-n-drop the background image and graphic in Photoshop.
Always keep on the top layer named TV – 2560 x 1440.
Step 4: Adjust the background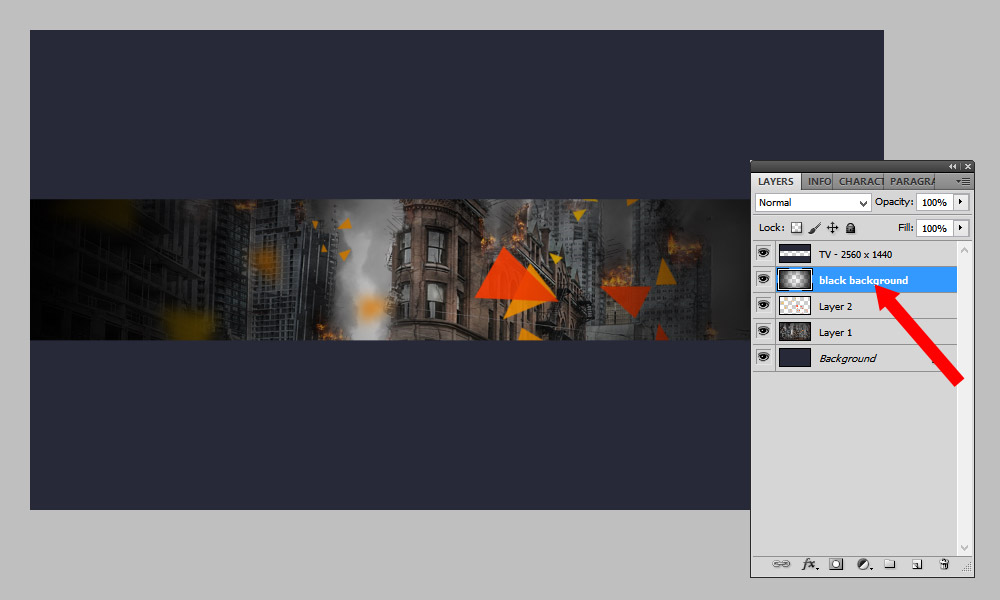 Now add one more layer and fill with a black background color. Using an Eraser Tool, erase it from the middle to make the sides darker. Also, adjust the Opacity by 50% of Layer 1.
Step 5: Adding text & your photo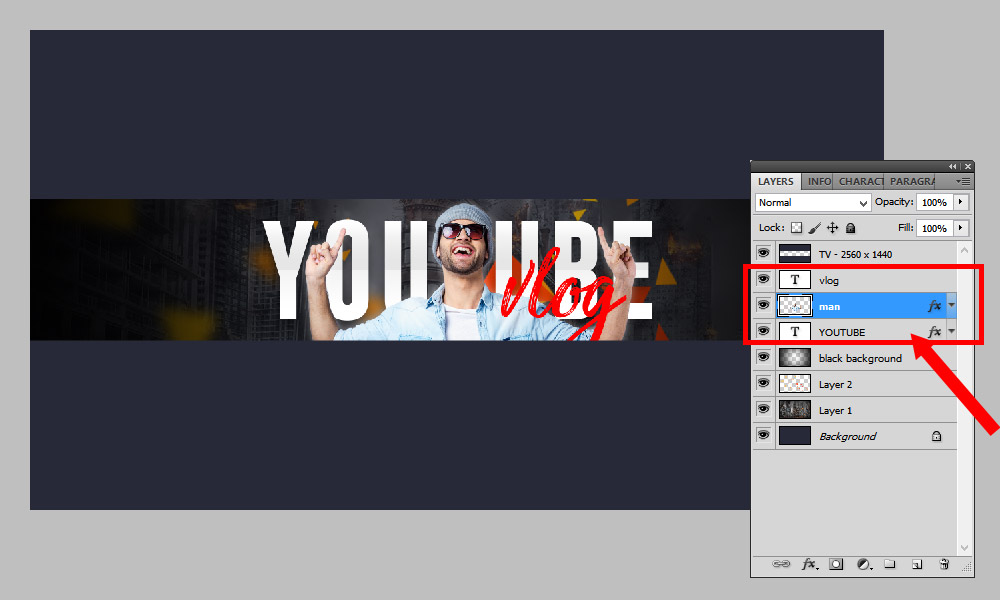 Next step is to add your channel name and tagline. I am using the "YOUTUBE VLOG" as a channel name.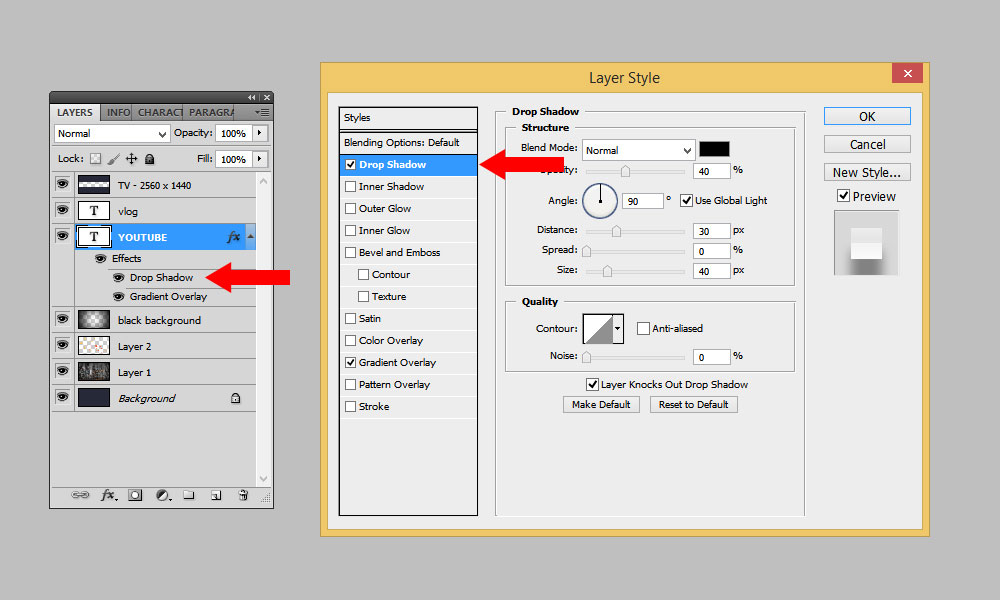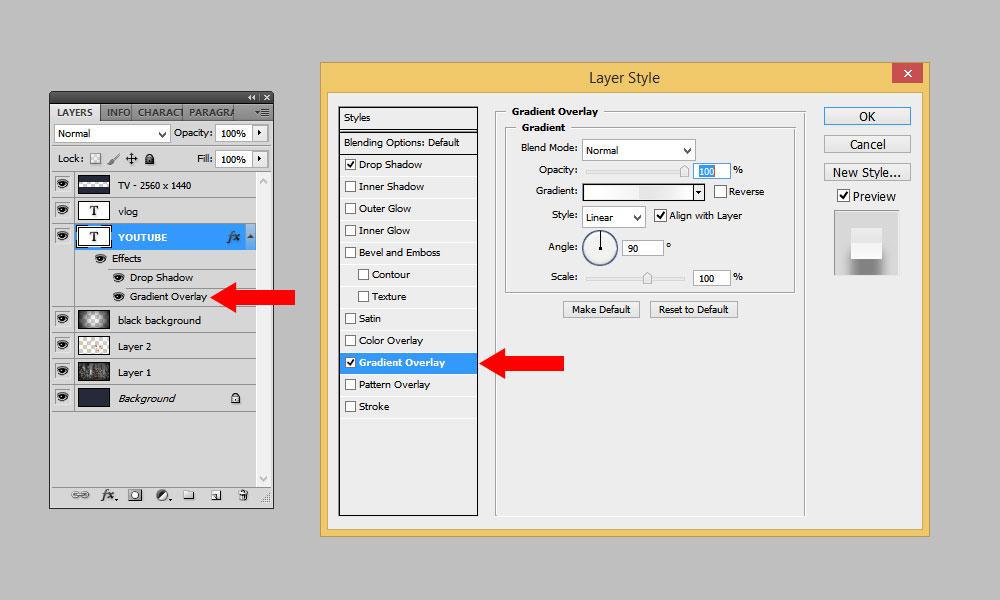 Add the color style to the texts using Drop Shadow and Gradient Overlay filters.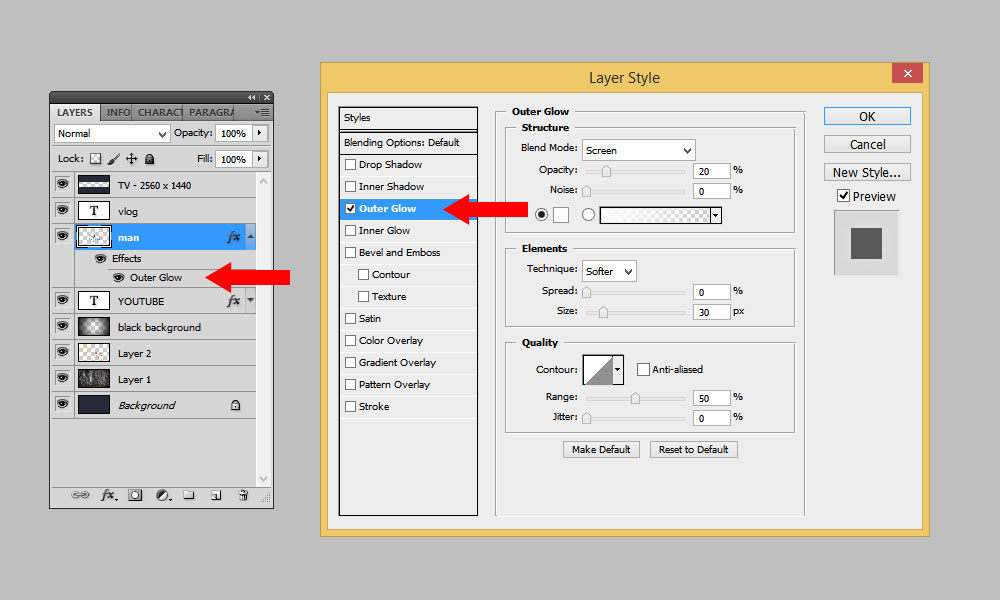 Also, add the Outer Glow filter to your photo.
Step 6: Add social icons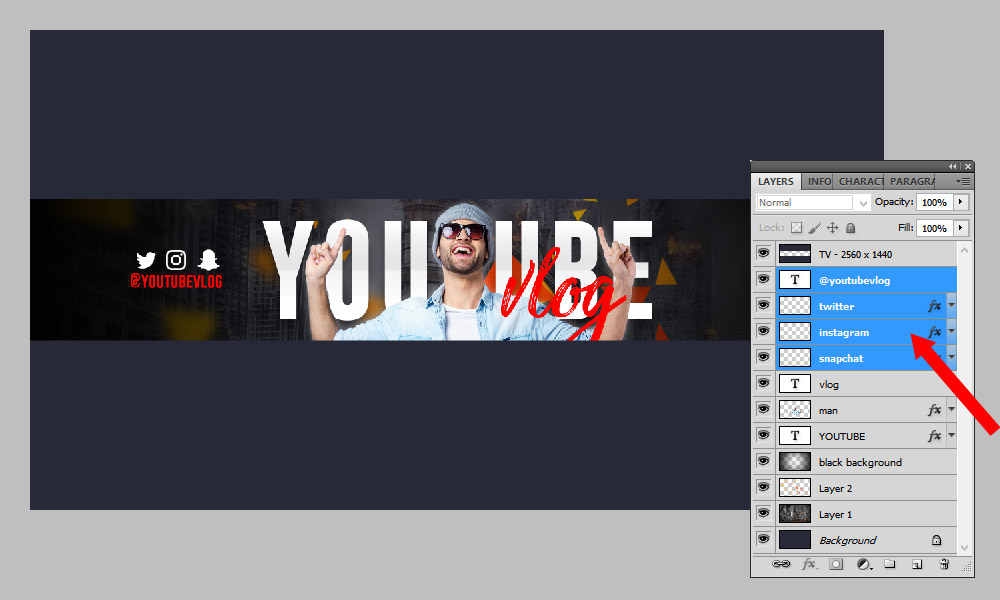 After adjusting the YouTube background, text and your photo, time to add social media icons. You can download all types of high-quality icons from Iconfinder website.
Step 7: Add extra elements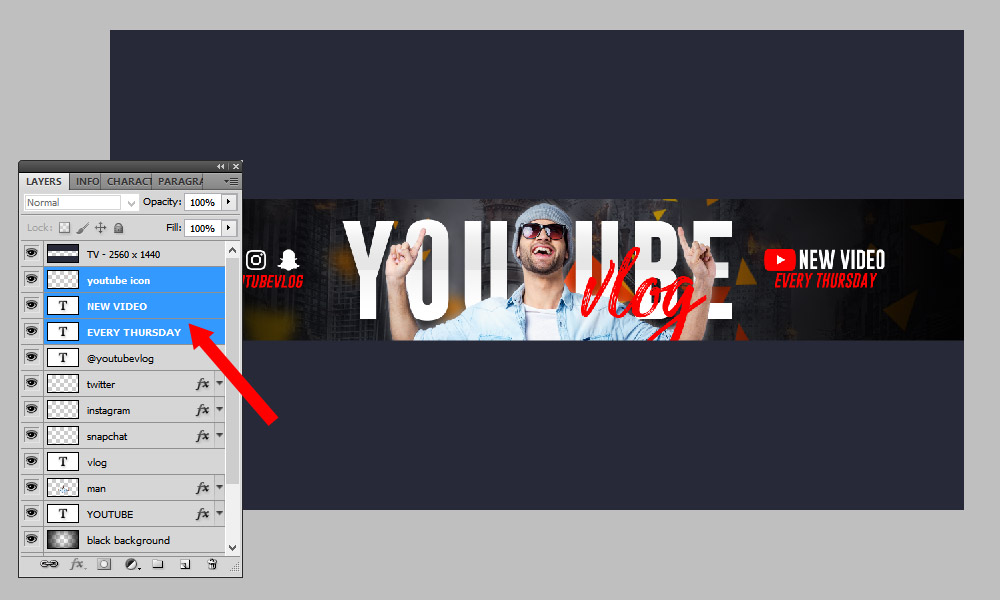 Make your YouTube banner more engaging by adding extra elements like "New Video Every Week" or "Turn on Notification".
That's it!
Your YouTube banner is finished and ready. Now you can upload it. Here is the final result.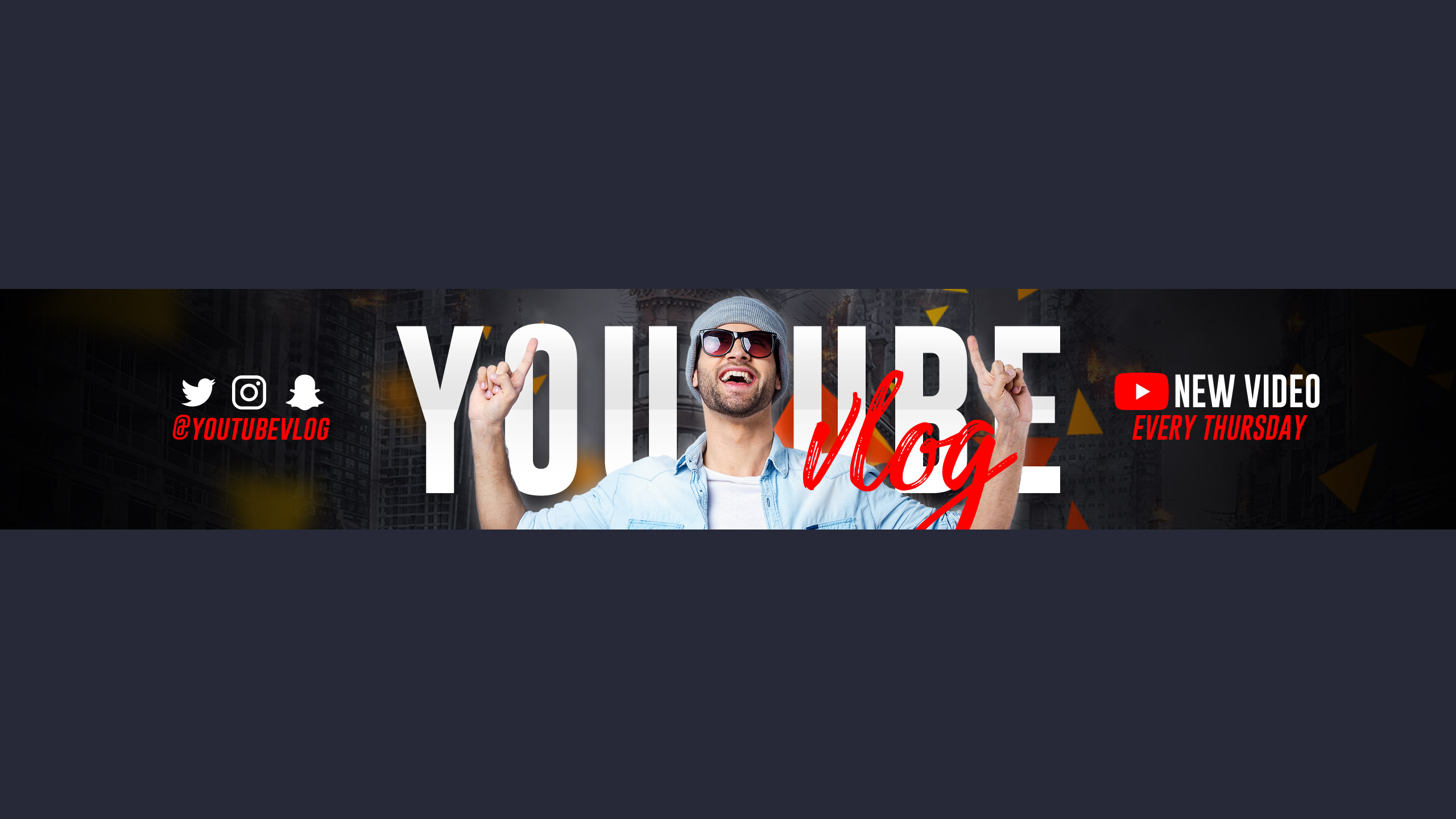 Now that you know how to make a YouTube banner in Photoshop, you can download this template PSD file and edit it with your text, logo and graphics. Click here to Download PSD.
Adobe Photoshop is not available for free, but you can use similar online photo editor Photopea. Photopea has similar tools like Photoshop.
How to make a YouTube Banner without Photoshop
You can use photo editing apps and online tools. I know, everyone can't use photo editors, and everyone doesn't have graphic design skills. For those, YouTube banner maker like Placeit and Snappa are available. These tools have tons of creative graphics, elements, stock photos to use free of cost.
They also have well-designed premade YouTube banners. You need to pick one of them according to your channel theme, edit the same and download it.
I hope you find this tutorial helpful. Please let us know your thoughts and questions in the comments below. Also, share with your friends who need to learn how to make YouTube channel art in Photoshop.