Instagram is a powerful platform that helps to share your amazing shots and videos with the world. It is an interesting app that enables you to capture and share your best moments, follow your family and friend's updates and find others activities using hashtags.
Not only this, Instagram is an excellent platform for businesses who are looking for getting promoted through Instagram. They curate a proper strategy and then, establish their identity by staying updated with appropriate Instagram highlights and stories. In addition, businesses and brands may use something like this Instagram growth service in order to gain organic followers and increase their reach within their target market on the platform.
What does Instagram Highlights mean?
The Instagram highlights are the stories that are permanently saved on your Instagram account. These are the stories that remain active even after they have reached their expiry date. One of the best part of this new archive feature is its customization. That means you can put a specific Instagram highlights cover or icons to these saved stories. These custom Instagram story highlight covers and icons add to the beauty of these stories and separate them into a proper category.
Benefits of using Instagram Stories Highlights by Different Brands:
Once you start using these story highlights, you will realize how your brand reaches the top position and help in imparting a better user experience. There are several other benefits that these simple Instagram highlights proffer, some of them are given below:
Uplift the longevity of your content: While before your content was restricted to a 24-hour timeline, now you will have an unlimited time frame for your favorite stories. Thus, it will help in making your stories more accessible to people and they will not lose content even after one day.
Grow more traffic to your website: These never-ending stories will bring huge traffic to the website and if you add a simple Instagram highlights cover to your archived story, the impact will multiply further.
Establish a solid brand image online: Instagram has proven to be the fastest way to grow the presence of your brand by using IGTV and showcasing unique intriguing stories. Your creative efforts will surely get you some better connections.
How to Create a New Instagram Highlight?
The process of creating a new Instagram highlight is quite easy and can be completed in just a few simple steps. It takes less than 2 minutes to upload a new story highlight on Instagram if you have all the things ready. All you need is a picture of the story you want to add, a nice beautiful Instagram highlights cover to produce the story in a best-organized way.
Given below is a video that will explain how you can add an Instagram highlights without much hassle:
What is the Instagram Highlights Cover
Instagram got a number of users amazed with its new highlight feature in which users can also put compelling Instagram highlights cover to make the content easily searchable. These covers will have a unique icon on a background image of your choice that will make the entire look of your personal moments more special.
What are the Instagram Highlights Icons
Along with Highlights icons, you will also find appropriate Instagram highlights icons on the story covers that make your content finding task simplified. Not only this, choosing the right Instagram highlights icon for your story plays a pivotal role in giving a boost to user experience and adds a positive impact to your Instagram profile.
How to Make a Beautiful Instagram Story Highlight Covers and Icons with Canva.com
Now that you know all the fundamental meanings of every minute detail to make your Instagram highlights a showstopper. Let's move to the next step of creating your own set of Instagram story highlight icons and covers to create a solid Instagram profile.
The video given below perfectly showcases the designing of pixel-perfect Instagram highlights cover with great icons with the help of canva.com:
Create Custom Instagram Highlights Cover
After you choose the main highlights story, you will require a cover to justify the image category on your profile. If you are looking for queries like How to make an Instagram story highlight covers, we have all covered here. These custom Instagram highlights cover will aid in making your brand image more clear and killer. Follow all the right steps to create your custom cover and you will be surprised to the subtle growth on your website with minimal efforts.
Add Icons to Your Instagram Highlights Cover
After you select the background to be used for your cover, you will require a fancy yet sophisticated icon set that will be arranged on its top so as to complete your highlights cover. You must follow a proper strategy for your Instagram highlights cover to create that ultimate magic you want to see among the followers. So, make sure you focus on all the steps that will help in adding custom beautiful icons for these covers.
Mobile Apps – Create Instagram Highlights Cover
You will find several applications other than Canva that can be useful to create elegant and awesome Instagram highlights cover with the use of the right icon set on top of it. Following are some top-rated applications that help in easy editing of your cover and create perfect highlights cover in the blink of time:
PicCollage – #1 Collage Maker


It is the number one collage maker that provides easy photo and video editing service. Besides Instant grid layouts, there are several other layouts and templates on PicCollage to create your unique collage in just a few minutes. You may go freestyle or add stickers to decorate your Instagram stories and highlights cover.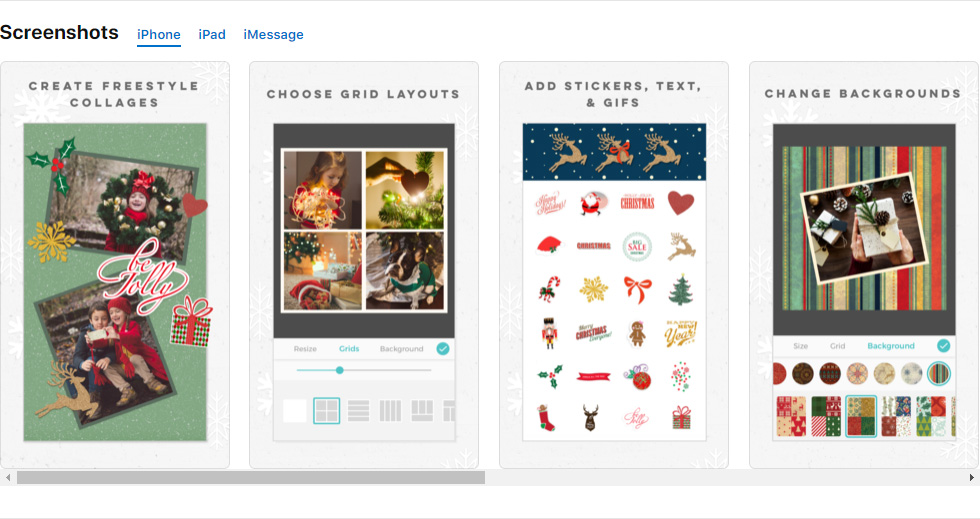 DOWNLOAD PicCollage APP
Unfold – Create Stories

If you are looking for some creative and engaging story highlights and icons, you can use the Unfold app. This app comes with 25+ beautiful templates and 5+ fonts to craft an amazing Instagram story and highlights. You don't need any account to design your images and you can easily export high-resolution covers to your phone's gallery.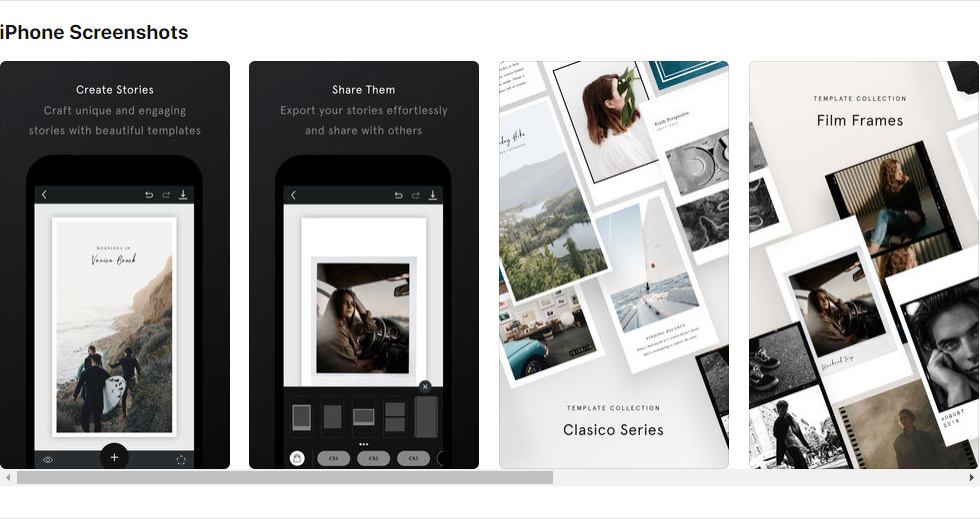 DOWNLOAD UNFOLD APP
Phonto – Text on Photos


This app is famous for its amazing fonts that can be easily added to the images. You can create custom Instagram highlights cover using the different fonts present to make your covers look more presentable with their ravishing design. Not only this, Phonto allows you to customize your images in the ultimate way that suits the interest of the viewers.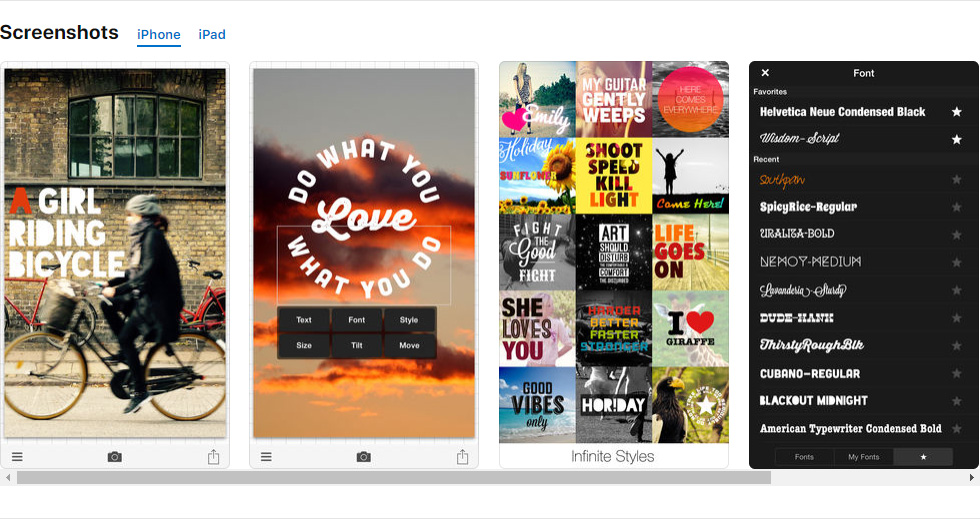 DOWNLOAD UNFOLD APP
Where to Find The Best Free Instagram Highlights Cover set online?
The Internet has a large hub of images that can serve as your free Instagram highlights cover, we shall talk about the best free stuff available online to cater to your specific needs. You can find several resources that provide free Instagram highlight covers, especially on Pinterest and corieclark. Use these extensively to build your amazing brand image on your exponential growth social media platform.
Other than these, you can check out these amazing platforms to find the best-suited cover to fit your Instagram story needs:
Free Instagram highlight covers by Dami Ojetunji

Instagram HIGHLIGHTS 2019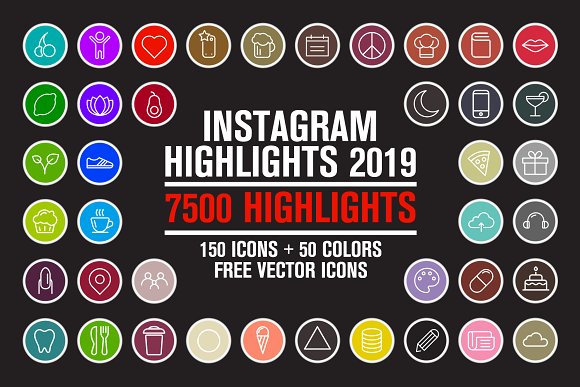 Cova Instagram Story Highlight Covers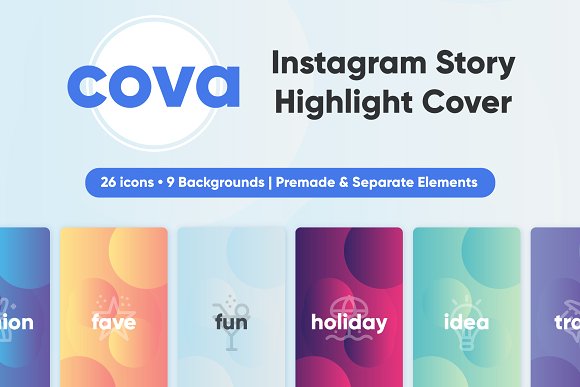 Instagram Highlight Covers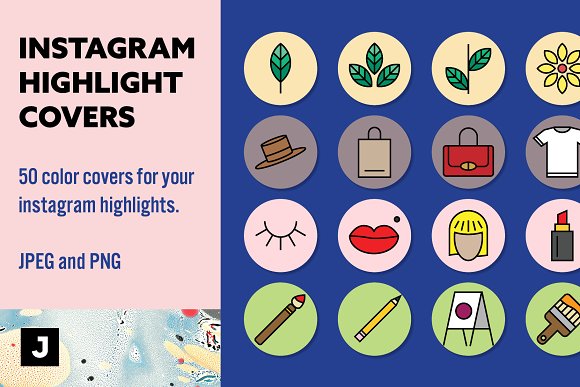 Plants Instagram Highlights Covers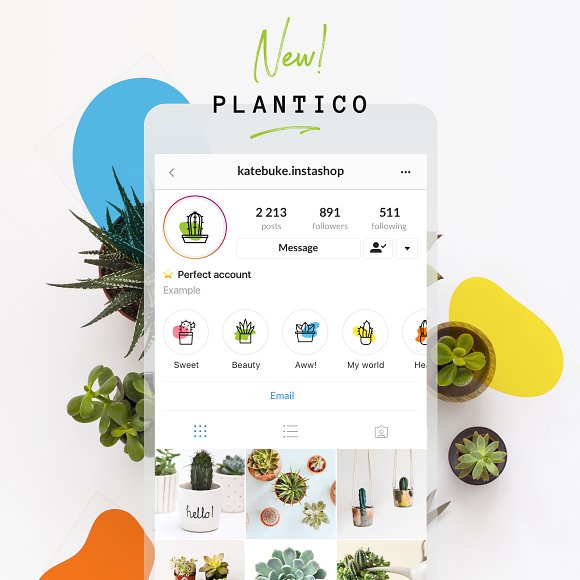 78 Instagram Story Highlight Covers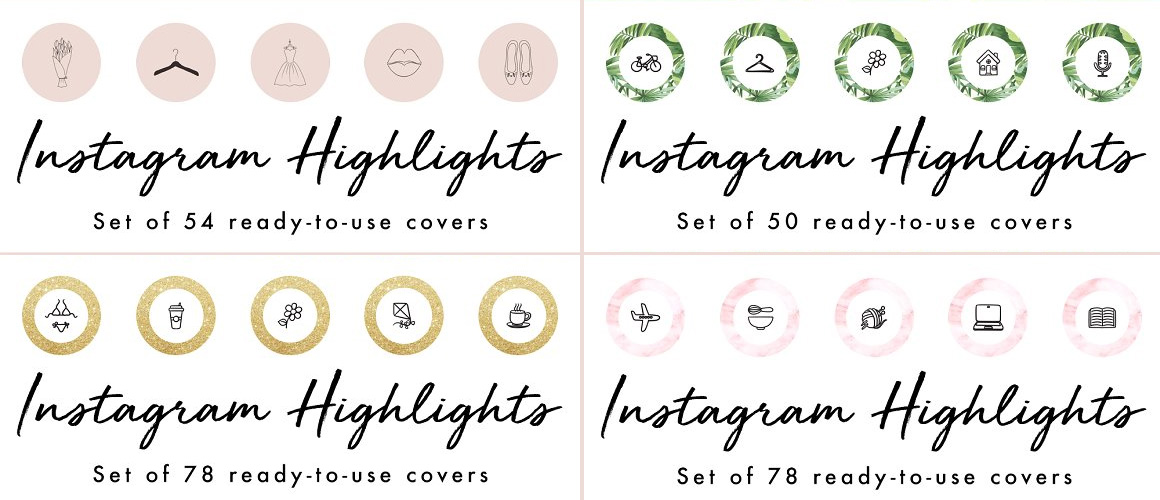 63 Blush Instagram Highlight Covers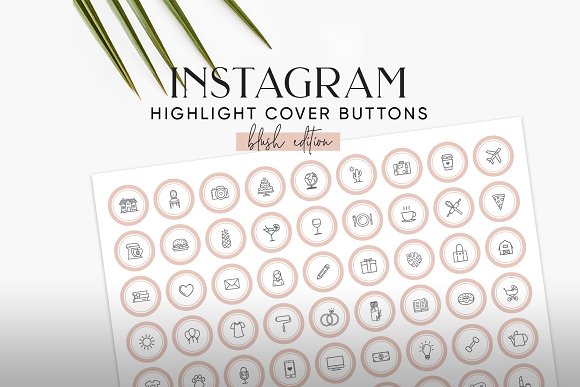 Where to Find The Best Free Instagram Highlights Icons set online?
To compliment with your Instagram highlights cover, here comes a terrific set of free Instagram highlight icons to rock your Instagram stories and make them look way better than before. Along with Hootsuite's impressive icon collections for your creative Instagram story highlight covers, these awesome icon set from the creative market is worth checking out too. In addition to these, we have some hidden free stuff that will surely blow your mind and make others fall in love with your Instagram profile.
Have a peek at these free icon set available just to fulfill your custom Instagram highlights cover:
Instagram Stories Highlights Icons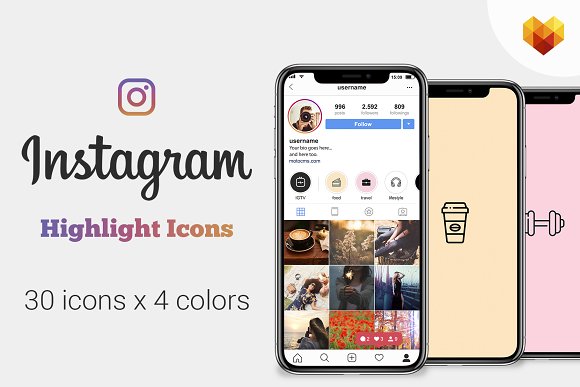 50 Instagram Stories Highlight Icons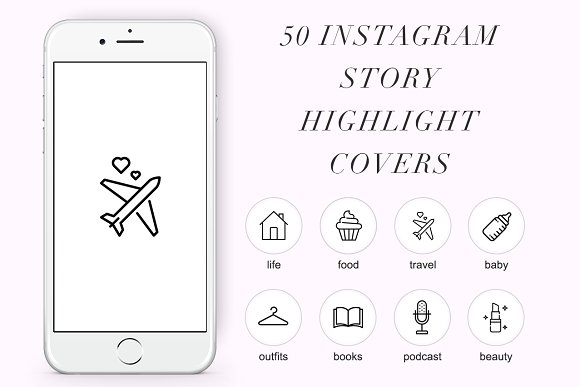 10 Food Instagram Stories Icons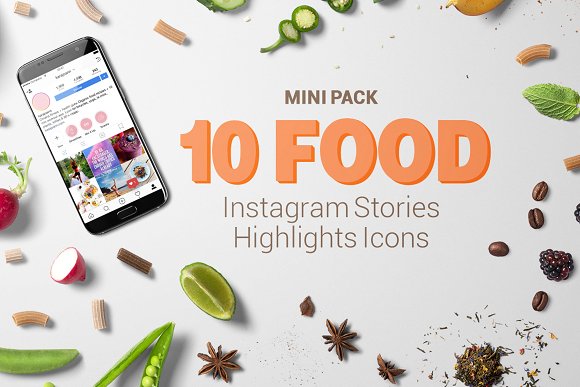 Instagram HIGHLIGHTS 2019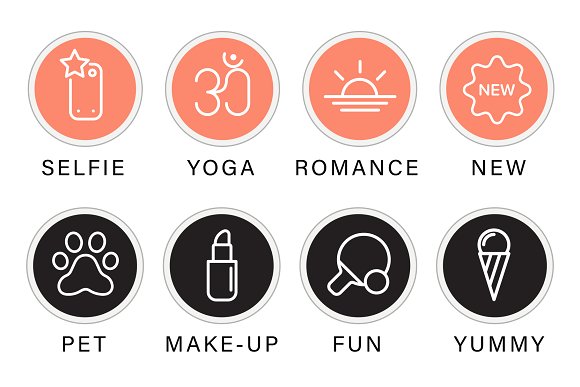 Instagram Story Highlight Icons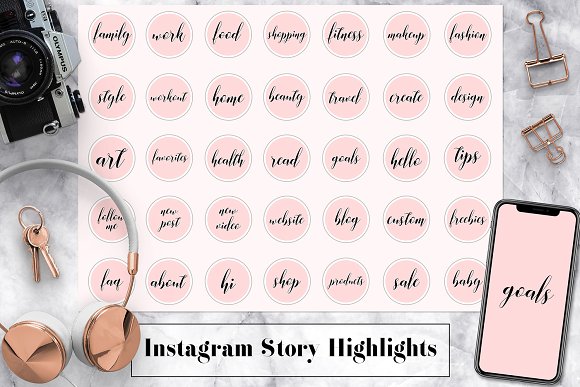 Bonus Stuff: Don't Forget to Check Out The Best Instagram Story Templates picked just For You!
We have added these amazing Instagram story templates for you so that all your time gets cut on searching the right cover image and icon set. You can straightaway focus on crafting the innovative Instagram story highlight covers using these on-the-go templates.
Check out these perfect story templates given below that will not only simplify your designing process but also provide your followers with great user experience:

Using these free templates, you can generate your own engaging Instagram story highlights cover without the need of finding those icons separately, thus, making your task easier.
Some Final Words
Instagram has enabled its users to beautify their profiles with the help of these custom Instagram highlights cover and icons. Now that you have learned all the ways to design perfect covers by adding the best icons on the background, all you have to do is choose your best stories that you want your Instagram profile to store forever and then, push them over to these highlights section.
Well, we hope we could share all the essential resources that would help you fabricate your own cover designs. So, start crafting your own story covers using them and share the link with us below in the comment section! Design Awesome Instagram Covers this New Year!