WooCommerce is one of the most popular e-commerce platforms around, powering over 4 million online stores worldwide. While the platform is feature-rich, there are several WooCommerce plugins available that can further enhance its capabilities and boost sales and conversions. In this article, we will explore some of the best WooCommerce plugins that can help you take your online store to the next level.
Best WooCommerce Plugins for Sales and Conversions
When choosing plugins for your website, it's important to consider their features, compatibility, user reviews, and support. Some plugins are free while others require payment for advanced features and better support. It's also important to keep your plugins updated for security reasons.
Check out our list of the top WooCommerce Plugins to Boost Sales and conversions.
ShopLentor – WooCommerce Builder for Elementor & Gutenberg 20+ Modules – All-in-One Solution (formerly WooLentor)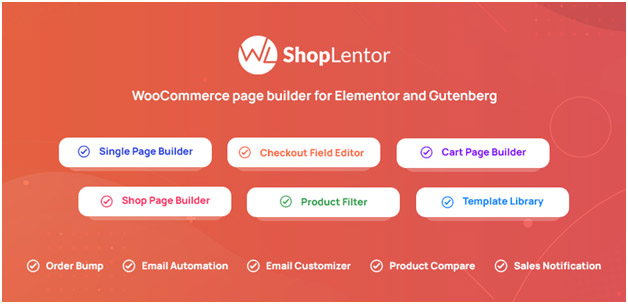 ShopLentor is a plugin for Elementor Page Builder that provides various features and customization options for WooCommerce. It includes a powerful WooCommerce page builder which lets you create unique and visually appealing pages for your store. This allows you to create designs that are distinct from ordinary stores.
ShopLentor is a plugin that offers various Elementor widgets and modules, such as product comparison, woo wishlist, quick view, and flash sale countdown. You will have a lot of options to customize the appearance and arrangement of your individual product pages with special Gutenberg blocks. Additionally, ShopLentor can help you improve your Shop and Product details page and other pages without requiring any extra plugins.
Key Features:
Seamlessly integrates with both Elementor and Gutenberg page builders.
The multi-step checkout feature is designed to provide a smoother buying experience.
Offers more than 105 Elementor widgets and 54 Gutenberg blocks, all of which are highly efficient.
Wide range of pre-designed page templates that can be utilized for customizing your WooCommerce store.
24 advanced modules available, such as multistep checkouts, Wishlist, Product comparison, Quick view, and others.
The email Automation feature is designed to simplify your email marketing campaigns.
Add pre-order and backorder features to enable better management of product availability.
The Order Bump feature provides an option to upsell during the checkout process.
Shopify-style checkout module to speed up and streamline the ordering process.
Boost customer engagement and sales by displaying sales notifications or pop-ups.
Zakeke – Product Customization for WooCommerce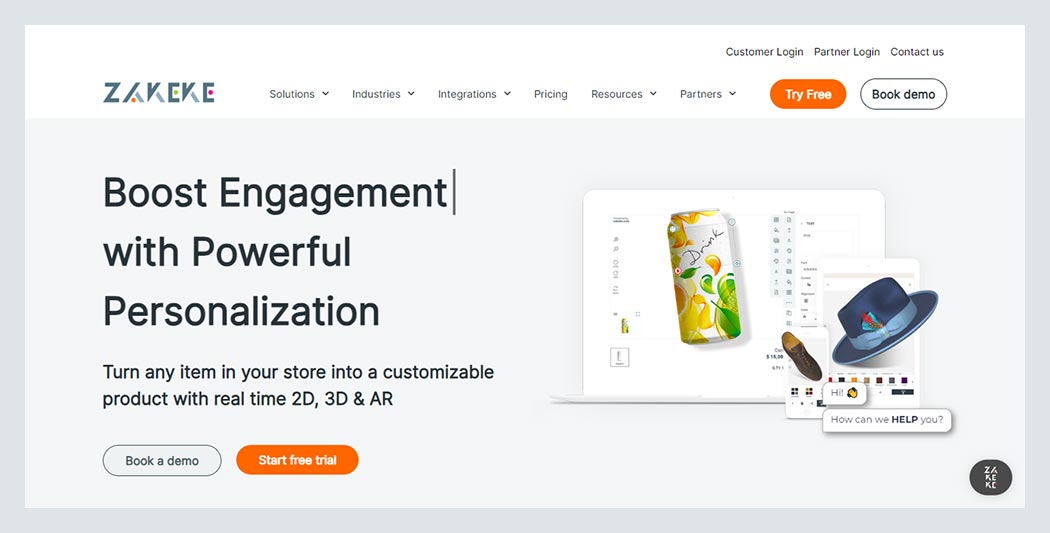 Zakeke is a powerful product customization plugin designed to enhance the customer experience on your WooCommerce store. With Zakeke, you can enable your customers to personalize and customize products before making a purchase. Whether it's adding custom text, uploading images, or choosing from predefined options, Zakeke empowers customers to create unique and tailored products.
The plugin seamlessly integrates with your WooCommerce store, offering a user-friendly interface for designing products in real-time. From personalized apparel and accessories to custom electronics, Zakeke covers a wide range of products, making it suitable for various industries. With a focus on visualizing the final product design, Zakeke helps customers make confident purchasing decisions.
Key Features:
Easy integration with WooCommerce, allowing customers to customize products before buying.
Intuitive and interactive design interface for real-time customization.
Support for various product types, including apparel, gadgets, home decor, and more.
Option to upload images, add text, choose colors, and select predefined designs.
Realistic 3D previews and high-quality visual representations of customized products.
Seamless mobile responsiveness for designing on any device.
Customization rules to ensure design constraints and prevent design errors.
Integration with print-on-demand services for streamlined order fulfillment.
Enhance customer engagement, satisfaction, and sales with a personalized shopping experience using Zakeke's powerful product customization capabilities.
As you explore the world of WooCommerce plugins, remember that each plugin serves a specific purpose, catering to different aspects of your online store. Whether you're looking to enhance design, streamline customer interactions, improve SEO, or boost conversions, the right combination of plugins can elevate your WooCommerce store to new heights.
WooCommerce Bookings and Appointments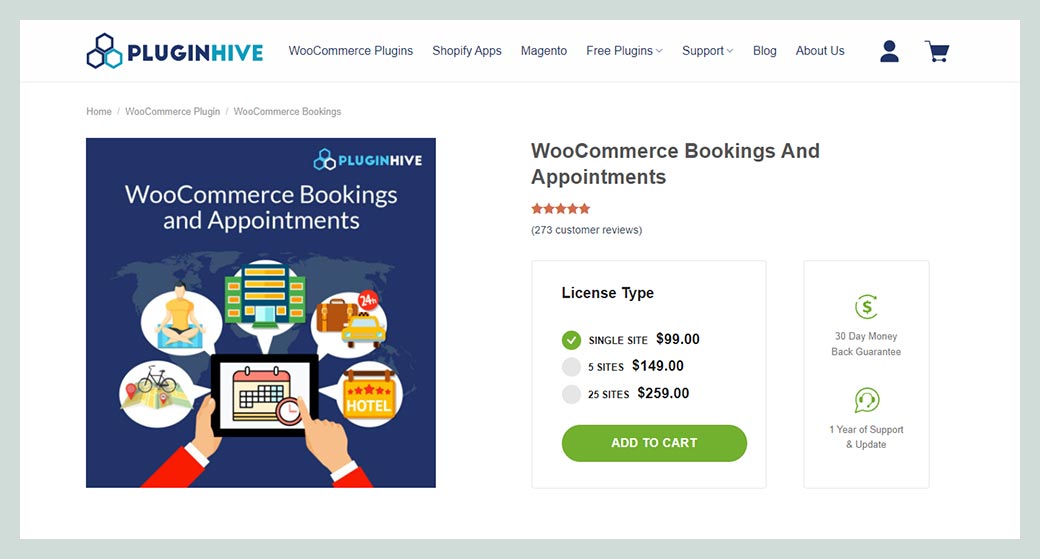 WooCommerce Bookings & Appointments by PluginHive is a versatile plugin designed to help you transform your Time, Products, or Services into easily bookable resources. With this WooCommerce Bookings plugin, service providers and businesses of all kinds can seamlessly integrate a powerful booking solution into their WooCommerce website.
It is one of the affordable plugins that offers a comprehensive suite of features to fuel your online booking business. It's fully compatible with WPML, seamlessly integrates with your Google calendar, and includes a range of free add-ons to further extend its functionality.
If you're in search of a user-friendly booking solution, give this feature-rich plugin a try!
Key Features of WooCommerce Bookings:
Single, multiple, and mixed bookings per minute, hour, day, and month
Email notifications and reminders to customers
Request bookings confirmation from store owner
Seamless synchronization with Google Calendar
Staff management capabilities
Set preparation time between bookings
Easy handling of individual or group bookings
Support for partial payment and recurring bookings with compatible add-ons
Pricing Plans:
Single site license $99 / year
5 sites license $149 /year
25 sites license $259 /year
Whols – WooCommerce Wholesale Prices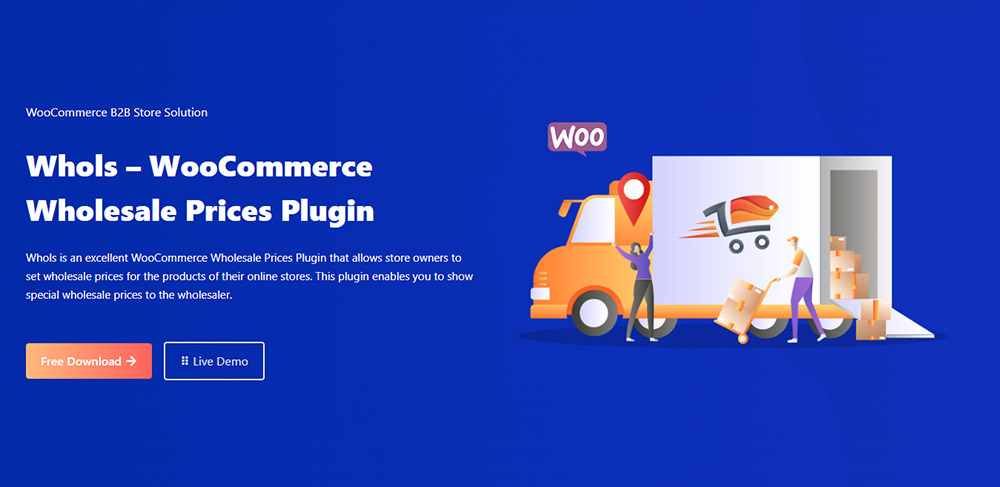 The Whols WooCommerce plugin offers a comprehensive solution for creating a professional wholesale store. It provides advanced features to easily set wholesale prices, including options for both simple and variable products and different pricing tiers based on customer roles or purchase quantities. The plugin automates the approval process, sends custom email notifications, and allows role assignments for easy access to wholesale pricing. Additional features include redirecting customers after a successful wholesale order, setting minimum order quantities, and flexible payment and shipping options. Whols offers a free plan for evaluation and enhances wholesale operations with modern functionalities.
Key Features:
Streamlined registration process
Manual or automatic approval of wholesaler requests
Free shipping options for wholesalers
Membership request option for customers
Wholesale pricing for Simple and Variable products
Exclusion of general products from wholesaler accessibility
Hidden wholesale prices for guest users
Wholesale role assignment for existing customers
Minimum order amounts for wholesale price access
Global implementation of wholesale pricing.
HubSpot – CRM, Email Marketing, Live Chat, Forms & Analytics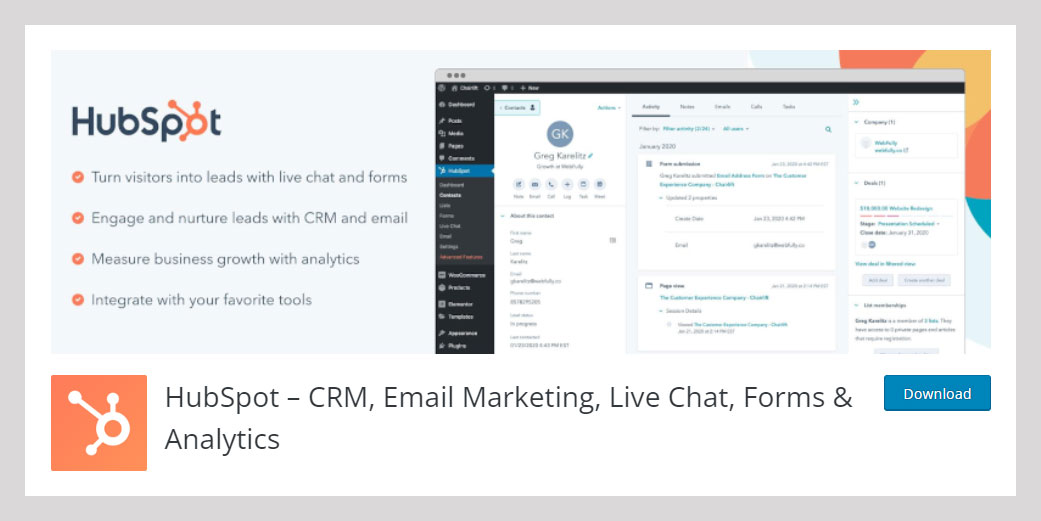 The HubSpot WordPress Plugin can assist you in engaging with visitors on your WordPress website. It enables you to collect, organize, and engage with visitors, and it offers features such as live chat, email marketing, analytics, forms, and CRM, without requiring coding skills. The plugin easily integrates with your website, and website forms sync automatically with the HubSpot CRM. This simplifies contact management, grouping, and activity monitoring.
This plugin provides a user-friendly email builder that allows you to create visually appealing newsletters using the drag-and-drop feature. Additionally, it lets you set up automated email responses that are triggered by form submissions or live chat messages. The CRM feature enables you to keep track of all emails and evaluate engagement by analyzing open and click rates.
Key Features:
Free forms, live chat, CRM, email marketing, and analytics without coding
Seamless integration and automatic syncing of website forms with HubSpot CRM
Contact management with segmentation and interaction tracking
Drag-and-drop email builder for creating beautiful newsletters
Automated email responses based on form submissions or live chat messages
Email tracking for open and click rates
Sales pipeline visualization and deal management
Personalized email campaigns to engage and convert contacts
Centralized storage and organization of customer and prospect information
Activity and engagement tracking for prospects across multiple channels.
OptinMonster – WordPress Popups for Optins, Email Newsletters, and Lead Generation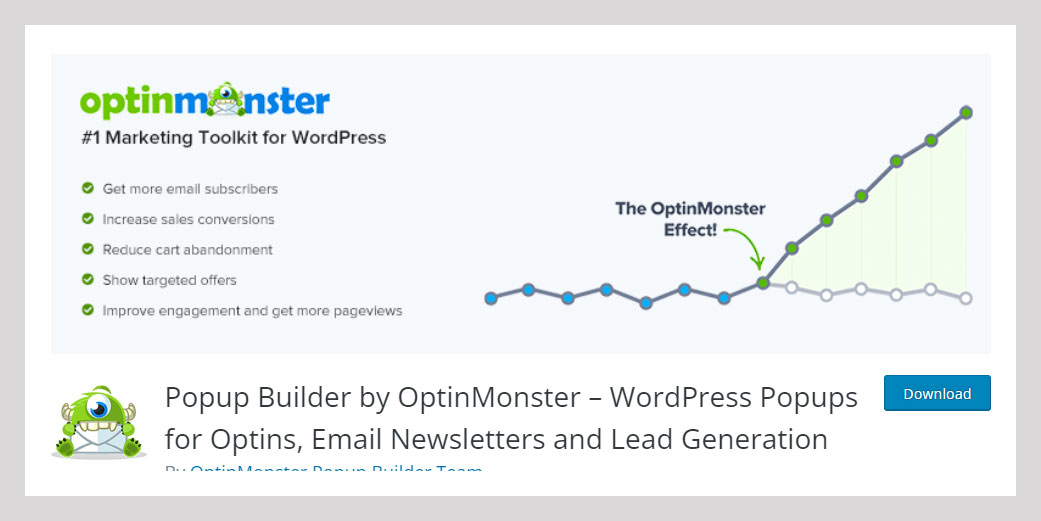 OptinMonster is a leading popup builder and marketing plugin that helps businesses boost email subscribers, sales, and overall growth. It offers an easy-to-use popup maker and conversion toolkit to turn website visitors into customers. With OptinMonster, you can create attractive popup campaigns, email subscription forms, sticky announcement bars, gamified spin-a-wheel opt-in forms, and other interactive popups in minutes.
The plugin prioritizes a positive visitor experience with smart targeting and personalization features, ensuring the right message reaches the right user at the right time. It also provides mobile-friendly popups and optimized performance for web and server speed, benefiting SEO, marketing, and conversion optimization efforts.
Key Features:
Easy-to-use popup maker for creating attractive campaigns, email subscription forms, sticky announcement bars, and interactive popups quickly.
Ability to convert abandoning website visitors into subscribers and customers.
Smart targeting and personalization features for displaying the right message to the right user at the right time, without annoying interruptions.
Support for mobile popups to ensure marketing messages look great on all devices.
Optimization for web and server performance, prioritizing speed for SEO, marketing, and conversion optimization efforts.
Rank Math SEO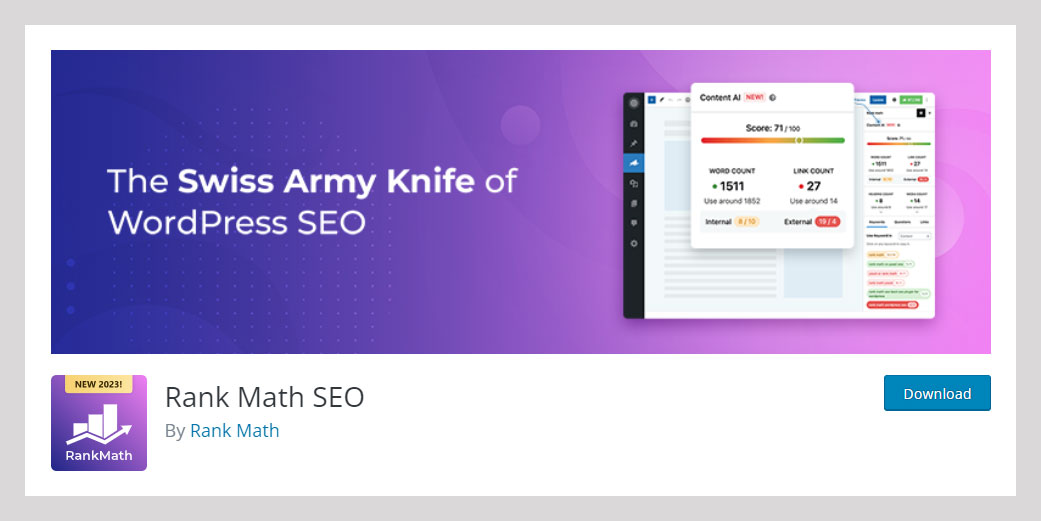 Rank Math is a plugin for WordPress designed to make SEO optimization easy. This powerful tool offers suggestions based on best practices, which you can customize to improve the visibility of your website. With 15+ modules, keyword ranking tracking, detailed SEO analysis, and compatibility with both Gutenberg and Classic Editors, it helps enhance your website's visibility. Rank Math also supports 20+ Schema types, which can help you win rich snippets in search results.
Key Features:
Use Artificial Intelligence to create SEO content that is highly optimized.
Get recommendations to enhance your content's SEO in real-time.
Use dynamic keyword suggestions to effectively optimize your content.
Enhance your search engine visibility with intelligent questions generated using Schema Markup.
Improve your internal linking and SEO with smart link suggestions.
Optimize your content further with additional keyword information.
Enhance your content's relevance and reach by discovering related keywords.
Complete control over SEO settings and access permissions with our Role Manager feature.
Also read: 8 Best SEO Plugins for WordPress
Site Kit by Google – Analytics, Search Console, AdSense, Speed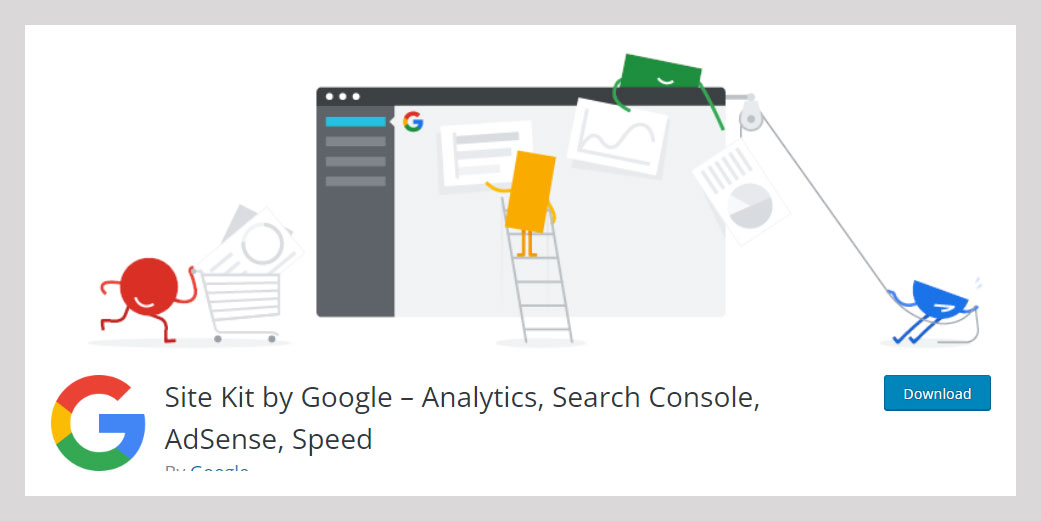 Site Kit is the official WordPress plugin by Google that offers valuable insights into your website's performance and user behavior. It allows you to easily deploy, manage, and access insights from various Google tools, helping you make your site successful on the web. With Site Kit, you can conveniently view up-to-date information from multiple Google products right on your WordPress dashboard. Best of all, it's completely free to use.
Key Features:
Easy-to-understand stats on your WordPress dashboard
Official stats from multiple Google tools in one dashboard
Quick setup for Google tools without code editing
Metrics for the entire site and individual posts
Easy management of permissions across WordPress and Google products
Search Console integration for understanding search performance
Analytics integration for tracking user behavior and goals
AdSense integration for monitoring site earnings
PageSpeed Insights for performance analysis and optimization tips
Tag Manager integration for managing tags without code editing
Optimize integration for A/B testing setup.
WooCommerce Cart Abandonment Recovery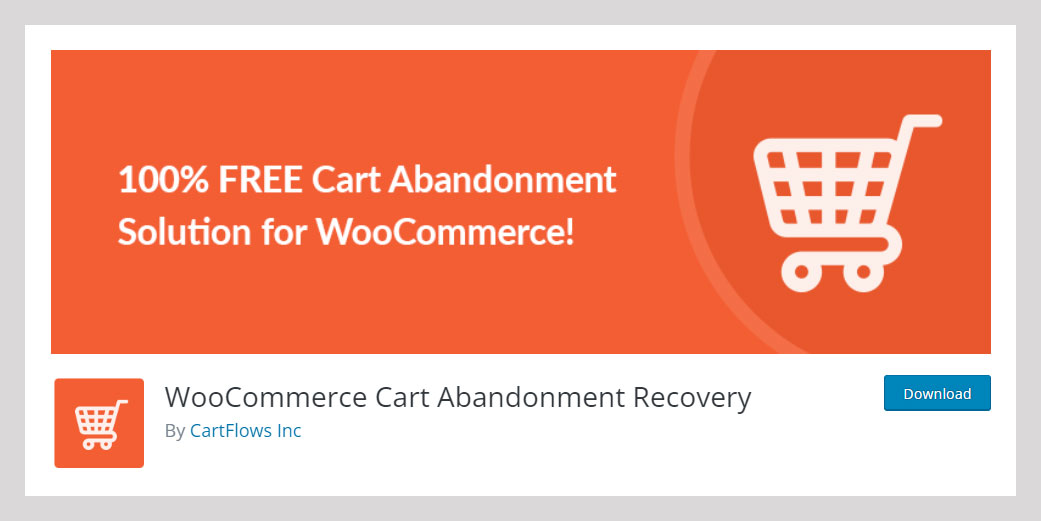 The Cart Abandonment Recovery plugin tackles the issue of cart abandonment and recovers lost revenue. It captures email addresses and sends customized follow-up emails to remind customers to complete their purchases, request feedback, or offer discounts. The plugin provides flexible email sequencing and is available for free, increasing the chances of recovering abandoned carts.
Key Features:
Unique Checkout Links for personalized cart recovery
GDPR Compliance notice option for data protection regulations
Ready Email Templates for efficient follow-up communication
Webhooks Integration with popular marketing automation tools
Coupon Code Generation for incentivizing shoppers
Reports for tracking plugin performance and recovered revenue.
Support Genix (WordPress Support Ticket Plugin)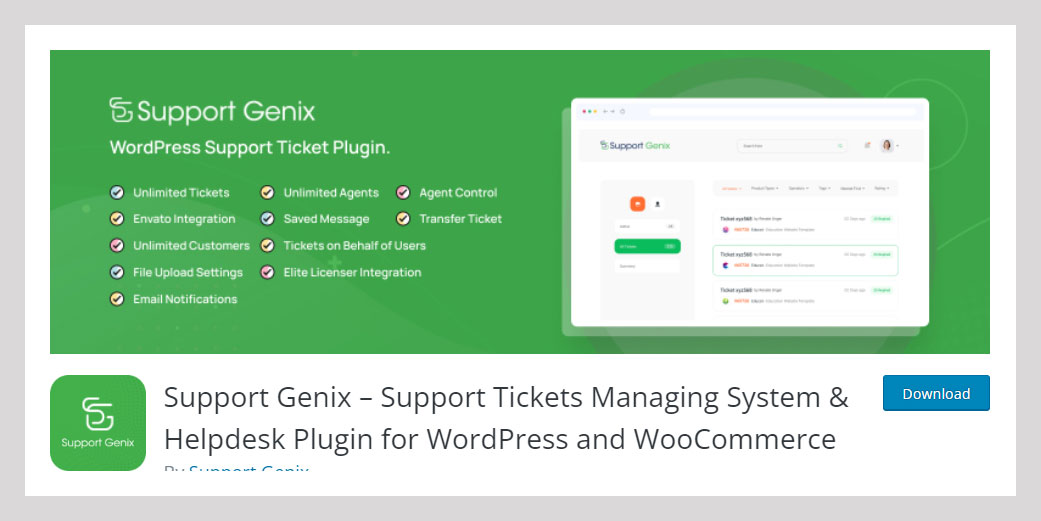 Elevate your customer service experience with Support Genix, the ultimate WordPress support ticket plugin. Manage and monitor ticket requests effortlessly from a centralized dashboard. Benefit from unlimited tickets, agents, and users, along with seamless task delegation and collaboration. Stay on top of customer needs with features like email piping, WooCommerce integration, email notifications, Webhooks, agent control, and ticket transfer. Trust Support Genix as your go-to customer service solution in the ever-evolving business world.
Key Features:
Unlimited tickets, agents, and users in a central location
Advanced email piping for automated communication
Seamless integration with WooCommerce for secure order ID verification
Easy ticket creation, assignment, and transfer between departments
Customizable email notifications for different ticket occurrences
User-friendly platform
Excellent customer support and documentation
Tawk.To Live Chat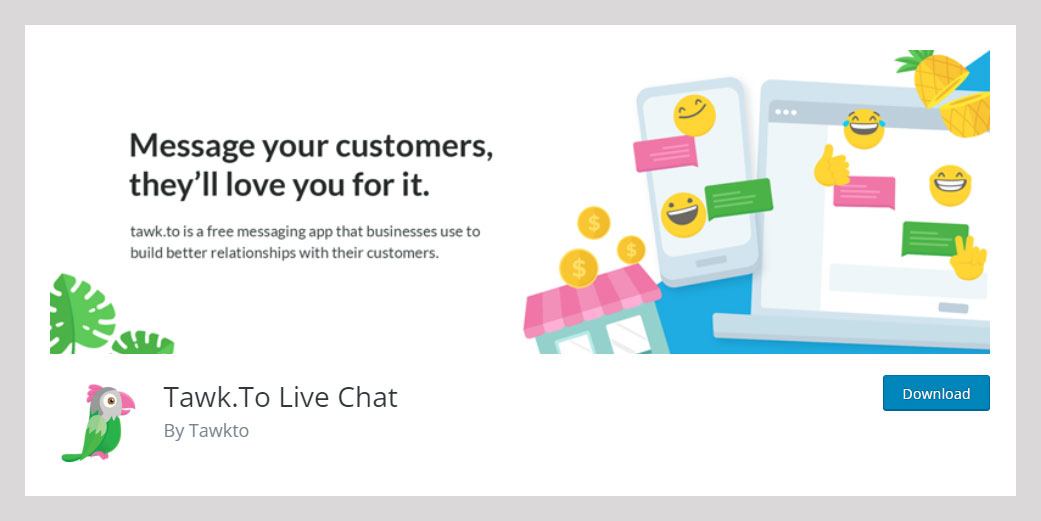 Tawk.To Live Chat is a free messaging app designed for real-time communication with website visitors. It helps you gain insights, increase conversions, and stay connected to customers from anywhere. Specifically built for WordPress, it offers unlimited messaging, ticketing, and a Knowledge Base, all at no cost. The app seamlessly integrates with WordPress and supports modern browsers. With apps for iOS, Android, Windows, and Mac OS X, you can easily stay connected and capture leads or sales.
Key Features:
Seamless integration with WordPress
Trusted by over 5 million companies for real-time customer support
Time-saving capabilities for monitoring and chatting with visitors across multiple websites from a single dashboard
Personalization options based on visitor location, past visits, and page views
Built-in Knowledge Base for sharing FAQs and self-help resources
Integrated support desk and ticketing system for efficient ticket management and follow-up.
Customer Reviews for WooCommerce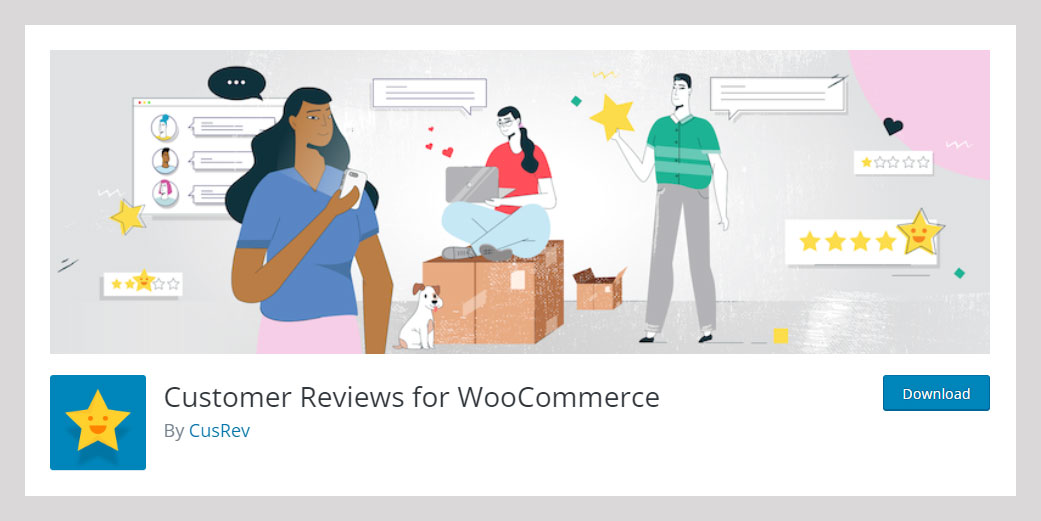 Boost your marketing efforts by asking happy customers for reviews using the Customer Reviews for WooCommerce plugin. Automatically send personalized email reminders to customers after a transaction, making reviewing a breeze.
Enhance WooCommerce reviews with additional features and provide a Q&A section on product pages for customer inquiries. This plugin increases engagement, fosters loyalty, improves SEO, and drives sales through social proof. It supports over 40 languages and has been installed in over 50,000 stores. Additionally, it offers optional integration with CusRev, an external service that verifies customer reviews for authenticity.
Key Features:
Automated or manual review reminder emails
Aggregated review forms for easy reviewing
Enhanced reviews with ratings, images, voting, and filtering options
Discount offers in exchange for reviews
Integration with Google Shopping
Question and Answer feature for FAQs
Import and export reviews
How to Choose the Right Plugin
Choosing the right plugin for your needs can be a critical decision. Here are some factors to consider when selecting a plugin:
Define your requirements
Clearly outline what functionality you need from the plugin. Identify the specific features and capabilities that are essential for your website or business.
Compatibility
Ensure that the plugin is compatible with your WordPress version and other plugins or themes you are using. Check for any known conflicts or issues.
Reviews and Ratings
Read user reviews and ratings to gauge the plugin's reputation and performance. Look for feedback on its reliability, ease of use, and customer support.
Active Development and Support
Check if the plugin is actively maintained and regularly updated. Look for a developer who provides timely support and addresses user inquiries or issues.
Documentation and Resources
Assess the availability and quality of documentation, tutorials, and user guides. These resources can help you understand how to effectively use the plugin and troubleshoot any problems.
Security
Prioritize plugins that have a strong security track record. Check if the plugin undergoes regular security audits and has measures in place to protect your website and user data.
Pricing and Licensing
Consider the pricing structure of the plugin. Some plugins offer free versions with limited features and premium versions with additional functionality. Understand the licensing terms and any recurring costs associated with the plugin.
Community and User Feedback
Engage with the plugin's community forums or user groups to gather insights and feedback from other users. This can provide valuable information about the plugin's strengths and weaknesses.
Demo or Trial
Whenever possible, test the plugin before making a final decision. Look for plugins that offer demos or free trials, allowing you to assess their suitability for your specific requirements.
By considering these factors, you can make an informed decision and choose the right plugin that aligns with your needs and ensures a seamless experience on your WordPress website.
Frequently Asked Questions
Q: Are these WooCommerce plugins compatible with the latest version of WooCommerce?
Most reputable WooCommerce plugins are regularly updated to ensure compatibility with the latest version of WooCommerce. However, it's always recommended to check the plugin's documentation or contact the plugin developer to confirm compatibility before installation.
Q: Are these WooCommerce plugins compatible with other WooCommerce extensions or themes?
WooCommerce plugins are generally designed to be compatible with the core WooCommerce functionality. However, compatibility with other extensions or themes may vary. It's important to check the plugin's documentation or contact the developer to ensure compatibility with your specific setup. Additionally, using well-established and widely-used plugins can minimize the likelihood of compatibility issues.
Q: Do these WooCommerce plugins require coding knowledge to set up and use?
Many WooCommerce plugins are designed to be user-friendly and require little to no coding knowledge for setup and basic usage. However, more advanced customization may require some understanding of HTML, CSS, or PHP. It's advisable to review the plugin's documentation and support resources to determine the level of technical expertise needed.
Q: Are these WooCommerce plugins free or paid?
The availability of free and paid versions of WooCommerce plugins varies. Some plugins offer a basic free version with limited features, while advanced functionality may require purchasing a premium version or add-ons. Evaluate your specific needs and budget to determine if a free or paid option is most suitable for you.
Q: Can I use multiple WooCommerce plugins simultaneously?
Yes, you can use multiple WooCommerce plugins together. However, it's essential to ensure compatibility and avoid conflicts between plugins. Be cautious when installing too many plugins, as they can impact website performance. Regularly review and optimize your plugin selection to maintain a well-functioning WooCommerce store.
Conclusion
The right WooCommerce plugins can help businesses to boost their sales and conversions significantly and quickly. With just a few clicks, store owners can implement strategies like upselling and cross-selling to increase revenue with minimal effort. Furthermore, customer service also gets a valuable boost with features like wishlists, enhanced product reviews, and abandoned cart management.
No matter what type of business you have or how much experience you have selling online, WooCommerce plugins are always an excellent investment for businesses looking to boost sales and conversions. So, take advantage of these WooCommerce plugins to upgrade your online business today!