Artificial intelligence is the next-generation tool that is quickly becoming a part of every business field. The content writing industry is no different, and they take the help of AI content generator tools. The companies are creating unique content based on the keywords fed by the writers.
AI tools for content writing can prepare blog posts, product descriptions, and content for landing pages with minimum human intervention. It is an intelligent tool that can develop high-quality content without missing out on any instructions required for a good SEO ranking.
It even takes the existing content and rewrites a new blog with its help. AI blog generator creates these contents based on parameters and provides improvement suggestions, ideas, samples, etc.
In this article, we will dive into what the best AI content generator is, its abilities, and its features. So, read on ahead!
The first thing – How to Create Content that Ranks?

As per Ahrefs statement, 96% of content is ranking in Google.
When creating content, our first concern is how to get a good ranking in search engines. People often never explore the second page of search engines, and the contents on those pages get significantly less traffic.
We put all our energy into creating a good blog post or article, but the research and writing are useless if it doesn't have a good SEO ranking. To get more traffic to your website and visits to your blogs, SEO is a must.
Here's how you can be at a good rank.
Do a Proper Keyword Research
Proper keyword research is the first step to winning that rank you want on the first page of search engines. Keywords are the phrases that are related to the main topic that you are writing.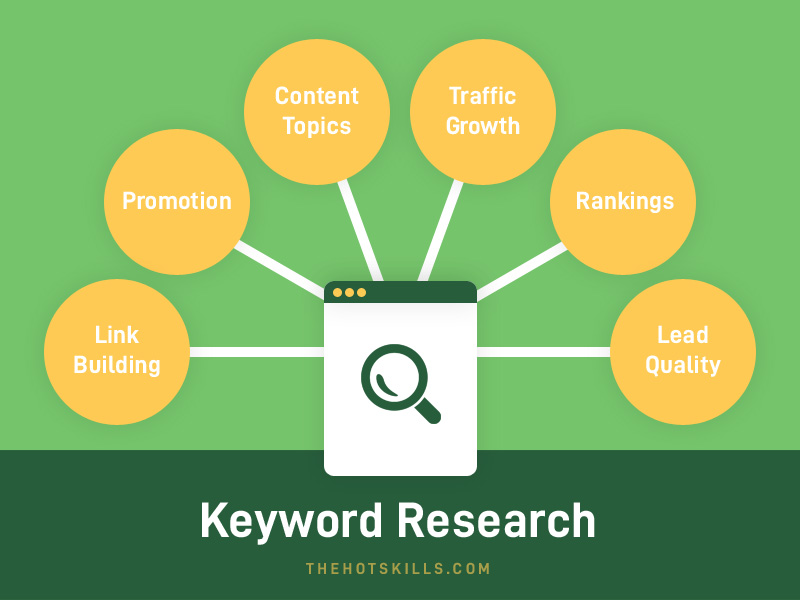 They describe what you have based your content on and what is the primary matter you are discussing in it. Later, Google uses the keywords to determine which contents are relevant and which deserves a high ranking when a relevant topic is looked up.
Any content should have primary keyword that should be used 4 to 5 times in each piece, while secondary keyword are used 1 to 2 times.
To find suitable keywords for your content, step-by-step research is required.
Here is a brief explanation of how to do it.
List Down the Relevant Topics
Make a list of topics relevant to describe what your business deals with. Consider yourself like a buyer looking for your product. Keep this list short with 5 to 10 words maximum, and they should be general simple words.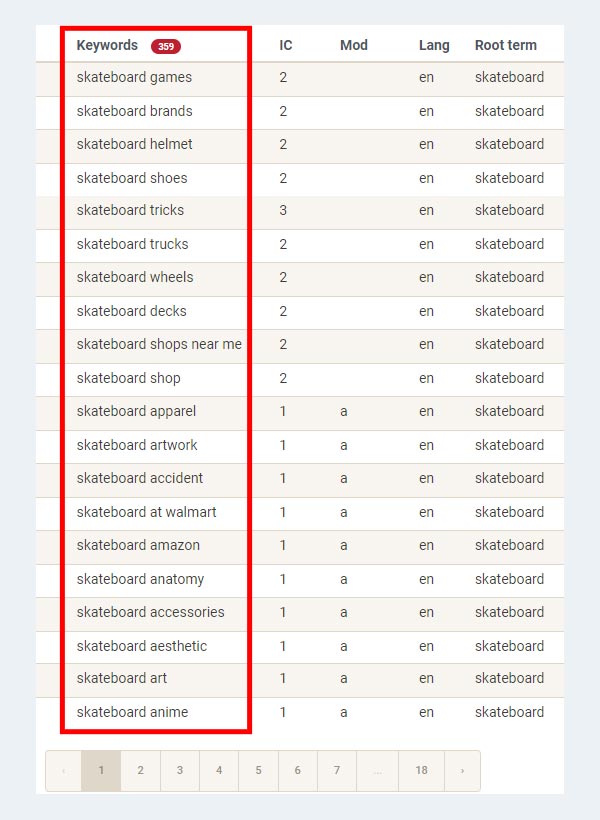 Tool: Infinite Suggest
Expand Topics with a List of Phrases
Know the terms and phrases your customers could use while looking for your products and services. Use these phrases with the relevant keywords that you have listed down. If you have data analytics software, you can use its help to identify keywords and phrases.
This step is a good brainstorming part where you can develop several points, regularly searched questions, etc.
Find Related Search Questions and Terms
Type in your keyword phrases and find related terms. When you search for a keyword phrase in Google, scroll down to the bottom of the page. In the base, you'll find a list of related search phrases.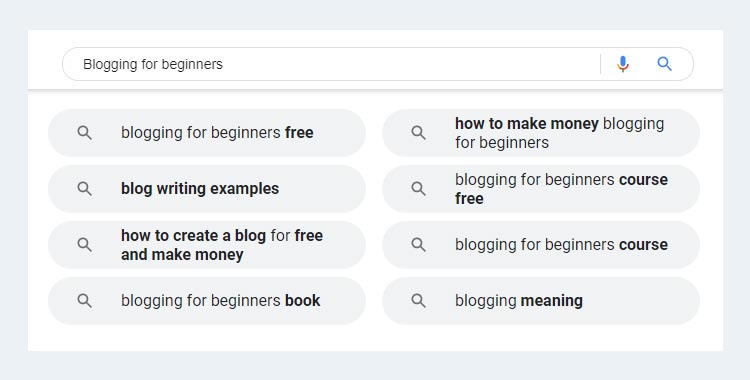 You can click on the related searches and find the suggestion by Google at the bottom of the second page.
Analyze your Keyword Strength
The best way to know the keyword strength is through a keyword research tools or an Semrush SEO tool. When analyzing your keywords, find the exact terms and words used.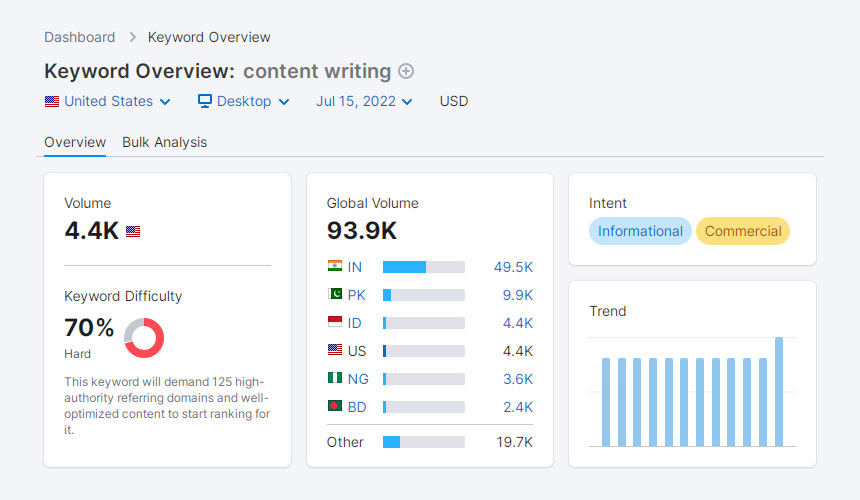 The volume of the keyword phrase also matters because keywords with no volume are not worth making content for. Finally, look for competition. Ensure a higher search volume and lower organic search competition.
Find out How to Rank in your Industry
If you have high competition with big brands they will take the first spot anyway, so you need to find a new way to rank high. Your strategy should focus on longer keywords and better quality of writing with longer content.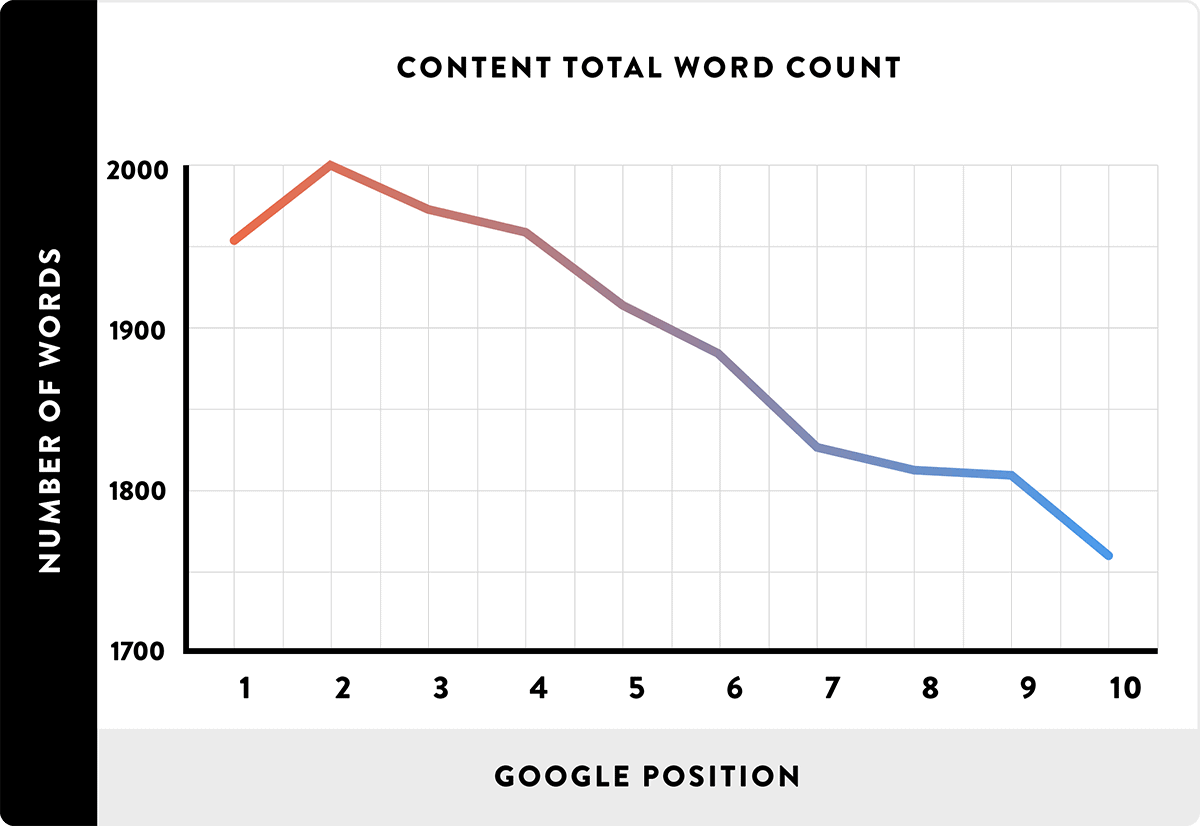 Image Source: Backlinko
Verifying Buyer's Intent
Base your keywords and contents on the buyer's intent. If they are looking only for the information, they shouldn't feel forced to buy a product while wanting to read about a topic.
Analyze Search Intent
The search intent is the term used to describe the purpose of searching online. It is the intent behind why a person is looking for a particular product, service, or topic.
The search engine team has done in-depth research on the intent. That is how these AIs can provide relevant answers even to the vaguest questions. So, to rank your content on top, you need to understand search intent.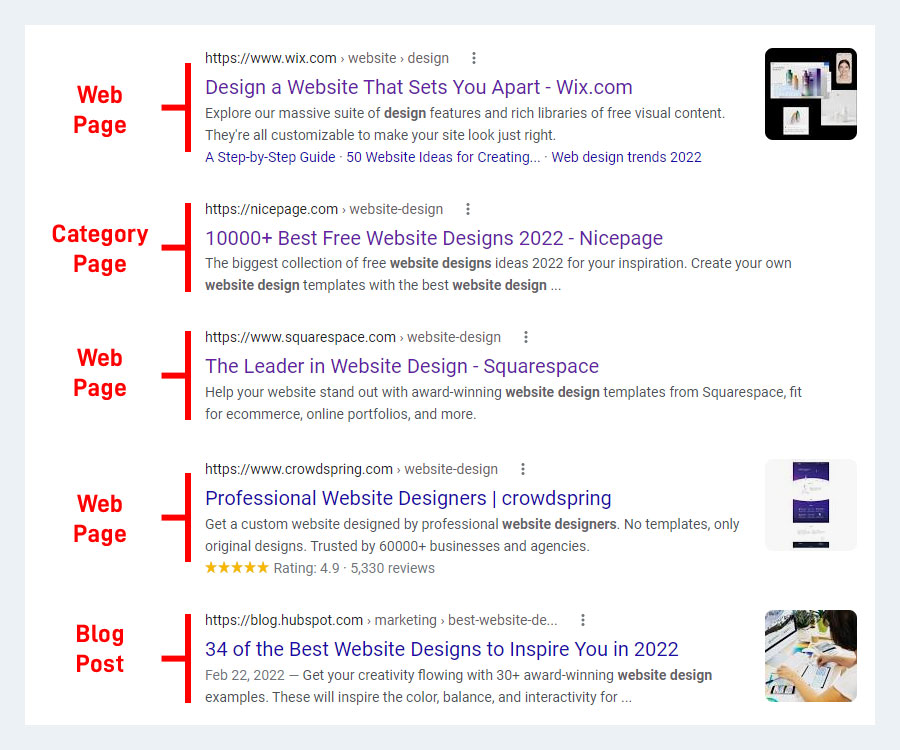 Here's what you need to understand about search intent:
Content-Type
When you click on the search topic, the top-ranking pages, blogs, articles, product pages, landing pages, etc. If not, you need to go back to finding keywords and start the process again.
Content-Angle
Find out about the individuals looking for the topic, are an expert or a beginner, are looking for a quick fix or more insight and what they value.
Grammar and Spelling Error-Free
When writing content, you cannot expect your post to stay on top with grammar and spelling errors. It has to be entirely error-free, you can use tools to correct your grammar and spelling for flawless writing.
Most word processors and writing apps have in-built spelling checks so it is easier as you go. For grammar, you can use this very user-friendly tool called Grammarly. It highlights all the mistakes and even provides better suggestions to give your writing a defined look.
These tools even help you rewrite your sentences to a more straightforward format, making them easier to understand.
Keep it Simple and Unique
The readers are always looking for a solution on a search engine, so don't put them through more work. Most people are looking for quick fixes and easy instructions so writing your blog in simple words is the best way to get attention.
Use proper headlines and bullet points to make it easy to read. Using too many lengthy paragraphs only bores the readers. They find the topics hard to locate inside the blog. So simpler format makes the blog appealing and reader-friendly.
Make all your writing unique. As a reader, if you encounter the same kind of article repeatedly, it begins to lose your attention. So, make it special enough for the readers to stay on your page.
What is A.I. (Artificial Intelligence) Content?
Artificial intelligence is the answer to more innovative and faster content creation. AI content generator helps write top-notch content without compromising on the rules of writing criteria required to meet SEO demands.
AI content creator takes the data from the older blogs and presents a new blog without any hindrance. AI blog writers can provide you with strategic content faster and at a scale based on the data.
AI content writer creates several types of content like articles, blog posts, marketing copies, etc. It generates the content error-free in minutes or seconds and needs minor editing.
As such, you can create content in just a few minutes, and it is all original content, so there is no plagiarism risk in these posts.
How does an AI Writer Help in Writing SEO Content?
The AI writing software is an intelligent tool that does not skip the instructions given to achieve an SEO desired content. It has features that help it in creating SEO-friendly articles without any struggle.
SEO Friendly Content
AI content generator effortlessly makes search engine-friendly content with the keywords fed to it. It delivers SEO content by simply using the keywords entered by the ranking in the search engine into a text generator.
The AI text writer then makes keyword-populated content with the provided input. SEO Magnifier Ai Rewriter take the help of SEO tool integration, adding to their already existing features to create excellently written pieces.
Plagiarism Free
Plagiarism is not a problem for AIs as they can learn about 1 billion words, which is how they produce content. Even if the user enters similar keywords, the AI rarely makes identical content, so you get to enjoy original creative pieces.
AIs are trained with colossal information from the internet but don't copy exactly what they read, so you get plagiarism-free blogs and articles.
Write Titles for Better CTR
AI content generator tools are equipped to write blog titles in seconds. They do thorough research through the data input and generate perfect blog titles that rank high in the search engines.
Usually, it takes hours to prepare SEO-friendly titles, but AIs do it in a blink which saves you a lot of time that goes into researching.
Write Meta Description
AIs are designed to write brilliant content. AIs like Jarvis content generator creates a unique human-like copy in seconds. It truly understands what meta description requires and includes relevant information about the content using quality words.
The AI writing software produces cleverly written meta descriptions to give you the desired ranking plus invite the readers.
How to Choose your Best AI Content Generator?
Content is a great way to market your business. Good content always draws leads. Innovative content keeps the traffic or visits on the websites flowing, and the readers stay around longer.
Choosing the best AI content generator is vital for a business to get the necessary outcome from content writing. Every day, consumers are looking up their queries, and the fight to stay on the first page of the search engine is getting tougher.
Hence, just getting an AI that can develop content is not enough. You need an AI content creator with the features to compete with other AIs and a one-stop solution to content needs.
Jasper is one of the best AI writing assistants, it is trained to write and create original and creative content. It finishes your first draft ten times faster and ends writer's block.
Jasper.ai – The Best AI Writing Assistant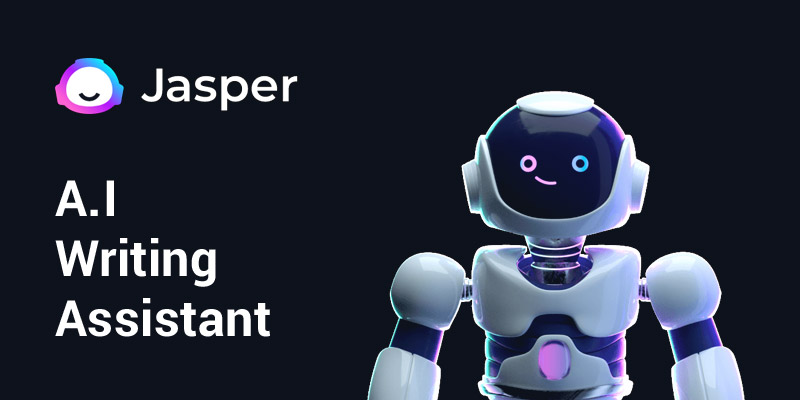 Let us look at why Jasper is the best AI content generator.
AI Templates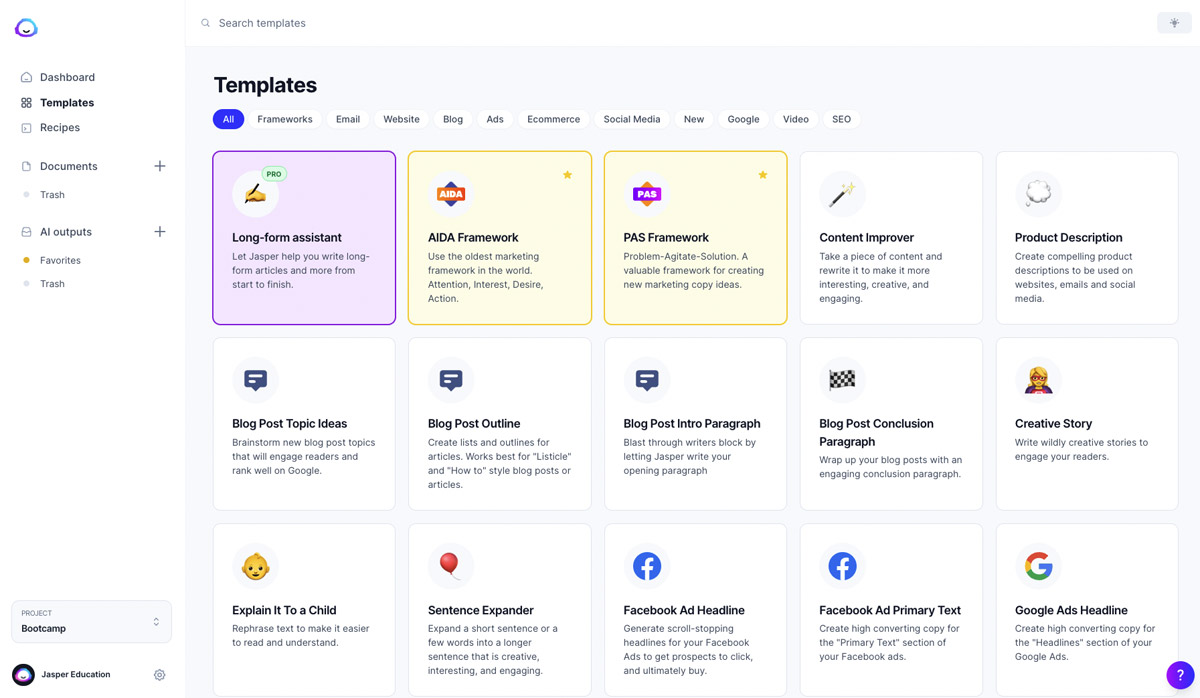 Jasper uses 50+ templates. They are trained for particular use cases and are user-friendly. You can easily access the templates by clicking on the option for templates on the left-hand sidebar.
When you are inside a document, you can use the "Power Mode" icon on the top middle of the screen.
All these templates are easy to use, so you do not require extensive training to understand Jasper.
Factual, True Content
Jasper has read most of the internet. But an AI is mainly known as a creative writer rather than a factual one. So, when an AI blog writer creates content, you may have to go through factual checks before putting out the item.
Editor Modes
It has two editor modes as additional functions, making your blogs appealing and SEO-friendly.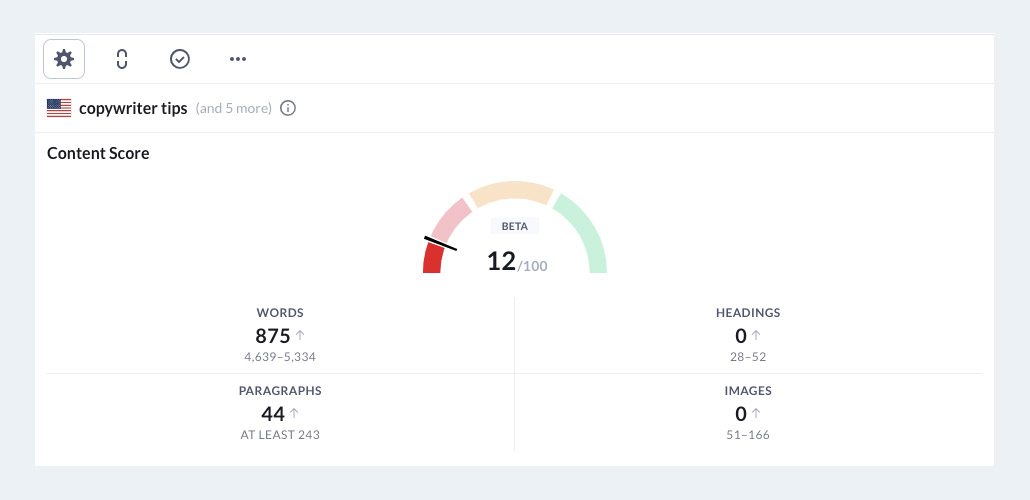 The first is "Power Mode", which allows you to access all the 50+ templates inside the document. It lies in the centre of the top bar of the document.
To rank your articles in Google, you can use Surfer SEO integration. This integration will help Jasper make better articles for you and push your blog posts in the ranking.
Surfer is an excellent SEO tool that helps your ranking. It tells you what your headings should be, suggests keywords and how many words you should be writing, etc.
Tone of Voice
Every blog and article has a tone of voice, so when you enter the tone of voice in Jasper's "Tone of voice" he does his best to match it. You can even choose the adjectives like "funny" and "dramatic" and he will accomplish it.
It is a beneficial and fun feature at the same time that we like to use while feeding Jasper with ideas.
Does AI Content Rank in Google?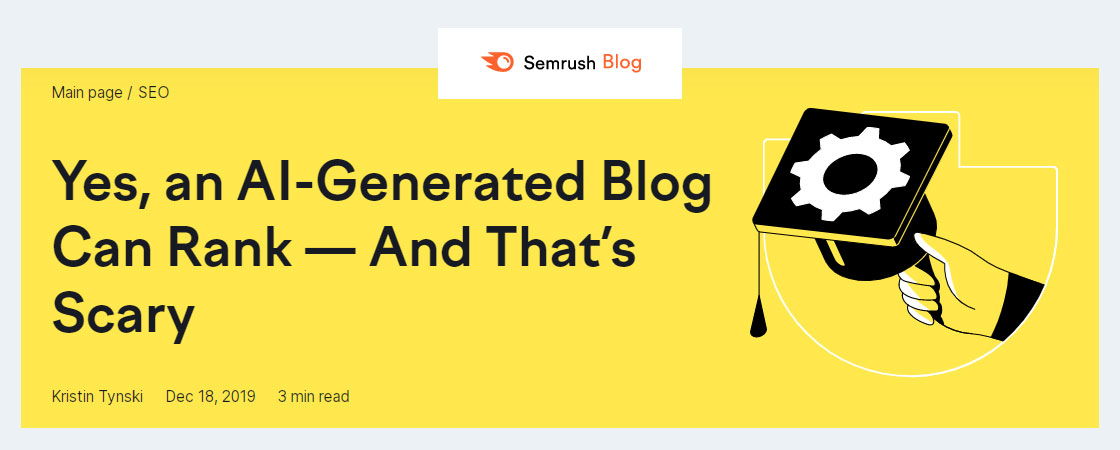 The answer is yes! AI content can rank well in Google if it is quality software. Contents created by superior AI sem entirely authentic and misread as human written content. AIs make writings SEO friendly and use strategies that rank them higher on search engine pages.
Google has a component known as RankBrain, which is the core of its algorithm. It uses machine learning to determine the most relevant results in search engine queries.
Before RankBrain, Google would determine its basic algorithm to show results for the queries. But post-RankBrain, the questions go through an interpretation model, it can determine the individual's location and personalization and find the intent of the query.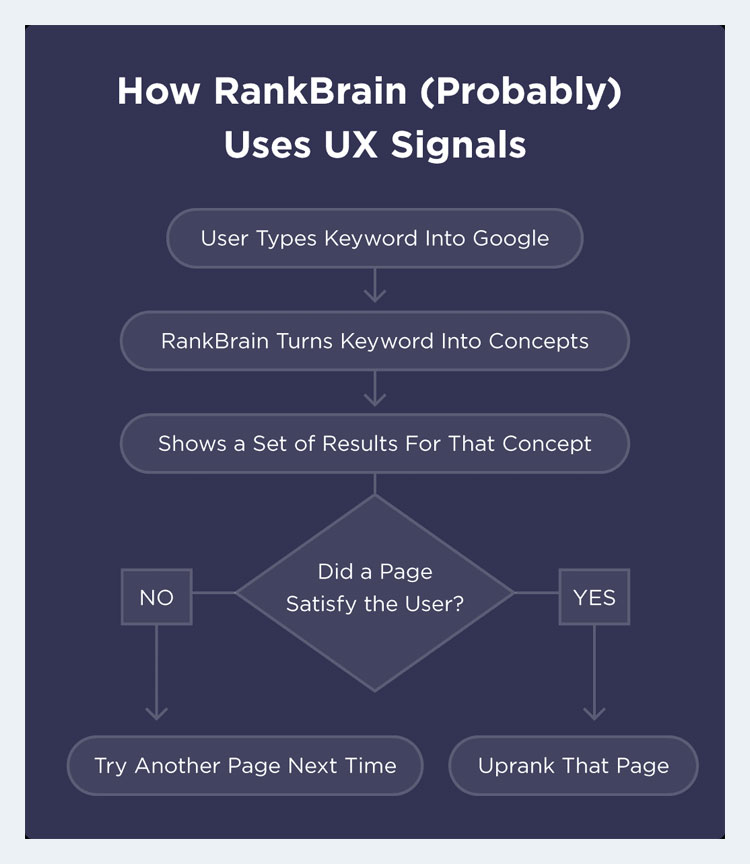 RankBrain uses machine learning to understand the searchers better and gets better over time. This is why the ranking is much stricter, as this new algorithm looks for better and more authentic content with the right keywords.
The best AI content generator creates plagiarism-free content with keyword input and its learning capability. It can be integrated with SEO tools like Surfer and help you produce high-ranking posts.
Let us find the answer to whether AI content can rank in Google in detail. In order to determine this, let us look at three scenarios.
Beginner Marketers
Here we are looking at a fresher with only the most rudimentary web development, content marketing, and SEO knowledge. This type of marketer is interested in AI content because it is easy to generate posts.
This user will use bulk content generated in 5 mins per blog. In this scenario, the posts will get a small number of visitors from long-tailed search phrases and accidental clicks. The bounce rate will remain high, and the time spent on these blogs will be low.
This will result in the site being penalized, and very few organic visitors will come to the site.
Intermediate Marketers
This level of marketer has some experience with growing websites and search visitors of above 5000 per day. They thoroughly understand SEO, have brilliant content writers, and produce high-quality content.
This scenario is about the marketers who will see both the benefits and flaws of AI content generators. They will not entirely depend on the AI to create the content, while they will intervene to put subheadings manually.
These marketers will put effort into editing to create human-written-looking content. Their editors will put in a tremendous amount of work. Hence, these contents will perform well and get a high ranking with a good number of organic visitors.
The only disappointment they will face is putting in the double effort but not receiving as much even with additional work.
Advanced Marketers
In this case scenario, the advanced marketers will enjoy the impressive features of the AI content generator. They will use AI to create effortless Copyscape-passing content. They may use this software for making outlines as an inspiration during topic research.
They will never publish any AI-generated content on their website, so there is no risk of penalty. These marketers will use it for research purposes to improve their content and work on them on their own by looking at AI only as a guide.
This will lead their content to stay organic and get enormous authentic searches and visits while staying on top of the page.
Although, the debate on whether an AI can always produce ranking posts in Google is still on. However, you can also play a key role in helping your AI's content rank better on Google.
Help your AI Content Rank in Google
Here is how you can help AI content gain a better rank on Google.
Find the right SEO Software for your AI
Before you fight for your place on the search engine's page, you have to choose the right software to help you get there. Many AI content generator tools have built-in SEO applications, and if they don't, you need to find compatible SEO software for them.
Integrating an SEO tool in your content creator AI gives you the chance to win the competition. Find software that blends smoothly and will have no problems aligning with your AI's functions.
Choose your Content Topic
Don't entirely leave all the work for your AI, do a little research and try to choose your content topic. Yes, of course, AIs can do that, but you need to put effort into gaining that place. Choosing the right topic for your content will be a nudge for your AI-generated content.
You can choose to make your AI rewrite your old content. This is an excellent feature of this content generator. It can rewrite your old articles and blogs. The AI creates a whole new blog post by adding synonyms and paraphrasing the entire post.
Analyze your Result
Every AI content generator's way of functioning differs. The process of submitting keywords and topics will vary. Depending on the process, you have to go through your result constantly. Some may require more editing than others, thus always going through the outcome.
After you receive the content, go through it and add your own subheadings and paragraphs. This makes the search engine believe that it is authentic data solely created by a human. Google is extremely smart and it tends to pick up all activities so analyzing your content must be a priority.
Pay Attention to your AI SEO Data
Your AI SEO is there to help you with keywords, so do not overlook the suggestions. Follow these suggestions and work on your content, so the search engine favors the output. The AI SEO tools like Surfer SEO creates great content for any kind of domain.
It generates the perfect content strategy and shows the strength of your content. You can save hours by using Surfer SEO. It plans to optimize your domain, niche, and audience. It also builds easy article outlines in just minutes.
What Types of Content can you Write with Jasper.ai
There are several contents that you can write using the AI content generator. It helps you create any kind of content with any demand. Its writing will adjust itself with the tone of the voice and the material required.
Write a blog post with Surfer SEO: Using an AI, you can create blog posts by integrating the Surfer SEO tool. This SEO tool is beneficial software that can help AI create effortless content with suggestions of headings and keywords.
SEO-Friendly Content: AI blog writers can easily create SEO-friendly content on their own when you feed it with keywords. Some take the help of SEO tools by integrating them into the software, which helps them to provide SEO-liked posts.
Factually Accurate Content: The AIs are equipped to learn and carry a massive amount of data. The factual information fed to it turns into articles and blogs that have accurate, fact-checked details.
Social Media Content: AIs can also produce social media content, it studies the algorithm of a social media platform and creates program-friendly content.
Product Description Content: Once provided with the product details, an AI can create an insightful description with a creative writing style for any item.
Sales Page Content: The AIs for marketing content creation write excellent sales pages which guarantee traffic and generate leads.
Write an Email: We get tired of writing numerous emails every day. Especially if you are a business owner, you know how hard it is to reply to every email. AI can write personalized plus generic emails based on your requirement, and you can adjust the tone of voice as you prefer.
Long-Form Content: Long-form contents take excruciating hours to finish with the time taken for research. It also consumes hours to create. With AI, long-form contents are just a matter of seconds with detailed information and factual data.
List-Type Articles: A list-type article, also known as a listicle, is a piece that consists of a list of items and their information. AI article writer makes it extremely easy to create List-type articles. All it requires is information, and the rest is taken care of without human interruption.
How-To Articles: AI content generator creates detailed how-to articles by providing an intelligent guide to the readers with just keywords and data.
Pillar Pages Content: Pillar pages are in-depth content and require diving deep into the topic. AIs can also create in-depth articles as they can store a considerable amount of information from the internet.
Comparison Articles: AI blog writers create factual well-written comparison articles of all kinds. It provides comprehensive information on the pros and cons of the products and services.
Definition Articles: The AI content generator can create vivid informative definition articles with the data collected by its program. It uses proper keywords and helps in ranking every article without fail.
Article Rewrite: Be it blogs, marketing content, podcast, social media post, or product descriptions, AI can create original content by rewriting the article. Plagiarism remains out of the question with its power to make unadulterated content.
Jasper.ai – Key Features and Benefits
When choosing your best AI content generation, there are certain key features and benefits it needs to include. You may come across several AI content generators that assure quality content, but you still have to watch out for these essential features.
Integration with Surfer SEO & Grammarly
Having an AI that integrates easily with Surfer SEO and Grammarly is a perfect AI content generator tool. This way, creating content and having an ideal score on SEO, grammar, and spelling is easy.
SEO favors error-free content. So, these tools like Surfer and Grammarly play a vital role in making a high-ranking post.
Generate Unique and Original Content
Generating unique content also helps stay at a high rank on search engine pages. Creating unique and original content is super simple and easy with a good quality AI content generator.
No matter how often you feed it with similar information, it will uniquely write original content. You do not have to worry about redundant information intake because the outcome will still be distinctive.
Rewrite Old Blog Posts and Articles
Rewriting and posting your old blogs and articles are essential so new readers can access this information.
AIs can rewrite blogs and articles and make new content without plagiarism. It changes the material's structure, swaps words with synonyms, paraphrases the sentences, and provides you with a whole new blog post or article.
Expand Existing Posts and Articles
AI produces new content every time it is fed with information. So, it is easy to expand existing articles. All you need is to provide the word count and add more information so it can use that data to create lengthier and more informative posts and articles.
Save Time and Money
The AI content writer is a time-efficient and cost-effective performer. It creates multiple posts and articles in just a few minutes and does not take up extra time to research. Every time it is asked to create new content, it makes one from the data it stores.
It only requires some keyword information and data to create numerous contents. There is a reduction in the amount of money spent on writers when artificial intelligence is there to help.
You only need to hire a few writers who can help your AI write, and then you can produce as much content as you wish daily.
How to use Jasper AI Content Generator?
Understanding how to use AI content generators is not rocket science. It is an input-output type of system that only requires following some instructions.
Jasper AI has an in-built option called Recipe. You will find this particular option in the documents. Recipes are in-built plans that contain a line of Jasper commands which lets you create content on a repeat mode.
How to use Recipe?
Each Recipe varies, and it will ask you to substitute the variable with your content. Then you will require to play the commands from the top. Here are the steps on how to use it.
Step 1: Generate the content brief
Swap TOPIC with the actual topic you want the content for. Then run the cursor at the end of the line and press the options CMD + ENTER (Ctrl+ ENTER on your PC). You can then copy the content that has been created and simply paste it into the writing material description of the box in the sidebar.
Step 2: Generate article title ideas
After you have toggled the content description in the sidebar, click on the next option. Select or edit the title of the article you want to use and paste it into the sidebar.
Step 3: Write an intro
There will be two commands here, run them in order. All of these commands will use the previous content, the title, and the description from the sidebar to understand the concept.
Re-run the commands for the best output, and when you are satisfied, you can move the outcome to the document's body and move on to the following orders.
Step 4: Create an outline
For all items in the writing outline, put the next command below it. Now you can replace the variable from the outline topic and use the command button to fill the section.
Step 5: Write a conclusion
Click on the outline command after substituting all the variables. This will give you your conclusion.
Jasper – Plans
Jasper AI offers two types of plans, one of them is a free trial, and the other version includes plans that have a subscription fee.
Free trial
Jasper AI offers a 5-day free trial. Once the free trial is over, you can choose from the paid versions and purchase the plan that suits you.
For free trials, a 29-dollar pre-authorization fee is charged. You can follow this link to find Jasper's free trial version.
Paid version
The paid version of Jasper comes with three plans.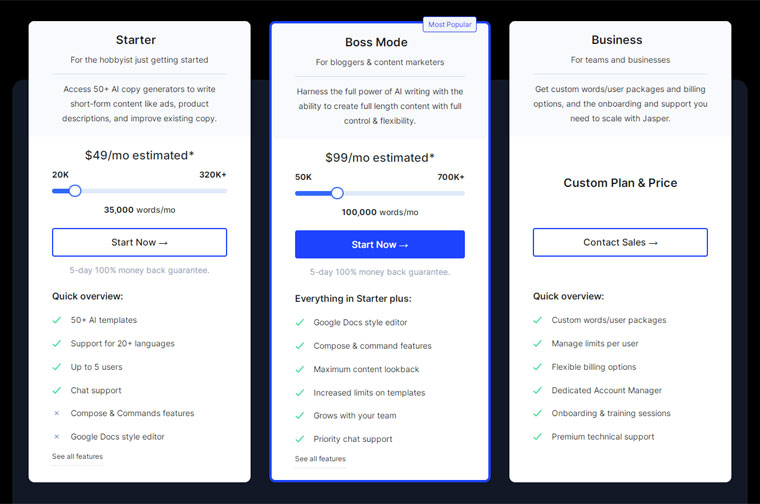 Starter: This plan is a starter it starts at 29 dollars for 20,000 words that goes up to 320,000 words for 399 dollars.
Boss Mode: This plan starts at 59 dollars for 50,000 words and goes up to 700,000 words for 600 dollars.
Custom pricing: In this plan, you can choose your number of words and features and pay accordingly.
Click here to find the paid plans of Jasper AI.
Reviews
The rise of AI content Generator tools has everyone asking which one to choose. Every AI content writer offers brilliant original content.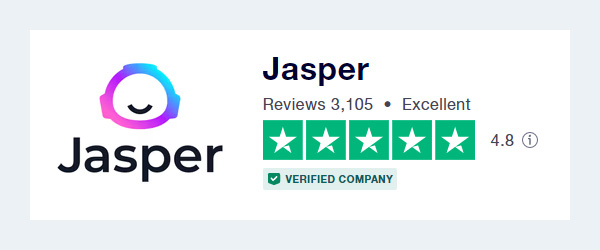 With so many requirements for the content market, the creators have to come up with unmatched learning capabilities for their AIs.
Jasper AI is one of the most potent and user-friendly content generators that offers excellent features. It is a tool solely made to help you create authentic content that can keep your website on the front page of a search engine.
Reviews of Jasper AI
It is elementary and relatively more straightforward to use than other applications. Even a first-timer won't take time to learn its tools. All you require is to put in some basic information, and Jasper will do the rest.
Jasper is fantastic at writing short copies. If you are stuck with no caption for your social media ad, Jasper is here to rescue you as it can manipulate words to fit into the word count.
It provides suggestions for blog posts and cerates outlines, so you never hit writer's block.
It offers 50+ templates suitable for Facebook headlines, YouTube video descriptions, product descriptions, emails, etc.
Jasper has been rated 5 stars by 2,726 users, 4.8 by most reviewers, and 4 stars by 207 users as of now.
FAQs
What is AI Content Generator?
AI content generator is an artificial intelligence writing tool that generates content based on the user's information and keywords. It creates unique and original content that is plagiarism-free.
Is the Content from AI Writing Software Original?
All content written by AI writing software is original content. It produces unique content every time it generates a new blog or article. Even if you stuff it with similar keywords and information, it will offer original unique content without plagiarism.
AI only learns from the web and doesn't copy what is written in the data, it writes its distinctive piece for every requirement.
Does AI Content Creator write in other languages?
AI content creator started with writing in English and is currently learning different languages. It is a machine that learns from the data on the internet, so it shouldn't be impossible for it to start creating content in other languages based on its learning capacity.
What is a Free AI Content Generator?
Free AI content generator is a tool that creates blog posts, articles, ads, etc, using artificial intelligence without a subscription. These tools are generally partially free because you need to subscribe to them to avail all their benefits.
You can use them to the extent that they will generate your content. Although, you may not be able to use their advanced premium features and have to do the rest of the content editing yourself.
Here are some of the best Free AI content generator tools:
RYTR
Simplified
Zyro AI
Smart Copy by Unbounce
Content Bot
Copy AI
Jasper AI
Writersonic
Conclusion
The content writing market is competitive because there is an ocean of content available, and everyone is fighting to get on the first page. You can get primary SEO-friendly written content whenever you create a blog or an article, but AI helps with advanced requirements.
The AI content generator has features that fulfil the mandatory conditions to stay on the top of search engines. AI learns a vast amount of data you provide and writes creative content for each input.
It is a tool that every business that depends on content writing requires. An AI content writer can produce various kinds of materials with the help of its templates. It saves time and money by increasing website traffic and improves a business's image and efficiency.