Try design coloring mandalas as the best way of meditation
Designing and coloring mandala correctly is not such a simple task. We have collected the best tips and ideas on how to make your mandala really special and unique. You definitely didn't know about such techniques and methods! Rather, explore the art of mandala with us.
Meaning of mandala

Source
At first glance, it may seem that a mandala is just a beautiful drawing, a picture that people use purely as an aesthetic object. But this is far from the case. Knowledgeable people understand that the meaning of the mandala is much broader and deeper. The history of mandala goes back into the past, and its origins lie at the foot of Hinduism and Buddhism. It is the religions that this picture is associated with, and this is not surprising. As you can imagine, it has the shape of a circle and also a direct translation from Sanskrit of this word means "circle". Further, this base is filled with a variety of figures and patterns, and, of course, tries on different colors.
These drawings are used quite symbolically – in halos and prayer wheels, in architecture and sculpture, in mandalas as sacred circles were used in religious practices: they greatly facilitated the process of meditation in Tibetan religions.
Creating a mandala

Source
In fact, you can draw such things not only by hand. There are special applications that help you create a perfect circle, a perfect pattern and perfectly paint all the particles to get a complete and beautiful picture. Mandala creation consists of several stages. As already described earlier, the base always begins with a circle, and only then does the filling take place. To determine its size, you need to know exactly what radius you need.
We recommend choosing the maximum size, because in this case it will be much more convenient for you to fill the space inside, and you will win more space for your unique patterns. Further, adding new details, you can narrow the radius, and so gradually get to the middle. Note that you should avoid overlapping previous shapes with new ones.
Position the selected pattern so that the space fills evenly. Only after you are satisfied with the result of your work in black and white can we start assigning different colors to your mandala.
Mandala in design
The most interesting thing starts right at this moment! After all, coloring mandala is not only an exciting and interesting activity. In addition to everything, it is also useful from a psychological point of view. A very important aspect: this type of activity can help you to relieve stress, eliminate anxiety and tension, and even as a form of meditation. This art therapy is used for many disorders. If you recognize yourself in one of them, then this type of hobby is definitely perfect for you:
You quit smoking
You have insomnia
You are restless and often nervous
You have incurable diseases
You have active children who you want to keep busy
As for coloring and useful tips, now we are just moving on to this issue. We have collected all the most important points that you should definitely pay attention to. Go!
1. Match the colors and compose the color scheme.
This is the first item that will form the basis of the coloring. It is best to choose several colors, but no more than 4-5. Don't turn the mandala into a rainbow. Choose those colors that most resonate with you and try to combine them with each other. Before applying them to the pattern, you can test the combination on a blank sheet of paper.
2. Apply color starting from the center.
In this order, you will more logically arrange the colors, and it is much more convenient. It is as if you are "building up" the patterns on top of each other, creating an ever wider and deeper picture.
3. Color one section with one color.
You should not jump from color to color, it is better to finish what you started, and only then proceed to other colors. Remember that each element must be completely filled with the same color, otherwise the picture will look messy and clumsy.
4. Create the right atmosphere
In order for the coloring process to go smoothly and pleasantly, take care of a quiet and cozy place where no one will bother you to do this business. You can play relaxing music in the background, but not very loudly. Add ambiance with dim lights, candles, or furnishings.
5. Use different coloring tools.
You don't have to focus only on pencils or crayons. Artists have different options in their arsenal: watercolor brushes, markers, colored pens, and more. Explore the tools and choose the ones that resonate the most!
Print Design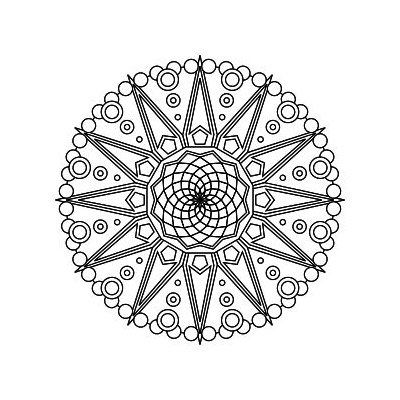 Source
Done! You seem to have created an awesome design and now is the time to print it out to finally start using it! Of course, it is important to pay attention to the quality of the picture and make every effort to make the printed version look as presentable and beautiful as it does on your computer screen. Choose the correct extension, save the image to the media and print on good professional equipment. If you do not have one at home, it would be a good idea to contact a special printing office, where they will make you an excellent high-quality printout.
Logo Design
Now you can use your mandala for various purposes. One of the most popular trends is the use of mandalas as a logo for a brand or your company. How is this pleasant and useful? Firstly, you will have your own unique design that no one can repeat. Secondly, it will reflect your ideology and exactly the emotion that you put into creating the picture. Such things very clearly carry symbolism and deep meaning, which consumers read very quickly.
You can add your company name, your name, and whatever word you see fit to complete your logo design and complete it to make it more complete. Now, with complete confidence, you can say that you have your own individual design.
Other resources for mandala use
If you think that the properties and ways of using the mandala are very limited, you are wrong. Such things are simply invaluable in the field of web design, tattoo art, design of clothes or various objects, and so on. Moreover, it is difficult to underestimate the connection between meditation and mandala design. In more detail, you can study the areas of application and interesting facts about such an occupation by the link.
Conclusion
Finally, I would like to note several important elements. If you are still in doubt whether to start designing your own mandala or not, then take a closer look at the question, study the trends and properties, and be inspired by ideas. Mandala designs can be amazing and inspiring motivators why you should try it anyway. We advise you not to waste time and get down to this exciting and useful business as soon as possible!