Nowadays, even a small kid knows how to use a smartphone.
This level of awareness has created a big market for different mobile apps that specifically targets children.
One such category of mobile apps that have seen massive growth in recent years is the mobile educational app.
The easy usability of an educational app and the range of customization feature they provide has made them a great hit in the student community.
The current global market share of educational app development is around 28.3 billion dollars, and this figure is going to jump to 37.8 billion dollars in 2020.
This growth has made designing educational apps a lucrative business for the companies, start-ups, and educational institutions.
If you are planning to develop an educational app, then you first have to understand the different categories of educational apps.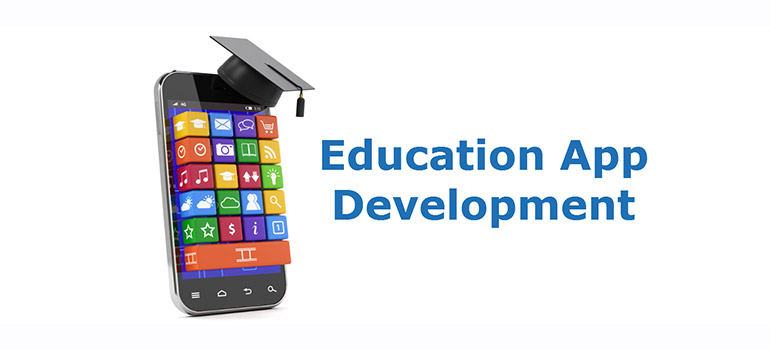 When you learn more about them, it will help you to select a category correctly.
A). Different types of educational apps
1. Educational apps for children
These smart educational apps are gaining popularity among students, parents, and teachers.
They allow a child to learn new things and get a clear idea about complicated concepts in an easy way.
If you are planning to develop such an app, then you must use multimedia to make the learning process enjoyable.
2. Educational apps for apprentice courses
These mobile apps are primarily designed for training course usages.
You should design it in such a way that the learner will get to know the difficult concepts in a better way.
Additionally, a learner can use these apps to learn independently and not remain bound by the strait jacket course schedule of a classroom.
3. Educational apps for reference
These types of apps are designed to provide a vast source of reference materials on a particular subject.
You can develop an educational app for reference that will help students to understand their subject in a more comprehensive manner.
4. Mobile classroom app
These apps are specially designed for the teachers.
These mobile apps help a teacher to explain a topic to the students in a more exciting way.
You should also put in a feature that will allow the teacher to sync the app with the smart projector in the classroom and explain the subject on the big screen.
5. Educational app for language
Nowadays, there is a high demand from the student community for a customized educational app to help them learn a foreign language.
You can exploit this demand by building an app for teaching different languages.
A student can use your app to learn a new language to go abroad to pursue higher education or get a job there.
Many specialized educational apps allow students to learn a new language at their own pace.
When you start customized educational app development, you need to consider several factors. Some of the important ones are provided below.
B). What steps are needed for developing an educational app
1. A unique idea
There are a large number of educational mobile apps available in the market.
Therefore, you first need to think about a new idea which allows the app to explain a subject in a unique but exciting way.
This will make your mobile educational app distinct and more attractive and useful to the user.
You can also execute an existing idea in a better way to make your application helpful to users.
2. Doing market research
Just thinking about an idea is not enough; you have to do comprehensive market research about what your target customer is looking for.
The research should include questions like how the target audience wants to use the app that you wish to design and build.
This will allow you to find whether the educational app that you want to create, have any existing demand in the market?
3. Testing your idea
To check how useful your app is, you can take the help of a small sample of your target audience.
You can share the general idea of your app design and functionality with this sample audience.
The test audience will give you feedback on how useful it is for your target audience.
4. Choosing app developers
If you have the idea about an educational app, but do not have the coding skills to convert it into an app, then go to an educational app development company.
You should choose a company based on their records as well as how much price they are charging to build the app that fulfills your requirements.
5. Choose the platform
Choosing a platform is very important, and you need to consider it very carefully.
You can either select the Android, iOS, Windows, or Linux platform.
The more platforms you choose, the greater the amount of money you have to pay to the educational app developer.
Therefore, you need to first figure out which kind of platform most of your target audience use and then select it for your mobile educational app.
After app design planning, you should plan about different features in your mobile educational app.
C). Essential features that your educational app must have
1. Easy & Secure login
Many a time, you will find that even highly functional mobile apps with attractive contents do not get the required market traction.
If you do some research, you will find that in such cases, the developer has not focused on the issue of easy & secure login.
To make your app easy to use, you should ensure that the user has to take a very few steps to create a profile in your app for easy & secure login.
2. Social media connect
Nowadays, people are connected through social media platforms like Facebook, Twitter, LinkedIn, Instagram, and others.
Therefore, if you want to target your audience more effectively, then you have to provide social media integration with your app.
Social media integration with your mobile educational app also allows the users to share their experience with their friends, leading to more subscribers for your app.
3. The big database
A big architecturally sound database is essential for any mobile educational app.
Flawless integration of the backend database with the front-end user interface allows for a superior experience for the users.
For better UX, you need to regularly update the database with the latest content for the user of the app.
4. Comprehensive and attractive content
You need to put comprehensive, relevant, and exciting content in your mobile educational app to make it more appealing to the user.
If the app users find your app helpful, then they will recommend it to their friends, leading to a higher subscriber base for your app.
5. Interactive sessions
It is impossible to put answers to every possible question that may occur in the mind of a student in your app database.
Therefore, your app should have a live interactive feature that allows a user to ask questions to your resident expert online and get his doubts cleared.
6. Excellent user experience
While content is the key to make your educational app popular amongst the users, you should not neglect the UI/UX part of the app.
Students love an attractive user interface, which is easy to navigate and has big tabs that will specify different categories.
You should also put in a search button in the app to help the user find a piece of particular information amongst a host of others, quickly.
7. Multilingual
If you want to target a diverse set of users through your educational app, then the app should have multiple language options.
Your mobile app should have a feature that will allow the user to change the medium of instruction to a language in which he/she is comfortable.
8. Push notification
Push notification allows you to inform your app users in a nonintrusive way about any latest feature or any new content update you have made in the app.
9. Mock test
The students should be able to gauge how much they have learnt by using your app.
To make this happen, you should provide the option of the mock test in your mobile app.
This will allow the app user to understand which portion of the subject he/she is weak that require greater focus.
10. Feedback
You must have continuous feedback from your app user.
It will help you to understand in what way they are using your app and what additional features you need to include to make your app more attractive for the students.
D). Conclusion
Mobile apps offer high level of customization for the educational institutions as well as for the students. It makes education more personalized.
If you want to develop an educational app, then you should approach Guru Technolabs – An Education App Development Company.
We have a team of highly skilled app developers who have years of experience in designing and developing educational apps for different educational institutions.
Therefore, if you have a great idea, then come to us, and we will make it a reality at a very competitive price.
You May Like: