As we all know, Google Chrome has acquired its position of being the most genuine browser for desktop as well as mobile phones. Additionally, Google Chrome is well known for its variety of extensions, optional plugins, and addons. In this regard, a designer's job is both exciting and creative.
Every position, though, comes with the hassle and repetitive manual labor to some extent. What makes Google Chrome a sure hit here is its more powerful JavaScript engine. This very engine is responsible for powering tons of technological solutions. We've compiled a list of 15 Chrome extensions for designers that enhance efficiency, improve creativity, or simply make work more enjoyable for you.
Also read: 8 Free Design Tools & Resources for Non-Designers
Benefits of Chrome Extensions
It is often said that the incorporation of perfect tools to a business helps enhance the business model's overall growth. For designers, entrepreneurs, and various other companies, a variety of tools and extensions are curated by Google Chrome to harness productivity. Let us look forward to how can Google Chrome extensions be beneficial:
1. It helps in imparting the value of organizing look and feel to the employees. Regular tasks, schedules, and notifications can be made to make the work transparent.
2. Extensions are not only limited to your desktop or office computer, you can use the extensions on multiple devices as well.
3. Helps manage social media tasks and schedules.
4. Helps in adding functionality, as extensions can also facilitate various business operations.
5. Extensions also support offline functionality.
6. Your privacy and security are the utmost priority.
7. Helps in reaching your targets within seconds.
Also read: 9 Best Yet Free Web Design Tools to Use
The List of Best Chrome Extensions for Designers
Muzli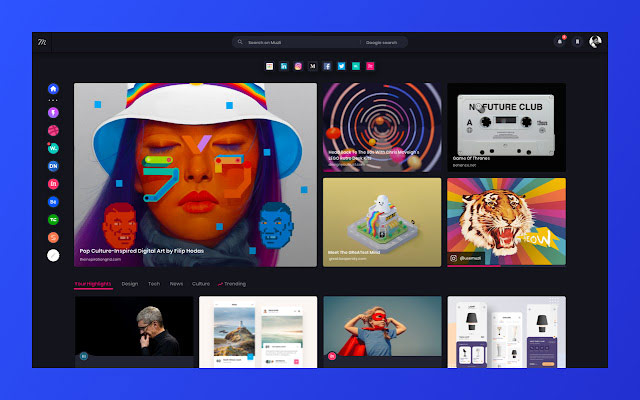 Muzli right away conveys state-of-the-art configuration ventures and news each time another tab is open in your program. Discover the greatest web design ideas, best websites, greatest logos, current web trends, most effective mobile sites and applications, minimalist websites, brutalist websites, cutting-edge designs, innovative images, and artwork highlights that put you aside from the group.
WhatFont
Our database of over 133,000 font styles is used to find the finest match for the fonts in your photo with Deep Learning. It also works with connected scripts and when there is more than one font in an image. Simply upload a picture, choose the font you want to identify, then explore the results.
Image Downloader
With the Image Downloader, you may search for, discover, and download any images on a website. You can also:
filter based on pixel width and height
filter based on URL
bulk download all images in once
select what images you want to download
check the size of each image
copy the URL of the original image
supporting all principal websites (Instagram, Facebook, Twitter)
Eye Dropper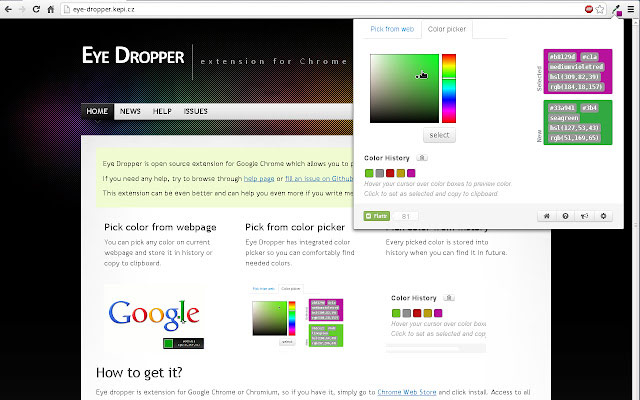 The Color Dropper is an open-source browser plugin that allows you to select colors from websites, color pickers, and your color history.
The Eye Dropper is a browser plugin for Google Chrome and Chromium. It allows you to choose colors from any web page or sophisticated color pickers. It's an excellent tool for website designers.
Google Translate
This add-on adds a button to your browser toolbar. Whenever you want to translate a website, simply click the translate icon.
The extension can automatically detect if the language of a web page you're viewing differs from the one used by your Google Chrome interface. If it is, a banner appears at the top of the page with a Translate button beneath it. After that, all text on the page will be translated into the new language.
Scrnli
This tool permits you to produce a total page screen capture or simply any piece of it with the choice to alter, save, and download screen captures to your PC. The software is launched from a browser that saves you time. To pick from options for the entire page screenshot or a selected part, simply click the extension symbol. Bunches of components available to you permit you to:
edit and reset changes;
make one step back/forward;
add text and graphic elements like a pointer, arrow, circle, and others.
Site Palette
It is a helpful browser plugin that creates color palettes. An absolute necessity to have instruments for fashioners and front-end engineers. Color palette generators for any website are a must-have.
Create comprehensive palettes with a browser plugin. For architects and front-end designers, this is an unquestionable requirement to have an instrument. Shading plan extraction free of charge.
SVG Export
Export to SVG is a fantastic tool that searches for SVGs on the internet and then exports them as PNGs, JPEGs, or SVGs with ease.
Features
Bulk export
Export as PNG, JPEG, or SVG
Resize images
Copy SVGs for Sketch, Figma, or Framer
Inline important styles and colors that are applied with CSS
Implants connected hubs from different pieces of the site
Grammarly
Grammarly's software ensures that you avoid spelling, grammatical, and structural mistakes while also enabling you to find the right words to communicate your ideas. It delivers real-time feedback on Gmail, Google Docs, Twitter, Linkedin, and just about every other place you write. Grammarly is a software that provides you with personalized advice to help you improve your writing — and it's not limited to grammar.
You may rest assured that your writing is both correct and clear. Register your account to receive a weekly writing report that will help you measure your progress and pinpoint areas for improvement.
Perfect Pixel
The PerfectPixel plugin adds a semi-transparent image overlay over the top of the produced HTML and allows developers and markup designers to perform pixel-perfect comparisons between them.
Features
The Pro version is for commercial usage and development teams.
You can add as many layers as you'd like.
Inversion and scaling of the layer
Each website is represented by its own set of layers.
Between browsing sessions, your layers are retained.
UI that is easy to utilize and appealing.
Drag-and-drop functionality, including upload by drag and drop, pasting from URL, and pasting from the clipboard.
The bolt keys on the console and the mouse wheel are upheld.
Extension works with file:// scheme (local files)
Fonts Ninja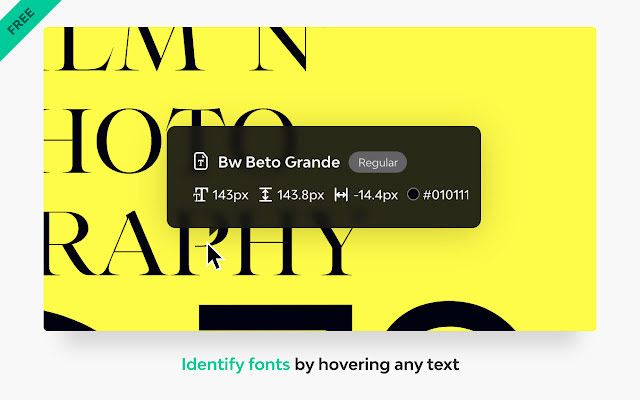 As for the font DNA, it's a complicated issue that has already been discussed. Our unique algorithm verifies font files to ensure more accurate results.
To find out what typeface and CSS properties are being used, replace any text.
The main extension window will also show a list of all fonts used on a website's pages.
By the way, we substantially increased processing speed (this might vary depending on websites).
Dark Reader
Every website now has a dark mode. Use a dark theme for nighttime and regular browsing to preserve your eyesight.
Dark Reader is an eye-care plugin that creates dark themes for websites on the fly. Dark Reader inverts bright colors, creating high contrast and simple reading at night.
You can change the brightness, contrast, sepia filter, dark mode, font settings, and ignore list.
Stylebot
You can modify any aspect of an element in the editor. You may alter the font, color, margins, visibility, and a variety of other things. CSS can also be manually written.
Easy to use: Using UI actions, you may pick and style items.
Simple & Quick: Your changes can be saved immediately.
Code editor – Develop your CSS from scratch.
Readability Mode – Make any site's content readable by hiding non-essential page components like sidebars, footers, and advertising.
Grayscale Mode – To minimize strain from the internet, turn on grayscale.
Pinterest Save Button
You may save anything you find on Pinterest by using the Pinterest Save button, which allows you to quickly get back to it later.
Click to save dinner recipes, style ideas, home projects, and other things you want to try.
The Pinterest Save button also incorporates built-in visual discovery technology, which allows you to instantly discover visually comparable ideas on Pinterest by hovering over any picture and clicking the visual search tool.
Window Resizer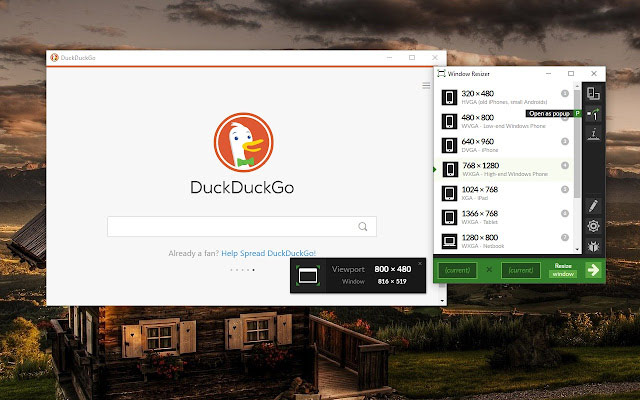 This extension resizes the browser's window to simulate a variety of screen sizes. It's particularly helpful for web designers and developers, as it allows them to test their designs on a variety of resolutions.
It's possible to completely tailor the list of objectives (add/delete/reorder) on each page.
You may change the window's width and height, as well as its position. You might choose a custom symbol (telephone, tablet, PC, work area), and you can likewise decide to apply the new measurements to the whole window or just to the viewport.
How to Add Extensions to Chrome Browser
Note: You won't be able to add extensions while surfing in Incognito mode or as a guest.
Follow these simple steps to add the best Chrome extensions for Designers:
1. Go to the Chrome Web Store and open it.
2. You can find and select the desired extension from a drop-down menu.
3. To install a plugin, go to your Extensions page and click Add to Chrome.
4. Many add-ons will notify you if they need access to certain information or permissions. Click Add extension to approve it.
Conclusion
Google Chrome is made of node JavaScript frameworks. This is the engine that powers the working of Google Chrome. The developers have provided designers with many necessary toolkits and various plugins that spur their productivity. Additionally, the existence of extensions from the developers has made Chrome reach heights.
Extensions feature an enhanced system of curating an accessible browser. Browsers are becoming increasingly complex, thanks to the innovations of their users. As a result, they are getting more powerful and assisting us in increasing our productivity. Thus this list of the best chrome extensions for designers aims at reducing your workload.